02 October 2022
By Maynard Paton
Happy Sunday! I trust your shares continue to perform better than mine during 2022.
A summary of my portfolio's progress:
Q3 return: -9.2%*.
Q3 trades: None.
YTD return: -23.4%* (FTSE 100: -3.9%).
YTD winners/losers: 2 winners vs 9 losers.
(*Performance calculated using quoted bid prices and includes all dealing costs, withholding taxes, custody fees, paid dividends and cash interest)
I am heading for my worst annual performance for at least two decades after my portfolio fell 9.2% during Q3 to leave my shares down 23.4% for the year so far.
Yet despite another miserable quarter of negative returns, the Q3 newsflow did not seem particularly awful.
Special dividends were in fact declared by Andrews Sykes and Tristel, which takes one-off payments for me this year to six and cements 2022 as my best-ever year for extra income. The quarter also witnessed higher payouts from M Winkworth and S & U.
To reiterate what S & U's chairman said just last week…
"Rarely in S&U's 84-year history has the strength of our current trading and first half performance contrasted so starkly with the current frenzy of pessimism and gloom surrounding the UK's economic, energy and political prospects."
…companies that are trading well have still seen their shares sold off.
So what should investors do?
1. Buy shares now at lower prices, but risk prices falling even lower?
2. Wait for share prices to go lower, but risk missing out on any wider market recovery?
3. Sell out entirely and return only during the next bull run (when prices will be higher)?
All I can say is a number of my holdings are trading close to historically low valuations and I am hopeful my 13% cash position can pick up some rock-bottom bargains during Q4. I am convinced the general market will turn well before the present economic worries disappear.
I have summarised below what happened to my portfolio during July, August and September. (Please click here to read all of my previous quarterly round-ups). I will then outline which of my shares could be winners from GBP sliding towards USD parity.
Contents
Disclosure
Maynard owns shares in Andrews Sykes, Bioventix, City of London Investment, Mincon, Mountview Estates, S&U, System1, Tasty, FW Thorpe, Tristel and M Winkworth. This blog post contains SharePad affiliate links.
Q3 share trades
None.
Q3 portfolio news
As usual I have kept an eye on all of my shareholdings. The Q3 developments are listed below:
Unchanged interim earnings sweetened by a special dividend at Andrews Sykes.
News of a "degree of recovery" and profit upgrade from Bioventix.
First-half profit down 46% but dividends up 23% at M Winkworth.
H1 profit up 18% alongside promising Greenhammer developments at Mincon.
Defiant management commentary plus a 6% H1 dividend uplift at S & U.
Mixed annual results, a strategic review and protest AGM votes at System1.
Six-month results that warned of an "even more challenging economic environment" at Tasty. 
A special dividend, open-day scuttlebutt and mixed US developments at Tristel.
Q3 portfolio returns
The chart below compares my portfolio's weekly 2022 progress to that of the FTSE 100 total return index: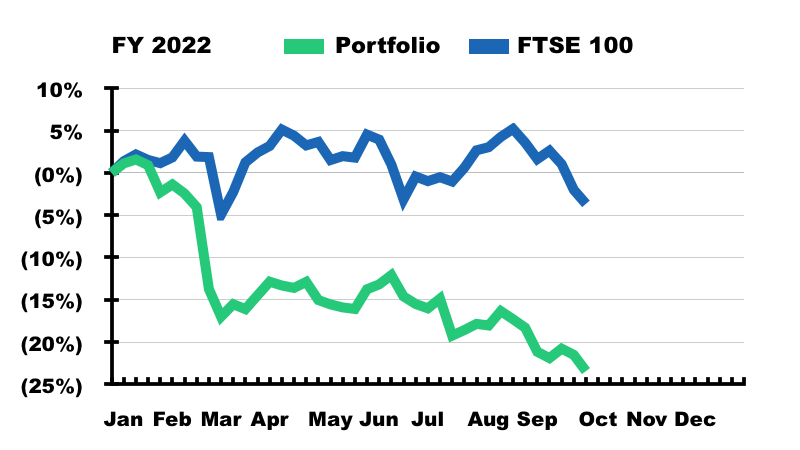 The next chart shows the total return (that is, the capital gain/loss plus dividends received) each holding has produced for me year to date: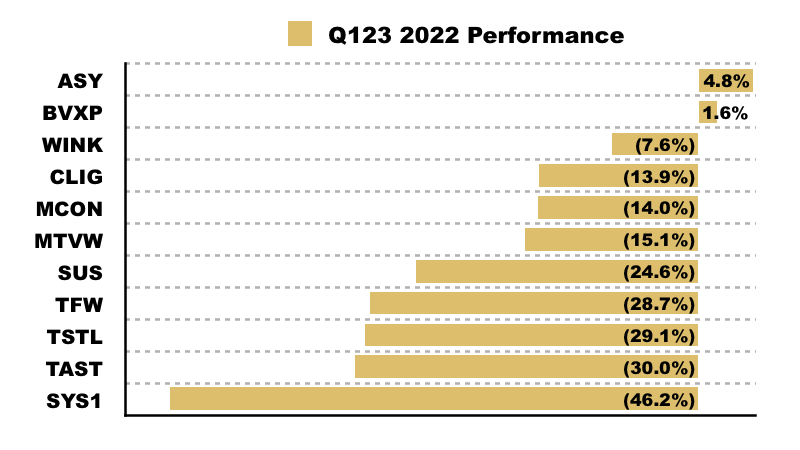 This chart shows each holding's contribution towards my overall 23.4% loss: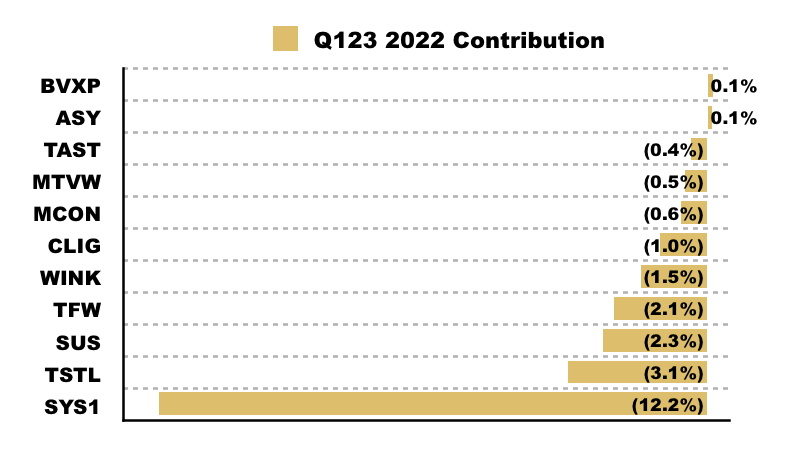 And this chart shows my portfolio's holdings and their weightings at the end of Q3: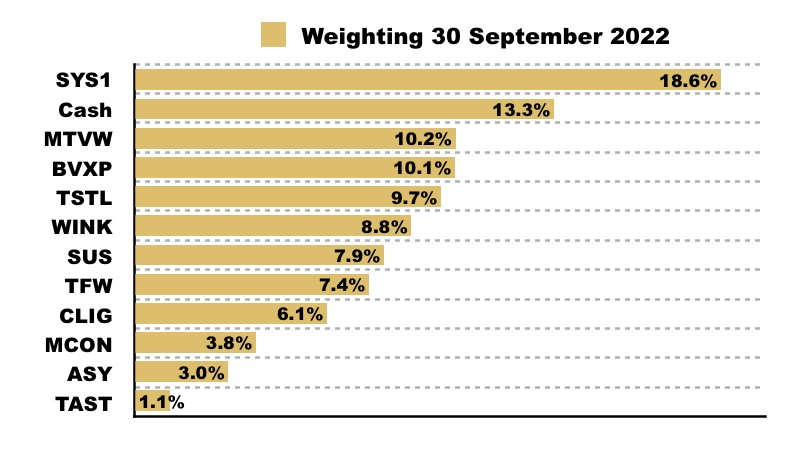 Portfolio winners as GBP slides towards USD parity
I am sure you do not need me to tell you about the sinking pound. The media has been full of scary 'market turmoil' headlines…
… as sterling slid very close to parity with the US dollar just the other day: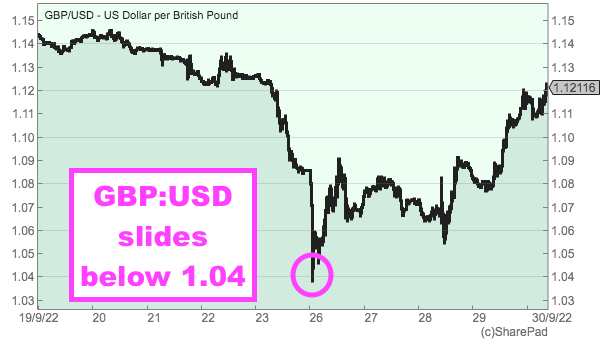 GBP's recent decline extends the general trend from the last 50 years…
…and suggests companies with profits denominated in the stronger USD may over time become more valuable to UK-based investors.
I have checked my portfolio's exposure to USD, and only four of my eleven shares have notable revenue from the States. Further USD strength is therefore unlikely to rescue my portfolio's dismal 2022 performance by translating into greater GBP earnings.
Let's quickly look at my portfolio's potential winners from GBP's slide.
City of London Investment
City of London Investment will benefit from the stronger USD. Some 95% of the fund manager's 2022 revenue was earned from customers located within the United States: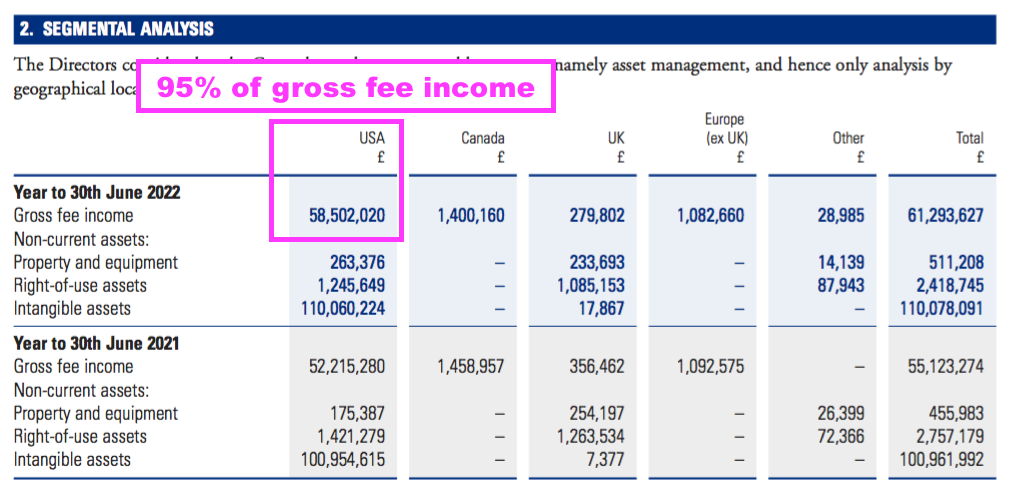 City of London makes life easy for shareholders by illustrating the effect of GBP:USD movements on its earnings: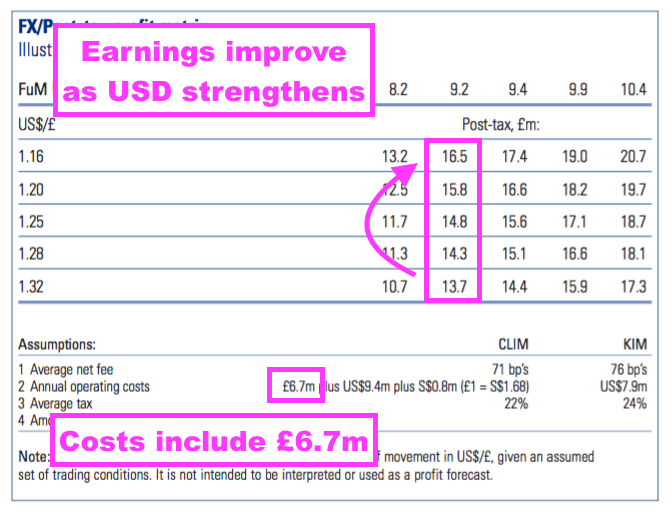 Year-end funds under management were $9.2b, which according to the table would have delivered earnings of £13.7m if GBP:USD were 1.32…
…but would have instead delivered earnings £2.8m higher at £16.5m if GBP:USD were 1.16.
Although USD in this example has strengthened 14% (from 1.32 to 1.16), notice that the illustrative profit has gained 20% (from £13.7m to £16.5m).
At play here is City of London's cost structure, which the illustrative table shows to be a mix of mostly USD ($17.3m) and GBP (£6.7m) expenses. Any USD boost to revenue with associated GBP costs ought to lead to a greater increase to reported GBP profit.
City of London's 2022 annual report was published only the other week, and the company clearly did not expect GBP:USD to slide towards 1.00 when constructing the illustrative table. I estimate GBP reaching parity with USD could take earnings a further £2.8m higher to £19.3m if client money stays at $9.2b.
Bioventix
Another USD beneficiary within my portfolio is Bioventix. The antibody developer awkwardly lumps its United States sales within the Rest of the World segment…

…but a trading statement the other week revealed "approximately 50%" of revenue was linked to USD:
"Our results are reported in UK Sterling and the recent fall in value of the UK Sterling against the US Dollar has had a positive effect. Approximately 50% of our revenues are linked to US Dollars and royalties received recently from customers in respect of our H2 sales have been converted at more favourable exchange rates."
Bioventix's H1 presentation disclosed its broker projecting revenue of £10.4m for the year ending June 2022…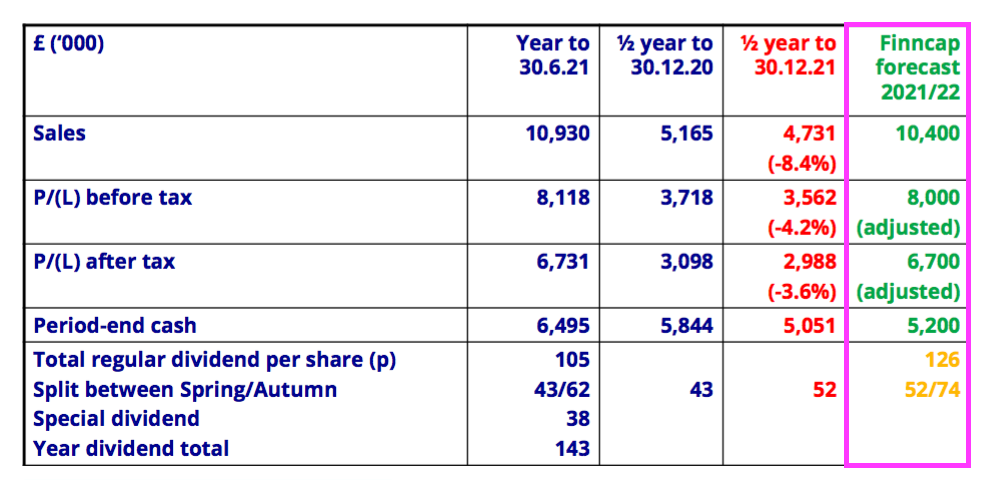 …and therefore revenue from the States could be £5m or so.
Annual results later this month will tell us more, but for now Bioventix's financial year saw GBP:USD average 1.33 and end at 1.22. Would GBP:USD at 1.00 add, say, a further 20% to Bioventix's USD revenue?
If so, that extra £1m (£5m*20%) could mostly translate into extra pre-tax profit given the company's low-cost royalty/licensing model that requires only 17 employees (all paid in GBP) to operate.
An extra £1m pre-tax profit for 2023 would be useful given earnings had looked set to stay around the £6.7m level according to that broker forecast.
Mincon and System1
Mincon and System1 are two other shares within my portfolio that boast some USD revenue.
Mincon's functional currency is EUR, which has already dipped below USD parity for the first time for almost 20 years:
Mincon helpfully reveals the States were Mincon's largest market during 2021, producing sales of €24m that represented 21% of total group revenue:

EUR:USD averaged 1.18 during 2021, which means the €24m would convert into revenue of €29m at the recent EUR:USD of 0.97 — equivalent to a useful 20% boost.
System1 discloses only 'Americas' within its annual report:

I think 'Americas' relates mostly to the States, but the company's US office may serve Canada and there is also an office in Brazil.
Still, 38% of total revenue from 'Americas' is significant, and GBP:USD was an average 1.37 during SYS1's financial year to March 2022.
The currency bull-case for SYS1 is therefore most of that £9m Americas revenue from last year is indeed USD, and may translate to close to £12m if GBP:USD ever hits parity. SYS1 has suffered a US sales setback of late, which would make any USD currency boost very welcome.
Euro exposure
Andrews Sykes, FW Thorpe and Tristel are three portfolio members that did not enjoy any USD revenue during their most recent financial years.
But all three did collect overseas revenue through operations in Europe and beyond. Revenue outside the UK represented 39% at Andrews Sykes, 37% at FW Thorpe and 63% at Tristel.
However, the trio's euro exposure seems unlikely to generate any currency-translation benefits in the near term. GBP:EUR has traded in a tight range since 2016 and USD therefore seems just as strong against EUR as GBP:
Still, if GBP becomes a real basketcase then perhaps such EUR revenue will appear quite valuable to UK investors.
I should add that Tristel has recently launched its very first product in the States and full regulatory approval ought to capture notable sales within a $180m US market.
100% GBP
That leaves M Winkworth, Mountview Estates, S & U and Tasty within my portfolio as 100% domestic operators with no overseas revenue whatsoever.
None of the four has any direct USD expenses, and perhaps only restaurant chain TAST has some overseas costs for ingredients. These four companies therefore ought not to be too affected either way by currency fluctuations.
Relative performance
The drawback this year to owning companies that purely (or mostly) earn GBP-denominated revenue has been the embarrassing relative progress compared to the main FTSE benchmarks.
The FTSE 100 and FTSE All-Share indices are dominated by USD-earners such as Shell, BP, BHP, Rio Tinto, AstraZeneca and GlaxoSmithKline, and the USD profits of such companies have helped sustain their share prices in this year's rough market.
Just contrast the performances this year of the FTSE 100 to the FTSE 250, which is dominated by domestic GBP-earners: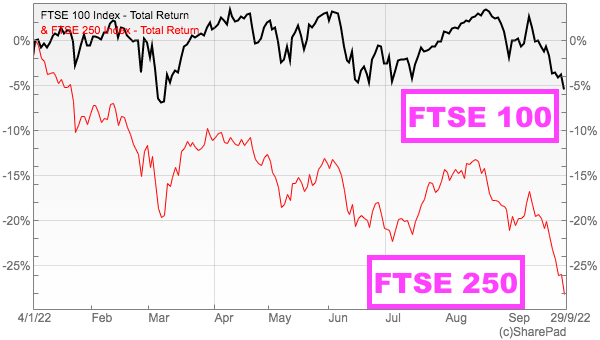 The relative difference seems entirely due to the stronger USD, because this next chart shows similar divergent performances between the S&P 500 denominated in GBP versus the same index denominated in USD: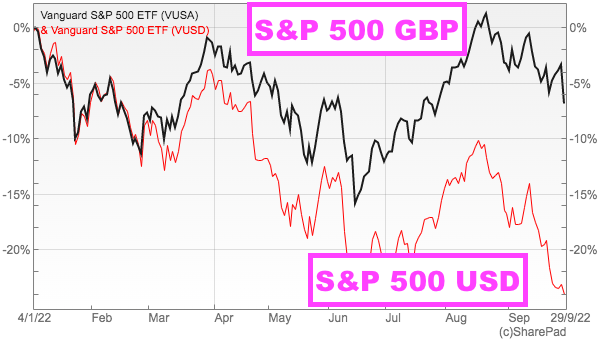 What now?
We could all swap our UK-based shares for the FTSE 100 or the GBP version of the S&P 500! But that may be bolting the stable door… at least for the time being.
Indeed, 'market turmoil' headlines within the wider media tend anecdotally to be more of a contrarian indicator…
…and after hitting 1.04 the other day GBP:USD has since rallied to 1.12 on subsequent events. And "events, dear boy" are what always disrupt investing decisions based on near-term macro guesswork.
For what it is worth, my long-term approach remains based upon owning respectable UK companies with robust finances run by capable directors that are purchased at modest valuations. But this year's GBP:USD slide has reminded me just how important overseas earnings can be when attempting to out-run the major FTSE indices.
Until next time, I wish you safe and healthy investing.
Maynard Paton