02 March 2022
By Maynard Paton
Results summary for System1 (SYS1):
An acceptable H1 performance, albeit with profit lower than I had anticipated due to greater costs associated with the transition to Data services.
Data services continue to advance, representing 36% of total revenue for H1 and reaching 43% for the subsequent Q3.
UK revenue jumping 33% in part through an influx of new Data clients suggests the partnership with ITV is working.
A Q4 sales warning relating to old-style Consultancy activities emphasised management's upbeat ambitions are susceptible to mishaps.
Net cash now represents 25% of the market cap, with long-term multi-bagger upside still obtainable if LTIP revenue targets are met and healthy 'platform' margins are delivered. I continue to hold.
Contents
News links, share data and disclosure
News: Interim results and presentation for the six months to 30 September 2021 published 30 November 2021, directorate change announced 04 January 2022, share buyback programme announced 07 January 2022, trading update published 09 February 2022 and trading update published 22 February 2022

Price: 270p
Shares in issue: 12,767,802
Market capitalisation: £34.5m

Disclosure: Maynard owns shares in System1. This blog post contains SharePad affiliate links.
Why I own SYS1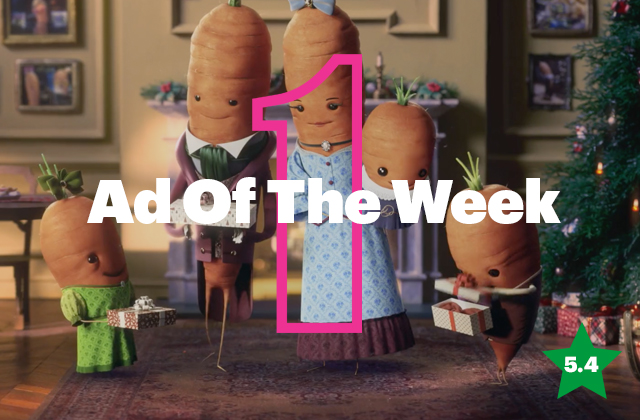 Advertising data specialist wishing to become the "world's marketing decision-making platform" by serving "world-beating prediction and improvement methodologies" for television adverts.
Boasts founder/entrepreneurial executive leader who has overseen acquisition-free growth, retains a 22%/£8m shareholding and has declared five special dividends.
Transition from bespoke consultancy work towards 'scalable' data products, partnerships with ITV and LinkedIn plus bold management ambitions lead to tantalising multi-bagger possibilities.
Further reading: My SYS1 Buy report | All my SYS1 posts | SYS1 website
Results summary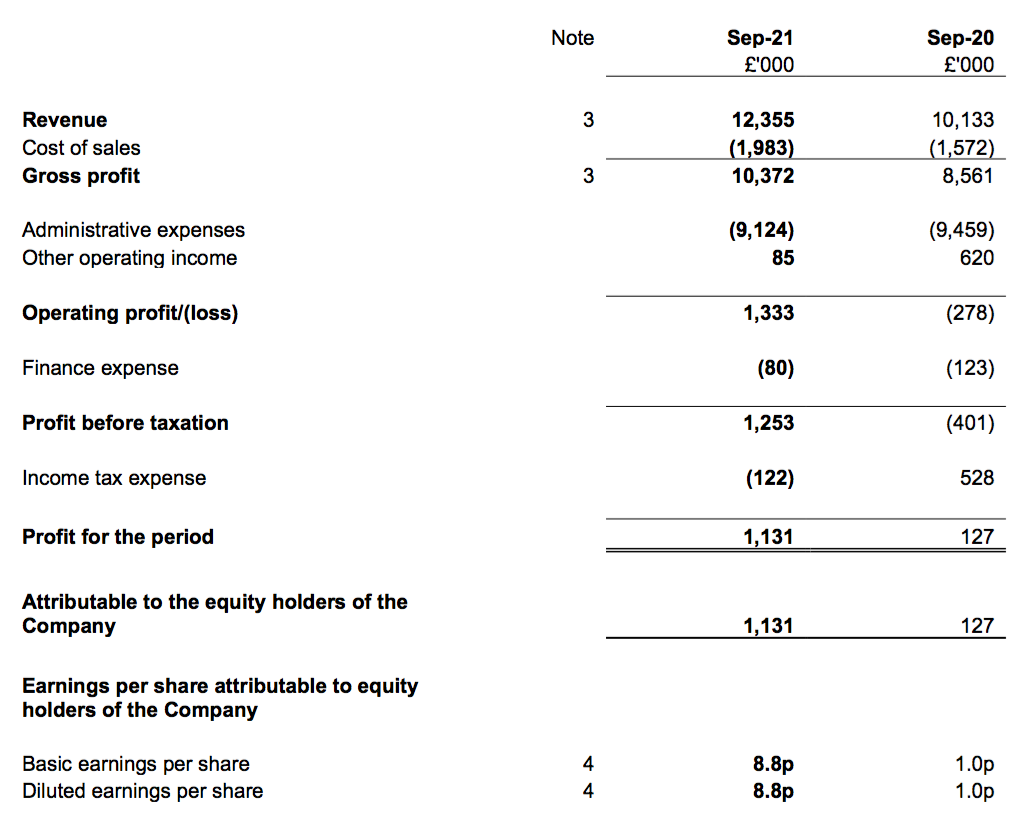 Revenue and profit
H1 revenue did indeed increase by 22%, to £12.4m, while H1 adjusted pre-tax profit did indeed more than triple to £1.3m.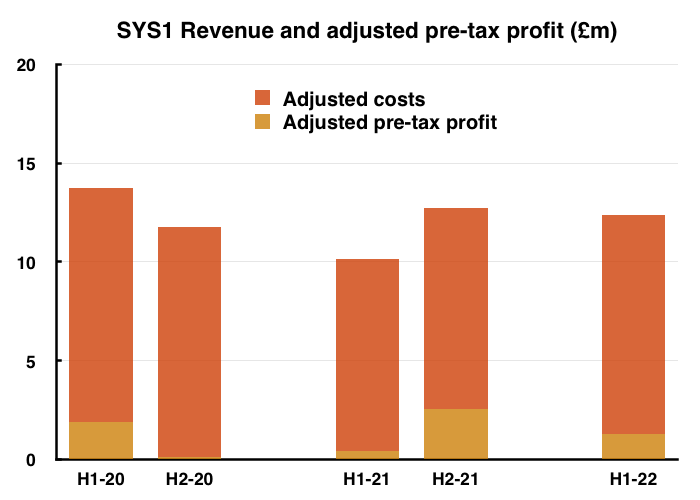 The FY 2021 statement showed adjusted operating costs of £16.2m and indicated an increase to those adjusted costs of at least £1.5m for FY 2022:

I had (optimistically) hoped FY 2022 adjusted operating costs would increase by the minimum £1.5m to £17.7m.
But this H1 statement disclosed adjusted operating costs of £9.1m, which annualised implies FY 2022 adjusted operating costs will be £18.2m.
SYS1 reiterated what the adjustments cover:
"Adjusted Operating Costs exclude impairment, interest, share based payments, bonuses, severance costs, and government support related to the Covid pandemic. Adjusted figures exclude items, positive and negative, that impede easy understanding of underlying performance."
SYS1 did not provide a formal reconciliation between statutory H1 profit and adjusted H1 profit, which is bad form and did not really support an "easy understanding of underlying performance".
SYS1's results from FY 2018 onwards have not offered an "easy understanding of underlying performance" due to the business: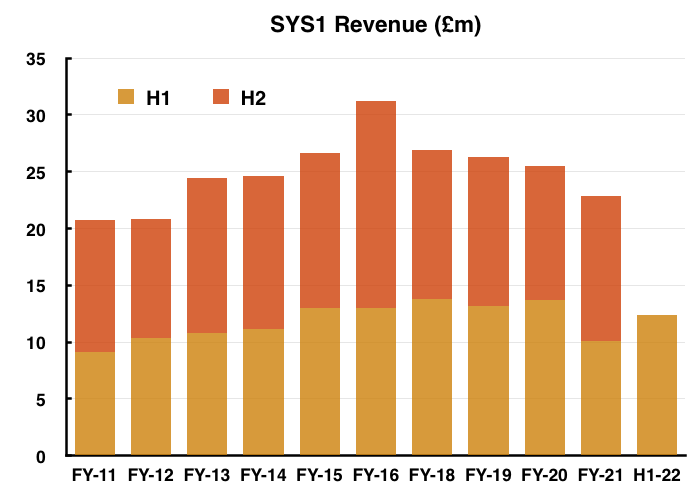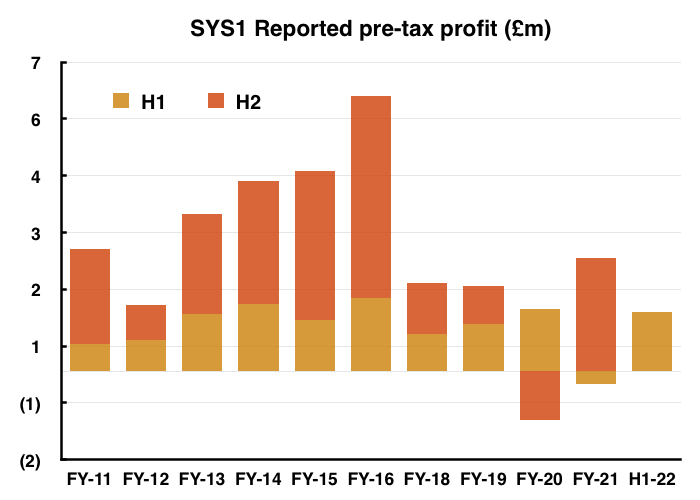 1) Increasing market share from less than 1% to 10% during the next decade:

"Currently at less than 1% share, we believe that System1 can gain 10% global market share in the next decade — a lower share than the current market leaders".
2) Setting a medium-term revenue milestone of £100m-plus (versus £22.8m for FY 2021):

"We take every decision with our medium term £100m+ Revenue milestone in mind."
3) Stating the market cap could eventually become £1 billion (versus £40m now):

"We believe that System1 could be worth £1 billion eventually."
The H1 presentation slides repeated those ambitions: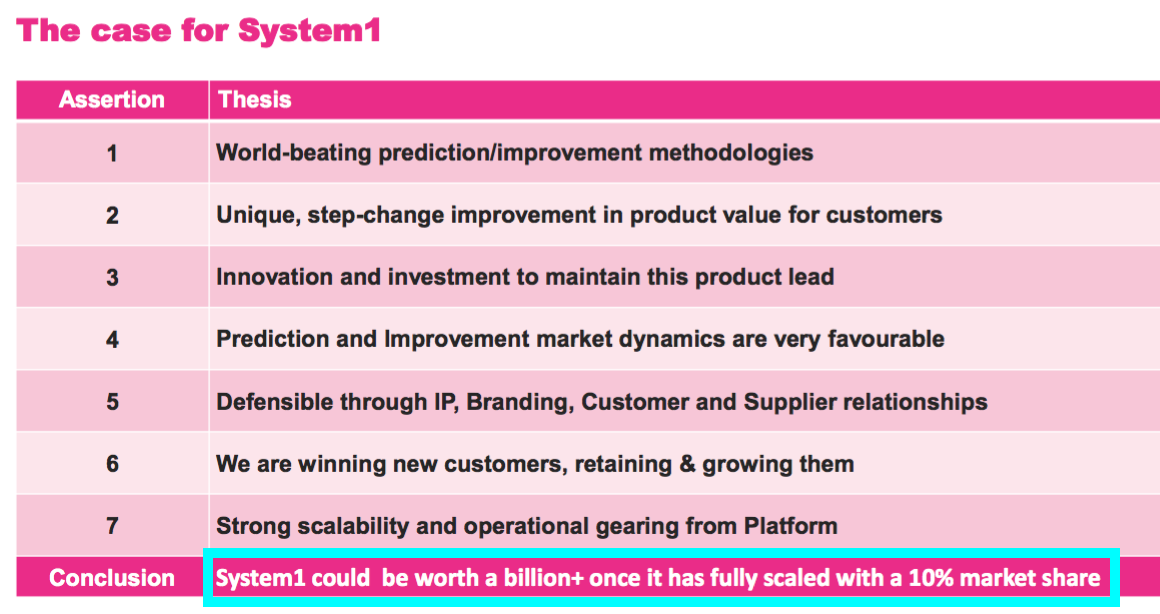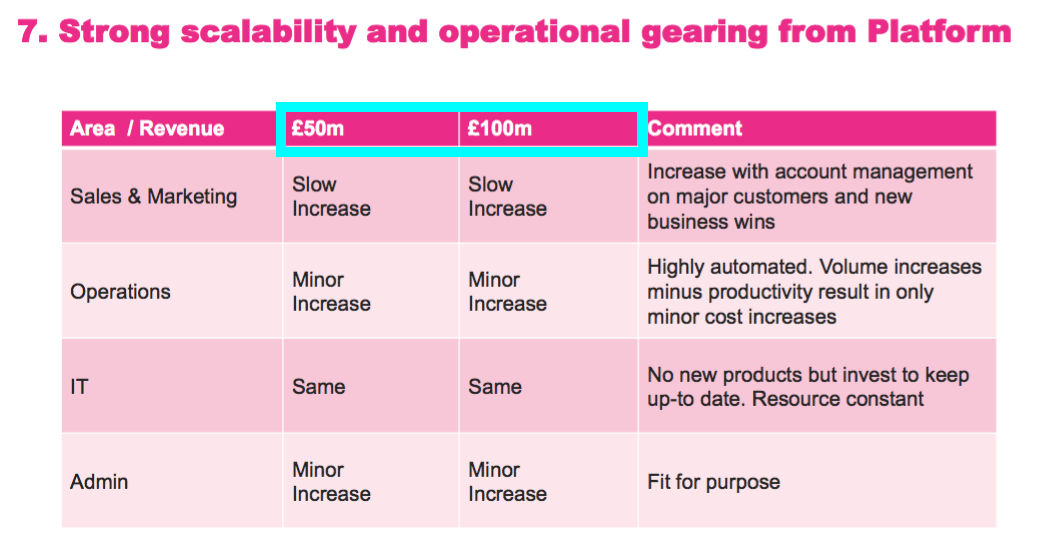 The H1 text also revealed a new company description. "Advertising effectiveness agency" has now been replaced by "marketing decision-making platform":
"Our mission is to be the world's marketing decision-making platform"
The H1 text contained terms such as "global winner", "world-beating", "unique", "step-change", "protected through IP" and "market dynamics are favourable" to support the investment case.
Data versus Consultancy
The use of "marketing decision-making platform" reflects SYS1's ongoing transition from supplying bespoke consultancy work to providing automated data services.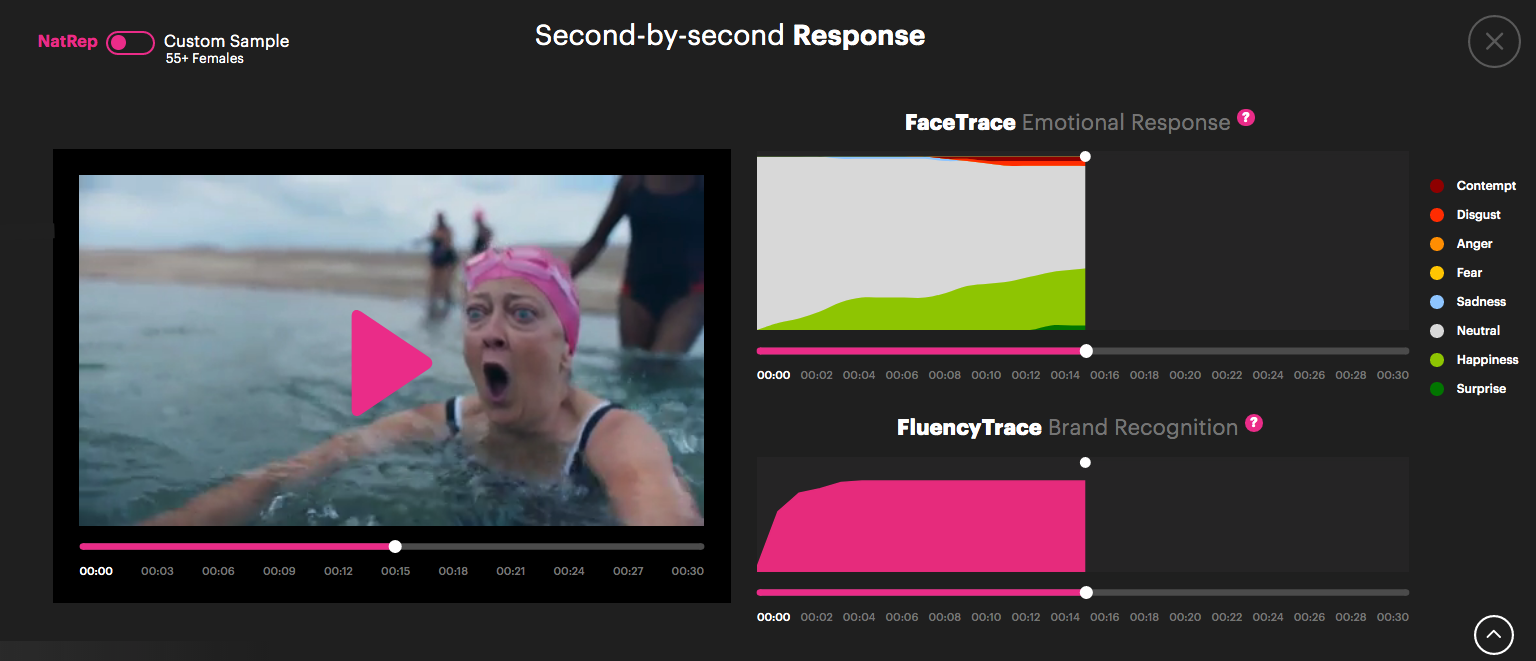 Data revenue is also supported by Test Your Brand and Test Your Idea, which perform the same online-panel function for a company's brand and marketing idea:
SYS1 was pleased with the rate of transition to Data services:
"We have been delighted by the continuing adoption by both new and existing customers of System1's repeatable, fast-turnaround and scalable data products as they displace the historic large bespoke consultancy projects that dominated the Group's activity until H2 last year."
An update during August had expected Data products to "likely represent" a third of H1 revenue.
This H1 statement in fact revealed Data revenue at 36% of total H1 revenue:

The presentation slides provided useful progress charts: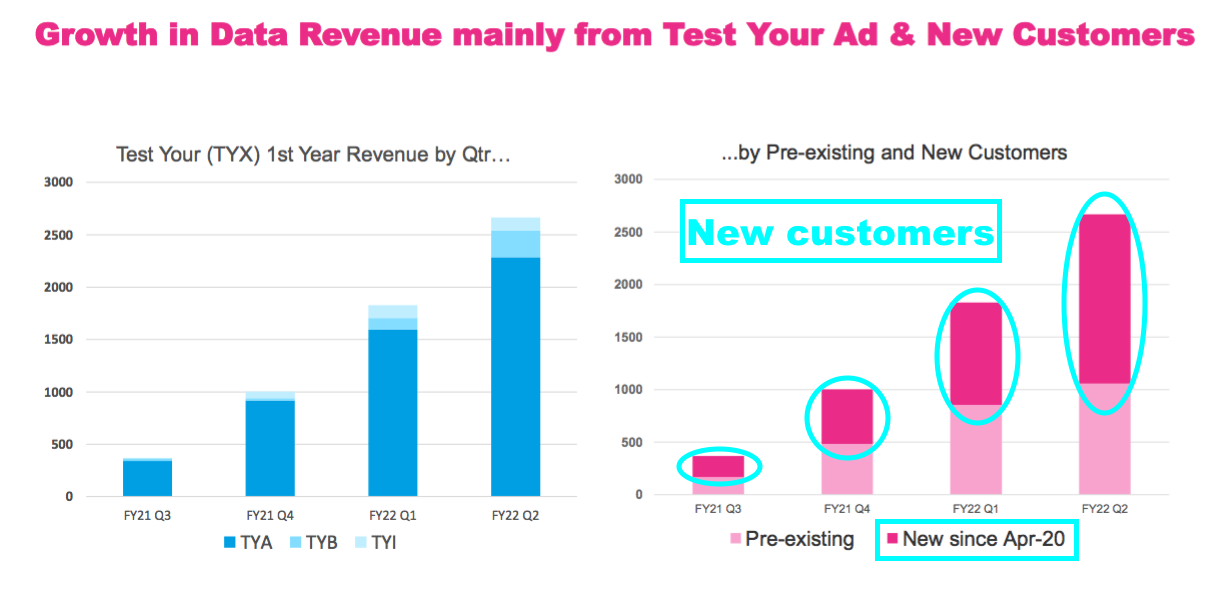 The reduction to the old-style bespoke Consultancy revenue relates to the Test Your Ad growth:
A follow-on to the Test Your Ad service is Creative Guidance, which provides insights as to how the advert could be enhanced through "data-enabled, rapid-turnaround… assignments":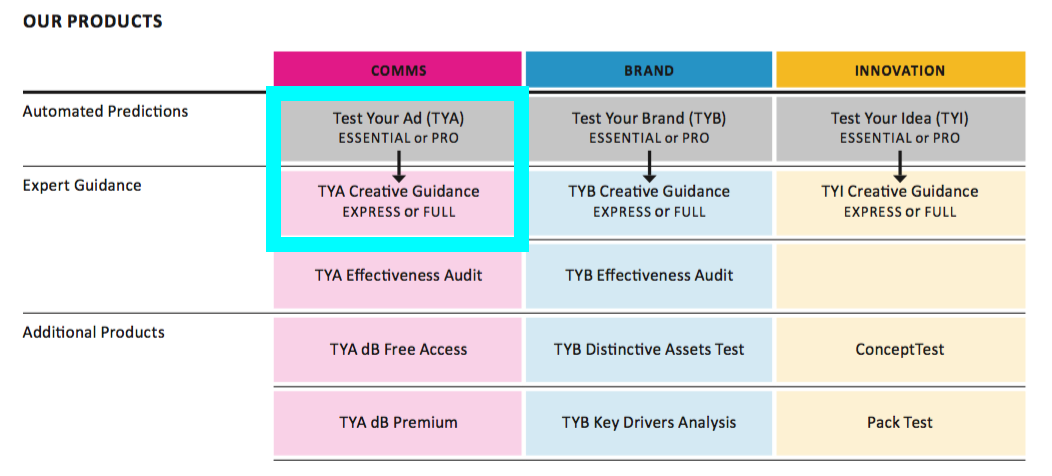 The H1 presentation revealed old-style Consultancy revenue for advert testing (within 'Comms') had halved during the last twelve months, as clients switched to the cheaper Creative Guidance service: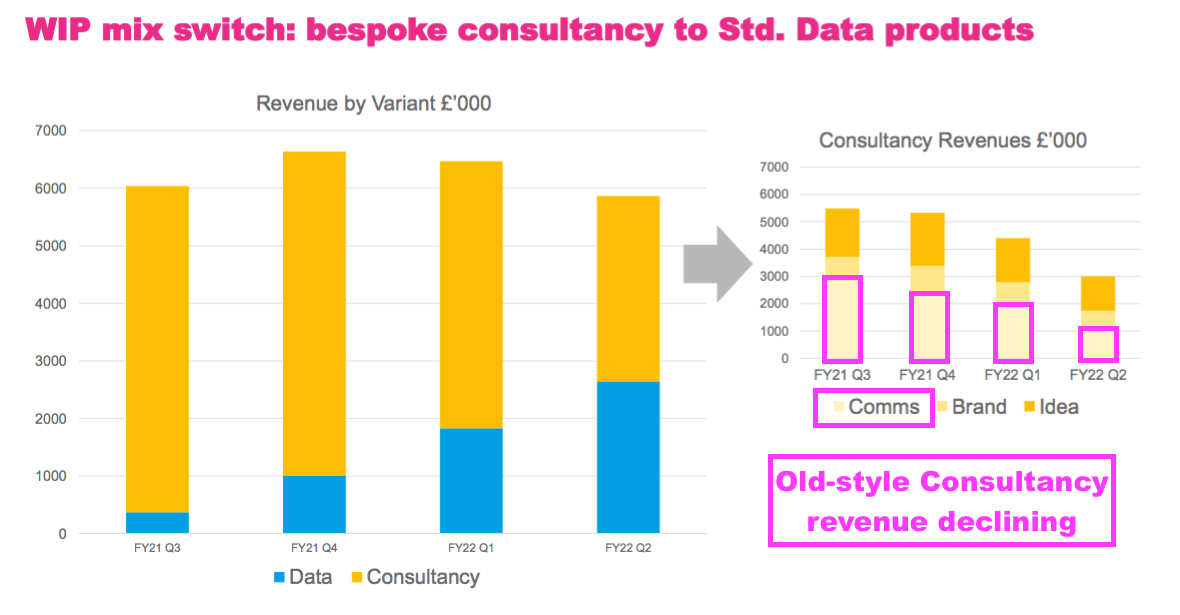 SYS1 acknowledged that further switching from bespoke consultancy to Creative Guidance consultancy would occur as the shift to Data services continued:
"The rapid adoption of our automated data products by existing and new customers in the first half of the year augurs well for the future of our platform strategy and is expected to be partially offset in the near term by the continuing reduction in our legacy bespoke consultancy assignments that previously formed the core of our historic BrainJuicer business."
SYS1 will in future commendably disclose old-style and new-style consultancy revenue separately:
"In future reporting periods we will report the revenue from standard consultancy separately from the complex bespoke projects."
Communications and UK revenue
The preceding FY 2021 statement had hinted SYS1's past reporting of product "area" — defined as Communications, Brand and Innovation — may not be continued:
"[W]e now segment our revenue primarily by product variant rather than product area (Comms, Brand, Innovation)"
But revenue (for now) continues to be reported by Communications, Brand and Innovation.
Emphasising the growing demand for Test Your Ad, SYS1's Communications revenue (which covers all advert-testing services) recorded its best-ever six-month level of £7.3m: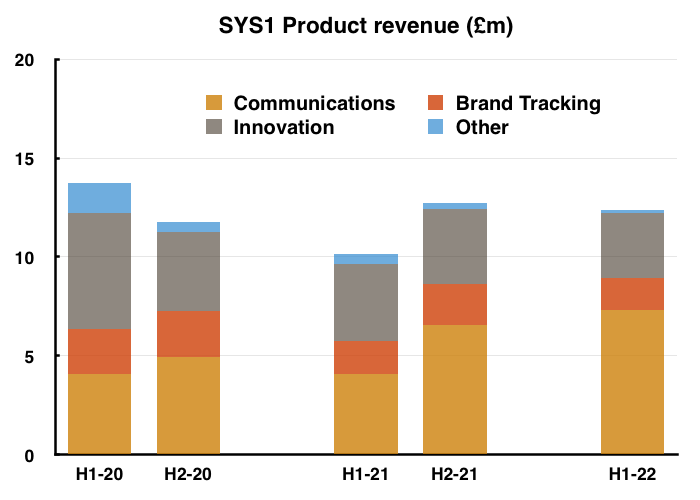 Also of note was a strong UK performance:

The ITV partnership was prompted by the broadcaster's new desire to show more engaging adverts, and the agreement appeared to validate the philosophy, data and conclusions of SYS1's advert testing.
The preceding FY 2021 results had said ITV was "promoting and recommending" SYS1's Test Your Ad service, in part through a Euro 2020 advert competition.
Perhaps emphasising the ITV impact during this H1:

H1 UK revenue climbed 33% versus non-UK revenue gaining 17%;
H1 UK revenue represented 32% of total H1 revenue — the highest proportion since FY 2015, and;
H1 UK revenue of £4.0m was the best six-month UK performance since H2 2016.
This H1 statement mentioned ITV only very briefly:
"Our commercial strategy is also working well. Partnerships with broadcasters and platform owners including LinkedIn and ITV are bearing fruit, bringing our decision-making platform to a wider international customer base."
But a November ITV presentation did reveal the broadcaster's advert revenue was set to reach an all-time high: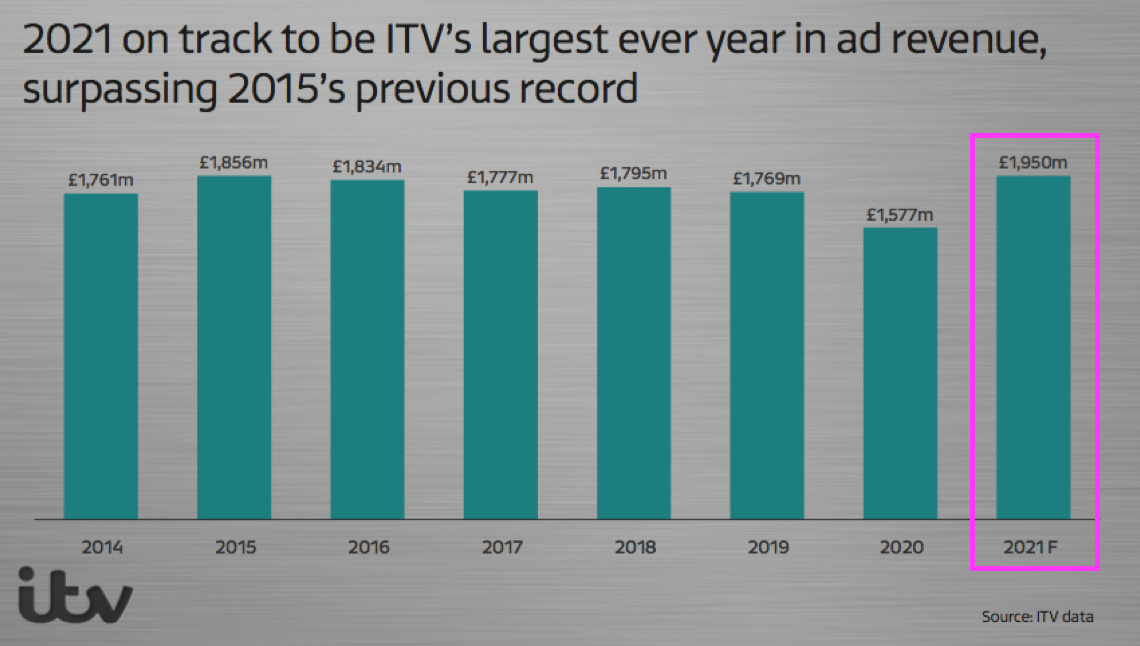 SYS1's H1 text hinted that partnerships extended beyond ITV and LinkedIn…
"Our commercial strategy is also working well. Partnerships with broadcasters and platform owners including LinkedIn and ITV are bearing fruit, bringing our decision-making platform to a wider international customer base."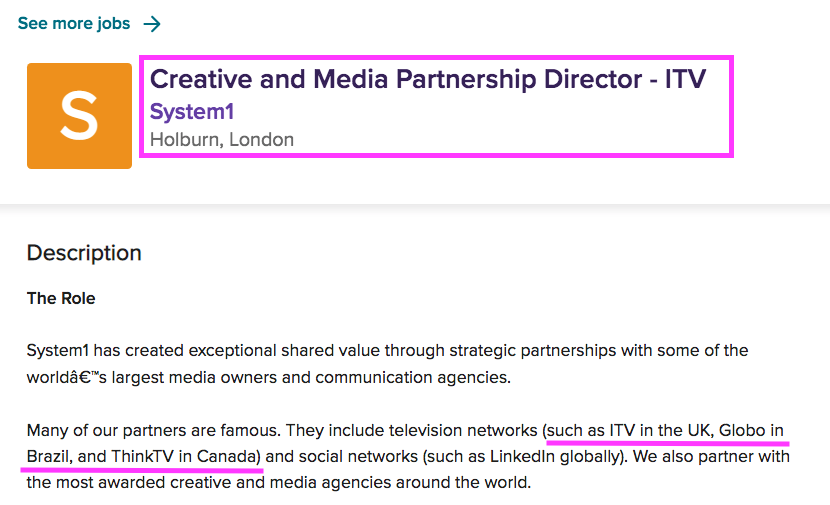 Revenue per employee
The aforementioned increase to adjusted operating costs reflected extra employees:
"Adjusted Operating Costs increased by 10% compared with H1 2020/21, broadly in line with the year-on-year growth in average employee numbers (H1 2021/22: 146; H1 2020/21: 128). Growth in employee numbers resulted from investment in sales and marketing (headcount +37%) and IT (headcount +27%) to accelerate the development of our automated data products and their commercialisation through partnerships and platform."
To date the extra employees have not improved SYS1's workforce 'productivity'.
Revenue per employee for this H1 was £169k, below the £170k reported for FY 2021 (point 11) and below the £178k average for the five years to FY 2020:
When additional income from Data services more than offsets declining sales from the old-style Consultancy work, revenue per employee should advance well beyond that historical £178k average as the 'scalable' nature of SYS1's new 'platform' emerges.
Look out.
The H1 text referred to a new book by Orlando Wood, SYS1's chief innovation officer:
"Earlier this month we launched our Chief Innovation Officer Orlando Wood's latest book on advertising effectiveness, Look out., which was published by the Institute of Practitioners in Advertising.

Look out. argues that to create effective and memorable advertising that builds brands, the advertising industry must capture the 'broad-beam' attention of audiences; to achieve this the industry must shift its attentional plane — it must look out.

The new book explains the behavioural science that underpins the methodology behind Test Your Ad and has been hailed by CMOs and advertising industry leaders."
Mr Wood spoke to SYS1's chief marketing officer about the book during this November webinar:
If the webinar is anything to go by, the book requires some deep System 2-type thinking. Lots of parallels were drawn between early 16th century paintings and modern advertising: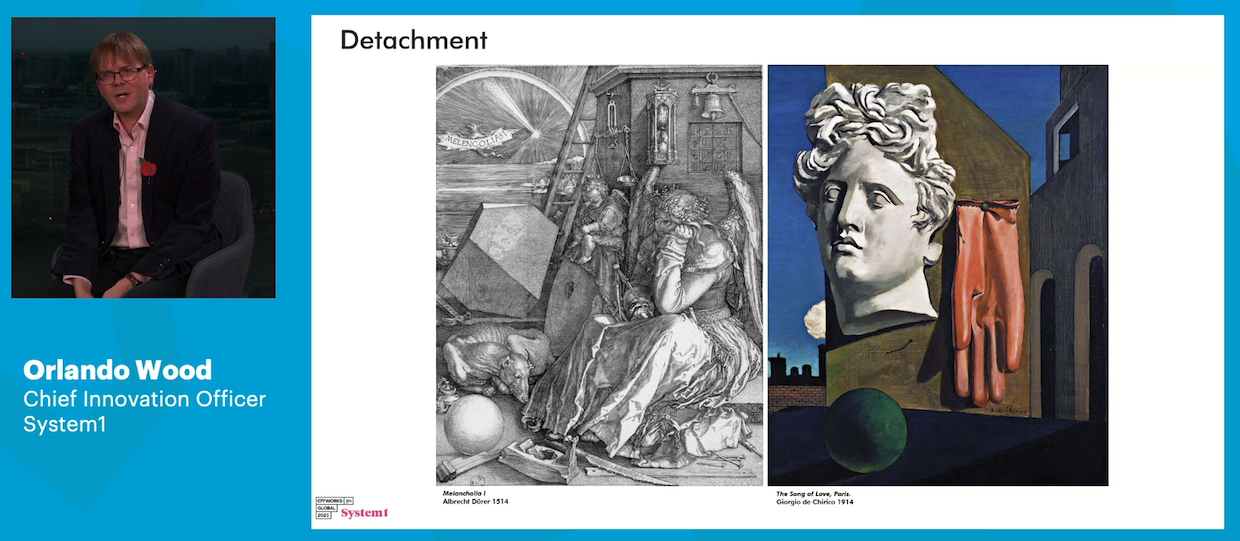 I note SYS1's results presentation gave a passing reference to the new book…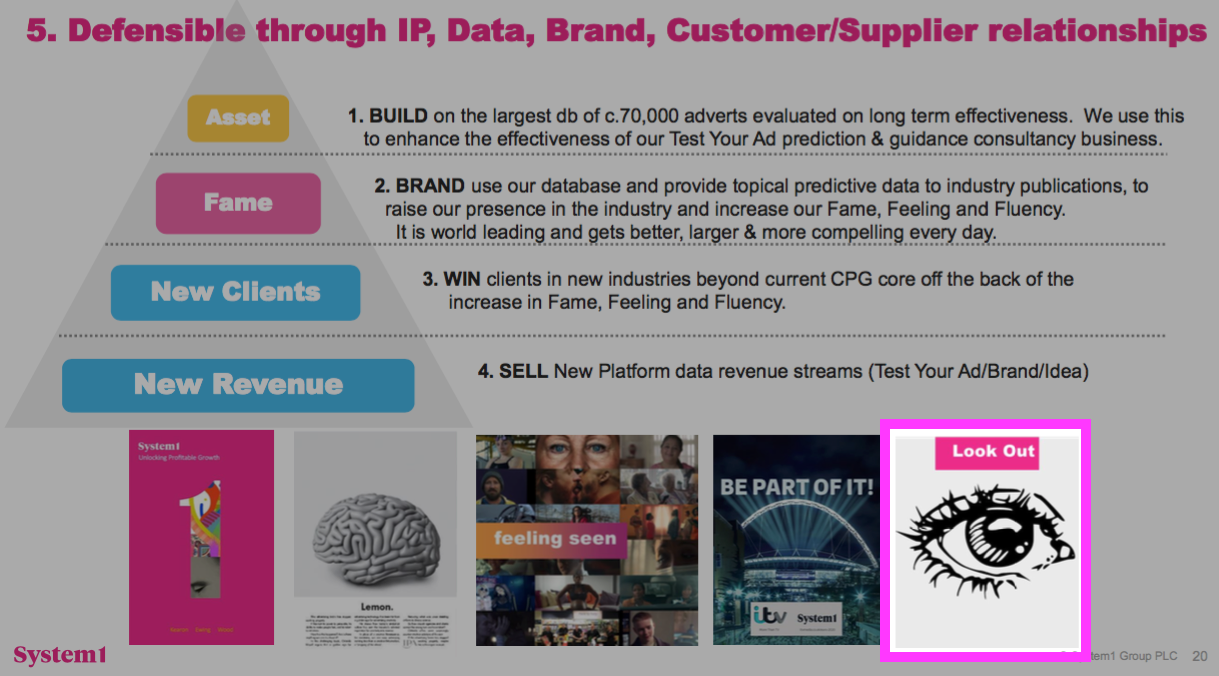 …but dedicated a full slide to a testimonial from marketing expert Mark Ritson: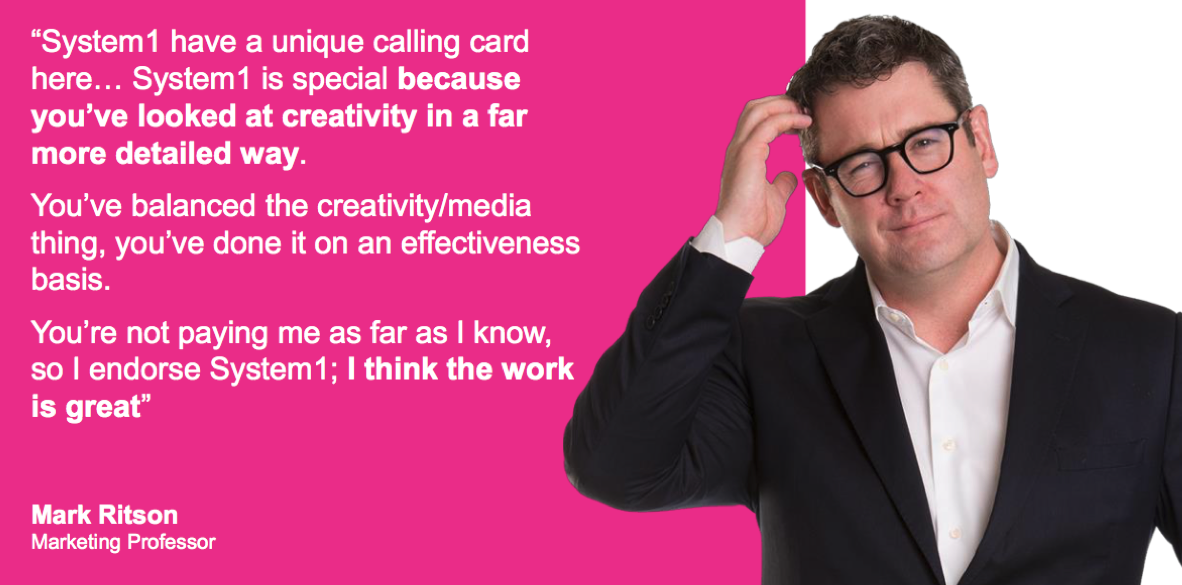 I maintain SYS1 should employ a Mark Ritson-type presenter to showcase the group's research in a more System 1-type manner:
Financials
SYS1's primary accounting attraction remains the cash-flush balance sheet.
The cash position improved by £1.0m during the half to £10.0m.
Bank debt of £2.5m matched that of six months ago.
H1 net cash was therefore £7.5m.
The £1.0m cash inflow included a £0.4m tax receipt following a successful £0.5m R&D tax-credit claim. The tax credit received during this H1 related to FY 2020 and a claim has been submitted for FY 2021 (point 12).
A further £0.4m was absorbed into working capital during the half. SYS1 generally pays its suppliers (e.g. online panel organisers) faster than payments are collected from customers (point 8).
I am hopeful the transition towards high-volume, low-price Data services and away from low-volume, high-price Consultancy work can lead to a more favourable working-capital profile.
The aforementioned extra employees reduced SYS1's adjusted pre-tax margin to 11% from the 20% reported for the preceding H2.
The share buyback mooted within the FY 2021 results was confirmed during January.
Buyback details include:

Up to £0.75m will be spent repurchasing shares until the 31 March 2022 year-end;
To date £430k has been spent buying shares at an average 358p, and;
Repurchased shares will be used to satisfy LTIP obligations.
SYS1 will "formally review the effectiveness" of the buyback programme after the 31 March 2022 year-end.
February 2022 trading updates
SYS1 issued two trading updates last month.
The first update revealed further progress with Data services during Q3:
"Revenue in Q3 rose 8% on the comparable period last year to £6.5m, and Data products represented 43% of the quarter's revenue.

Year-to-date revenue to the end of Q3 was 17% higher than the prior year at £18.9m, and Data revenue represented 39% of the year-to-date total (H1: 36%).

Period-end cash, net of borrowings, was £8.1m, compared with £6.5m at end-March 2021.

Profitability was in line with management's expectations and reflected an increase in expenditure on people and platform as highlighted in the interim results announcement."
I calculate Data revenue for Q3 was £2.8m versus £2.6m for Q2 and £1.8m for Q1: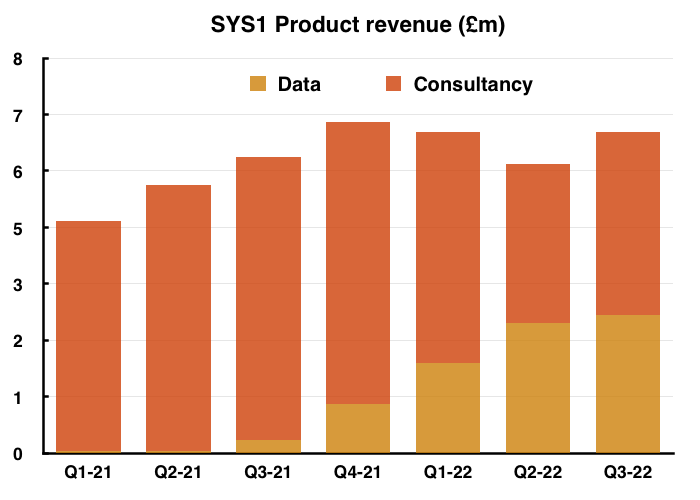 I also calculate the Q3 cash inflow was £0.6m, which appeared better than the aforementioned £1.0m H1 inflow that was bolstered by the £0.4m tax receipt (see Financials).
Two weeks later, the second update disclosed:
"Despite substantial progress in the development of new revenue streams from automated prediction products (Data) since their introduction in 2020, and satisfactory performance in the first 9 months of the current financial year, total revenues in the final quarter ending 31 March 2022 are now expected to be over £1m short of management's previous expectations. This is due to a sudden and unanticipated reduction in the forecast for bespoke consultancy project sales in the US.

Management is taking rapid action to address the consultancy sales performance in the US. As a consequence of the lower consultancy revenues, we now expect profit before tax for the final quarter and the year as a whole to be about £1m below the current market expectations.

The Company is now well into its transition from a marketing agency to a decision-making platform. Automated Data products in the US region, and overall, continue to perform well, attracting over 200 new customers since launching in 2020. In the nine months to 31 December 2021, 39% of revenue came from Data and 60% of that revenue originated from those new customers.

Cash net of borrowings remained strong at the end of January at £9m, compared with £6.5m at end-March 2021.
SYS1 admitted the old-style Consultancy revenue had fallen at least £1m short of expectations for Q4.
Previous SYS1 profit warnings implied the old-style Consultancy work had little revenue predictability:
January 2018: "Q3 trading continued to be worse than anticipated and, subject to its normal lack of revenue visibility, the Company now anticipates Gross Profit for the year to 31 March 2018 will be around 20% less than the prior year."
August 2017: "The slower than expected start to our financial year which we noted at the time of the announcement of our 2016/17 results on 15 June 2017 has continued since then… This is mainly due to non-recurrence of large one-off Innovation projects as a result of some significant client spending deferrals and a more competitive market, although there have been some more encouraging signs recently."
March 2013: "Every year, some clients spend unused budget in November and December, but in 2012 many big companies decided instead to cut back, and this had a material effect on our profits. As a result, we reduced costs and we'll be less reliant on clients releasing spare budgets at the end of the year going forward."
The shift to Data services ought to limit future Consultancy upsets, but in retrospect a Consultancy mishap was always a danger.
At least the annual-report small-print (point 6) claimed…
"the Group is a lot more confident about how to respond to an abrupt negative situation"
…and maybe the sudden profit warning reflected a "team behaviour" (point 1):
"Truth — always tell the truth… and tell it early"
Assuming SYS1 was expecting Data and Consultancy revenue for Q4 to match that of Q3, then a £1m Consultancy revenue shortfall could look like this: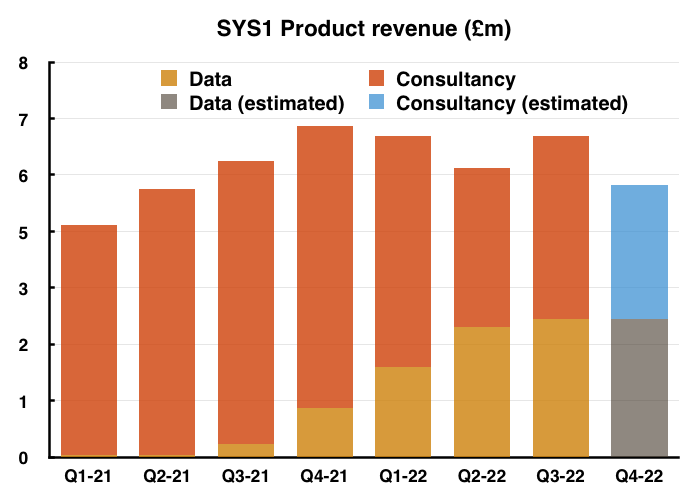 Assuming also that gross margins and adjusted operating costs for H2 match those witnessed during H1, Q3 and Q4 adjusted profit may look like this: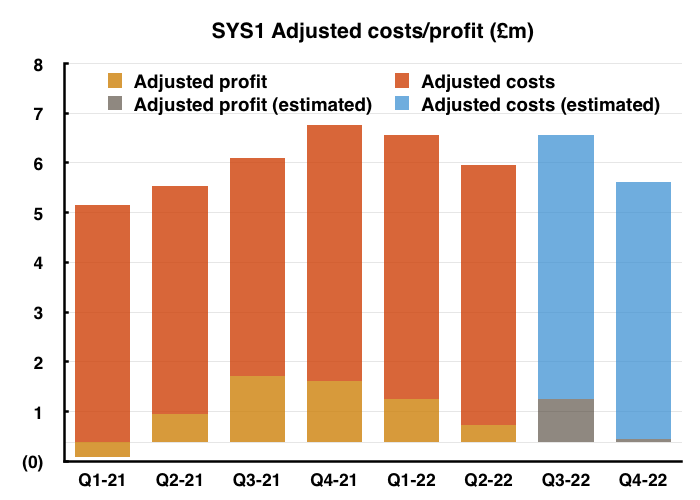 My profit calculations are more optimistic than the broker forecast shown in SharePad:
The SharePad forecast of a £0.8m pre-tax profit for FY 2022 implies a H2 pre-tax loss of £0.5m.
The second trading update also disclosed:

Net cash of £9m, which represents 25% of the market cap and implied January witnessed a remarkable cash inflow of £0.9m, and;
60% of Q123 Data revenue was generated by new customers, which my rough sums translate into Q3 Data revenue from new customers of £1.75m versus £1.6m for Q2 and £1.0m for Q1.
The second trading update followed this management change during January:
"System1 Group plc (AIM: SYS1) today announces that, as planned, Stefan Barden will step down as CEO and from the board of directors on 31 January and revert to his previous role as an adviser to the board of directors on strategy and technology. System1's founder, John Kearon, will return to the CEO role."
"System1 Group plc, the advertising effectiveness agency, (AIM: SYS1) announces that, in line with the continued evolution of the Company, John Kearon, previously Chief Executive Officer, has today assumed the title of 'Founder and Executive President' and Stefan Barden, previously Chief Operating Officer, the title of 'Chief Executive Officer'.

Stefan will remain an executive director rather than reverting to the purely advisory role indicated last year."
System1 Group plc (AIM: SYS1) today announces that it has appointed Stefan Barden to the board of directors of the Company as an executive director with immediate effect. From November 2018, Stefan has been an adviser to the board of directors on strategy and technology, and has recently taken on the executive role of chief operating officer to assist the Company through its next phase of development. He will return to the advisory role when this is complete, expected to be in around a year."
"Not sure what to make of this. Mr Barden was set to have a year-long stint as a board exec, then became CEO and a permanent executive, but now has decided to return to the advisory role. I get the impression Mr Barden was required to push through some tough changes, so had been appointed a board exec.

I suppose the bull case from this latest RNS is the hard transitional work has now been completed and, nine months after saying Mr Barden would remain an exec, the company has transitioned so well that actually Mr Barden can return to being an advisor."
Perhaps the Consultancy shortfall shows Mr Barden should have stayed on as an executive for a little longer.
Valuation
Doubling up the H1 adjusted performance and applying 19% standard UK tax gives earnings of £2.1m.
A market cap of £35m less the £9m net cash position gives an enterprise value of £26m, which is 12-13 times that £2.1m earnings extrapolation.
But the Q4 profit setback raises questions about the future of SYS1's old-style Consultancy work.
Will such Consultancy revenue bounce back? Or is Consultancy revenue now withering as SYS1 focuses on Data services?
I get the impression Consultancy might be withering. After all, that earlier presentation slide did show old-style Consultancy revenue within the 'Comms' segment halving as clients shifted to the cheaper Creative Guidance service (see Communications and UK revenue).
Perhaps SYS1 may now accelerate the transition to Data as Consultancy efforts are wound down.
The longer-term investment case remains based on the transition to Data — and Consultancy profits were never likely to support SYS1's market-share ambitions (from sub-1% to 10%) and talk of that £1 billion market-cap.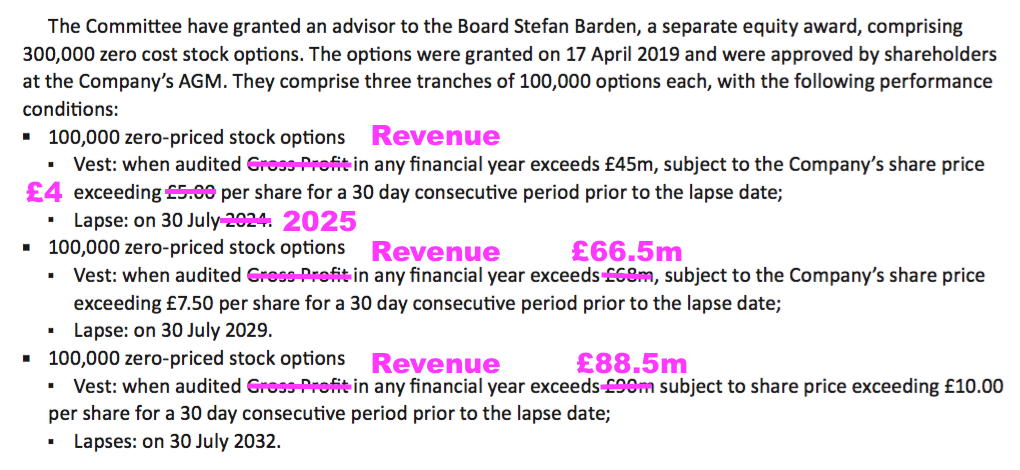 The lowest revenue target of £45m compares to my best guess of £24m for FY 2022. Data revenue is presently running at an annualised £11m.
Assume revenue does reach £45m and SYS1's 'platform' ambition translates into a 20% operating margin, then earnings could be close to £7m after 25% tax (from FY23).
Earnings close to £7m could make the £35m market cap very cheap regardless of the £9m net cash position.
Mind you, SYS1's current LTIP scheme was first introduced during 2017, was extended during 2019 and then (contentiously) changed during 2021. Option targets are therefore not guaranteed to be met in a timely fashion.
The intriguing investment prospect of course remains SYS1's talk of advancing its market share from less than 1% to 10%, and that growth then supporting a possible £1 billion market cap.
But whether such upbeat projections are truly realistic or just plain reckless is impossible to determine right now.
I am guessing the long-term investment outcome will be somewhere in between truly realistic and plain reckless.
After all, the clear business strategy, the product validation from ITV alongside the rapid take-up of Data services all provide optimism…
…but the Q4 Consultancy warning underlines management's ambitions being susceptible to setbacks.
Maynard Paton