21 October 2022
By Maynard Paton
Results summary for City of London Investment (CLIG):
Rough market conditions causing funds under management (FuM) to fall 17% to $9.2b led to H2 net fee income dropping 5% and H2 profit diving 20%.
A post-year update showed FuM sliding a further 8% to $8.5b, but also the fourth consecutive quarter of net FuM inflows that may signal clients re-appraising CLIG's 'value' approach.
Buying SPACs at discounts to cash helped merger partner KIM outperform the original CLIM division with 6% five-year annualised returns versus 3-4%.
Revenue "100%" denominated in the stronger USD, handy cash conversion plus net funds and investments of £30m counterbalanced an H2 margin squeezed to 'only' 42%.
Near-term earnings could now be running at 36p per share, which should still support the 33p per share dividend and 8%-plus yield at 400p. I continue to hold.
Contents
News links, share data and disclosure
News: Annual report and presentation for the twelve months to 30 June 2022 published 20 September 2022 and Q1 2023 trading update published 17 October 2022.

Share price: 400p
Share count: 50,679,095
Market capitalisation: £203m
Disclosure: Maynard owns shares in City of London Investment. This blog post contains SharePad affiliate links.
Why I own CLIG


Fund manager that employs a lower-risk strategy of buying investment trusts at wide discounts through a "team approach to investing" (point 6b) .
Accounts showcase wonderful 40%-plus margins, hefty net cash and ability to distribute majority of earnings via dividends.
P/E of 11 and yield of 8% offer meaningful upside potential should a wider market recovery ever bolster funds under management.
Further reading: My CLIG Buy report | All my CLIG posts | CLIG website
Results summary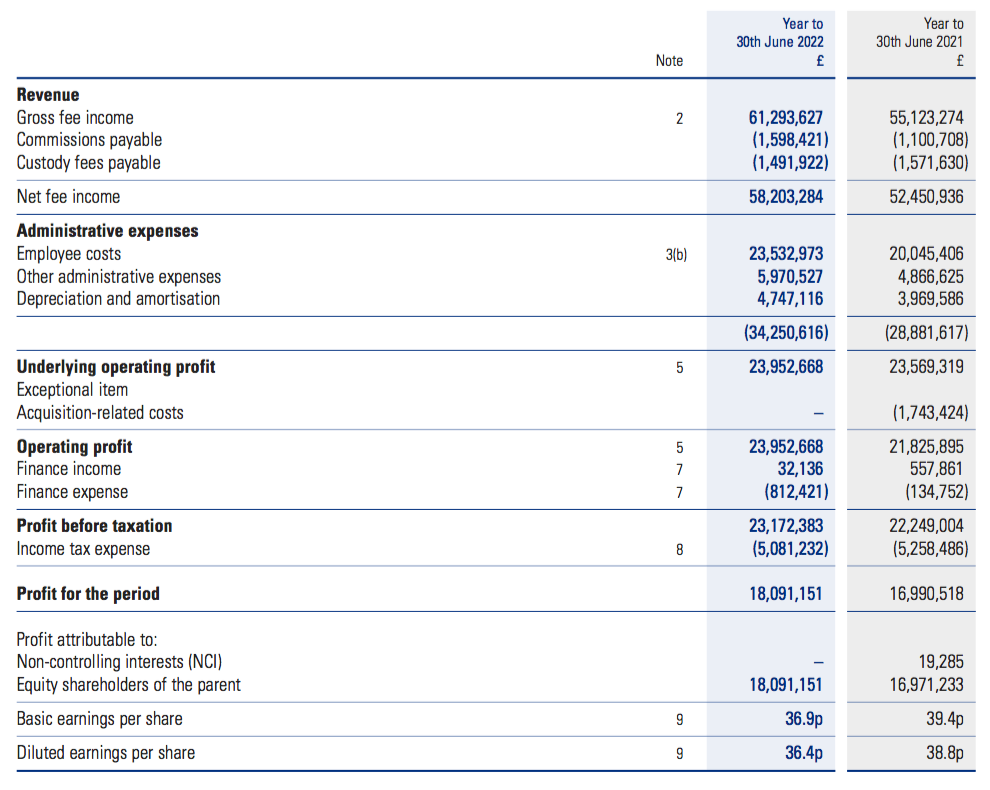 Net fee income, profit and dividend
FuM dropped 8% during Q3 and a further 10% during Q4 to leave FuM down 17% since the end of H1 and down 19% since the end of FY 2021: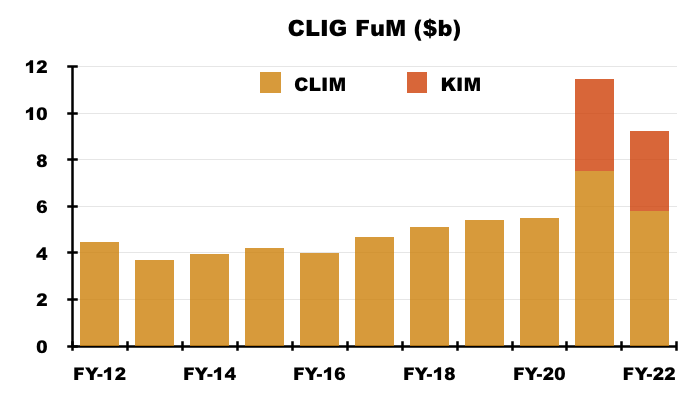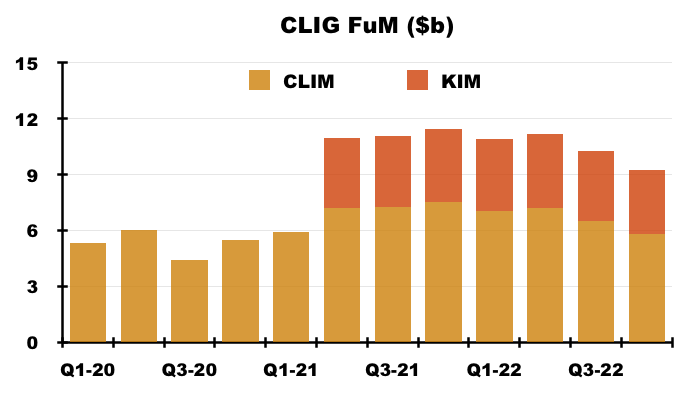 CLIG claimed the FuM performance was due "in large part to matters beyond [its] control" and was "mirrored across the asset management industry as a whole".
CLIG noted a variety of asset classes delivered negative returns: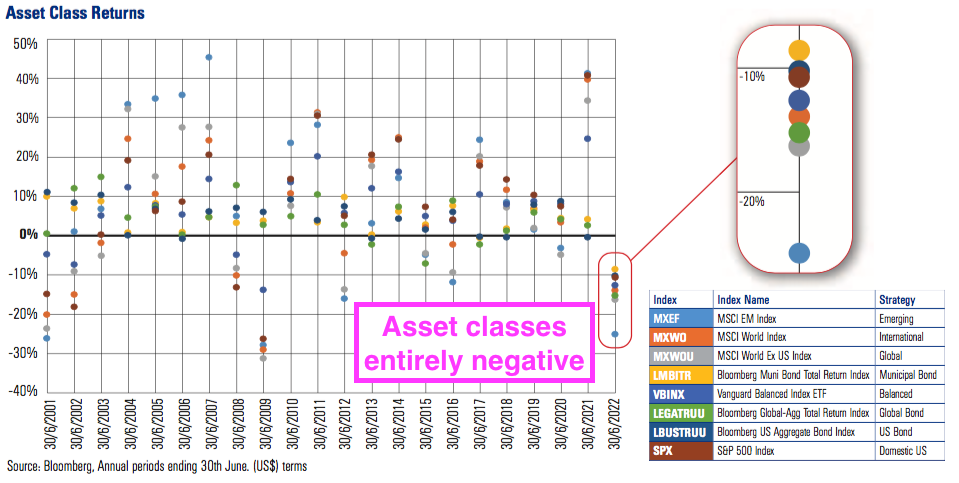 July's Q4 update said this FY 2022 statement would show underlying profit before tax at approximately £27.2m and earnings at approximately £18.1m.
Underlying profit before tax was £27.2m as projected and earnings were £18.1m as projected.
Bolstering progress was a full twelve-month contribution from Karpus Investment Management (KIM).
Total net fee income increased 11% to a record £58.2m: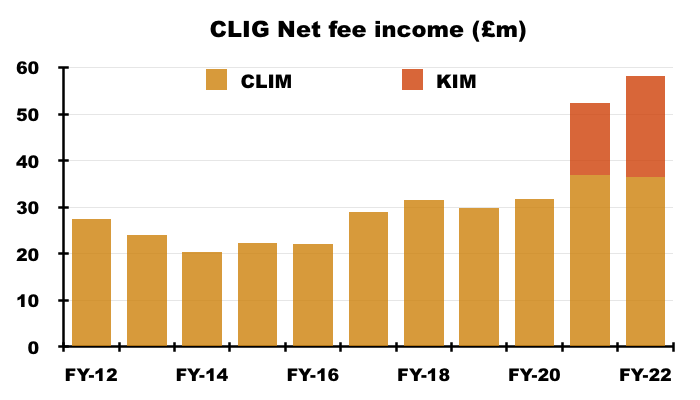 Following my request to disclose KIM's net fee income for FY 2022, CLIG replied: "KIM's net fee income can be estimated based on the proportion of KIM's year-end FuM as a % of the Group's year-end FuM (c. 37%)"
37% of £58.2m equals £21.7m.
Companies House shows CLIG's City of London Investment Management (CLIM) division reporting revenue of £38.0m and custody fees of £1.5m, which led to net fee income of £36.5m for FY 2022:
The Companies House information indicates net fee income for CLIM dropped 1%, and implies net fee income for KIM (pro-rata twelve months) gained 5% to £21.7m.
Charges associated with the KIM merger influenced profit comparisons, and consisted of:

Exceptional merger expenses of £1.7m incurred during FY 2021, and;
Amortisation of acquired intangibles, which came to £4.1m during FY 2022 and £3.3m for the comparable FY 2021.
Adjusting for the KIM merger costs and amortisation, FY 2022 operating profit climbed 4% to £28.0m: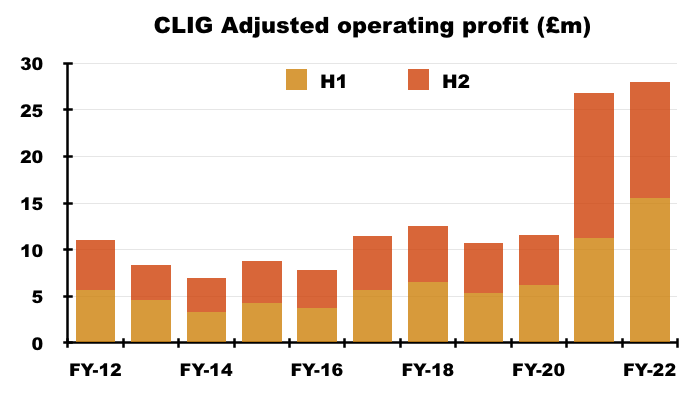 H2 adjusted operating profit of £12.4m was 20% lower than the £15.6m struck during both the preceding H1 2022 and comparable H2 2021.
The H2 profit shortfall was a result of:

Lower H2 net fee income (£28.4m) versus both the preceding H1 2022 (£29.8m) and comparable H2 2021 (£29.9m), and;
Higher H2 costs (£15.9m) versus the both the preceding H1 2022 (£14.3m) and comparable H2 2021 (£14.3m) (see Financials).
My calculations suggest KIM's H2 net fee income (down 1% on H1 2022 to £10.8m) held up better than CLIM's H2 net fee income (down 7% on H1 2022 to £17.6m):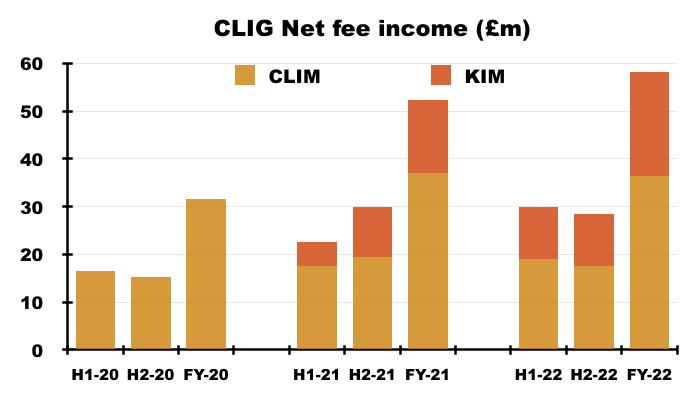 A potentially significant FuM development occurred during H2 2022 — CLIG extended its run of consecutive quarters of net client-money inflows to three following five consecutive quarters of outflows (see Funds under management: inflows and outflows).
The Q1 2023 statement then repeated the trick with a further quarterly inflow of client money (see Valuation).
Wishful thinking perhaps, but maybe clients continue to re-appraise CLIG's 'value' style of investing following the choppier market conditions of the last year or so.
The preceding H1 2022 statement had suggested the final dividend could be lifted:
"The option of increasing the final dividend at year end, dependent upon market conditions, remains open."
But the "dependent upon market conditions" proviso was activated and the final payout was held at 22p per share: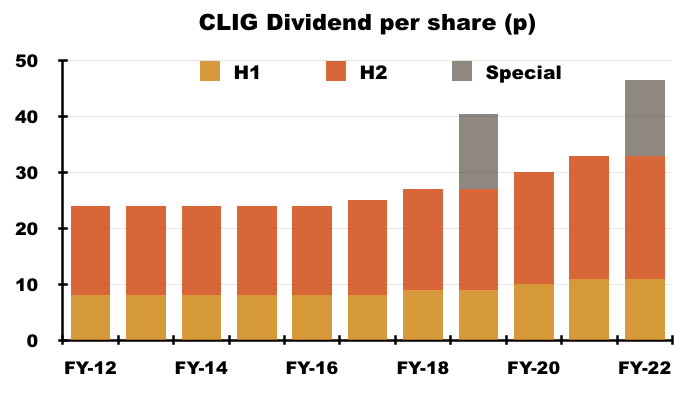 Funds under management: inflows and outflows
CLIM's FuM can be divided into two main categories:

Emerging Markets (EM), and;
Other Strategies, which cover:

Developed (or "International") markets outside the United States;
"Opportunistic Value";
"Frontier" markets, and;
Seeded funds (REITs and "Global").
Both categories apply CLIG's long-standing value approach of buying investment trusts at wide discounts and occasionally taking an activist stance.
KIM meanwhile manages a mix of US equities (including investment trusts) and bonds.
For years CLIG has struggled to attract significant sums of new client money.
The (very thin) red bars on the chart below put the client money inflows and outflows into perspective: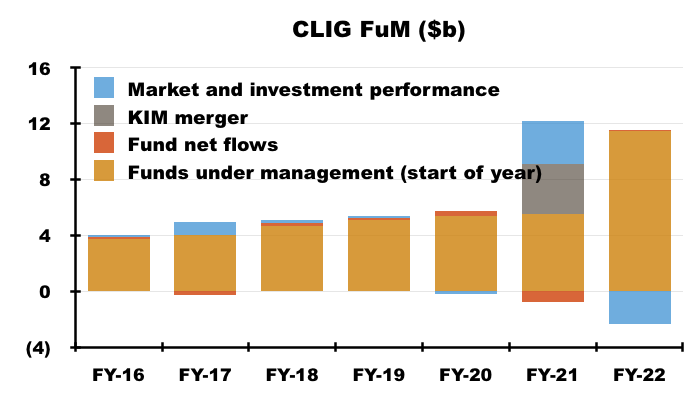 The preceding FY 2021 in fact witnessed client net withdrawals of $752m, which almost entirely offset the aggregate net client inflows of $758m enjoyed between FYs 2015 and 2020: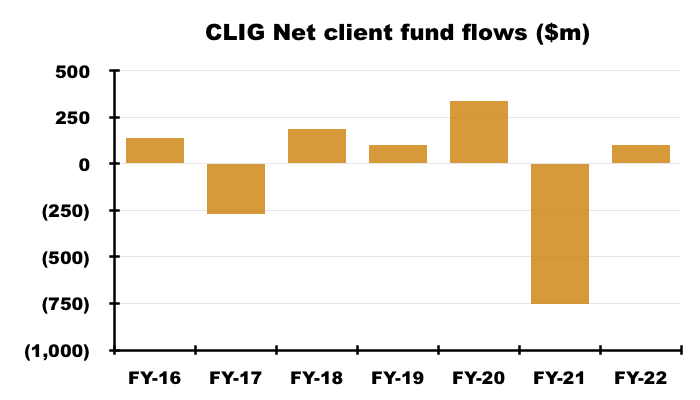 The outflows continued during Q1 2022, but became inflows during Qs 2, 3 and 4: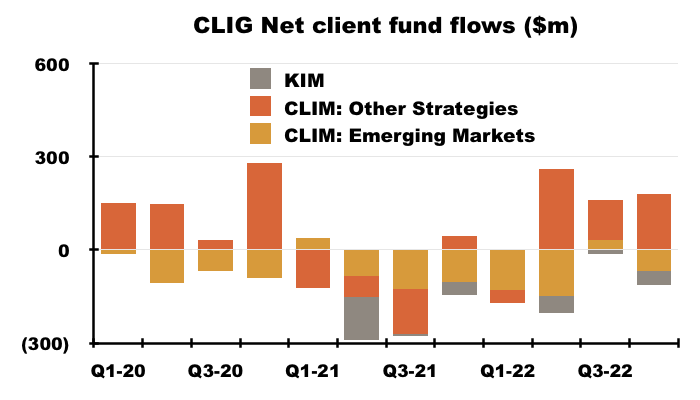 CLIG said the International strategy had once again been the lead attraction for new money after re-opening to new clients:
"At CLIM, the International (INTL) strategy has been the main driver of inflows during this financial year after re-opening to new clients earlier in 2022. The INTL strategy has now seen net inflows for five of the last six financial years."
Let's hope the International strategy does not have to close again.
Year-end International FuM topped $1.8b versus less than $0.5b for FY 2018, and represented the vast majority of CLIM's Other Strategies FuM: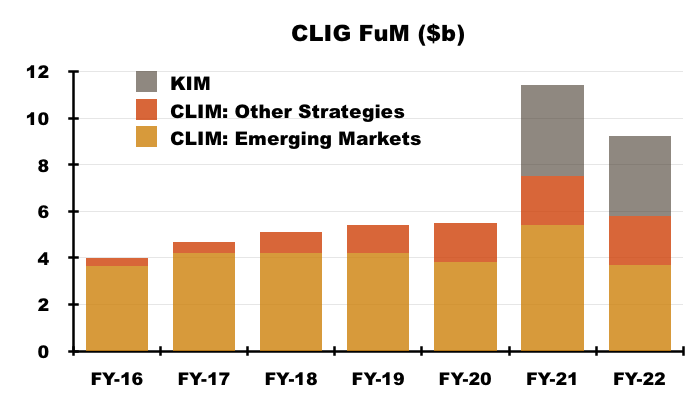 CLIM's "flagship" EM division has consistently suffered net outflows since FY 2017: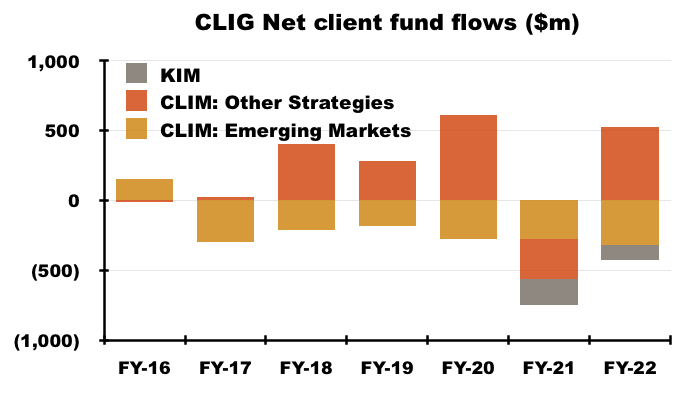 "The geopolitical concerns that have arisen in EM countries, including Russia/Ukraine, North Korea/South Korea, and China/Taiwan, have given some investors pause, despite attractive valuations and wide discounts. The underperformance of EM vs Developed equities over the past ten years, shown in the chart on the following page, has also had a negative effect on investor sentiment towards the asset class."
CLIG blamed client nerves for KIM suffering a $110m outflow during FY 2022:
"KIM had net outflows for the financial year, as their primarily High Net Worth client base reduced exposure to markets given the higher volatility, especially in the second half of the financial year."
KIM has witnessed net client withdrawals of more than $300m since the merger and has not yet enjoyed a quarter showing a net inflow.
Year-end KIM FuM at $3.4b was less than the $3.6b enjoyed at the time of the (October 2020) merger.
CLIG encouragingly anticipated further inflows for the wider group:
"With a resumption of more active marketing opportunities in the post- pandemic world, we are hopeful that the healthy pipeline will translate into further inflows in the months ahead."
CLIG's largest client remains content. Its gross fees advanced 6% on FY 2021, with H2 fees of £2.9m matching those from the preceding H1 2022 and H2 2021:
"Included in revenues are fees of £5,825,226 (2021: £5,470,051) which arose from fee income from the Group's largest client. No other single client contributed 10% or more to the Group's revenue in either of the reporting periods."
Funds under management: capacity limitations
CLIG's "capacity constrained" EM strategy remains an ongoing drawback. CLIG reiterated:
"As a specialist in Closed End Funds, the universe of EM equity investment options is capacity constrained."
Capacity problems occur when a fund becomes too large to outperform because of the restricted size of its target universe of stocks.
"The INTL, Global, OV and EM REIT strategies have significant capacity and will remain a focus for marketing."
The presentation implied the International and Opportunistic Value approaches could handle extra client money of $2b, which is double the year-end FuM invested in such approaches:

The presentation also implied the "flagship" EM strategy could handle only an extra $300m, versus the $3.7b managed at the year-end.
Year-end EM FuM represented 40% of group FuM, down from 43% at the half year, 47% at the FY 2021 year-end and 69% at the FY 2020 year-end.
Although 40% is the lowest year-end proportion of EM FuM in CLIG's history, the percentage remains significant and the associated capacity constraints will not help overall FuM growth.
CLIM's Opportunistic Value, REIT and Frontier FuM remains small at $276m.
These FY 2022 results revealed a new Global investing approach:
"Robust new CEF issuance increased the universe by over US$30 billion in the twelve months ending June 2022. An enlarged universe of global CEFs (funds that invest in world markets including the USA) and US equity focused CEFs encouraged CLIG to seed a Global CEF strategy. This product invests in global equity markets including the USA (in contrast to the INTL CEF strategy which excludes the USA) and fills a niche for US institutions that prefer a "one stop shop" solution for their global equity exposure"
The new Global strategy was seeded with £1.9m and ought to have more scope than CLIM's previous seeded effort, which invested £3.9m into REITS during early 2019, is worth £3.8m today and no longer has any external investors for the International version.
CLIG has also seeded a Special Purpose Acquisition Company (SPAC) strategy with £1.9m, with the intention of buying unloved SPACs in the States below cash value.
KIM has been buying SPACs for its clients:
"Our conservative approach is based on utilising SPACs as a short-term fixed income alternative… By purchasing shares below the cash value of the trust account, we view our approach as buying cash at a discount. Moreover, if the SPAC management company finds what the market perceives to be an attractive acquisition, shares of the SPAC could trade above cash value."
CLIG still believes new client money of $385m can be obtained by June 2023:

For perspective, the aforementioned run of inflows during quarters 2, 3 and 4 of FY 2022 brought in net client money of $274m.
An extra $385m is equivalent to only 4.1% of year-end FuM of $9.2b.
Continuing to expect new KIM money of $135m a year seems very ambitious, given the division has yet to attract net inflows since the merger two years ago.
But expecting new client money of $250m for CLIM is not completely outrageous; CLIM attracted $338m during FY 2020.
CLIG gave this short message about future marketing:
"Marketing efforts will continue to be targeted at investment consultants, foundations, endowments and pension funds. We will also continue to introduce our capabilities to family offices, outsourced CIO firms, and alternative consultants."
And CLIG now seems prepared to buy somebody else's FuM:
"We will also continue to be selective in identifying potential acquisitions, which we believe will inevitably appear given the difficult market conditions of the past year."
Total year-end FuM at CLIM and KIM has grown from $6.2b to $9.2b since 2010 — equivalent to an average annual growth rate of 3.3%: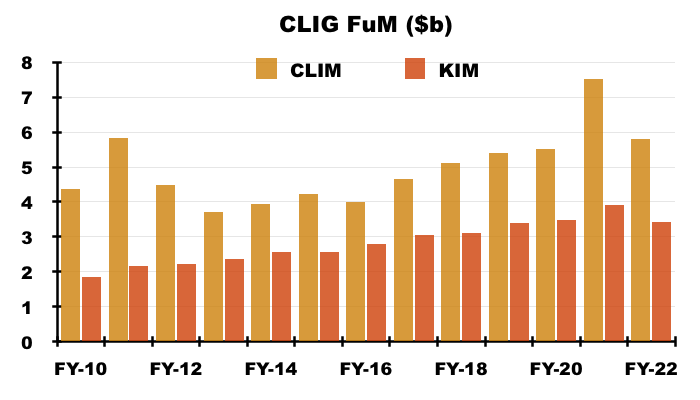 The average annual growth rate for combined CLIM and KIM FuM over five years is 3.6%.
Funds under management: investment performance
"Relative investment performance at both CLIM and KIM was strong during the six months ending 31st December 2021 and for calendar year 2021."
The tone changed within these FY 2022 results after H2 witnessed "significant geopolitically driven asset dislocations".
CLIG admitted its EM and International strategies had underperformed during the year due to:

Exposure to funds owning small, high-growth equities;
Russian shares being marked to zero, and;
Widening fund discounts, apparently created by "retail investors" turning "cautious".
CLIG claimed it was not the only fund manager to have suffered of late:
"Active equity managers generally struggled to outperform over the period."
CLIG also claimed more than 95% of CLIM's FuM remained ahead of their associated benchmarks over the last five years: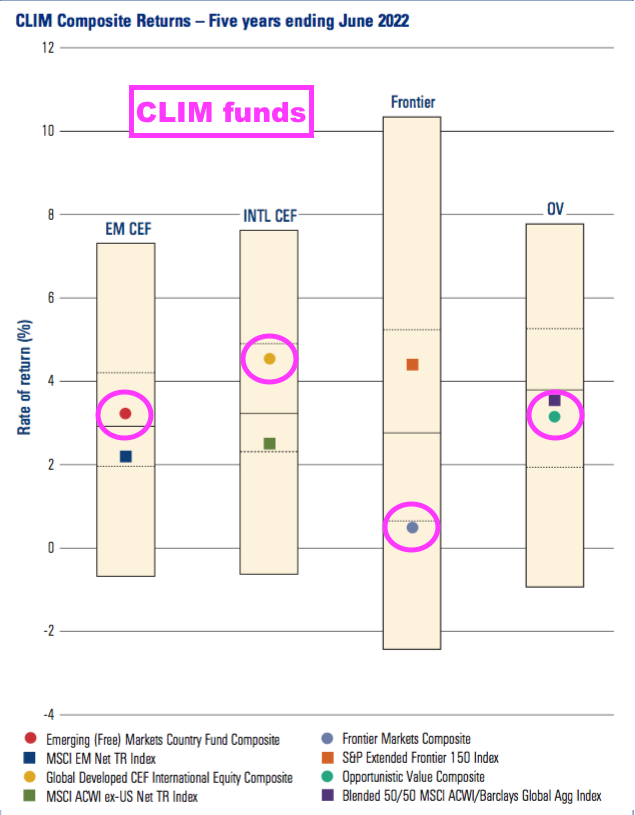 The chart above suggests EM and International returns have averaged approximately 3%-4% a year (before fees).
CLIG introduced a new chart for FY 2022 that finally admitted what long-term clients (and shareholders) have probably known for some time…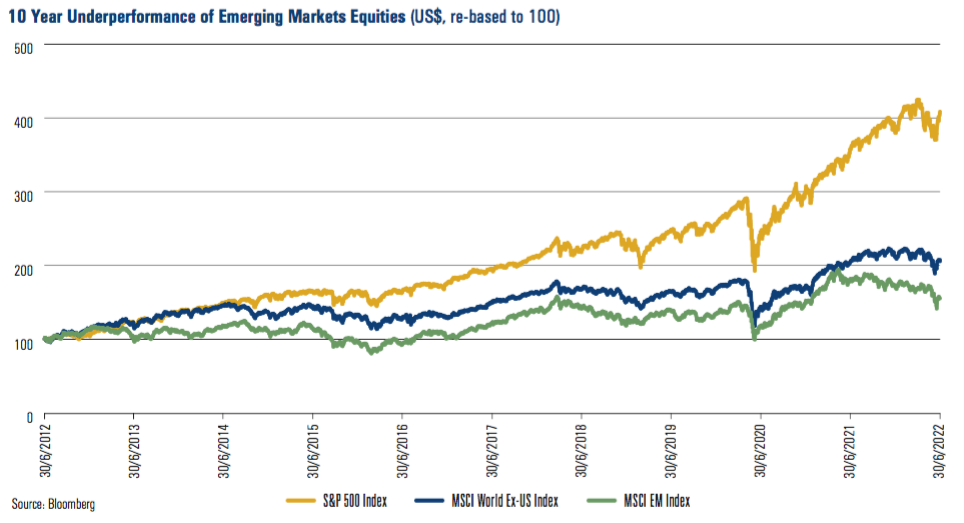 …namely the S&P 500 has trounced emerging markets (and CLIM's EM funds) over the last ten years.
My calculations indicate the S&P 500 (in USD) has outperformed CLIM's EM and International strategies during FYs 2016, 2018, 2019, 2020 and 2022…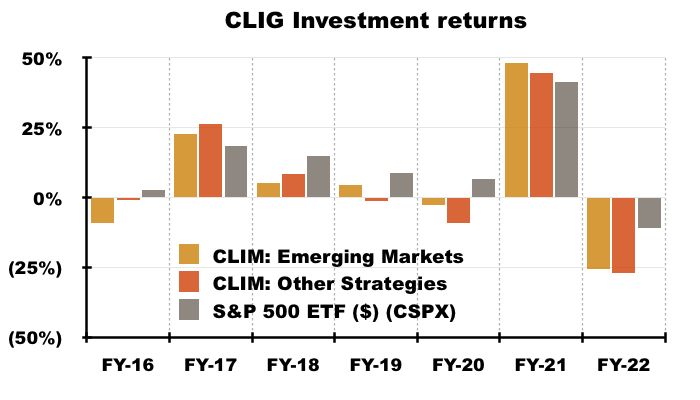 …and was not exactly a distant third during FYs 2017 and 2021.
The iShares S&P 500 ETF (CSPX) has gained 104% during the last seven years (in USD), versus my estimated 32% for CLIM's EM approach and my estimated 29% for CLIM's Other Strategies.
Prospective clients have no doubt compared CLIM's funds to the S&P 500 rather than CLIM's chosen benchmarks, which may explain the minimal new client money won during recent years.
"The underperformance of EM vs Developed equities over the past ten years… has also had a negative effect on investor sentiment towards the asset class".
CLIG talked about meeting client expectations:
"Our focus on exploiting discount volatility has served clients well for over thirty years in both bull and bear markets. Wide discounts and persistent discount volatility give us confidence that our [Closed End Fund] strategies will continue to meet our clients' longer term performance expectations."
But CLIG did not make clear whether clients expect to underperform the S&P 500.
CLIG described KIM's relative performance as "outstanding" following some "tactical" selling and SPAC buying:
"Relative performance at KIM has again been outstanding… driven in large part by our tactical reduction of closed-end funds (CEFs) and our significant allocation to special purpose acquisition companies (pre-acquisition) (SPACs) trading at discounts to trust value."
CLIG said SPACS were "one of the few asset classes that produced positive returns over the twelve months."
KIM's 'Conservative Balanced' approach has delivered 6% per annum average returns during the last five years: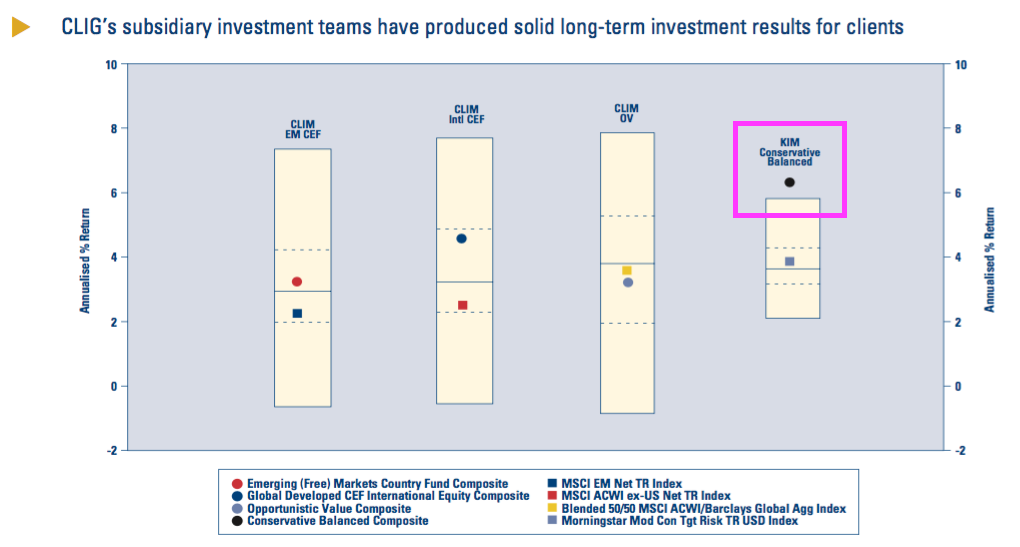 CLIG's returns have not improved following the FY 2022 year-end.
During CLIG's Q1 2023 (July to September 2022), CLIM's strategies returned an estimated negative 11% while KIM's portfolios matched the S&P 500 and lost 3% (see Valuation).
Funds under management: fee rates
CLIG said group fee rates had dropped a basis point to 73 basis points:
"Despite the ongoing competitive pressure on fees in the institutional market-place, the Group's average revenue margin declined slightly to 73bp (2021: 74bp).
The "ongoing competitive pressure on fees" has reduced CLIM's management charge over time:
| | | | | | |
| --- | --- | --- | --- | --- | --- |
| Year to 30 June | 2016 | 2017 | 2018 | 2019 | 2020 |
| CLIM net fee rate (bps) | 86 | 84 | 80 | 76 | 75 |
Following FY 2020, CLIM fees rates were then reduced to:
CLIG frustratingly discloses CLIM's fee rates within only some quarterly statements, and the aforementioned 73bps group fee rate for FY 2022 includes KIM fees.
As well as "competitive pressures", the fee-rate decline since FY 2016 may also be due to the growing proportion of Other Strategies FuM that could levy lower charges.
CLIG has never disclosed the exact fee rates charged on its EM and Other Strategies funds.
My algebra suggests EM fees are applied at 90 basis points and Other Strategies fees are applied at 30 basis points to arrive somewhere close to the overall fee rates declared for CLIM: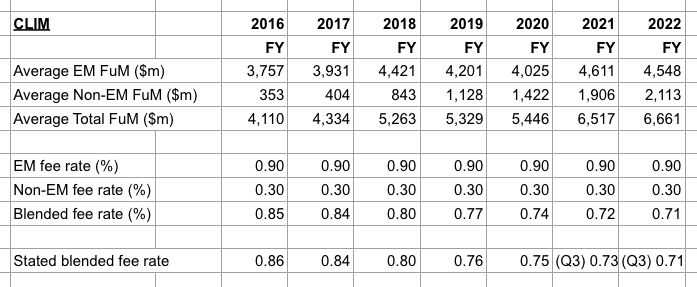 CLIG disclosing the different fees charged by its strategies would remove any suspicion of clients chipping away at fees throughout all of CLIM's funds.
The fee rate at KIM has dropped, too.
The merger document (point 5) claimed KIM enjoyed a "fairly stable" net fee rate of 80 basis points.
But the FY 2021 results said KIM fees were 77 basis points, and the Q3 2022 update revealed KIM fees at a net 76 basis points.
The declining fee trends at CLIM and KIM may well reflect clients mulling the 10 (or less) basis points charged for holding an S&P 500 ETF.
The Q1 2023 update earlier this week confirmed CLIM's fees remained at 71 basis points and KIM's fees remained at 76 basis points.


Management
The 2022 annual report led with a tribute to CLIG's founder Barry Olliff: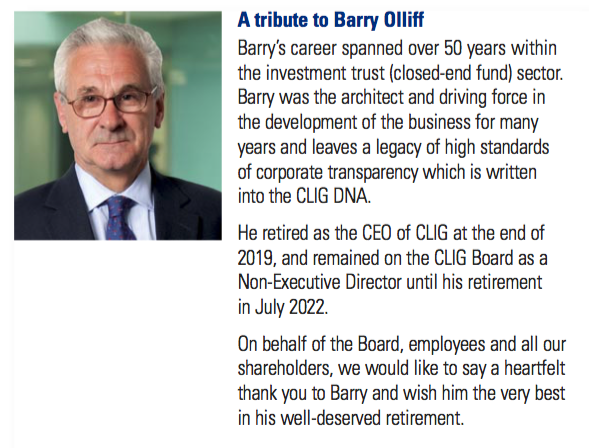 Mr Olliff retired at the end of July. CLIG said:
"Barry's laser-like focus on value to both shareholders and clients lies at the core of CLIG's culture and permeates everything we do for all stakeholders. Barry's willingness to challenge entrenched orthodoxy in the investment universe is well recognised and represents a hugely positive long-term legacy".
I wonder if shareholders ought to challenge CLIG's "entrenched orthodoxy" towards buying EM trusts at a discount.
After all, that earlier chart showed the S&P 500 trouncing the EM benchmark, while my sums do not suggest CLIM's value style of investing has delivered wonderful returns to clients.
Mr Olliff's departure and a board re-jig (point 3a) has left the board consisting of:

The chief exec, and;
Six non-execs, including KIM founder George Karpus.
Mr Karpus retired to become a CLIG non-exec just after the KIM merger and retains a significant 36%/£73m CLIG shareholding: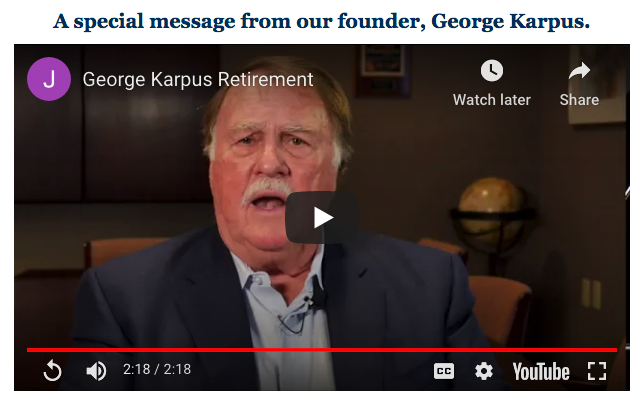 Whether Mr Karpus is satisfied with CLIG's all-round progress since the merger is not clear.
Maybe Mr Karpus is just the person to challenge any "entrenched orthodoxy" at CLIM regarding its EM performance versus the S&P 500.
The 2022 annual report includes this intriguing small-print:
"George Karpus will continue to serve on the Board for the 2022-2023 financial year and we will provide an update prior to next year's AGM regarding his future plans."
I suppose those "future plans" could include stepping down from the board… although KIM's founder — and 36% non-exec shareholder — choosing to become an outside, passive investor seems hard to imagine.
One possibility for Mr Karpus is the role of chairman; the current chairman has confirmed he will not seek re-election at the 2023 AGM.
I plan to attend the 2022 AGM and I hope Mr Karpus is there to shed some light on his future plans.
Maybe Mr Karpus would like to shift the board's attention towards KIM.
After all, before the merger KIM FuM per employee was 27% greater and KIM revenue per employee was 31% greater than the respective levels at CLIM (point 9).
Plus KIM net fee income during the rough H2 was up 4% on H2 2021, versus down 10% at CLIM.
In addition, the 2022 annual report small-print suggests KIM operates with a terrific 54.5% operating margin:

Employees working in a business development or marketing capacity have increased from four to 16 since the merger, suggesting KIM is somewhat more proactive in the sales department than CLIM:

KIM also pays commissions to advisers, which may be further evidence of a keener desire for new clients. CLIM in contrast began to wind down its commission payments during 2009 after taking its marketing in-house.
Exchange-rate/post-tax profit matrix
CLIG's exchange-rate/post-tax profit matrix has been revised and continues to confuse: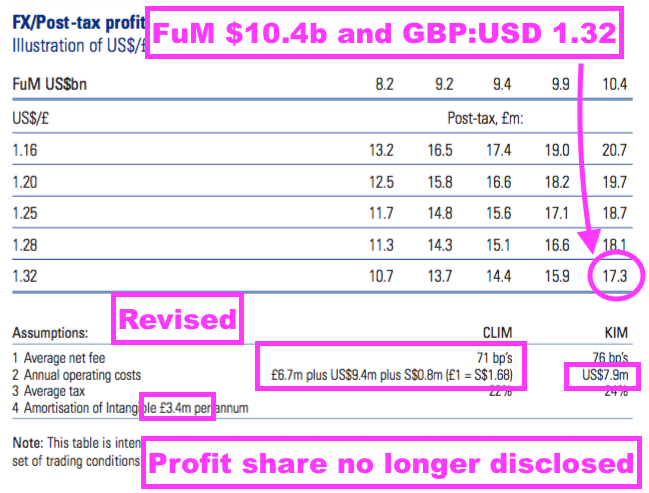 Revisions to the matrix since H1 2022 include:

CLIM costs increasing from '£6.7m plus $8.5m' to '£6.7m plus $9.4m';
CLIM fee rates reducing from 72 basis points to 71 basis points;
KIM costs reducing from $8.3m to $7.9m, and;
'Amortisation of intangible' increasing from £3.3m to £3.4m.
For this H1, the illustrative post-tax profit from the matrix appears to correlate with underlying earnings.
CLIG said GBP:USD averaged 1.33 and its website shows FuM averaging approximately $10.5b during this FY…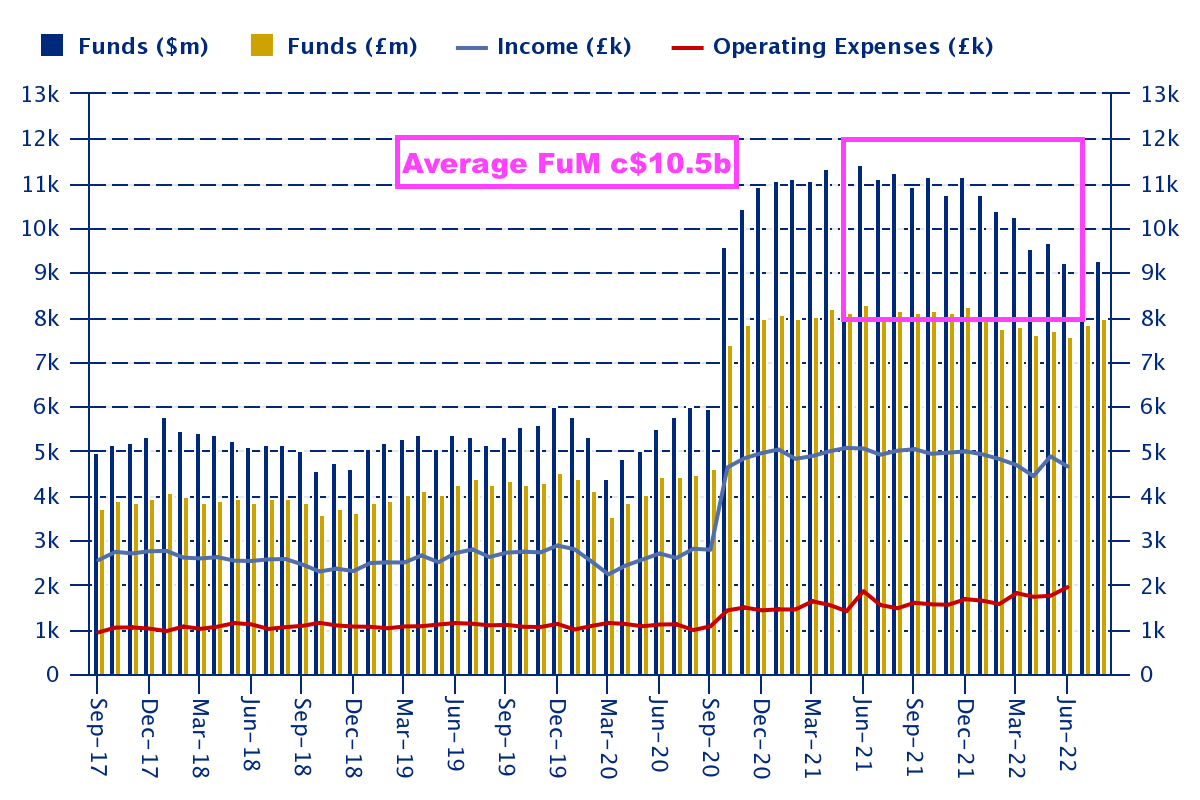 …which would give earnings of £17.3m if GBP:USD of 1.32 and FuM of $10.4b were applied to that matrix.
CLIG declared underlying FY 2022 earnings of £21.7m: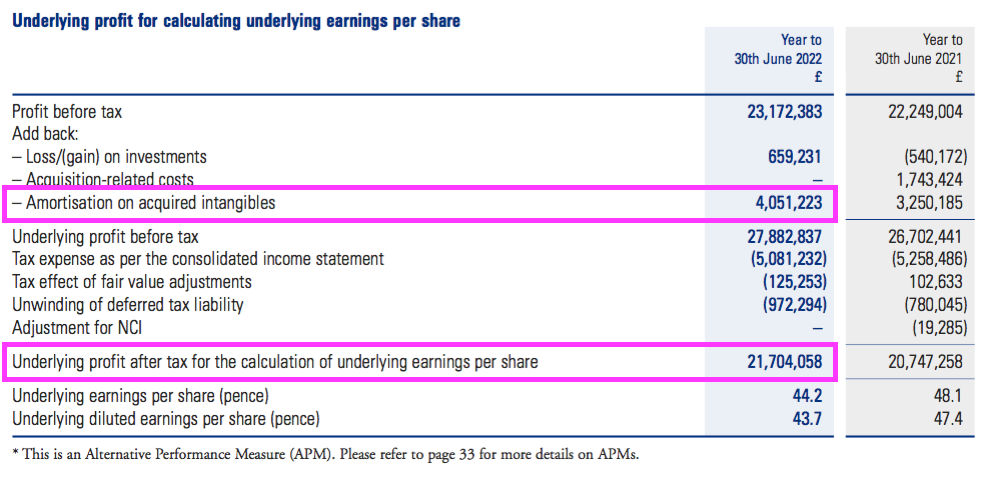 The £4.4m difference (£21.7m less £17.3m) is (I think) mostly explained by the amortisation of acquired intangibles, which last year was £4.1m and which (I presume) is included in the illustrative matrix's calculations.
Why the matrix cites only £3.4m of the £4.1m amortisation charge is not clear.
Previous matrices have noted the 30% profit share for the CLIM division: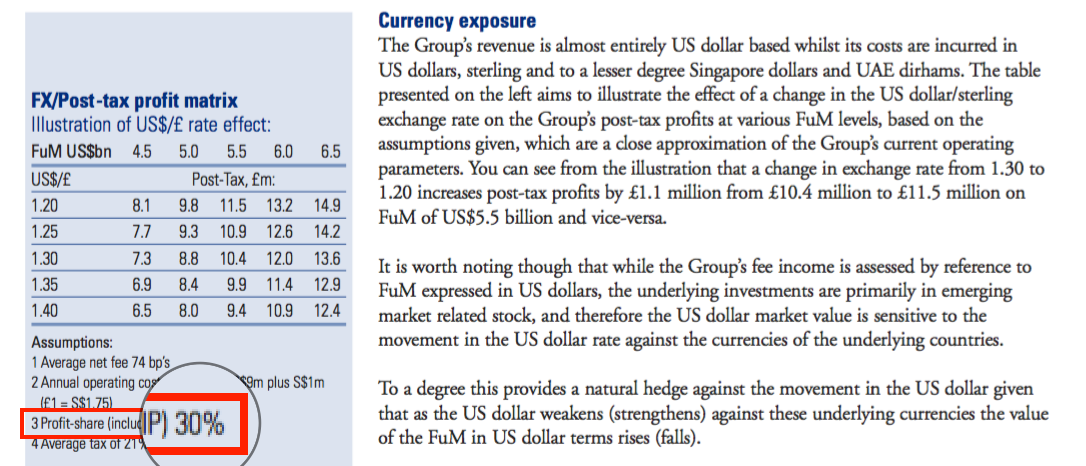 But following the KIM merger, the profit-share note has been removed and the stated post-tax figures can no longer be derived from the matrix assumptions that remain.
Mind you, CLIG has always said the matrix is "not intended to be interpreted or used as a profit forecast."
CLIG has confirmed to me that KIM employees do now participate in the employee profit-share scheme, although CLIG did not say whether this participation replaces — or is in addition to — the pre-merger pay arrangements of KIM's employees.
These FY 2022 results indicated a 24% profit share, which suggested CLIM's 30% profit share was not replicated entirely at KIM: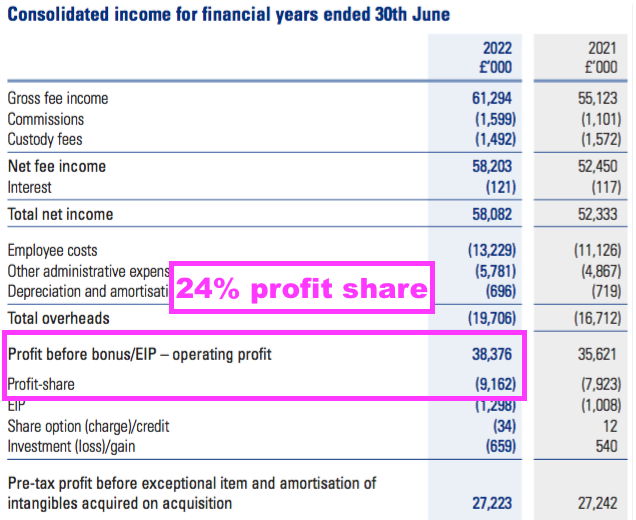 But CLIG does confirm a 30% profit share may be possible:
"The profit-share pool is fixed at a maximum of up to 30% of operating profit of the Group and aligns employees' variable income component of total compensation with Group profitability and shareholder value."
The profit share is important because earnings will be dampened if operating profit ever funds a full 30% profit share.
I have never been entirely sure whether a regular profit-share payment has really incentivised CLIM's staff.
The scheme allows employees to collect a bonus even if earnings reverse, which perhaps explains why CLIM's FuM has made only pedestrian advances over time.
Between FYs 2018 and 2022, CLIG's wages and salaries totalled £38m, but were enhanced 84% by aggregate profit-sharing payments of £32m.
Note how operating profit (right axis below) faltered between FY 2012 and FY 2016 as salary and profit share per employee remained steady despite net fee income per employee declining significantly: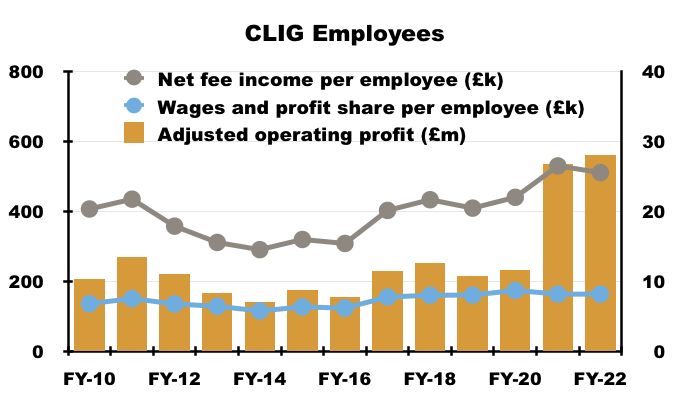 The danger is near-term profit could falter again if FuM remains in the doldrums, net fee income slides but the average salary and profit share per employee remains at last year's £163k.
Financials
CLIG noted a stronger US dollar lifted costs during H2:
"The largest component of overheads continues to be employee-related at £13.2 million (2021: £11.1 million), an increase of 19% over last year. This is mainly on account of the full year of KIM employee costs in FY 2022 (as compared to nine months of costs in FY 2021) and a stronger US dollar during the second half of FY 2022."
GBP:USD averaged 1.30 during H2 versus 1.36 versus H1, which would have increased USD costs by 5% in GBP.
But the stronger USD was not entirely to blame for the higher H2 costs. In particular, total employee expenses advanced 11% (to £12.4m) during H2 versus H1.
The greater cost base led to CLIG's adjusted operating margin falling from 49% during H1 to 42% during H2.
True, a 42% operating margin remains very healthy… but not as healthy as the preceding H1's 49%, or the 50% reported during H2 2021.
The stronger USD could squeeze CLIG's margin further. GBP:USD at the recent 1.10 equates to USD costs jumping 18% in GBP versus the average 1.30 level for H2:
| | | | | | |
| --- | --- | --- | --- | --- | --- |
| Year to 30 June | 2018 | 2019 | 2020 | 2021 | 2022 |
| Operating margin* (%) | 36.9 | 32.9 | 34.9 | 48.7 | 45.7 |
| Return on average equity (%) | 50.9 | 43.6 | 40.0 | 24.4 | 14.5 |
CLIG's return on equity dropped to 14.5% during FY 2022 after the KIM goodwill and other intangibles were included within the equity denominator for the full twelve months.
Return on equity was distorted also by a £14m currency-translation gain on the KIM intangibles:

Return on equity is rather academic for CLIG, as earnings growth is driven inherently by attracting greater FuM — which in turn is not directly correlated to reinvesting profit into tangible items such as computers and office furniture.
The largest balance-sheet item after the KIM intangibles remains cash at a useful £23m. The books remain free of conventional bank debt.
Cash conversion for this FY was once again very acceptable. Adjusted earnings of £22m actually translated into net cash after tax, capex and lease payments of £24m.
Working-capital movements were not problematic, and have been positive for a remarkable five consecutive years:
| | | | | | |
| --- | --- | --- | --- | --- | --- |
| Year to 30 June | 2018 | 2019 | 2020 | 2021 | 2022 |
| Operating profit* (£k) | 12,528 | 10,504 | 11,598 | 26,820 | 28,004 |
| Depreciation and amortisation (£k) | 295 | 306 | 292 | 227 | 200 |
| Net capital expenditure (£k) | (137) | (421) | (79) | (93) | (259) |
| Working-capital movement (£k) | 1,423 | 894 | 69 | 2,361 | 2,344 |
| | | | | | |
| Net cash and investments (£k) | 19,937 | 18,232 | 18,419 | 29,699 | 30,112 |
Following dividends (special and ordinary) of £21m, seed investments of £4m and £3m spent on shares for the Employee Benefit Trust (EBT), cash finished the year £3m lower.
The EBT expense reflects the true cash cost of CLIG's staff share schemes and is worth monitoring.
During FYs 2020, 2021 and 2022, the EBT spent £7.2m buying shares to satisfy exercised options and received £1.5m from those exercised options.
The average net EBT cash expense during that period was £1.9m a year, versus an average associated accounting charge of £0.8m.
The EBT purchases during FY 2022 were not bargains (in hindsight) with an average 482p buy price. Purchases made after the year end have been undertaken at 410p and 390p.
CLIG's accounts also carry investments of £7m and remain free of defined-benefit pension obligations.
Valuation
CLIG's chairman offered "cautious optimism":
"Over the course of the last two years, we have witnessed extreme volatility in capital markets and with the threat of long-term conflict in Europe and double-digit inflation ever present, it would be foolish to paint too optimistic a picture for the year ahead. Nevertheless, at the risk of sounding "glass-half-full", I believe there are some early signs of a more stable market environment."
…
"Since markets look well beyond the near horizon, and provided geopolitical friction does not proliferate beyond the existing conflict, there are grounds to support the view that the July 2022 "mini-bounce" may not be a flash in the pan."
…
"Bear markets also bring opportunities, be it in the investment universe or the asset management industry more generally and, with this in mind, we continue to view the future with cautious optimism."
But the Q1 2023 (July-September) update published earlier this week was mixed:

The good news was clients handing over a net $40m to mark the fourth consecutive quarter of net FuM inflows.
CLIG has never reported four consecutive quarters of net inflows since the group commenced quarterly FuM updates during FY 2018.
The bad news was Q1 FuM declining $712m that implied a $752m negative investment movement.
Q1 FuM down $752m from the year-end $9.2b is an 8.2% drop. The S&P 500 meanwhile fell 3% during the quarter.
FuM at the latest $8.5b is 22% lower than the level seen twelve months prior.
CLIM FuM at $5.2b is the lowest level for the division since March 2020 ($4.4b).
The stronger USD versus GBP rescued CLIG's FuM during Q1 2023. FuM denominated in GBP kept steady at £7.6b.
The stronger USD also limited the damage to CLIG's Q1 profitability. July's Q4 2022 update had said profit before the profit share was £2.8m a month:
"'Fixed' costs are c.£1.7 million per month, and accordingly the run-rate for operating profit, before profit-share and amortisation of intangibles is approximately £2.8 million per month based upon current FuM and a US$/£ exchange rate of US$1.2178 to £1 as at 30 June 2022."
But this month's Q1 2023 update revised the £2.8m down by only £0.1m:
"'Fixed' costs are c.£1.8 million per month, and accordingly the run-rate for operating profit, before profit-share is approximately c.£2.7 million per month based upon current FuM and a US$/£ exchange rate of US$1.117 to £1 as at 30 September 2022."
£2.7m a month with a 24% profit share and 25% tax would give earnings of £18.5m or 36p per share.
Earnings of 36p per share compare with the adjusted 44p per share reported within these FY 2022 results.
CLIG included a revised dividend-cover chart within this FY 2022 statement, but the new version may already be outdated following FuM sliding to $8.5b.
The previous version had predicted earnings of £7.7m would be retained for FY 2022 and £8.2m would be retained for FY 2023.
But the new version confirmed £5.6m was retained for FY 2022 and predicted £3.9m would be retained for FY 2023: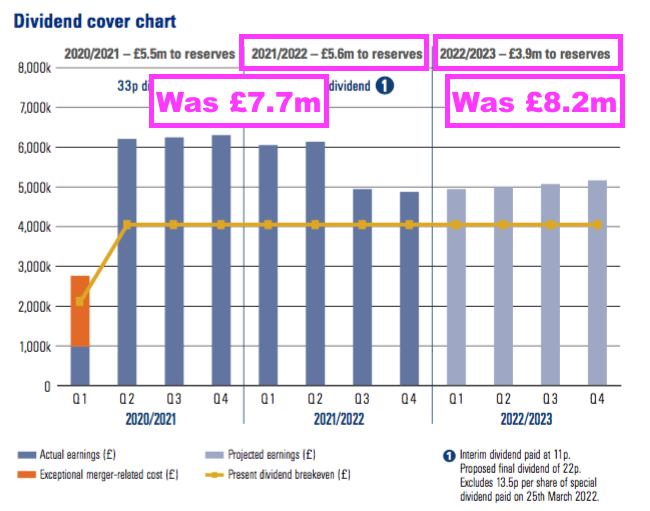 The revised £3.9m is equivalent to 8p per share and, when added to the 33p per share dividend, implies FY 2023 earnings might now be 41p per share…
…although doubling up the weaker H2 performance gives underlying earnings of £19.4m or approximately 38p per share…
…while that earlier £2.7m a month calculation indicated 36p per share.
Earnings of 36p per share would cover the trailing 33p per share dividend 1.09x and give a rolling five-year dividend cover of 1.29x (with earnings excluding merger costs).
CLIG targets a 1.2x dividend cover for rolling five-year periods, which alongside the aforementioned £23m (c45p per share) cash position ought to mean the 33p per share payout can be sustained.
Earnings of 36p per share and the trailing 33p per dividend put the 400p shares on a multiple of 11x and yield of 8.3%.
CLIG's rating does not look expensive, but the trailing P/E has frequently been less than 12 and trailing yield has almost always offered more than 6%:
The present trailing P/E rating has been cheaper only during the pandemic crash of 2020 and the banking crash of 2008/09.
CLIG is one of the very few quoted companies with a public share-price ambition:
"We retain the share price KPI to show the total return of CLIG over a market cycle. The goal of this KPI is for the total return (share price plus dividends) to compound annually in a range of 7.5% to 12.5% over a five-year period.
A 7.5% compound annual total return during the next five years appears very achievable, assuming the 33p per share dividend is maintained to support that 8.3% income.
A 12.5% compound annual return during the next five years requires the 33p per share dividend to be maintained and the 400p share price to climb to 556p.
The shares peaked at 550p during June 2021, meaning a full share-price recovery by 2027 should see that 12.5% KPI achieved.
Maynard Paton