***SharePad New Subscriber Special Offer***
Readers of my blog can claim one month of free data. Click here for details. #ad
20 October 2022
By Maynard Paton
Difficult market conditions have led to depressed ratings for many asset-flush shares.
Hence a new screen to pinpoint companies offering cash-rich balance sheets and market caps below their book value. I have attempted to avoid 'value traps' by demanding the shares pay a dividend and offer a history of trading above book value.
The exact filter criteria I employed for this search were:
A price to net tangible assets of no more than 1;
A dividend being paid during the most recent year;
A 10-year average price to net tangible assets of at least 1;
Net borrowings less total leases of no more than 0 (i.e. a net cash position excluding IFRS 16 lease obligations), and;
A share price denominated in pounds sterling.
I applied the screen the other day and SharePad returned 22 matches: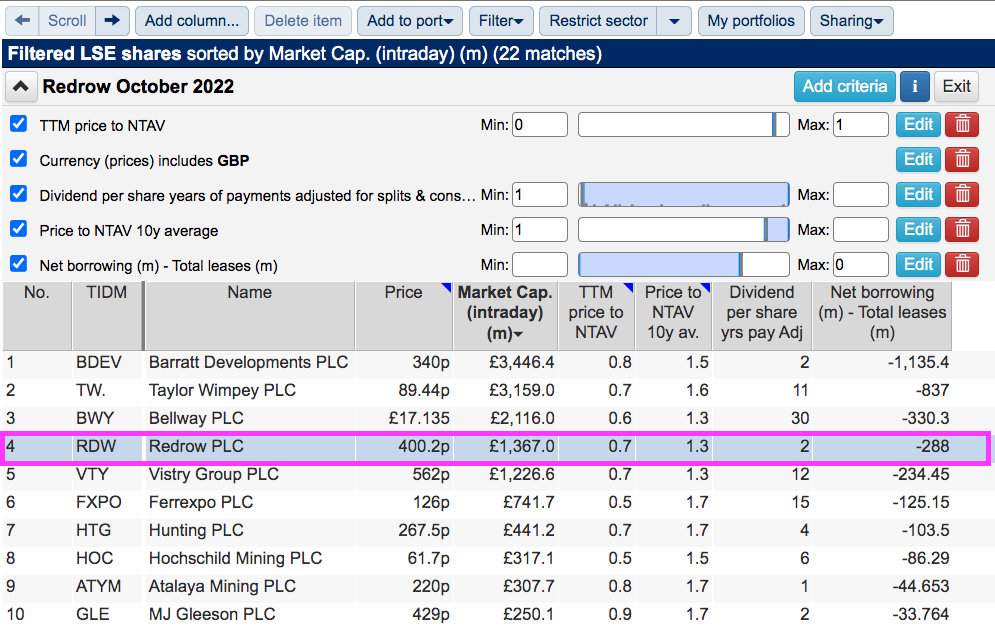 I selected Redrow from the five house builders at the top of the list because the group's recent results included very clear guidance:

Redrow's own projections put its 400p shares on a P/E of approximately 4 and a yield of at least 8%
Combined with a net asset value of 554p per share that gives a price to book of 0.72, the FTSE 250 constituent is very much trading at the 'deep value' end of the market spectrum.
Let's take a closer look.
Read my full Redrow article for SharePad.
Maynard Paton