24 September 2022
By Maynard Paton
Results summary for System1 (SYS1):
A disappointing FY 2022 performance, with a Q4 sales warning alongside greater costs leading to a small H2 loss.
SYS1's 'Reasons to Believe' have been diluted, and hint at reduced long-term expectations following the disappearance of a £100m revenue ambition.
The transition to new data and consultancy services continues, with such income representing 51% of total revenue for FY 2022 and possibly 70% for Q1 2023.
A fresh non-exec reveals the agitated shareholder who has initiated a strategic review, which in turn led to the sensible cancellation of a tender offer.
Net cash represents 31% of the market cap, with long-term multi-bagger potential presently obscured by weak legacy services and costs running ahead of new-product revenue. I continue to hold.
Contents
News links, share data and disclosure
News: Annual report and presentation for the twelve months to 31 March 2022 published 12 July 2022, quarterly trading update published 12 July 2022, share buyback programme published 12 July 2022, review of strategic options published 31 August 2022 and directorate change published 31 August 2022

Share price: 220p
Share count: 12,678,929
Market capitalisation: £27.9m

Disclosure: Maynard owns shares in System1. This blog post contains SharePad affiliate links.
Why I own SYS1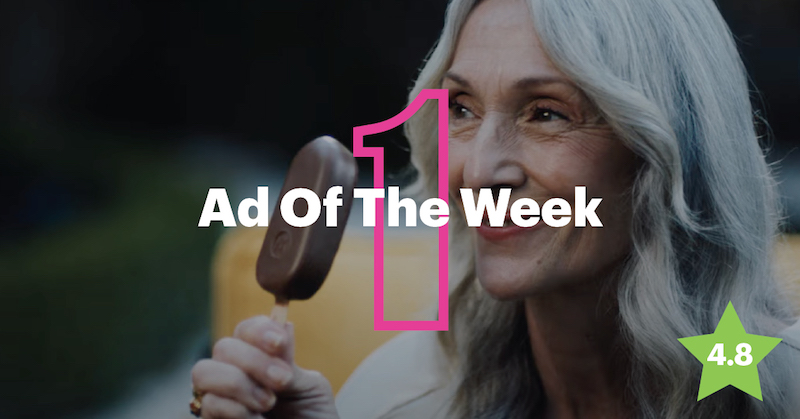 Advertising data specialist wishing to become the "world's marketing decision-making platform" by serving "world-beating prediction and improvement methodologies" for television adverts.
Boasts founder/entrepreneurial executive leader who has overseen acquisition-free growth, retains a 22%/£6m shareholding and has declared five special dividends.
Transition from bespoke consultancy work towards 'scalable' data products, partnerships with ITV and LinkedIn plus bold management ambitions lead to tantalising multi-bagger possibilities.
Further reading: My SYS1 Buy report | All my SYS1 posts | SYS1 website
Results summary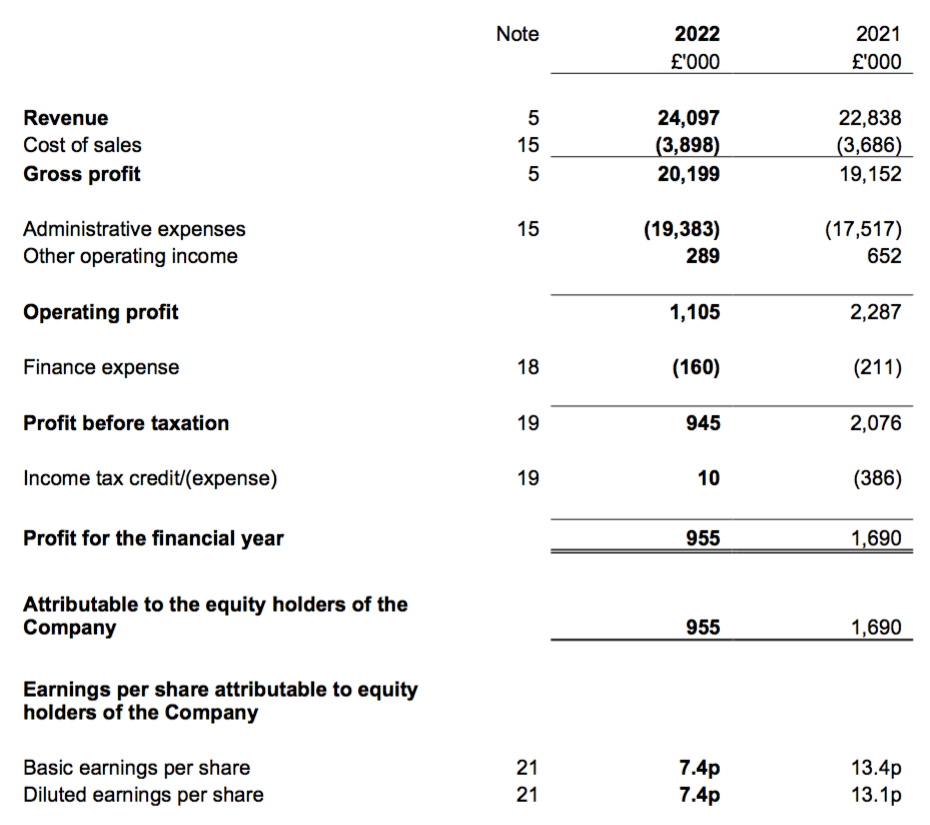 Revenue and profit
"Despite substantial progress in the development of new revenue streams from automated prediction products (Data) since their introduction in 2020, and satisfactory performance in the first 9 months of the current financial year, total revenues in the final quarter ending 31 March 2022 are now expected to be over £1m short of management's previous expectations. This is due to a sudden and unanticipated reduction in the forecast for bespoke consultancy project sales in the US."
A mixed update during April then confirmed full-year revenue would be £24.1m, adjusted pre-tax profit would be £1.1m, statutory pre-tax profit would be £0.8m and net cash would be £8.7m.
Revenue was £24.1m as predicted, but adjusted pre-tax profit was £0.1m lower at £1.0m while statutory pre-tax profit was £0.1m higher at £0.9m. Net cash was £8.7m as predicted.
Aside from the pandemic-blighted FY 2021, full-year revenue was the lowest witnessed since FY 2012 (£20.8m):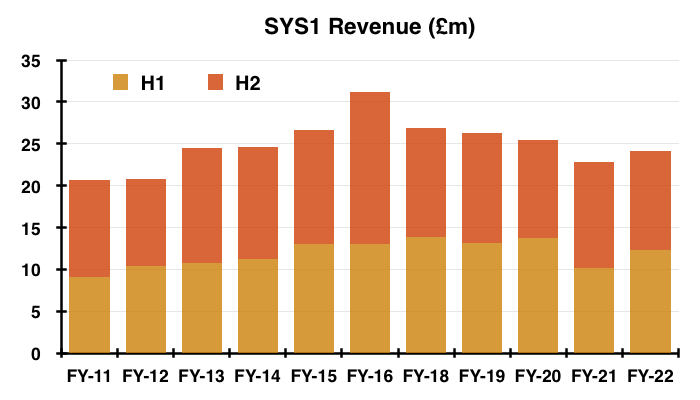 H2 revenue at £11.7m was the weakest top-line H2 performance since H2 2012 (£10.4m).
Reported operating profit of £1.1m was biased entirely towards H1, with H2 suffering a £0.2m loss: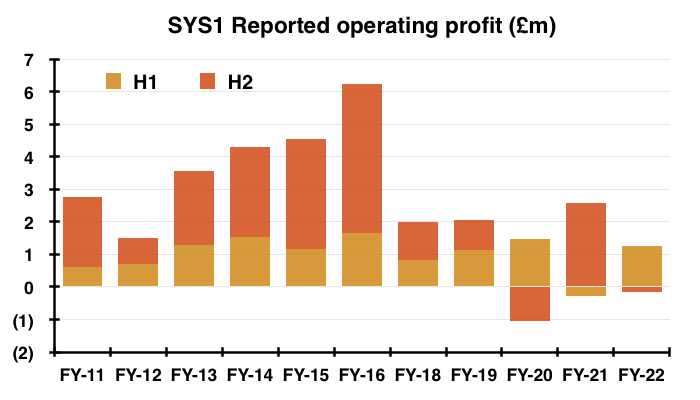 Last year's FY 2021 statement showed adjusted operating costs of £16.2m and indicated an increase to those adjusted costs of at least £1.5m for FY 2022:

I had (optimistically) hoped FY 2022 adjusted operating costs would increase by the minimum £1.5m to £17.7m.
But this FY 2022 statement disclosed adjusted operating costs were in fact £19.2m:

"We made it clear a year ago that expenditure would rise steeply year on year, partly as a result of the Covid-related reduction in costs during FY 2020/21 and also because of our decision to accelerate the development of the automated predictions platform and the partnership approach to new business development."
I am not sure SYS1 was that clear on costs a year ago.
Last year's FY 2021 statement included awkwardly worded text that implied costs would rise faster than revenue, but not "steeply" as SYS1 now claims:
"We plan to remain profitable and to continue to generate cash in the 2021/22 financial year, as we prioritise scaling our automated prediction products. Notwithstanding that, we are targeting revenue growth to be at least matched by the rate of cost growth, due to the pandemic-related cost reductions in the year just ended."
Similar to the FY 2021 statement, these FY 2022 figures included a bevy of adjusting items: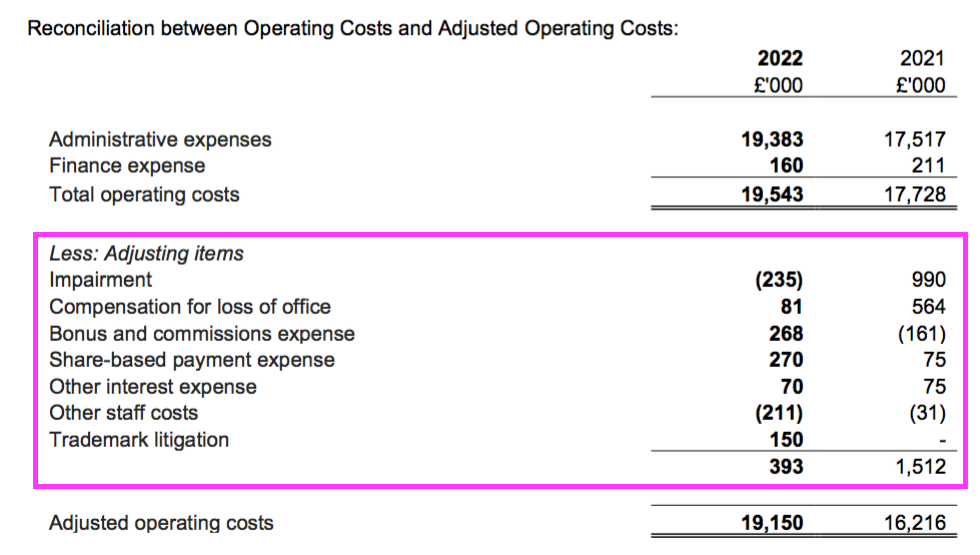 SYS1 claimed its adjusted figures excluded items that "impede easy understanding of underlying performance" (see Financials).
SYS1's results from FY 2018 onwards have not offered an "easy understanding of underlying performance" due to the business:

Spending a hefty £5m to develop the AdRatings database;
Transitioning from providing consultancy work to supplying data services, and;
Experiencing weaker revenue during the pandemic and more recently through the Q4 sales setback.
Reasons to Believe
The commentary explained why SYS1 could "credibly become a global winner in marketing predictions" through seven 'Reasons to Believe'.
Number 7 of FY 2021's 'Reasons to Believe' included bold projections of a £100m-plus revenue target (versus revenue of £23m at the time) and an eventual market cap of £1 billion (versus a market cap of £40m at the time):
"7. A challenge for the near term is to grow

We believe that System1 could be worth £1 billion eventually. Management owns 30% of the business, excluding shares under option. We take every decision with our medium term £100m+ Revenue milestone in mind. Aside from the automated product strategy, our choices on the calibre of our talent, the workflows in the company, our supply chain, the IT systems, and much more support achieving this goal."
The Reasons to Believe were updated for this FY 2022, and number 7 did not repeat the ambitions for revenue or for the market cap:
"7. Strong scalability and operational gearing from platform

For speed to market, we launched our market leading, automated prediction products as standalone products, allowing our customers the benefits of testing fast and often over the last year. Now that we have built and launched these products, we are building a fully integrated platform, with a customer friendly user interface."
The change of wording implies SYS1 is backtracking on its earlier ambitions.
True, SYS1's presentations continue to claim the group could be "worth a billion+ once it has fully scaled with a 10% market share":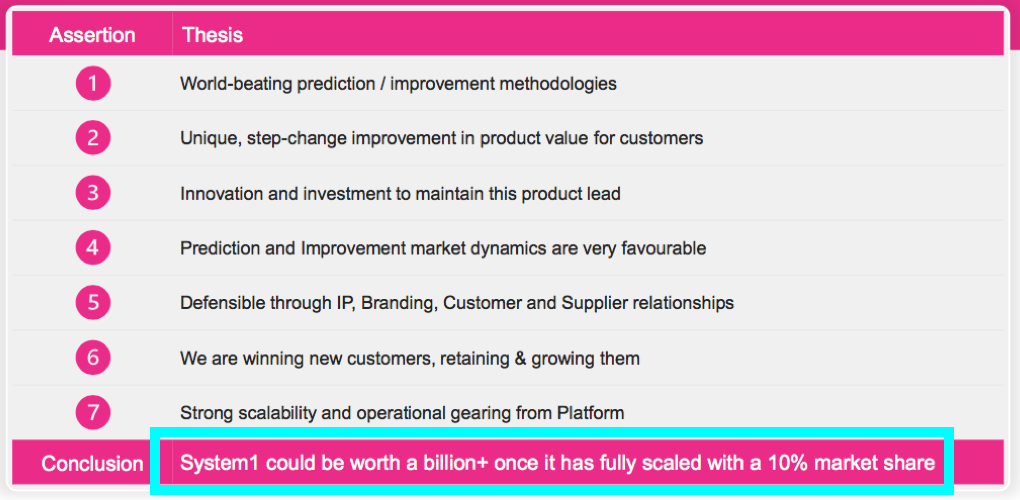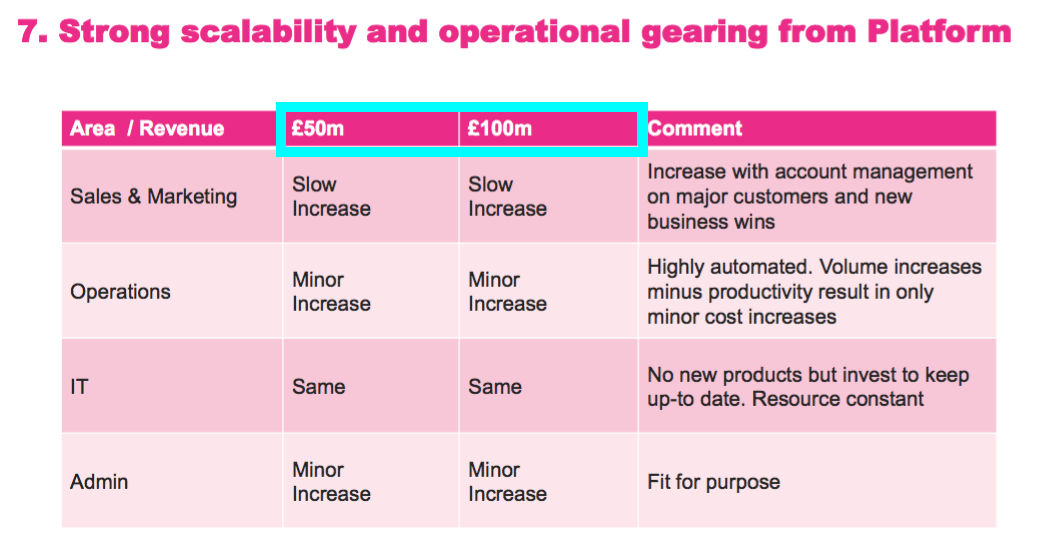 The altered wording for the seventh 'Reason to Believe' looks to have been prompted by February's Q4 sales warning, and hints at SYS1 reducing its longer-term expectations.
Mind you, the FY 2022 results did reiterate the ambition to obtain a 10% global market share within a decade:
'Currently at less than 1% share, we believe that System1 can gain 10% global market share in the next decade—a lower share than the current market leaders."
And a 10% global market share should, at least according to SYS1, be enough to support that £1 billion market cap.
This year SYS1 used different market statistics within its results commentary.
For FY 2021, SYS1 mentioned 20%, £6bn and £42bn:
"'Predictions' currently represent less than 20% of the global research market. We estimate that our target mar kets of predicting advert, brand and innovation effectiveness represent about £6bn of the £42bn (traditional) research market."
But for FY 2022, SYS1 mentioned 10%, $10bn and $89bn:
"'Predictions' currently represent less than 10% of the global research market. We estimate that our target markets of predicting and improving advertising, brand and innovation effectiveness represent about $10bn of the $89bn research market."
SYS1 seems to have diluted its targets for sector disruption:
For FY 2021, SYS1 mentioned 1/100th and 100x comparisons to "traditional methods":
"Today many of our Advertising predictions are automated, and we have challenged ourselves to deliver them at 1/100th the cost and 100x faster than traditional methods. We believe we are far ahead of traditional competitors in automated predictions and indeed that some of our competitors' legacy economics will make it difficult for them to catch up with us."
But SYS1 mentioned 1/20th and 20x comparisons for FY 2022:
"Today many of our Advertising predictions are automated, and we have challenged ourselves to deliver them at 1/20th the cost and 20x faster than traditional methods. We believe we are far ahead of traditional competitors in automated predictions and indeed that some of our competitors' legacy economics will make it difficult for them to catch up with us."
Number 6 of SYS1's 'Reasons to Believe' for FY 2021 said SYS1 was "comfortable" with progress…
"It is very early days, but we are comfortable with progress. We believe that we have proved the model and are now redoubling efforts to scale, which will be key to our future."
…but changing the text to "significant" for FY 2022 may suggest SYS1 is no longer that comfortable:
"It is still early days, but we are making significant progress. We believe we have proved the model and are now attempting to scale, which will be key to our future."
Note, too, that SYS1 is "attempting to scale", which does not sound as urgent as last year's "redoubling efforts to scale".
The inclusion of a new summary bullet point — "Some external environmental headwinds in new fiscal year" — may well explain the 'Reasons to Believe' modifications: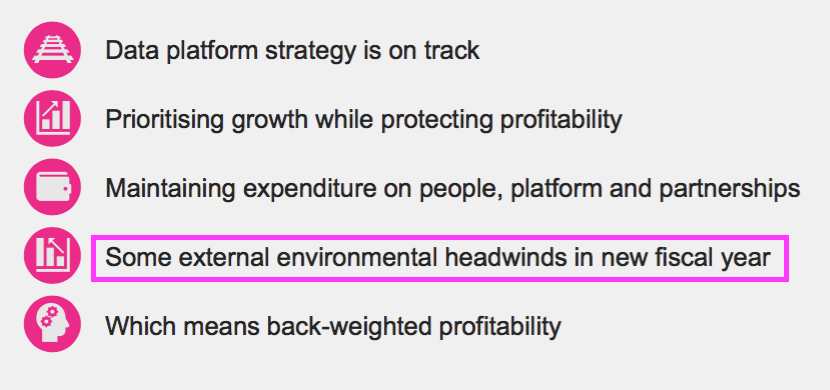 While some of SYS1's near-term ambitions may have been reigned in, management remained optimistic about the competitive advantage of the group's "marketing decision-making platform":
"As of May 2022, every step that used to require manual intervention, has been automated, ensuring we can offer our industry-leading predictions, within 24-hours, at incredible value pricing, across all three parts of our business. This amounts to an automated marketing decision-making platform (Test Your Ad, Test Your Idea, and Test Your Brand), giving us a huge competitive advantage in winning significant market share, delighting our customers, and achieving our goals."
…
"There remains much to do, but we believe our marketing decision-making platform is far ahead of our competitors and combined with our ability to advise customers on how to improve the effectiveness of their marketing, leaves the company well-placed for accelerated growth and influence in the industry."
Data versus Consultancy
References to the "marketing decision-making platform" reflect SYS1's ongoing transition from supplying bespoke consultancy work to providing automated data services.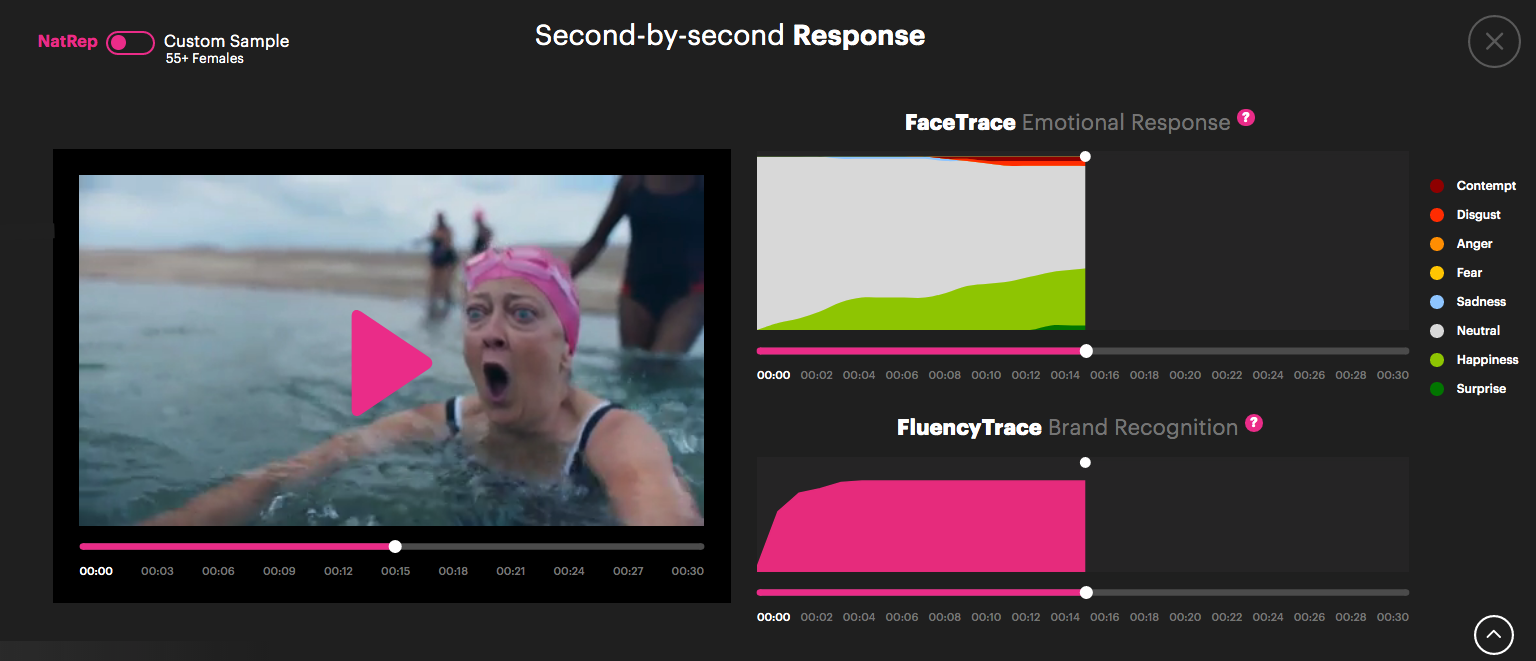 The Capital Markets Day webinar included a demo of Test Your Ad from 12m00s:
Data revenue is supported by Test Your Brand and Test Your Idea, which perform the same online-panel function for company brands and marketing ideas:
Test Your Brand and Test Your Idea were launched during November 2021 and May 2022 respectively:
"Based on Test Your Ad's success, and to enhance our growth potential, we completed and launched our automated 'Test Your Brand' platform, in November. More recently, in May 2022, we launched our automated 'Test Your Idea' platform, ensuring we can offer the same industry-leading predictions, 24-hour turnaround, and best value prices, across all three parts of our business, in every major market."
Boding well perhaps was both Test Your Brand and Test Your Idea earning revenue prior to their full automated launches: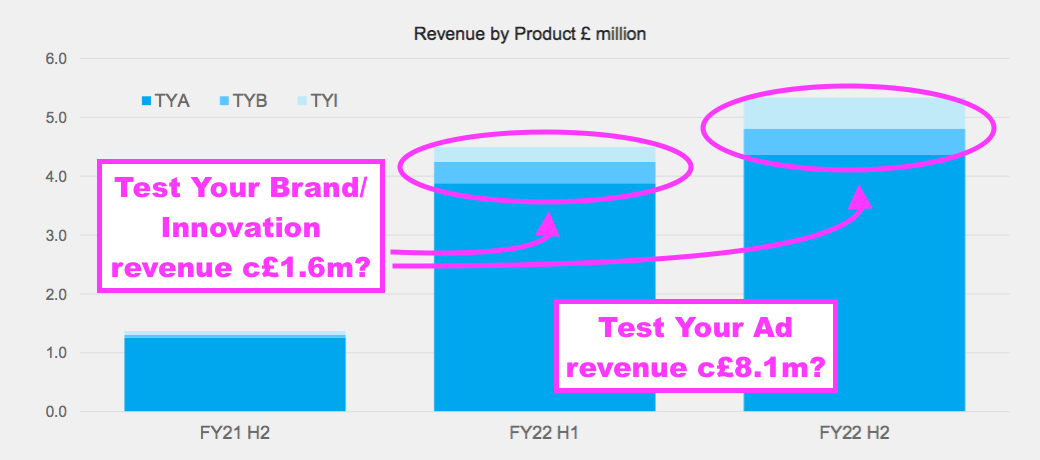 Test Your Brand and Test Your Idea look to have generated revenue of approximately £1.6m during FY 2022, versus approximately £8.1m for Test Your Ad.
Also boding well perhaps was SYS1 indicating the market sizes for Test Your Brand and Test Your Idea are both more than double the market size for Test Your Ad: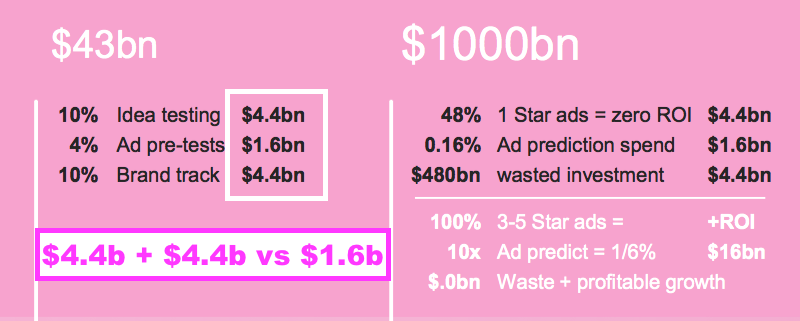 Data revenue had grown consistently every quarter until April's update implied Q4 Data was £2.5m, versus £2.8m for Q3: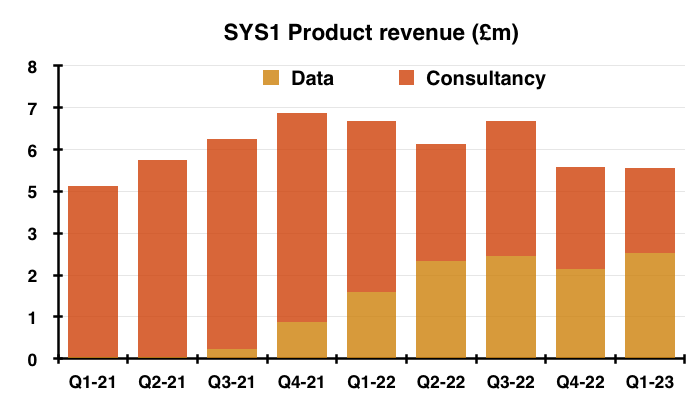 Management said during the Capital Markets Day webinar there were "no really specific reasons" for the lower Q4 Data revenue. Management added the "pipeline coming in looks excellent" and that SYS1 had not lost any automated Test Your Ad customers since launch.
An update announced alongside these FY 2022 results encouragingly disclosed Q1 2023 Data revenue at a new £2.9m quarterly high.
The FY 2022 statement sadly did not really explain the Q4 old-style Consultancy warning:
"In contrast to the growing success of our automated marketing decision-making platform, our bespoke research business declined by 39% during the year, reducing its contribution to 48% of total revenues. This was particularly the case in our bespoke consultancy business in the Americas, which declined 52% in the year. "
Management implied during the Capital Markets Day webinar the problems were caused by unsuitable employees, and new staff had been recruited.
Note that SYS1's "bespoke research business" does not represent all Consultancy revenue.
The 48% of total revenue for bespoke research equates to £11.6m for FY 2022, versus £14.1m for all Consultancy work:

How the remaining Consultancy revenue of £2.5m was produced was not made clear.
I can only presume this £2.5m represents SYS1's new-style 'creative guidance' Consultancy that follows the automated platform services:

I had previously assumed the new-style 'creative guidance' was lumped in with Data revenue.
Follow-on 'creative guidance' of £2.5m versus FY 2022 Data revenue of £9.7m feels about right when compared to the following slide, which discloses Data and Consultancy work from partnerships such as ITV and LinkedIn: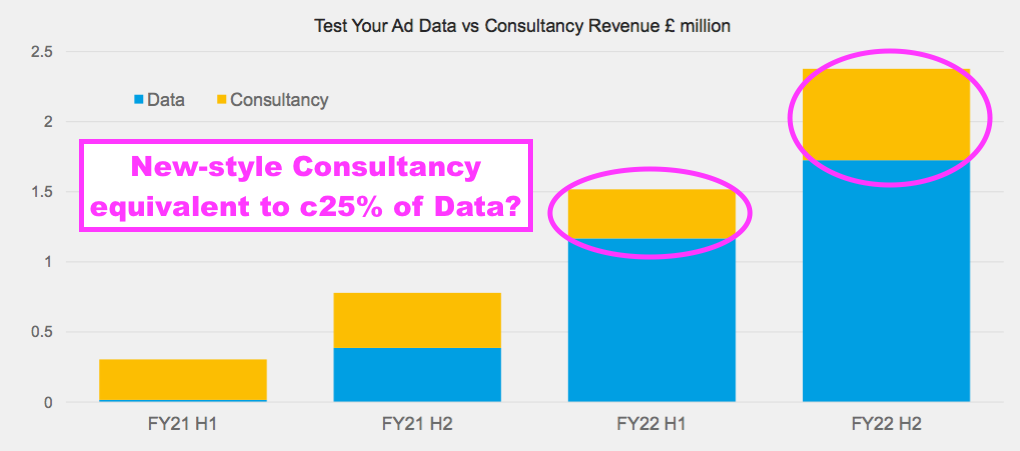 I estimate Data and new-style Consultancy sales represented 51% of total FY 2022 revenue and 70% of Q1 2023 revenue.
"In future reporting periods we will report the revenue from standard consultancy separately from the complex bespoke projects."
Let's see if this Consultancy disclosure is clarified within the next results.
SYS1 is hopeful that its bespoke consultancy work will eventually convert onto its automated Data platform:
"A sizeable proportion of our bespoke research revenues come from our traditional innovation testing business. Our hope is the new automated Test Your Idea will repeat the success of Test Your Ad, converting existing customers and winning new customers to the faster, cheaper, platform solution."
Partnerships and new customers
The FY 2022 presentation was the first to reveal the influence of partnerships on SYS1's revenue.
"Partnerships with major advertising platforms, including ITV and LinkedIn, have produced multiple new customer leads and acquisitions. Test Your Ad has become a key element in our partners commitment to improving their advertisers' effectiveness and drive their own revenues and profitability."
Partnerships with high-profile media groups underpin the notion that SYS1's "marketing decision-making platform" truly is "far ahead" of the competition.
Revenue from partners during the year came to £3.9m, or 16% of total income: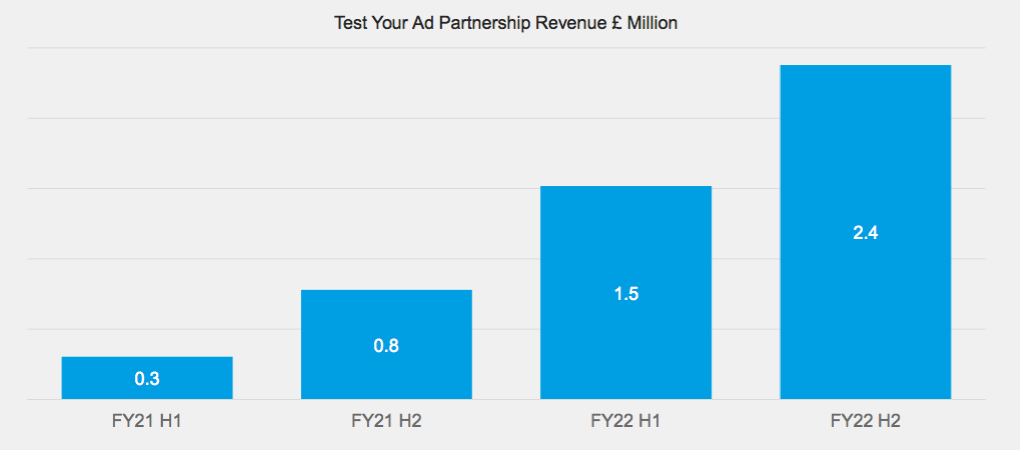 The proportion increased to 20% for H2.
Partners seem to be generating the bulk of new business. The £3.9m from partners represented almost 75% of the £6m from the new customers attracted to Test Your Ad:
"In the last year, almost a quarter of our business, £6m, came from winning new customers to our 'Test Your Ad' prediction platform. New and existing customers seem genuinely excited by the accuracy, speed, and incredible value of our advertising decision-making platform, together with the clarity and helpfulness of our creative guidance."
Management revealed during the Capital Markets Day webinar that "almost all" of the group's advert-testing customers had migrated to the automated Test Your Ad platform…
…which implies Test Your Ad now requires new customers to grow.
Emphasising the need for new customers was Data revenue from older customers remaining the same during H2 as H1:
SYS1 has regularly trumpeted its Data platforms as being less costly to customers than its old-style Consultancy services:
"We are single-mindedly focussed on improving the effectiveness of our customers' marketing budgets by providing better, faster, and cheaper predictions…"
The ongoing transition to Data services will therefore mean revenue per customer will decline. SYS1 confirmed:
"Our Test Your Ad automation, increased industry profile, and Partnerships with ITV, LinkedIn, Globo, enabled us to win 209 new customers in the year, many of which are industry leaders like Lenovo and H&M. Our total customer base rose to 465, an increase of 17%."
Increasing the customer base by 17% to 465 indicates the customer base numbered 397 at the start of the year.
If SYS1 won 209 new customers as well as increase its customer base by 68 (465 less 397), then 141 customers last year walked away.
I presume the 141 customers walking away were mostly (if not entirely) old-style bespoke-consultancy clients.
Revenue per customer therefore declined from £58k to £52k to reflect the reduced bespoke-consultancy workload.
New customers included Lenovo, Intel and H&M.
SYS1 noted the transition to Data services had started to impact its brand-tracking revenue:
"The Brand product area fell back year on year, as we converted low-profit, high-effort bespoke brand tracking business to Test Your Brand."
Brand-tracking revenue at £3.3m for FY 2022 was in fact the lowest since FY 2015 (£1.7m):
Lower innovation-testing revenue prompted February's Q4 sales warning, and at £5.6m was the division's lowest since SYS1 began disclosing such income during FY 2014.
SYS1 claimed its podcast was attracting new customers:
"The Uncensored CMO created by our Chief Customer Officer, Jon Evans, interviewing industry luminaries, has become the pre-eminent marketing podcast in our biggest markets which has led directly to significant new customer wins."
This episode (from 9m40s) helpfully answers the question "before you spend the [advertising] money, how do you know it is going to work?" with a real-life example at Lucozade.
Employees
The transition to Data services has encouragingly prompted a greater emphasis on sales and marketing: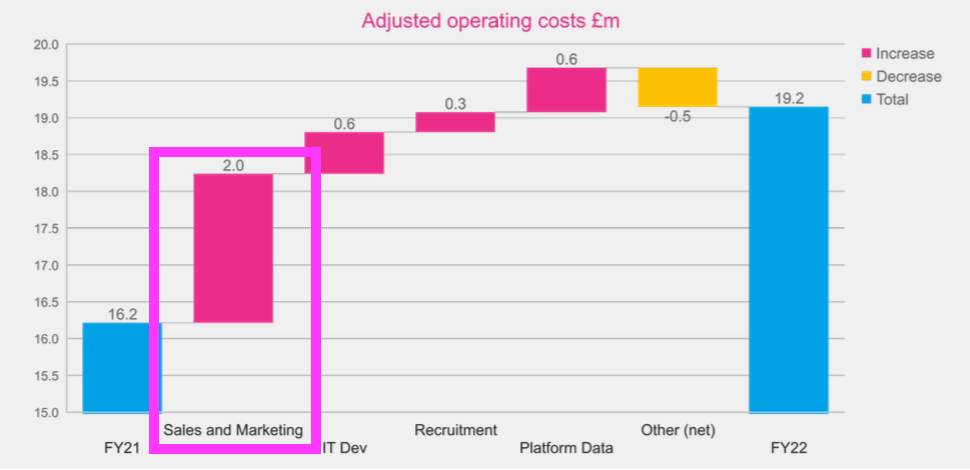 "As a consequence of those plans, adjusted operating costs increased by 18% to £19.2m. The biggest area of increase was sales and marketing. Of the £3.0m cost increase year on year about a half was people costs and the other half external spend such as fame building activities including Ad of the Week and the launch of Look Out and Feeling Seen."
Employee costs increased by £1.5m to £12.0m, with the sales and marketing headcount increasing by twelve:

SYS1 has disclosed department employee numbers only within its FY 2021 and FY 2022 statements, but the shift towards marketing (and IT) is welcome.
The Q4 sales setback ensured revenue per employee at £157k was SYS1's weakest since FY 2012 (£141k)…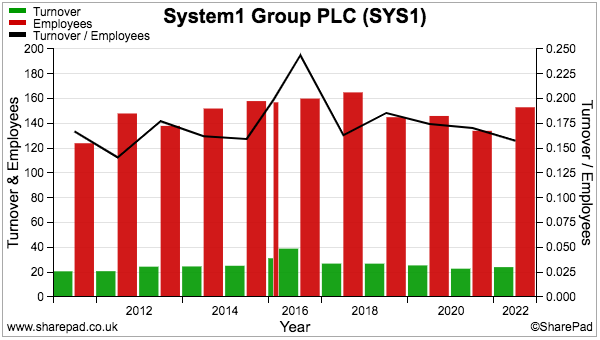 …and hardly supported the case of SYS1 evolving into a 'scalable' platform business.
As mentioned earlier, management hinted during the Capital Markets Day webinar that the Q4 sales setback was caused by unsuitable employees.
But whether the replacement staff will be focused on selling old-style Consultancy work or new-style Data services was not made clear.
Given H2 witnessed an approximate breakeven performance, can SYS1 afford to lose old-style Consultancy work at the current time?
After all, the Q4 sales setback led to Q4 profit being £1m below earlier expectations….
…and £1m is a significant three-month shortfall when the market cap is £28m.
One employee that did leave SYS1 during the year was boardroom "adviser" Stefan Barden:
"System1… announces that further to the announcement on 4th January 2022, Stefan Barden has today informed the System1 board of directors (the "Board") that he will be stepping down as an adviser to the Board with effect from 31st March 2022.

Stefan was an adviser to the Board for 3 years, then a director for 18 months as Covid hit (initially as COO, then CEO), before reverting to his role as an adviser to the Board from 31st January 2022."
I am not convinced Mr Barden's departure was connected to the Q4 sales setback. Mr Barden was appointed initially to push through the transition to Data services, and the Q4 shortfall concerned old-style Consultancy work in the States that may have been withering anyway.
Mr Barden retains a 6.2% shareholding.
Financials
SYS1's primary accounting attraction remains the cash position, which improved by £2.2m during the year to £11.2m.
Bank debt of £2.5m matched that of twelve months ago, and is due to be repaid during February 2023.
Net cash was therefore £8.7m.
The £2.2m cash improvement was supported mostly by working-capital movements, whereby an adverse £0.4m outflow during H1 was more than offset by a favourable £2.5m inflow during H2.
Trade receivables (unpaid customer invoices) in particular were reduced to £3.8m and equated to a welcome 16% of revenue, the lowest level since at least FY 2006: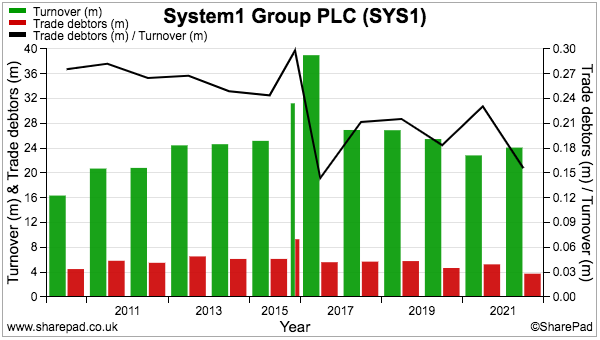 Capital expenditure was maintained at low levels following the hefty Ad Ratings investment of FYs 2019 and 2020:
| | | | | | |
| --- | --- | --- | --- | --- | --- |
| Year to 31st March | 2018 | 2019 | 2020 | 2021 | 2022 |
| Operating profit (£k) | 1,985 | 2,056 | 418 | 2,287 | 1,105 |
| Depreciation and amortisation* (£k) | 374 | 286 | 156 | 207 | 181 |
| Net capital expenditure (£k) | (113) | (1,030) | (916) | (198) | (138) |
| Working-capital movement (£k) | 775 | (910) | 348 | (499) | 2,122 |
| | | | | | |
| Net cash (£k) | 5,784 | 4,315 | 4,150 | 6,508 | 8,674 |
(*excludes IFRS16 depreciation)
The year-end cash position was bolstered by a useful £0.2m gain due to currency movements and "primarily the weakening of the pound against the dollar".
SYS1 clearly holds some money in USD, and USD has advanced at least 15% versus GBP since SYS1's March 2022 year end.
Revenue from customers located overseas represented 67% of total revenue, and may provide a foreign-exchange bonus during FY 2023 should the GBP weaken further against other currencies.
These FY 2022 figures were complicated by a bevy of adjusting items: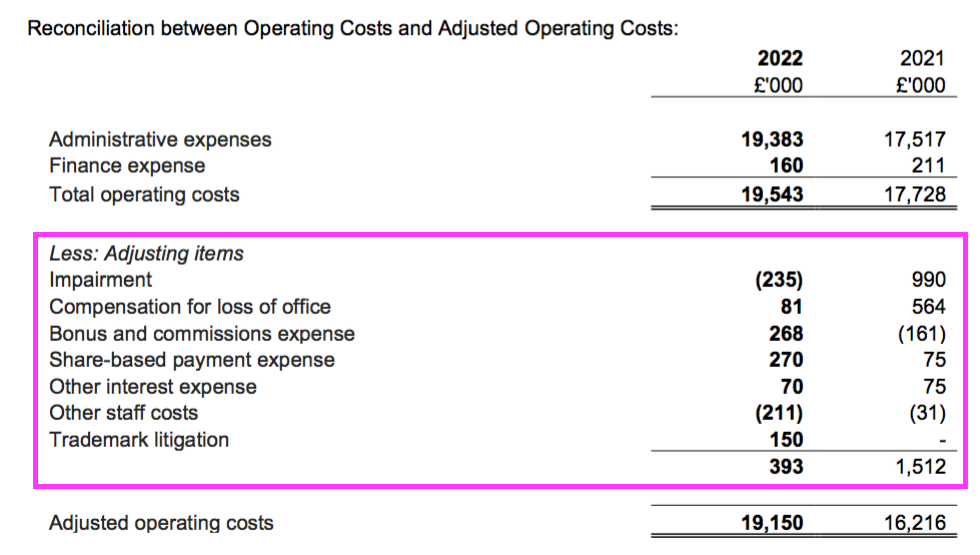 The 'impairment' reversal of £235k reflects the subleasing of SYS1's New York office and seems a genuine adjusting item.
SYS1 has recorded 'compensation for loss of office' or similar every year since FY 2012, which suggests such expenditure is a regular operating cost.
'Bonus and commission expense' is notable; for FY 2022 the entry includes 'commission', which suggests SYS1's sales people now enjoy a portion of the new business they win. Such expenses are normally regular costs, but I suppose the adjustment for FY 2022 ensures consistency with the prior year's bonus reversal.
'Share-based payments' should not be deemed an adjusting item according to the FRC (page 22), but the expense is presently academic as most of SYS1's options will only become exercisable if revenue (and the share price) doubles from recent levels (see Valuation).
I don't know what 'Other interest expense' refers to.
'Other staff costs' I think relate to SYS1's sabbatical leave scheme, which recorded a reversal during the year after (presumably) some long-time employees left the group: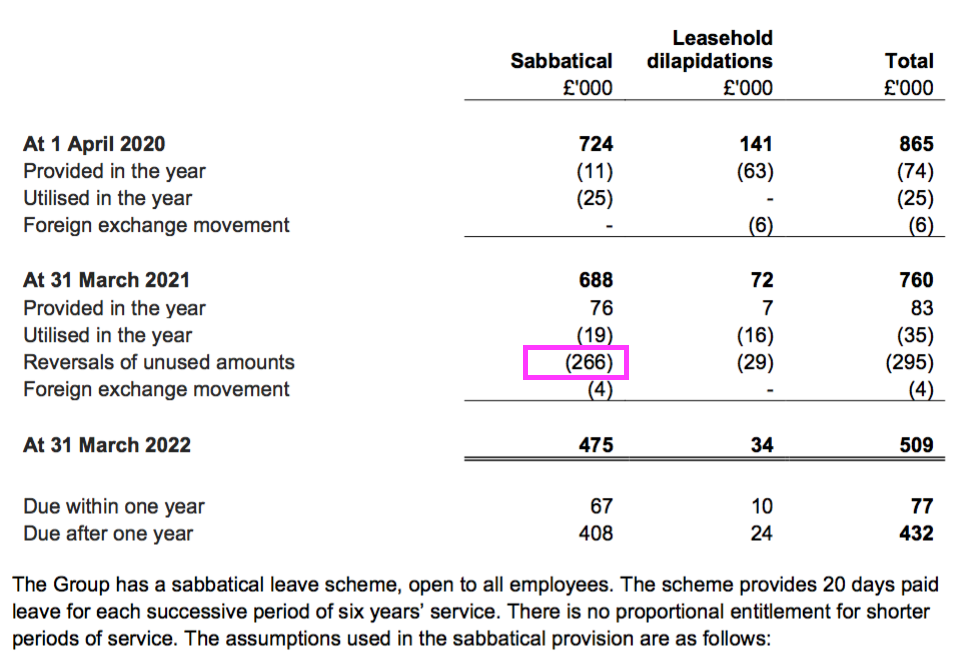 Complicating matters further is 'Other operating income', which generated a useful £289k during the year:

Other operating income for FY 2021 was entirely government pandemic benefits, but for FY 2022 included:

Government pandemic benefits;
Government grant-funded research through the University of Warwick, and;
Sub-lease income from offices in London and New York.
SYS1 did not indicate how this other operating income was split, nor how much of it could be recurring.
But such income did help SYS1 stay in the black during the weaker H2.
H2 pre-tax profit after H2 adjusting items of £478k was £170k, but would have been an H2 pre-tax loss of £34k excluding H2 other operating income of £204k.
Aggregate net adjusting items for FYs 2020, 2021 and 2022 come to £3.8m, and have been significant versus the £3.3m aggregate pre-tax profit reported during the same three years: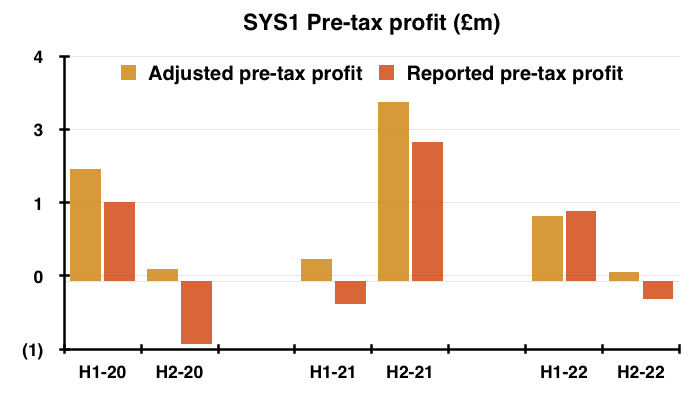 Measures such as operating margin and return on equity therefore remain highly circumspect given all the adjustments:
| | | | | | |
| --- | --- | --- | --- | --- | --- |
| Year to 31st March | 2018 | 2019 | 2020 | 2021 | 2022 |
| Operating margin (%) | 7.4 | 7.6 | 1.6 | 7.2 | 3.4 |
| Return on average equity (%) | 14.0 | 18.0 | (3.6) | 26.0 | 12.3 |
Share buybacks, tender offer and strategic review
SYS1 has cancelled earlier commitments to undertake share buybacks and a tender offer.
To recap, SYS1 announced during February 2020 its intention to conduct a share buyback of up to £1.5m
The pandemic scuppered the plan until January 2022, at which point SYS1 commenced a three-month buyback of up to £0.75m.
The buyback spent £567k on 158k shares equating to an average 357p per share cost.
Then during June, SYS1 announced buybacks and/or tender offers would be undertaken instead of paying dividends:
"The Board has now conducted a wider review of its capital allocation priorities and considered the Company's near-term cash needs and its dividend policy.

Following this review, and taking into consideration feedback from certain shareholders, the Board has decided to pay annual distributions to shareholders by way of on market share buyback or tender offer, rather than by way of a dividend."
SYS1 added that a tender offer would be forthcoming from July:
"[R]eflecting the strong cash position of the Group, the Board has decided to undertake an additional return of capital…

…the Board considers that the Company has cash at levels above its through-the-cycle and near-term requirements and will therefore seek to return up to £1.5m of excess cash by way of a tender offer at the earliest opportunity after the Company has published its report and accounts for the year ended 31 March 2022 on 12 July"
But in July, SYS1 changed its mind and instead disclosed a buyback of up to £1.5m

ahead

of the tender offer:
"System1… announces its intention to commence a share buyback programme, using the Company's existing cash resources to make market purchases of System1 ordinary shares ahead of the Company's tender offer, for an aggregate value of up to £1.5 million in order to enhance shareholder returns and to satisfy obligations in relation to employee share schemes."
SYS1 went and purchased 61k shares for £146k at an average 240p a share.
Then in August SYS1 announced an intriguing strategic review:
"Whilst the Company can continue with its current strategy, the Board believes that it is important to ensure that it has explored all strategic options to capitalise on System1's current market opportunity to deliver shareholder value, including considering the value it can create in its current form, the options for increasing organic growth through forming partnerships, and external or internal investment to grow revenue by leveraging the significant investment made in automated predictions technology.

The initial conclusions of the Review are expected to be ready by the end of November."
This review statement helpfully clarified the situation with buybacks and tender offers; both have been scrapped for now:
"The Board has decided to postpone the currently planned tender offer and the current share buyback programme, with decisions on future returns of capital being considered as part of the overall Review."
But the review did raise other questions, particular concerning the words "external or internal investment to grow revenue".
Does the review now suggest SYS1 could raise money from deep-pocketed partners who are willing to pay a premium for a significant shareholding?
Or does the review suggest SYS1 may run out of cash as it tries to maximise its Data-services potential?
I am hopeful of the former but recognise the possibility of the latter.
The statement said the "initial" conclusions of the review would be ready during November, which suggests 'definitive' conclusions may be declared some time later.
The review will be undertaken by the non-execs…
"The Review will be led by the Company's independent Non-executive Directors, supported by the Company's retained advisor, Canaccord Genuity, with another adviser/s if required. "
…and the appointment of new non-exec Conrad Bona reveals the agitated shareholder who has initiated the review:
"Conrad [Bona] is an investor, entrepreneur and consultant, who started his career as a banking and finance lawyer and has worked in Toronto, London and Tokyo… Conrad is a partner in Wetherby Growth, an offshore fund which invests in pre-IPO companies. He also periodically advises companies on a wide range of commercial, financial and business matters. He has both Canadian and British citizenship. Conrad is also a Non-Executive Director of Grafenia plc."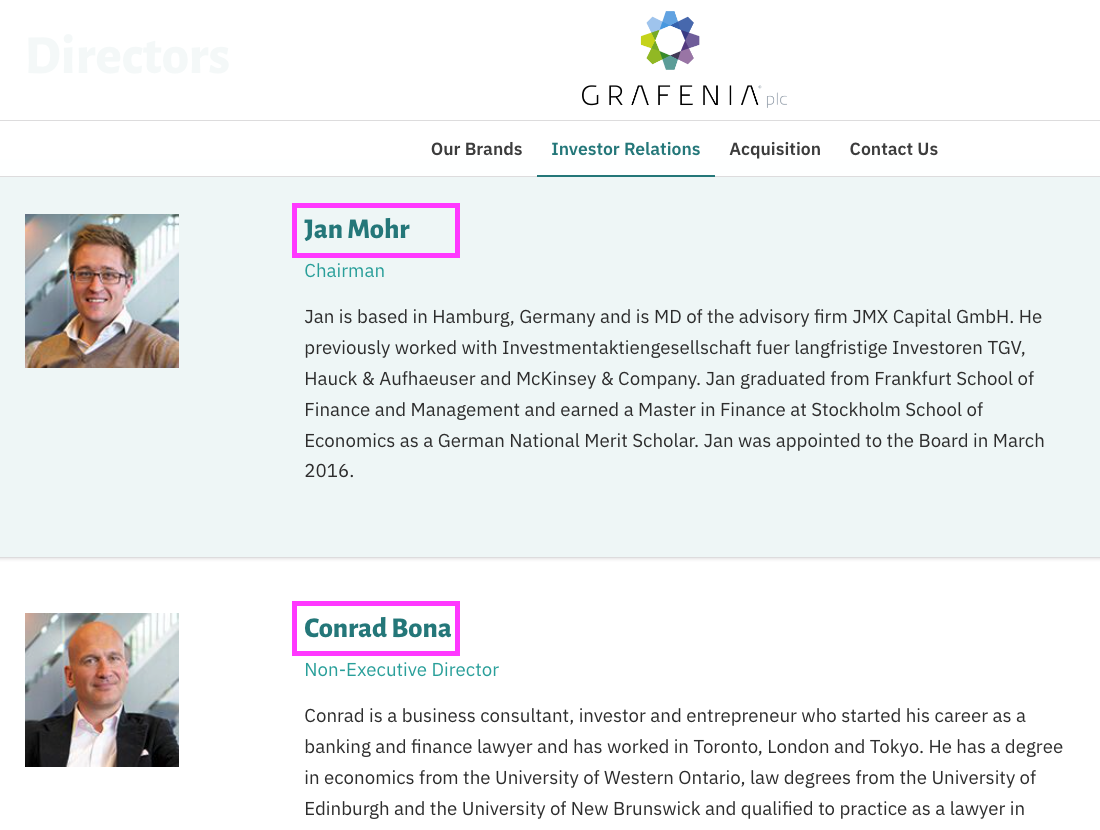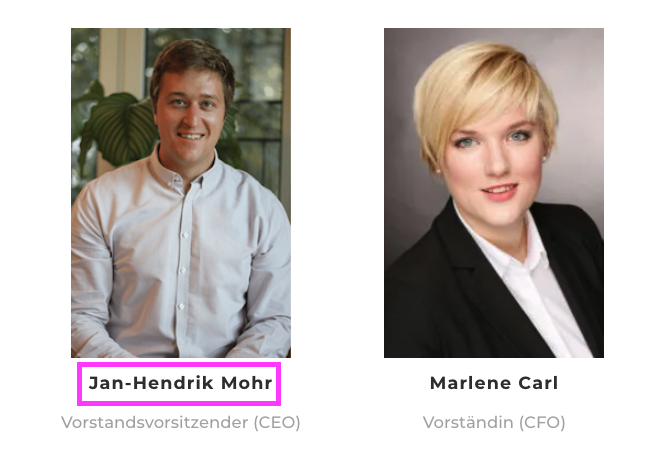 …which owns 5.5% of SYS1: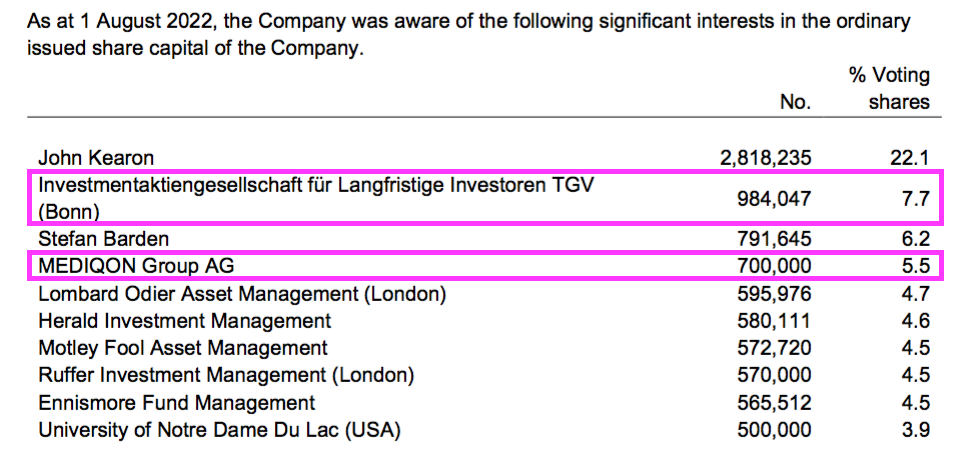 "Jan is based in Hamburg, Germany and is MD of the advisory firm JMX Capital GmbH. He previously worked with Investmentaktiengesellschaft fuer langfristige Investoren TGV, Hauck & Aufhaeuser and McKinsey & Company."
Interestingly enough, Mr Mohr has worked with Investmentaktiengesellschaft für langfristige Investoren TGV, which holds 7.7% of SYS1.
Why "certain shareholders" had called for a tender offer is not clear (at least to me).
I can only speculate that at least one investor simply wants out of SYS1, and wishes to use the company's money to fund their exit because they can't offload their stake in the market.
My view: SYS1 should right now be using its cash to i) protect its balance sheet, and ii) build its Data platform services, instead of becoming distracted by academic capital-allocation matters.
After all, the Q4 sales setback shows SYS1 is not yet on a firm operational footing while that earlier buyback at 357p hardly looks a great decision at present.
If SYS1's platform does indeed offer "industry-leading predictions" and enjoy a "huge competitive advantage", the best place to invest the group's cash right now must surely be developing that very platform.
And once the platform is complete, SYS1 will eventually day boast ample surplus funds for buybacks, tender offers and even dividends… assuming of course management's 10% industry-share ambition ever comes good.
Valuation
Perhaps certain shareholders wanted a tender-offer exit because near-term profitability appears very uncertain.
Taking a generous view of the aforementioned adjusting items and other operating income, SYS1 reported a small £170k profit for H2 that, if extrapolated for FY 2023 and beyond, would not obviously underpin the £28m market cap even with that £8.7m net cash position.
The Q1 2023 update did nothing to alleviate concerns the old-style Consultancy work is waning — and profit will remain subdued until more Data customers are won.
In fact, Data revenue (based on Q1 2023) is running at £11.6m a year and possible new-style Consultancy income might be running at £3m a year…
…which combined do not cover the FY 2022 adjusted operating costs of £19m.
Mind you, the longer-term investment case has always centred on the transition to Data — and old-style Consultancy profit was never likely to support SYS1's market-share ambitions (from sub-1% to 10%) and earlier talk of that £1 billion market cap.
As before, SYS1's (contentious) LTIP scheme may indicate what the board thinks is financially possible:
"Non-market performance conditions…:

a) all of the award will vest if revenue is equal to or greater than the Stretch Target;
b) one-third of the award will vest if revenue is equal to the Threshold Target;
c) a proportionate amount of the award will vest on a straight-line basis if revenue is between the Threshold Target and the Stretch Target (between one-third and all of the award).

• The Threshold Target means revenue of £45m in the Company's financial year ending 31 March and represents the minimum level of revenue that must be achieved for vesting to occur.

• The Stretch Target means revenue of £88m in the Company's financial year ending 31 March and represents the minimum level of revenue that must be achieved for full vesting to occur. "
Assume revenue does reach the minimum £45m LTIP target and SYS1's platform ambition translates into a 20% operating margin, then earnings could be £7m after 19% tax.
Earnings of £7m would make the £28m market cap very cheap.
Bear in mind SYS1's current LTIP scheme was first introduced during 2017, was extended during 2019 and then (contentiously) changed during 2021. Option targets are therefore not guaranteed to be met in a timely fashion.
The LTIP small print suggests the revenue target of £45m has to be reached by 2025 (but possibly 2027) for the options to vest:
"The award has 4 tranches of vesting dates on 12 August 2022 to 2025 with a hard end-date of 21 March 2027."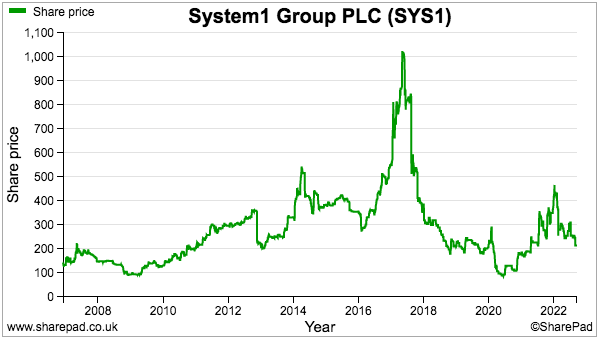 Even greater revenue and profit could be projected by applying SYS1's ambition to advance its market share from less than 1% to 10% in what the group claims to be a $10b market.
But what counts at present is winning more Data customers and lifting profit from breakeven.
Let's hope the forthcoming strategic review can unearth further revenue and profit potential.
For now though, SYS1's progress remains obscured by weak old-style Consultancy income as well as operating costs that don't seem entirely covered by the new platform services.
Maynard Paton