05 November 2021
By Maynard Paton
Results summary for Bioventix (BVXP):
Acceptable annual figures that included a record H2 profit (+14%) despite the pandemic continuing to disrupt demand for routine blood tests.
Mixed progress from vitamin D and other established antibodies leaves near-term growth dependent mostly on the fast-selling troponin product.
Additional research efforts suggest pyrene biomonitoring and detecting Alzheimer's disease may be the more likely long-term pipeline winners.
A 19% dividend lift, another special payout, 70%-plus margins and low retained-profit requirements underlined the wonderful economics of collecting antibody royalties.
Troponin's finite income and a resultant sum-of-the-parts valuation do not indicate an obviously tantalising £36 share price. I continue to hold.
Contents
Event links, share data and disclosure
Event: Preliminary results and presentation for the twelve months to 30 June 2021 published 18 October 2021

Price: £36
Shares in issue: 5,209,333
Market capitalisation: £188m
Disclosure: Maynard owns shares in Bioventix. This blog post contains SharePad affiliate links.
Why I own BVXP
Develops diagnostic blood-test antibodies, direct competition for which is limited due to the necessary scientific innovation, protracted regulatory testing, onerous switching procedures and 'captive' hospital end-customers.
Boasts founder/entrepreneurial chief exec who has overseen an attractive growth record, retains an 8%/£15m shareholding and has declared six special dividends.
Employs 'scalable' royalty/licensing model that requires few employees and leads to terrific margins, generous cash flow and high returns on retained profits.
Further reading: My BVXP Buy report | All my BVXP posts | BVXP website
Results summary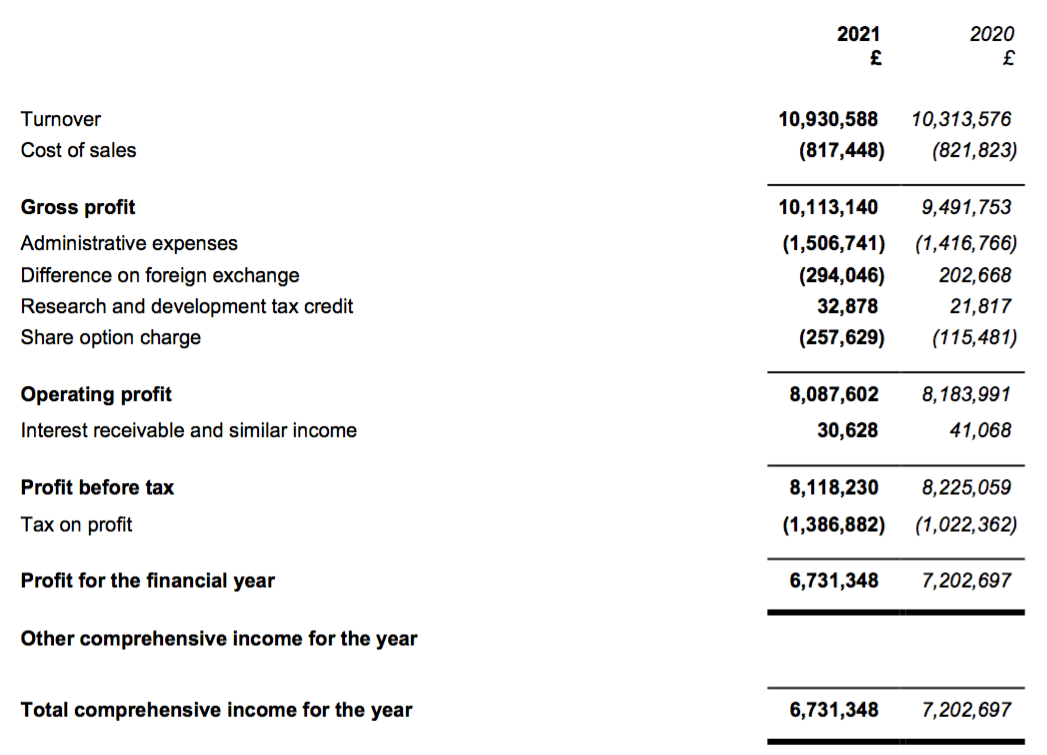 Revenue, profit and dividend
These FY 2021 results were never going to be sensational after March's H1 statement confessed to pandemic disruption:
"The continuing global pandemic has, without doubt, affected the activity within diagnostic pathways in hospitals and clinics around the world to which our business is intrinsically linked. Not only have medical care resources been diverted to cope with COVID-19 patients but, even where capacity remains, there is ongoing evidence that patients are choosing not to present to healthcare professionals or not to enter diagnostic pathways."
The Covid-19 interference had restricted H1 revenue growth to just 1% and caused reported H1 profit to decline 9%.
However, for the full year, revenue gained 6% and reported profit fell just 1% following an encouraging H2.
This FY 2021 performance extended BVXP's run of revenue increases to eleven years…
…but could not extend a similar run of annual profit increases.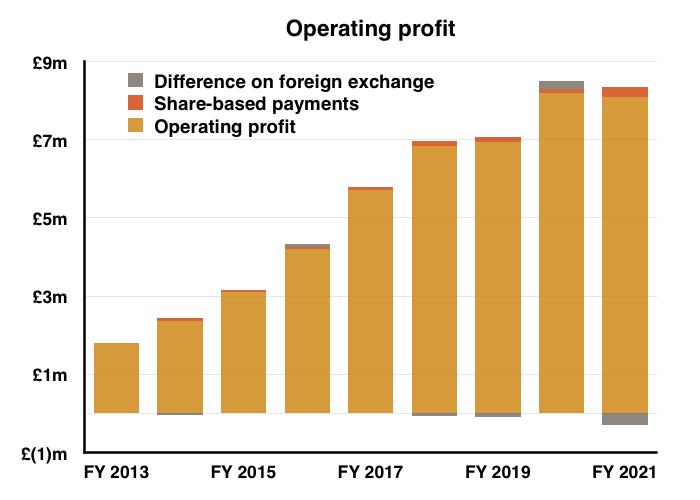 H2 nonetheless delivered a record six-month performance for both revenue and profit: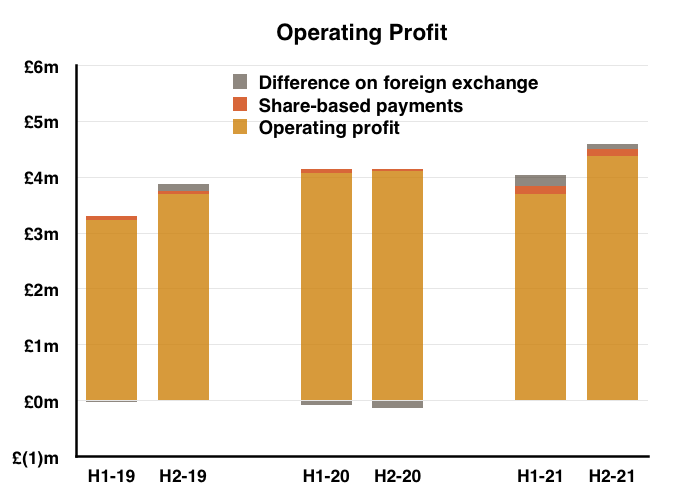 Reported profit progress was distorted a little by foreign-exchange gains/losses and share-based payments (see Financials below).
Before foreign-exchange gains/losses and share-based payments, full-year operating profit climbed 7%. The H2 profit advance on the same basis was +14%.
Despite the improved H2, BVXP acknowledged the pandemic disruption to blood testing had not yet cleared:
"As we observed earlier in the pandemic, through our multinational in vitro diagnostics (IVD) customers, our main business is intrinsically linked to the diagnostic pathways that exist at hospitals and clinics around the world. The activity within these routine diagnostic pathways continues to be adversely affected by the COVID-19 pandemic as hospital resources are diverted to cope with the additional patient burden created by the pandemic.

Even where diagnostic capability exists, there is still evidence that concerned patients have chosen not to enter diagnostic pathways and have not presented to healthcare professionals as would normally be expected."
That said, a Q3 update from Roche showed its routine diagnostic sales (i.e. excluding income from Covid-19 tests) recovering during 2021: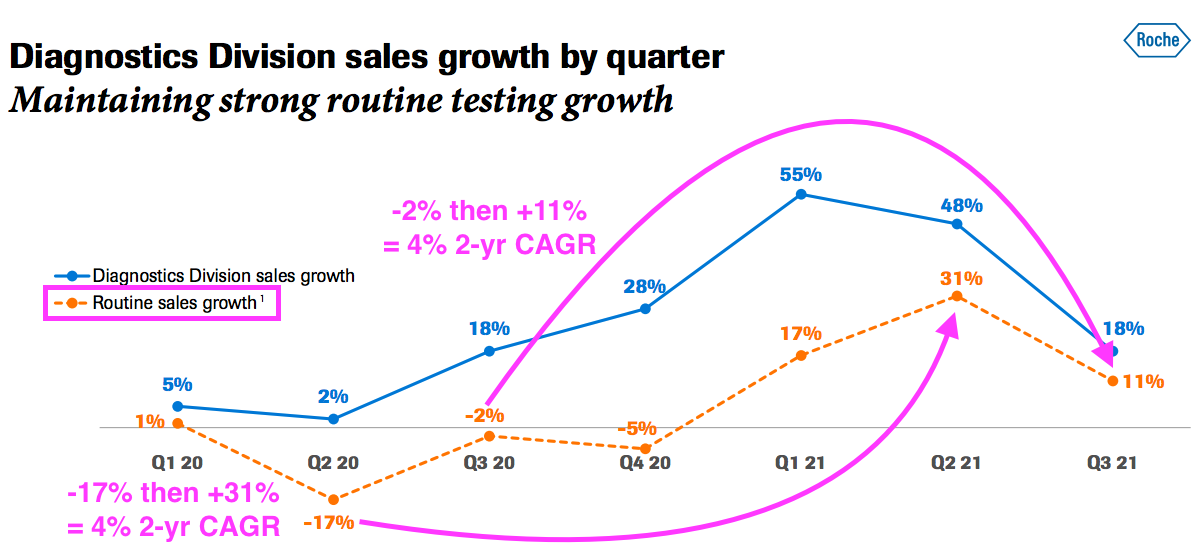 Roche is the world's largest in vitro diagnostic (IVD) company and is as good a benchmark as any to judge demand for the type of blood-test antibodies that BVXP develops.
Roche's slide implies its routine-diagnostic sales have compounded at an approximate 4% average between (pre-pandemic) Qs 2 and 3 2019 and Qs 2 and 3 2021.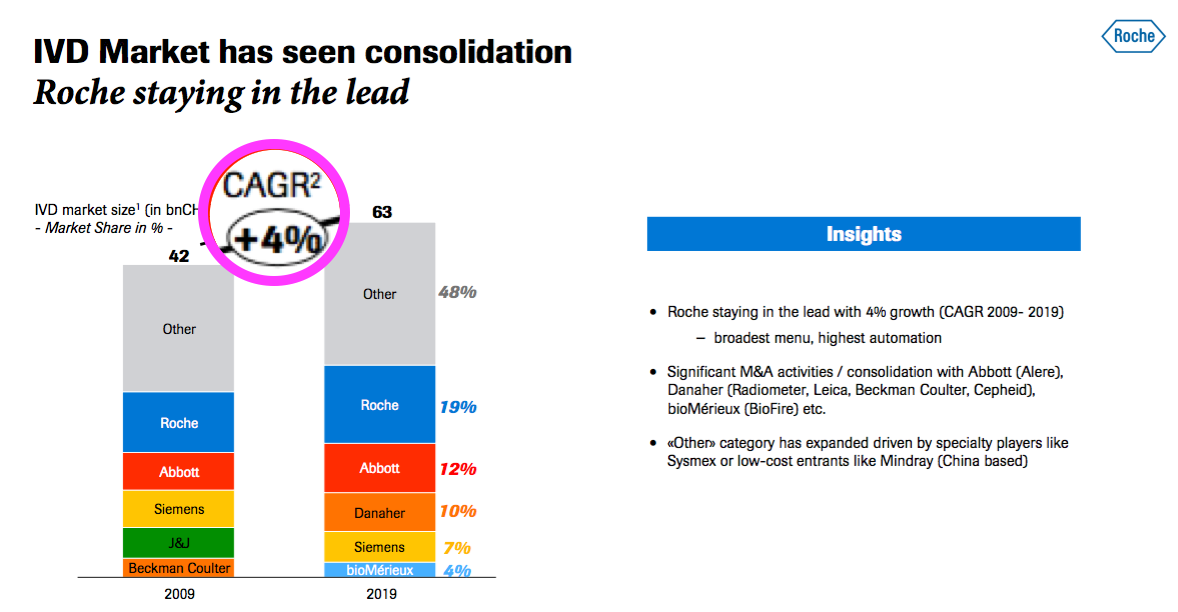 BVXP's final dividend was raised 19% to 62p per share and matched the percentage increase applied to the interim payout.
For the

sixth

consecutive year, the ordinary dividend was accompanied by a special payout.
The 38p per share special dividend gave a total full-year payout of 143p per share versus a total 141p per share for FY 2020.
The 38p per share special dividend brought the total of special dividends declared during the past six years to 233p per share — versus 378p per share declared as ordinary dividends.
Between FYs 2016 and 2021, BVXP has paid total ordinary/special dividends representing 90% of total reported earnings (£31m of £34m).
Enjoy my blog posts through an occasional email newsletter. Click here for details.
Vitamin D
BVXP's vitamin D antibody remains by some distance the group's best-seller at 44% of revenue: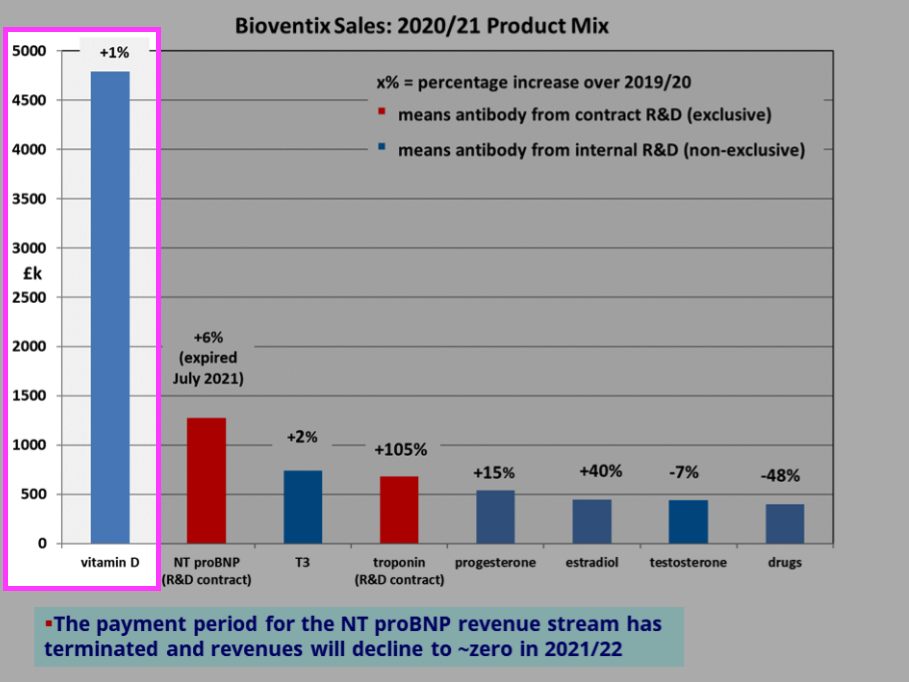 BVXP said vitamin D income had "remained relatively unchanged" at £4.8m.
Perhaps vitamin D revenue really has "plateaued".
BVXP's short FY 2021 comment on vitamin D did not imply an imminent return to material growth:
"The importance of vitamin D in human biology is widely acknowledged and does indicate that vitamin D testing will continue to be part of clinical diagnostics in the long term."
Troponin
BVXP reiterated future revenue and profit growth being dependent mostly on demand for its new-ish troponin antibody:
"Over the next few years, the commercial development of the new troponin assays will have the most significant influence on Bioventix sales. There are currently no antibodies in the future pipeline that are comparable to our troponin products in potential value and the ability to influence revenues in the next few years."
"Total troponin antibody sales from Siemens Healthineers and another separate technology sub-license doubled during the year to £0.68 million (2019/20: £0.33 million). This significant increase clearly demonstrates a gathering momentum of product roll-outs for the new high sensitivity troponin assays supported by SMAs and we believe that these revenues will continue to grow in the next financial years."
The "gathering momentum" text was used this time last year, which might imply the 100% growth rate enjoyed during this FY 2021 can be maintained for FY 2022.
This time last year management claimed via a webinar:

Troponin revenue reaching £1.2m during FY 2022 — to replace lost income from another product — was "entirely plausible", and;
House broker Finncap was predicting "revenues that are around £3m for troponin going into the future."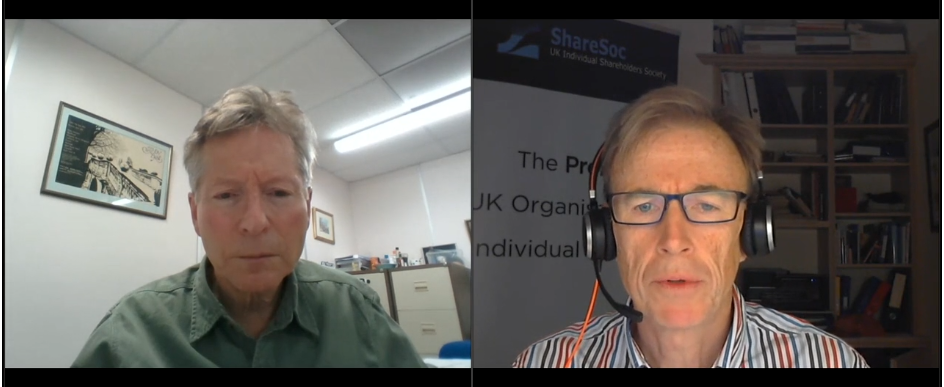 Note that twelve months ago management also confirmed the royalty licence for troponin

would expire during the summer of 2032

.
Management has said new antibodies would always enjoy

perpetual

licence income, but development work on troponin started during 2006 when BVXP generated revenue of only £593k and was not the business it is today.
The finite troponin income does complicate BVXP's valuation and puts greater emphasis on the group's pipeline developments (see Pipeline developments below).
Troponin currently represents 6% of total revenue.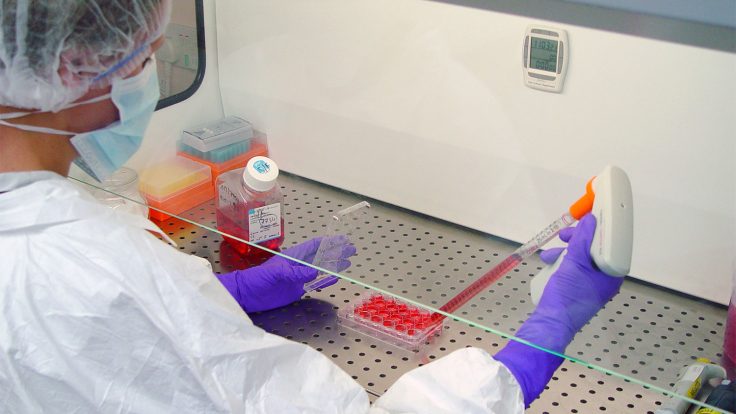 Other antibodies
BVXP's revenue from its five other "lead" antibodies ranged from up 40% to down 48% during this FY 2021, and combined was down 7%:
| | | | | | |
| --- | --- | --- | --- | --- | --- |
| Year to 30 June | 2017 | 2018 | 2019 | 2020 | 2021 |
| Revenue (£k) | | | | | |
| Testosterone | 574 | 660 | 800 | 480 | 440 |
| T3 | 495 | 460 | 640 | 720 | 740 |
| Drug testing | 485 | 640 | 490 | 760 | 400 |
| Estradiol | 333 | 290 | 330 | 320 | 440 |
| Progesterone | 178 | 400 | 470 | 470 | 540 |
| | | | | | |
| Total | 2,064 | 2,450 | 2,730 | 2,750 | 2,560 |
Total revenue from the five antibodies has advanced only 4% between FY 2018 and FY 2021, which feels disappointing.
Mind you, the pandemic has influenced recent progress and the preceding H1 statement did say:
"Our antibodies for thyroid disease diagnostics (T3) and others for fertility diagnostics (estradiol, progesterone and testosterone) form part of routine diagnostics for chronic conditions which are often not life-threatening. We believe that such diagnostic tests have experienced lower volumes in pandemic affected areas and this has had a small impact on our own revenues."
Omitted from the table above is revenue of £1.28m from NT proBNP (an antibody used to diagnose potential heart failure), the income from which ceased a month after the FY 2021 year end: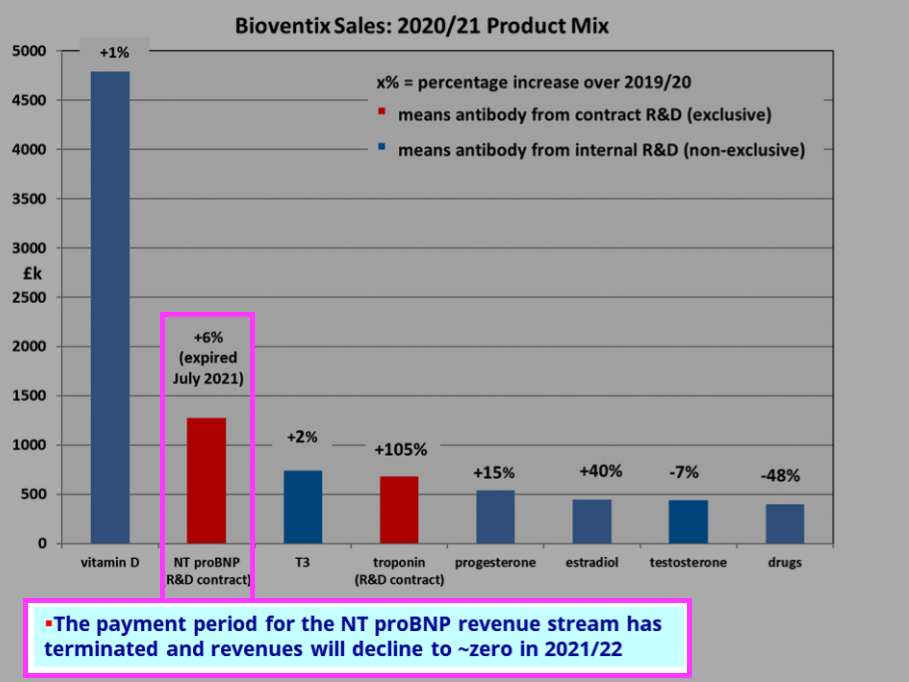 Troponin doubling once again to £1.36m during the current year will offset the £1.28m that will be lost from NT proBNP.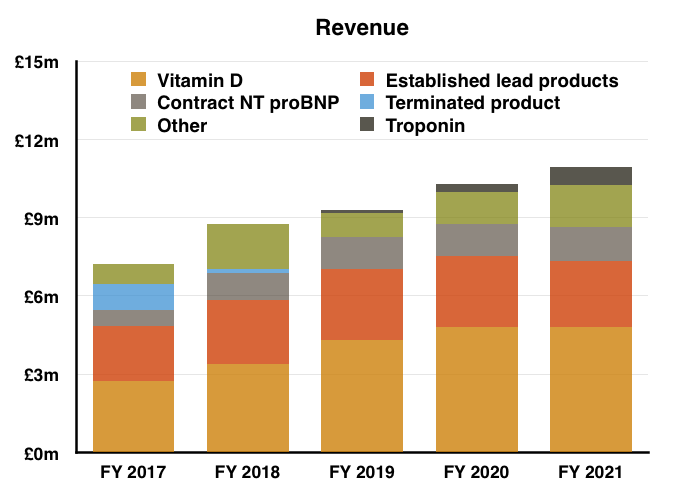 Quality UK investment discussion at Quidisq. Visit forum.
Pipeline developments
BVXP thankfully replaced the "research news" slide used within the H1 powerpoint…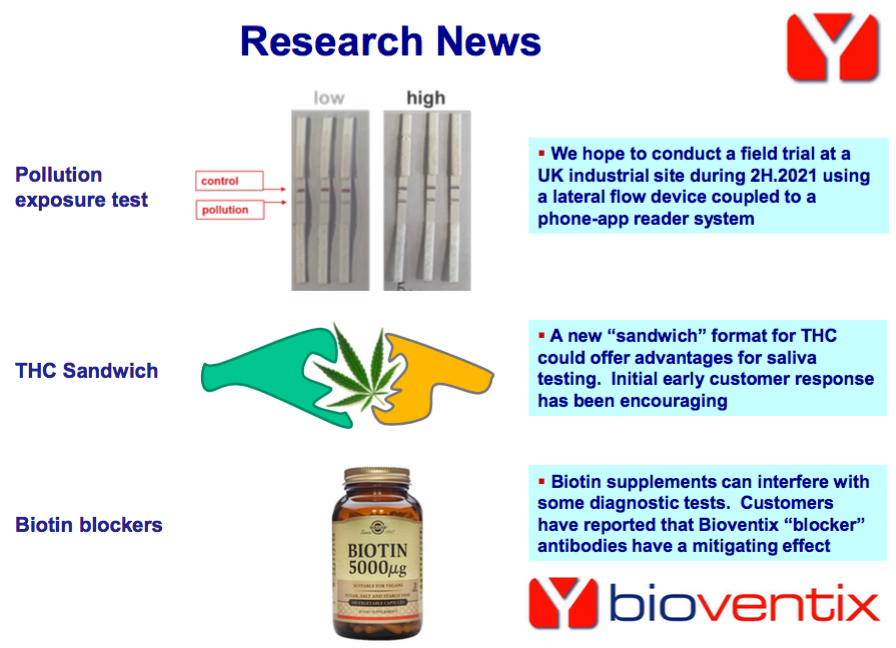 …with the customary pipeline grid for these FY results: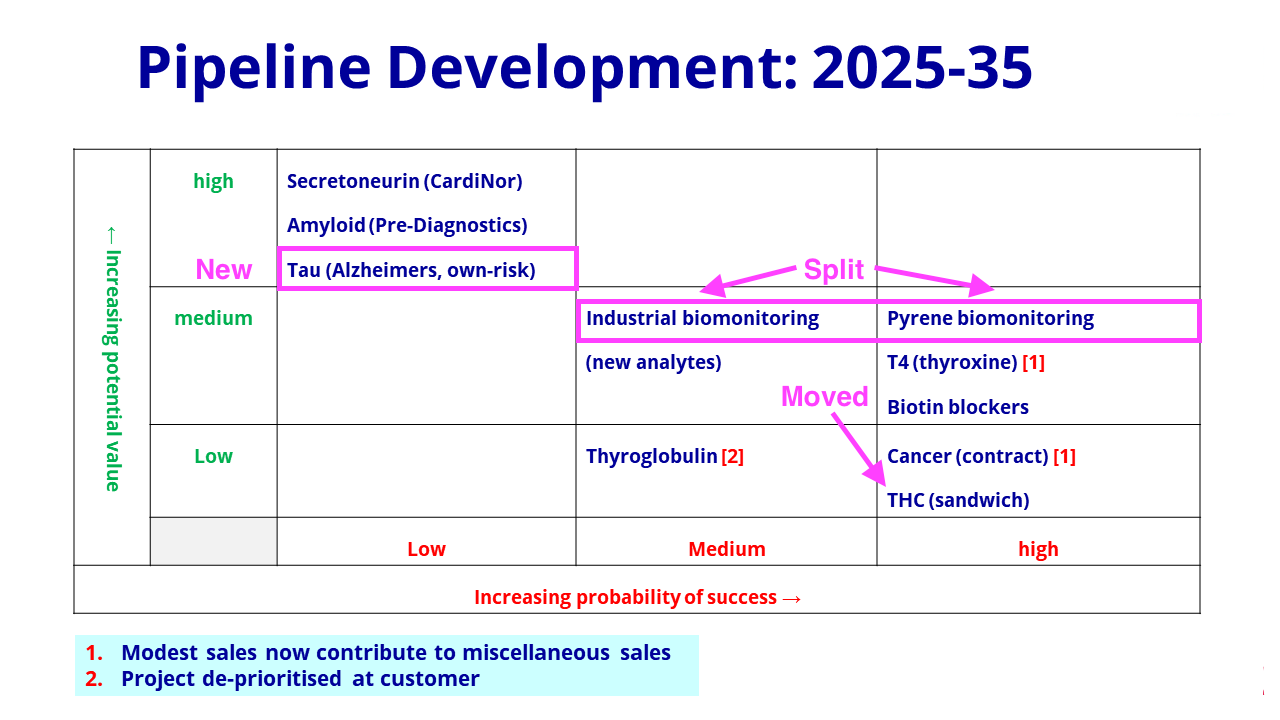 The latest grid included changes to what was presented this time last year.
The pollution biomonitoring project has now been split into two: "industrial biomonitoring" and "pyrene biomonitoring" (pyrene is a hydrocarbon produced by combustion engines).
The pyrene project has maintained its "high" probability of success on the grid.
The slide below explains how the pyrene test works through a urine sample and a mobile phone: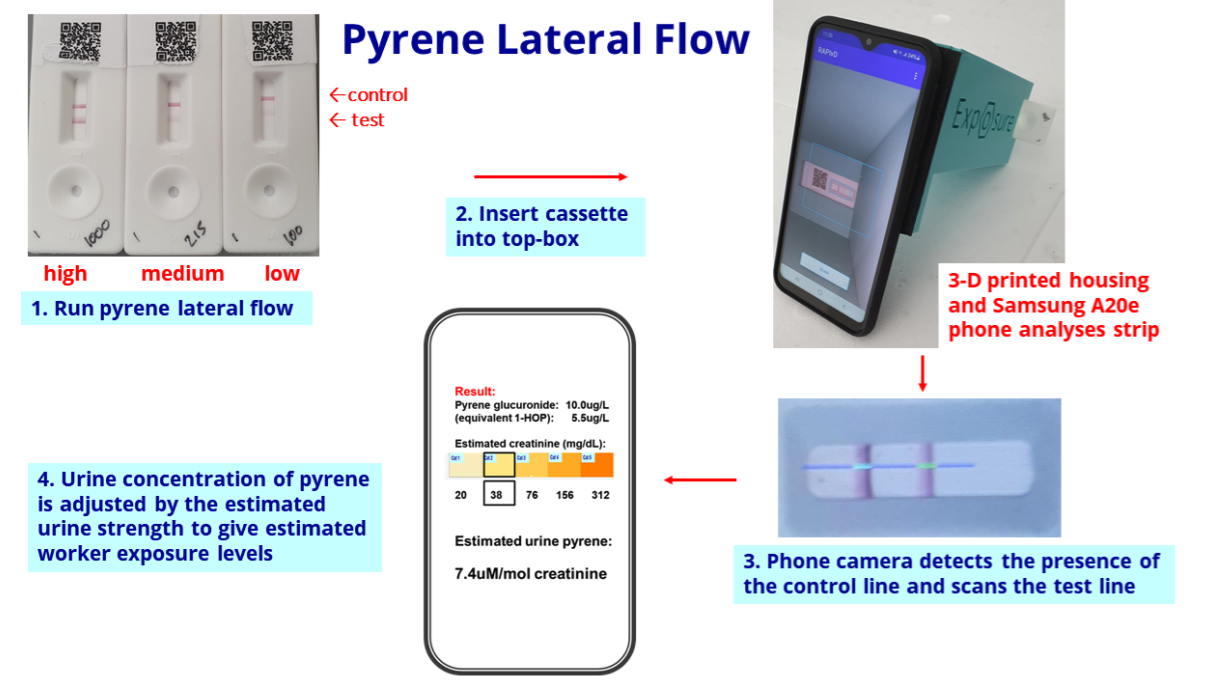 "We are particularly pleased with the progress of the pyrene exposure project.

Internal results (using a small bank of industrial urine samples) are encouraging and we are working with a UK industrial site to conduct a field trial of the device and app over the next few months.

We accept that the creation, manufacture and supply of final assay products is outside our normal focus of bulk antibody sales but we believe that through our own efforts we can substantiate the viability of such products and generate demand, thereby stimulating the interest of future commercial partners."
The split into "industrial biomonitoring" and "pyrene biomonitoring" follows the pyrene work having prompted additional research:
"The progress of the pyrene project has encouraged us to consider additional assays in the field of industrial health and safety. Work on these new analytes has only just started and is planned to continue into 2022 and 2023."
The additional research implies the pyrene project is one of the more likely pipeline ventures to become commercial, although the final product may not exhibit the same wonderful economics as an antibody (see Financials below).
Other research projects are not exhibiting wonderful economics.
In particular, FDA guidelines have created "cost/price constraints" for the biotin blockers while the antibody quantity required for each tetrahydrocannabinol (THC) test is presenting "cost/price challenges".
Among the 'long shot' projects, the introduction of development work on tau (a protein found predominantly in brain cells) to detect potential Alzheimer's disease now complements BVXP's investment in Alzheimer's researcher Pre-Diagnostics.
The extra Alzheimer's efforts suggest this work may be further developed than BVXP's involvement with Cardinor, which is analysing secretoneruin to detect potential heart failure.
Exactly which pipeline products (if any) eventually make it to market remains anyone's guess. The troponin antibody took more than ten years in development before its commercial launch.
Financials
The aforementioned foreign-exchange gains/losses warranted a slide within the presentation: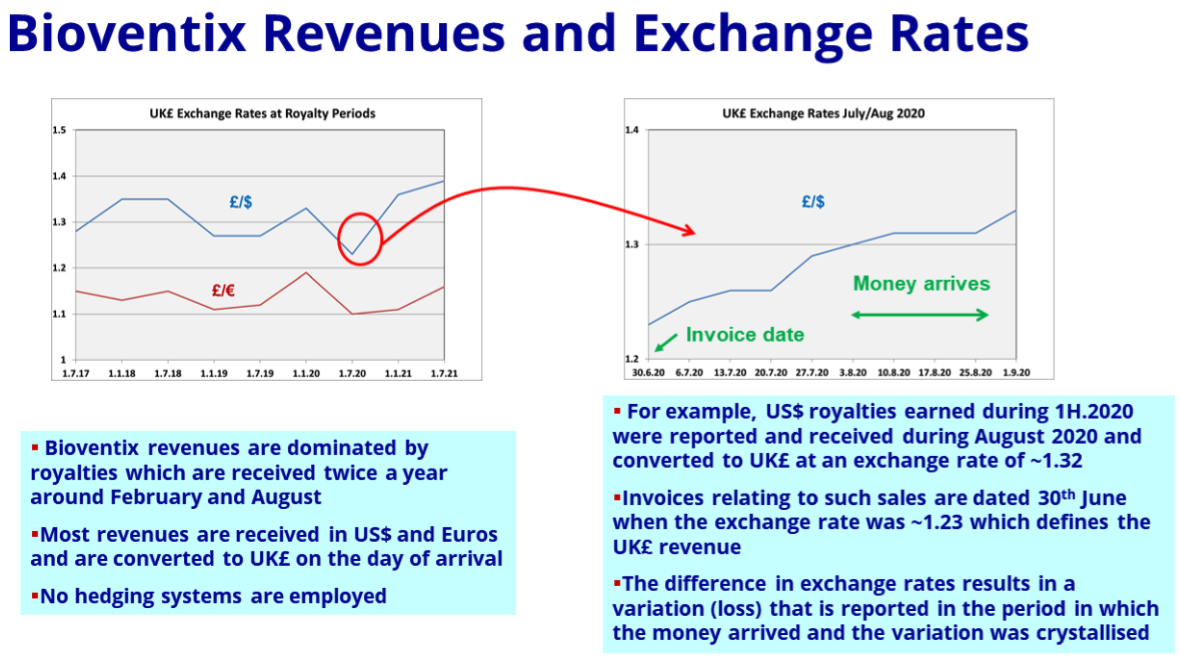 For FY 2021, "difference on foreign exchange" knocked 4% off operating profit, but added 3% for the comparable FY 2020:

The foreign-exchange gains/losses arise when customers pay BVXP more/less than what was initially recognised as revenue because of subsequent exchange-rate movements.
Such foreign-exchange gains/losses can be significant for BVXP because the majority of group revenue is:

Denominated in USD or EUR, and;
Invoiced only every six months (which amplifies the accounting impact of currency movements).
Confusing matters is the fact these foreign exchange gains/losses relate to the prior period.
For example, the £294k foreign-exchange loss reported for FY 2021 really should be subtracted from

FY 2020

revenue and profit to derive a 'currency-adjusted' FY 2020 result.
These foreign-exchange gains/losses can make year-on-year comparisons awkward, but thankfully their longer-term effect has been minimal.
Foreign-exchange gains/losses during the last five years total a negative £262k versus aggregate revenue of £47m and aggregate reported operating profit of £36m.
Share-based payments created another slight distortion on reported profit.
The mysteries of IFRS 2 accounting ensured the share-based payment more than doubled to £258k…

…while the number of outstanding options declined by 9%: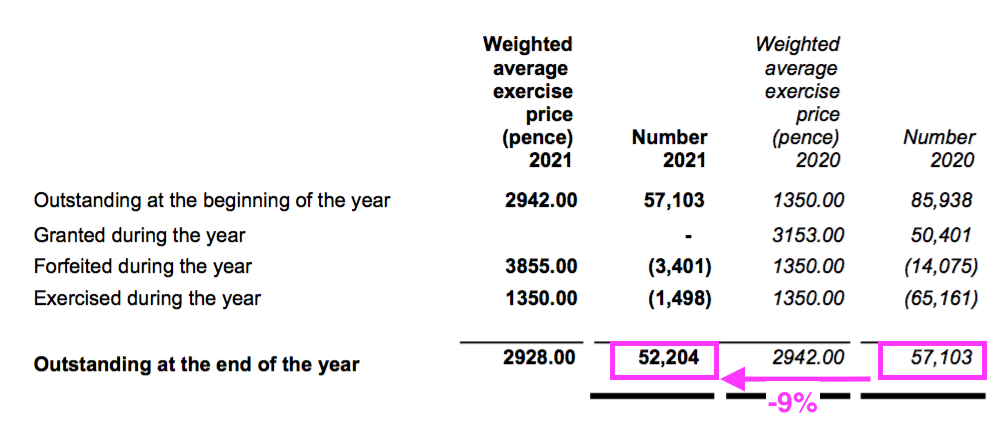 Outstanding options represent 1% of the share count while their IFRS 2 cost reduced reported operating profit by 3%.
Cash conversion was not as exceptional as previous years:
| | | | | | |
| --- | --- | --- | --- | --- | --- |
| Year to 30 June | 2017 | 2018 | 2019 | 2020 | 2021 |
| Operating profit* (£k) | 5,691 | 6,060 | 6,931 | 8,184 | 8,087 |
| Depreciation (£k) | 39 | 58 | 76 | 134 | 135 |
| Cash capital expenditure (£k) | (22) | (108) | (85) | (340) | (260) |
| Working-capital movement (£k) | (570) | (539) | (47) | 412 | (1,004) |
| | | | | | |
| Net cash (£k) | 6,167 | 6,987 | 6,537 | 8,076 | 6,495 |
(*before back-dated royalties)
Working-capital absorbed an extra £1m after royalty and licence-fee income gained 17% to represent a larger (68%) proportion of revenue:

Royalty and licence-fee income is invoiced at every half-year/year-end, and the £1m working-capital movement represents the cash still to be paid as an increased debtor after the associated income was recognised as revenue:

The £1m working-capital movement alongside £0.2m spent finishing the laboratory revamp meant free cash flow dropped by £1.3m to £6.1m for the year.
Total cash dividends of £7.7m then left the cash position £1.6m lighter at £6.5m.
The £6.5m cash position exceeds the £5m that BVXP reiterated was "sufficient to facilitate operational and strategic agility both with respect to possible corporate or technological opportunities that might arise in the foreseeable future and to provide comfort against the ongoing impact of the pandemic and any economic uncertainty arising from it."
The £1.5m difference between the £6.5m cash position and the £5m "comfort" buffer equates to 29p per share — and compares to the 38p per share special dividend declared within these results.
The sixth consecutive year of declaring a special dividend re-emphasised how BVXP has expanded without significant retained profits.
Since FY 2016, BVXP's earnings have advanced £3.2m to £6.7m while shareholder equity (i.e. earnings less all dividends paid) has advanced £3.6m to £11.8m:
Retaining £3.6m to earn an extra £3.2m since FY 2016 has been very impressive.
The operating margin remains in the 70%-plus stratosphere and underlines the wonderful economics of collecting royalties and license fees from successful antibodies:
BVXP's tax charge increased from a rather modest 12% to 17% of pre-tax profit following a lower R&D tax credit and (complicated) movements associated with share-based payments:

The £610k book value of BVXP's investments in pipeline-development partners Cardinor and Pre-Diagnostics appears understated.
The balance sheet carries no bank debt and no pension complications.
Reader offer: Claim one month of free SharePad data. Learn more. #ad
Valuation
"The timing of a return to normality is uncertain but when it does, we expect our business will revert to an established trajectory, albeit without the income from NT-proBNP which ceased from July 2021. Regardless of the pandemic effects, we anticipate the continued roll-out of the high sensitivity troponin assays and the royalties associated with this."
Exactly what the "established trajectory" will be post-pandemic remains to be seen. But a return to the c20% growth rates of the past feels very unlikely.
In contrast to last year, when BVXP singled out "remarkable" progress at the pollution-exposure project, this year's outlook noted positive progress within more than one research project:
"Excellent technical progress has been made with our research projects including the industrial pollution exposure project and we anticipate that this project and others in our pipeline will create additional shareholder value in the years ahead."
The pipeline projects will take on greater importance as the 2032 expiry of troponin income becomes closer.
BVXP's valuation remains elevated.
Doubling up the record H2 gives an operating profit of £9.2m before foreign-exchange gains/losses and share-based payments.
Applying standard 19% UK tax then gives earnings of 143p per share and a possible P/E of 25 with the shares at £36.
Remember that BVXP has lost NT proBNP revenue (and perhaps profit) of £1.28m since the year end.
Consider, too, that troponin profit can't really be valued on a simple multiple since its contributions will cease during 2032.
Assuming troponin revenue:

Averages (a probably optimistic) £4m for the next 10.5 years before expiry;
Has no associated cost:
Is taxed at the present 19% standard UK rate…
…gives an after-tax value of £34m before any time-value discounting.
The table below derives the possible earnings from BVXP's vitamin D and other commercialised antibodies by:

Estimating FY 2021 revenue without NT proBNP and troponin;
Then subtracting all cost of sales and administration expenses;
Then adding back all R&D costs, and;
Ignoring foreign-exchange gains, share-based payments and R&D tax credits:
Estimated FY 2021
for vitamin D and
other antibodies
(£k)
Revenue
10,931
Less NT proBNP revenue
(1,280)
Less troponin revenue
(680)
Less cost of sales
(817)
Less admin expenses
(1,507)
Add back R&D expenses
1,201
Operating profit
7,848
Less tax at 19%
(1,491)
Earnings
6,357
Applying a 25x multiple to the derived £6.4m earnings values BVXP's vitamin D and other commercialised antibodies at £159m.
The present £188m market cap less the £34m troponin estimate less the £159m vitamin D/other estimate therefore leaves the pipeline valued at a negative £5m.
Valuing the pipeline at a negative £5m seems about right if annual R&D costs are £1.2m and research commercialisation is not expected until 2025 at the earliest:

True, these valuation sums could be fine-tuned further to:

Calculate a more realistic net present value for troponin;
Adjust for the forthcoming 25% UK tax rate;
Allocate cost of sales to the appropriate antibody, and;

Apply different multiples to that £6.4m vitamin D/other estimate…
…but right now signs of a tantalising valuation are not exactly obvious.
A premium rating is nonetheless understandable. Attractions include:

The predictable and ongoing income from antibody sales and royalties (pandemics aside);
A competitive 'moat', helped in part by protracted development/regulatory timescales and customer contractual/installation restrictions, and;
The amazing margins and returns on equity, which underline the terrific economics of antibody commercialisation.
The present market cap leaves longer-term upside rather dependent on the success of the pipeline, with the pyrene project and then the Alzheimer's work perhaps looking the favourites to succeed.
In the meantime the income yield is a useful 4% if BVXP continues to distribute ordinary and special payouts that total 143p per share.
Maynard Paton
PS: You can receive my blog posts through an occasional email newsletter. Click here for details.