31 March 2020
By Maynard Paton
I always like to start my quarterly portfolio reviews with a happy welcome. But not this time.
The country faces a national emergency. Lives are at risk, supermarkets have empty shelves, jobs are being lost…and the finer points of individual shares no longer seem that important.
I have nonetheless decided to maintain this blog through these difficult times — although future posts may be sporadic.
I hope you will find my updates useful. One day I will look back at what I have published to remember how I coped (or not!) with the crisis. I may even emerge from these events a much wiser investor.
---
I confess I did not foresee the catastrophic impact Covid-19 would have on many businesses and share prices. Since the start of the year, my portfolio has fallen 8.0% while the FTSE 100 with dividends reinvested has fallen 23.8%.
A mix of complacency and illiquidity kept me invested as the turmoil began, and I have simply held tight onto all but one of my shares. And even if I had foreseen the Covid-19 carnage, I doubt I could have unloaded many of my other holdings in time.
Let me now outline what has happened within my portfolio during January, February and March. (Please click here to read all of my previous quarterly round-ups). I will then follow up with an emergency portfolio review.
Contents
Q1 share trades
Bought
I made only one share purchase during this quarter — increasing my System1 holding by 75% at 251p including all costs during January.
The advert-research specialist announced a tie-up with ITV that I thought validated the company's ongoing expenditure on its AdRatings service and the associated unique data. A profit warning was sadly issued soon after, and recent events have since made System1's immediate outlook quite bleak. (You can read more thoughts on System1 here).
Sold
My single Q1 sale was Daejan. The commercial property landlord received an £80.50 per share takeover offer from the controlling Freshwater family during February… and I sold into the market because I became increasingly unsure as to whether the bid would actually go ahead.
Enough small-print was included within the offer RNS to suggest the deal could be called off or re-priced. I suppose a pandemic may well prompt an "adverse change in the business, assets, financial or trading position or profits or prospects" of the property group. A two-week delay to publishing the formal offer document was not encouraging.
The bid may still of course go through unchanged. The Freshwaters appear keen to take Daejan private because the family members want a quiet life — and re-pricing the bid could leave the executives with heightened investor aggravation. Keeping the quote would also mean the group suffering the Covid-19 hit to rents and property valuations in the public eye.
I first bought Daejan in 2015 at £60, then during 2016 at £53, again during 2018 at £57 and again last year at £53 to give an average purchase price of £54. I collected dividends of £3 a share along the way and sold at £77 including all costs.
A 47% gain over a weighted-average holding period of approximately three years is not the greatest result I have ever enjoyed — but not a disaster either in the current market.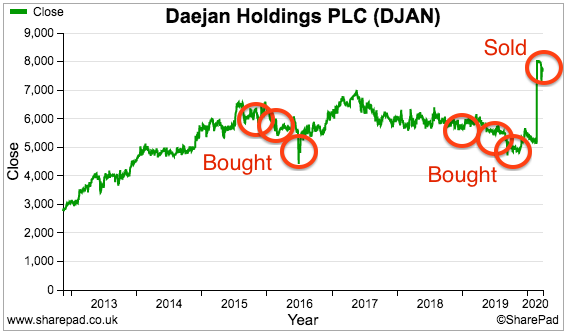 Q1 portfolio news
As usual I have kept an eye on all of my existing holdings. The Q1 developments are summarised below:
The aforementioned takeover bid at Daejan;
Underwhelming progress at Mincon;
Closure of all operations at Tasty (review coming soon), and;
Nothing from M Winkworth, Mountview Estates and S&U.
Q1 portfolio returns
The chart below compares my portfolio's weekly 2020 progress (in green) to that of the FTSE 100 total return index (in blue):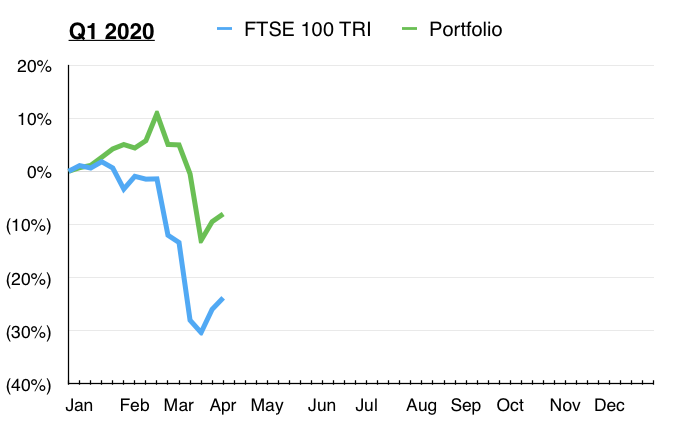 The next chart shows the total return (that is, the capital gain/loss plus dividends received) each holding has produced for me year to date: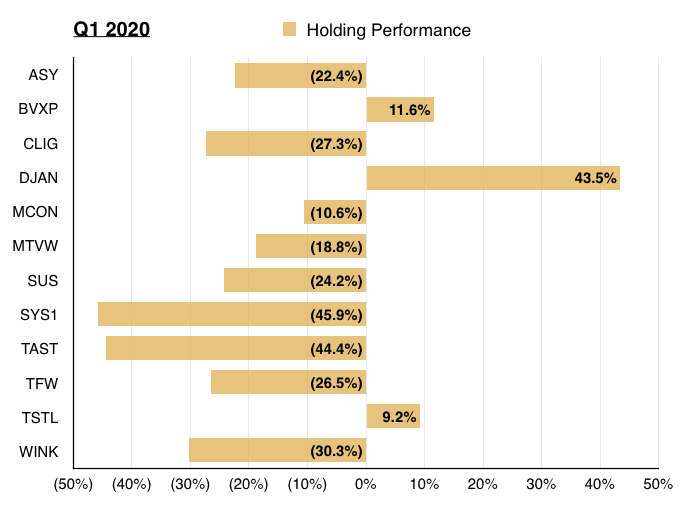 This chart shows each holding's contribution towards my overall 8.0% loss: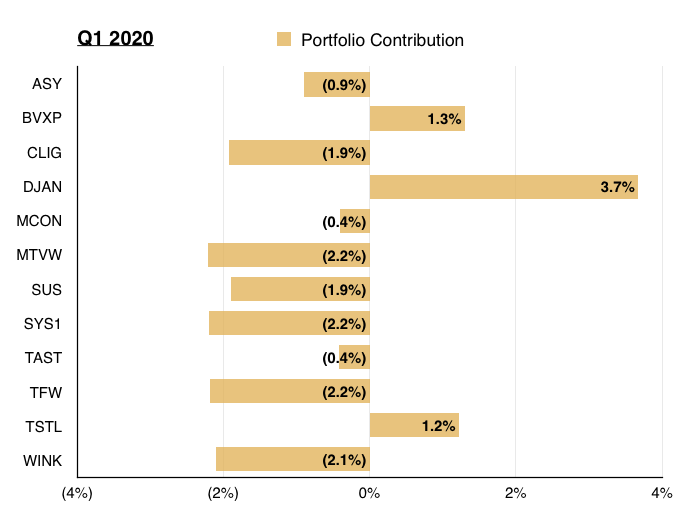 And this chart shows my portfolio's holdings and their weightings at the end of Q1: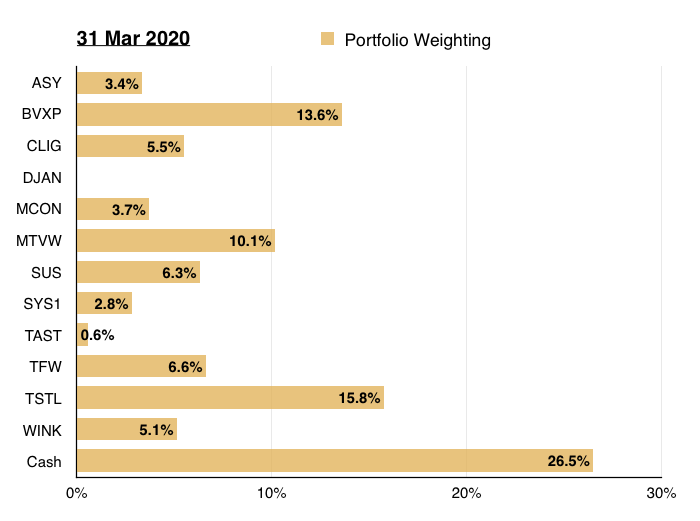 Enjoy my blog posts through an occasional email newsletter. Click here for details.
Emergency portfolio review
I have divided my shares into five groups based on their possible prospects during the Covid-19 crisis:
My guesswork for each share is below. The write-ups are not in-depth — because nobody knows for how long the current situation will continue and what the exact financial impact on the economy and particular businesses will be.
Clear beneficiary: Tristel
Tristel (TSTL)
No problems here. TSTL manufactures high-level disinfectants for hospitals and in February revealed the NHS had already issued significant orders.
An upbeat statement last week then said (my bold):
"With respect to current trading conditions, we are experiencing very strong demand in all our markets due to the COVID-19 pandemic. As a UK manufacturer with very little exposure to convoluted international supply chains, and adequate productive capacity, we are well placed to meet the requirements of our customers in the UK and overseas."
My TSTL buy report | All my TSTL posts
Possibly immune: Bioventix
Bioventix (BVXP)
Yesterday's interim figures contained a remarkable announcement for these troubled times — not only would BVXP pay a half-year dividend, the payout would also be raised 20%.
This developer of antibodies could actually escape the worst of the country's problems.
BVXP collects a royalty whenever its antibodies are used within blood tests, and the company has claimed "healthcare and associated products and services have been prioritised and so we expect that our customers will continue to operate and that we will continue to supply antibodies to them."
True, BVXP admitted "some routine diagnostic testing could be reduced as hospitals refocus towards virus-infected patients". Mind you, the immediate outlook — "we currently expect further progress in the second half of the year" — is about as good as it gets from an RNS right now.
BVXP's decision to operate with at least £5m of cash on hand (and no debt) even though profits run at £8m was always very sensible — and even more sensible in the present climate.
Future growth could be moderated by current events, although the stronger USD against GBP might benefit earnings and add security to the £4m dividend. At the moment I am not banking on BVXP extending its recent run of special payouts.
My BVXP buy report | All my BVXP posts
Not sure: Andrews Sykes, FW Thorpe and Mincon
Andrews Sykes (ASY)
ASY said last week that its UK depots remained open and, compared to other sectors of the economy, "the impact [of Covid-19] to date… has not been severe".
I suppose demand for ASY's air conditioners, pumps and heaters may still be needed for emergencies. The last RNS mentioned providing services to the Department of Heath while the company's blog cites case studies where equipment helped fix burst water mains and kept navy bases operational.
Mind you, group customers also include schools and leisure centres — income from which will now be zero.
Trailing operating profit of £17m and net cash of £28m should be enough to see ASY through any economic difficulties. During the 2008 downturn, the business carried net debt of £17m and dividends had to be paused for 2009. I expect near-term earnings to be reduced but I hope most of the £10m a year dividend can be sustained.
A decision on dividends will be taken when the 2019 results are published, which could now be as late as 30 September.
My ASY buy report | All my ASY posts
FW Thorpe (TFW)
Interim results from TFW last week reassuringly bucked the dividend-cancellation trend. In fact, the payout was lifted 2%.
The dividend confidence stemmed from TFW's enormous cash hoard — £52m at the last count, and no debt. Trailing operating profit is around £18m, so the lighting specialist has more than enough on hand to sustain the payout should earnings falter.
TFW claimed "having a strong order book provides an excellent reservoir to smooth current turbulence." I must admit, I assumed supplying new lights for offices, schools, factories and shops would no longer be so important when most people are now stuck at home. How trading will fare beyond, say, the next six months remains to be seen.
TFW coped well during the 2008 banking crash. Back then, profits were maintained, the dividend was lifted — and even a special payout was declared for 2009.
When I last wrote about TFW I mentioned that management had never really explained why such a huge level of cash was needed. I won't be questioning that again.
My TFW buy report | All my TFW posts
Mincon (MCON)
Results last week from the industrial drill specialist hardly mentioned Covid-19.
The lack of commentary could be due to the group's mining customers, which operate mostly in remote global locations and may not be under the same restrictions as the UK. The declaration of an unchanged final dividend was encouraging.
I am not sure whether MCON is still manufacturing its heavy-duty drills. The group's blog reveals — within the last three weeks — employees attending a Milwaukee trade show and a new service centre opening in North Carolina. I guess a full company shutdown has yet to occur.
An operating profit of €12m plus cash of €16m against debt of €15m is not perfect for current events — but not obviously disastrous either. The dividend meanwhile costs €4m a year. Oh, and the warehouses already carry stock worth a mighty €49m to service any orders that do come in.
My MCON buy report | All my MCON posts
Lighter casualties: City of London Investment and Mountview Estates
City of London Investment (CLIG)
I can't really see Covid-19 directly affecting day-to-day operations at CLIG.
However, the knock-on market slump will be bad news. Fund managers such as CLIG will see their income plummet as client money shrinks and/or is withdrawn.
My review of CLIG's first-half results showed earnings may now be running at approximately 40% below the level seen at the start of the year. The trailing £7m dividend could be just about covered, too.
I reckon funds under management will have to drop a further 50% from here before CLIG becomes unprofitable. Cash of £12m, some other investments and no debt should ensure the business soldiers on through further market tumbles. CLIG also remained profitable — and paid dividends — during the 2008 banking crash.
My CLIG buy report | All my CLIG posts
Mountview Estates (MTVW)
Owning regulated-tenancy properties ought to be relatively safe compared to operating as a standard landlord right now. MTVW's cut-price rents might suffer lower default rates if the country's shutdown becomes protracted and more jobs go by the wayside.
MTVW's performance during 2008 is encouraging — both net asset value and the dividend were maintained during the banking crash. Bear in mind, too, that net debt back then represented 39% of the value of MTVW's property estate. The group's last results showed net debt of £39m — representing just 10% of the estate's value.
MTVW could be able to snap up some long-term property bargains. However, the proceeds from selling properties through auction are likely to be modest at present. I am not sure many people have the inclination or money — let alone the physical opportunity — to consider buying a house right now.
Some property sales will be needed to sustain the dividend, as net rental income of £13m does not cover the payout's £16m annual cost.
My MTVW buy report | All my MTVW posts
Heavy casualties: M Winkworth, S&U, System1 and Tasty
M Winkworth (WINK)
I can't see anything other than big trouble for estate agents. Industry website Property Industry Eye has warned the housing market is now 'suspended' and advice for agents now includes "to cryogenically freeze yourself" in order to "be ready to emerge when the recovery begins."
WINK might fare a little better than the traditional agent, as the company simply collects commissions from self-employed branch franchisees. I suspect WINK's in-house costs (marketing, IT, and so on) could be quickly reduced as its franchisees enter a deep freeze. More than half of WINK's commissions relate to more predictable lettings income, too.
WINK was profitable during 2008 and at the last count recorded profits of £1.5m, cash of £2.5m and zero debt. I reckon WINK ought to sustain a minimal profit and survive the pandemic, but the firm's reliable c£250k quarterly dividends now seem far too generous to maintain.
I must add that WINK purchased a small lettings agency just days before the lockdown, so perhaps things aren't so gloomy after all.
My WINK buy report | All my WINK posts
S&U (SUS)
I do worry about SUS. This business provides 'non-prime' credit to used-car buyers and bridging loans to small property developers — and I suspect demand for such finance has already evaporated.
More concerning is whether SUS will receive the money it has already lent. The banking-crash form guide shows the main motor-finance subsidiary sustaining profits for 2008 and 2009 but suffering a 6% drop for 2010. However, that subsidiary has since grown six-fold and rapid expansion may no longer make up for any loan impairments.
SUS's results should have been issued last week, but were postponed following a market diktat from the Financial Conduct Authority. The figures will be issued "in due course". The postponement does not inspire confidence, although stock-market reporting schedules are hardly a national priority at present.
Net debt of £125m with operating profit at approximately £40m really does mean the loan repayments have to come in. I sense the company's multi-decade run of reliable dividends — current annual cost: £15m — will be halted when those results are eventually published.
My SUS buy report | All my SUS posts
System1 (SYS1)
Fair play to SYS1 — the advert-testing business has responded to Covid-19 by launching a Coronavirus Tracker. Some television adverts have apparently become more popular — while others have become less popular — during the pandemic.
I am sadly not convinced advertisers will be all that interested. ITV admitted last week that it had seen "further deferrals in advertising which are now coming from across the advertiser categories rather than just in travel" and the broadcaster suspended its dividend.
If companies are hoarding cash, the immediate outlook for advertising spend — and, in turn, SYS1's services — could be very bleak indeed.
January's profit warning meant SYS1 was already suffering before Covid-19.
Although the warning confirmed cash of £4.2m and no debt, my sums indicated the second half registered a small loss after costs relating to the start-up AdRatings service.
SYS1 appears to have gone 'all in' on developing AdRatings, and such expenditure (and costs in general) ought to be reduced immediately. The dividend must also be suspended to help preserve cash. I suspect if this crisis becomes protracted, trading could become dire.
My SYS1 buy report | All my SYS1 posts
Tasty (TAST)
TAST shut its 56 restaurants last week and has now undertaken various cash-preservation measures to survive.
Government support for employee pay, the suspension of business rates and "preferential terms" from landlords should — so Tasty claims — ensure the business "has sufficient financial resources for the foreseeable future".
Of course, the "foreseeable" future may not be that long.
TAST's annual figures issued the week before the closures implied cash was £3.2m and debt was zero following a post-year property sale.
I suppose if the whole estate is now mothballed and wages, rents and rates are being subsidised, perhaps only listing fees (and similar), utility bills, essential IT and possibly director salaries will be eating into that £3.2m. The business could arguably be deemed to be a 'cash shell'.
Survival must surely be in the balance. At least the chain can be proud of providing free meals to NHS workers before the shutdown.
My TAST buy report | All my TAST posts
What now?
So there you go — a portfolio carrying a number of likely Covid-19 casualties with only one clear beneficiary.
I don't know how events will develop from here. I am hoping for the best, but have accepted many dividends will be cut (or axed) and perhaps one shareholding will go to zero. Maybe that view is too pessimistic, but the RNS feed is currently full of statements confirming suspended operations, cancelled payouts and cash hoarding.
Right now my fellow shareholders provide the most hope. The directors at almost all of my investments have significant sums invested — and ought to be very motivated to ensure their respective businesses cope as best they can. I would draw attention to:
the Murray family at Andrews Sykes (90% shareholding, £184m value);
Peter Harrison at Bioventix (8%, £15m);
the Thorpe family at FW Thorpe (50%, £150m);
the Purcell family at Mincon (57%, £96m);
Barry Olliff at City of London Investment (7%, £6m);
the Sinclair family at Mountview Estates (51%, £195m);
the Agace family at M Winkworth (50%, £6m);
the Coombs family at S&U (50%, £94m), and;
John Kearon at System1 (23%, £4m).
More so than ever before, the actions of the above founders/directors/owners will dictate where my portfolio goes during the months and years ahead.
Until next time, I wish you safe and healthy investing.
Maynard Paton
PS: You can receive my blog posts through an occasional email newsletter. Click here for details.
Disclosure: Maynard owns shares in Andrews Sykes, Bioventix, City of London Investment, Mincon, Mountview Estates, S&U, System1, Tasty, FW Thorpe, Tristel and M Winkworth.