23 March 2020
By Maynard Paton
Results summary for City of London Investment (CLIG):
Funds under management rallied to a record level in GBP terms, lifting revenue by 11%, profit by 22% and the dividend by 11%.
However, the market crash that followed these results has superseded a lot of the statement's commentary and accounting.
Profit may now be running almost 40% lower than at the start of the year and may just about cover the 28p per share full-year dividend.
The accounts continue to sport high margins, decent cash flow and net cash — all of which ought to see the business through the present downturn.
Although the shares have been rated modestly on a P/E basis for years, the possible yield now tops 9%. I continue to hold.
Contents
Event links and share data
Event: Interim results and presentation for the six months to 31 December 2019 published 17 February 2020.
Price: 300p
Shares in issue: 26,560,707
Market capitalisation: £80m
Why I own CLIG
Emerging-market fund manager that employs a lower-risk strategy of buying investment trusts at a discount.
Accounts showcase high margins, net cash and the ability to distribute the majority of earnings as dividends.
Just-about-covered yield of 9% offers upside potential should the wider market rebound and/or elusive new clients ever bolster funds under management.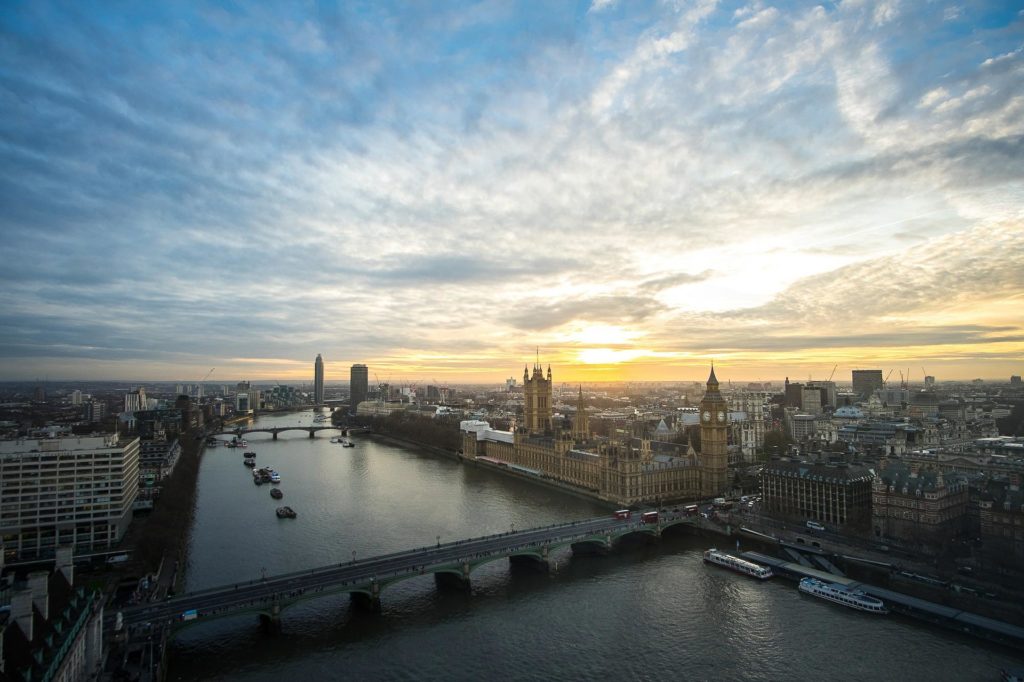 Further reading: My CLIG Buy report| All my CLIG posts | CLIG website
Results summary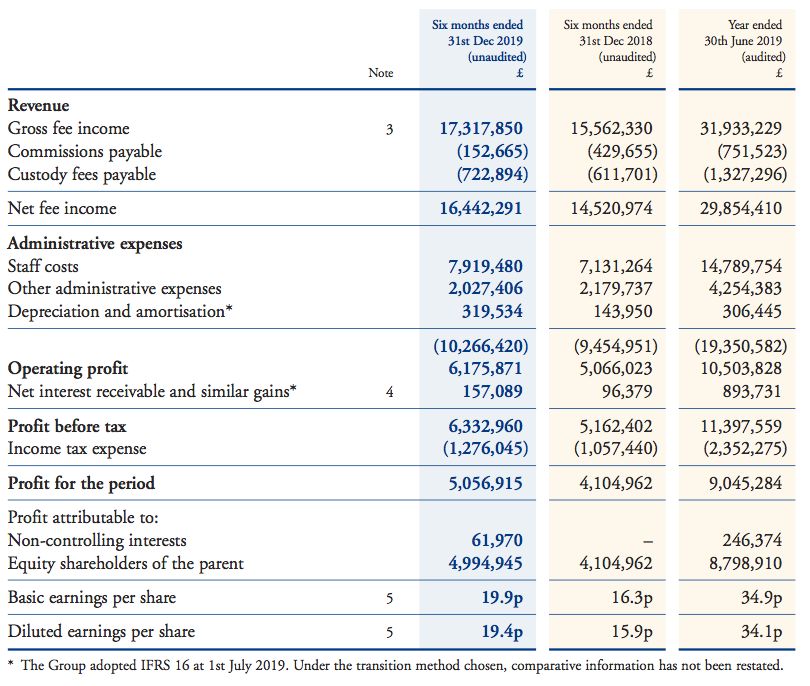 Revenue, profit and dividend
The market crash that followed these results has superseded most of the statement's commentary and overshadowed a lot of the accounting.
After all, CLIG is a fund manager — and the level of the company's earnings and dividends are inherently linked to the ups and downs of its funds under management (FuM).
Lower FuM — through market declines and client withdrawals — could have a significant adverse effect on near-term profits (see Valuation below).
Revenue gained 11% to £17.3m while operating profit surged 22% to £6.2m.
FuM rallied 12% during the six months to finish the half-year at $6.0b — a level surpassed only once back in March 2011.
New client money represented $182m, or 29%, of the total $625m FuM advance.
FuM on a monthly average basis was $5.5b — up 13% on the $4.9b average from the comparable period: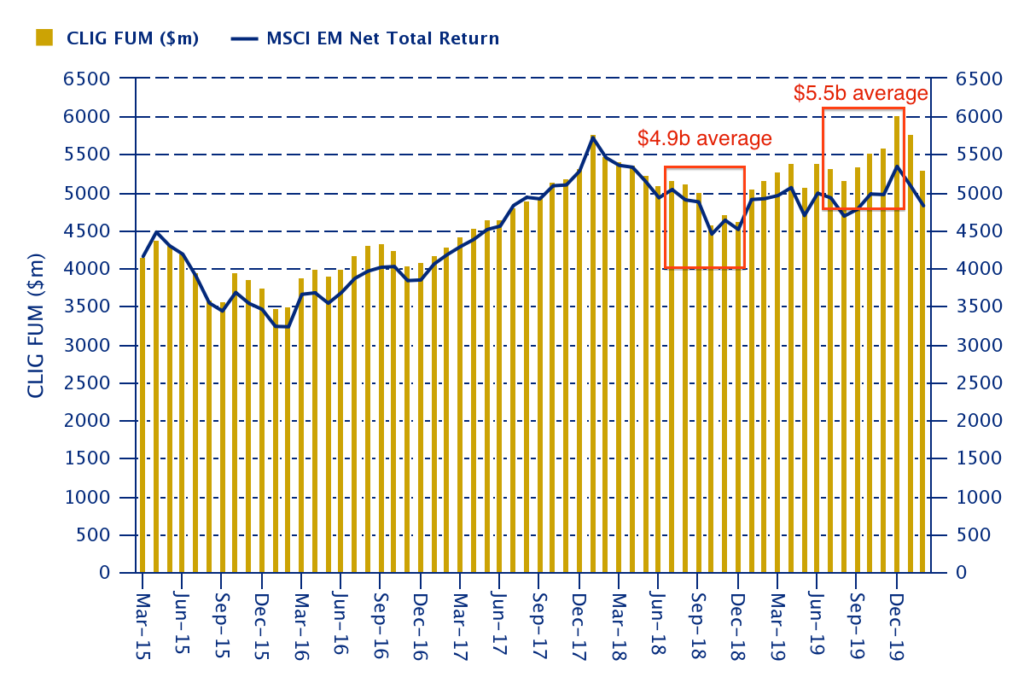 Although progress appeared impressive, the overall performance broadly matched that of H1 2018:
| | | | | | |
| --- | --- | --- | --- | --- | --- |
| | H1 2018 | H2 2018 | H1 2019 | H2 2019 | H1 2020 |
| Funds under management ($m) | 5,329 | 5,107 | 4,623 | 5,389 | 6,014 |
| | | | | | |
| Revenue (£k) | 17,076 | 16,854 | 15,562 | 16,371 | 17,318 |
| Operating profit (£k) | 6,487 | 6,041 | 5,066 | 5,438 | 6,176 |
| Finance income (£k) | 82 | 183 | 96 | 798 | 157 |
| Other items (£k) | - | - | - | - | - |
| Pre-tax profit (£k) | 6,569 | 6,223 | 5,162 | 6,236 | 6,333 |
| | | | | | |
| Earnings per share (p) | 20.2 | 19.3 | 16.3 | 18.6 | 19.9 |
| Dividend per share (p) | 9.0 | 18.0 | 9.0 | 18.0 | 10.0 |
| Special dividend per share (p) | - | - | 13.5 | - | - |
CLIG also benefited from a stronger USD.
CLIG's revenue is collected almost entirely in USD but approximately 40% of costs are expensed in GBP.
GBP traded at 1.30 USD during the comparable H1 2019, and at 1.26 USD during this H1 2020. (Note: GBP now buys 1.18 USD — which should be even more beneficial for CLIG).
The results highlight was an 11%, or 1p per share, lift to the interim dividend to 10p per share. (Note: Unlike many other dividends declared during recent weeks, CLIG's payout has since been paid).
Somewhat ominously, CLIG said (my bold):
"The results summarised in this statement paint a favourable picture of CLIG's performance over the six-month period and, as suggested elsewhere in this report, there are solid grounds for optimism as we enter a new decade. It is against this background that your Board is pleased to announce a 1p per share increase in the interim dividend… which rewards our shareholders while providing sufficient reserves either to weather unforeseen setbacks or take advantage of opportunities that may arise to further expand the business."
The accounts show CLIG has left itself with "sufficient reserves… to weather unforeseen setbacks" of £15m (see Financials below).
Funds under management
FuM ended the half at their highest-ever level in GBP terms: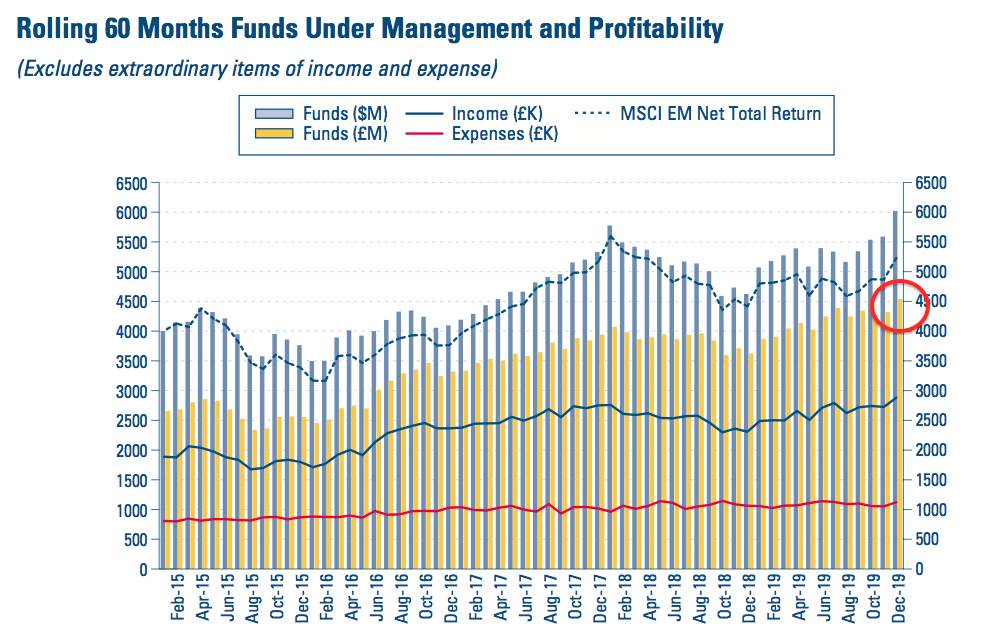 In USD, CLIG's FuM record was set during early 2011 when total client money surpassed $6b.
CLIG's FuM can be divided into two main categories:

Emerging Markets (EM), and;
non-EM, which covers 'frontier' markets, developed markets and other themes.
Both categories apply CLIG's long-standing investment approach of buying investment trusts at a discount.
Non-EM FuM has become a much larger part of overall FuM during recent years:
| | | | | | |
| --- | --- | --- | --- | --- | --- |
| FuM | 2016 | 2017 | 2018 | 2019 | H1 2020 |
| EM ($m) | 3,659 | 4,202 | 4,207 | 4,221 | 4,429 |
| Non-EM ($m) | 346 | 461 | 900 | 1,168 | 1,109 |
| | | | | | |
| Total ($m) | 4,005 | 4,663 | 5,107 | 5,389 | 6,014 |
| | | | | | |
| EM (%) | 91.4 | 90.1 | 82.4 | 78.4 | 73.6 |
| Non-EM (%) | 8.6 | 9.9 | 17.6 | 21.7 | 26.4 |
Non-EM funds have consistently attracted new client money, unlike the EM funds, which have suffered net withdrawals since 2017:
| | | | | | |
| --- | --- | --- | --- | --- | --- |
| Client flows | 2016 | 2017 | 2018 | 2019 | H1 2020 |
| EM ($m) | 150 | (295) | (215) | (184) | (118) |
| Non-EM ($m) | (12) | 23 | 400 | 280 | 300 |
| | | | | | |
| Total ($m) | 138 | (272) | 185 | 96 | 182 |
During the last twelve months, client money generally trickled out of EM funds and trickled in to non-EM funds:
| | | | | |
| --- | --- | --- | --- | --- |
| Client flows | Q3 2019 | Q4 2019 | Q1 2020 | Q2 2020 |
| EM ($m) | 45 | (72) | (12) | (106) |
| Non-EM ($m) | 108 | 57 | 152 | 148 |
| | | | | |
| Total ($m) | 153 | (15) | 140 | 42 |
A continuing irony of the growing exposure to non-EM FuM is that EM keeps delivering its fair share of investment returns:
| | | | | | |
| --- | --- | --- | --- | --- | --- |
| Market movements | Q3 2019 | Q4 2019 | Q1 2020 | Q2 2020 | Total |
| EM ($m) | 403 | 113 | (151) | 477 | 842 |
| Non-EM ($m) | 89 | 23 | (40) | 157 | 229 |
| | | | | | |
| Total ($m) | 492 | 136 | (191) | 634 | 1,071 |
CLIG said the recent EM strategy gains were due to "discount narrowing and good NAV performance of the underlying holdings".
CLIG said the recent non-EM strategy gains were due to "positive discount effects, good country allocation, and strong NAV performance".
The chart below from CLIG's 2019 annual report (point 5) shows market movements (brown boxes) outweighing the movements from client contributions and withdrawals (yellow boxes):
Additional FuM through market movements and new client money are typically (and frustratingly) small compared to the overall level of FuM.
The chart below underlines the lacklustre relative performance:

Over the last five years, CLIG's FuM (yellow bars) have barely beaten the group's MSCI EM benchmark (blue line):
That said, new client money during the last twelve months was $320m — the highest twelve-month amount since CLIG started disclosing the numbers two years ago.
New client money of $320m represents a useful 6.9% of total the £4.6b FuM seen twelve months ago.
I would be happy if CLIG could attract an extra 6.9% of new FuM from clients every year.
Fees
"As noted previously our revenue margins on the newer developed strategies are somewhat lower than traditional EM but it is pleasing to note that the overall blended margin fell only slightly in the period to 75 basis points, a level which continues to offer healthy returns."
75 basis points (i.e. 0.75%) may offer "healthy returns" but the 85 basis points charged to clients during 2015 were even healthier.
The fee-rate collapse since 2015 has been due to CLIG charging lower fees on its non-EM funds.
CLIG has never disclosed the exact fee rates charged on its EM and non-EM funds.
However, my basic algebra suggests EM fees are levied at 90 basis points and non-EM fees are levied at 30 basis points to arrive somewhere close to the overall fee rates CLIG has declared: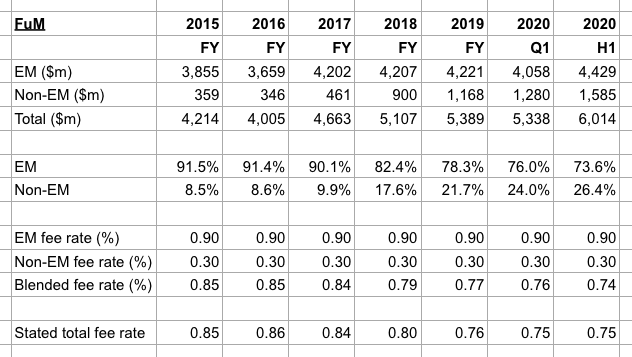 If my fee-rate algebra is accurate, the advance of non-EM FuM is not surprising given the associated fees are two-thirds lower.
I still wonder if non-EM FuM has been bolstered partly by EM clients switching to non-EM. The total number of clients has increased from 161 to only 169 during the last five years.
CLIG said its main investing strategies had outperformed of late:
"The EM strategy has outperformed against its relative indices for the most recent two calendar years and remains either first or second quartile against peers for 1, 5, 10, and 15 years, and since inception. Both the Developed and Opportunistic Value strategies are in the first quartile against peers for 1, 3, and 5 years and since inception, which has been achieved while investing the inflows from new client mandates."
CLIG's presentation charts — with representative funds denoted by the red circles — underlined the progress: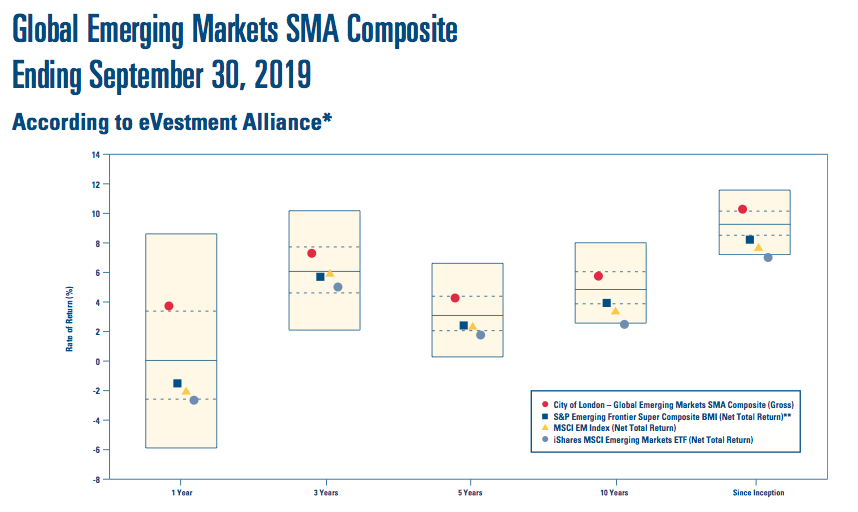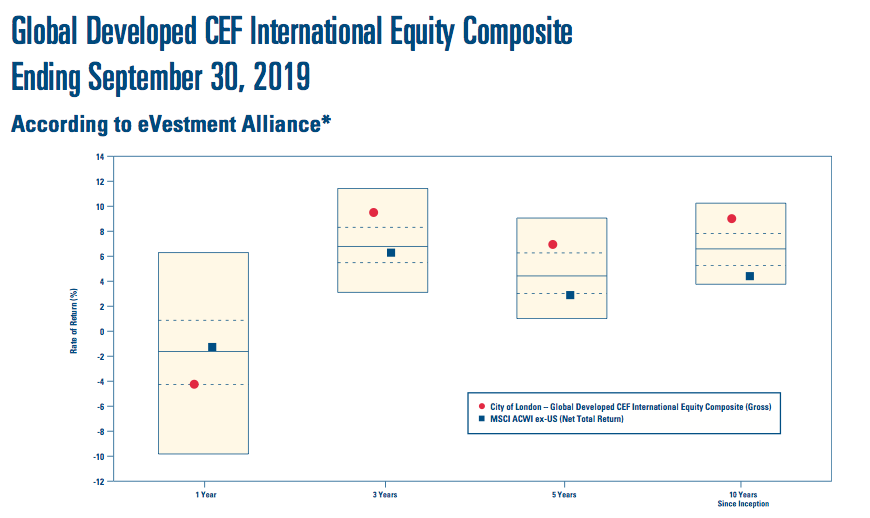 Given the appealing relative performance of the EM funds, I do not understand why that division has experienced net client-money withdrawals since July 2016.
CLIG's commentary adds to the confusion (my bold):
"Building a successful asset management business requires many and varied skills and attributes, which can take many years to nurture but arguably, the three most important are performance, performance and performance on behalf of our clients."
If performance is so critical to clients, why — again — has the EM division failed to attract new money?
CLIG's commentary sadly did not suggest the (re-appointed) business-development director was looking for new EM clients (my bold):
"At the same time, I warmly welcome Carlos Yuste to the Board as the director responsible for business development. Carlos has spent an aggregate 17 years in the "CLIG family" and is highly respected for his knowledge of the US institutional investor universe and, given our ambitions to further expand our penetration of this client base with our newer products, we are fortunate to have his experience to guide us."
Enjoy my blog posts through an occasional email newsletter. Click here for details.
Dividend-cover template and FuM/exchange-rate table
An updated dividend-cover template accompanied these half-year results: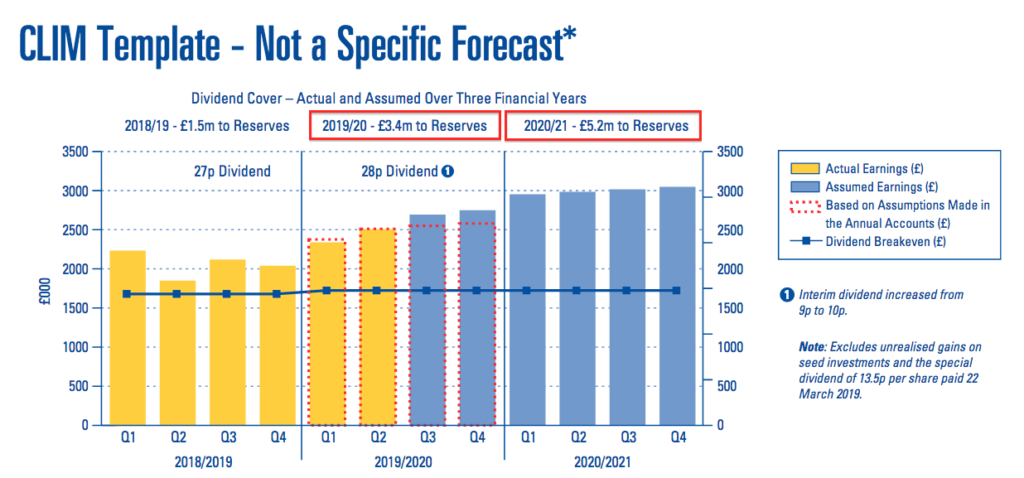 Market movements and fluctuating FuM have at times made the template look very optimistic.
Significant market falls since these results were published emphasise just how stale the template can become.
The template does nonetheless reveal what CLIG once believed could happen during the coming twelve months.
The template expects earnings of £3.4m to be retained during the current year.
Back in July the expectation was £3.3m (shown by the red dotted lines).
£3.4m is equivalent to approximately 13p per share which, when added to the lifted 28p per share full-year dividend, indicated current-year earnings might have been 41p per share.
The template has disclosed for the first time its projection for the year to June 2021.
The 2021 retained-earnings projection of £5.2m alongside a 28p per share dividend indicates possible earnings of 48p per share.
With FuM presumably reduced significantly since these results were published, I estimate earnings for 2021 may actually be running closer to 26p per share (see Valuation below).
The "key assumptions" used to construct the template expect the non-EM funds to attract a further $250m during 2021. That assumption was surpassed during 2018, 2019 and during this H1 2020: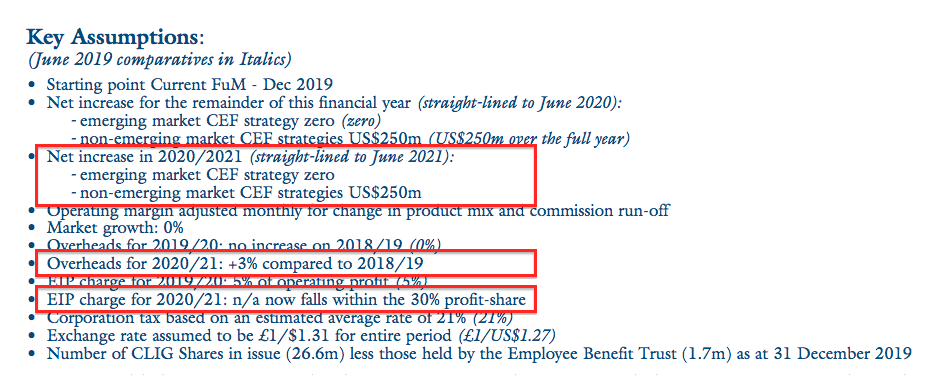 The key assumptions still expect EM funds to attract no extra money. That assumption has been too optimistic during the last three-and-a-half years.
The assumptions predict overheads will advance 3% during 2021.
CLIG's latest FuM/exchange-rate table confirmed the 75 basis-point fee and no other changes from the full-year stage: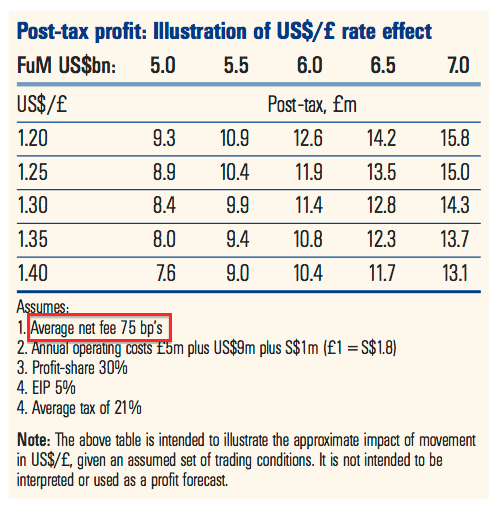 Management
These results lauded the achievements of CLIG founder and former chief executive Barry Olliff:
"31st December 2019 was a watershed moment in the history of your Company as our founder, Barry Olliff, retired from his executive role on his 75th birthday. In a career that spanned more than 50 years and witnessed massive changes in the structure and operation of equity markets globally, Barry has been a pioneer in the specialist area of closed-end funds (CEFs). Having identified the significant value attractions of CEFs in the Emerging Markets (EM) some 30 years ago, CLIG developed a leading position as an asset manager in the sector…"
Mr Olliff will serve as a non-executive until October and will then "remain an adviser to the Group" until December 2021.
"Finally, I would like to assure all stakeholders that the "Olliff DNA", in terms of an adherence to prudence, transparency and our fiduciary responsibilities will continue to be writ large in everything we do."
Key slides omitted this time included the summary balance-sheet and cash flow statements, detailed fund performance statistics and client tenure information.
"As previously stated, shareholders are reminded of Barry's intention to sell up to 500,000 shares at each of 450p, 475p and 500p subject to relevant restrictions. As per listing rules, any share sales will be announced to the market after execution."
Mr Olliff sold 169,387 CLIG shares at 452p last month. He retains almost 1.9 million shares (7% of the share count), which are likely to be untouched for some time given where the share price is now and his commitment to sell only at prices of 450p or more.
With founder/ex-chief exec Mr Olliff no longer in charge, I have become reluctant to add to my CLIG investment. I simply prefer owner-orientated executives — rather than professional 'salarymen' — to lead my shareholdings.
Financials
CLIG's balance sheet remains cash-rich and debt-free.
Half-year cash was £12.5m, equivalent to 47p per share.
Other financial assets — which the 2019 annual report disclosed (point 15) to be "listed investments" — stood at £7.8m, or 29p per share.
I believe these listed investments are held by CLIG's fledgling REIT fund, which is consolidates into the full accounts because the fund is majority owned.
The portion of the REIT fund owned by external clients is represented by non-controlling interests of £3.2m, or 12p per share.
This company document indicates regulatory capital was £1.9m, or 7p per share, at September 2019.
Net 'surplus' cash and investments therefore come to 47p (cash) plus 29p (other financial assets) less 12p (non-controlling interests) less 7p (regulatory capital) = 58p per share.
An ultra-cautious view would be to subtract the 10p per share H1 dividend to give 48p per share.
Major cash flow movements during this H1 were £4.5m spent on last year's final dividend and £2.0m spent on buying shares for the Employee Benefit Trust (EBT).
The EBT acquired 483k shares at a 423p average .
The EBT expense was offset by raising £324k after selling 336k shares to staff to satisfy their exercised options.
Between 2010 and 2019, the EBT has spent £6.7m buying shares and received £3.9m from selling shares.
Arguably the effective cash cost of CLIG's options (and Employee Incentive Plan (EIP)) over time has been (£6.7m less £3.9m) / 10 years = £280k a year.
CLIG confirmed the (awful) EIP has only another six months to run:
"[N]o fewer than 75% of the Group's current workforce has participated in the [EIP] scheme for an aggregate of more than one million share awards or approximately 4% of the Company's issued equity and we are confident that this trend will continue beyond June 2020, when the additional 5% allocation of operating profits to fund participation will expire."
The total accounting cost of the EIP since its inception during 2017 has been £1.8m.
The 2019 annual report (point 19) said the EIP had "been designed to use existing shares in issue". I am hopeful the majority of EBT shares required for the EIP have now been purchased.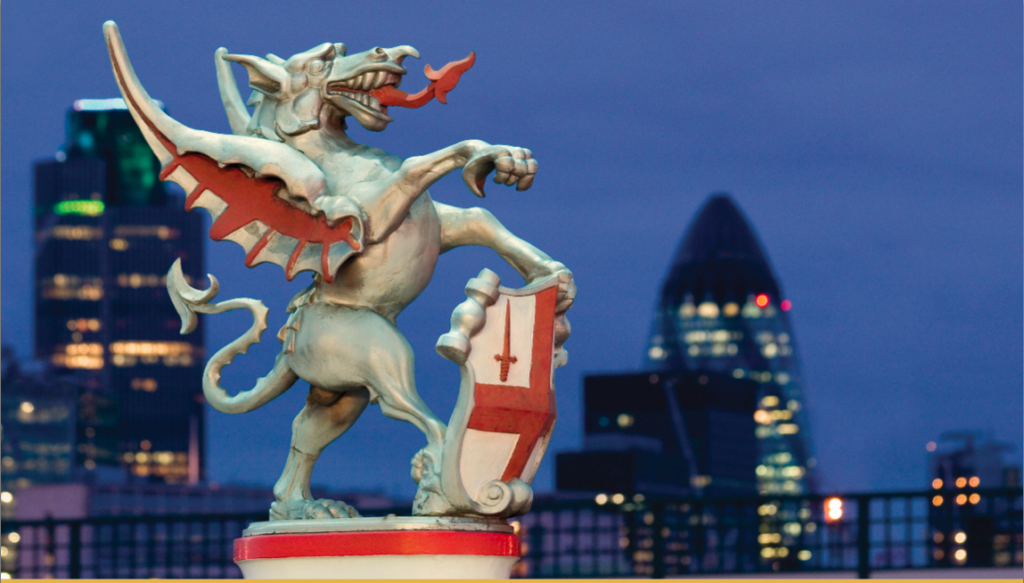 CLIG's income statement and profit margin was distorted a little by the implementation of IFRS 16.
IFRS 16 alters the way operating leases are charged against earnings. Such costs are now accounted for by a mix of depreciation and finance costs.
CLIG paid £52k as "interest on lease liabilities" during this H1, which, if included as an operating expense gives an operating margin of 35% during this H1 versus 33% for the comparable six months.
One notable cost reduction was "commissions payable", which dropped £277k from H1 last year to now represent less than 1% of revenue. Such commissions have been in 'run off' since 2010 and ought to cease after October.
Staff costs advanced 11% in line with revenue during this H1.
Only time will tell how much CLIG's staff will be paid following the recent market crash and likely reduction to revenue.
Staff enjoy a collective 30% 'profit share'. If the recent market crash has indeed hurt revenue, total employee pay will be lower.
Mind you, basic wages could be increased to compensate for the lower profit share.
CLIG's books remain free of pension obligations.
Valuation

FuM at $5.3b and GBP:USD at a recent 1.18 may lead to earnings of approximately £10.6m or 39.8p per share.
However, FuM is likely to have dropped significantly following the recent market crash.
According to SharePad, the MSCI Emerging Markets Source ETF — which I think is similar to the MSCI Emerging Market benchmark regularly referred to by CLIG — has dropped 31% since the start of 2020 and has fallen 24% so far during March: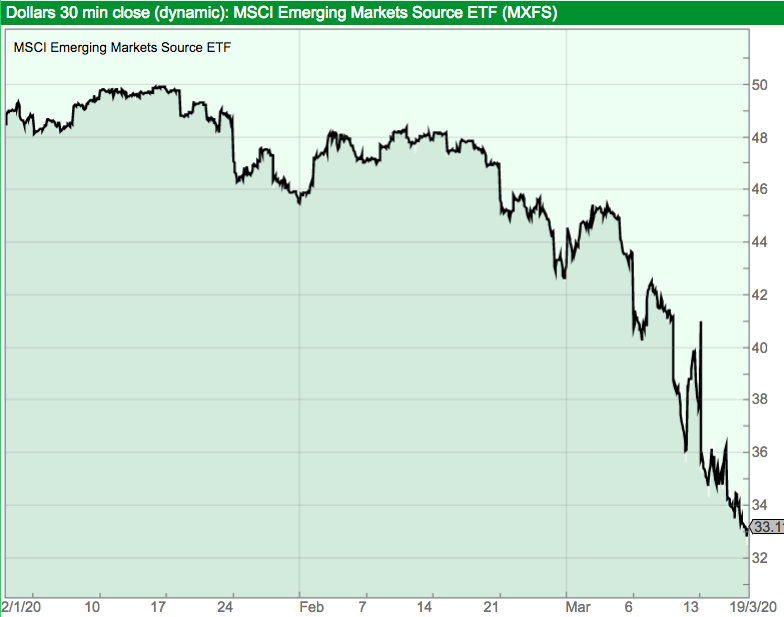 CLIG's FuM may now be approximately $4.1b if FuM have mirrored the fall suffered by that MSCI ETF.
FuM at $4.1b and GBP:USD at 1.18 may lead to earnings of approximately £6.6m or 24.9p per share — almost 40% below the earlier 39.8p per share projection.
Adjust the 300p share price for the 58p per share of net cash and investments, and the possible P/E could be 242p / 24.9p = 9.7.
Ignoring the cash and investments gives a potential P/E of 12.0.
Note that the FuM/exchange-rate table applies an EIP charge of 5%, and the EIP ought to cease after June.
Applying an EIP charge of 0% instead of 5% revises my earnings estimate to £7.1m/26.8p per share, the cash-adjusted P/E to 9.0 and the standard P/E to 11.2.
How does the present valuation compares to the market crash of 2008/9?
CLIG's share price dropped to a low of 123p during March 2009: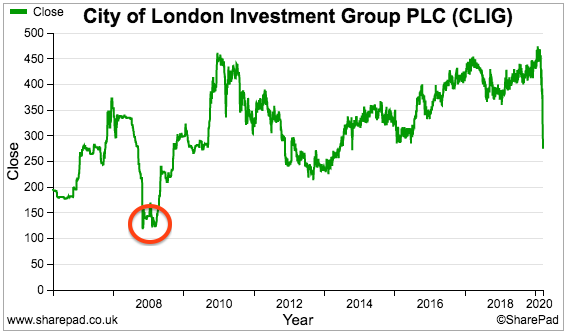 SharePad shows the following P/E and yield charts: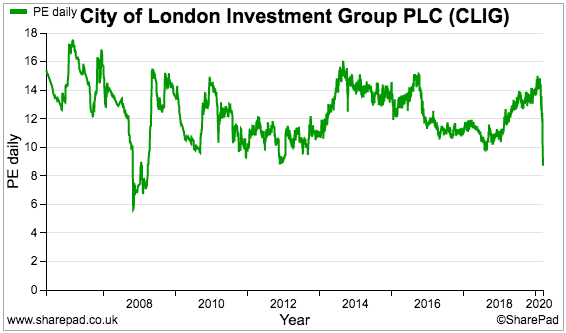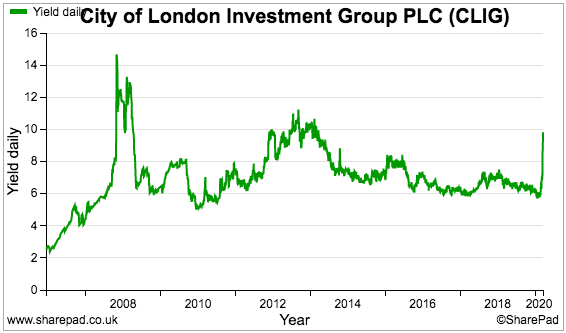 Note that both charts are based on trailing figures. Investors never actually received the 15% peak yield because the 2008 payout was cut by 23% for 2009.
What were the forecast figures at the time? We can make a guess.
Assuming staff costs dropped in line with revenue and other costs stayed the same, I calculate FuM of £1.54b could have translated into annualised revenue of £17.1m, annualised operating profit of £4.5m and annualised earnings (with tax at a then 33%) of £3.0m.
The table below compares the 2009 and present market cap and enterprise value (market cap less net cash and investments) to FuM and my estimated earnings:
| | | |
| --- | --- | --- |
| | March 2009 | March 2020 |
| Share price (p) | 123 | 300 |
| Market cap (£m) | 29.4 | 74.6 |
| Cash and investments (£m) | 5.1 | 15.3 |
| Enterprise value (£m) | 24.3 | 59.3 |
| Funds under management (£b) | 1.54 | 3.47 |
| Estimated earnings (£m) | 3.0 | 7.1 |
| | | |
| Market cap/FuM (%) | 1.91 | 2.15 |
| Market cap/Estimated earnings (x) | 9.8 | 10.5 |
| | | |
| EV/FuM (%) | 1.58 | 1.71 |
| EV/Estimated earnings (x) | 8.1 | 8.3 |
The P/E similarity does not necessarily mean the 300p shares are cheap. These shares have traded at c10x cash-adjusted earnings for years.
Mind you, the dividend could be signalling obvious value.
CLIG likes to distribute the majority of its earnings as dividends. Dividend cover during the last ten years has never topped 1.5 times, and was even 0.9x during 2014.
My 26.8p per share earnings guess does not cover the trailing 28p per share dividend.
However, history suggests CLIG will maintain the trailing 28p per share payout, which would support a substantial 9.3% income at 300p.
Aside from any market recovery, superior share-price progress will only be witnessed if/when CLIG attracts significant levels of new client FuM.
Until then, I suspect the valuation will remain around 10x earnings and the share price will simply bob up and down to match the levels of FuM.
Nonetheless, the dividend ought to provide reasonable returns even if FuM were to stagnate for some time.
Also bear in mind the balance sheet has regularly carried a sizeable cash position, which in reality may be needed to reassure clients and might therefore not be 'surplus to requirements' for valuation purposes.
Finally, the FuM/exchange-rate table above implies CLIG will operate at a loss should FuM decline below $2.1b with GBP buying 1.18 USD.
Maynard Paton
PS: You can receive my blog posts through an occasional email newsletter. Click here for details.
Disclosure: Maynard owns shares in City of London Investments.