20 December 2019
By Maynard Paton
Results summary for System1 (SYS1):
Another unremarkable performance, with underlying gross profit up 4% and profit (without AdRatings) rebounding 24% due mostly to improved cost control.
The start-up AdRatings service continues to lose £2m a year and is increasingly dictating the company's progress, potential and valuation.
An ITV competition to determine the most "emotionally engaging" advert during Euro 2020 could create extra recognition for System1-type marketing and SYS1's services.
The accounts remain cash rich and the business (without AdRatings) exhibited a healthy 21% margin.
The P/E could be anywhere between 8 and 26 depending on how AdRatings, share-based payments and the cash position are viewed. I continue to hold.
Contents
Event links and share data
Event: Interim results and presentation for the six months to 30 September 2019 published 07 November 2019

Price: 210p
Shares in issue: 12,576,619
Market capitalisation: £26.4m
Why I own SYS1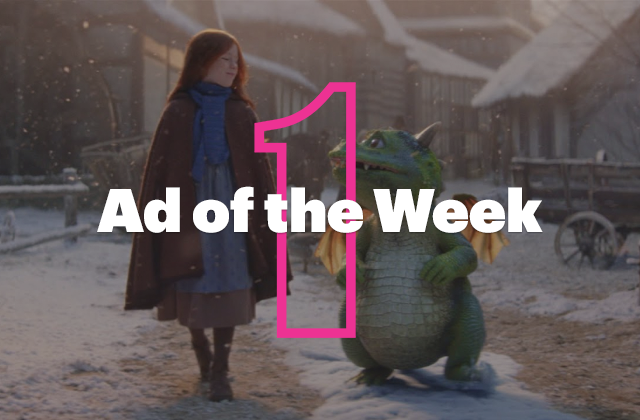 Market-research agency that predicts the long-term effectiveness of client adverts, with success built upon a "difficult-to-replicate" database of advert assessments created over 20 years.
Boasts founder/entrepreneurial/owner-friendly chief exec who has overseen an acquisition-free growth record, retains a 23%/£6m shareholding and has declared five special dividends.
Offers cash-rich accounts, high underlying margins and a potentially low valuation — assuming the new AdRatings service can one day break even.
Further reading: My SYS1 Buy report | All my SYS1 posts | SYS1 website
Results summary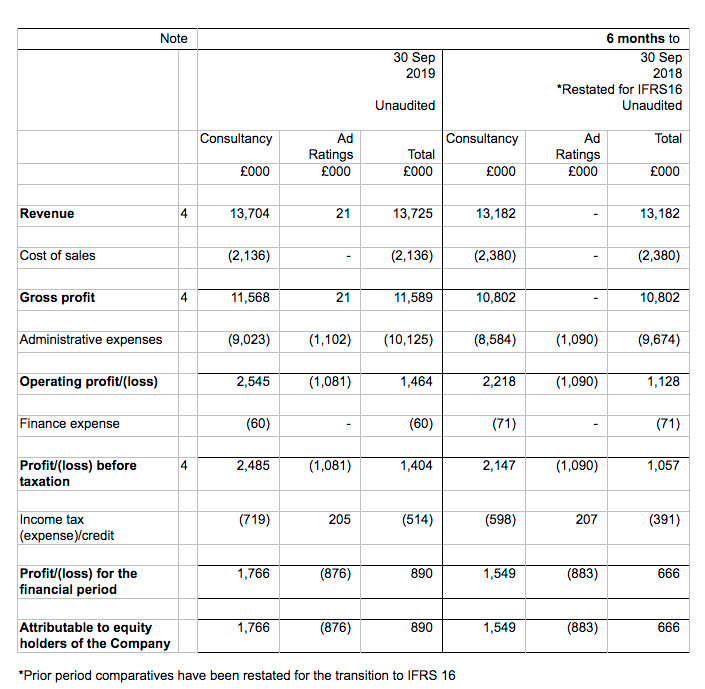 Revenue, profit and dividend
Gross profit — SYS1's main top-line performance indicator— was indeed up 7% (to £11.6m) while pre-tax profit (before share-based payments and AdRatings losses) was indeed £2.4m (up 24%).
Three factors complicated SYS1's profit progress:


A £251k exceptional gain recorded during the comparable H1 and accounted for within operating profit;

The introduction of IFRS 16, whereby operating lease costs are now partly recognised as a finance expense, and;

Share-based payments, which were

credits

during this H1 and the preceding H2.
| | | | | | | | |
| --- | --- | --- | --- | --- | --- | --- | --- |
| | H1 2018 | H2 2018 | | H1 2019 | H2 2019 | | H1 2020 |
| Revenue (£k) | 13,822 | 13,117 | | 13,182 | 13,714 | | 13,704 |
| Gross profit (£k) | 11,394 | 10,837 | | 10,802 | 11,245 | | 11,568 |
| Admin costs* (£k) | (10,325) | (9,698) | | (8,794) | (9,422) | | (9,109) |
| Operating profit (£k) | 1,069 | 1,139 | | 2,008 | 1,823 | | 2,459 |
| IFRS 16 finance cost (£k) | - | - | | (72) | (65) | | (60) |
| Operating profit less finance cost (£k) | 1,069 | 1,139 | | 1,936 | 1,758 | | 2,399 |
| | | | | | | | |
| Share-based payments (£k) | (229) | 6 | | (41) | 173 | | 86 |
| Exceptional item (£k) | - | - | | 251 | - | | - |
(*excludes exceptional item and share-based payments)
Adjusting for the £251k exceptional gain and the share-based payments, but including the IFRS 16 finance cost, 'underlying' profit before tax increased 24% from £1.9m to £2.4m.
The 24% improvement simply reflects gross profit growing by 7% and costs increasing by 4%.
Bear in mind that the comparable H1 2019 was somewhat lacklustre, with competitive pricing and re-designed products causing a sub-par performance twelve months ago.
SYS1 admitted gross profit growth for this H1 at constant currency rates was only 4%.
Indeed, gross profit was only 2% higher than the gross profit reported for H1 2018.
The 2019 annual results reminded shareholders that gross profit has compounded at only c5% per annum since 2012.
SYS1 confessed that growth during this H1 was "not yet on the trajectory we are aspiring to".
A notable development was the maintained 1.1p per share dividend.
This time last year SYS1 said: "[The] final dividend may be reduced, depending principally on the scale of further investment in AdRatings and on opportunities to repurchase shares at an attractive valuation."
The subsequent annual results revealed an unchanged final 6.4p per share payout:
"Given the investment opportunities with AdRatings, and a share price which some consider depressed, the decision to maintain the dividend was considered carefully.
However, the door was seemingly left ajar for a future dividend cut:
"Whilst the Board is prepared to consider reducing the dividend (as flagged in our [2018] Interim Statement), it views maintenance of the dividend as a useful discipline which it seeks to adhere to unless there is sufficiently clear-cut reason otherwise (which, in the Board's view, is not the case at this time).
A dividend cut could still be forthcoming. This results RNS said: "We are keeping this [dividend] policy under review"
Perhaps sustaining the dividend rather than ploughing even more money into AdRatings (see AdRatings below) and/or repurchasing shares tells us something about the prospects for both AdRatings and the share price.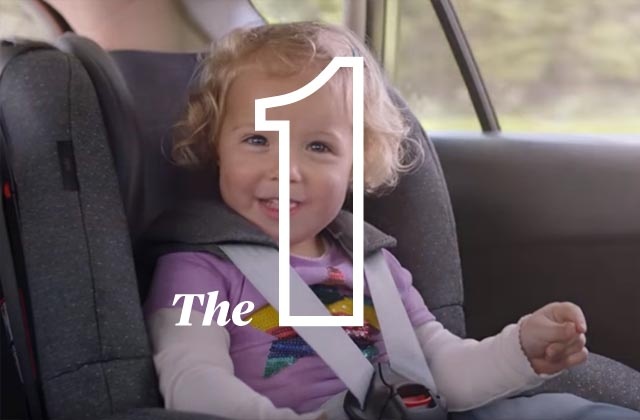 Divisions
SYS1 operates three market-research divisions.
SYS1 has claimed its "main competitive strength" lies within its Communications division, which assesses televisions adverts and has "developed market research techniques which we believe are better able to predict the long-term effectiveness of advertising than anyone else's."
The Brand division tracks ongoing client-brand popularity, while the Innovation division tests new marketing concepts.
The Communications division should offer the best growth prospects and the widest 'moat' to shareholders. Brand is apparently the more reliable of the three income sources, while Innovation is apparently the most unpredictable.
The table below summaries the gross-profit contributions from each department:
| | | | | | | | |
| --- | --- | --- | --- | --- | --- | --- | --- |
| | H1 2018 | H2 2018 | | H1 2019 | H2 2019 | | H1 2020 |
| Comms (£k) | 3,582 | 3,412 | | 3,059 | 4,313 | | 3,608 |
| Brand (£k) | 2,102 | 2,409 | | 1,726 | 1,973 | | 1,628 |
| Innovation (£k) | 4,381 | 4,023 | | 4,929 | 4,057 | | 5,135 |
| Other (£k) | 1,168 | 781 | | 978 | 589 | | 1,068 |
| Agency (£k) | 161 | 212 | | 110 | 316 | | 129 |
| AdRatings (£k) | - | - | | - | - | | 21 |
| Total (£k) | 11,394 | 10,837 | | 10,802 | 11,248 | | 11,589 |
Communications gross profit gained 18% on the comparable H1 2019 — but this 18% leap appears to be an anomaly.
Communications gross profit for this H1 was actually equal to that achieved for H1 2018.
Full-year Communications gross profit improved by 5% during 2019, and was only 3% higher than the level recorded during 2016.
The numbers do not suggest the more attractive Communications division is growing at a particularly impressive rate.
Communications gross profit as a proportion of group gross profit has increased from 28% to 33% since 2016.
SYS1 therefore remains somewhat dependent on progress within the less trail-blazing Brand and Innovation operations.
AdRatings
The new AdRatings service continues to earn a pitiful income — just £21k during the last six months.
To recap what AdRatings offers:
"AdRatings is a large database showing 'ratings' or 'scores', of adverts in the market as a whole. It allows clients to assess the effectiveness of their historical advertising and benchmark it against peer companies, competitor categories and the industry as a whole."
This results RNS described AdRatings as "the world's largest, and most predictive and validated database of short and long-term advertising effectiveness"
AdRatings is based on the ad-testing performed by the Communications division and — according to SYS1 — no other source of advert ratings "correlates with long-term profitability" the way AdRatings does.
The AdRatings database now contains more than 42,000 analysed adverts for subscribers to study.
The AdRatings analysis appears to be accurate: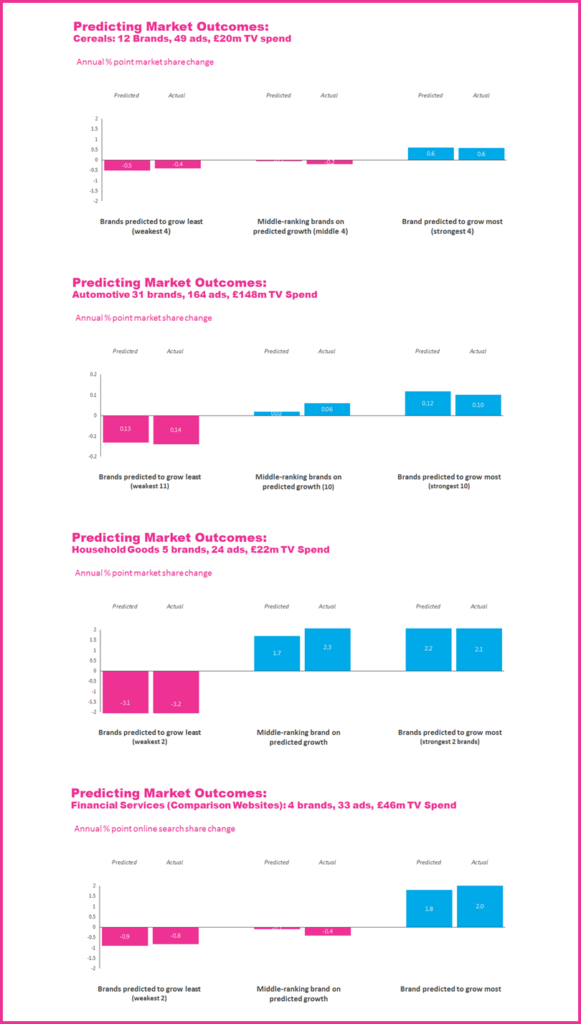 And yet paying AdRatings subscribers can be counted on one hand (or even one finger).
Why are SYS1's current 246 clients not interested?
Management comments at the AGM during August revealed:


Interested clients require "validation" — they want to see market-share changes in their particular advertising category correlate to changes to SYS1's star ratings for the relevant adverts. SYS1 has correlation evidence for only certain advertising categories. Work is underway to ensure all categories have such validation.

The low (£2k/month) subscription cost of AdRatings has meant the service has still to reach the attention of chief marketing officers (CMOs) — who can't justify their time evaluating a £24k a year product.
Attracting the attention of CMOs is important to SYS1.
Management comments at the AGM claimed CMOs generally accept the benefits of System1-type advertising and are open to experiment.
Trouble is, a CMO's team is often risk-averse and wishes to keep using existing suppliers/methods/data rather than throw away years of work and restart using other suppliers/methods/data.
This results RNS said AdRatings had been "a factor… in our gaining much greater access to marketing leaders in large multinationals".
I am hopeful this "greater access" can lead to extra revenue in time.
SYS1 claimed AdRatings offers "in the longer term… high upside potential".
£1.2m was spent on AdRatings during the last six months, and the total cost to date has been £4.2m.
Total AdRatings revenue to date has been £24k.
The 2019 results had revealed a £2.5m AdRatings budget for the current year.
These H1 results implied the full-year cost could be less than £2.4m (before tax).
Management comments at the AGM indicated AdRatings was becoming an integral part of the business —rather than a standalone operation that could (in theory) be scrapped.
The AdRatings costs should therefore not be ignored for valuation purposes.
The 2019 results disclosed AdRatings expenditure consisted of £1.08m for data collection, £1.55m for IT development work and £0.4m for running/other expenses.
AdRatings costs would therefore reduce to £1.5m per annum were the IT development work to cease completely.
The AdRatings costs could of course be offset by additional subscribers and/or extra revenue from SYS1's other services.
Enjoy my blog posts through an occasional email newsletter. Click here for details.
Industry developments
These H1 results referred to a new SYS1 book called Lemon: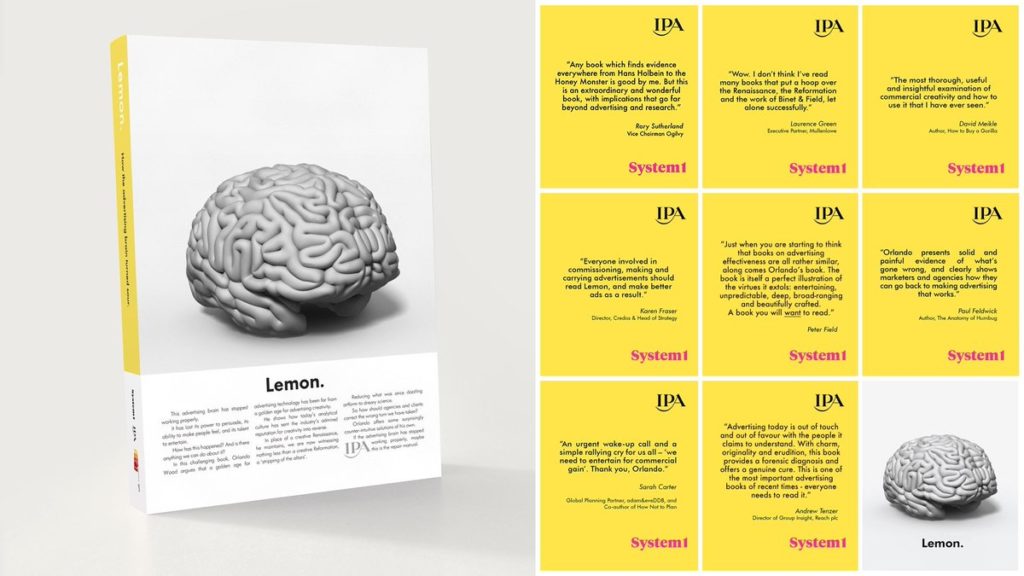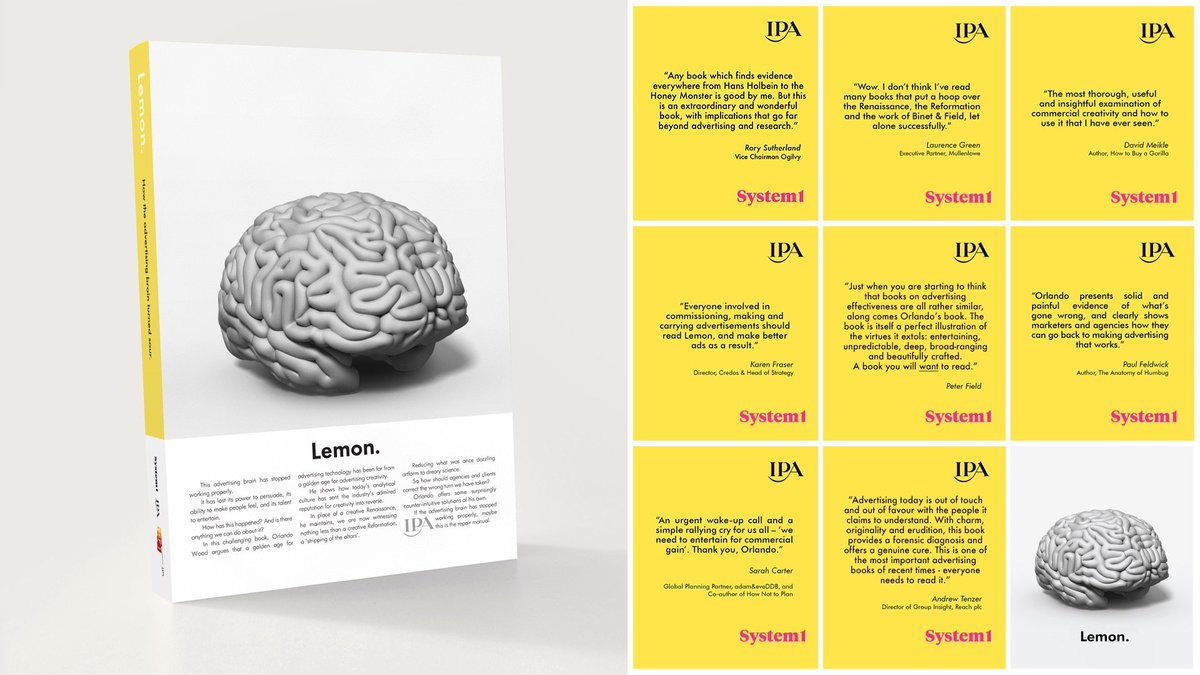 SYS1 said: "Lemon sets out why advertising effectiveness has been in decline over the last few decades and what it will take to reverse the decline at a profound level — and it has received wide industry endorsement."
I suppose the "wide industry endorsement" for Lemon could help sales of the book exceed the £24k income from AdRatings.
Whether Lemon will lead to major changes to multinational advertising campaigns remains to be seen.
"Emotional campaigns, and in particular those that are highly creative and generate powerful fame/buzz effects, produce considerably more powerful long-term business effects than rational persuasion campaigns."
Judging by SYS1's recent progress, few in the industry appear to have read either book.
Perhaps television advertising is shrinking and adverts work differently online.
Funnily enough, online businesses remain the largest spenders on UK television adverts.
For instance, Amazon spent £60m (up 21%) to broadcast UK television adverts during 2018.
Advert consultancy Thinkbox claims television remains the most profitable medium for advertisers: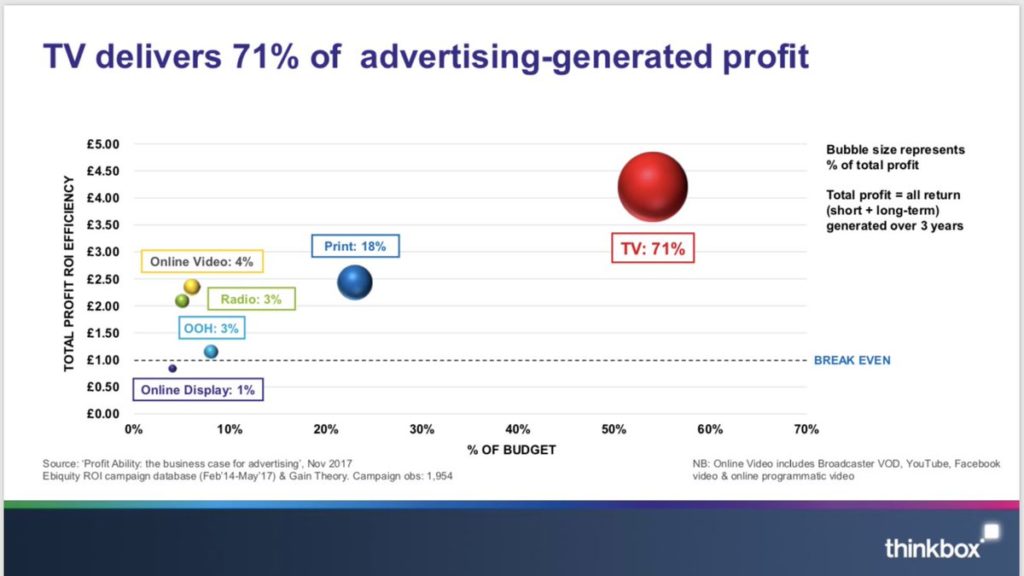 Marketing expert Mark Ritson reckons "TV's death dive continues to be overstated and misinformed".
Mr Ritson writes: "I have nothing really to say in my column this week other than a) look at the bar chart and b) no, really LOOK at it…"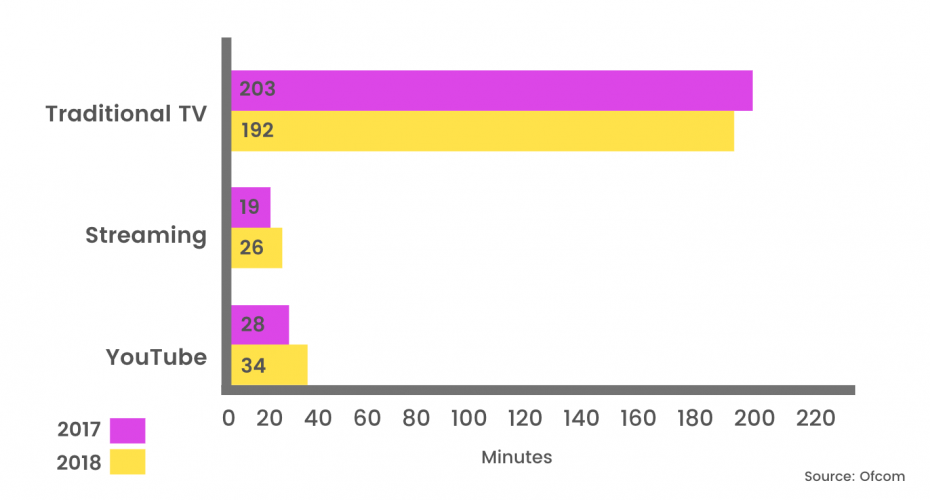 ITV Euro 2020 competition
A potentially significant industry development comes from ITV:
"ITV is the latest media owner to launch a Channel 4-style competition to win free ad space, this time for a prime slot during the Euro 2020 final to the advertiser with the "most emotionally engaging campaign".

"The broadcaster hopes a competition for free ad space will also improve the quality of the campaigns that run during the major football tournament. Commercial director Simon Daglish said it will work with an "independent research company" to judge the most "emotionally engaging" campaigns from a brand or agency."
ITV encouraging multinationals to develop "emotionally engaging" adverts ought to be of enormous assistance to SYS1.
SYS1 may even be the mystery "independent research company" that performs the judging.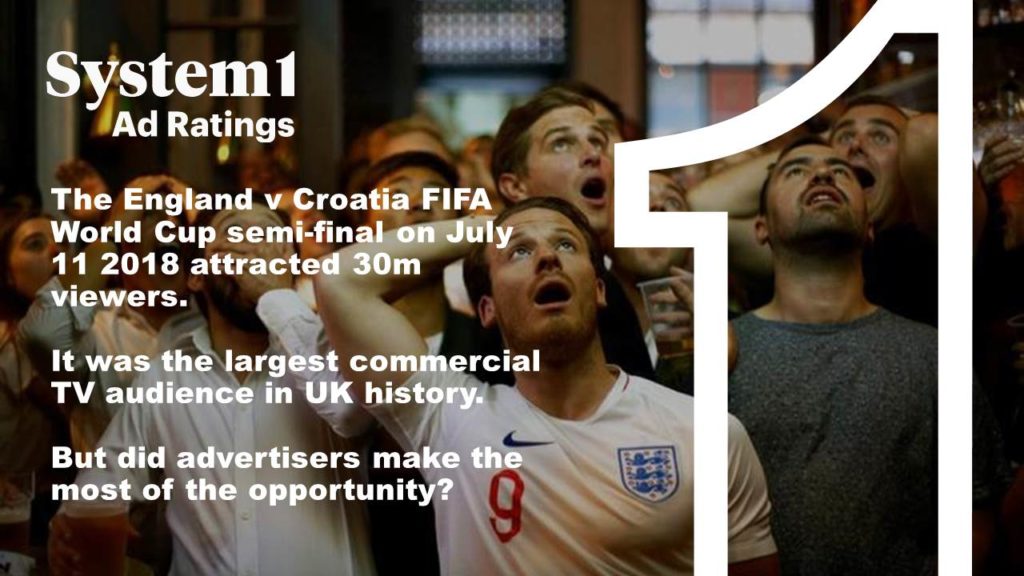 "The biggest night for commercial TV ever" was apparently fairly typical for adverts.
"Humble 20-second ads [including Alpecin Shampoo's bizarre "Fight For Your Hair!"] shared space with expensive-looking marquee campaigns from BT Plus and Samsung."

"A third of the ads tested… ended up with 1-Star, suggesting that — from a brand-building perspective — the money was largely wasted."
I am hopeful this ITV competition — and the influence the competing adverts will have on their respective product sales — will prompt more companies to consider SYS1's services.
Financials
SYS1's accounts remain reasonably straightforward.
Cost cuts and product changes during recent years allowed pre-tax profit — before AdRatings and share-based payments — to represent a healthy 21% of gross profit for this H1 (versus 17% for full-year 2019).
Cash conversion was not great during the six months.
Total earnings of £860k had to fund additional working capital of £616k and dividends of £804k. A very low tax payment kept the cash outflow to £306k.
Cash ended the half at £4.1m.
Total AdRatings expenditure was £1,274k, of which £232k was capitalised on to the balance sheet and avoided the income statement.
This capitalised expenditure will be amortised through the income statement during the next three years.
The carrying value of the capitalised AdRatings costs is now £885k.
SYS1's books remain free of bank debt and free of pension obligations.
Valuation
Assessing SYS1's valuation requires a view on share-based payments and the prospects for AdRatings.
The vagaries of IFRS 2 have meant SYS1 has recorded share-based payment

credits

for the last twelve months.
The credits reverse earlier share-based payment

charges

, after the likelihood of options becoming exercisable reduced considerably.
The 2019 annual report indicates 355,823 options have vested, which if exercised would increase the share count by 3% to 12,932k (and raise £61k for SYS1).
Calculating earnings per share using this enlarged share count seems a better way of accounting for options than the fluctuating IFRS 2 charge.
SYS1's other options all require the share price to reach 500p (or more) before potential vesting.
I will be delighted to revisit my option sums when the share price reaches 500p.
Pre-tax profit excluding share-based payments were almost £4.2m for the twelve months to September 2019.
Earnings come to £3.0m, or 23.1p per share, after applying the 29% tax used in these results and the 12,932k option-adjusted share count.
Assume the net present value of AdRatings is zero, SYS1's 210p share price is 9 times the 22.9p per share earned by the rest of the group.
Assume SYS1 will soldier on with AdRatings losing £2.0m a year after tax for ever, and ongoing earnings could be 7.9p per share to support a 26x rating.
Assume the cash position of £4.1m, or 31.7p per share, is surplus to requirements, and the cash-adjusted multiples range from 8x to 23x.
The likely earnings outcome — at least for the next few years — could be mid-way between 22.9p and 7.9p per share, which points to a 15x cash-adjusted multiple.
SYS1's outlook comments did not hint at an immediate return to superior growth:
"We continue to have limited short-term revenue visibility, so, as always, it is difficult to predict how the year will unfold. Nevertheless, we continue to believe that the business is making progress and in the longer term has high upside potential driven by its AdRatings asset and the more general digitisation of the business."
The trailing 7.5p per share dividend supplies a 3.6% income at 210p, and is just about covered by the above 7.9p per share earnings estimate.
Maynard Paton
PS: You can receive my blog posts through an occasional email newsletter. Click here for details.
Disclosure: Maynard owns shares in System1.