31 December 2019
By Maynard Paton
Results summary for Daejan (DJAN):
The statement revealed fresh first-half records for revenue, up 12%, underlying operating profit, up 7%, and net asset value, up 4%.
New rent laws in New York led to a £46m devaluation and put DJAN on course to register its first annual valuation loss since 2009.
A 6% strengthening of the USD counterbalanced the New York devaluation and helped support net asset value.
The accounts remain conservatively financed, with capital expenditure reduced significantly following earlier cautious remarks from management.
The share price represents only 46% of net asset value — despite net asset value advancing 75% during the last five years. I continue to hold.
Contents
Event link and share data
Event: Interim results for the six months to 30 September 2019 published 27 November 2019.

Price: £55
Shares in issue: 16,295,357
Market capitalisation: £896m
Why I own DJAN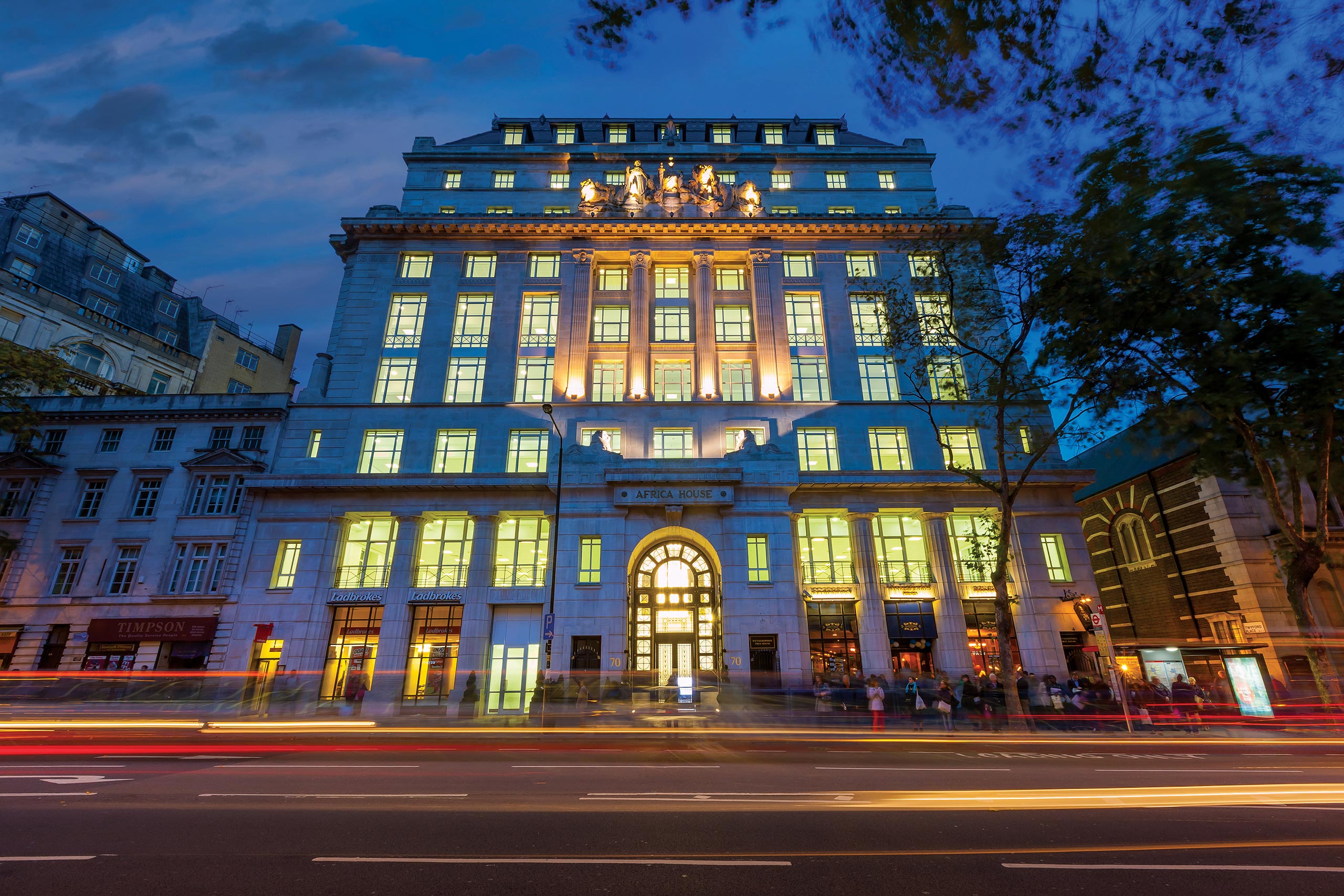 Commercial and residential property landlord that boasts an illustrious, 40-year-plus history of net asset value and dividend advances.
Board led by veteran family management that continues to control an aggregate 80%/£717m shareholding.  
Net asset value of £120 per share is more than double the recent share price.
Further reading: My DJAN Buy report | All my DJAN posts | DJAN website
Results summary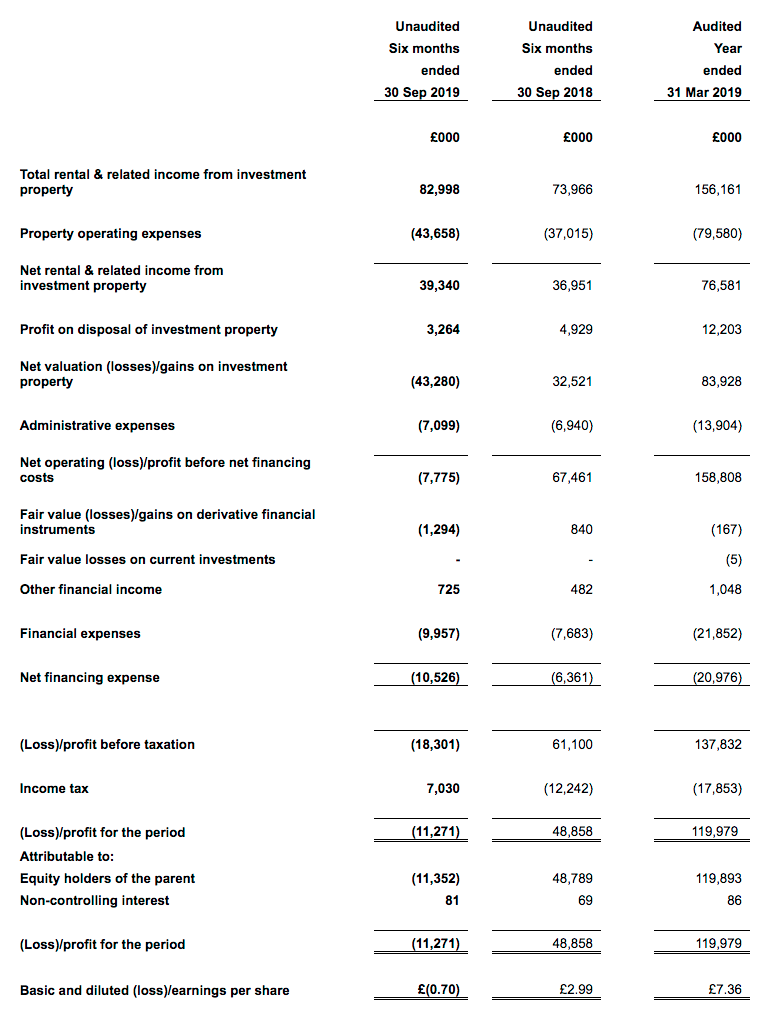 Revenue, profit, dividend and net asset value
DJAN's first-half figures were not quite as bad as the gloomy outlook remarks within the 2019 annual results had suggested.
Revenue gained 12%, operating profit (before disposal gains and valuation losses) advanced 7% while net asset value (NAV) climbed 4%. All three measures set new H1 records.
DJAN said the revenue improvement was due to "the letting of completed development projects in the UK and property acquisitions in the USA".
However, revenue for this first half was only 1% higher than that recorded during the preceding second half:
H1 2018
H2 2018
H1 2019
H2 2019
H1 2020
UK revenue (£k)
45,602
46,793
47,822
52,542
50,986
US revenue (£k)
25,668
24,822
26,144
29,653
32,012
Total revenue (£k)
71,270
71,615
73,966
82,195
82,998
Operating profit before
valuation/disposal gains (£k)
25,952
27,263
30,011
32,666
32,241
Valuation gain (£k)
29,536
116,902
32,521
51,407
(43,280)
Disposal gain (£k)
6,720
5,173
4,929
7,274
3,264
Net operating profit (£k)
62,208
149,338
67,461
91,347
(7,775)
UK revenue during this H1 was actually 3% lower than that recorded during the preceding H2. 
UK revenue declining after H2 into the subsequent H1 is not unusual. Such reductions have occurred during the 2011, 2013, 2014 and 2017 financial years.
DJAN's revenue includes service-charge income as well as rental payments. Service charges represent additional tenant payments for repairs and maintenance, which can vary from year to year and cause total revenue to fluctuate.  
Operating profit before disposal gains and valuation losses, at £32m, represented 39% of revenue — a tad higher than the 38% average margin witnessed during the previous five years. 
The devaluation is likely to mean the current year will witness DJAN's first property revaluation

loss

since 2009.
Only a 6% strengthening of the USD — from 1.304 to 1.230 of GBP — ensured NAV inched to £120 per share from the £119 per share level declared at the full year.
The 2019 annual report showed DJAN owning net US property assets of £398m, which after translating at the stronger USD rate added £24m to their value and bolstered NAV by a net £13m:

An interim 35p per share dividend was declared for the seventh consecutive year.
Enjoy my blog posts through an occasional email newsletter. Click here for details.
New York property devaluation
The 2019 annual statement mentioned: "New rent regulation laws in New York state that came into effect on 1 July 2019 are expected to depress New York residential values in the coming year".
This H1 RNS revealed DJAN's American properties had been revalued downwards by £46m.
The 2019 annual report showed New York properties with a £336m book value and representing 13% of the entire property estate: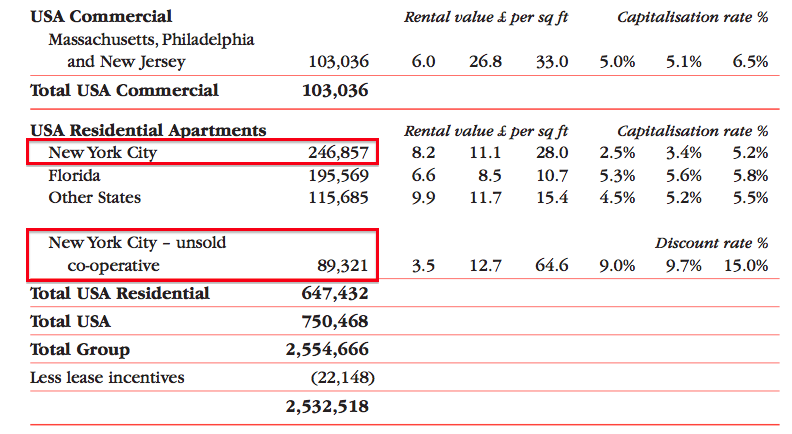 Assuming the value of DJAN's US properties outside of New York were unchanged, the New York properties lost 14% (£46m/£336m) of their value. 
US properties continue to carry a c£750m book value and represent approximately 29% of the DJAN's total estate.
Including DJAN's other US assets and the associated borrowings, US net assets represent 20% of the group's shareholder equity.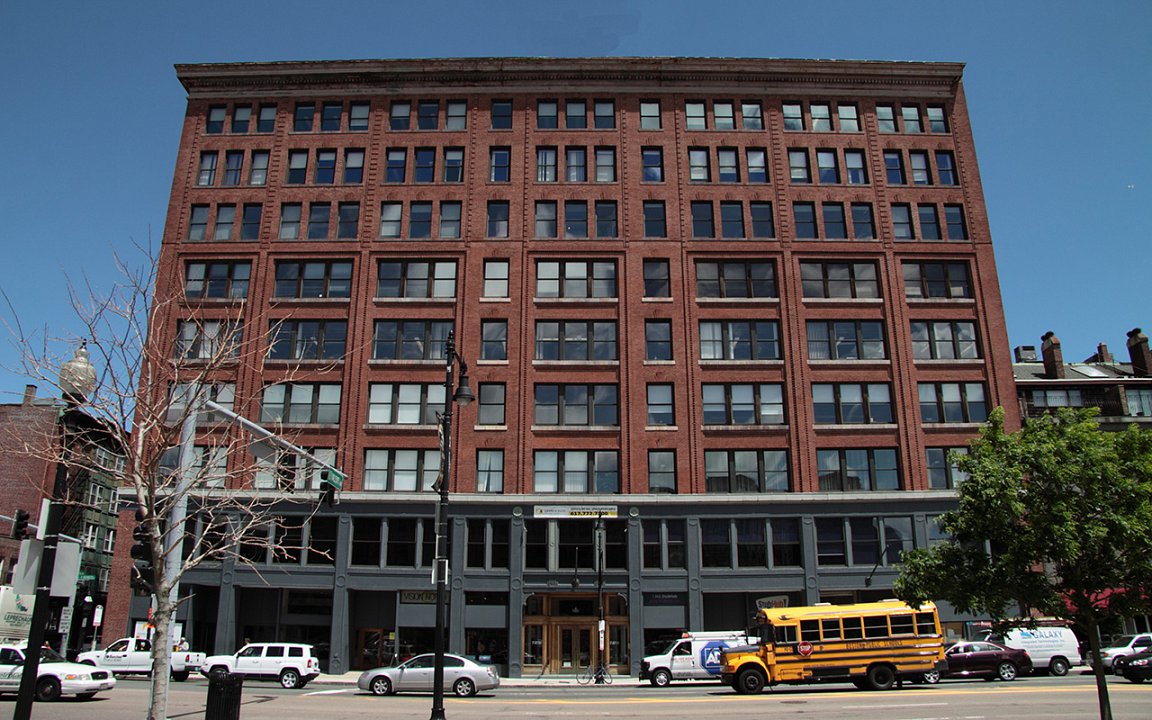 Investment properties and borrowings
UK properties enjoyed a tiny £3m/0.1% valuation uplift during the six months.
The 2019 annual results had already suggested the benefits of 'yield compression' — whereby property valuations are marked higher as investors decide to pay more for rental incomes — may now have stalled.
Last year DJAN spent an enormous £108m buying new sites and developing old properties.
The £108m was the largest annual sum spent for at least two decades.
However, management did say at the time: "[W]e believe that by the pursuit of our well proven strategy of prudence and risk minimisation coupled with the conservation of cash and bank resources we will be well placed to ride out any storms which may lie ahead."
The "conservation of cash and bank resources" led to just £10m being spent on new and old sites during this H1.
Double that £10m to £20m, and 2020 would see the lowest annual level of capital expenditure since 2010.
DJAN did not explain why extra debt (less debt repayments) of £46m was taken on to fund only £10m of capital expenditure.
The extra loans alongside the GBP:USD movement meant gross borrowings increased by £64m to £495m, although net borrowings increased by just £4m to £339m. 
Net debt remains equivalent to 13% of the full £2.5b property estate — a very conservative level of gearing for the property sector.
Annualised bank interest of £17m represented a reasonable 3.8% of the average £463m debt level during the six months.
Net debt could be reduced during the second half after DJAN confirmed the sale of a £71m London property that was previously "held for sale" on the balance sheet.
The £71m proceeds will be counterbalanced by a final settlement with HMRC, which this RNS said was paid in November and the 2019 annual report (point 10) said would cost DJAN approximately £43m.
Valuation
DJAN's 2019 annual results declared: "In the immediate future we are unlikely to experience the rate of growth in net asset value that we have enjoyed in recent years."
NAV surged from £68 to £119 per share between 2014 and 2019 — a compound average growth rate of almost 12%: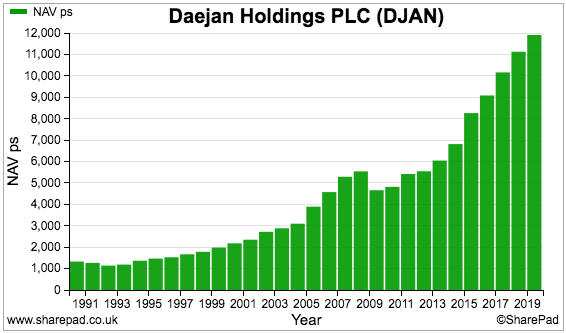 NAV growth during these six months was just 0.6% .
Given the low UK gains and the US devaluation, NAV growth for the full year seems unlikely to beat the 7% growth registered during 2019.
DJAN noted: "Until there is greater clarity on the timing and terms of the UK's departure from the EU and the outcome of the UK general election in December, the high levels of political and economic uncertainty in the UK are expected to continue. The economic outlook for the USA remains more promising."
Maybe the outcome of the recent general election can now lead to lower levels of "political and economic uncertainty".
The prospect of low/no NAV growth may explain why the share price has effectively gone nowhere during the last five years — and trades at only 46% of the group's NAV.
Other long-standing reasons for the hefty NAV discount include:

The board's 80% family shareholding;

The absence of any takeover possibilities;

Management's unconventional corporate governance, and;

A lack of City engagement.
Mind you, the 2019 annual report (point 5) did reveal the board would now consider appointing female directors.
I remain hopeful that, one day, the discount to book will permanently narrow as the group's steady performance and growing size become too difficult for the wider stock market to ignore.
For some perspective, rents have jumped 45%, operating profit before valuation/disposal gains has advanced 90%, NAV has climbed 75% while the dividend has increased 29% between 2014 and 2019.
And yet during the same five years, the share price has bobbed around the present £55 mark.
Although near-term rental and NAV progress could be limited, various projects — including a sizeable development in Oxford Street, London (point 3) — will eventually complete and should bolster the full estate's income and value.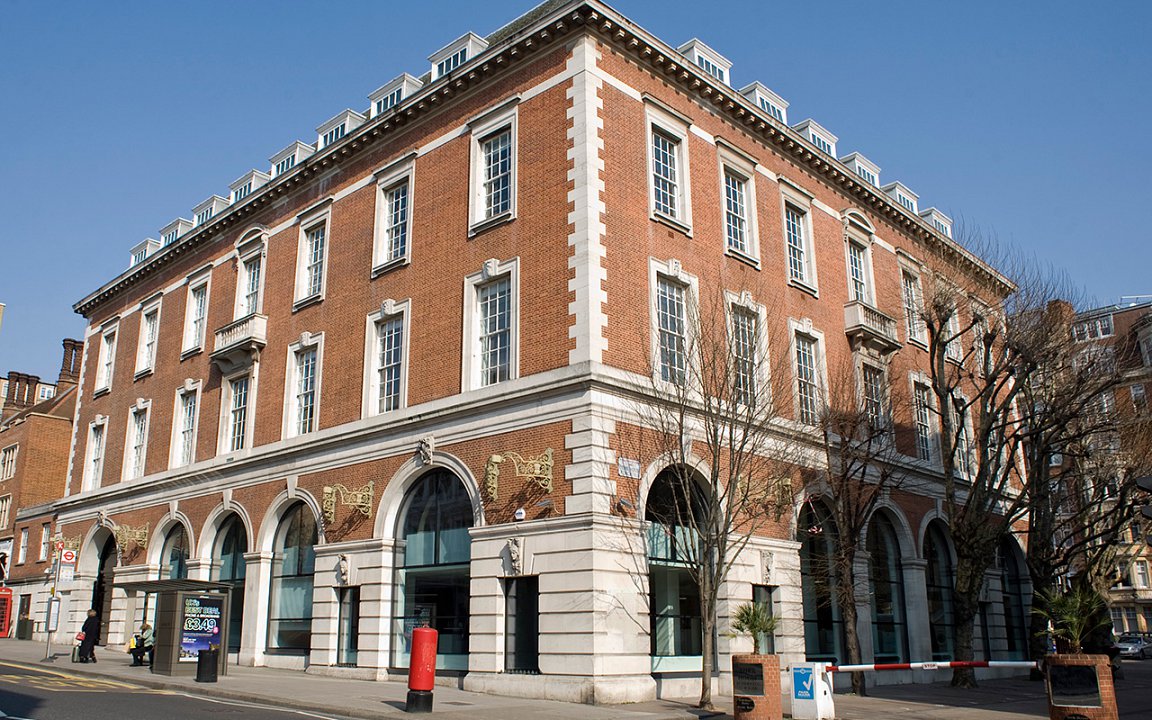 A £55 share price represents 46% of the latest £120 per share NAV. 
Only during market extremes — the 'old-economy' sell off of 2000 and the banking-crash lows of 2009 — has the price to book ever dropped below 40% within the last 20 years.
Another way of looking at DJAN's value is from a return on equity standpoint.
During recent ten-year periods, DJAN has earned at least 7.6% a year from its asset base:
| | | | | | |
| --- | --- | --- | --- | --- | --- |
| | 10yrs to 2015 | 10yrs to 2016 | 10yrs to 2017 | 10yrs to 2018 | 10yrs to 2019 |
| Start NAV (£) | 38.94 | 45.74 | 52.88 | 55.40 | 46.60 |
| End NAV (£) | 82.59 | 90.82 | 101.61 | 111.25 | 109.07 |
| Dividends accumulated (£) | 7.55 | 7.83 | 8.11 | 8.41 | 8.74 |
| Total return (£) | 51.20 | 52.91 | 56.84 | 64.26 | 81.22 |
| | | | | | |
| Total return/Start NAV (CAGR %) | 8.8 | 8.0 | 7.6 | 8.0 | 10.6 |
Assuming DJAN can earn an average of, say, 7.5% a year from its £120 per share asset base, typical annual earnings could be £8.99 per share — represented by a mix of rental profit and valuation gains.
In theory at least, enjoying £8.99 per share a year from a £55 entry price is equivalent to a very worthwhile 16% annual return.
However, perhaps a business that earns a return on equity of only 7.5% deserves a modest rating and should be valued at a discount.
The trailing 106p per share dividend meanwhile supports a modest 1.9% income.
Maynard Paton
PS: You can receive my blog posts through an occasional email newsletter. Click here for details.
Disclosure: Maynard owns shares in Daejan.