29 February 2020
By Maynard Paton

Results summary for Tristel (TSTL):
Bumper first-half figures showed very satisfactory double-digit growth following superb sales increases within the UK and various overseas markets.
The underlying profit performance was complicated by undisclosed acquisition contributions, US regulatory costs, hefty option charges and cheeky bookkeeping.
Following these results, the coronavirus outbreak has led to an emergency "special exemption" order from China and prompted "substantial" extra purchases by the NHS.
The accounts remain in good shape with high margins, net cash and respectable cash generation.
The valuation has become extremely punchy with an estimated underlying P/E of 43. I continue to hold.
Contents
Event links and share data
Event: Interim results for the six months to 31 December 2019 published 24 February 2020 and City presentation hosted 24 February 2020
Price: 450p
Shares in issue: 44,921,823
Market capitalisation: £202m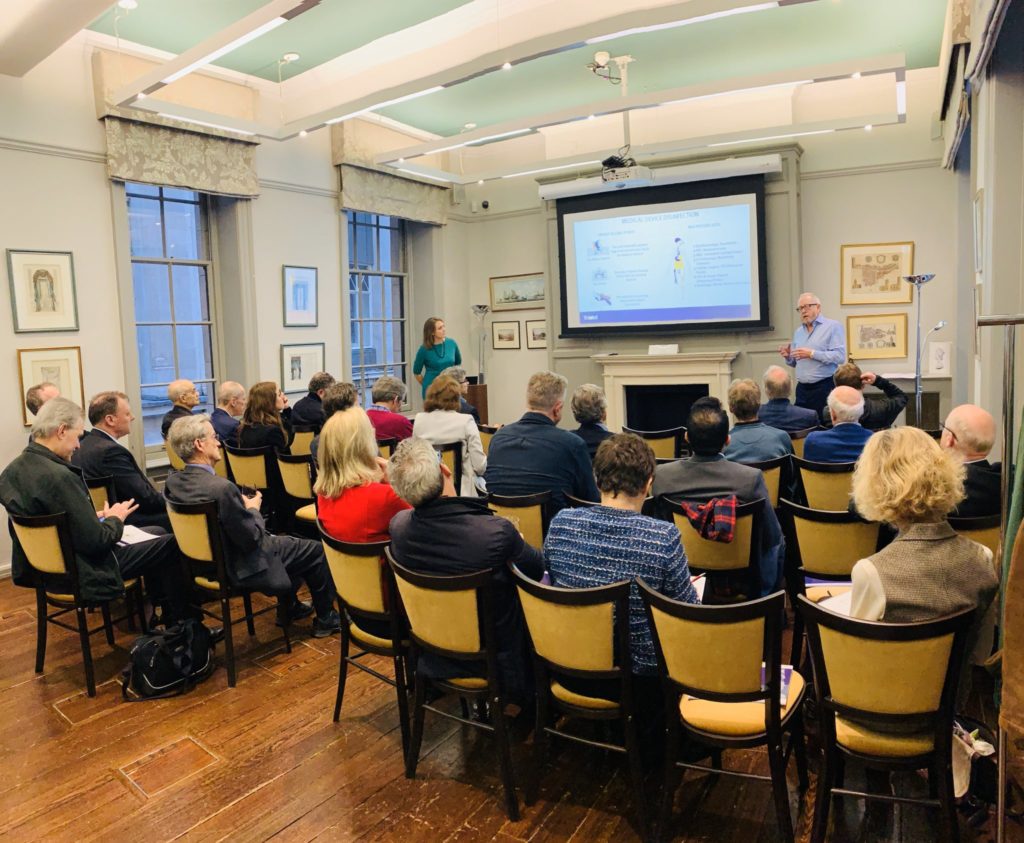 Why I own TSTL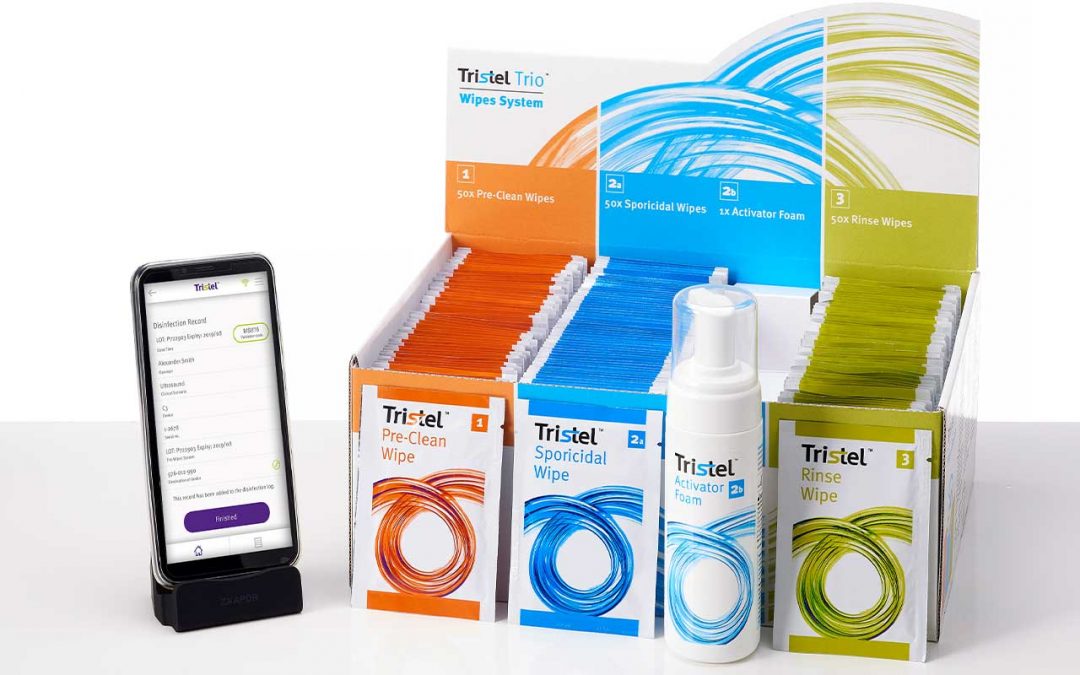 Develops medical-instrument disinfectants that are repeat-purchase and face limited direct competition due to multiple patents, instrument-manufacturer approvals, scientific testimonies, secret ingredients and regulatory hurdles.
Enjoys a sizeable and resilient UK market position alongside significant expansion opportunities abroad.
Boasts financials that showcase high margins, robust returns on equity, decent cash flow and no debt.
Further reading: My TSTL Buy report | All my TSTL posts | TSTL website
Results summary: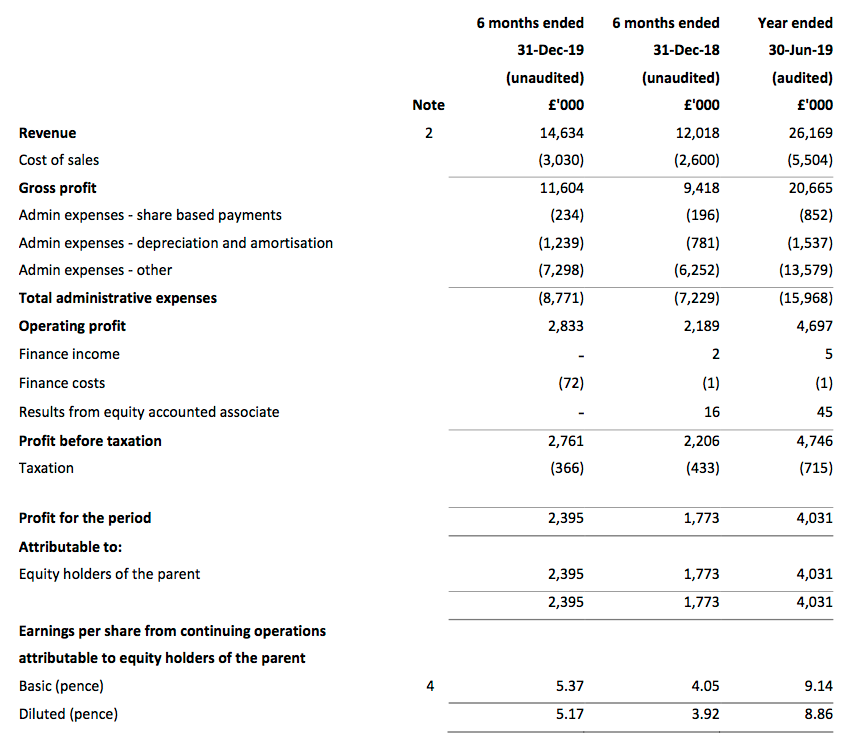 Revenue, profit and dividend:
Half-year pre-tax profit before share-based payments was indeed "no less than £2.8m" at £3.0m (up 25%).
Revenue advanced by 22% — or 13% adjusted for the purchases of Ecomod during the comparable half-year and Tristel Italia during this half-year.
To underline TSTL's progress during recent years, revenue and reported profit for these six months broadly matched the twelve-month performance for 2015.
As usual, TSTL's underlying profit advance was harder to determine. The figures were complicated by:
This table adjusts reported operating profit for the US costs and share-based payments:
| | | | | | | | |
| --- | --- | --- | --- | --- | --- | --- | --- |
| | H1 2018 | H2 2018 | | H1 2019 | H2 2019 | | H1 2020 |
| Operating profit before SBP and US costs (£k) | 2,504 | 2,641 | | 2,485 | 3,564 | | 3,217 |
| Share-based payments (£k) | (164) | (501) | | (196) | (656) | | (234) |
| US costs (£k) | (500) | - | | (100) | (400) | | (150) |
| Operating profit (£k) | 1,840 | 2,140 | | 2,189 | 2,508 | | 2,833 |
UK revenue advanced a superb 14%, which built upon the bumper 13% jump witnessed during the preceding second half.
Overseas revenue, including Ecomed and Tristel Italia, rallied 29% to maintain a 56% contribution to the group's top line.
The first-half dividend was raised a useful 15% to 2.34p per share.
UK
Management had admitted at October's City presentation that UK growth could be 1-2% during 2020 without the stock-piling benefit — but claimed UK growth would revert back to 4-5% per annum.
In the event, UK sales climbed a superb 14% during this H1.
Very significantly, UK sales of TSTL's core medical-device disinfectants improved an impressive 22%:
| | | | | | | | |
| --- | --- | --- | --- | --- | --- | --- | --- |
| UK revenue | H1 2018 | H2 2018 | | H1 2019 | H2 2019 | | H1 2020 |
| Medical device disinfection (£k) | 3,313 | 3,404 | | 3,608 | 4,152 | | 4,400 |
| Critical surface (£k) | 601 | 644 | | 690 | 798 | | 750 |
| Other (£k) | 1,440 | 1,433 | | 1,312 | 1,236 | | 1,230 |
| Total (£k) | 5,354 | 5,481 | | 5,610 | 6,186 | | 6,380 |
UK sales of TSTL's surface disinfectants — used to clean mattresses, bedside tables and other items that hospital patients come into contact with — advanced a worthwhile 9%.
On a rolling twelve-month basis, combined UK sales of medical-device and surface disinfectants increased 21%.
The results RNS confirmed two vital points about the UK performance (my bold):

"NHS stock building in preparation for a no deal Brexit did not influence these results" and;
"Two-thirds of the growth in UK hospital sales can be attributed to higher numbers of disinfection procedures across all the clinical areas we target, and one-third to product pricing."
The directors admitted at the City presentation that they did not know whether the extra UK sales volume was due to the NHS simply treating more patients or introducing extra disinfection procedures.
Management has in the past claimed "further growth opportunities are limited" for domestic sales, given TSTL's disinfectants are already used extensively throughout the health service.
Unofficial management guidance for UK revenue has been 5% per annum growth.
Following the 14% revenue uplift, perhaps the UK is not a mature market after all — which has positive implications for the long-term potential of less-established markets overseas.
Rinse Assure
The results RNS mentioned a disinfectant product called Rinse Assure:
"Rinse Assure is a good example. We have developed this product during the past five years and have gradually introduced it to UK hospitals. It involves hardware designed and built by a third party which doses our chlorine dioxide chemistry at low concentrations into the rinse water supplied to endoscopy washing machines. The chlorine dioxide ensures that the rinse water used in these machines to rinse off toxic chemicals that have disinfected the endoscope, does not itself carry microbes and re-contaminate the scope."
The video below recaps the product in more detail: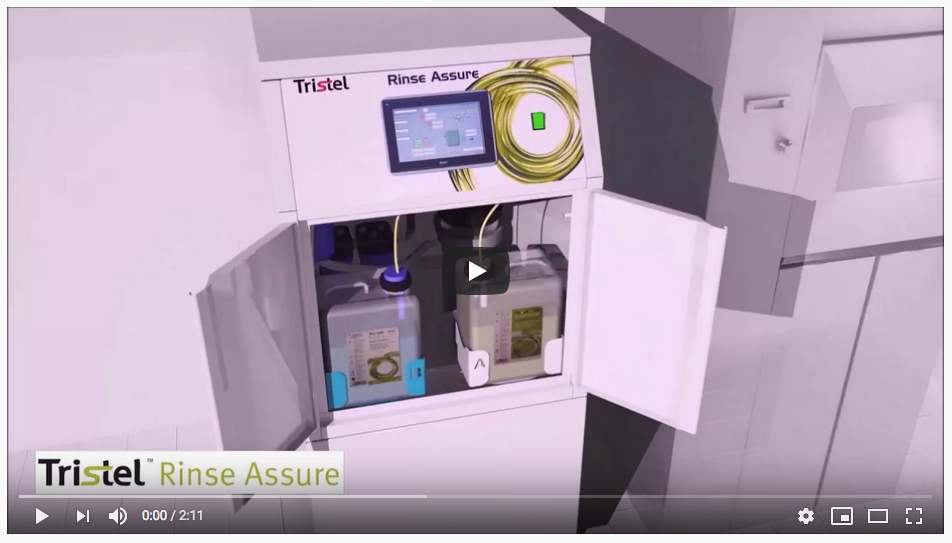 "We have twenty-three installations in the UK and one in Australia. All have achieved a 100% record in maintaining the rinse water free of microbial presence. Sales of the chlorine dioxide consumable in the first half were £72,000, a near doubling from the previous year, and achieved a gross margin in excess of 90%. Rinse Assure is a fine example of a truly innovative Tristel product that we expect to make a substantial contribution to future profits"
£72k from 24 installations implies each installation generates average annual revenue of £6k.
Management disclosed at the City presentation:

UK hospitals use 1,500 rinse-water installations;
Sales of Rinse Assure did not come with additional overhead to TSTL;
Nobody else supplies a chemical to treat the rinse water, and;
Market-share opportunities for Rinse Assure were "high".
Supplying, say, 200 rinse-water installations at £6k a pop could in theory generate additional revenue of £1.2m and additional gross profit — or even additional operating profit — of £1.1m.
"[Infected rinse water] is an age-old problem in hospitals and the technologies that hospitals have deployed over the past fifteen years, and in which our NHS has spent many millions of pounds to purchase and operate, have singularly failed to solve the problem."
Rinse-water installations at present rely only on membranes to filter bacteria and provide pure water.
Management claimed at the City presentation that infected rinse water was a "chronic issue".
The issue had even shut down the endoscopy service at Port Talbot hospital — at which point TSTL was drafted in to assist.
The decontamination manager at Port Talbot hospital had tried to resolve the issue without TSTL:
"A lot of remedial work had been done such as changing filters, using new flexible tubing and self-disinfecting the Washer Disinfectors with double doses of chlorine tablets, but water testing results did not improve."
New equipment was then installed that applied TSTL's disinfectant, and the water suddenly became clean and the decontamination manager even bought another system:
"We were a little bit sceptical, wondering how long these results would last… but results continued and still continue to be good. Hence the reason we bought a system before the trial had even finished. We were convinced that Tristel Rinse Assure would prove its efficacy, so we went on to buy a second Tristel Rinse Assure system not long after."
The Port Talbot work was performed during 2014. Six years on, and management confessed at the City presentation that the early adoption of Rinse Assure had been "slow".
However, management did say the take-up was now "accelerating".
Six new rinse-water installations had been secured during this first half — mostly because TSTL could now "guarantee" the effectiveness of the product based on the results of the existing installations.
Whether Rinse Assure eventually makes a "substantial contribution to future profits" remains uncertain.
The presentation slides back then talked of trial hospitals spending £208k on the Shot disinfectant over ten months: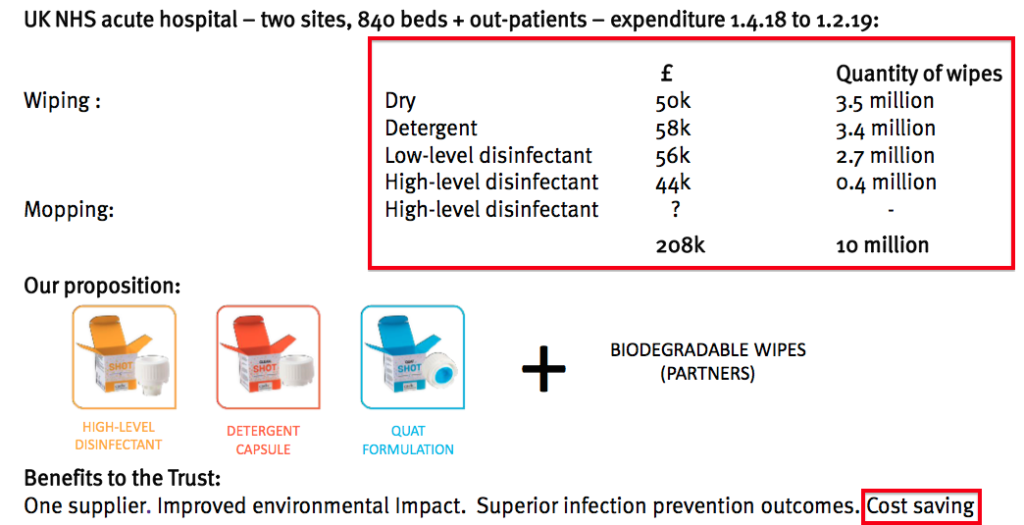 Extrapolating that expenditure to twelve months and, say, 100 UK hospitals gave a potential market size of £25m.
However, Shot has not been showcased within the last two City presentations and presumably the product remains in a trial phase.
Developing another big sales winner appears to be elusive for now. At least TSTL is launching new products, and I am hopeful Rinse Assure, Shot or something else will come good one day.
Ecomed
TSTL purchased Ecomed — the distributor of TSTL's products in Belgium, the Netherlands and France — for £4.7m during November 2018.
Back in October, TSTL confirmed Ecomed's revenue during the subsidiary's first 7.5 months of ownership was £2.1m: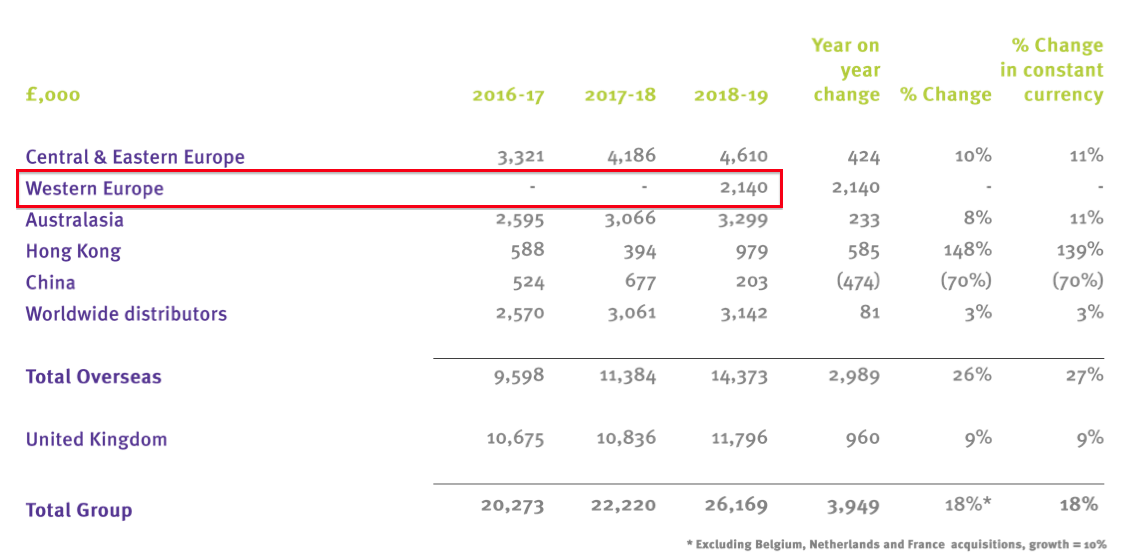 Revenue of £2.1m for 7.5 months is equivalent to £3.4m for a full twelve months.
This first-half presentation showed Ecomed revenue of £1.75m: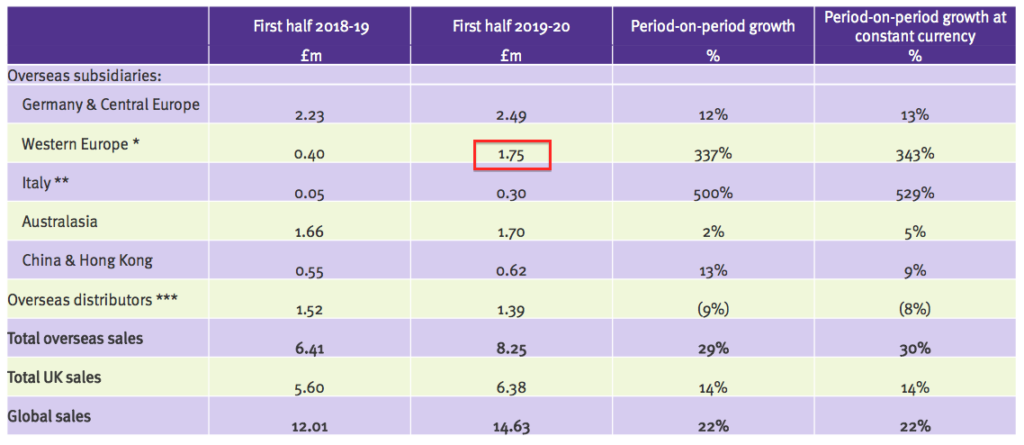 Doubling up that £1.75m gives £3.5m, suggesting Ecomed has at least maintained its earlier progress during this H1.
Ecomed revenue of £3.5m is equivalent to €4.2m.
Prior to purchase, Ecomed's annual sales were €3.1m.
My sums therefore indicate Ecomed's revenue may be running 35% (€4.2m / €3.1m) higher (in euro terms) than they were 18 months ago.
Ecomed continues to sell non-TSTL products. Management said at the City presentation that non-TSTL products represented annualised revenue of approximately £0.2m and would be "wound down".
Ecomed's TSTL-product sales may therefore have improved more than my 35% calculation.
Ecomed's progress within France appeared encouraging during this first half. The results RNS said:
"Of particular note is the acquisition of Tristel France in November 2018. In early summer 2019 the French health authorities issued new guidelines stipulating the efficacy level required of disinfectants used for invasive ultrasound probes. Tristel is one of only three high-level disinfection technologies that legitimately meet these requirements. During the first half, revenues in France advanced to £0.7m from £0.1m in the corresponding period last year. Our management team believes that we are winning the lion's share of the ultrasound market in France as the country rapidly changes its decontamination practice."
Note that French sales of £0.1m during the comparable half contradicted a slide from this time last year.
Twelve months ago, attendees at the City presentation were told France produced sales of €351k:

The discrepancy between £0.1m and €351k is due to Ecomed being acquired during the comparable half — and the £0.1m mostly reflecting product revenue sold by TSTL to Ecomed on a wholesale/distribution basis.
Underlying sales to French hospitals therefore increased from €351k to £700k — up 140% — rather than soar seven-fold.
Management revealed at the City presentation that the two competing "high-level disinfection technologies" in France were Nanosonics and a French operation (which I believe to be Germitec).
Both are machine-based solutions: Nanasonics disinfects probes using hydrogen peroxide, while Germitec applies ultra-violet light. Management hinted at the City presentation that the UV light system had "questionable" efficacy.
TSTL meanwhile is offering French hospitals its Trio wipes system, which is a manual disinfectant.
Management claimed at the City presentation that a "feeding frenzy" had developed as the three competing firms lined up in regular "beauty parades" at French hospitals.
Crucial to extra sales have been Ecomed's five French salespeople — or "shoe leather" — attending these "beauty parades".
Management said at the City presentation that TSTL was winning "the lion's share" of the new French business — and implied the company was also winning the industry's long-standing "automation versus manual" disinfection debate.
TSTL's success in France may be due to its wipes system being quicker to implement and cheaper to use than the alternative machines.
Importantly, management stated at the City presentation that the French health authorities had not set a formal deadline for hospitals to implement the new disinfection rules.
As such, the directors claimed French sales had "a long way to go"
When asked about the potential of France at the City presentation, management referred to Germany — which currently enjoys annualised revenue of £4.4m. French revenue is presently running at £1.4m a year.
Neither this results RNS — nor the 2019 annual report — disclosed Ecomed's profit contribution.
Calculated in December, my best guess of around £800k for a full year remains my best guess.
Enjoy my blog posts through an occasional email newsletter. Click here for details.
Tristel Italia
Neither the results RNS nor the City presentation mentioned the earnings impact of the purchase.
Presumably this guidance from the original acquisition announcement remains intact: "Tristel expects the acquisition to have a neutral impact on earnings in the current financial year ending 30 June 2020 and to be earnings enhancing in future years."
The presentation slides revealed Tristel Italia generated wholesale revenue for TSTL of £50k during the comparable H1:
The same slide also shows Tristel Italia now generating six-month 'in house' revenue of £300k.
No wonder TSTL acquired Tristel Italia, given the distributor was buying wholesale stock from TSTL for £50k and selling it on for perhaps £300k.
TSTL previously owned 20% of the Italian distributor, and paid £594k during this H1 for the other 80%.
The original purchase announcement stated a further €150k would be paid if Italian revenue effectively increased by 15% during 2020 and again during 2021.
However, this results RNS revealed the earn-out had been reduced to £112k and was contingent on unspecified sales targets:

Prior to the purchase, TSTL's 20% stake was carried in the books for £65k: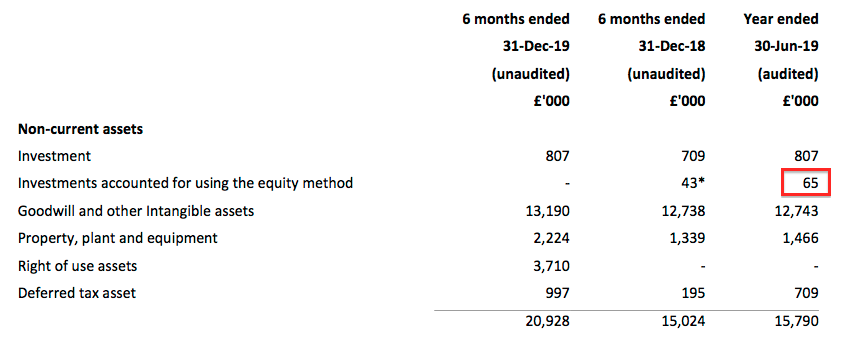 The full purchase valuation for the remaining 80% of £706k (£594k plus £112k) therefore valued the 20% stake at £176k.
TSTL rather cheekily booked the accounting gain of £111k (£176k less £65k) as an operating credit. The cash flow statement shows the relevant entry: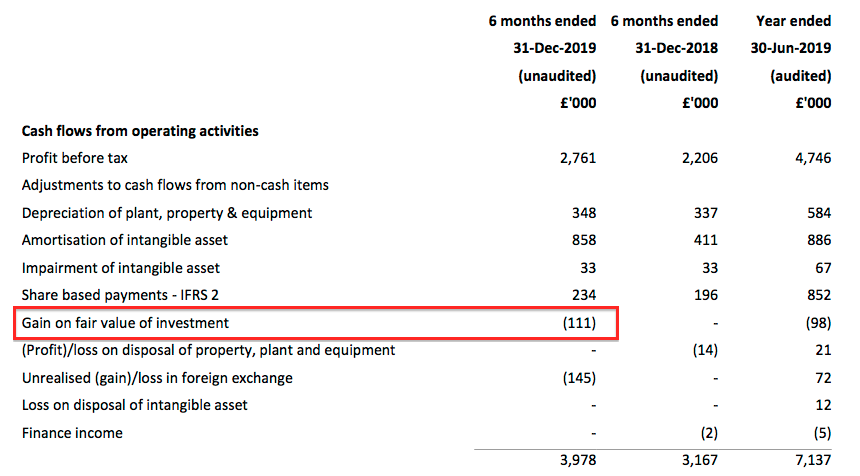 TSTL's accounts have historically been very straightforward, and I would like to think the investment-gain bookkeeping is an aberration rather than a deliberate attempt to flatter the numbers.
Overseas
The Ecomed and Tristel Italia purchases supported overseas revenue climbing 29%:
| | | | | | | | |
| --- | --- | --- | --- | --- | --- | --- | --- |
| Overseas revenue | H1 2018 | H2 2018 | | H1 2019 | H2 2019 | | H1 2020 |
| Medical device disinfection (£k) | 4,867 | 5,006 | | 5,699 | 6,819 | | 7,290 |
| Surface disinfection (£k) | 139 | 80 | | 193 | 83 | | 310 |
| Other (£k) | 367 | 926 | | 516 | 1,063 | | 654 |
| Total (£k) | 5,373 | 6,012 | | 6,408 | 7,965 | | 8,254 |
The bulk of overseas revenue (88%) relates to the 'core' medical-device disinfectants, which gained 28%.
Without Ecomed and Tristel Italia, overseas progress was somewhat mixed:
| | | | | | | | |
| --- | --- | --- | --- | --- | --- | --- | --- |
| Overseas revenue | H1 2018 | H2 2018 | | H1 2019 | H2 2019 | | H1 2020 |
| Australasia (£k) | 1,529 | 1,537 | | 1,660 | 1,639 | | 1,700 |
| China & Hong Kong (£k) | 519 | 552 | | 560 | 622 | | 620 |
| Germany/Central Europe (£k) | 1,953 | 2,233 | | 2,230 | 2,380 | | 2,490 |
| Northern Europe (£k) | - | - | | 400 | 1,740 | | 1,750 |
| Italy (£k) | - | - | | - | - | | 300 |
| Total in-house (£k) | 4,001 | 4,322 | | 4,850 | 6,381 | | 6,860 |
| | | | | | | | |
| Distributors (£k) | 1,372 | 1,689 | | 1,560 | 1,582 | | 1,390 |
| Total (£k) | 5,373 | 6,011 | | 6,410 | 7,963 | | 8,250 |
Australasian revenue gained only 2% and was very disappointing. During 2018, the subsidiary's revenue had gained 8% and during 2017 had gained 18%.
Management said at the City presentation that the 2% performance was due to the "high market penetration" of the Trio wipes system. Approvals for additional products ought to return Australasia to its "previous levels of growth".
German, Swiss and Polish revenue climbed a promising 12% — a welcome improvement on the 7% advance witnessed during the preceding H2. German revenue alone gained 11%.
Chinese and Hong Kong revenue increased a respectable 13%, a slight improvement on the 12% delivered during the preceding H2.
Distributors
Revenue from TSTL's overseas distributors decreased from £1.52m to £1.39m — or 9% — following the purchases of Ecomod and Tristel Italia.
I reckon the underlying distributor performance excluding Ecomed and Tristel Italia was +36%.
My sums go like this:

This time last year, management said at the City presentation that the first 1.5 months of owning Ecomed had converted £150k of wholesale revenue into £401k of direct-sales revenue.
The comparable H1 (six months to December 2018) may therefore have included £450k — i.e. 4.5 months' worth — of Ecomed wholesale revenue before the purchase.
The latest City presentation confirmed Tristel Italia delivered wholesale revenue of £50k during the comparable H1.
Excluding Ecomed and Tristel Italia, distributor revenue during the comparable H1 could therefore have been £1.52m less £450k less £50k = £1.02m.
Distributor revenue of £1.39m during this H1 is 36% greater than my £1.02m H1 2019 estimate.
Management said at the City presentation that TSTL supplies 35 distributors, and the largest ten account for 80% of distributor sales.
Management also revealed TSTL's Malaysian distributor would become part of the group from 1 July 2020.
The Malaysian distributor has sold TSTL products for seven or so years, and apparently "expressed a desire" to become part of the group.
The Malaysian distributor enjoys "close on £1m of gross sales to hospitals".
Management confirmed the transaction would be a "termination of contract" and no consideration would be payable. TSTL would then take on the Malaysian sales staff.
TSTL's directors described the transaction as a "good opportunity".
Management also disclosed its South Korean distributor sells 'non-core' products worth approximately £250k a year — but had struggled to sell a £60k order of 'core' disinfectants.
The Korean distributor is apparently "very reluctant" to ask TSTL for onward-sales assistance.
A distributor to supply products in India is also being sought.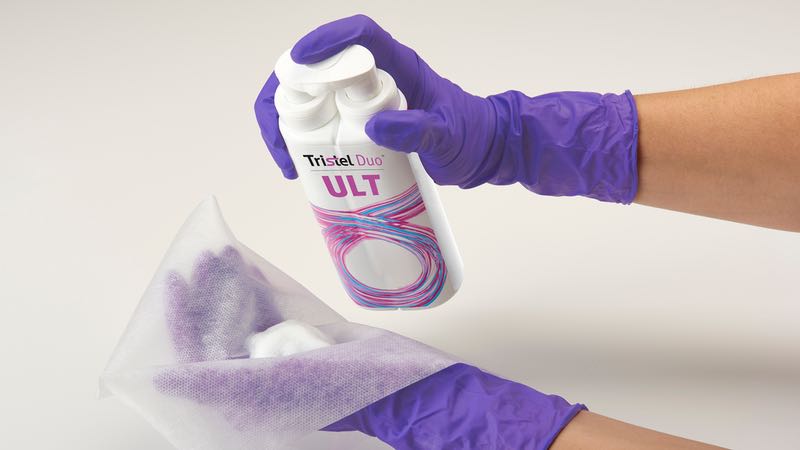 United States



The results RNS and the City presentation did not reveal any meaningful progress about the group's United States regulatory programme.
The results RNS did not need to remind investors that this project had become "extraordinarily protracted":
"More so than for any other country, the market entry process in the USA for high-level disinfectants like ours is extraordinarily protracted."
Management would not be drawn on any US timescale at the City presentation.
The results RNS mentioned only "ultrasound devices" when referring to the US programme:
"We continue to generate the data for our pending submission of Duo for ultrasound devices and remain confident we will establish a presence in the United States hospital market."
"We are preparing a submission to the FDA for Duo as a high-level disinfectant. The intended use patterns will be for intra-cavity ultrasound probes, nasendoscopes, and lastly certain ophthalmic devices. If successful, this will position us in three of the clinical areas in which we are most successful in other geographical markets."
TSTL therefore appears to have dropped nasendoscopes and "certain ophthalmic devices" from its FDA programme.
Management divulged at the City presentation that the FDA required actual probes to undergo certain microbiological tests, which — somewhat alarmingly — TSTL had yet to conduct.
The tests will employ "well-qualified' microbiology labs" and involve eight popular models of ultrasound probe used within the United States.
Not surprisingly, management confessed the tests would take a "long time to get done".
Still, management remained upbeat at the City presentation: "Nothing has been encountered so far that has caused us to doubt an eventual FDA approval."
Dialogue with the FDA has been "generally favourable" and "very constructive", too.
The FDA project cost £150k during this H1 versus £100k for the comparable H1 and £500k for 2019 as a whole. October's full-year results had stated £500k was budgeted for 2020.
The FDA costs were — and will continue to be — expensed entirely against earnings.
I had previously guessed/hoped that TSTL could submit its FDA application during calendar 2020, and perhaps receive approval during 2022 and start collecting US royalties during 2023.
I now suspect TSTL will submit its FDA application during calendar 2021.
Coronavirus
The results RNS declared:
"We are currently experiencing Covid-19. This viral outbreak, together with the ever-present threat of anti-microbial resistance, will be a powerful influence on global healthcare systems for greater investment in infection prevention and control. As a globally recognised infection prevention brand, with some of the world's best-known disinfection technology, there are significant macro factors that will support Tristel's continued progress".

"Tristel chlorine dioxide products are virucidal and are effective against all viral strains, including coronaviruses"
The factsheet small-print says:
"All products have been tested according to European regulatory standard EN 14476 for virucidal efficacy. Activity against test viruses Poliovirus Type 1, Adenovirus Type 5 and Murine norovirus confirms the efficacy of Tristel disinfectants against all viral strains, including coronaviruses."
Management disclosed at the City presentation that TSTL had "received interest" from the Chinese government due to coronavirus.
A £30k order for ten pallets of Fuse surface disinfectant was flown to China the other week (with the Chinese government paying the freight costs).

Importantly, the surface disinfectant ordered is not formally approved for use within China.
However, the Chinese authorities gave the product what management called a "special exemption".
Granting a "special exemption" may well underline the quality of TSTL's products and/or the desperation of the Chinese authorities.
Management also revealed at the City presentation that the NHS had placed "substantial orders for surface disinfectants" during recent weeks.
The NHS had apparently been "drawing down on its Brexit stockpile" before the coronavirus outbreak, but that drawing down has now stopped, and more orders have instead been placed.
Management would not be drawn on the exact effect of coronavirus on TSTL's near-term progress.
However, the directors did say the outbreak would "unquestionably have a long-term impact on disinfection, certainly in China and developing countries".
When asked about the group's sales capacity at the City presentation, management claimed output could be "tripled easily" by the use of a new warehouse and existing contract manufacturers.
Three-year financial targets
The targets are to:

"Grow revenue in the range of 10% to 15% per annum, on average", and;
"Continue to achieve an earnings before interest, tax, depreciation and amortisation (Ebitda) margin of at least 25%, also stated before share-based payment charges".
With this H1 showing revenue up 22% and an Ebitda margin of 29% before share-based payments, TSTL is on track to meet the targets.
The latest presentation slides introduced a third target:

Management did confess at the October's City presentation that such a measure ought to have been included originally.
Non-core
Management revealed for the first time at October's City presentation that the group's 'non-core' operations could be sold to another manufacturer.
The 'non-core' operations consist of TSTL's non-chlorine-dioxide products as well as the group's veterinary and cleanroom disinfectants.
Such items earned H1 2020 revenue of £1.9m (13% of total revenue).
Management claimed at the latest City presentation that the 'non-core' operations remained "profitable and cash generative."
However, the directors confirmed no progress had been made with any potential disposal.
Any disposal would surely leave the group with higher margins and greater returns on capital — and therefore reveal the true economics of the core disinfectant products.
Share options
TSTL's higher share price is likely to cause management's options to vest and influence the level of share-based payments charged against earnings.
For context, significant share-based payments have regularly blighted TSTL's operating profit:
| | | | | | |
| --- | --- | --- | --- | --- | --- |
| Year to 30 June | 2015 | 2016 | 2017 | 2018 | 2019 |
| Operating profit before SBP (£k) | 2,576 | 3,242 | 4,023 | 4,645 | 5,549 |
| Share-based payment (£k) | (35) | (674) | (121) | (665) | (852) |
| Operating profit (£k) | 2,541 | 2,568 | 3,902 | 3,980 | 4,697 |
Between 2015 and 2019, share-based payments reduced total operating profit by £2.3m, or 12%.
For this H1, share-based payments reduced operating profit by £234k, or 8%.
TSTL has form with share options. During 2016, the executives and senior managers collected a £1m options windfall following — in my view — the dubious disclosure of trading information and of the option plan itself.
This time the terms of the award were announced very clearly and the new scheme was even put to a vote at an AGM.
This latest option batch is divided into three tranches and will come good only if:

The share price trades at an average of 350p (tranche 1), 425p (tranche 2) and 500p (tranche 3) for at least three months before 30 June 2021, or;

The company is acquired (which is standard for option schemes).
I like option plans that are based on share prices. Everyone knows exactly when the options have vested and investors can always take advantage of the higher share price and sell.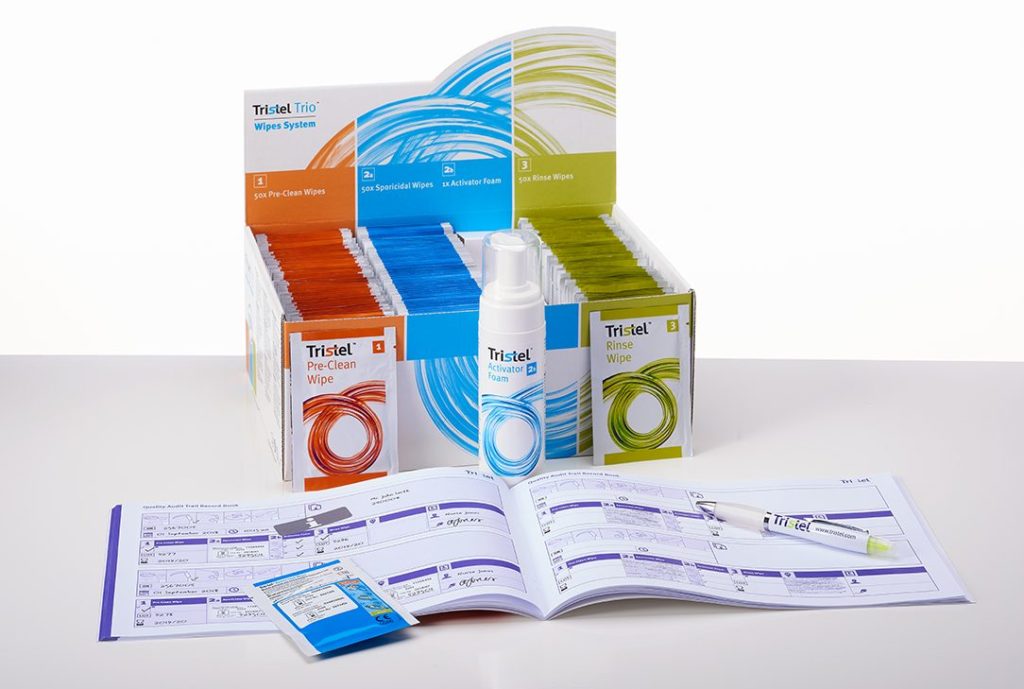 Of course, a share price may not always reflect the long-term value of a business.
But then again, performance measures such as earnings per share, return on equity, and so on, can all be fudged to trigger option payouts — and subside thereafter, too.
The drawback to TSTL's latest option batch is the 1p exercise price. If the company is acquired for peanuts, the options will vest and management will receive some extra money — yet shareholders will be mugged.
The IFRS 2 accounting standard requires TSTL to register a share-based payment charge even if these latest options turn out to be worthless (i.e. the share price never trades at a 350p average (or more) for at least three months before 30 June 2021).
The share price first traded above 350p on 17 December 2019 and by the half-year-end (31 December 2019) had traded above 350p for two weeks.
For the 350p tranche 1 options to vest, the share price has to continue trading at or above 350p until 17 March 2020.
Even though none of management's latest options have vested, the share-based payment charge since the options were awarded two years ago has totalled £1.6m.
Given the share price is now 450p, assuming every granted option vests and is exercised seems a more sensible approach for valuation purposes than adjusting earnings for a theoretical IFRS 2 option charge.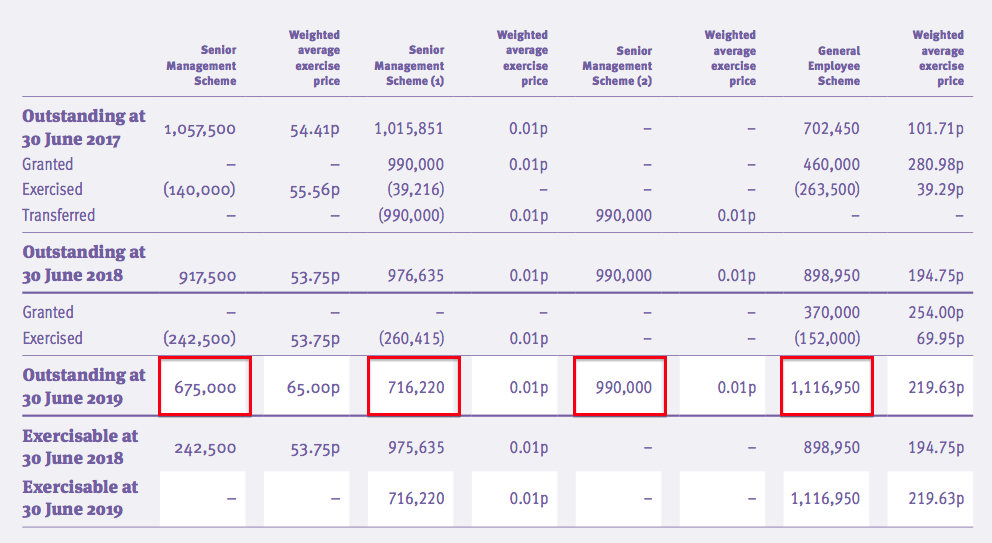 The present share count would increase by 7% to 48,061k if all the outstanding options were exercised
Those 3,498k outstanding options have exercise prices ranging from 1p to 320p and would raise approximately £2.9m for TSTL if they were all exercised.
Any earnings guess would then use the 48,061k share count to determine a per share figure, while the cash position would be increased by £2.9m.
Whether the directors and employees deserve 3,498k options — and the potential to convert them into shares worth £16m (at 450p) — is debatable.
When the shares were 340p back in December, I wrote: "I would nevertheless be very happy if the latest option batch vests entirely — that outcome requires the share price to trade at an average of 500p (or more) for at least three months before 30 June 2021."
I did not expect the share price would close in on 500p so soon. Nor, I suspect, did TSTL's directors.
Financials
TSTL's accounts remain simple and in good shape.
The H1 operating margin was a healthy 19%.
The balance sheet showed cash at £4.2m or 9p per share.
Operating cash flow of £3.4m was almost entirely used to fund the purchase of Tristel Italia (£0.6m), build a new warehouse (£1.1m) and pay last year's final dividend (£1.6m).
The £1.4m expenditure on tangible and intangible assets was nearly covered by the combined £1.2m depreciation and amortisation charge.
The £72k finance cost followed the implementation of the new IFRS 16 Leases accounting standard, and reflects part of the group's lease expense. The figures for the comparable H1 were not restated.
TSTL carries no debt and no pension obligations.
Valuation
TSTL's reported operating profit was £2.8m for this H1.
The following adjustments give an 'underlying' operating profit of £3.0m:

Adding £150k for US regulatory costs;
Subtracting £111k to eliminate the Tristel Italia gain;
Adding £234k to ignore share-based payments, and;
Subtracting £72k to reflect IFRS 16 lease expenses.
Applying the standard 19% UK tax rate then gives earnings of nearly £2.5m or £4.9m if doubled for a full year.
Assuming every outstanding option is exercised:

Earnings of £4.9m convert into 10.2p per share, and;

The £4.2m cash position would increase by £2.9m to £7.1m — equivalent to approximately 15p per share.
Subtract that 15p per share from the 450p share price, and the 'underlying' cash- and option-adjusted P/E could be 435p/10.2p = 43.
I am sure my profit calculations could be fine-tuned further, but an extremely punchy 43x multiple already tells its own story.
A premium share-price rating seems justified given:

Management's financial targets have effectively signalled organic revenue growth of at least 10% per annum during the next three years;
UK revenue growth has accelerated, and the domestic market may not be so mature after all;

Overseas markets such as France and perhaps, one day, the United States, may offer notable growth opportunities, and;
The accounts continue to show TSTL's disinfectants enjoying attractive economics.
However, whether a P/E of 43 is justified remains to be seen.
The shares have attracted a lot of speculative attention during recent weeks — and such price-action typically disappears as quickly as it arrives.
TSTL has nonetheless enjoyed an NHS/China sales boost due to coronavirus during its current second half — and the outbreak will undoubtedly give greater long-term importance to disinfection procedures and the group's products.
TSTL is certainly enjoying an industry tailwind right now, and management did hint at the City presentation that the business may well be at an "inflexion point".
The trailing 5.84p per share twelve-month dividend meanwhile supports a modest 1.3% income.
Maynard Paton
You can receive my Blog posts through an occasional e-mail newsletter. Click here for details.
Disclosure: Maynard owns shares in Tristel.