04 August 2022
By Maynard Paton
Results summary for Tasty (TAST):
The absence of pandemic restrictions ensured a bumper H2 performance that TAST acknowledged may not be repeatable during the current year.
Higher wages, rising utility costs, "prevailing economic uncertainties" plus a June update that did not refer to H1 trading could be other signs of FY 2022 not being that profitable.
Rent reductions of 27% now appear to be temporary, and explain why total lease obligations remain in excess of £50m.
Repaying an emergency loan, appointing a new executive alongside plans to open 5-6 new restaurants confirm management's mindset has moved from 'survival' to 'recovery'.
Although the £8m market cap could be remarkably cheap if TAST ever sustains a modest margin on decent sales, other shares could offer more dependable returns. I continue to hold.
Contents
News links, share data and disclosure
News: Annual report for the 52 weeks to 26 December 2021 published 23 March 2022, directorate changes published 22 June 2022 and repayment of bank facility published 23 June 2022

Share price: 5.25p
Share count: 146,315,305
Market capitalisation: £7.7m
Disclosure: Maynard owns shares in Tasty. This blog post contains SharePad affiliate links.
Why I own TAST

Disastrous 'legacy' shareholding bought initially due to experienced family management building and selling two quoted restaurant chains for £200m-plus.
Repayment of emergency pandemic funding, the appointment of a new executive alongside plans to open 5-6 new restaurants suggest a shift from 'survival' to 'recovery'.
Bombed-out share price might provide substantial turnaround upside… assuming sales can rebound to pre-pandemic levels and return the group to profit.
Further reading: My TAST Buy report | All my TAST posts | TAST website
Results summary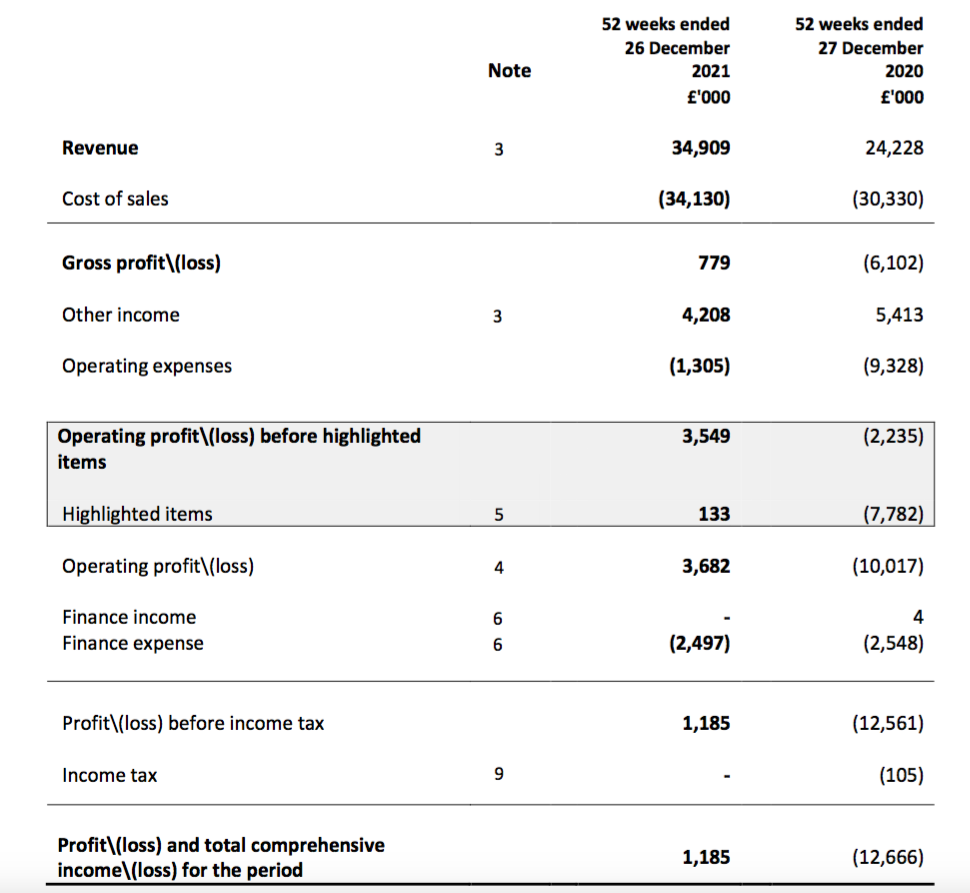 Revenue and profit
Full-year revenue did indeed jump 44% to £34.9m while adjusted Ebitda did indeed surge 196% to £8.0m.
The performance meant H2 enjoyed revenue of £23.3m, up 50% on H2 2020 and — more importantly — almost level with the £23.4m registered during pre-pandemic H2 2019.
Reported profit included various 'highlighted' items alongside government pandemic support of £3.9m. Excluding such expenses and income, H2 enjoyed a £2.7m operating profit: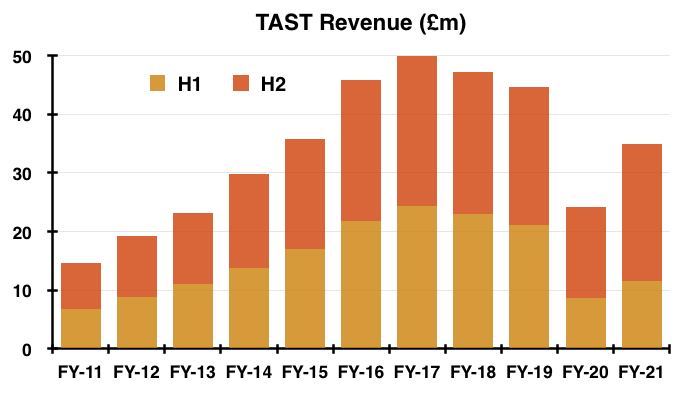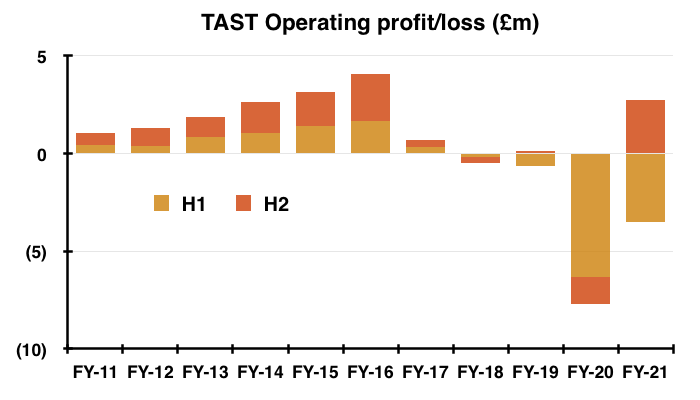 TAST's H2 in fact the witnessed the group's best ever six-month operating profit since H2 2016 (£2.8m).
Unlike H2 2020, H2 2021 suffered no pandemic restrictions and all restaurants were allowed to serve diners inside for the full 26 weeks.
TAST acknowledged the H2 2021 performance may not be repeatable during FY 2022:
"We are conscious that performance was assisted by VAT and business rate support, staycations, pent-up demand and unusually high level of disposable income. We are expecting that most of the support and peaks in consumer trends will follow a more normalised path during 2022 and we have planned for rising costs and labour shortages. "
VAT and business-rate support finished at the end of March 2022.
Mind you, H2 did suffer the Omicron outbreak and Christmas trading was poor:
"Trading was highly encouraging when dine-in was permitted from May 2021, but impacted in December 2021 as the Omicron variant took hold and spread amongst the UK population. Subsequent Government advice meant that Christmas trade, traditionally our most profitable period, and specifically December 2021, was much weaker than we had anticipated."
Without Omicron, H2 may well have been TAST's best ever six-month performance for revenue and profit.
Underpinning the revenue performance was delivery and takeaway sales, which notably "rejuvenated" TAST's five dim t restaurants:
"With an increased appetite for delivery and takeaway, we have seen strong sales growth. We plan to capitalise on this by expanding our virtual brands and different formats in new locations to optimise growth. Dim t has been rejuvenated through its successful takeaway and delivery sales growth. "
TAST's dim t format has for many years operated as a sideshow to the group's 49-site Wildwood chain.
These FY 2021 results were the first to segment dine-in revenue from delivery/takeaway sales:

Delivery/takeaway revenue rallied 235% during the year, versus 21% for dine-in.
Delivery/takeaway income represented 25% of total revenue last year, and further growth might prevent a return to the marginal dine-in profits witnessed prior to the pandemic.
Revenue per restaurant and per employee
TAST leased 54 restaurants throughout FY 2021. Six sites were not trading at the start of the year while four remained closed at the end of the year.
Revenue per restaurant for the full year was £646k (£34.9m/54), but was an annualised £862k for the bumper H2 (£23.3m*2/54):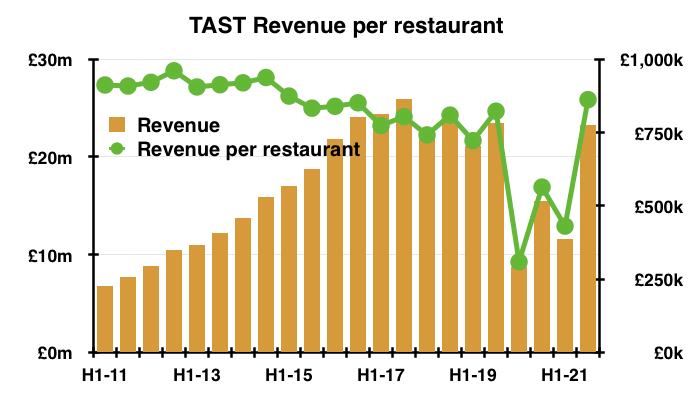 £862k per restaurant compares to £823k for (pre-pandemic) H2 2019 and was the best six-month performance for that measure since H1 2015 (£874k per restaurant).
The annualised H2 2021 calculation could arguably be £931k per restaurant based upon the 50 open sites at the end of the year.
And the annualised H2 figure may well have reached £1m without the Omicron interference.
Revenue per employee showed a similar bounce back for FY 2021: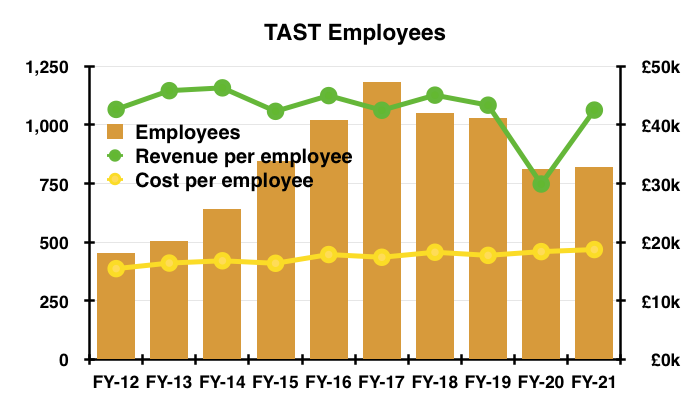 Revenue of £42.5k from an average 821 employees was just about on a par with the £42k-£46k seen since FY 2011.
Unlike previous years, TAST this time revealed the average number of staff employed during H2:
"The average number of persons, including Directors, employed by the Group during the period was 821 of which 805 were restaurant staff and 16 were head-office (2020 – 810 of which 796 were restaurant staff and 14 were head-office staff). The second-half of 2021 the average number of staff was 934."
Annualised revenue per employee was therefore a super £49.9k (£23.3m*2/934) during H2.
That level of employee productivity may not be sustainable. TAST said its headcount was close to 1,000 but still 5% short of requirements:
"We are pleased to report that on 26 December 2021, we employed just under 1,000 people across the business: an increase of 330 from the previous year…

Like many competitors and other industries, we have been impacted by labour shortages and are currently 5% short of the full employment levels required."
Annualised H2 revenue from, say, 1,050 employees gives £44k per head to match the staff productivity witnessed prior to the pandemic.
Underlining the staff shortages, 821 employees at 50 open restaurants during FY 2021 gives 16.4 employees per site, versus more than 17 for FY 2019 and earlier.
The total cost per employee during FY 2021 inched higher to £18.7k, and is likely to rise further. TAST admitted:
"Targeted wage increases have been applied, which should help us retain our teams in the long-run. Since Brexit and the pandemic, we found that flexible working has helped to attract a different demographic. This change provides us with new opportunities as we grow our talent pool.
Financials: going concern, Barclays loan and new openings
"However, the Directors note that the effects of Covid-19 and the impact of ongoing losses indicate the existence of a material uncertainty that may cast doubt over the Group's ability to continue to apply the going concern basis of accounting."
"The Directors have a reasonable expectation that the Group has adequate resources to continue in operational existence for the foreseeable future. In reaching this conclusion the Directors have considered the financial position of the Group, together with its forecasts for the next 12 months from the date of approval of these interim accounts and taking into account possible changes in trading performance should Government restrictions be reintroduced. The Group monitors cash balances closely to ensure there is sufficient liquidity. Accordingly, the Directors believe that it remains appropriate to prepare the financial statements on a going concern basis."
…and improved further for this FY by not referring to "Government restrictions" or "sufficient liquidity":
"At the time of approving the financial statements, the Directors have a reasonable expectation that the Group has adequate resources to continue in operational existence for the foreseeable future. In reaching this conclusion the Directors have considered the financial position of the Group, together with its forecasts for the next 12 months and taking into account possible changes in trading performance. The going concern basis of accounting has, therefore, been adopted in preparing the financial statements."
Talk of a Company Voluntary Arrangement (CVA) looks to have ceased, too:
"Through the pragmatic approach and support of our landlords we have managed to avoid a formal procedure such as a company voluntary arrangement ("CVA")"
A post-results update during June provided further evidence that TAST no longer risks financial trouble.
News of the loan repayment was accompanied by resilient comments about the "prevailing economic uncertainties":
"The Board believes that, with its current net cash and future cashflow, it will have sufficient funds to weather the prevailing economic uncertainties and cost pressures and also satisfy its measured expansion plans for a pipeline of up to five to six new units in 2022. The Board is progressing this strategy and has one new site under offer and is currently negotiating on three others."
The June update also reiterated plans to open five or six new restaurants.
"We expect to facilitate a measured expansion plan for a pipeline of five to six new units, however, any expansion will be at a steady pace"
…plans to open new outlets must surely confirm TAST's management has moved from a 'survival' mindset to one of 'recovery'.
Mind you, these FY 2021 results did say a "pipeline of five to six new units", while the subsequent June update said a "pipeline of

up to

five to six new units".
The "prevailing economic uncertainties" seem to have trimmed TAST's expansion plans before the first pipeline site has even opened!

Financials: cash, cash flow and deferred payments
TAST confirmed its £11m cash position was enhanced by deferring payments to various creditors:
"At 26 December 2021 cash at bank was £11.0m (2020: £8.0m). Net cash after outstanding bank loan [of £1.25m] at the balance sheet date was £9.8m (2020 – net cash £8.0m). The cash balance at year-end reflects our cash preservation strategy and deferring payments due to landlords, HMRC, and other trade creditors. After reflecting these outstanding payments, our net cash at year-end was approximately £6.8m."
Deferred payments were therefore £11.0m less £1.25m less £6.8m = £3.0m.
Deferred payments were previously £4.4m for the preceding H1 and £6.5m for FY 2020, indicating £3.5m was repaid during this FY with £1.4m cleared during H2.
The cash position increased by £3.0m during FY 2021, which excluding the Barclays loan (£1.3m), recognised government benefits (£3.9m) and repayment of deferred creditors (£3.5m) gives £3.0m less £1.3m less £3.9m plus £3.5m = a £1.3m inflow.
A £1.3m underlying cash inflow feels somewhat reassuring in the circumstances given TAST spent three months during H1 selling only via takeaway and delivery.
June's update said net cash was £8.6m:
"The Company has now repaid the amount outstanding under the Facility of £1.1 million in full and has subsequently cancelled the Facility, leaving the Group with a net cash balance of approximately £8.6 million and no debt."
£8.6m is less than the £9.8m net cash position at the end of FY 2021.
The lower cash position following the year-end is due presumably to TAST repaying all the money owed to its deferred creditors. After all, those deferred creditors would not be happy remaining out-of-pocket when TAST can now afford to open new sites.
Even if all the deferred creditors have been cleared, TAST's £8.6m cash position is not truly surplus to requirements.
The cash position is inherently a by-product of owing money to suppliers, with £10m-plus outstanding at the year-end suggesting approximately £7m was owed excluding deferred creditors: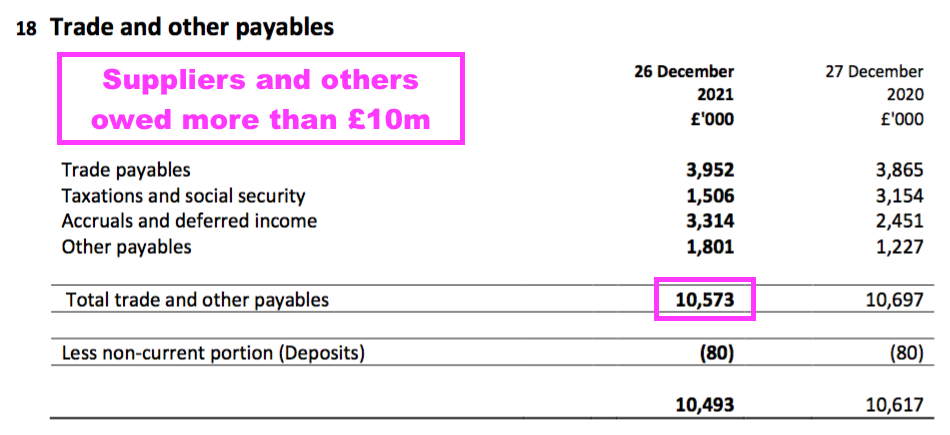 Financials: landlords and leases
This FY statement gave a short update on rent negotiations:
"The Group has successfully achieved consensual lease concessions and rent reductions for the lockdown period for most of the estate. There remain a few sites for which negotiations are ongoing… We are extremely grateful for all the assistance received."
The text differed slightly to that of the preceding H1…
"The Group has been successful in achieving rent reductions and lease concessions across most of the estate. Landlords have, in the main, been extremely understanding and supportive."
...which did not mention "for the lockdown period".
And given the FY 2020 results referred to "March 2021"…
"The Group has now successfully achieved consensual lease concessions and rent reductions to March 2021 on more than two-thirds of the estate"
…TAST therefore appears to be enjoying lower rents for a temporary period only.
Temporary lower rents may explain why TAST's total lease obligations (on a net present value basis) reduced by just £3m to £52m during this FY: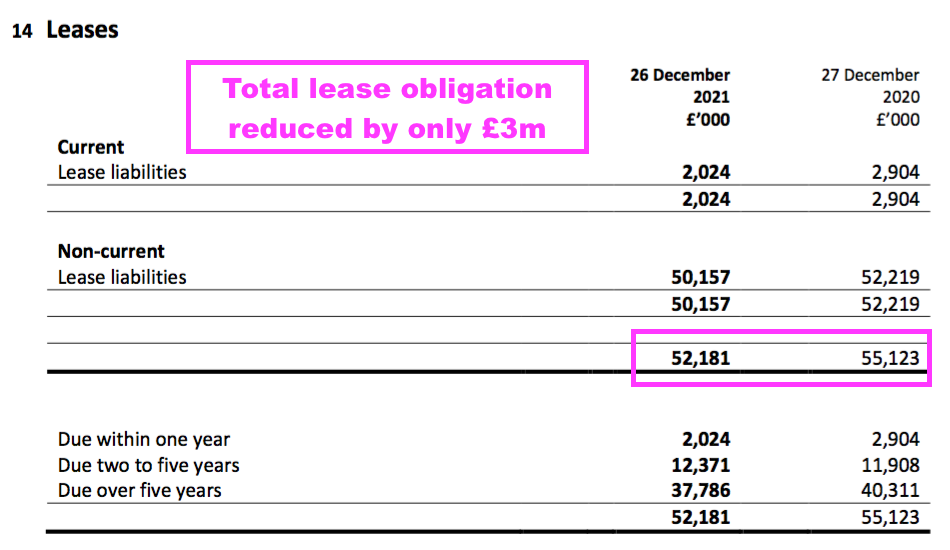 I had hoped TAST's total lease obligations would be reduced by much more than £3m following some notable rent reductions.
TAST commendably publishes pre- and post-IFRS 16 versions of its headline profit performance, from which rent payments can be deduced: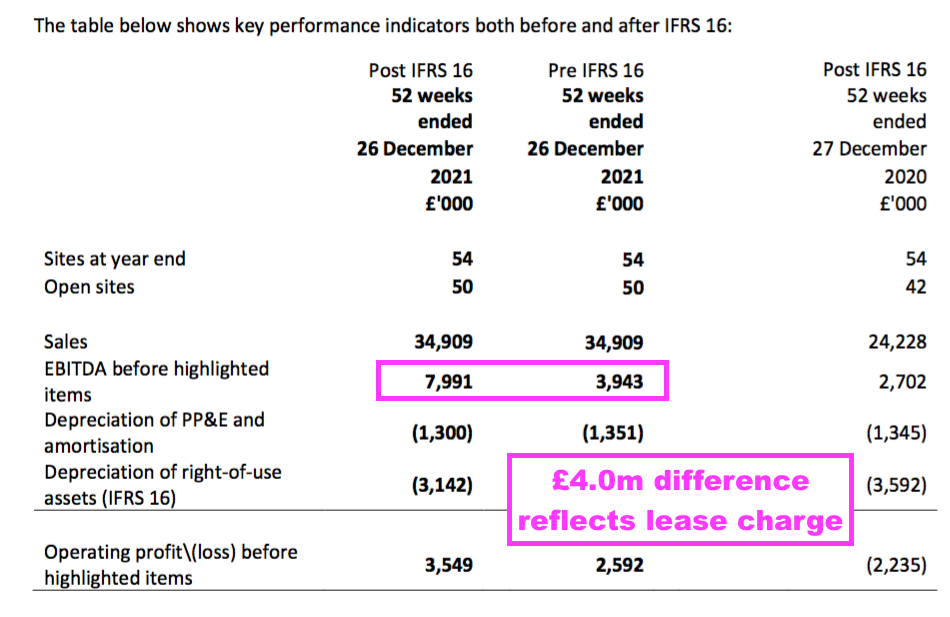 The £4.0m difference between the FY 2021 Ebitda numbers represents the pre-IFRS 16 lease cost that, post-IFRS 16, is now reflected within the depreciation expense and financing charge.
£4m compares to the pre-IFRS 16 lease cost of £5.5m for FY 2019:

£4m versus £5.5m implies rent costs being cut by 27%.
Cash lease payments were £5.5m during this FY, which I presume exceeds the £4m pre-IFRS 16 lease cost because of TAST also repaying its deferred creditors (e.g. overdue rent):

The accounting notes indicate rent payments for FY 2022 could be lower, but then increase slightly over the subsequent few years: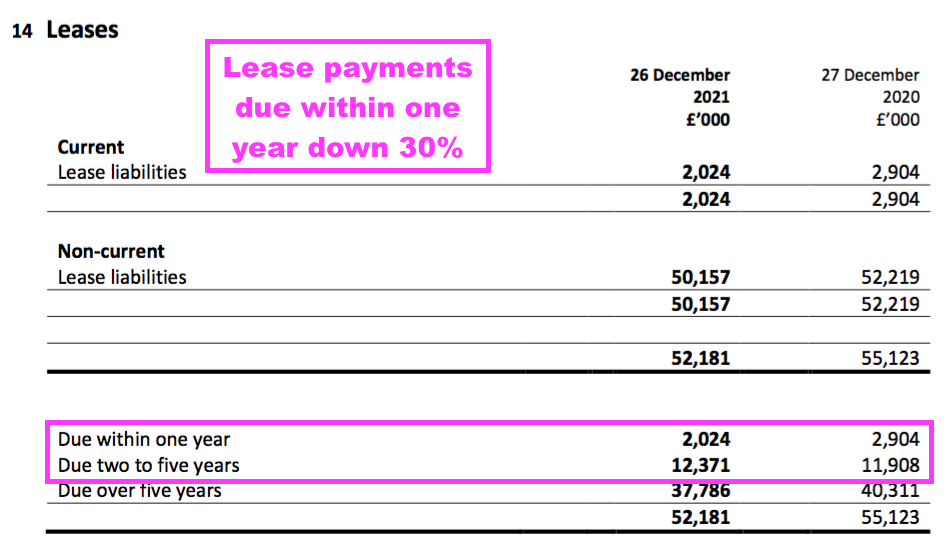 This FY statement mentioned a possible "re-gearing" of leases for restaurants that remain closed:
"However, the Group will continue to consider selling two or three of those restaurants or re-gearing their leases to reflect current market conditions."
I presume "re-gearing" means asking landlords for rent reductions to make the sites viable.
TAST's right-of-use lease asset ended FY 2021 at £37m, which arguably suggests the group would pay £15m (£52m minus £37m) less to rent its properties were it to commence the same leases today.
TAST's highlighted items showed a confusing pair of balancing £6,171k entries for the impairment and impairment release of tangible assets: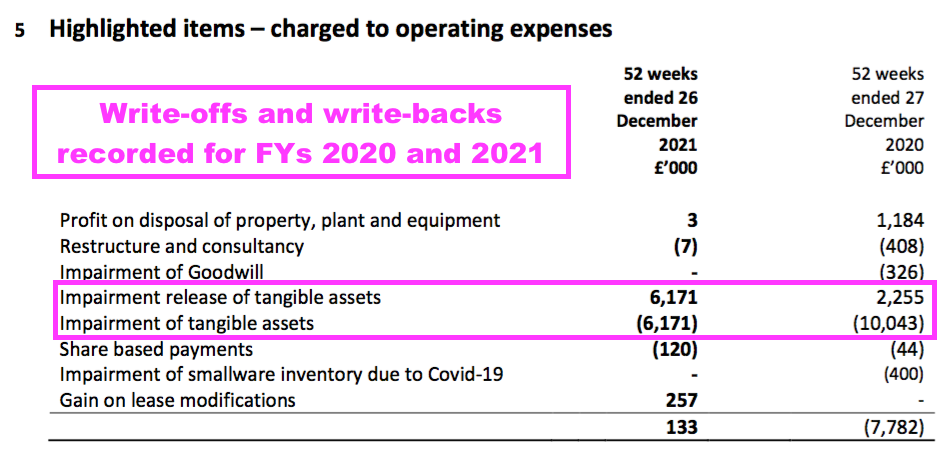 Corresponding figures elsewhere in the accounts showed matching figures of £257k: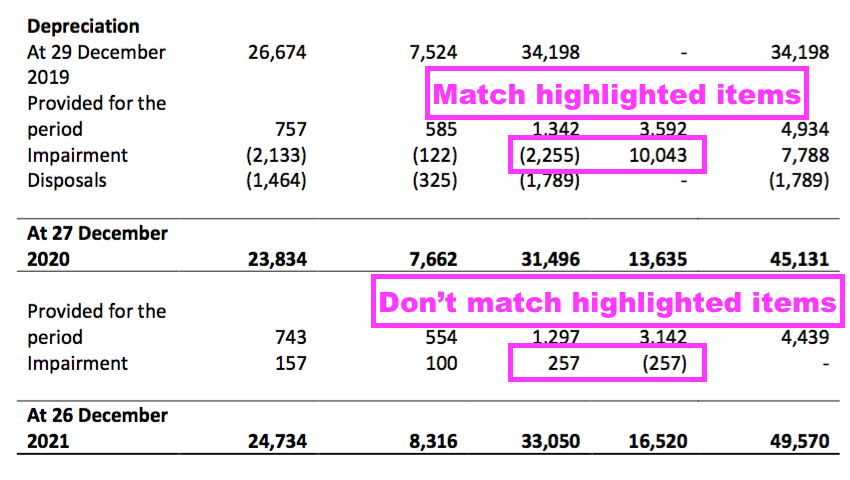 At least the overall effect was no further asset write-offs which, alongside minimal other 'highlighted' expenses, now imply some sort of stability within the accounts.
Financials: cost analysis
Evaluating TAST's past costs can help determine whether the business can emerge from the pandemic with stronger margins.
What TAST described as "challenging" trading conditions led to minimal profits (or losses) during FYs 2017, 2018 and 2019 as total costs reached 100% (or more) of revenue: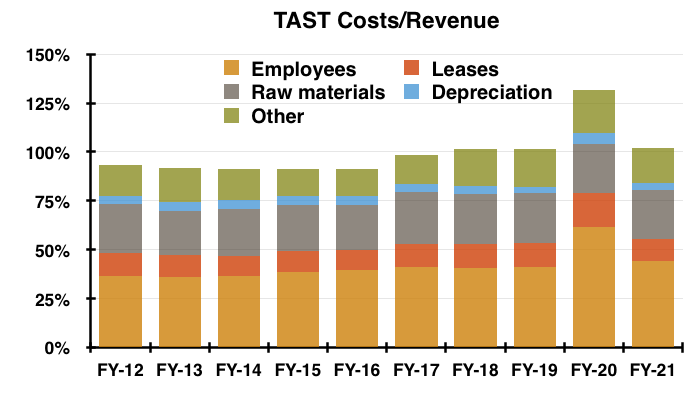 TAST kept lease costs under control before the pandemic at between 10% and 12% of revenue. They were an estimated 12% of revenue during FY 2021.
Raw materials (essentially ingredients) were also kept reasonably steady at between 23% and 25% of revenue before the pandemic. They were 25% of revenue during FY 2021.
In contrast, employee costs increased from 36% to 41% of revenue between FY 2012 to FY 2019. And my estimate for FY 2021 is 44%.
TAST employs mostly lower-paid staff, and past increases to the minimum wage and the introduction of the national living wage seem to have caused staff costs to out-pace revenue.
The wage omens are not great for FY 2022. TAST admitted:
"With the increase in National Insurance of 1.25%, National Living Wage and wage increases, there will inevitably be wage inflation, which will be impossible to completely absorb."
Other costs rising from 16% to 19% of revenue between FY 2012 and FY 2019 were another contributor to the pre-pandemic margin collapse.
TAST hinted of "utility price volatility" increasing its other costs for FY 2022:
"2022 will not be without its challenges with labour shortages, food inflation, the ending of Government support in terms of reduced VAT and business rates and utility price volatility, impacting profitability."
The 2021 annual report showed TAST consuming a similar level of energy during FY 2021 to FY 2020: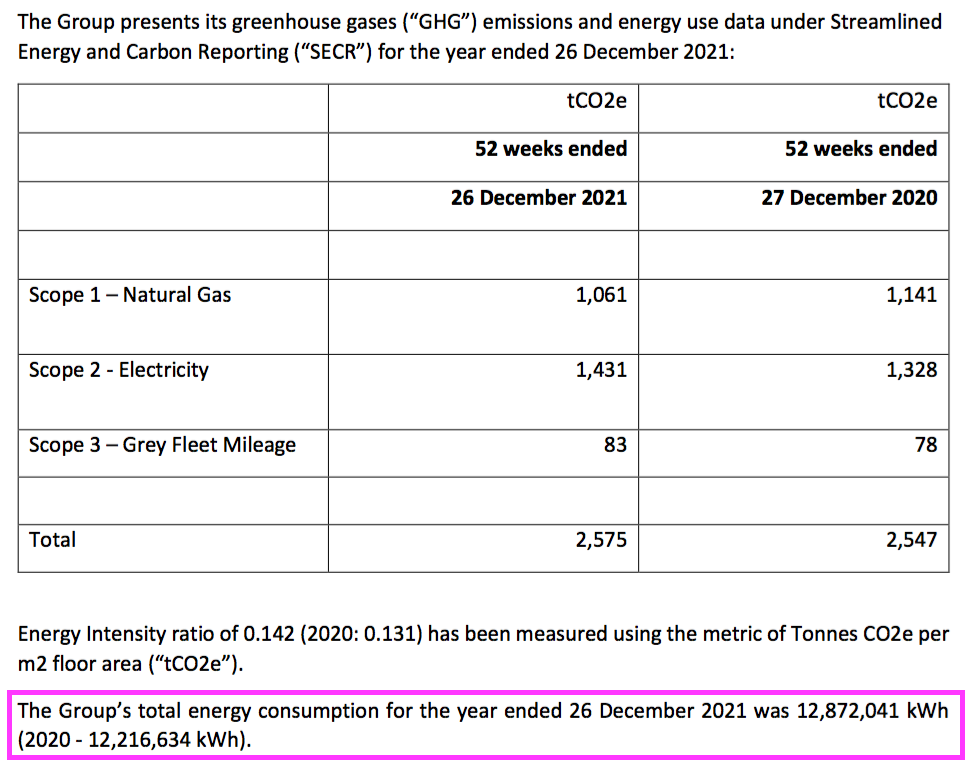 My rough sums earlier this year indicated the group may be liable to pay an extra £1m for gas and electricity. TAST also looked very energy inefficient versus fellow restaurant operator Fulham Shore.
Depreciation has bobbed around the 4-5% level of revenue for years and was 4% for FY 2021.
But TAST's depreciation policy does seem relatively generous with an effective ten-year useful life for fixtures, fitting and equipment: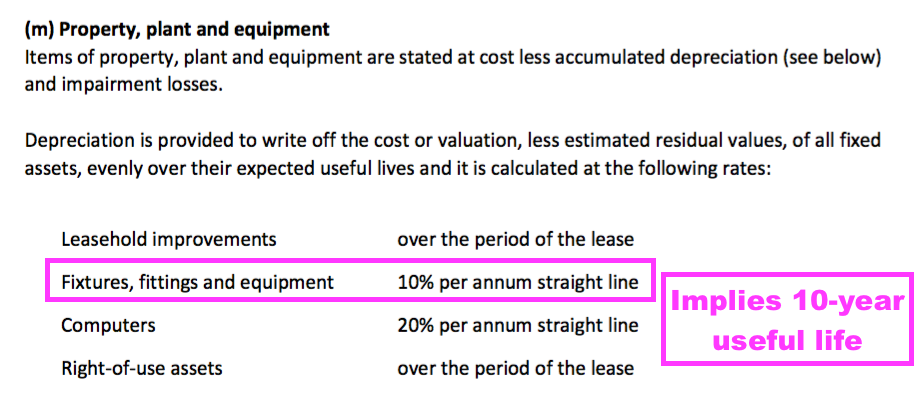 By way of comparison, both Restaurant Group and Fulham Shore depreciate their fixtures, fittings and equipment between three and ten years.
True, TAST's depreciation policy has not been too relevant of late as the group curtailed capex and instead raised money by selling leases:
| | | | | | |
| --- | --- | --- | --- | --- | --- |
| Year to c31 December | 2017 | 2018 | 2019 | 2020 | 2021 |
| Operating profit* (£k) | 1,101 | (478) | (542) | (2,279) | 3,429 |
| Depreciation** (£k) | 2,146 | 1,861 | 1,557 | 1,342 | 1,297 |
| Net capital expenditure (£k) | (5,777) | 2,889 | 55 | 1,919 | (541) |
| Change in working capital (£k) | (319) | (731) | 1,199 | 5,413 | (377) |
| | | | | | |
| Net cash/(debt) (£k) | (5,157) | (2,105) | 2,918 | 8,028 | 9,755 |
(*Including other income and excluding highlighted items **excluding IFRS16 depreciation)
But let's not forget TAST's operating troubles during FYs 2017 and 2018 led to write-offs of £20m

before the pandemic

: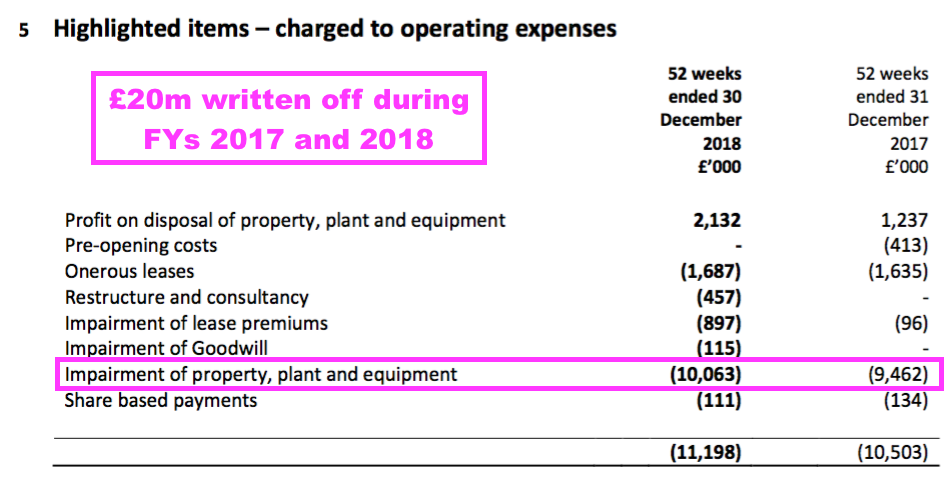 Those write-offs may not have been so hefty had a more conservative depreciation policy been applied. They also suggest earnings prior to FY 2017 were flattered somewhat.
All told, these FY 2021 figures sadly do not suggest a radical change to TAST's cost structure and profit margin any time soon.
The major hope remains TAST's growing delivery/takeaway services can somehow lead to improved revenue per restaurant and/or per employee without commensurate increases to overall costs.

Immediate prospects, board changes and revised menu
TAST's FY 2021 outlook expressed "cautious optimism" despite a long list of "challenges":
"Trading prior to Christmas was strong and the start of 2021 is encouraging, but this must be tempered by the challenges which the Group expects following the end of Government support including VAT and business rates, the risk of a reduction in pent-up demand, disposable income and staycations as well as a steep rise in inflation in relation to wages, utilities and input supplier costs as the UK adjusts to Brexit, the aftermath of the pandemic and the current war in Ukraine. Accordingly, the Board views the future with cautious optimism."
I would like to think the aforementioned plan to open new restaurants signals a little bit more than "cautious" optimism.
Changes to the board provide some confidence. The appointment of Harald Samúelsson as an executive during June was particularly notable.
"From 2000 to 2008, Harald helped grow Strada Restaurants from 4 to 54 restaurants in the UK in a senior operations position. In 2008, Harald joined Côte Restaurants as joint Managing Director, growing the group from 2 to 72 restaurants. In 2013, Harald co-led a management buy-out of Côte with CBPE Private Equity for £100m and in 2015 co-led a sale of Côte to BC Partners for £245m. During his Côte tenure, Harald was also joint Managing Director at Bill's restaurants from 2010 to 2012. In 2016, Harald joined Honest Burgers as a Senior Advisor and set up a property development company in Spain with projects in the Valencia, Madrid and Barcelona areas."
This interview with The Caterer reveals how Mr Samúelsson's career started "almost by accident after getting a part-time job in a local bar and restaurant".
The following quote from Mr Samúelsson during the interview feels reassuring for TAST shareholders:
"The main components of the business are the food and the service, so for us it is really looking at where can we provide the best service and the best-quality food possible and to see where we can exceed expectations on both fronts.

That is why it is so important we recruit the right people and train them, because we own the standards we exceed. We are very strict on the standards we expect from our staff."
"Jonny is a graduate in Accounting & Finance who converted to Property, Valuation & Law at City University. He joined a London-based commercial surveying practice in 1991, qualified as a Chartered Surveyor in 1994 and for seven years was involved with valuation, general agency, and landlord and tenant matters"
Mr Samúelsson spent a year as a TAST non-exec before his executive appointment, and choosing to become an executive would seem unlikely if TAST's prospects were limited.
And TAST must be doing well if it can afford another executive salary!
The non-exec appointment of Wendy Dixon, a senior manager at marketing agency M&C Saatchi, could meanwhile help with TAST's promotions.
Whether Mr Samúelsson or even Mrs Dixon will chip in with menu ideas remains to be seen.
The pandemic could have been an opportunity for a radical menu overhaul, but TAST's primary Wildwood format remains based on a broad mix of pizzas, pastas and burgers.
A broad mix of pizza, pastas and burgers did not attract hoards hordes of diners during the "challenging" (pre-pandemic) FYs of 2017, 2018 and 2019.
But pizzas, pastas and burgers might be very suitable for deliveries and takeaways, which could explain why such revenue improved faster than dine-in sales last year.
Starters
Mixed olives: were £3.25, now £3.95
Garlic tiger prawns: were £7.75, now £8.35
Minestrone soup: still £5.45

Grill
Vegan burger: was £12.50, now £13.25
Philly cheesecake sandwich: was £14.15, now £14.95
Full rack of ribs: was £17.95, now £18.95

Pizza
Margherita: was £9.10, now £7.95
Piccante carne: was £12.55, now £12.95
Grilled courgette & goat's cheese: was £10.95, now £12.25

Pasta
Classic spaghetti pomodoro: was £8.95, now £7.95
Traditional Bolognese: was £10.75, now £11.75
Over-baked chicken and mushroom penne: was £12.75, now £12.95

Other
Chicken & asparagus risotto: still £12.95
Caesar salad: was £11.15, now £11.45
Fries: were £3.95, now £4.35
Prices have been increased for most menu items since the start of the year, but a few have remained unchanged and at least two — the margherita pizza and the classic spaghetti pomodoro — have in fact had their prices reduced.
Valuation
54 restaurants operating normally and returning to FY 2018/2019 sales of £750k each would generate group revenue of £40m.
Revenue of £40m does not require a huge operating margin to leave a profit that would make the £8m market cap appear remarkably cheap.
A margin of 4% on £40m for example leads to a £1.6m operating profit and a possible P/E of less than 7.
The obvious worry is the H2 2021 performance was exceptional and a host of macro-economic problems will soon dampen sales and lift costs to then restrict TAST to minimal profits at best.
Although the statement during June appeared positive…
"The Board believes that, with its current net cash and future cashflow, it will have sufficient funds to weather the prevailing economic uncertainties and cost pressures and also satisfy its measured expansion plans for a pipeline of up to five to six new units in 2022."
…the text did not update on trading for H1 2022, which at the time had less than one week left to run.
A really positive H1 performance would surely have merited some management remarks within that June statement.
Note, too, that TAST signalled higher expenditure within these FY 2021 results:
"As we come out of the pandemic, we are gearing towards investment in our existing sites, new sites, people and development."
TAST has spent only £1m on capex during the last three years, and the entire restaurant estate could be due an overhaul that may eat into the cash position.
Options awarded to the chief exec at the start of FY 2021 revealed what the board thought could be possible with the share price.
The scheme pays out:

5.2 million shares if the share price has traded at a 90-day average of 6p by the start of FY 2022;
A further 5.2 million shares if the share price has traded at a 90-day average of 8p by the start of FY 2023, and;
A further 5.2 million shares if the share price has traded at a 90-day average of 16p by the start of FY 2025.
The 16p target is tantalising given the recent 5.25p share price
TAST has confirmed the 6p target was met earlier this year and the chief exec now owns 8.4% of the company.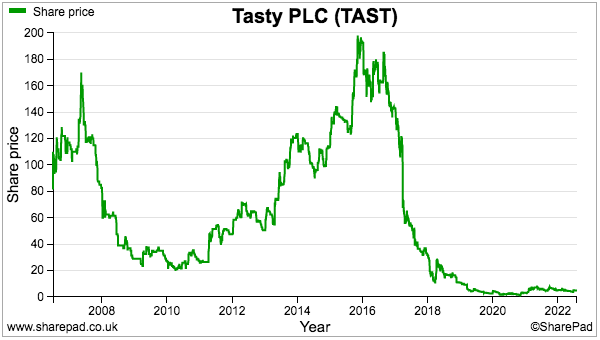 TAST does provide an investing dilemma.
Yes, the shares could be very cheap and may well multi-bag should sales boom and margins recover.
But the economics of TAST's restaurants were not exactly superb before the pandemic and remain very unclear after the pandemic.
And the main Wildwood chain seems unlikely to enjoy a lucrative long-term niche by sticking to a middle-of-the-road menu with middle-of-the-road pricing.
The over-riding risk with buying more TAST is becoming trapped in an illiquid share that, having survived the pandemic, slips back to its pre-pandemic ways and fails to earn suitable profits from new sites and estate revamps.
Maynard Paton