08 July 2022
By Maynard Paton
Results summary for M Winkworth (WINK):
"Extraordinary levels of activity" due to pandemic stamp-duty reductions ensured an outstanding FY 2021 with underlying profit up 167%.
Talk of sales income again exceeding lettings income plus lifting the Q1 2022 dividend by 23% underpinned a promising FY 2022.
Earnings at the company-owned Tooting office may have slumped during the year, although the effective return on the branch's valuation remains impressive.
A super 34% margin, net cash at more than 20% of the share price and trade receivables at just 7% of revenue leave the accounts in good order.
A possible 9-12x P/E and 6% yield match WINK's past rating as investors presumably worry about potential problems within the housing market. I continue to hold.
Contents
News links, share data and disclosure
News: Annual results, presentation and webinar for the twelve months to 31 December 2021 published/hosted 12 April 2022

Share price: 175p
Share count: 12,733,238
Market capitalisation: £22.3m

Disclosure: Maynard owns shares in M Winkworth. This blog post contains SharePad affiliate links.
Why I own WINK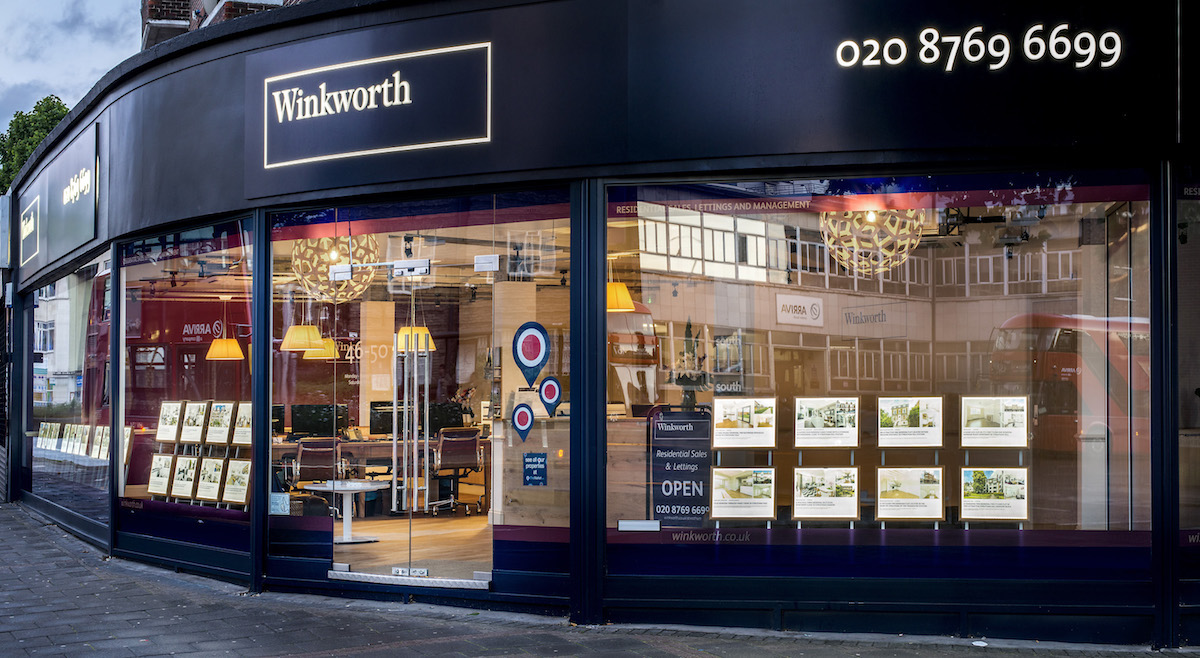 Operates a London estate-agency franchising business, with progress buoyed by motivated franchisee owners capturing market share from conventional rivals.
Franchisor set-up leads to high margins, low capital requirements and a cash-rich balance sheet able to fund attractive franchisee investments.
Seasoned family management boasts £10m/47% shareholding and rewards investors through durable quarterly dividends and occasional special payouts.
Further reading: My WINK Buy report | All my WINK posts | WINK website
Results summary
Revenue, profit and dividend
"As a result of this buoyant level of activity during the current year, Winkworth's full year revenues are expected to exceed management forecasts and our full year profits to be materially higher than expectations."
"Winkworth's full year revenues have again exceeded management expectations and pre-tax profits are expected to be ahead of market forecasts at the time of the last trading update."
…had already confirmed these FY 2021 figures would be outstanding.
Revenue jumped 48% while reported operating profit surged 113% to set WINK's best-ever yearly performance: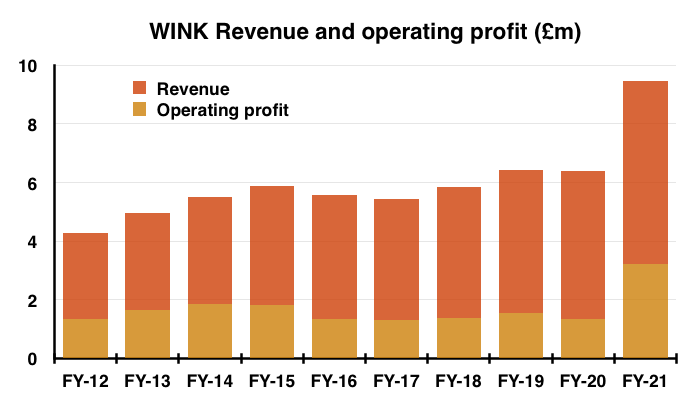 Several minor items influenced the profit comparison (see Financials):

Negative goodwill of £0 (2020: £119k);
Government furlough benefits of £0 (2020: £48k);
Undefined other operating income of £18k (2020: £0);
Fair-value investment gains of £0 (2020: £28k);
Bad-debt reversals of £89k (2020: £29k), and;
Impairments of £0 (2020: £66k).
Operating profit gained 167% to £3.1m adjusted for those items.
WINK reiterated the exceptional performance had followed "extraordinary levels of activity" due to stamp-duty reductions during the pandemic:
"The powerful post pandemic recovery drove a very buoyant property market in 2021, fuelled by extraordinary levels of activity around the time of the first proposed stamp duty deadline in June and then the extended deadline at the end of September, producing record months of sales income for the Company."
H2 notably did not match the remarkable H1.
H2 revenue was £4.2m and £1m less than H1, while H2 operating profit was £1.2m and £0.7m less than H1: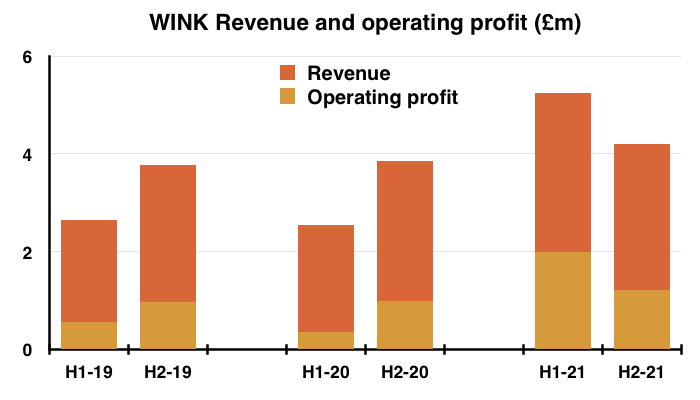 H2 was nonetheless a record H2 performance for both revenue and profit.
WINK's quarterly dividend declarations during October and January had already heralded a 4.9p per share ordinary payout for H2: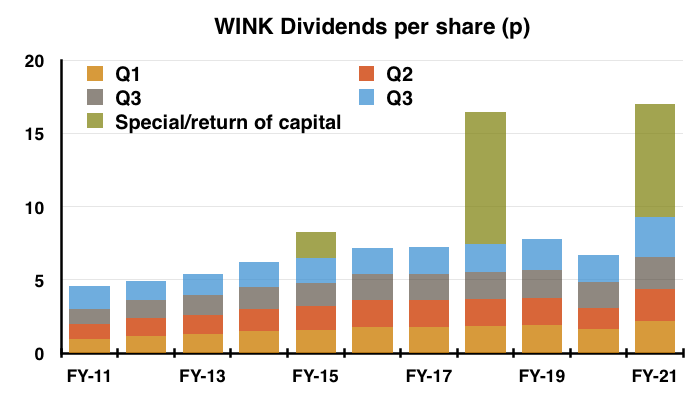 Total ordinary dividends of 9.3p per share were 19% higher than the 7.8p per share payout for pre-pandemic FY 2019.
January's update announced a 3.8p per share special distribution, the third for FY 2021 after 1.3p and 2.6p per share specials were declared during H1.
Annualising the 2.7p per share Q1 2022 dividend announced within these FY results gives a 10.8p per share payout — 16% higher than the 9.3p per share declared for this FY (see Valuation).
Franchisee sales and lettings income
WINK's franchisee network consists of 102 estate-agency branches located throughout London and south-east England.
Franchisees pay WINK a straight 8% of all their sales and letting commissions, plus variable sums towards IT, training, landlord/tenant referrals and other services.
During this FY, 11.1% of the £65m earned by the franchisees was taken by WINK as revenue: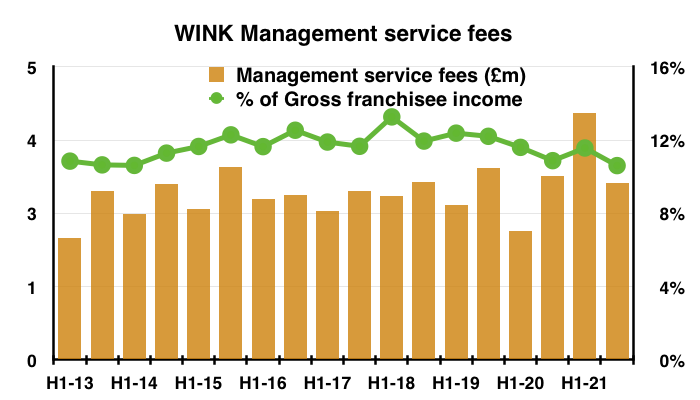 The 11.1% proportion was the lowest since FY 2014. Perhaps franchisees were overwhelmed with property transactions to bother with extra WINK services.
The aforementioned "extraordinarily active" sales market was not as active during H2 as H1.
Sales commissions earned by WINK's franchisees reached almost £25m during H1 but then fell to less than £15m during H2: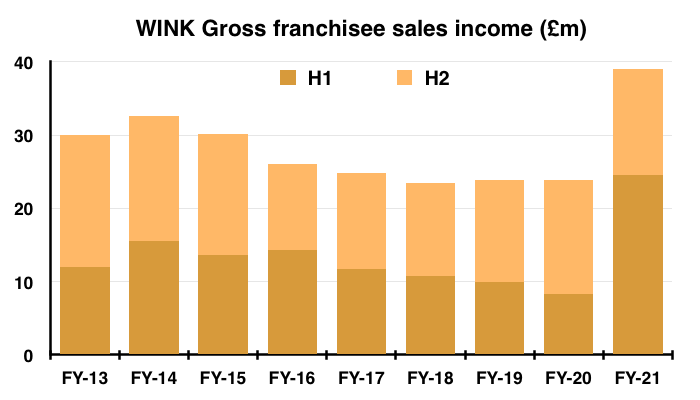 Franchisee sales commissions for H2 were in fact £1m less than the level achieved during the comparable H2 2020.
Lettings commissions collected by franchisees set a new annual record of almost £26m: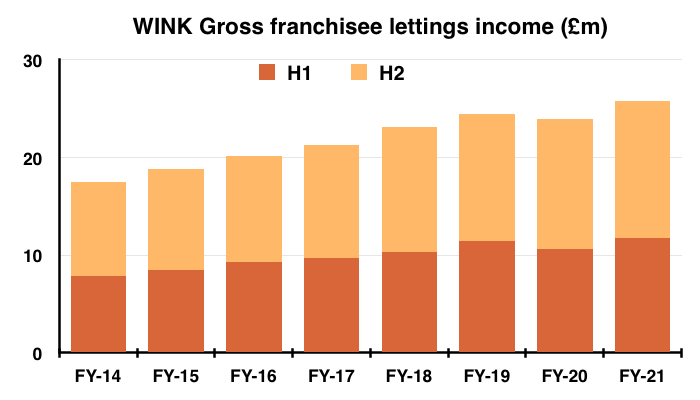 WINK said lettings income had improved following "an upturn in London in the second half of the year following the return of young professionals, some international travel and international students."
Franchisee lettings commissions as a proportion of total commissions dropped to 40% for this FY, the lowest proportion since FY 2015: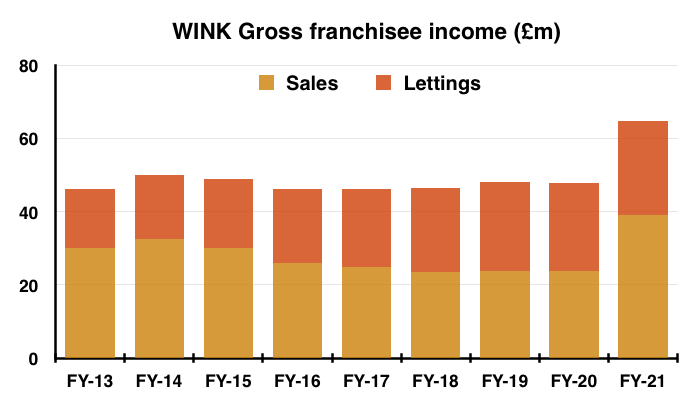 Mind you, the lettings proportion was 49% for H2 and in keeping with the equal split between sales and lettings for FYs 2018, 2019 and 2020: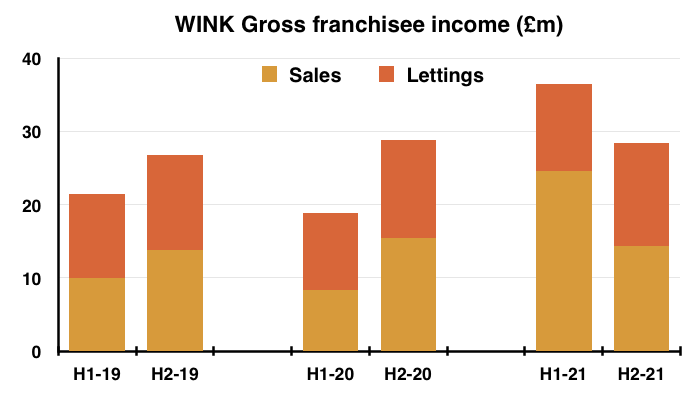 WINK helpfully indicated sales commissions were likely to surpass lettings commissions during FY 2022:
"Winkworth benefits from a broadly even mix between sales and rentals, but for the immediate future we expect our sales commissions to account for more than half of total revenues, as was the case in 2021."
Assuming lettings commissions hold steady, the projection may imply sales commissions of at least £26m and total franchisee commissions of at least £52m for FY 2022.
Prior to FY 2021, the previous time franchisee sales commissions reached £26m was FY 2016.
Prior to FY 2021, the previous time total franchisee commissions topped £50m was FY 2014.
WINK's presentation contained a useful slide that highlighted new and closed franchisee offices: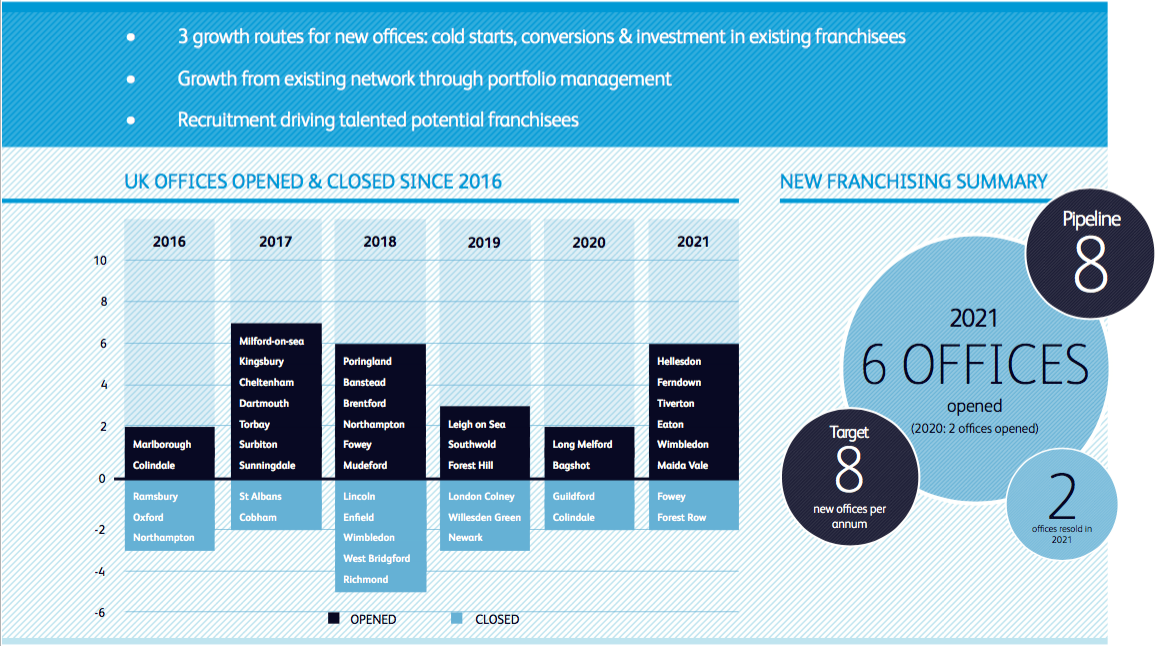 Some 26 offices have been opened and 17 have been closed since FY 2016.
Some new offices have not worked out; Collindale and Fowey for example were both opened and then closed a few years later.
But closed offices can re-open; Northampton and Wimbledon for example were both shut and then re-opened a few years later.
Expanding the franchisee network has been slow going. The 102 franchised branches operating during FY 2021 compare to 86 quoted within the 2009 flotation document.
"WINK's franchise network has expanded from 86 to c100 branches in the last 6 years. I said that seems like slow progress. The chairman suggested his experience was that in some years it was good to open offices, and some times it was good to consolidate. He made the point that in the early 90s, the business made a greater profit with 35 offices than it did earlier with more than 40.

The chairman also cited the importance of having higher quality franchisees, rather than a higher quantity. A bad franchise in one area could have a knock-on effect on reputation in a neighbouring area. He was keen to ensure franchisees could produce £500k revenue/year, as those earning much less could be susceptible to 'shrinkage' (loss of transactions) and fall into financial trouble, damage the brand etc.

The company evaluates its franchisees every year and looks to get rid of 6-8 under-performers. Apparently, a fresh franchisee can increase a sub-standard franchise's revenue from £150k to £400k. Ideally WINK wants its franchises to earn £500k revenue/year."
102 franchised branches earning the chairman's ideal £500k revenue gives gross franchisee income of £51m — versus £65m for FY 2021 and £48m for pre-pandemic FY 2019.
Winkworth versus Foxtons
WINK's FY 2020 statement had confirmed the group capturing greater market share during the pandemic:
"We further improved our strong position in the marketplace and ranked 2nd in London with a market share of 4.53%, having increased our share of SSTC properties in 2020 by 0.35% [Source: TwentyCI]".
Although these FY 2021 results did not refer to market share, the presentation did say WINK remained second in London:
"Maintained position as number 2 in London by SSTC market share"
Comparing WINK to Foxtons (FOXT) — which still claims to be "London's leading estate agent" — provides a useful guide as to the relative progress of both operators.
FY 2021 was FOXT's best year for revenue since FY 2017: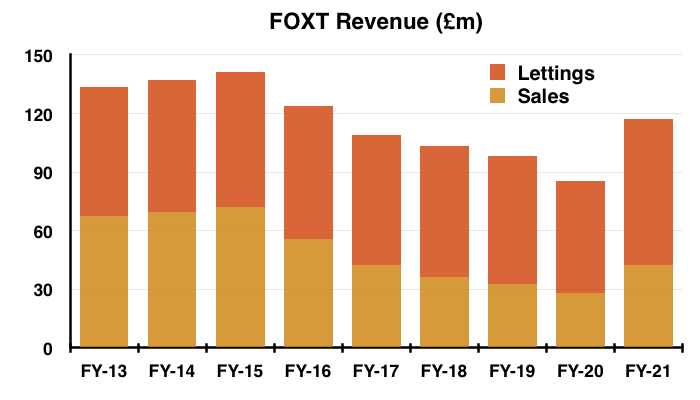 The chart below expresses the sales, lettings and total franchisee income of WINK as percentages of the comparable FOXT revenue: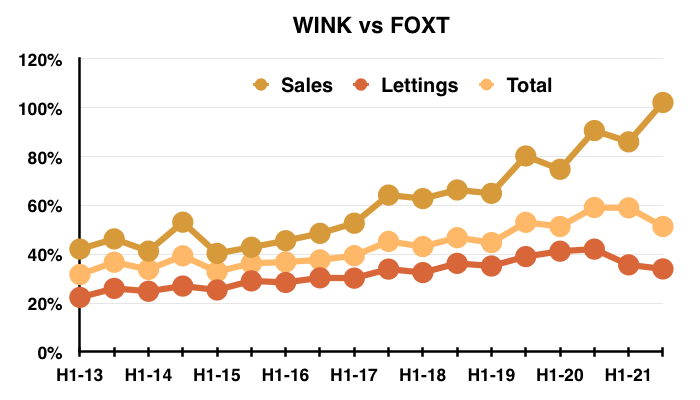 WINK has consistently outperformed FOXT during the last few years.
During H1 2013, total income at WINK's franchisees represented approximately 32% of FOXT's sales and lettings revenue (middle line above):
That 32% proportion has subsequently increased to 51%.
Since H1 2013:

Total sales commissions at WINK's franchisees have advanced from 42% to represent a very impressive 102% of FOXT's sales revenue, and;
Total lettings commissions at WINK's franchisees have advanced from 22% to represent 34% of FOXT's lettings revenue.
Note that the FOXT comparison is not strictly like-for-like. FOXT generates almost all of its revenue from branches within London while WINK has historically generated approximately 80%.
FOXT acquiring lettings agencies and WINK now operating its own branches (see Corporate-owned offices) also distorts the comparison.
WINK's self-employed franchisees do nonetheless appear to have handled London's property market during Brexit and the pandemic far better than FOXT's conventional employees.
Mind you, FOXT has been subject to a shake-up and could one day recapture its lost market share.
Board changes within the last twelve months include a new chairman, a new chief exec and a new finance director.
The new chief exec will join FOXT during September after heading fellow London agents Chestertons since 2018.
FOXT's incoming boss apparently grew EBITDA "exponentially" at Chestertons:
"Since his 2018 appointment as Chief Executive of Chestertons, [Guy Gittins] has exponentially grown EBITDA, and transformed the business into a technology led, performance focused business, winning market share; increasing sales in each year; and significantly growing the lettings business both via acquisition and organically."
Companies House shows Chestertons' EBITDA growing from £3.5m to £6.8m between FYs 2018 and 2020: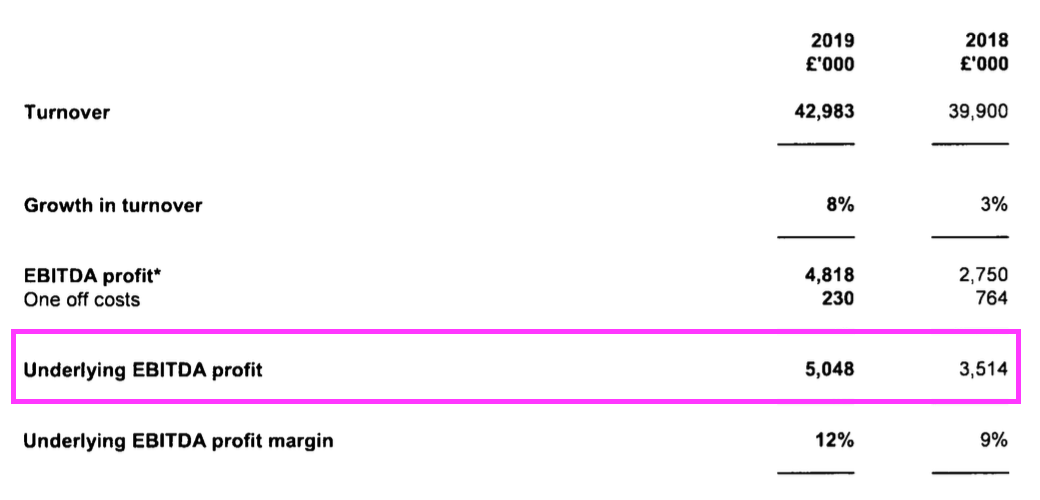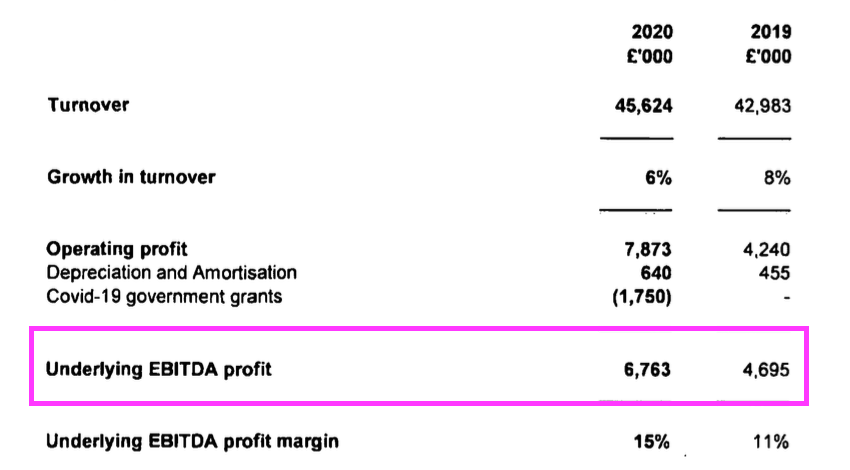 FOXT's shake-up looks to have been driven by activist shareholder Catalist Partners, which last year claimed FOXT could one day sport an enterprise value of £1 BILLION:
Catalist believes FOXT should compete against the likes of Knight Frank, Chestertons and Savills to sell more £3m-plus properties.
The appointment of the Chestertons boss suggests FOXT will follow that strategy, which may leave WINK more room within its preferred sub-£1m London market.
Corporate-owned offices
WINK's two controlled branches — Tooting and Crystal Palace in London — seem to outperform the group's wider franchisee network during this FY.
Revenue from these corporate-owned offices represented 24% of total revenue during this FY, with the proportion rising from 19% during H2 2020 to 28% during H2 2021: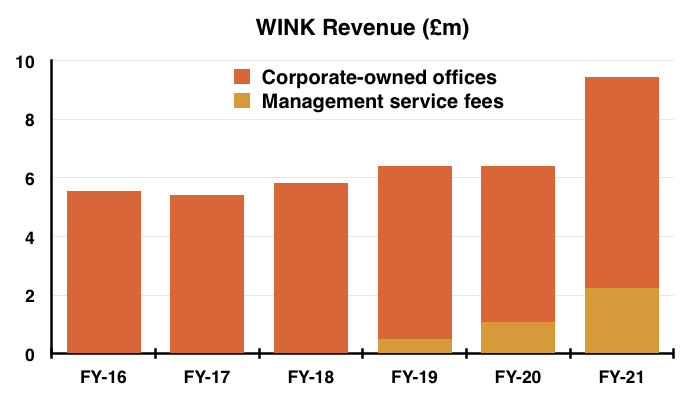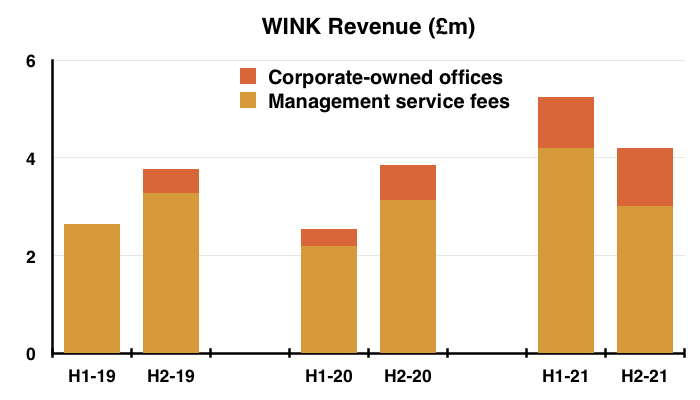 The 2020 annual report (point 15) said the two offices would lead to greater "front-end" insight:
"As with the acquisition of Tooting Estates Limited as a subsidiary, Crystal Palace Estates Limited will keep Winkworth in touch with and learning from front-end experiences and industry trends, It will also provide a live platform to test and develop future digital initiative and evolve our centralised CRM systems, which be of benefit to all our franchisees."
Complementing the two majority-owned branches is WINK's start-up Developments and Commercial agency, which advises on converting business premises into residential accommodation and has displayed "early signs of promise".
The presentation hinted further corporate-owned offices could be opened:
"Target new equity participation businesses with key talent in suitable areas"
WINK's commentary on Tooting and Crystal Palace was positive:
"Wholly owned offices continued to grow above market trend in 2021, providing the Company with returns over and above the 8% franchise fee.

Our Tooting office was ranked first in its areas by sales agreed in 2021 and has progressed from being Winkworth's 13th office by gross revenue generated to its 9th.

Our Crystal Palace office completed its first full calendar year under our ownership and revenue progressed successfully in the period."
The FY 2021 contribution from the Tooting office was very encouraging, with revenue up 72% and earnings up 132%: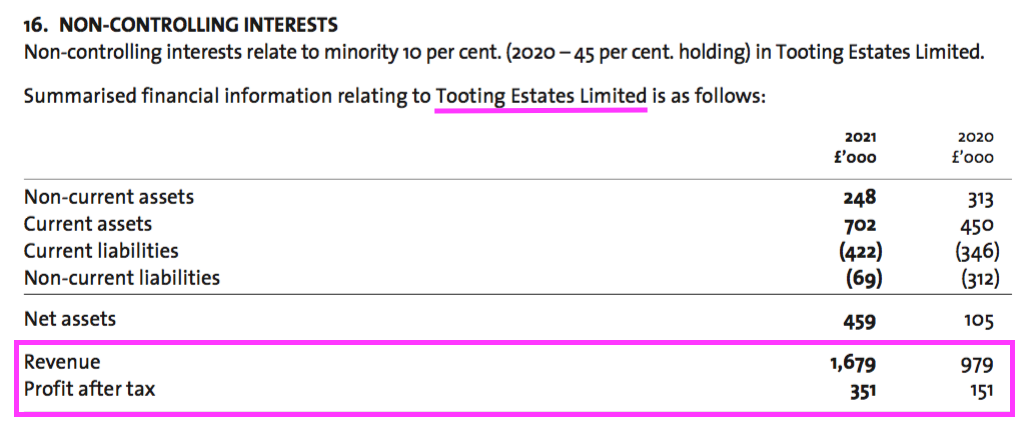 WINK paid £137k during Q1 to increase its ownership of Tooting Estates from 55% to 90%:
24. ACQUISITION OF ADDITIONAL SHARES IN SUBSIDIARY

On 23 March 2021, the Heads of Terms were signed in relation to Winkworth Franchising Limited's acquisition of a further 35% of Tooting Estates Limited, which operates in the Winkworth franchise in the Tooting area, for £136,963.
Paying £137k for 35% priced the entire Tooting operation at £391k.
Obtaining (albeit on a 90% pro-rata basis) FY 2021 earnings of £351k for £391k seems a remarkably good deal for WINK.
But earnings from the Tooting office were biased heavily towards Q1.
Some £153k of Tooting's £351k full-year earnings were recorded during the first three months of the year: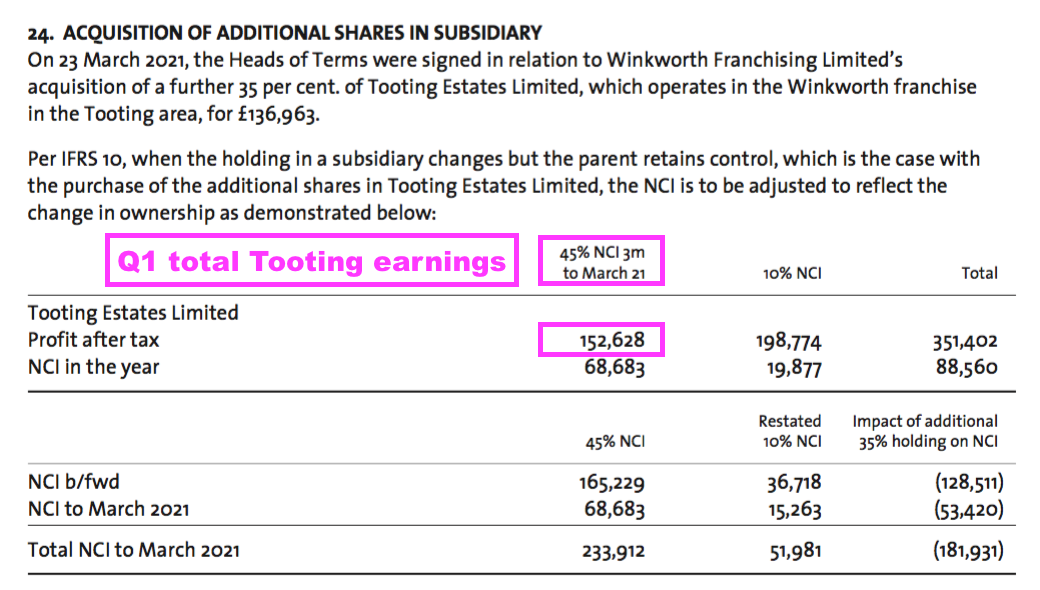 The minority 10% owner collected Tooting earnings of £89k during the year, of which £80k were reported during H1 leaving only £9k for the 10% minority during H2:

The 10% minority collecting H2 Tooting earnings of £9k implies the Tooting office generated H2 earnings of just £90k.
Full-year Tooting earnings of £351k less £153k for Q1 and £90k for H2 implies Tooting earnings of £108k for Q2.
Tooting's earnings therefore look to have fallen dramatically as FY 2021 progressed.
Mind you, doubling up H2 Tooting earnings of £90k gives £180k, which is still a remarkable return on the £391k valuation for the Tooting office.
The Crystal Palace branch generated revenue of up to £504k during FY 2021, which seemed very satisfactory versus the £104k stated for H2 2020.
Unlike the wider franchisee network, where the majority of gross income (56%) was biased towards H1, the Tooting, Crystal Palace and Developments operations generated the majority of their combined revenue (53%) during H2: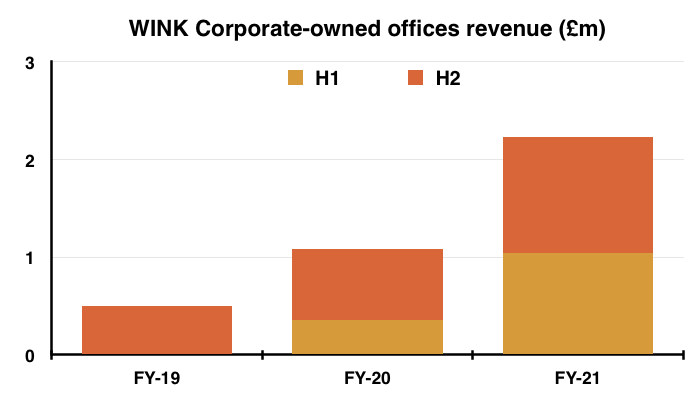 Why Tooting's earnings slumped during H2 despite total revenue from corporate-owned offices holding up feels rather peculiar.
One explanation could be H1 Tooting revenue was predominantly high-profit sales commissions, while H2 Tooting revenue was mainly lower-margin lettings commissions.
The Tooting and Crystal Palace branches generated aggregate sales of up to £2,231k during this FY. Were the branches franchised, WINK could have earned revenue of up to £250k (11% of £2,231k) — somewhat less than Tooting's earnings of £351k.
Tooting's £351k earnings less the minority owner's £89k gives £262k attributable to WINK.
WINK's £262k from Tooting represents 10% of the total £2,519k earnings attributable to the group during this FY. The proportion for H2 was 8% (£81k/£1,028k).
Relying on the Tooting office for up to 10% of group earnings is not ideal, although that dependence is offset by that implied £180k annualised earnings return on the branch's £391k valuation.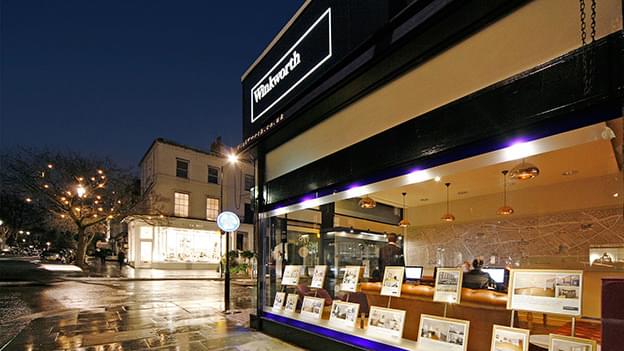 Financials
WINK's accounts remain in good shape.
Although not as high as the remarkable 38% witnessed during H1, the 29% operating margin during H2 was the best H2 conversion of revenue into profit since H2 2015: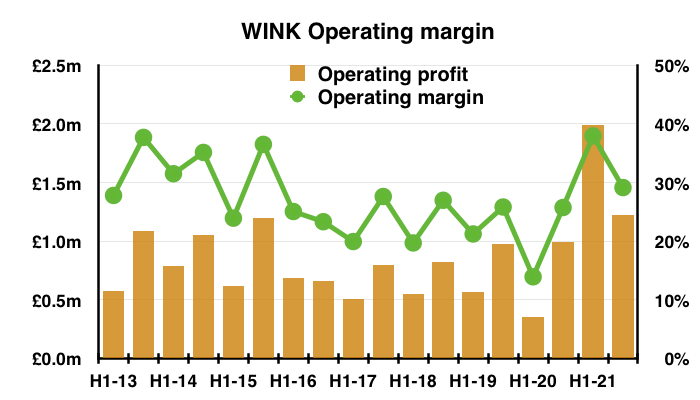 The 34% operating margin for the full year was WINK's highest since at least FY 2009.
The lower H2 margin versus H1 coincides with lower sales transactions, and maybe confirms sales commissions attracting much higher profit than lettings income.
Property sales are of course less predictable than monthly lettings payments.
Various minor items reported during FY 2020 were not repeated within these FY 2021 figures: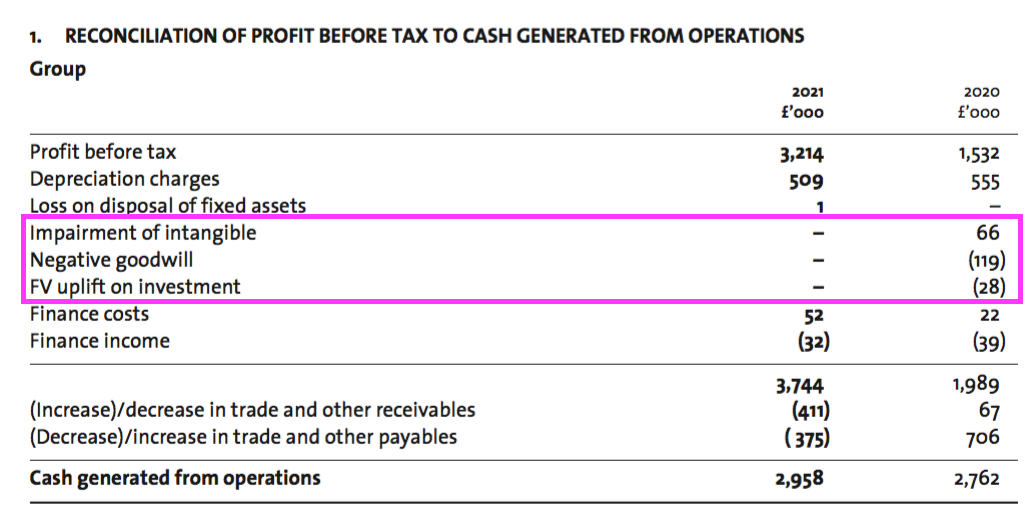 But (welcome) bad-debt reversals and undefined other operating income did make an appearance: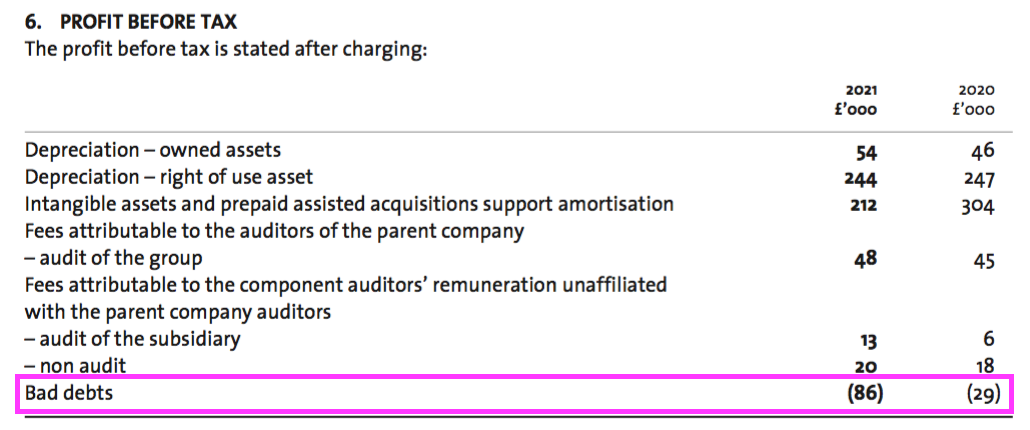 Cash conversion improved during H2 after H1 witnessed a notable £1.2m adverse working-capital movement.
Cash generated from operations for the year was a useful £3.0m, with £1.9m produced during H2.
WINK's working-capital cash requirements fluctuate from year to year but have broadly evened out over time:
| | | | | | |
| --- | --- | --- | --- | --- | --- |
| Year to 31 December | 2017 | 2018 | 2019 | 2020 | 2021 |
| Operating profit (£k) | 1,302 | 1,369 | 1,535 | 1,348 | 3,216 |
| Depreciation and amortisation (£k) | 246 | 270 | 288* | 308* | 265* |
| Net capital expenditure (£k) | (247) | (189) | (277) | (241) | (276) |
| Working-capital movement (£k) | 567 | (56) | 157 | 773 | (786) |
| | | | | | |
| Net cash and investments (£k) | 3,586 | 2,988 | 3,614 | 4,732 | 5,090 |
(*excludes IFRS 16 depreciation)
Trade receivables equivalent to just 7% of revenue indicates franchisees are timely payers: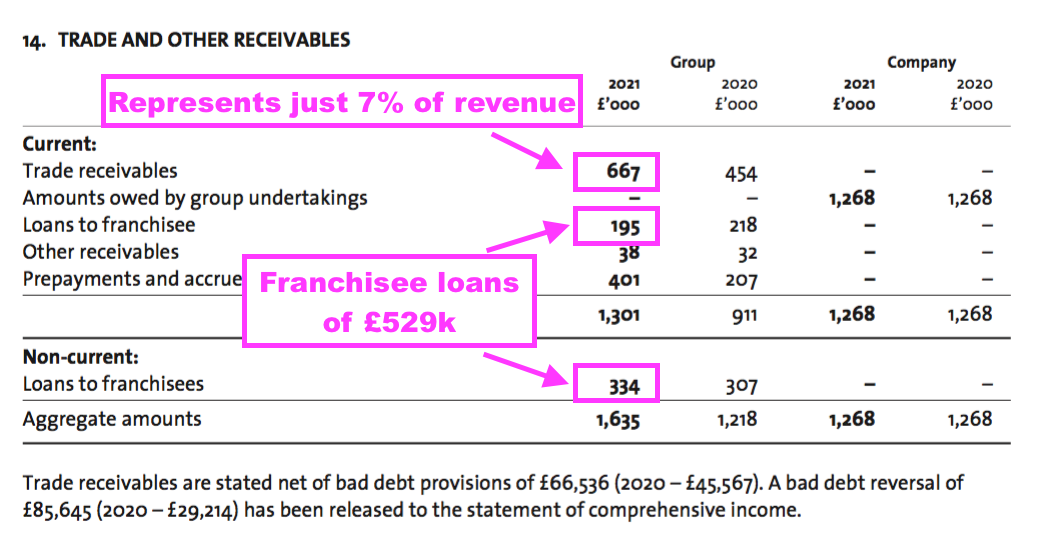 Note that WINK's receivables include loans to franchisees, which for this FY were unchanged at £0.5m but can sometimes lead to notable cash movements as franchisees receive or repay their loans.
Loans to franchisees peaked at £1.2m during FY 2016, and the subsequent reduction to £0.5m suggests greater (and welcome) sufficiency among new franchisees.
Capitalised website costs, franchisee "prepaid assisted support" payments and general capex came to less than £0.3m and were once again adequately covered by the depreciation and amortisation charged against reported earnings.
The working-capital movement, capex, tax of £0.4m, lease costs of £0.3m and that £137k Tooting investment left £2.0m over to pay dividends of £1.6m and £0.4m to increase the year-end cash position to £5.0m.
Bank debt and defined-benefit pension obligations remain at zero.
An investment portfolio that started FY 2021 at £71k and was revalued at £56k for H1 was revalued back at £71k for the year end.
Net cash, loans to franchisees and investments therefore finished the year at £5.6m or 44p per share.
Finance income from that £5.6m was a very low £7k during H1 but increased to a more reasonable £25k during H2.
Although cash of £5.0m earning next to nothing remains by far the largest item on the balance sheet, return on average equity was still an appealing 44% (£2.6m/£5.9m):
| | | | | | |
| --- | --- | --- | --- | --- | --- |
| Year to 31 December | 2017 | 2018 | 2019 | 2020 | 2021 |
| Return on average equity (%) | 19.8 | 22.6 | 26.8 | 23.8 | 44.4 |
WINK remains an incredibly capital-light business. Net asset value excluding cash/investments (£5.1) and intangibles (£1.2m) for FY 2021 was only £38k.
Emphasising the absence of hefty reinvestment requirements, between FYs 2017 and 2021 WINK reported aggregate earnings of 57p per share of which 46p per share (81%) were declared as ordinary or special dividends.
Valuation
Shareholders must now guess what proportion of FY 2021's exceptional activity will be sustained into FY 2022 and beyond.
WINK reckoned London activity would be "brisk":
"With a busy end to the year in London and increasing interest in central London markets, where both sales and lettings are benefiting as city life returns to a more normal footing, we expect activity to be brisk in 2022."
The presentation hinted that FY 2022 could be more lucrative than FY 2019:
"Market conditions to remain positive overall above 2019 levels"
WINK did not suggest economic conditions were curtailing activity:
"We are mindful of the impact that the tragic situation in Ukraine may have on UK inflation, interest rates and consumer confidence, but have seen ongoing strong demand in the first quarter of the current year with encouraging numbers of applications for both sales and lettings."
Management in fact confirmed during the webinar that sales applicants were up 10% and lettings applicants were up 20% during Q1 2022 versus Q1 2021.
WINK suggesting sales commissions could surpass lettings commissions for FY 2022 — and therefore deliver possible total franchisee commissions of at least £50m — would also indicate the current year may see improved trading versus FY 2019.
Doubling up the reported H2 performance gives total franchisee commissions of £56m and operating profit of approximately £2.4m.
Profit of £2.4m taxed at the upcoming 25% UK standard rate leaves earnings of £1.8m or 14.3p per share.
Dividing the 175p offer price by 14.3p per share gives a P/E of 12x.
Assume the cash and investments of 44p per share are not required for the business to operate successfully, and a cash-adjusted P/E could be (131p/14.3p) = 9x.
A multiple of 9x or 12x or somewhere in between appears modest for a business that has been trading very well and feels optimistic about FY 2022.
But the rating is not out of keeping with WINK's typical trailing P/E of 10x-14x: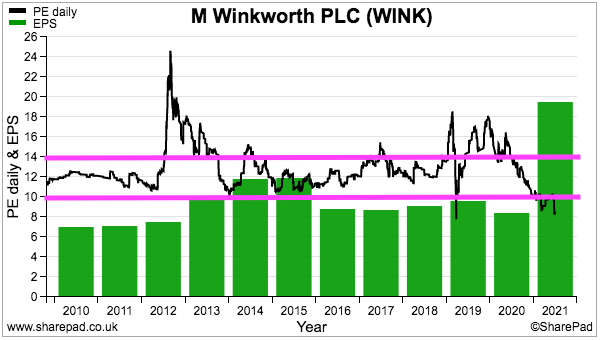 WINK's past rating has reflected the group's largely stagnant profit between FYs 2016 and 2020.
WINK's current rating may reflect potential economic problems upsetting the housing market.
WINK emphasised a "progressive dividend" ambition…
"We see opportunities to grow our business above market trend whilst both paying a progressive dividend and maintaining a healthy cash balance"
…that was underpinned by lifting the Q1 2022 dividend by 23% to 2.7p per share.
A 2.7p per share quarterly implies 10.8p per share for the full year to support a 6.2% income at 175p: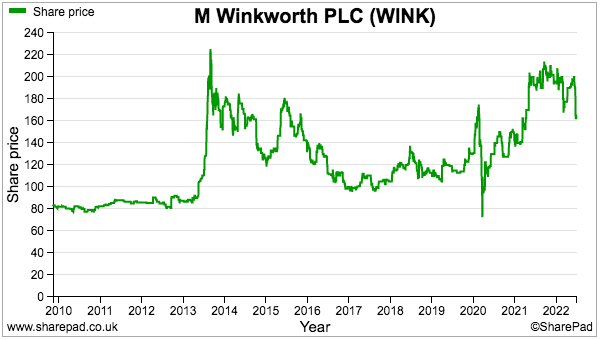 An intriguing valuation snippet was provided during the webinar.
Management revealed WINK would essentially pay a suitable independent agency up to 32% of its annual revenue to convert into a WINK franchisee.
With WINK's total franchisee commissions running at approximately £50m, the group's own acquisition formula could value all the franchisee offices at £16m (32% of £50m).
Add on WINK's £5m cash position to that £16m and the total £21m is just £1m less than the £22m market cap at 175p.
Maynard Paton