28 June 2022
By Maynard Paton
Results summary for S & U (SUS):
A "lower than normal" bad-debt provision underpinned a record full-year profit, which in turn supported fresh highs for net asset value (NAV) and the dividend.
Very mixed signals are emerging from the main motor-loan division, with encouraging collection rates offset by "a more heightened risk of an adverse economic environment" and higher expected write-offs among new loans.
Further surplus cash from the motor-loan division was redirected into the property-loan subsidiary, which reported a bumper performance and prompted optimistic near-term management predictions.
ROCE levels remain modest and suggest SUS's inherent value is biased towards the asset value of its loan book rather than annual earnings.
Despite current-year profit running "above budget", the £21 shares trade at 1.24 times NAV and offer a 6% yield. I continue to hold.
Contents
News links, share data and disclosure
News: Annual results, presentation and webinar for the twelve months to 31 January 2022 published/hosted 29 March 2022 and AGM trading update published 26 May 2022

Share price: 2,100p
Share count: 12,150,760
Market capitalisation: £255m
Disclosure: Maynard owns shares in S&U. This blog post contains SharePad affiliate links.
Why I own SUS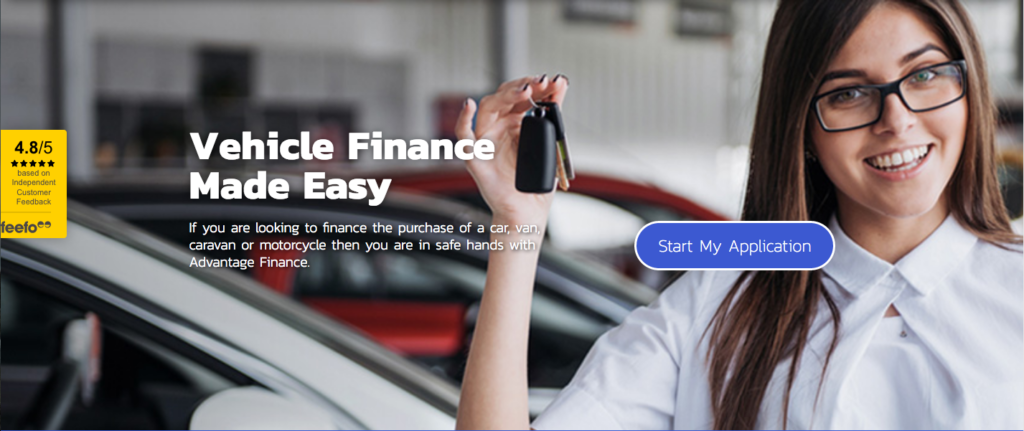 Provides 'non-prime' credit to used-car buyers and property developers, where disciplined lending and reliable service have supported an enviable dividend record.
Boasts veteran family management with a 40-year-plus tenure, 42%-plus/£107m-plus shareholding and a "steady, sustainable" and organic approach to long-term growth.
Very promising property-loan subsidiary offers the prospect of improved progress post-pandemic.
Further reading: My SUS Buy report | All my SUS posts | SUS website
Results summary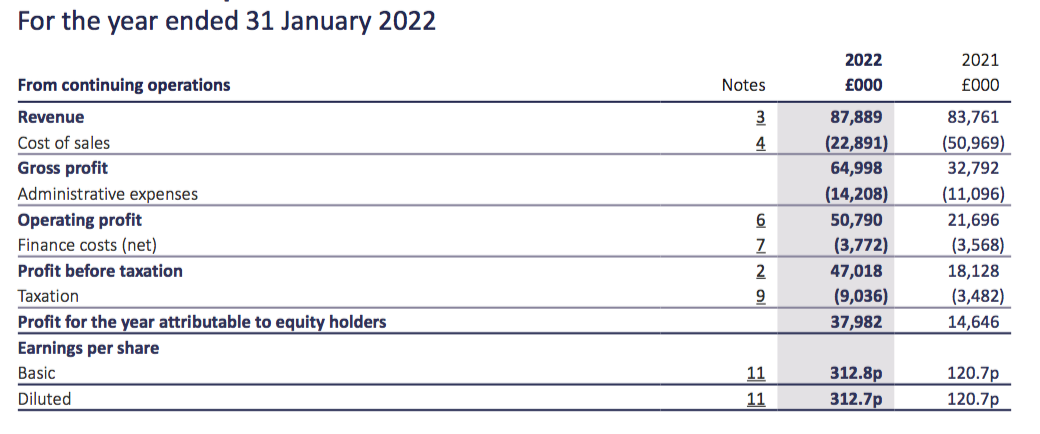 Revenue, profit, net asset value and dividend
"The Group continues its growth rebound and is trading strongly, as the economy tentatively returns to normal despite the continuing uncertainty over the course of the Covid pandemic. Growth is accelerating in both businesses, despite a relative lack of used car supply and a quieter housing transaction market over the past quarter."
"Founded on an excellent collections and debt quality performance and the expected rebound in sales as the Covid pandemic gradually abates, S&U'sprofit before tax for the year is now set to exceed current consensus expectations."
Revenue improved 5% to £88m but pre-tax profit more than doubled to £47m to set a new full-year record: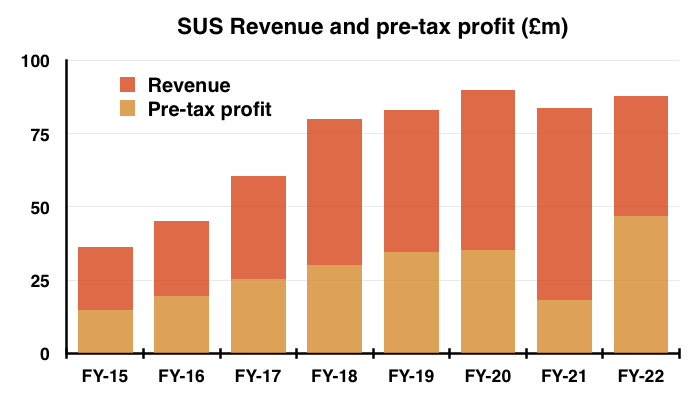 The profit surge followed a "lower than normal loan loss provisioning charge" for potential bad debts.
The comparable FY 2021 suffered an additional Covid-related loan provision of £20m, while this FY's entire provision was only £4m following "good collections and less utilisation of the impairment provisions made in the dark days of January 2021″.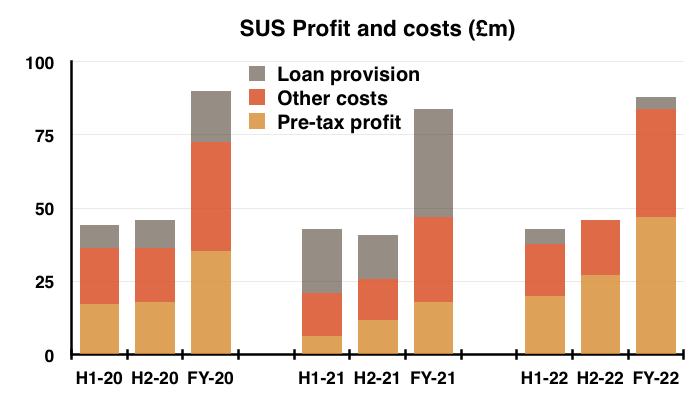 Management confirmed during the results webinar the £4m motor-loan provision was not sustainable, and indicated a return to the £16-17m yearly motor-loan provisioning that occurred prior to the pandemic.
The ultra-low provisioning for this FY therefore flattered the group's performance and financial ratios.
SUS's property-loan division, Aspen Bridging, meanwhile enjoyed a bumper profit following its involvement with the Coronavirus Business Interruption Loan Scheme (CBILS) (see Aspen Bridging).
Group profit continues to be dominated by Advantage Finance…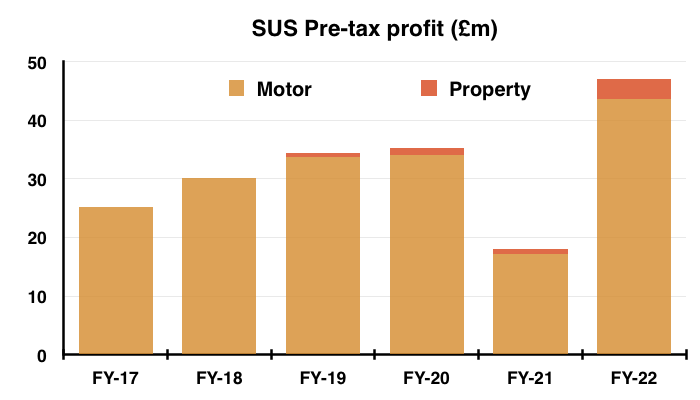 …although management disclosed during the results webinar that Aspen could grow to represent 20% of group profit during the "next few years".
The performance increased net asset value (NAV) by £26m to £206m — equivalent to £17.02 per share and a fresh NAV record: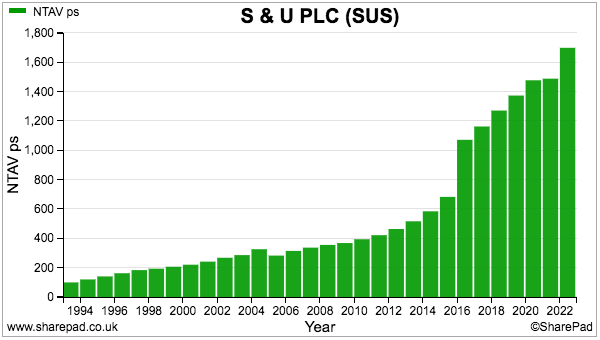 NAV per share has gained 46% during the last five years and now represents 81% of the share price (see Valuation).
SUS took the average earnings reported for FYs 2021 and 2022 to determine the full-year payout:
"We have reflected this [belief] at S&U in a longstanding dividend approach which aims at seeing dividends twice covered. Taking the past two years as a whole earnings per share have averaged just over 216p thus implying a total dividend of 126p per ordinary share this year (2021: 90p)"
The final dividend was therefore lifted 33% to 57p per share to arrive at the full-year payout of 126p per share — a new record: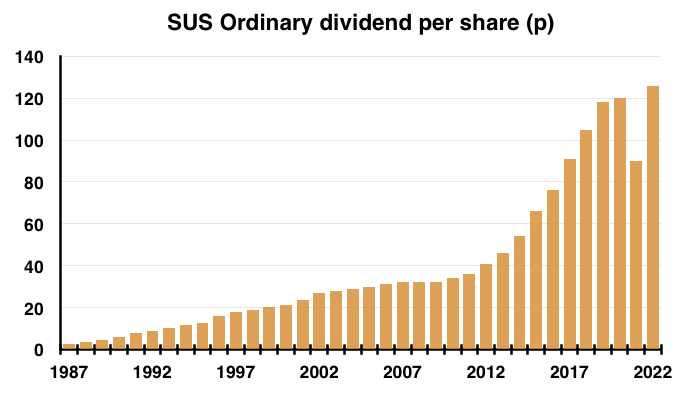 Advantage Finance: Loan provisions
SUS describes Advantage Finance customers as 'non-prime' and the 2022 annual report outlines their typical circumstances:
"This long [21-year] experience has enabled Advantage to gain a significant understanding of the kind of simple hire purchase motor finance suitable for customers in lower- and middle-income groups.

Although decent, hardworking and well intentioned, some of these customers may have impaired credit records, which have seen them in the past unable to access rigid and inflexible "mainstream" finance products."
Advantage borrowers previously took on motor loans of approximately £6.3k, but rising used-vehicle prices have increased the average loan to £7.1k:

The flat 16.3% interest rate charged by Advantage during FY 2022 was the lowest for at least ten years: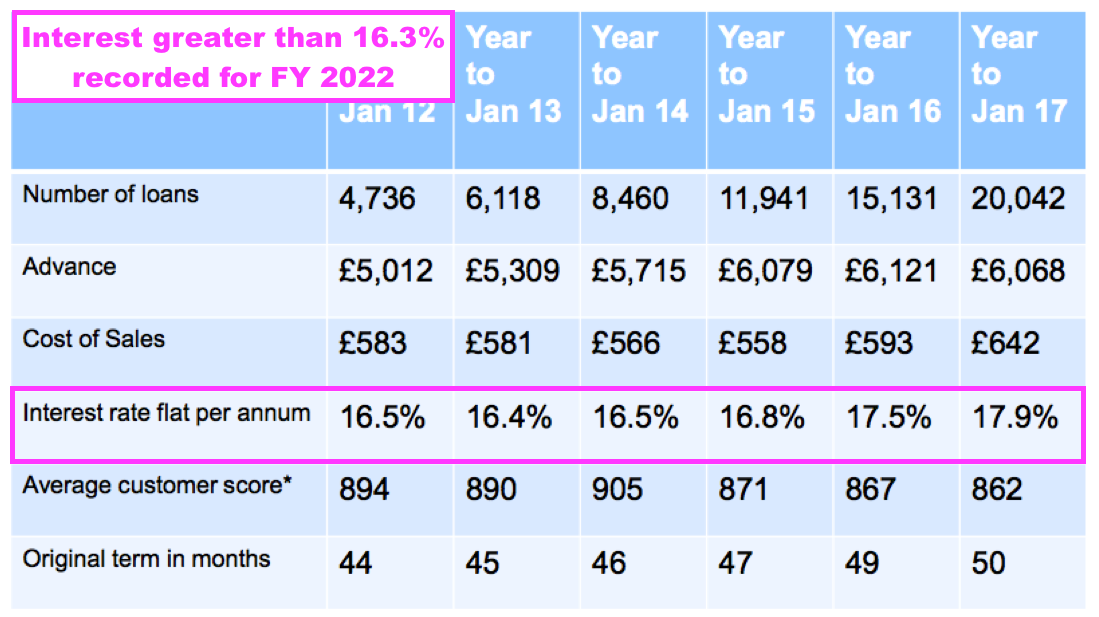 Management remarked during the results webinar the lower rate was due to a higher proportion of lower-risk Tier A+/A/B customers:

Borrowing £7k at a flat 16.3% a year over 53 months leads to interest of £5k and a total repayable figure of £12k before administration and other fees.
Before the pandemic, the typical Advantage borrower eventually repaid almost £10k of that £12k. But I estimate the eventual repayment fell to less than £9k during the pandemic.
The chart below shows the impact of the extra £20m Covid-19 bad-debt provision (grey boxes) on Advantage's profit during the comparable FY 2021: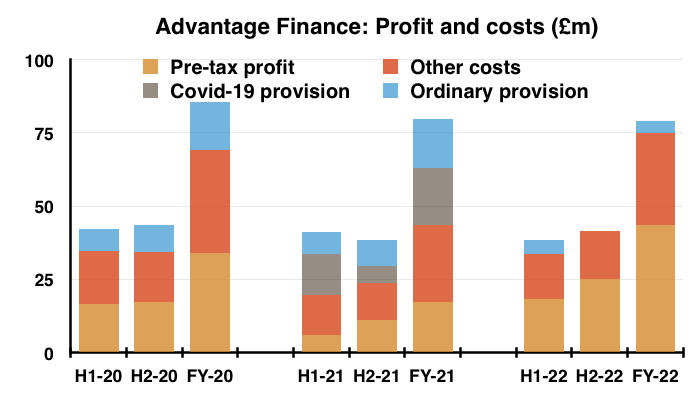 The ordinary provision (blue boxes) was between £16m and £17m for FYs 2019 and 2020, versus only £4m for this FY 2022.
A pre-pandemic £17m impairment for this FY would have increased Advantage's loan provision by £13m and reduced group pre-tax profit from £47m to £34m — equal to that recorded for FYs 2019 and 2020.
Total Advantage provisions during FY 2021 (£36m) and FY 2020 (£4m) came to £40m, or a £20m average for the two years.
The two-year £20m average is £3m higher than the pre-pandemic annual £17m impairment.
Whether 'normal' provisions from here will run at £17m (as per management comments during the results webinar) or £20m is hard to say.
But this small-print within the 2022 annual report is not encouraging:
"The macroeconomic overlay assessments for 31 January 2022 reflect that further to considering such external macroeconomic forecast data, management have judged that there is currently a more heightened risk of an adverse economic environment for our customers and the value of our motor finance security."
Furthermore, inflation is now considered within the provisioning sums:
"Inflation rates have not previously been factored into the macroeconomic overlay but at 31 January 2022 we have included them due to the extraordinary increases currently forecast for the next 12 months period and the potential impact on our customers and their repayments…

An increase by 0.5% in the weighted average inflation rate would result in an increase in the impairment loss by £401,572. A decrease by 0.5% would result in a decrease in the impairment loss by £401,572."
The upshot is higher expected write-offs among new loans.
SUS's loan provisions are classified as:

Stage 1, which reflect expected write-offs from newly opened accounts (i.e. accounts without any history of arrears);
Stage 2, which essentially reflect expected write-offs from accounts that enjoyed an FCA-mandated payment holiday (i.e. accounts that are technically in arrears), and;
Stage 3, which reflect expected write-offs from accounts in arrears due to missed payments.
New loans attracted an £11m Stage 1 provision during the year, much higher than the £6m or so applied during the preceding three years: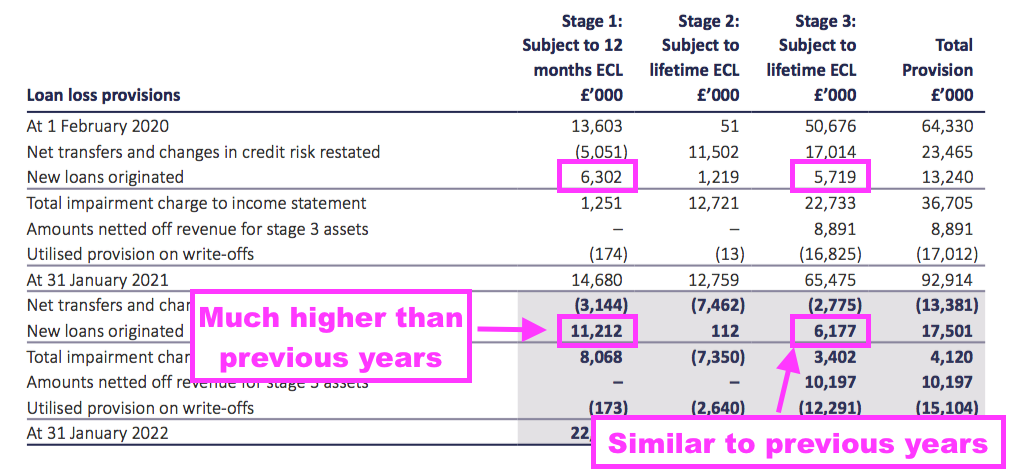 Note that the £11m Stage 1 provision is an

estimate

of expected write-offs, and only future results will show whether this Stage 1 estimate leads to higher actual defaults.
At least the Stage 3 provision on new loans for this FY matched the levels of previous years at £6m, suggesting new accounts are not defaulting beyond historical norms.
The higher £11m Stage 1 provision was counterbalanced by a £7m reduction to Stage 2 provisions. This £7m reduction reflected the resumption of payments by most borrowers who enjoyed payment holidays during the pandemic: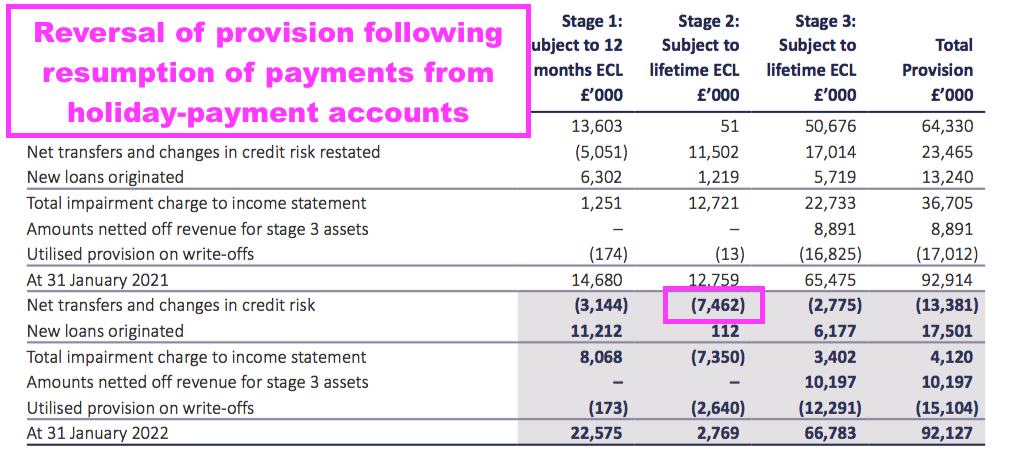 SUS's talk of "a more heightened risk of an adverse economic environment" alongside that higher Stage 1 provision suggests motor-loan provisions for FY 2023 may be greater than the £17m witnessed before the pandemic.
The additional Covid-related provisions from FY 2021 still sit on the balance sheet.
At FY 2020 (i.e. just before the pandemic), Advantage had lent £344m to customers of which £63m, or 18%, was provided for as a bad debt to leave the net amount receivable at £281m: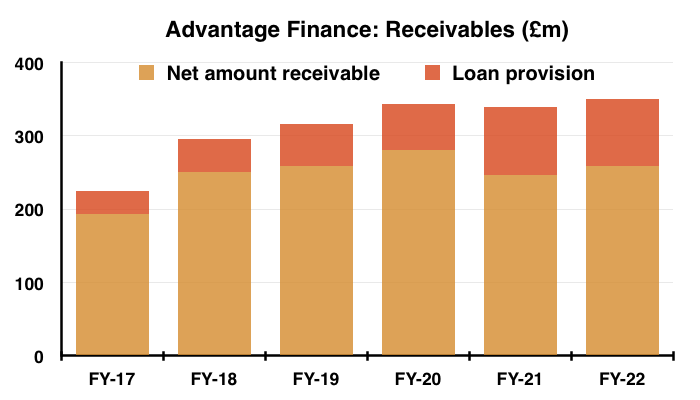 For this FY 2022, a bad-debt provision of £91m represented 26% of the total £351m loaned:

Given SUS said additional Covid-related provisions were £20m during FY 2021, the total non-pandemic provision could be £71m (£91m less £20m).
A £71m provision versus the £351m total loaned is 20% — higher than the 18% pre-pandemic proportion for FYs 2019 and 2020, and more evidence perhaps of adverse expectations concerning future bad loans: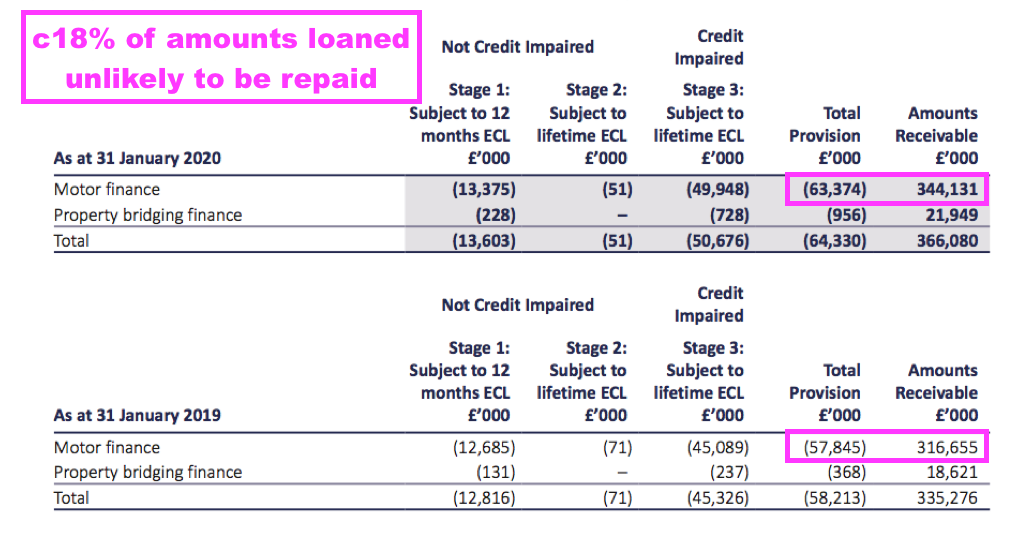 Advantage Finance: Collections and credit quality
Customer repayments ultimately determine the quality of Advantage's loan book and underwriting process.
SUS said Advantage's collections performance for this FY was "superb". The collection rate, at 93.2% of due, almost matched the 93.5% for pre-pandemic FY 2020:

Total collections, recoveries and settlements amounted to £104m for H2 to slightly exceed the pre-pandemic collection performance of H2 2020: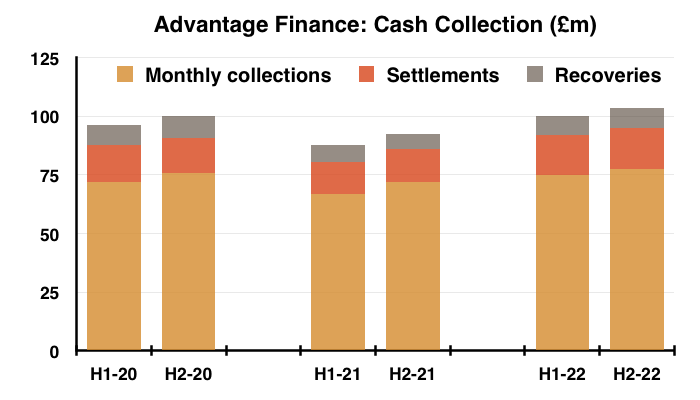 SUS said Advantage's collection rate was made possible by the division's "close and harmonious customer relations, responsible lending, the success of a new customer payment portal… and… the professionalism and empathy of our customer-facing teams."
SUS's estimates of future collections have been revised slightly:
Collecting between 135% and 138% of the original loan remains some way off the 150%-plus collected for money lent between FYs 2010 and 2014: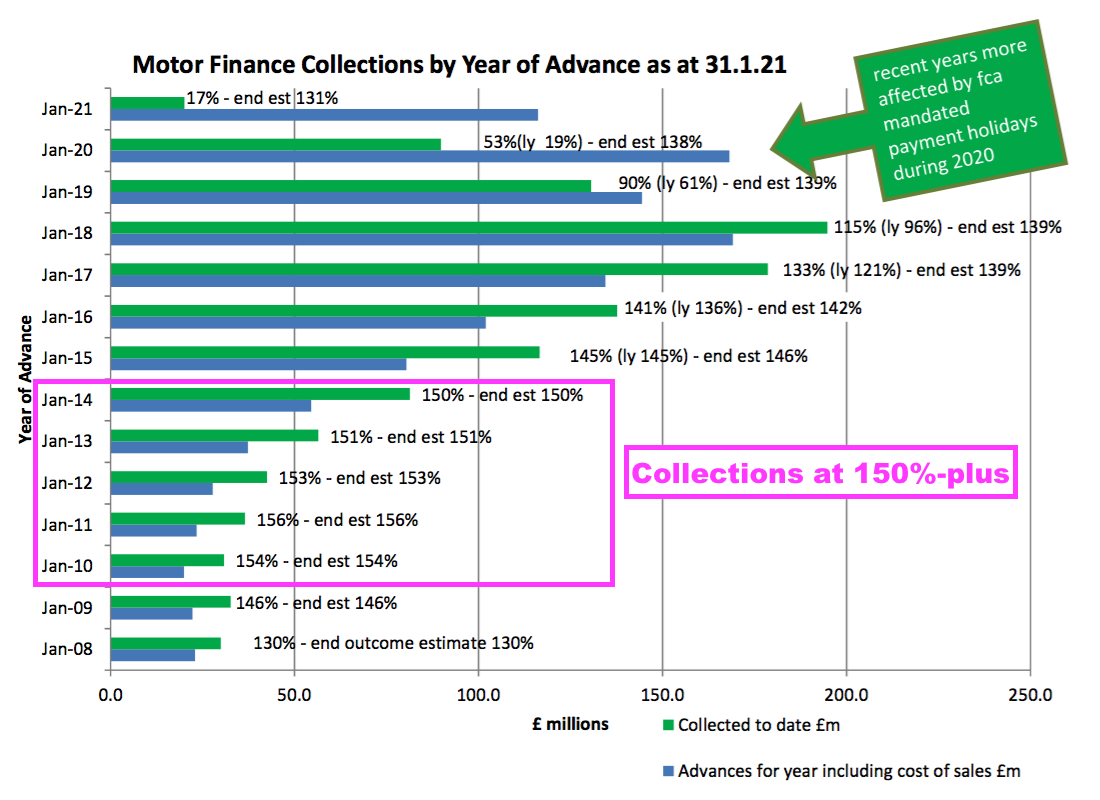 Advantage Finance: Payment holidays
Customers that enjoyed payment holidays are repaying at a greater rate.
The pandemic prompted the FCA to allow borrowers to apply for payment holidays lasting up to six months. All payment holidays ended on 31 July 2021.
During January 2021, customers that had taken payment holidays were paying 79% of due…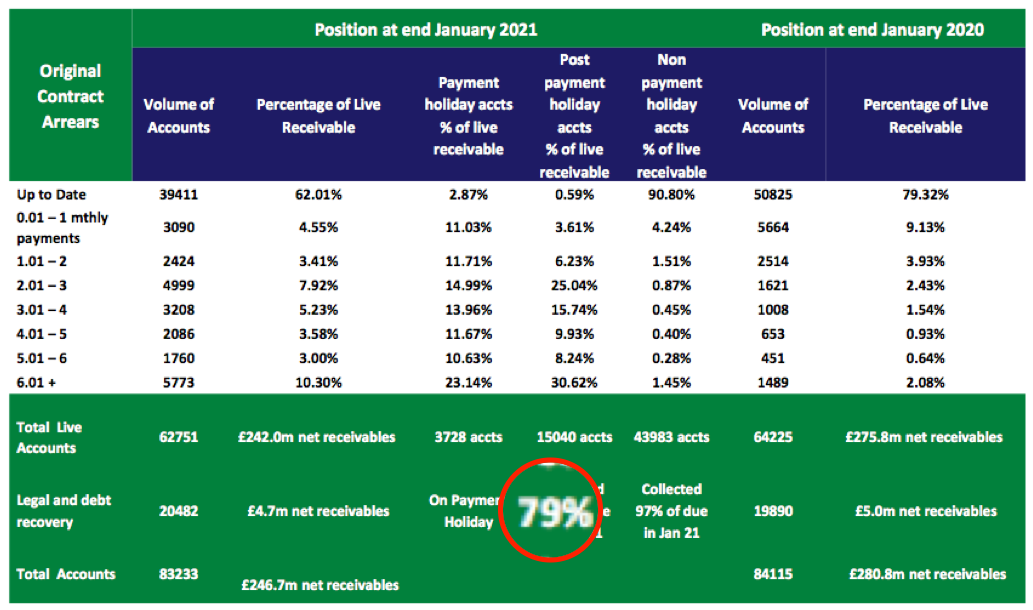 …but by July 2021 they were paying 88% of due…

…and by January 2022 they were paying 97% of due:

Holiday-payment borrowers repaying their loans ensured the overall percentage of up-to-date accounts improved from 62% for FY 2021 to 69% for H1 2022 to 73% for this FY 2022.
For perspective, the up-to-date account percentage for pre-pandemic FY 2020 was 79%.
Note that the percentage of non-payment-holiday accounts classified as up-to-date has slipped from 91% at H1 2022 to 87% for this FY.
A total 19,423 (62,031 less 42,608) accounts were overdue at the year-end, which excluding the 13,218 holiday-payment accounts implies 6,205 non-payment-holiday accounts were overdue:

6,205 overdue non-payment-holiday accounts compares with 4,623 for H1 2022 and 4,572 for FY 2021.
This increase to overdue non-payment-holiday accounts is perhaps more evidence of adverse lending conditions starting to emerge.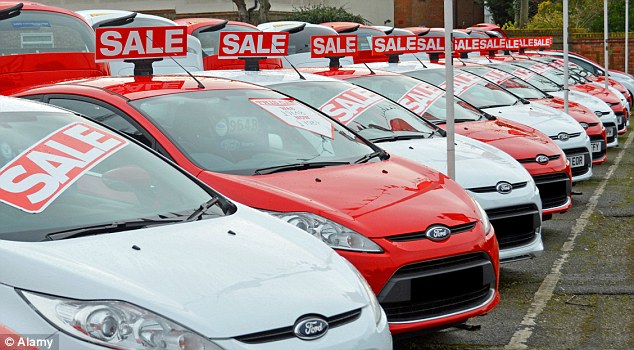 Advantage Finance: New loans
The 10,050 motor loans issued during H2 took the number agreed for the year to 19,747: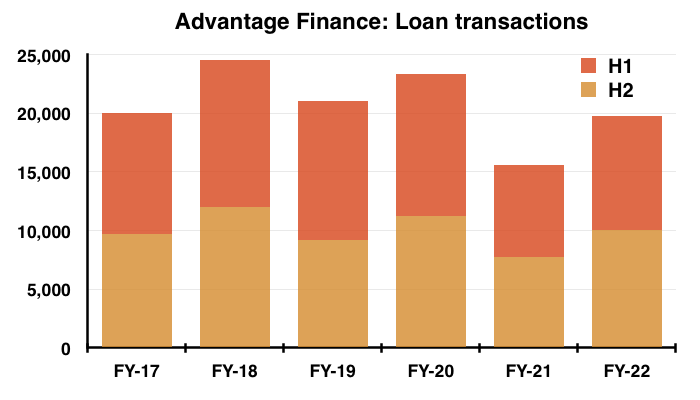 New loans at levels lower than witnessed during FYs 2017, 2018, 2019 and 2020 were not due to a shortage of applications.
The 2022 annual report says Advantage receives more than 1.5 million loan applications a year, versus 750,000 cited within the 2017 annual report.
Rising applications but falling transactions since FY 2017 hopefully means Advantage has been very choosy with its lending.
SUS expressed caution about motor-loan transactions for FY 2023:
"Although Advantage expects that new loan transactions will continue to grow this year, much will depend upon consumer confidence generally and the economic fall-out from the current crisis in Eastern Europe.

[Advantage's] prognosis has therefore been sensibly prudent with a return to increased growth forecast for the final third of this financial year, when used car availability is expected to have gradually returned to more normal levels."
The caution contrasted with the preceding H1 results webinar, during which management claimed Advantage was "planning for an increase in volumes up towards 25,000 units" for FY 2023.
25,000 new loans a year would represent a 27% increase on the FY 2022 performance.
No mention of transactions increasing to 25,000 was mentioned during the latest webinar.
Also absent during the latest webinar were remarks about potential affinity partnerships, whereby Advantage could receive applications rejected by mainstream loan providers:

The 19,747 new loans issued during this FY were offset by 20,467 accounts closed due to finished repayments, voluntary terminations or the commencement of legal proceedings: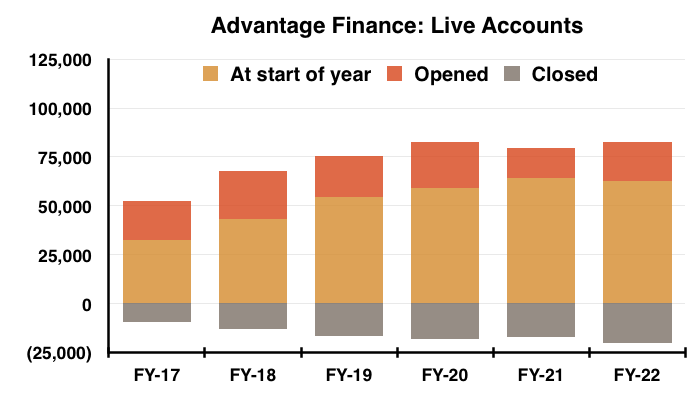 The account openings and closures meant total 'live' accounts remained at approximately 62,000: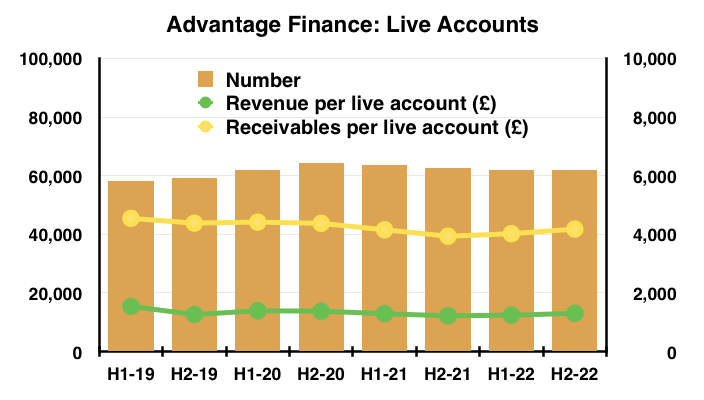 Revenue per account continues around the £1,300 mark, while customers owe approximately £4,100 each.
Advantage's first-payment statistics still appear satisfactory: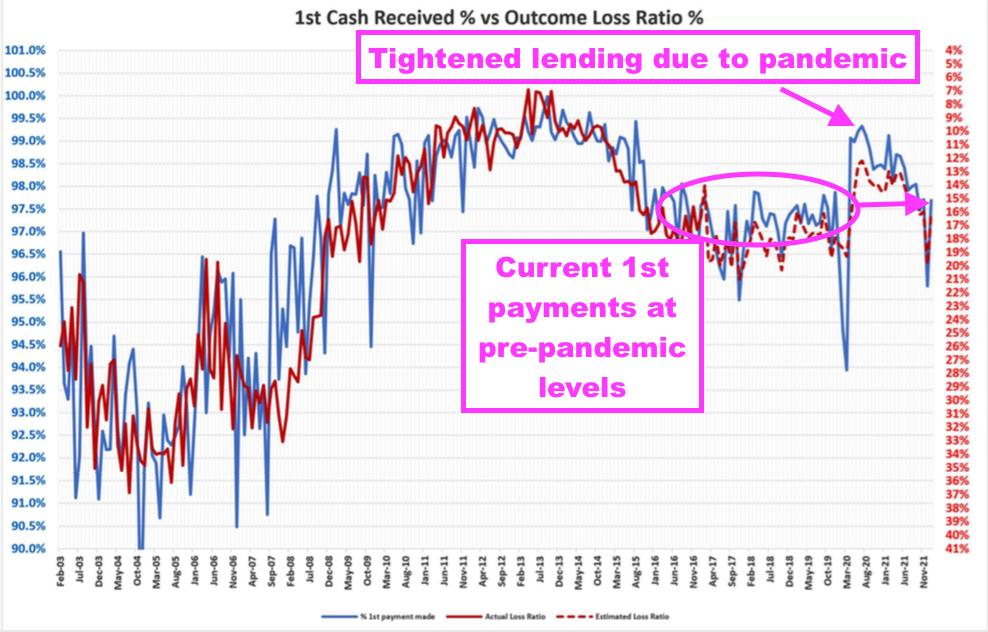 The blue line (left axis) reflects the percentage of customers making their first payment on time.
The proportion at almost 98% remains at levels seen on a regular basis before the pandemic.

(The 99%-plus first-time payments achieved during 2020 were due to the stringent lending applied as the pandemic struck).
The unbroken red line (right axis) shows the actual 'outcome loss ratio', which correlates strongly to the first payment percentage.
The dotted red line (right axis) shows the estimated 'outcome loss ratio', which had diverged from the blue line to reflect the greater uncertainty of repayments following the pandemic.
The gap between the blue line and the dotted red line is now closer than the same gap within the preceding H1 2022 presentation below…
…and implies improved repayment levels ahead.
Aspen Bridging
Established at the start of FY 2018, Aspen offers property bridging loans for small/individual property developers with awkward financial circumstances.
Aspen's rate card says developers borrowing against residential properties pay a flat monthly interest rate of 0.69% on a 70% loan-to-value arrangement. These case studies give a flavour of the transactions involved:
Excluding CBILS activity, developers last year were advanced an average £618k for 11 months. The number of loans agreed per year has more than tripled since the division's formation:
Aspen's participation in the government's CBILS scheme bolstered divisional progress during this FY.
Aspen agreed 24 CBILS loans totalling £43m (£1.8m average), of which 22 totalling £35m (£1.6m average) occurred during H1.
H2 therefore witnessed two CBILS transactions worth £8m (£4m average).
Profit during H2 came in at £1.9m versus £1.5m for H1 and £1.2m for the pre-pandemic FY 2020:
Aspen's credit quality remains exceptional.
Of the 369 loans advanced since formation, 267 have been repaid and only two of the remaining 102 have defaulted.
Expected write-offs from Aspen's £65m loan book amount to just £646k.
Loan impairments during this FY were £315k, with only £92k charged during H2.
SUS explained Aspen's low write-offs were due to the division's "thorough, painstaking and rigorous approach to underwriting involving a personal visit to every property financed."
Aspen's enlarged loan book currently represents 20% of SUS's entire lending.
Excluding CBILS, Aspen lent £69m last year of which £40m was lent during H2. Perhaps gross lending could reach £80m for FY 2023 and maybe even £100m for FY 2024?
Management talk during the results webinar was optimistic, suggesting Aspen's profit could "more than double" during the next two years.
The upbeat comments backed up the bullish remarks from the FY 2021 webinar, which cited a £5m Aspen profit within 2-3 years (i.e. by FY 2024).
I do wonder whether Aspen will one day surpass Advantage to become SUS's largest division.
Group executive director Jack Coombs co-started Aspen and is part of the founding Coombs family that owns at least 42% (£107m) of the company.
SUS's lead executives — Anthony and Graham Coombs — are presently both 69 years old while their cousin Jack is 34.
Jack Coombs therefore seems likely to be leading SUS at some point, and maybe the lending focus of the group may alter thereafter.
Aspen's early years have been more profitable than the early years at Advantage.
Advantage took more than a decade to grow from start-up (FY 2000) to report a £3m-plus profit (FY 2011); Aspen has meanwhile reached £3m in just five years.
Financials
The results presentation emphasised how money coming in from Advantage is funding new business for Aspen:
During this FY, Advantage generated free cash of £24.1m of which £10.0m was paid as dividends and £14.1m was used to support Aspen.
The three preceding years also saw Advantage generate surplus cash that was used to support Aspen: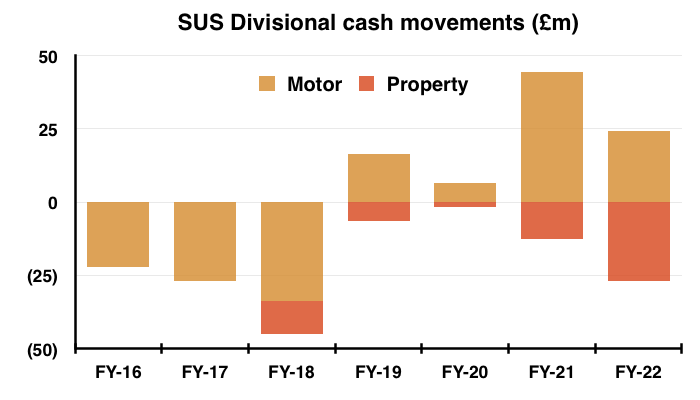 The cash movements from the last few years suggest Advantage is experiencing fewer lending opportunities, and better potential returns may now be enjoyed through Aspen.
After all, SUS does have debt facilities of £180m to fund new Advantage loans, but chooses instead to deploy surplus cash within Aspen.
SUS said during the preceding H1 2022 that the £180m facility gave "substantial headroom for accelerated growth".
But debt finished the year at £114m and was kept at 35% of the amount owed by customers: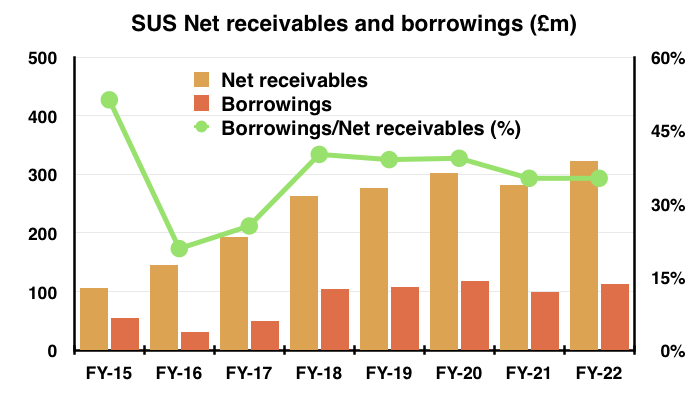 Debt in fact reduced by £2m during H2, and SUS's latest commentary on using that £180m facility was toned down to giving "sufficient headroom for the anticipated organic growth in both businesses in the next year."
Bank interest paid during the year was £3.6m, implying SUS's borrowings incur interest at a reasonable 3.4%.
Interest cover does not feel too worrying at approximately 10 times the average operating profit from FYs 2021 and 2022.
Return on capital employed for Advantage remains modest.
Although the slide below from the FY 2020 presentation has not been updated for two years…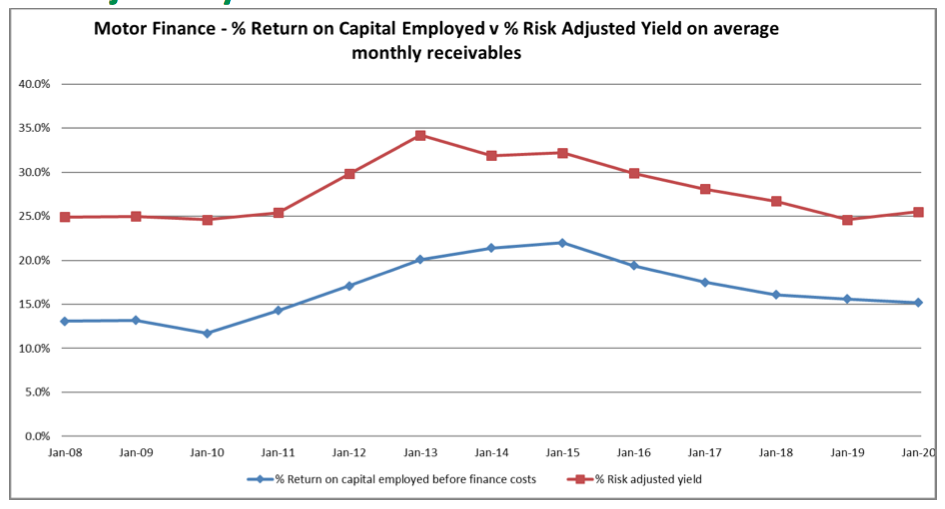 … SUS did say ROCE for Advantage was 19.4% for FY 2022 and 8.6% for FY 2021, giving a two-year average of 14%.
Advantage seems unlikely to enjoy superb ROCE levels.
Charging a flat 16.3% annual interest on a £7,138 loan less cost of sales of £874 leaves approximately £945 a year over four years before admin costs, non-payments and tax:

£945 a year from loaned capital of £7,138 equates to a 13.2% return before admin costs, non-payments and tax.
That 13.2% compares to 15.0%, 14.9%, 14.5%, and 13.7% for FYs 2018, 2019, 2020 and 2021 respectively.
The lower trend is not ideal, especially if higher inflation does indeed cause more loans to go unpaid.
But SUS's returns are enhanced by debt.
Advantage's loan book stands at £351m before provisions, of which £127m (or 36%) was funded by divisional debt and the rest through shareholder equity.
As such, £2,570 of the average £7,138 loan advanced during FY 2022 was funded through debt while £4,568 was funded through shareholder equity.
The aforementioned £945 equates to a useful 20% of that £4,568 funded through equity — albeit the 20% is before admin costs, non-payments, tax and debt costs.
Aspen's ROCE shows early indications of similarly modest ROCE.
Customer interest charged monthly at say, 1%, for a year would give a ROCE of 12% before other costs and tax. Aspen's divisional accounts indicate the division is funded purely through shareholder equity.
The modest ROCE levels do suggest SUS's inherent value should be biased towards the asset value of the group's loan book rather than annual earnings.
SUS's other assets and liabilities — including a tiny defined-benefit pension scheme — amount to only £3m.
Valuation
SUS's outlook comments were watered down from the preceding H1:
Back then SUS talked of a "bright" future:
"The Covid induced tribulations of the past year have seen S&U emerge more profitable, more competitive and more attuned to our customers ' needs . Add to that the buoyant markets in which we operate, our strongest ever financial base and our loyal and committed workforce, and prospects for the future are bright indeed."
But this FY statement referred to the "challenges now facing all of us"
"Like all successful businesses with a long history, S&U recognises that it must tailor its products and services and trim its operational tack to its economic, political and regulatory environment, over which it may have little control but to which it can nevertheless adapt and therefore thrive.

Whilst this year's resounding results clearly show our, and most important our loyal people's, ability to do this, their work in preparing and priming the Group for both the opportunities and challenges now facing all of us, gives me a quiet but determined confidence in S&U's future."
References to "operational tack" probably referred to regulation, as SUS's statement took issue with the "tsunami of regulation, sometimes ill-coordinated and even contradictory, apparently designed to remove all risk for consumers irrespective of circumstances."
Aspen's positive progress versus Advantage may in part be due to property-bridging loans being unregulated.
The cautious outlook remarks were followed by an encouraging AGM statement that revealed profit running "above budget":
"Following the Group's "resounding results" announced in S&U's annual report and our "quiet but determined confidence" in building on them even in uncertain times, we are pleased to report further steady progress.

Group profit before tax for the period was above budget for both Advantage Finance, our motor finance division, and Aspen Bridging, our property bridging division."
Mind you, SUS continued to recognise an uncertain economy:
"Although we currently expect to meet growth targets for this year, S&U remains focused above all on maintaining the excellent quality of its own books and service to its customers. This will ensure a firm base for faster expansion when the macroeconomic skies brighten. That balance between quality and growth has always served S&U well."
Last month's AGM update confirmed SUS's financials had not altered dramatically. The group's loan book and debt now stand at £340m and £125m respectively, versus £323m and £114m at the end of FY 2022.
The £21 shares presently trade at 1.24 times NAV of £17 per share:
The very best buying opportunities have occurred when the shares trade at NAV or below, while upside has tended to be limited when the shares trade at 2x NAV or more.
The 1.24x NAV rating suggests the market is worried that economic trouble will lead to greater write offs — and the "above budget" profit for FY 2023 will not be sustained.
But the veteran executives, who have been involved at SUS since the mid-1970s and steward at £107m-plus shareholding for their wider family, have successfully navigated many previous downturns (not least the pandemic).
The 2022 annual report reminded shareholders of the long-term benefit of these owner-managers:
"Our over-arching factor in the success of our business over 80 years and through three family generations of management is our business philosophy. The identity of interest between management and shareholders has fused our ambition for growth with a conservative approach to both credit quality and funding."
Management's "conservative approach to both credit quality and funding" ought to (again) prove its worth should difficult times emerge.
The record 126p per share dividend meanwhile provides a handy 6% yield at £21.
Maynard Paton