28 February 2019
By Maynard Paton
Results verdict on Tristel (TSTL):
Very satisfactory double-digit growth supported by encouraging progress both within the UK and abroad.
A new product and a recent acquisition offer attractive medium-term potential.
Continued bungling of the US regulatory project raises awkward questions about the associated consultants and decision-makers.
Accounts remain in good shape with high margins, net cash and conservative reporting of 'one off' costs.
Valuation remains understandably rich with an underlying P/E of 26. I continue to hold.
Contents

Event links and share data
Event: Interim results for the six months to 31 December 2018 published 25 February 2019 and City presentation hosted 25 February 2019

Share price: 285p
Shares in issue: 44,439,823
Market capitalisation: £127m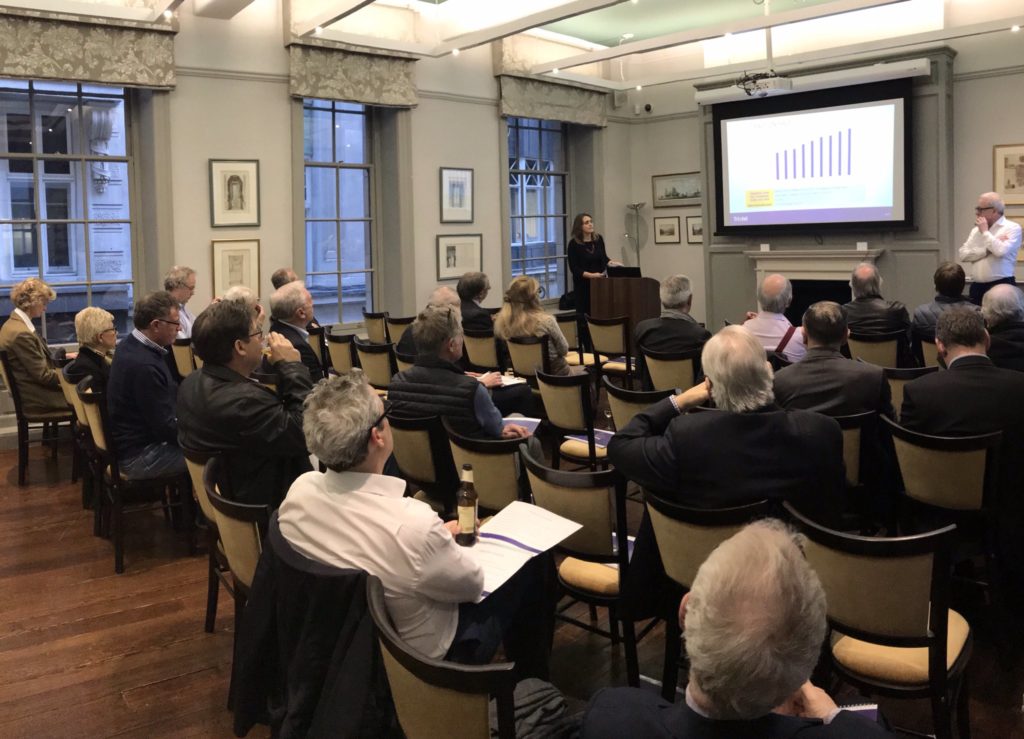 Why I own TSTL
Develops medical-instrument disinfectants that are repeat-purchase items and face limited direct competition due to multiple patents, scientific testimonies, secret ingredients and regulatory hurdles.
Enjoys a sizeable and resilient UK market position alongside significant expansion opportunities abroad.
Boasts financials that showcase high margins, decent cash flow, no debt and conservative profit recognition.
Further reading: My TSTL Buy report | All my TSTL posts
Results summary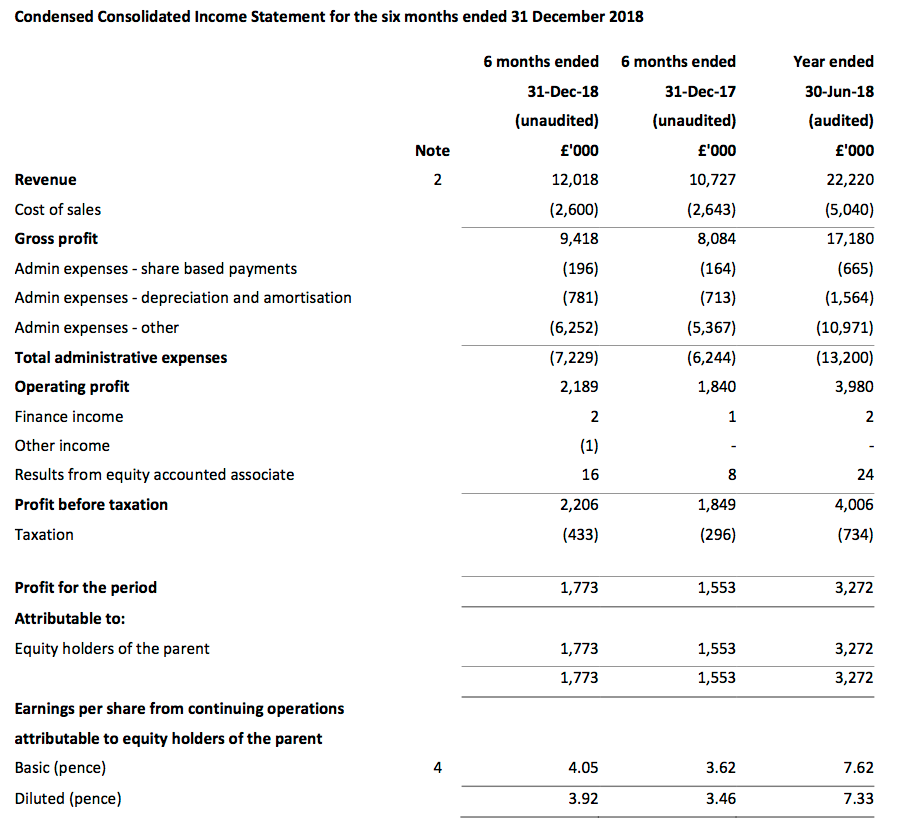 Revenue and profit
First-half pre-tax profit before share-based payments was indeed "no less than £2.2m" at almost £2.4m (up 19%).
TSTL's underlying profit advance was harder to determine. The figures were complicated by costs associated with the US regulatory project and the recent Ecomed acquisition:
| | | | | | | | |
| --- | --- | --- | --- | --- | --- | --- | --- |
| | H1 2017 | H2 2017 | | H1 2018 | H2 2018 | | H1 2019 |
| UK revenue (£k) | 5,555 | 5,120 | | 5,354 | 5,481 | | 5,610 |
| Overseas revenue (£k) | 4,193 | 5,405 | | 5,373 | 6,012 | | 6,408 |
| Total (£k) | 9,748 | 10,525 | | 10,727 | 11,493 | | 12,018 |
| | | | | | | | |
| Share-based payments (£k) | (5) | (116) | | (164) | (501) | | (196) |
| US costs (£k) | (200) | (300) | | (500) | - | | (100) |
| Ecomed* (£k) | - | - | | - | - | | (125) |
| | | | | | | | |
| Profit before tax and above items (£k) | 1,906 | 2,681 | | 2,513 | 2,658 | | 2,627 |
| Profit before tax (£k) | 1,701 | 2,265 | | 1,849 | 2,157 | | 2,206 |
(*calculated as £230k transaction costs less £105k profit contribution)
Pre-tax profit growth was 5% excluding the extra charges, which to TSTL's credit were not declared as exceptional items. (That 5% estimate might be on the low side due to TSTL expensing all of its 2018 US regulatory costs during the comparable first half).
Revenue growth accelerated from last year's 10% to advance 12% during the half to £12.0m.
UK sales gained 5%, within which sales to UK hospitals climbed an impressive 8%.
Overseas revenue surged a welcome 19%, or approximately 16% adjusted for the Ecomed acquisition and currency movements.
The results set fresh first-half revenue and profit records. The H1 dividend was lifted a wonderful 28% to 2.04p per share and underlined the firm's apparent confidence.
Revenue reporting re-classification
The reporting of product sales was re-jigged slightly within the City powerpoint presentation.
This time last year TSTL presented the following details: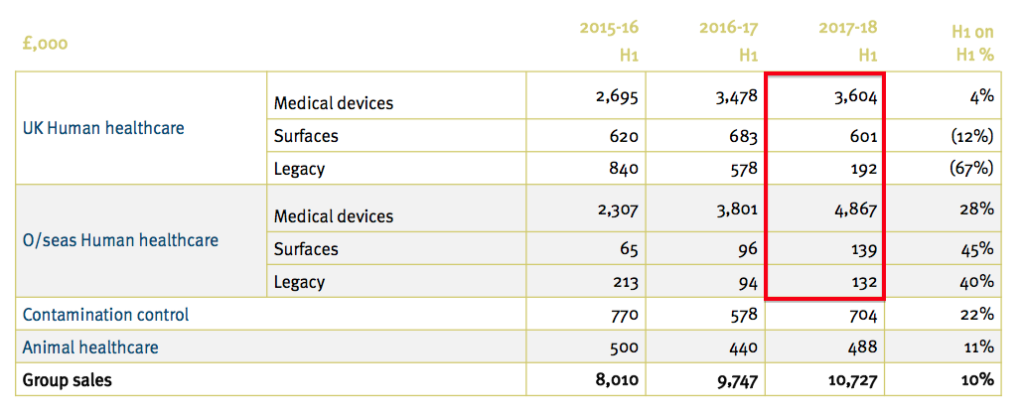 But this week's presentation showed the following:

The 2017-18 H1 numbers from the first slide (£3,604k, £601k, £192k, £4,867k, £139k and £132k) are now mostly different to those on the second slide (£3,313k, £601k, £483k, £4,619k, £189k and £330k).
The executives had seemingly overlooked the inconsistency until I raised the point at the City presentation.
Management then remembered that UK sales of £291k relating to endoscopy disinfectants had been re-classified as 'other' because the products were no longer viewed as important.
The re-classification allowed the 'core' medical-device disinfectants to report 9% UK sales growth within the latest powerpoint.
Within the overseas division, sales of £248k of medical-device disinfectants were re-classified as surface disinfection (£50k) and other (£198k) for 2017-18 H1.
The 2016-17 figures were not changed and therefore left the table inconsistent.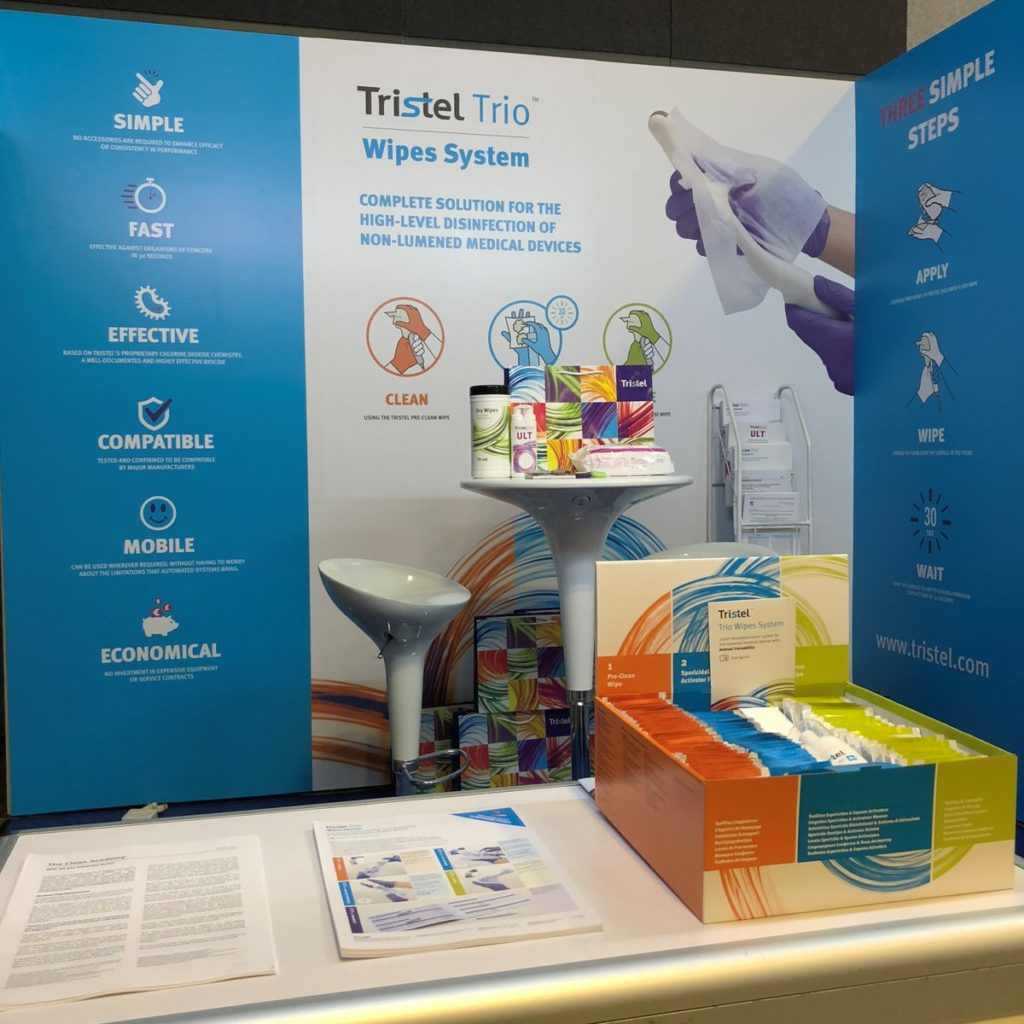 UK sales
Despite the endoscopy re-classification, overall sales to UK hospitals clearly increased a commendable 8%.
Management has in the past claimed "further growth opportunities are limited" for domestic sales, given TSTL's disinfectants are already used extensively throughout the NHS.
No such 'mature market' comments were made this time within the results RNS or shareholder presentation.
On the contrary, the immediate outlook for UK sales appeared positive.
UK surface disinfectants
Management spent some time showcasing Shot during the shareholder presentation.
Shot is a new product for cleaning mattresses, bedside tables and other items that hospital patients come into contact with.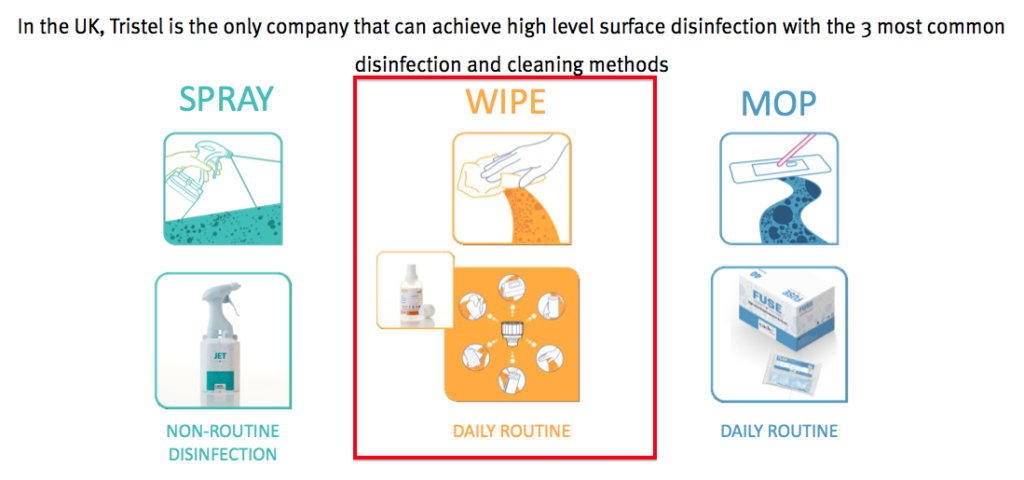 Back in October, TSTL outlined its plan for Shot to "disrupt" the suppliers of ordinary cleaning wipes.
These incumbent wipes are only as effective as the likes of Flash or Dettol and are sold to the NHS for as little as 2p each.
In contrast, Shot would be much more effective as a hospital 'surface' disinfectant — but was set to cost the NHS 5p per dosage/wipe.
Would the NHS pay twice as much for an alternative disinfectant — even if the alternative was much more powerful? I was not convinced in October.
However, this week's presentation suggested Shot's pricing had been reduced — and the potential now appears much more positive.
The following slide claimed a Midlands hospital pays £208k for 10 million wipes every ten months: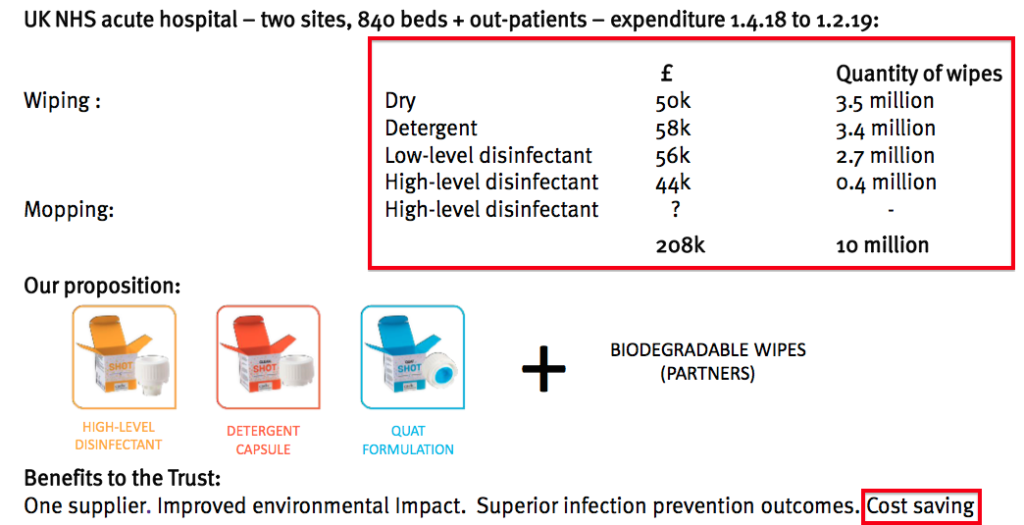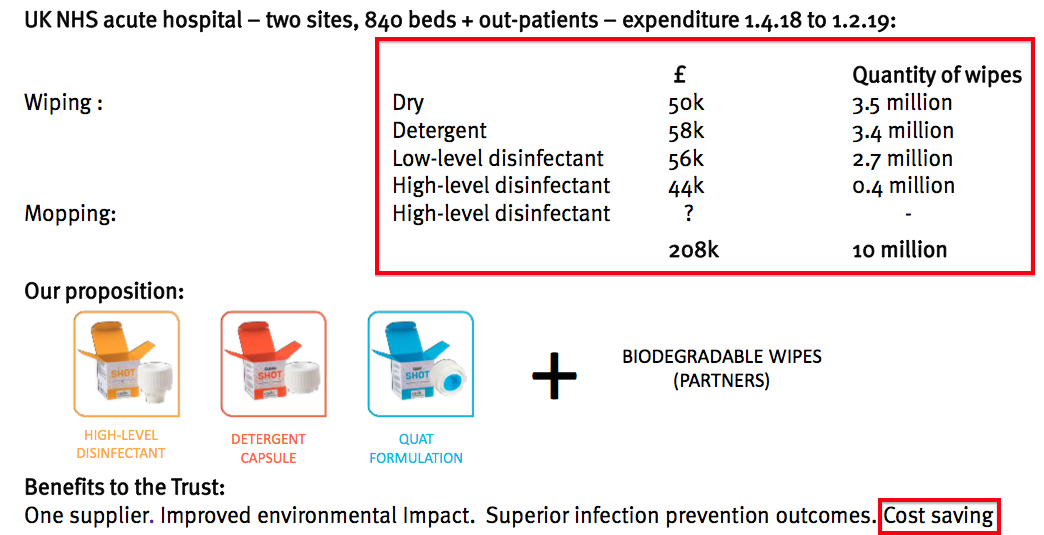 TSTL's latest plan is to "bundle" various Shot disinfectants together and supply an "all-embracing answer" to any hospital's 'surface' cleaning requirements.
Importantly, management said the bundle would be "at the same cost or a small saving" to what the hospital pays for those ordinary wipes.
Will UK hospitals find TSTL's cheaper bundle of higher-quality disinfectants an attractive proposition? I am hopeful.
An agreement with a leading supplier of biodegradable dry wipes to partner the Shot bundle is anticipated soon.
Management noted there are 400 hospitals in the UK, but left presentation attendees to estimate potential future sales for themselves.
The market size of Shot (and the associated dry wipes) could simply be 400 hospitals * £208k * 12/10 = c£96m. The executives have said previously that the market size for disinfectants used only to clean UK hospital floors is £20m.
The £90k/15% increase to UK surface-disinfectant revenue during the half was due mostly to early sales of Shot.
Enjoy my blog posts through an occasional email newsletter. Click here for details.
Overseas sales

TSTL reported a broad and encouraging spread of overseas revenue advances:

The results RNS revealed sales to Germany gained only 5% to £2,011k (German sales are included in Central & Eastern Europe within the slide above). Last year German sales jumped 23%.
The extra Northern Europe sales followed the purchase of Ecomed (see below).
Hong Kong's performance was driven by the operation being taken in-house last year.
China's performance followed a planned strategic change and the subsidiary is now led by the Hong Kong manager.
Overseas sales have grown from 30% to 53% of group revenue during the last five years.
Ecomed
The acquisition follows TSTL's (successful) purchase of other distributors and seems a promising and logical deal.
An initial €5m was paid and these results confirmed a subsequent €1.8m payment.
Management said at the presentation the €1.8m earn-out had been dependent on "one of two measures".
The original announcement read as if the earn-out was dependent on both measures (my bold).
"Additional deferred consideration of up to €1.8m may be paid before July 2019 based upon final audited EBITDA for the calendar year 2018 exceeding €0.84m, and sales growth of at least 15% for the year ending 30 June 2019 being achieved."
Management helpfully revealed Ecomed's contribution to these first-half results: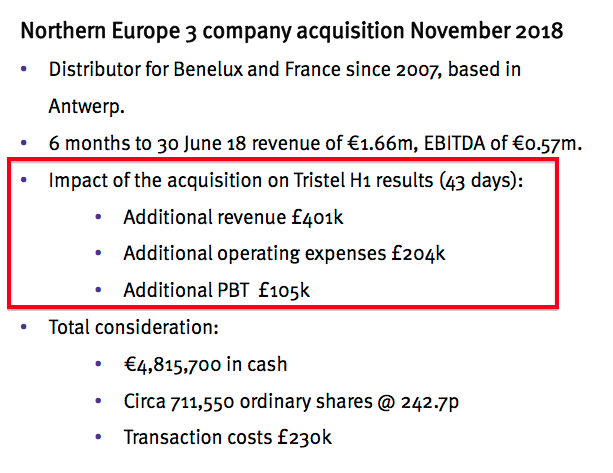 The original acquisition announcement stated:
"The Company expects the acquired business to contribute incremental earnings in its current financial year of at least £250,000 after transaction and integration costs, and in subsequent years to be materially earnings enhancing"
Producing £250k after transaction and integration costs between mid-November 2018 and 30 June 2019 implies a 7.5-month contribution of approximately £500k before the charges.
That £500k could equate to £800k on a full-year basis.
Alternatively, £105k from 43 days equates to £891k annualised. Management did not argue with that extrapolation at the presentation.
The directors helpfully revealed the additional £401k of Ecomed revenue was equivalent to £150k of distributor revenue.
In other words, an independent Ecomed would have purchased TSTL products for £150k and then sold them on for £401k.
Those numbers suggest other distributor sales — currently running at £3m — may actually be worth £8m to TSTL were TSTL to acquire those distributors, too.
The price paid for Ecomed equated to more than 2x sales. In comparison, TSTL acquired its Australian and Hong Kong distributors for much less than 1x sales.
A presentation attendee wondered about the Ecomed purchase price. Management claimed Ecomed possessed "more intrinsic value" by offering "a more rounded management team, a warehouse and a full-service operation".
In contrast, Australia and Hong Kong were valued mostly on their customer lists and stock assets.
The directors confirmed the Ecomed purchase followed a "lengthy courtship" that began "this time last year". I formed the impression TSTL made the first move.
Management cited France as a Germany-type opportunity for Ecomed. The subsidiary's manager has been "mandated… to deliver in France":

Management claimed the group's in-house European salesforce — at 31 people — was now "bigger than the [equivalent] Johnson & Johnson infection team".
In-house salespeople also remain "much better at driving sales growth overseas" than independent distributors. The "act of persuasion" remains "lengthy and complex" with all hospitals, and "good people on the ground" are required.
United States
The results RNS announced yet more frustrating delays to TSTL's US regulatory project.
The statement helpfully reminded investors about the project milestones achieved so far: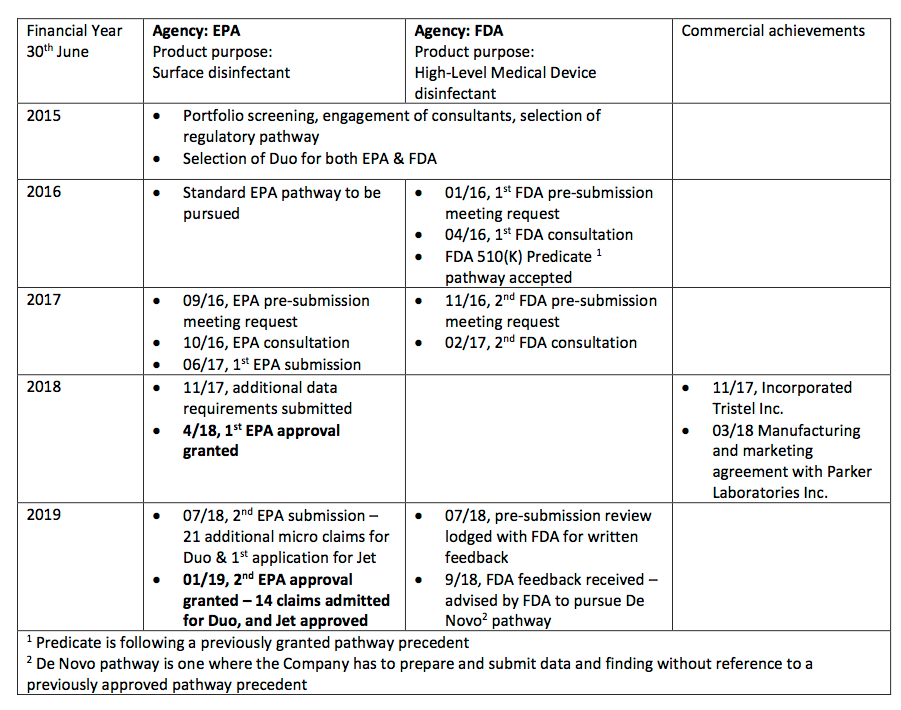 Absent from the table were TSTL's earlier predictions of completing the regulatory process.
My notes from 2015 recall management initially hoping US FDA regulatory approval would be received by June 2017.
By October 2016, the directors were forecasting US revenue being earned during the year to June 2019.
By October 2018, the directors were expecting the FDA submission would be made by June 2019.
TSTL has now withdrawn all FDA guidance after selecting the wrong application route. (The bungled decision was explained here). All sorts of additional product studies and tests are now required to satisfy the FDA.
The results RNS (quite rightly) said "it would now be folly to try and predict when we may finally achieve FDA approval".
Management (quite rightly) admitted at the City presentation to being "naive" with its earlier FDA projections.
TSTL's earlier objective of generating US revenue during the year to June 2019 will now not be met.
The protracted FDA project has prompted TSTL to shelve plans to sell products in the US that had already obtained the lesser EPA approval:
"We have decided that our most prudent approach is to postpone commercialising the EPA approvals already obtained for our Duo and Jet products until we have greater visibility of the way ahead for the FDA project."
"To exploit the same market opportunity in the USA hospital market that we enjoy everywhere else in the world we ideally require approvals from both agencies."
"We will pursue a different commercial strategy with both than we would with one only, and it would be premature to push further and faster with Duo and Jet as surface disinfectants until the way forward with the FDA is clear."
Postponing the selling of the EPA-approved products leads to many awkward questions — questions that I should have thought of before the City presentation:
Was there ever a market for EPA-approved products in the first place?
Did the decision to seek EPA approval distract from the more significant FDA submission — and cause the subsequent hold-ups?
What does US partner-in-waiting Parker Laboratories make of the delays?
I did ask the directors whether they were still happy with their US regulatory consultants given the continuing delays. I was told the team had been expanded to include some lawyers, who are apparently important when compiling FDA regulatory paperwork.
I also asked whether the regulatory consultants were paid by the hour. Management said the experts were "not kicking the can down the road" to extract extra fees.
Management mentioned the FDA had changed its own procedures during 2017 to cope with the growing development of innovative medical devices. This change may well have caught out TSTL's regulatory consultants.


If we assume TSTL submits its FDA application during 2020, approval could perhaps be received by 2022 and US sales could perhaps commence during 2023.
That 2023 scenario would mean TSTL's FDA project will have taken eight years to complete for a product that was already sold elsewhere.
In contrast, Trophon took ten years to go from nothing to FDA approval.
The powerpoint slides revealed two regulatory setbacks regarding the EPA:

I suspect these EPA setbacks made the decision to postpone selling the EPA-approved products more straightforward.
Brexit
"The only certainty is that we will experience turbulence this year and our normally predictable pattern of trade will be disrupted to some extent. Notwithstanding this near-term uncertainty, the outlook for the Company remains very positive."
These first-half figures thankfully showed no such "turbulence" and did not include any pre-Brexit 'forward orders'.
Management should be applauded for presenting this informative slide: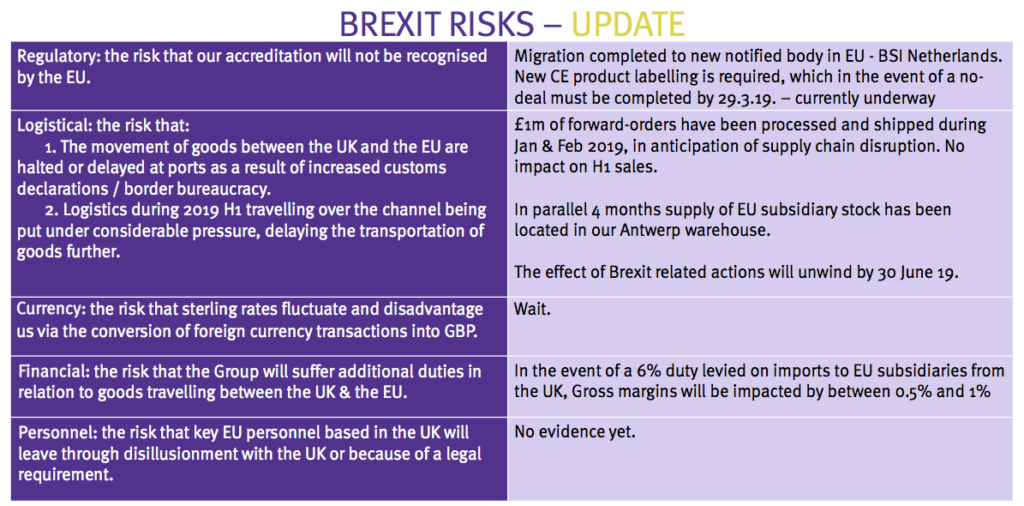 The directors said at the City presentation that forward orders made during January and February had replaced sales that would have ordinarily occurred during the next few months.
Management revealed the period-end cash balance of £4.5m had since declined to £3.9m after cash was invested in Brexit stock-piling.
The executives added that a no-deal Brexit would lead to certain write-offs (relating to outdated labels, brochures, and so on).
Three-year financial targets
TSTL had anticipated lifting revenue by between 10% and 15% a year during 2017, 2018 and 2019, while sustaining a pre-tax margin of 17.5% throughout.
Subsequent sales have of course been helped by acquisitions and weaker sterling translating into greater overseas income.
Annual revenue currently runs at £23.5m versus a minimum 2019 target of £22.8m.
The three-year margin target should be met despite the period including US regulatory costs of £1m and share-based payments of £1m.
The results RNS said new three-year financial targets would be revealed at July's open day.
TSTL is the only quoted company I know that issues three-year guidance. The executives should be commended for their courage.
Miscellaneous
Management claimed at the City presentation that, within ten years, the business could be supplying disinfectants to markets such as hospitality (e.g. cruise ships) and nursing homes. A disinfectant for household purposes is not on the horizon.
The animal-healthcare and contamination-control divisions were described by the directors as "cash-generative, profitable but non-core". TSTL does not "invest time or energy" into those operations.
Financials
TSTL's accounts remain simple and in good shape.
A healthy 18.4% pre-tax margin exceeded the group's 17.5% target, and would have been 19.2% excluding US regulatory costs.
The balance sheet showed cash at £4.5m, of which approximately £1.2m has since funded the Ecomed earn-out. The resultant £3.3m cash position equates to 7p per share.
TSTL carries no debt and no pension obligations.
Cash flow absorbed a net £2.2m following the Ecomed acquisition (£3.1m), last year's final dividend (£1.3m) and early Brexit stock-piling (£0.5m).
The £0.7m expenditure on tangible and intangible assets was covered entirely by the associated depreciation and amortisation charges.
Valuation
TSTL's operating profit for the twelve months to December 2018 was £5.0m before share-based payments.
The following adjustments give an 'underlying' operating profit of £6.0m:

Adding £100k for US regulatory costs;
Adding £196k for Hong Kong transaction costs;
Adding £240k for Ecomed transaction costs;
Adding an estimated £700k to represent a full-year Ecomed contribution, and;
Subtracting an estimated £300k for share-based payments.
Applying the standard 19% UK tax rate then gives earnings of £4.8m or 10.8p per share.
Subtracting the aforementioned 7p per share cash position from the 285p share price gives an underlying P/E of 278p/10.8p = 26.
A premium rating is understandable given:

TSTL has been growing at between 10% and 15% per annum, and may well continue to do so during the next few years;
The accounts clearly show TSTL's disinfectants delivering attractive economics, and;
The opportunities through Ecomed (particularly in France), other overseas subsidiaries and Shot may now overshadow the reduced/scrapped US projections.
The trailing 5.02p per share dividend supplies a 1.8% yield.
Maynard Paton
PS: You can receive my blog posts through an occasional email newsletter. Click here for details.
Disclosure: Maynard owns shares in Tristel.