20 July 2018
By Maynard Paton
Update on Tristel (TSTL).
Events: Trading update for the year ending 30 June 2018 published 13 July 2018, director share sales published 16 July 2018 and shareholder open-day presentation hosted 17 July 2018.
Summary: Earlier this week I attended TSTL's third annual open day, and this year the event was accompanied by news of hefty director selling as well as confirmation of record revenue and profit. The chairman has reduced his shareholding from 19% to 15%, and confirmed he is looking to sell more during the next few years. The marquee presentation did not provide any great revelations, but one slide did show a useful sales comparison between the UK and overseas, while another slide suggested full-year sales of the group's 'core' disinfectants had just advanced an impressive 18%. I continue to hold.
Price: 300p
Shares in issue: 43,695,048
Market capitalisation: £131m
Click here to read all my TSTL posts
Picture: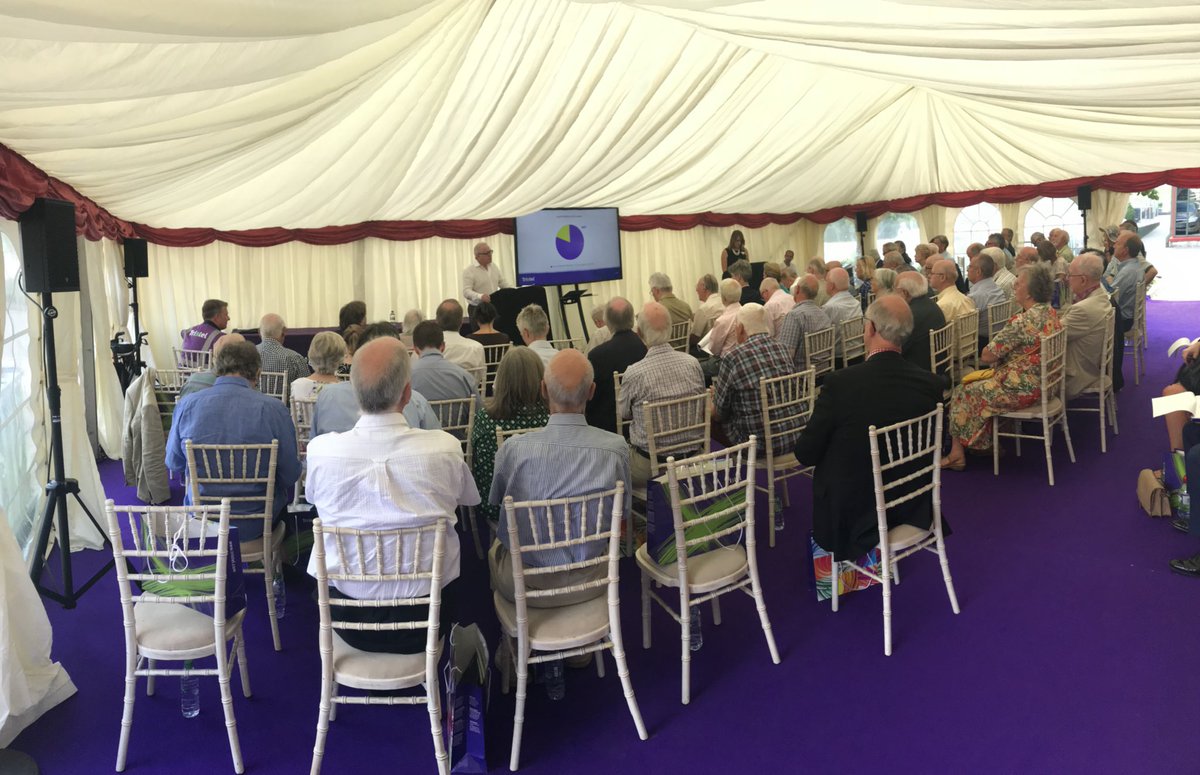 (Source: @WalbrookPR)
My thoughts:
* Same marquee, same car park, same carnations, same weather
This week I paid a third visit to an obscure Cambridgeshire village to complete a hat-trick of TSTL open-day attendances.
Similar to the previous two events (2016 and 2017), the 2018 open day consisted of a management presentation/Q&A, a large sandwich buffet, the opportunity to tour the factory and a chance to inspect various products.
Once again the main presentation took place in a white marquee out in the car park, and this time the use of microphones vastly improved the acoustics. Staff wore the usual white carnations, attendees had to sit on last year's awful chairs, and it was another warm day.
I must applaud TSTL for arranging these open days. They are popular with investors — the photo above suggests approximately 50 people attended this year's gathering — and more quoted companies ought to host similar events.
Other plus points include the open-day presentation PDF carrying the management script, and the trading update being published a few days before the marquee get-together (so no need to calculate various sums at 7.01am before dashing off to the M11!)
* UK and overseas revenue, plus a useful snippet about the NHS
The trading update issued ahead of the open day said:
"For the year ended 30 June 2018 results will be in line with expectations, showing strong growth across the business.  Tristel will report record turnover of £22.2m (2017: £20.3m) and pre-tax profit (before share-based payments) of at least £4.4m (2017: £4.1m).  Revenue from overseas markets contributed 51.3% of the Group total – a record level (2017: 47%)."
The statement read very well, with revenue and profit hitting new records. Indeed, turnover of £22.2m is just shy of the £22.8m minimum TSTL had projected for 2019 back in October 2016. However, analysing the figures further did raise a few questions.
I have put together the following table based on TSTL's first-half results and the numbers contained within last week's statement:
| | | | | | | | |
| --- | --- | --- | --- | --- | --- | --- | --- |
| Revenue | H1 2017 | H2 2017 | FY 2017 | | H1 2018 | H2 2018* | FY 2018* |
| UK (£k) | 5,555 | 5,120 | 10,675 | | 5,354 | 5,457 | 10,811 |
| Overseas (£k) | 4,193 | 5,405 | 9,598 | | 5,373 | 6,016 | 11,389 |
| Total (£k) | 9,748 | 10,525 | 20,273 | | 10,727 | 11,473 | 22,200 |
(*estimated)
It seems to me UK revenue gained 6% during the second half to produce a 1% gain for the full year. I have to say, the second-half performance was a pleasant surprise given the 4% UK sales drop witnessed during the first half.
Full details about the UK performance will no doubt be revealed within October's full-year results.
I will be keen to discover how UK sales of the group's 'core' medical-instrument disinfectants performed, and then compare that progress to that of TSTL's 'other' veterinary, cleanroom and legacy products.
I get the impression UK sales of the 'core' disinfectants may have done particularly well during the second half.
(As a reminder, February's H1 results showed UK 'core' revenue up 4% and UK 'other' revenue down 16% to give a total 4% drop.)
One useful snippet from the open day concerned the forthcoming renewal of the firm's framework agreement with the NHS. I was told TSTL had presented the health service with a revised UK pricing structure that implies low-to-mid-single-digit price rises for the next four years.
Whether the NHS trusts all accept the higher pricing is of course another matter, but TSTL did claim it had effectively lifted prices every year within the UK (and overseas) to date.
My earlier table shows H2 overseas revenue growing by 'only' 11%, which I thought was a little weak given the 28% advance during H1.
Management comments at the open day suggested there had not been any problems, with Germany apparently expanding sales by 40% and Australia advancing sales by between 20% to 30% for the full year.
The directors did say the Hong Kong operation had experienced lower revenue as the group took full control of what was a third-party distributor outfit.
Full details about the overseas performance will no doubt be revealed within October's full-year results.
* Second-half  'core' revenue may have climbed 19%
This slide from the open-day presentation was particularly interesting: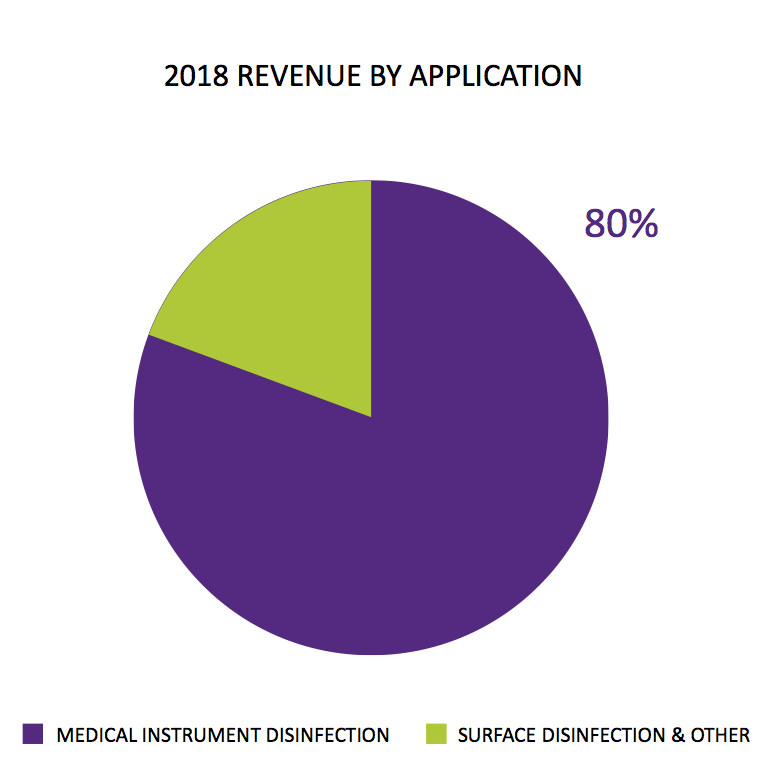 80% of £22.2m indicates 'core' medical-instrument disinfection products produced revenue of £17.8m during 2018.
The table below summarises the H1/H2 figures for 2017 and 2018:
| | | | | | | | |
| --- | --- | --- | --- | --- | --- | --- | --- |
| Revenue | H1 2017 | H2 2017 | FY 2017 | | H1 2018 | H2 2018* | FY 2018* |
| | | | | | | | |
| Core (£k) | 7,279 | 7,822 | 15,101 | | 8,471 | 9,289 | 17,760 |
| Other (£k) | 2,469 | 2,703 | 5,172 | | 2,256 | 2,184 | 4,440 |
| Total (£k) | 9,748 | 10,525 | 20,273 | | 10,727 | 11,473 | 22,200 |
| | | | | | | | |
(*estimated)
If I have interpreted the slide correctly, then it appears second-half revenue relating to 'core' medical-instrument disinfectants gained a very impressive 19% (versus 16% during the first half and 18% for the full year).
* Profit before tax, share-based payments, US costs and Hong Kong termination expenses
TSTL's statement last week said pre-tax profit (before share-based payments) would be "at least £4.4m", while the open-day slides showed the costs associated with the US regulatory project represented 3% of revenue: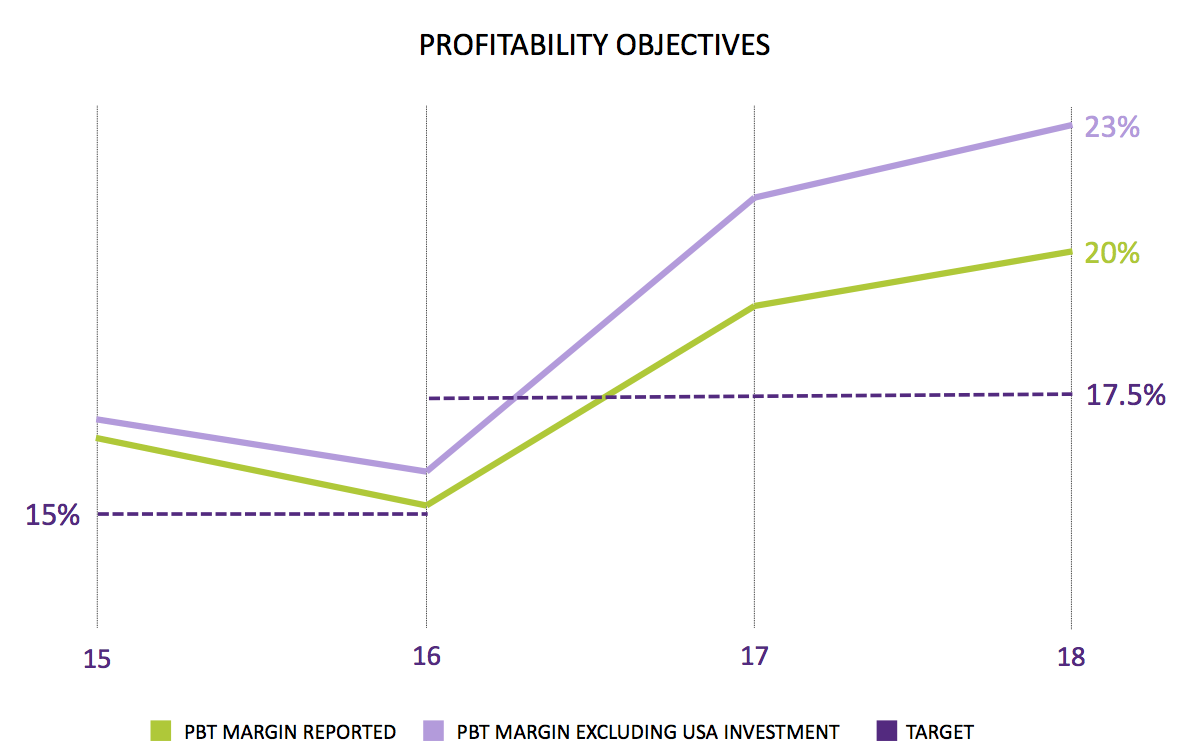 Full-year US regulatory costs were therefore c£660k, some way below the £800k TSTL had expected at the half year.
Here is my best guess of the group's profitability before share-based payments (SBP) and the US expenditure:
| | | | | | | | |
| --- | --- | --- | --- | --- | --- | --- | --- |
| | H1 2017 | H2 2017 | FY 2017 | | H1 2018 | H2 2018* | FY 2018* |
| | | | | | | | |
| Revenue (£k) | 9,748 | 10,525 | 20,283 | | 10,727 | 11,473 | 22,200 |
| | | | | | | | |
| Pre-tax profit before SBP (£k) | 1,706 | 2,381 | 4,087 | | 2,013 | 2,387 | 4,400 |
| US costs (£k) | 200 | 300 | 500 | | 500 | 160 | 660 |
| Pre-tax profit before SBP and US costs (£k) | 1,906 | 2,681 | 4,587 | | 2,513 | 2,547 | 5,060 |
I must admit, the result for H2 2018 coming in at less than H2 2017 seems disappointing.
The likely explanation is the £200k used to pay off the (now former) Hong Kong distributor, which TSTL announced within the first-half results and confirmed was all expensed during H2.
Also, past TSTL statements have always 'sand bagged' future profit projections, so "at least £4.4m" may in reality turn out to be £4.5m.
October's results will no doubt provide greater clarity for my sums.
* Bank balance suggests a cash-generative H2
Last week's statement declared:
"Tristel has continued to generate significant levels of cash and at 30 June 2018 cash balances were £6.7m (30 June 2017: £5.1m).  The Company has no debt."
My calculations suggest the company enjoyed a cash-generative second half.
February's interim results showed a £4.9m cash balance, and adjusting for the £0.7m H1 dividend, the second half appears to have enjoyed a cash inflow of £2.4m or more (or approximately 5.5p per share).
Cash in the bank is now equivalent to 15p per share.
The management narrative on the open-day slides dismissed the idea of another special dividend:
"We have previously stated that if the Board feels there are no suitable opportunities for the investment of surplus cash then a special dividend will be paid, as we did in 2015 and 2016. The Board has no plans to pay a special dividend at this time. Our standard dividend policy is to distribute half of net profit each year."
Someone in the marquee did ask if the company required extra cash to fund the expansion programme (answer: no).
I guess at this point next year, with the cash pile perhaps heading towards £10m, the marquee questioning could return to the likelihood of another special dividend.
In the meantime, I am hopeful TSTL can find an opportunity to purchase another foreign distributor. The Australian deal announced two years ago appears to have been a success and the director talk in the marquee confirmed company-owned subsidiaries were very much the preferred option overseas.
* Chairman to reduce his 19% shareholding in an 'orderly manner'
An RNS issued the day before the shareholder presentation may have dampened the marquee mood slightly. The statement revealed significant share sales at 285p from three directors.
Notably, non-exec chairman Francisco Soler sold 21% of his holding to raise almost £5m (Mr Soler retains a 15%/£20m stake). In addition, chief exec Paul Swinney raised £1.4m by exercising 30% of his options, while non-exec Paul Barnes raised £600k by selling 36% of his ordinary shareholding.
I must admit, the orchestrated selling does not look great — especially given the upbeat open-day presentation and the business (finally) having achieved its first US regulatory approval.
That said, the same directors made similar hefty share sales during April 2017 at 175p — and the share price has since rallied 63%. So the omens may not be so sinister.
Mr Soler announced in the marquee that he would continue to reduce his shareholding in an "orderly manner" during "the next couple of years".
I asked Mr Soler afterwards why he was selling out when the group was doing so well and on the cusp on breaking into the States. He said that he had been seriously ill and, at 73 years old, now was the time to retire and offload his shares.
For what it is worth, I got the distinct impression Mr Soler would prefer a decent bid for the rest of his shares instead of awaiting an even higher share price based on the company's longer-term performance.
The marquee grapevine suggested other director selling could be due to divorce matters.
* The marquee Q&A did not provide any great revelations
Having attended the two previous open days and maybe eight or so other results presentations, I did not arrive at this open day armed with that many questions.
In fact, I confess I spent most of the open day talking to other shareholders rather than TSTL's staff. I do hope investment complacency is not setting in.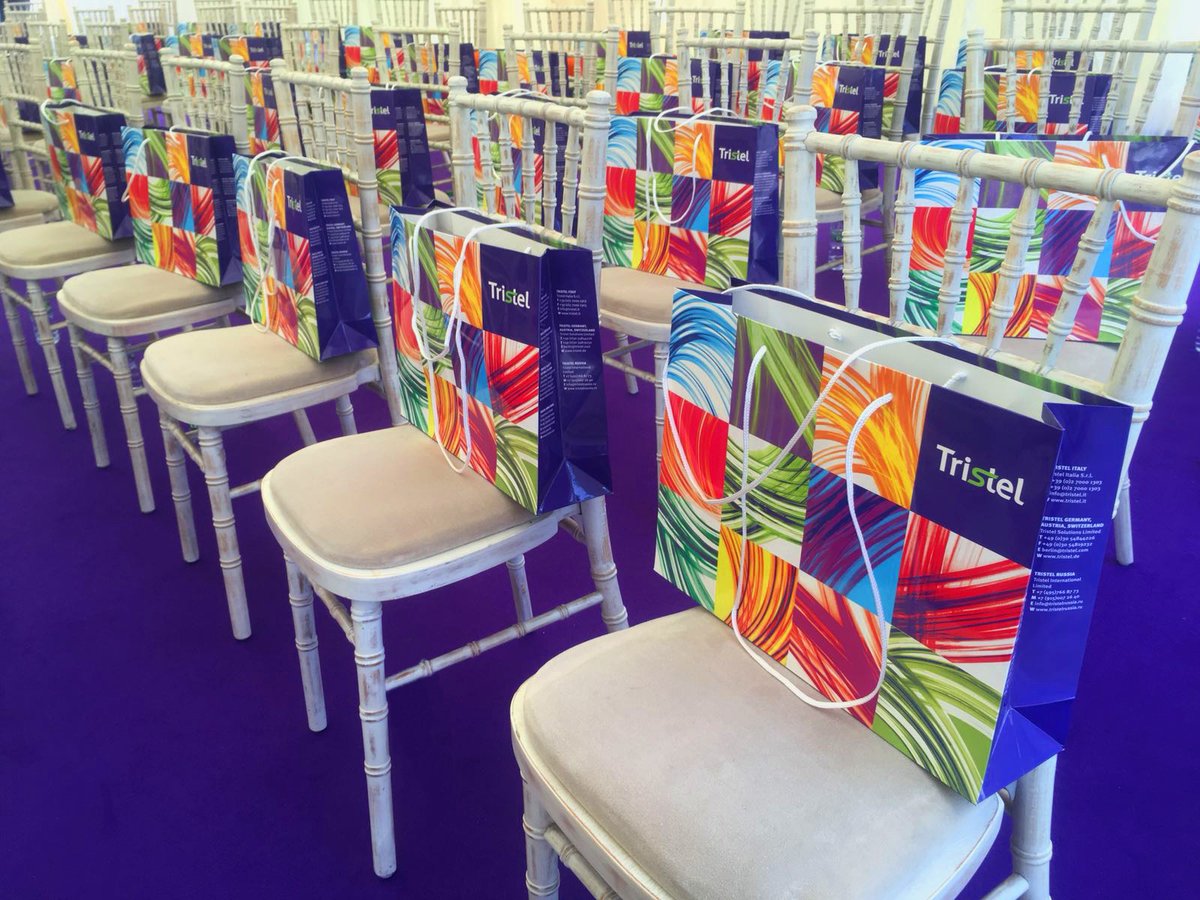 (Source: @TristelGlobal)
I can report that the marquee Q&A session did not provide any great revelations.
A question about patents elicited confirmation of 250 or so granted patents worldwide and seven patent 'families' (one for foams, one for wipes, and so on), which all provide a "broad patent thicket" as a defence against rivals.
For the flagship wipes product, patent expiries start from 2024 while other products may not see their patents expire until the mid 2030s.
(I will have to follow up on this subject. Six years left to run before some patents expire does not sound that long.)
Management also confirmed the US timetables remain unchanged.
State-by-state registrations following the EPA approval should all be completed by the end of December. The first five states for registration are Florida, North Carolina, Illinois, New Jersey and Arizona — TSTL has been told these states offer the easiest paperwork.
A submission to the FDA is still expected to be made before the end of December. Management said the submission would be followed by a "six-month review process".
The directors were somewhat cautious about the early Stateside potential. The first US revenues will be "very modest" and will "gradually build up over time".
"We will take our time to build a business in the USA" appeared to be the main message.
I should add that Parker Laboratories is apparently "very excited" to be collaborating with TSTL in the States.
Shareholders were told that Parker makes its own disinfectants to clean the ultrasound probes on which its ultrasound gels are applied. I can only presume TSTL's foams are more effective than Parker's own disinfectants.
The Q&A confirmed Parker will manufacture TSTL's 'Duo' foam, but will sell only to ultrasound customers. Sales will be made via Parker's national sales team.
Finally, the presentation slides contained this handy chart: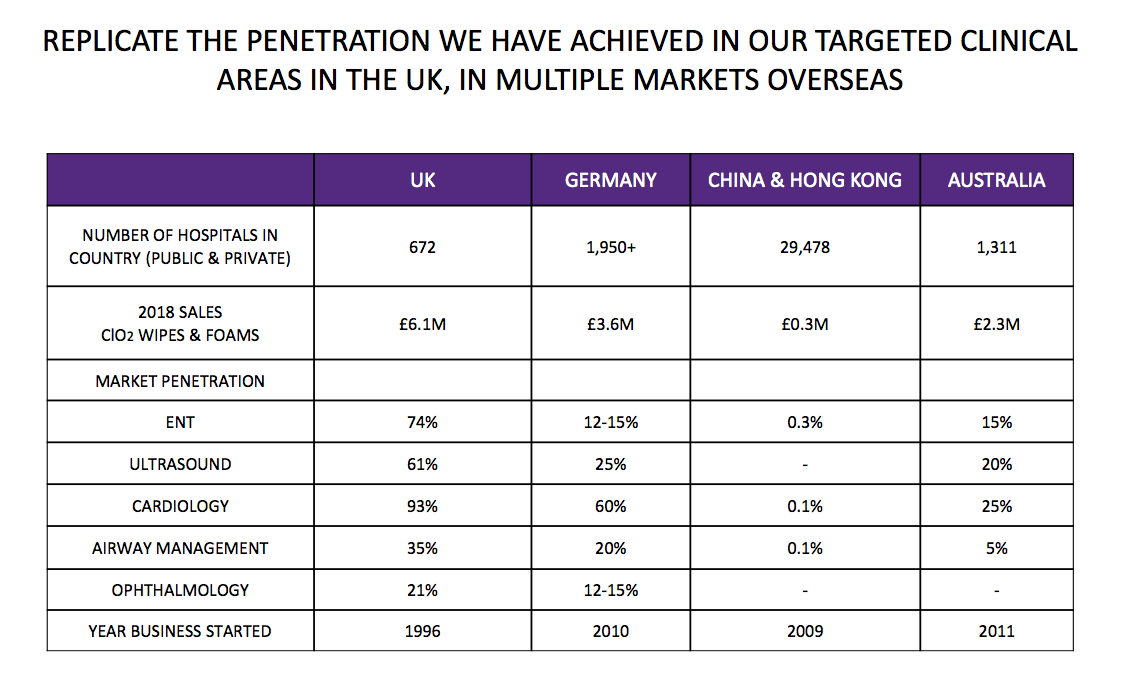 The numbers show the average UK hospital spends approximately £9k on TSTL's wipes and foams annually, versus less than £2k by the average German and Australian hospital.
Management invited shareholders to use the UK as a benchmark to extrapolate how the German and Australian operations could grow.
Valuation
TSTL's share-price rating remains lofty.
Taking the pre-tax profit before share-based payments of "at least £4.4m" for 2018 and:
* Adding £660k to adjust for US regulatory costs;
* Adding £200k to adjust for the early termination charge paid to the Hong Kong distributor, and;
* Subtracting £328k as a guess for share-based payments (twice the charge expensed during the first half)
…I arrive at an underlying pre-tax profit of at least £4.9m. Applying the standard 19% UK tax rate gives earnings of £4.0m or 9.1p per share.
After subtracting the latest 15p per share cash position from the 300p share price, my underlying P/E comes to 285p/9.1p = 31.
Certainly TSTL's management and the marquee attendees I met seemed confident about TSTL succeeding in the States, and I do believe the company will (eventually!) obtain all of the necessary EPA/FDA approvals and state registrations.
That said, I get the impression notable US revenue — let alone notable US profit — may still be many years away.
Nevertheless, I am impressed how sales of the 'core' medical-instrument disinfectants — which already represent 80% of total revenue — advanced by 18% during 2018 (assuming my sums are right).
I am also hopeful that TSTL's existing overseas operations, particularly Germany and Australia, still offer significant potential. And I would like to think the new in-house Hong Kong subsidiary can make a better job of selling into China than the previous distributor.
So, all told, perhaps there is more to the present elevated rating than simply wild optimism about the US.
Maynard Paton
PS: You can now receive my Blog posts through an occasional e-mail newsletter. Click here for details.
Disclosure: Maynard owns shares in Tristel.