18 September 2020
By Maynard Paton
Results summary for City of London Investment (CLIG):
Funds under management (FuM) endured a rollercoaster second half, but finished the year up 2% to lift profit by 10% and the dividend by 11%.
FuM 'capacity' has become an issue, and explains CLIG's limited past progress and probably prompted the upcoming merger.
The Karpus deal appears logical, but similar to CLIG the merger partner has struggled to attract new clients.
The accounts continue to sport high margins, decent cash flow, high equity returns and net cash.
A potential P/E of 11 and yield of 7.5% seem attractive, although the shares have been rated modestly for years. I continue to hold.
Contents
Event links, share data and disclosure
Event: Final results and annual report for the twelve months to 30 June 2020 published 14 September 2020

Price: 400p
Shares in issue: 26,560,707
Market capitalisation: £106m
Disclosure: Maynard owns shares in City of London Investment. This blog post contains SharePad affiliate links.
Why I own CLIG
Emerging-market fund manager that employs a lower-risk strategy of buying investment trusts at a discount.
Accounts showcase high margins, low capital requirements, net cash and ability to distribute majority of earnings as dividends.
P/E of 11 and yield of 7.5% offer upside potential should elusive new clients ever bolster funds under management.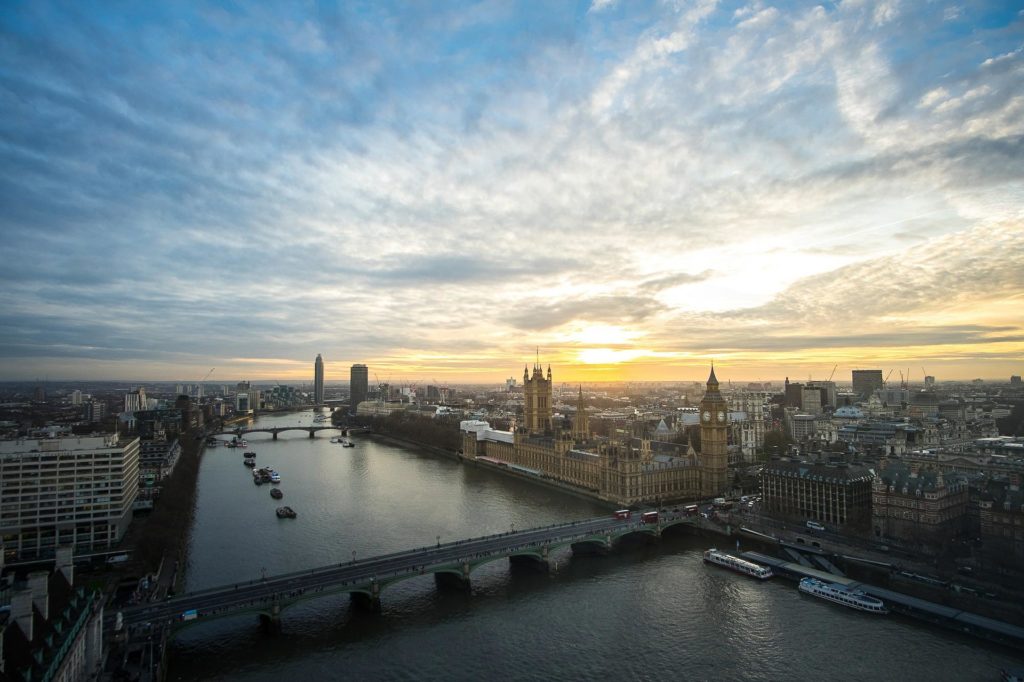 Further reading: My CLIG Buy report | All my CLIG posts | CLIG website
Results summary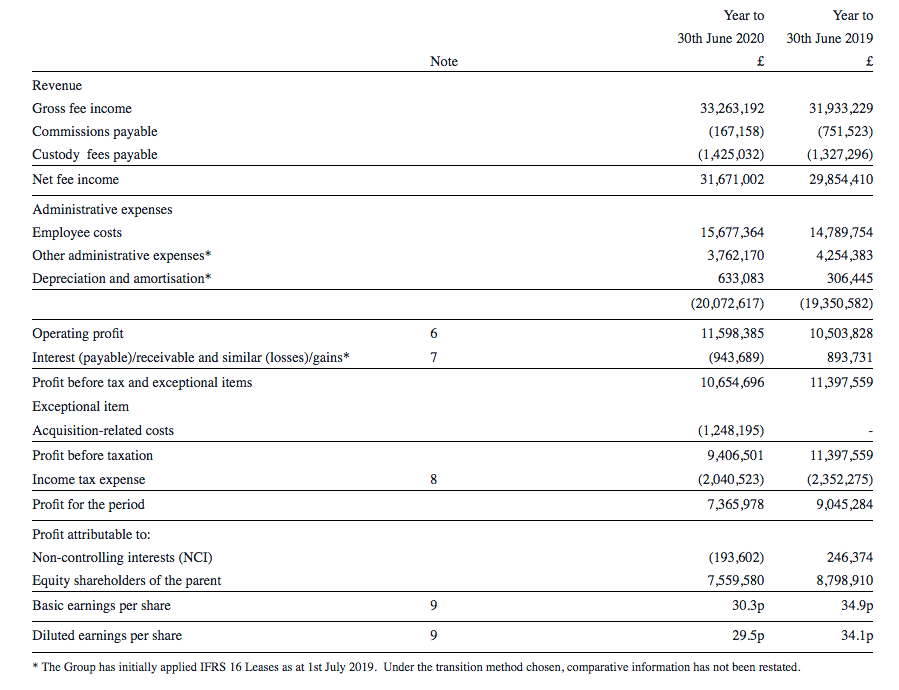 Revenue, profit and dividend
A Q3 statement issued during April and a Q4 statement issued during July revealed CLIG had endured a rollercoaster finish to the year.
The level of CLIG's revenue and earnings are inherently linked to the ups and downs of the firm's funds under management (FuM).
Year-end FuM at $5.5b gained 2% over the twelve months, while average monthly FuM gained 5% to $5.3b: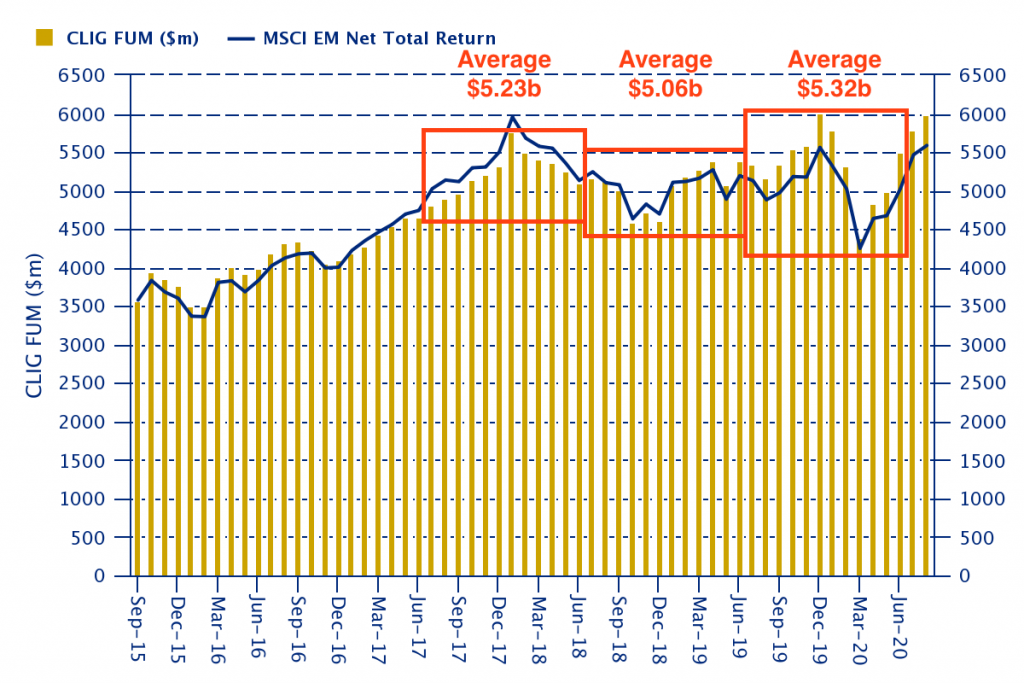 Average monthly FuM was only 2% greater than that witnessed during FY 2018.
Revenue gained 4% while operating profit before exceptional items climbed 10%:
| | | | | | |
| --- | --- | --- | --- | --- | --- |
| Year to 30 June | 2016 | 2017 | 2018 | 2019 | 2020 |
| FuM ($m) | 4,005 | 4,661 | 5,107 | 5,389 | 5,512 |
| | | | | | |
| Revenue (£k) | 24,413 | 31,294 | 33,931 | 31,933 | 33,263 |
| Operating profit (£k) | 7,756 | 11,509 | 12,528 | 10,504 | 11,598 |
| Finance income (£k) | 212 | 82 | 264 | 894 | (944) |
| Exceptional items (£k) | - | - | - | - | (1,248) |
| Pre-tax profit (£k) | 7,969 | 11,590 | 12,792 | 11,397 | 7,366 |
| | | | | | |
| Earnings per share (p) | 23.6 | 36.9 | 39.5 | 34.9 | 30.3 |
| Dividend per share (p) | 24.0 | 25.0 | 27.0 | 27.0 | 30.0 |
| Special dividend per share (p) | - | - | - | 13.5 | - |
The £1.2m exceptional item related to the Karpus merger and was the group's first one-off charge since 2011.
CLIG also benefited from a slightly stronger USD.
CLIG's revenue is collected almost entirely in USD but approximately 40% of costs are expensed in GBP.
GBP traded at a 1.29 USD average during FY 2019, versus a 1.26 USD average during FY 2020.
The results highlight was the final dividend being lifted 2p per share, or 11%, to 20p per share. The interim payout had been raised an identical amount.
The 30p per share full-year dividend set a new record.
CLIG confirmed Covid-19 had not prompted any redundancies:
"Although FuM dropped significantly during the initial stages of the pandemic and the related market volatility, we did not reduce employee headcount or make significant decreases in compensation levels."
Funds under management
CLIG's FuM can be divided into two main categories:

Emerging Markets (EM), and;
Non-EM, which covers 'frontier' markets, developed markets and other themes.
Both categories apply CLIG's long-standing 'value' approach of buying investment trusts at a discount.
Non-EM FuM has become a much larger part of overall FuM during recent years: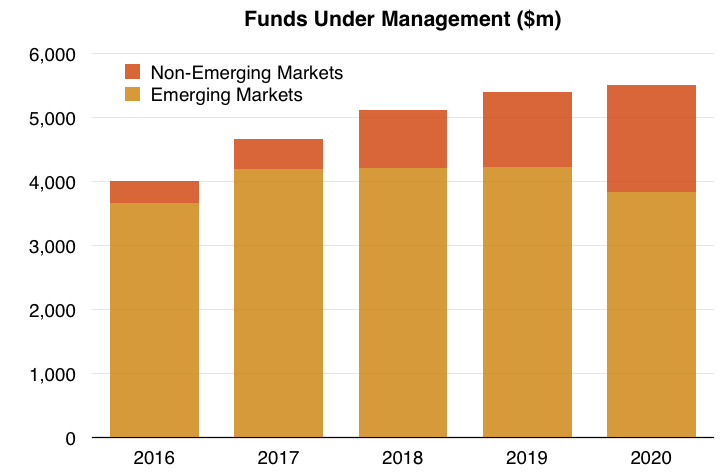 Non-EM funds have regularly attracted new client money, unlike the EM funds, which have suffered net withdrawals since 2017: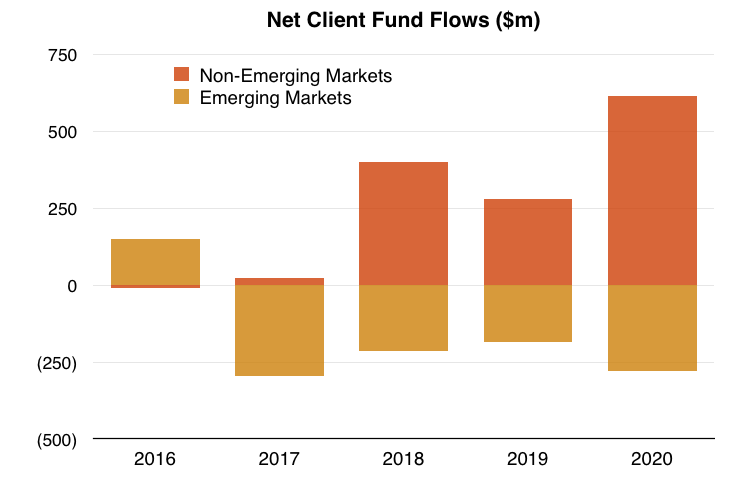 During the last twelve months, client money consistently trickled out of EM funds and regularly trickled in to non-EM funds:
| | | | | | |
| --- | --- | --- | --- | --- | --- |
| Client flows | Q1 2020 | Q2 2020 | Q3 2020 | Q4 2020 | FY 2020 |
| EM ($m) | (12) | (106) | (68) | (89) | (275) |
| Non-EM ($m) | 152 | 148 | 33 | 280 | 613 |
| | | | | | |
| Total ($m) | 140 | 42 | (35) | 191 | 338 |
CLIG explained the latest EM outflows:
"The EM equity asset class remains out of favour, specifically in the United States, which is where c.94% of our clients reside (by FuM). The EM strategy has seen outflows over the fiscal year due to a combination of factors including clients' rebalancing after strong gains in EM over the second half of 2019.

Some clients are also redeeming in order to meet operating expense obligations during the pandemic. The increasingly negative tone from the US government on the business practices of Chinese companies and the Chinese government overall is another factor putting pressure on the asset class."
An irony of the growing exposure to non-EM FuM is that the investment returns generated by non-EM have lagged those of EM during the last two years: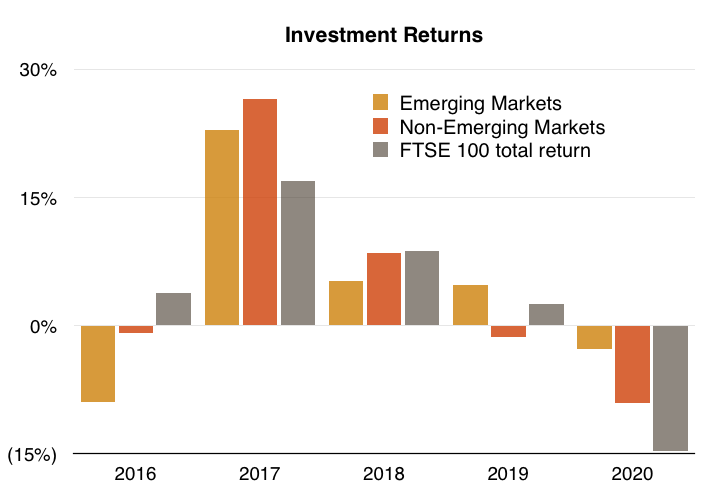 The returns from CLIG's 'value' strategy have not been spectacular of late.
During the last five years, CLIG's funds have recorded an overall 4% compound annual average return versus a 3% average for the FTSE.
The annual report claimed more than 90% of FuM — denoted by the small red circles below — was "ahead of their benchmarks and institutional peer-group averages over five years":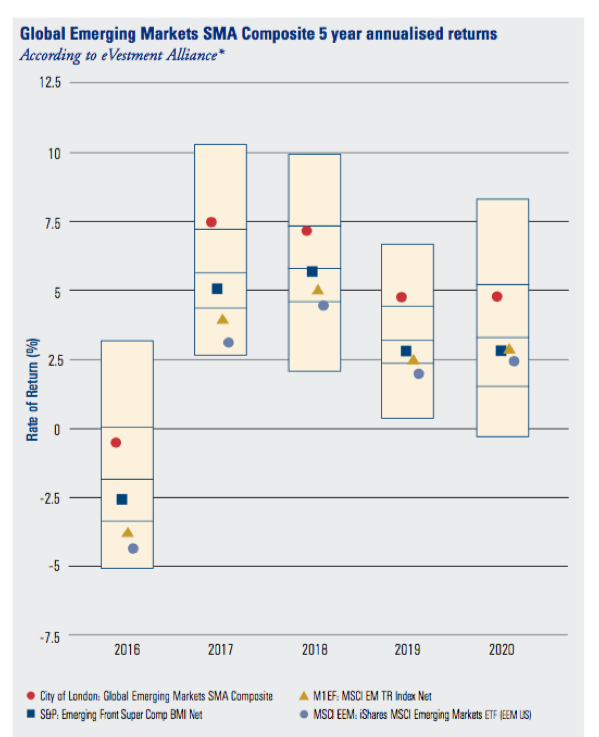 The annual report also confessed that all three of the non-EM strategies had underperformed during the year:
Although the five-year returns have outperformed their particular benchmarks, CLIG's total FuM (yellow bars) has barely beaten the group's main EM benchmark (blue line):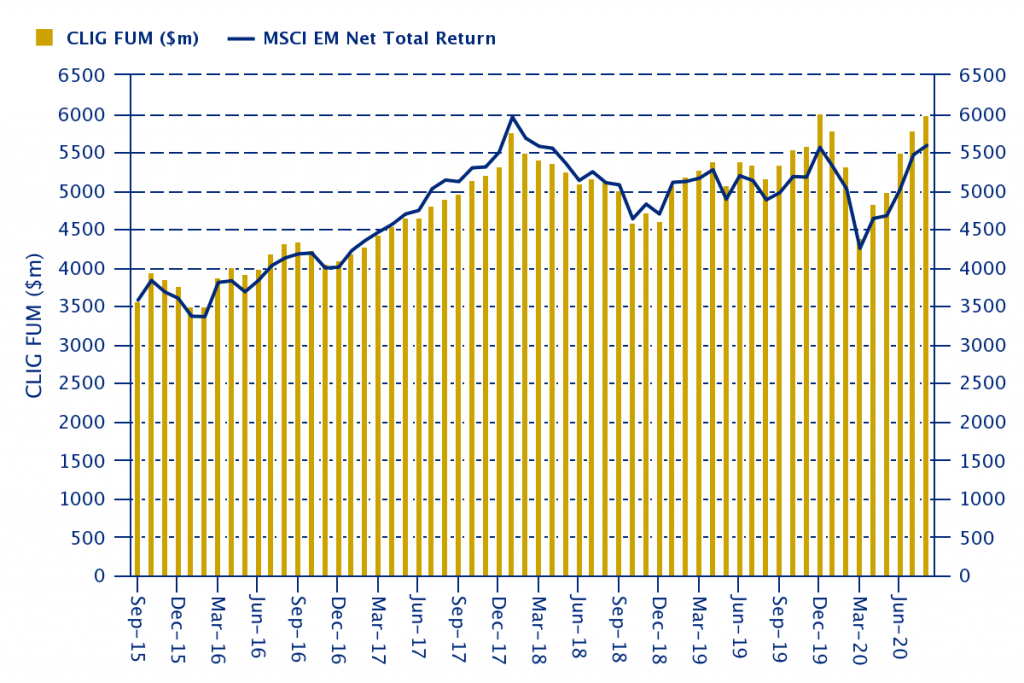 "Capacity" and (lack of) marketing may explain why CLIG's FuM has not really increased that much over the main MSCI comparator.
Enjoy my blog posts through an occasional email newsletter. Click here for details.
FuM capacity
"Capacity" has become an issue. The EM strategy in particular can only invest so much money before returns become diluted:
"Our overriding objective when considering capacity and raising assets is our ability to generate alpha for our clients on a sustainable basis. In this regard we will not jeopardise long-term performance, and with it, long-term client relationships."
These results were the first I could recall that warned of an actual capacity figure for the EM strategy.
"Our objective is to keep the EM strategy assets around current levels (US$4 billion)…"
EM FuM has bobbed around the $4b level since at least 2014.
Capacity is also impacting non-EM funds:
"[T]he International strategy has paused active marketing following a two-year period of very strong asset growth. We will reappraise capacity at year end 2020."
I am not sure why certain fund marketing should be paused when new client money had being rolling in.
The Opportunistic Value approach — representing only 5% of FuM — could now be the main source of new client money:
"The Opportunistic Value (OV) strategy has significant capacity with a good long-term track record and will remain the focus of marketing in the medium term."
CLIG projected net inflows of $250m for FY 2021.
$250m represents an extra 4.5% of FuM on the $5.5b seen at the year-end.
Liontrust comparison and marketing
Comparisons with other sector companies can be instructive for investors.
The shares of Liontrust Asset Management (LIO) have outperformed those of CLIG by a mile during the last few years: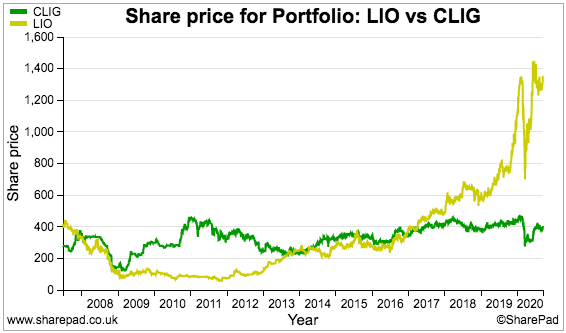 Contrast the next two charts, which break down the FuM movements at CLIG and LIO: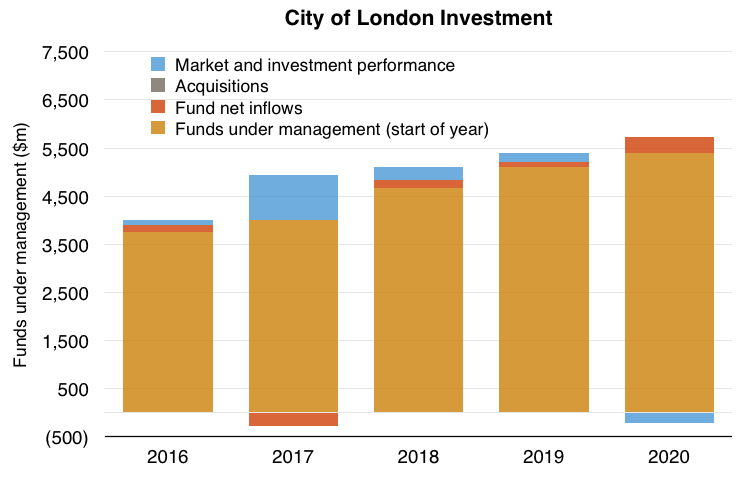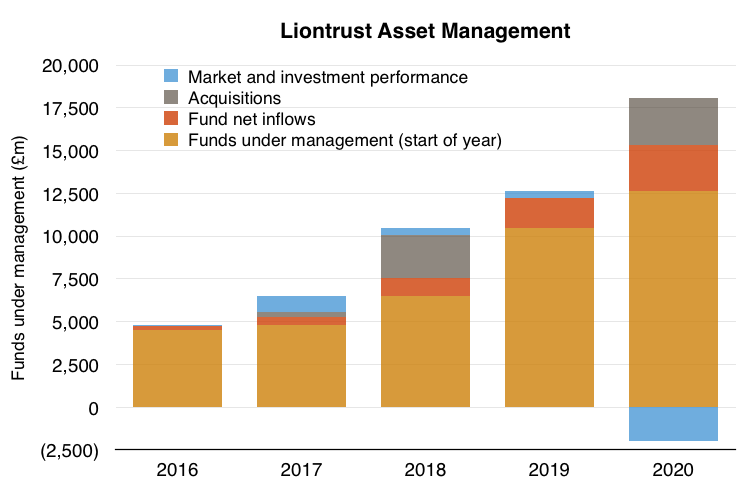 The red blocks on each chart are important. They represent the amount of net new client money garnered each year.
Net new client money at CLIG has represented an average of

2%

of the year-start FuM since 2016.
In contrast, net new client money at LIO has represented an average of

12%

of the year-start FuM (including acquired FuM) since 2016.
Why can LIO attract so much more client money than CLIG?
LIO presumably does not suffer any 'capacity' constraints and can therefore place a much greater emphasis on marketing.
For perspective, 38 of LIO's 143 employees work in sales and marketing: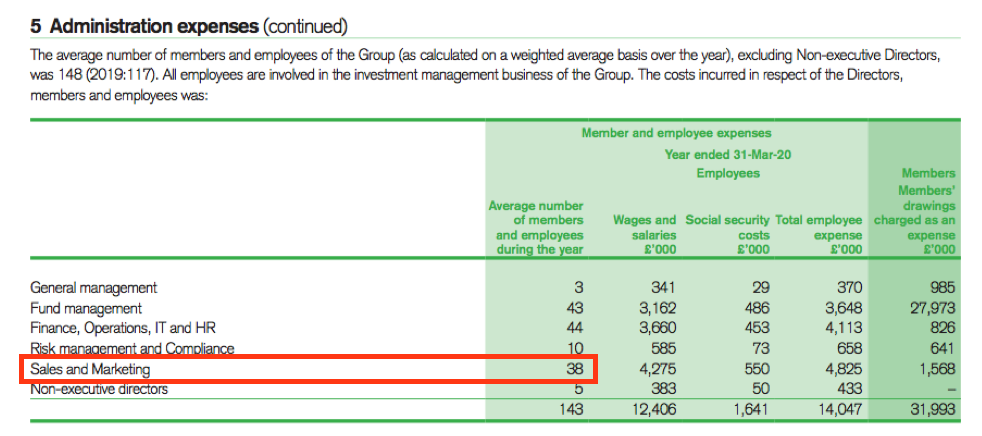 In contrast, 4 of CLIG's 72 employees work in business development and marketing:

LIO has always employed a sizeable marketing department.
Back in 2011, when LIO's FuM was only £1b and various troubles led to an operating loss and suspended dividend, a quarter of employees still worked in sales and marketing: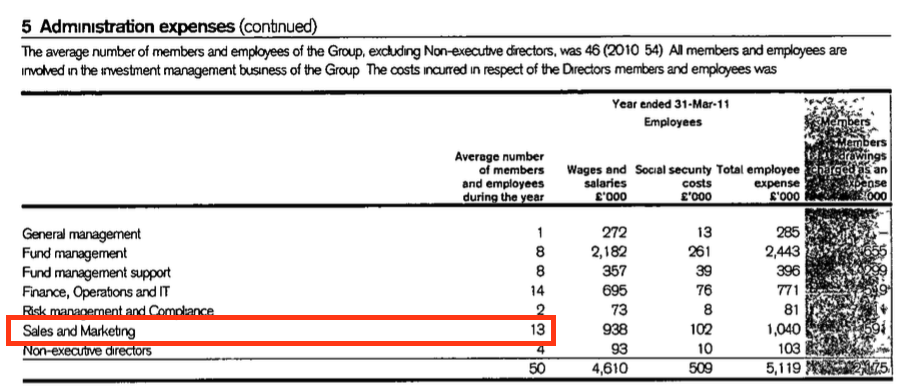 Within CLIG's 2020 annual report, the only significant mention of marketing was:
"Marketing efforts will continue to be targeted at investment consultants, foundations, endowments and pension funds. We will also continue to introduce our capabilities to family offices, outsourced CIO firms and alternative consultants."
LIO's 2020 annual report meanwhile devoted a full page to a Sales and Marketing review:

True, CLIG targets US institutions while LIO targets UK retail investors and therefore the marketing requirements will be different.
CLIG's capacity issue will limit the need for marketing staff anyway.
Yet the difference in FuM progress and new client money between CLIG and LIO is striking.
LIO's aggregate investment returns do not look to have been outstanding either.
Perhaps great stock-picking is only one part of winning new clients.
FuM fee rates
"Despite a slight reduction in our average revenue margin to 75bp for the year (c.74bp for the month of June 2020), net fee income rose by 6% to £31.7 million…"
75 basis points compares to 86 basis points CLIG enjoyed during 2016.
The fee-rate collapse since 2016 has been due to CLIG charging lower fees on its non-EM funds.
CLIG has never disclosed the exact fee rates it charges on its EM and non-EM funds.
However, my algebra suggests EM fees are applied at 90 basis points and non-EM fees are applied at 30 basis points to arrive somewhere close to the blended fee rates CLIG has declared: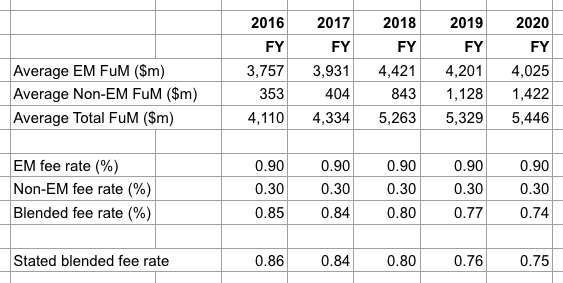 If my fee-rate algebra is accurate, the advance of non-EM FuM is not surprising given the associated fees are so much lower.
If my fee-rate algebra is accurate, the fee rates of 90 basis points and 30 basis points have at least showed consistency.
I still wonder if non-EM FuM has been bolstered partly by EM clients switching to non-EM. The total number of clients has increased from 153 to only 173 during the last five years.
Note that the annual report provided a revised FuM/exchange-rate table that indicated overall fee rates were now 74 basis points: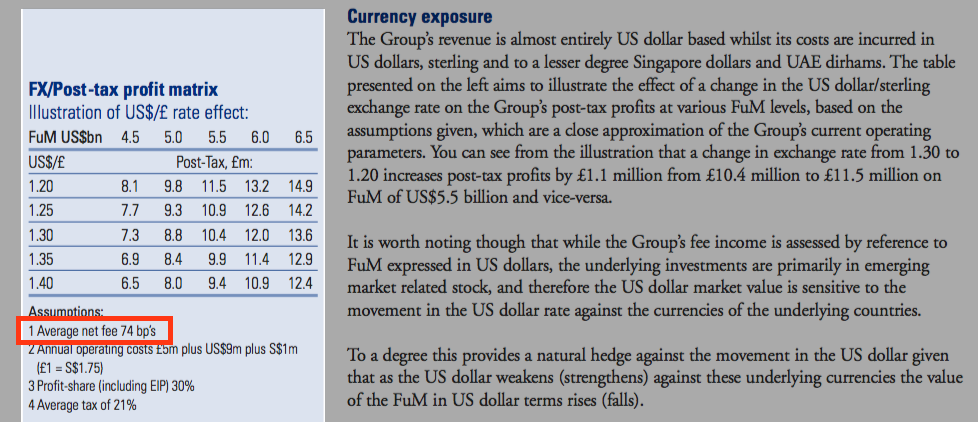 Karpus all-share merger
At the time the deal valued Karpus at £78m and brought with it FuM of $3.4b: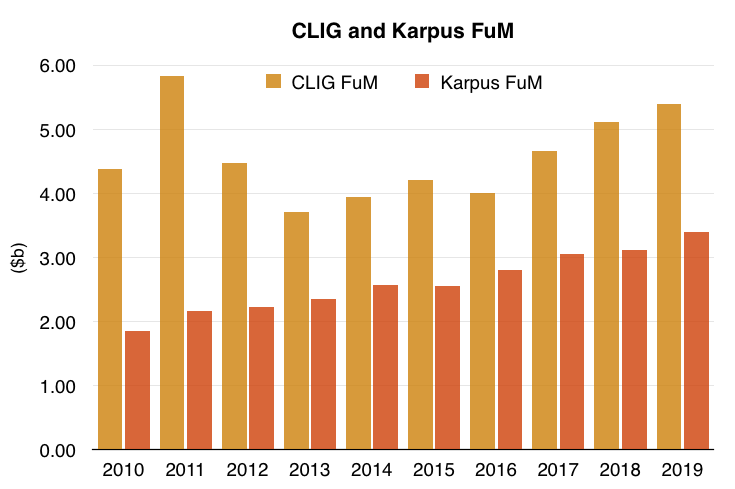 I studied the merger prospectus here. Key points on Karpus included:

Fee rates at 80 basis points;

A US client base comprising mostly of high net worth individuals, and;

FuM split 39% equities and 61% fixed income/cash.
The merger may have been spurred by CLIG recognising the capacity issue and limited growth prospects of its EM FuM.
The deal also diversifies CLIG into fixed-income investments, which could make FuM less volatile.
The acquisition did not seem to be a knee-jerk decision. The prospectus revealed merger discussions started during 2018.
The prospectus admitted the merger would incur one-off "adviser fees" of £3.3m.
These annual results stated one-off merger costs would be £4m, of which £1.2m was charged this year and the rest would be charged during FY 2021.
One-off costs of £4m equate to approximately 16p per share and seem high for a £78m deal.
The merger is expected to complete on 1 October.
CLIG looked forward to a smooth integration:
"While the two operating companies will be run independently, the scope for operational efficiencies to be developed across both platforms should ensure both enhanced and less volatile returns for CLIG shareholders going forward.

[Karpus] brings like-minded people, a similar culture and a robust fund management business. As both [Karpus] and [CLIG] share a focus on investment in [close-end funds], we have gotten to know the Company, and specifically their founder and largest shareholder, George Karpus, very well.

We have had the opportunity to watch their business develop, get to know their core values, and monitor their performance and investment activity over multiple market cycles spanning more than ten years, which allowed us to see their commitment to their investment process and to their clients."
Similar to CLIG, Karpus has struggled to attract new client money (red bars):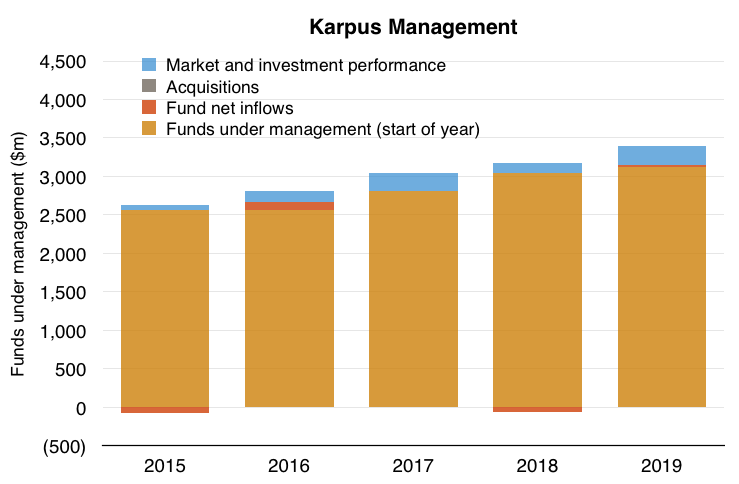 However, investment returns (blue bars) have consistently been positive (assuming Karpus has not acquired any FuM).
Management
The founder of Karpus, George Karpus, will meanwhile retire once the deal is completed.
This 'changing of the guard' could influence the way CLIG operates — which could be good or bad.
CLIG's chief executive, Tom Griffith, has a marketing background and may well instigate efforts to find some elusive new clients:

But the chief exec may also decide to adjust CLIG's "team-based approach" that has to date "avoided any hint of a star culture".
Or he may pursue further acquisitions.
The annual report commentary did not hint at any radical action.
But one noticeable change was a shorter results presentation.
Key slides absent this time included the summary financial statements, fund performance statistics and the dividend-projection template.
Some slides were omitted because of the Karpus deal and the finer rules of City prospectus documentation.
CLIG's presentations will hopefully reinstate the informative slides once the Karpus deal completes.
Mr Olliff has agreed to serve as a non-exec until October 2021.
"Shareholders are reminded of Barry's previously stated intention to sell 330,613 shares at 450p, which is the balance of his 500,000 planned sale at that level, and then 500,000 shares at each of 475p and 500p, subject to relevant restrictions. As per listing rules, any share sales will be announced to the market after execution."
Mr Olliff has been hoping to sell shares at 500p for at least two years.
Mr Olliff retains almost 1.9 million shares, which will represent less than 4% of the share count once the Karpus deal completes.
CLIG's largest shareholder will, post-merger, be George Karpus with a 31% stake. The prospectus indicated Mr Karpus could dispose of 80% of his holding after a one-year lock-in.
With the founders/ex-chief execs of both CLIG and Karpus no longer in charge, I have become reluctant to add to my CLIG holding. I simply prefer owner-orientated executives — rather than professional 'salarymen' — to lead my investments.
Of course, the 'salaryman' now in charge of the combined business may well find new clients without adjusting the workplace culture or embarking on an acquisition spree.
I am prepared to give chief executive Mr Griffith the benefit of the doubt. His annual-report biography (above) suggests he is loyal to CLIG's traditions having served on the board since 2004.
Employee Incentive Plan
CLIG devised an Employee Incentive Plan (EIP) during 2016.
The EIP was funded by increasing the staff bonus pool from 30% to 35% of pre-bonus profit:
"In a fund management company, clients attach a significant level of importance to employee share ownership in terms of their commitment to the company for which they work.

In an attempt to broaden the base of employee ownership, encourage direct staff participation and make CLIG shares more attractive to staff, we will be bringing forward to shareholders a proposal at the forthcoming AGM. This [EIP] proposal will include, for a four year period, an increase in the staff bonus pool from 30% to 35%."
The performance of the business back in 2016 hadn't really suggested the staff deserved an extra retention scheme.
During the four years to 2016, CLIG's FuM had declined 11%, revenue and profit had fallen approximately 30% and the dividend had been left unchanged.
During the subsequent four years when the bonus pool was increased to 35% (2017 to 2020), CLIG's FuM gained 38%, revenue and profit gained at least 36% while the dividend was lifted 25%.
Perhaps this EIP was worthwhile after all, and perhaps future bonus schemes can motivate staff to further increase FuM and earnings.
Or perhaps the staff got lucky. Maybe FuM and earnings were simply assisted by broad market movements.
The shares associated with the EIP cost CLIG £4m to purchase and represent approximately 4% of the share count.
The bonus pool will revert back to 30% of pre-bonus profit from FY 2021.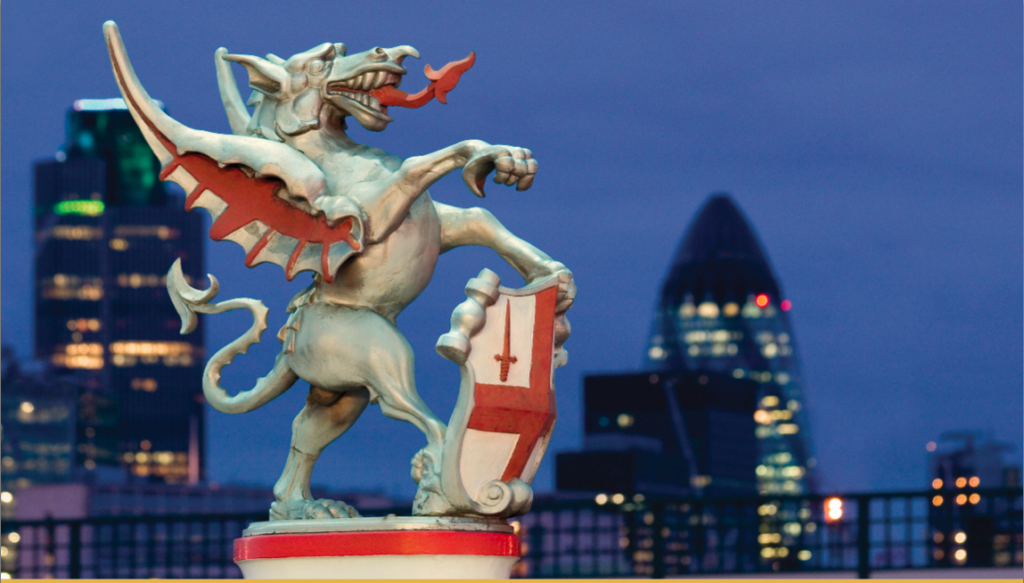 Financials
CLIG's balance sheet remains cash-rich and free of conventional bank debt.
Year-end cash came to £14.6m, equivalent to 55p per share.
Other financial assets — which the 2020 annual report discloses to be mostly "listed investments" — stood at £4.0m, or 15p per share.
A £0.2m or 1p per share non-controlling interest within the income statement reflects minority investments owned by a third party.
This company document indicates regulatory capital was £2.1m, or 8p per share, at September 2020.
Net cash and investments are therefore 55p (cash) plus 15p (other financial assets) less 1p (non-controlling interests) less 8p (regulatory capital) = 61p per share.
Major cash flow movements during the year were £7.0m paid as dividends and £2.0m spent on shares for the Employee Benefit Trust (EBT).
The EBT expense was offset by raising £359k from selling shares to staff to satisfy their exercised options.
Between 2011 and 2020, the EBT has spent £8.0m buying shares and received £4.0m from selling shares.
Arguably the effective cash cost of CLIG's options (and EIP) over time has been (£8.0m less £4.0m) / 10 years = £400k a year.
Working-capital movements and capital expenditure remain small:
| | | | | | |
| --- | --- | --- | --- | --- | --- |
| Year to 30 June | 2016 | 2017 | 2018 | 2019 | 2020 |
| Operating profit (£k) | 7,756 | 11,509 | 12,528 | 10,504 | 11,598 |
| Depreciation and amortisation (£k) | 168 | 231 | 295 | 306 | 292 |
| Net capital expenditure (£k) | (137) | (485) | (137) | (421) | (79) |
| Working-capital movement (£k) | (22) | (533) | 1,423 | 894 | 69 |
| | | | | | |
| Net cash and investments (£k) | 11,719 | 15,022 | 19,937 | 18,232 | 18,928 |
Margins and returns on equity remain attractive:
| | | | | | |
| --- | --- | --- | --- | --- | --- |
| Year to 30 June | 2016 | 2017 | 2018 | 2019 | 2020 |
| Operating margin (%) | 31.8 | 36.8 | 36.9 | 32.9 | 34.9 |
| Return on average equity (%) | 42.7 | 58.9 | 50.9 | 43.6 | 40.0 |
CLIG's accounts remain free of defined-benefit pension obligations.
Reader offer: Claim one month of free SharePad data. Learn more. #ad
Valuation
CLIG's valuation is complicated by the Karpus deal.
CLIG did not disclose the level of FuM held by Karpus within these results.
The future profitability of Karpus is unclear, too.
In particular, will CLIG's 30% profit-share pool be extended to Karpus employees?
"We anticipate that a similar plan will be created for [Karpus] employees, to encourage ownership of CLIG shares"
Employing the aforementioned FuM/exchange-rate table provides a valuation for CLIG without Karpus.
CLIG reported FuM of $6.0b at the end of August 2020, and GBP:USD at 1.30 may lead to earnings of approximately £11.9m or 45.0p per share.
Adjust the 400p share price for the 61p per share net cash and investments, and the possible ex-Karpus P/E could be 339p / 45.0p = 7.5
The balance sheet has regularly carried a sizeable cash position, which may be needed to reassure clients and might therefore not be 'surplus to requirements' for valuation purposes.
Ignoring the cash and investments gives a potential ex-Karpus P/E of 8.9.
Karpus had FuM of $3.4b at May 2020 and at June 2019, when operating profit that year was $15.3m adjusted for the pay to the (now-retiring) founder.
Apply standard 21% US tax to $15.3m, and possible Karpus earnings are $12.1m or £9.3m with GBP:USD at 1.30.
Adjust for a (potential) 30% profit-share pool and possible Karpus earnings come to $8.5m or £6.5m.
Add possible CLIG earnings of £11.9m to possible Karpus earnings of £6.5m gives £18.4m, or 36.4p per share based on the enlarged share count of approximately 51m shares.
Depending on whether (or not) the cash and investments are truly surplus to requirements, and whether (or not) Karpus employs a 30% profit share, the P/E on the combined group could be 9 or 11 or somewhere in between.
The rating does not look expensive, especially for a business that has coped relatively well with the the pandemic.
However, CLIG's shares have traded at a modest 10-12x rating for years: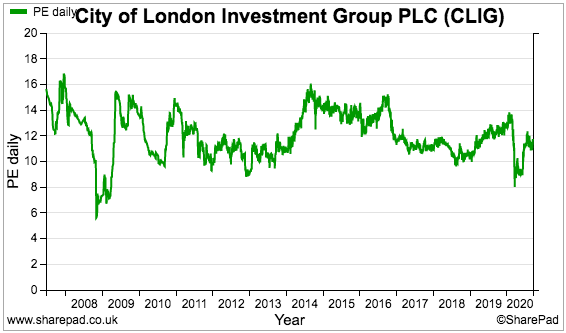 In contrast, LIO's greater underlying FuM growth has propelled its P/E beyond 20: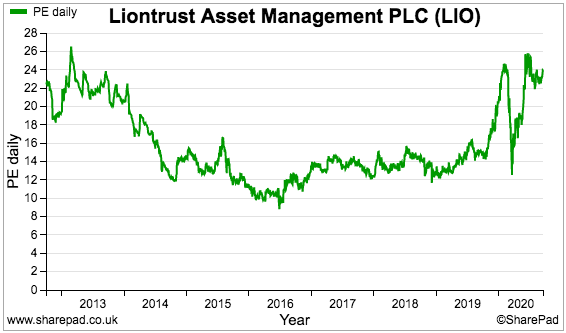 Until CLIG attracts a much greater rate of new client money, the dividend rather than the share price seems likely to be the main source of shareholder return.
The 30p per share payout supports a very useful 7.5% income at 400p, although the shares have almost always offered a yield of at least 6%: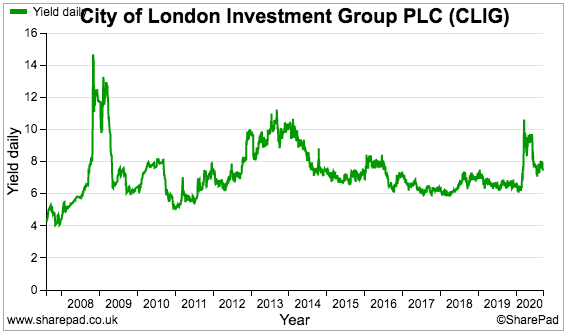 Maynard Paton
PS: You can receive my blog posts through an occasional email newsletter. Click here for details.