25 November 2021
By Maynard Paton
Results summary for City of London Investment (CLIG):
The Karpus merger ensured a record financial performance and a 10% dividend lift, although funds under management (FuM) during H2 (+4%) did not enjoy the buoyant market gains experienced during H1 (+31%).
Further client 'rebalancing' led to FuM withdrawals of $752m — almost entirely negating the net client inflows of $758m received during the previous five years.
The absence of fresh client money and investment gains lagging the MSCI World index — as well as staff using paper payslips and fax machines — could be evidence of a business rather stuck in its ways.
A startling 49% operating margin, net cash at a hefty £26m plus small demands on cash flow confirm the accounts remain in good shape.
Although the possible P/E is 10-11 and the yield tops 6%, the shares have been rated modestly for years as major new clients remain very elusive. I continue to hold.
Contents
Event links, share data and disclosure
Events: Annual report and results presentation for the twelve months to 30 June 2021 published 13 September 2021 and Q1 2022 trading update published 14 October 2021
Price: 510p
Shares in issue: 50,679,095
Market capitalisation: £258m
Disclosure: Maynard owns shares in City of London Investment. This blog post contains SharePad affiliate links.
Why I own CLIG

Fund manager that employs a lower-risk strategy of buying investment trusts at wide discounts through a "team approach to investing".
Accounts showcase startling 49% margins, hefty net cash and ability to distribute majority of earnings via dividends.
P/E of 11 and yield of 6% offer meaningful re-rating potential should sizeable new mandates ever bolster funds under management.
Further reading: My CLIG Buy report | All my CLIG posts | CLIG website
Results summary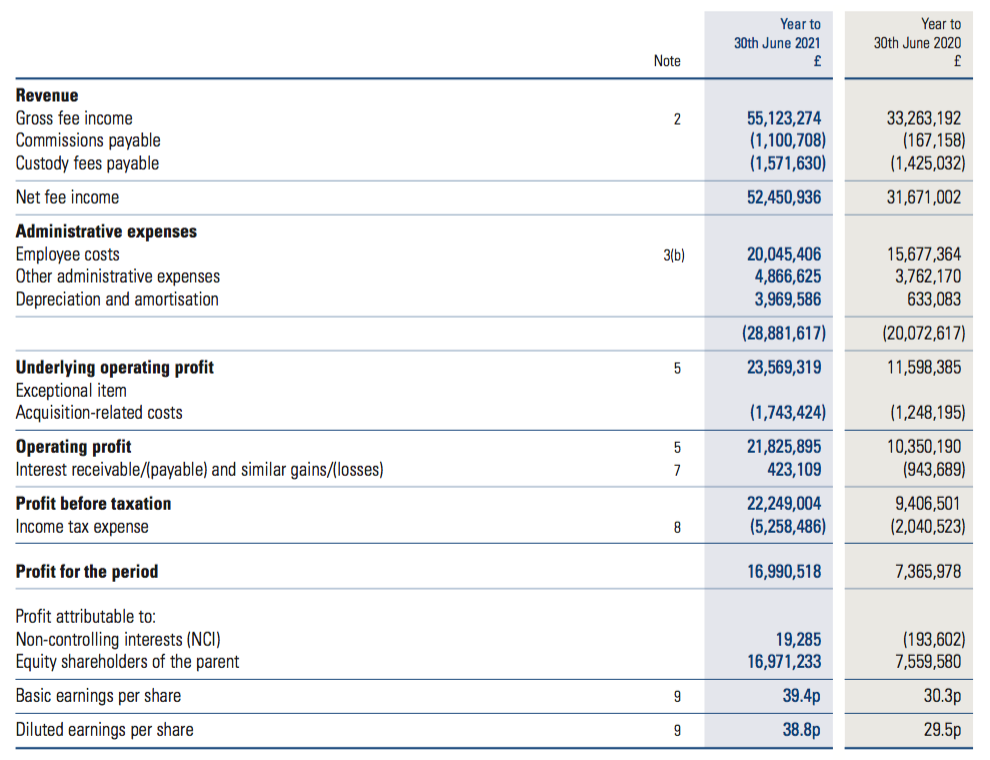 Fee income, profit and dividend
"At year end, both CLIG operating subsidiaries hit all-time FuM highs following the significant equity market gains of recent months and strong relative performance."
…had already guaranteed these results would set new full-year records for net fee income and profit.
Total net fee income increased 66% including Karpus, and 17% for the existing City of London Management (CLIM) division: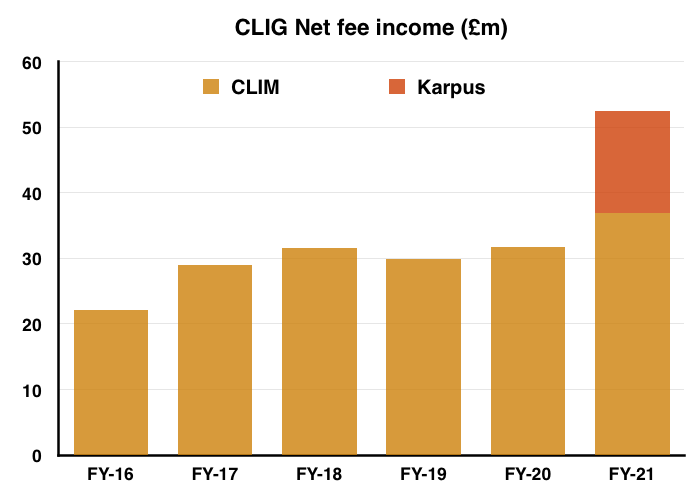 Charges associated with the Karpus merger influenced reported profit, and consisted of:

Exceptional merger expenses of £1.7m, all of which were incurred during H1, and;
The amortisation of the acquired intangibles, which came to £3.3m, of which £2.2m occurred during H2.
Excluding the Karpus exceptional items and amortisation charges, full-year operating profit surged 130% to £26.8m: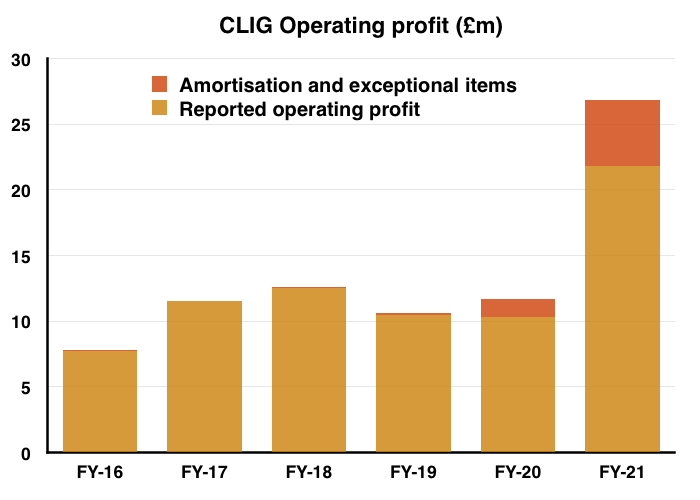 Total FuM climbed 108% to $11.4b including Karpus, and 37% to $7.5b at the existing CLIM division: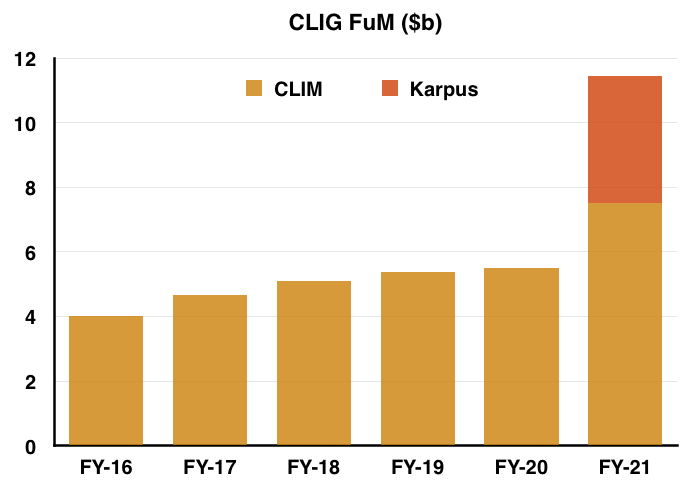 The FuM improvement at CLIM occurred largely during H1 (+31%), with modest gains for combined CLIM/Karpus FuM experienced during both Q3 (+1%) and Q4 (+4%):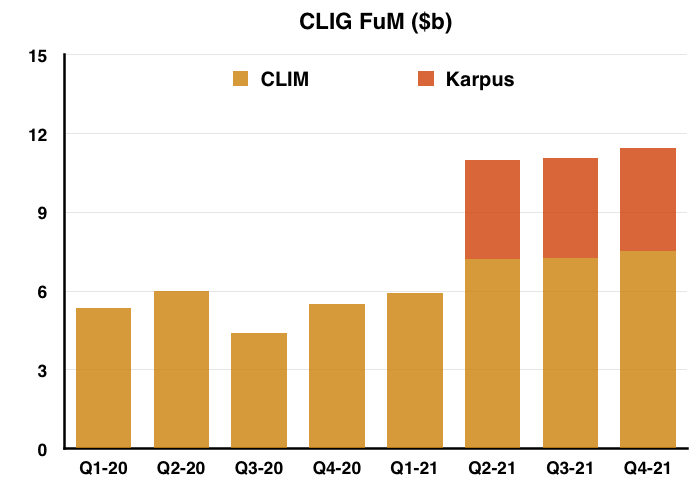 CLIM's FuM has now advanced 71% since the pandemic low of Q3 2020.
The additional FuM enjoyed during FY 2021 was generated entirely by wider market movements and investment returns, which offset net fund outflows from clients (see FuM and net client withdrawals).
A full six-month H2 contribution from Karpus alongside CLIM FuM holding steady during Q3 and Q4 ensured the full-year performance was weighted towards H2: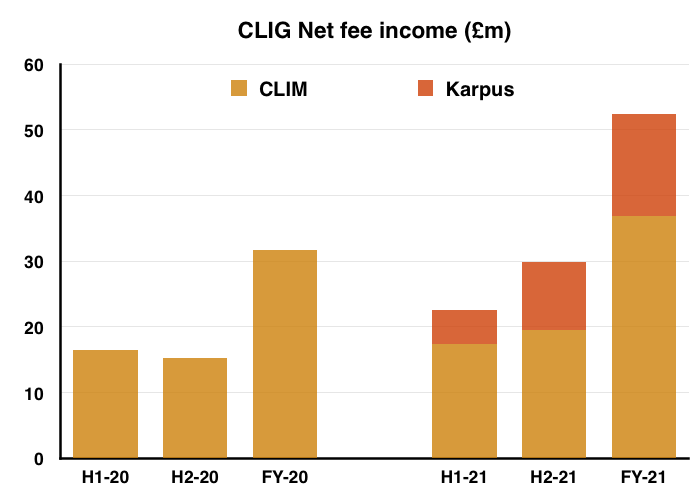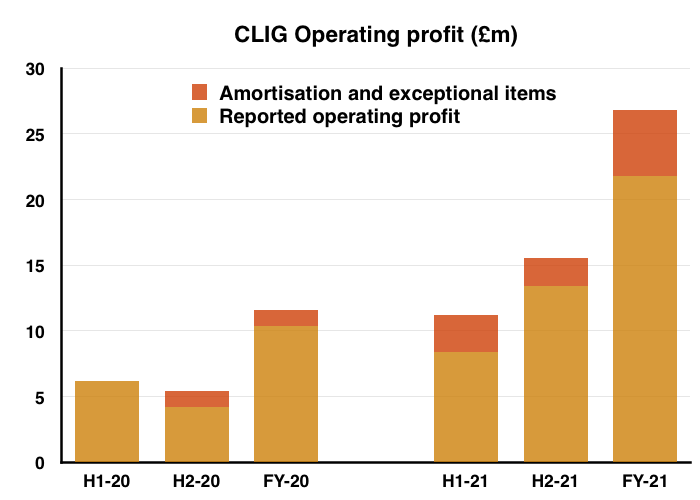 CLIG claimed full-year fee growth (+66%) was less than average monthly FuM growth (+82%) because of a weaker USD compared to GBP (1.35 versus 1.26). More than 98% of group fee income is denominated in USD.
The final dividend was raised 10% to match the lift applied to the interim payout and reflects a "period of strong appreciation of the underlying asset values managed by the team":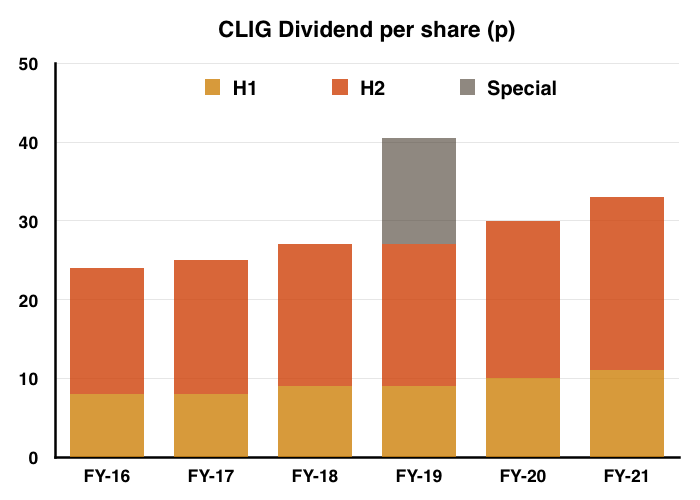 Enjoy my blog posts through an occasional email newsletter. Click here for details.
FuM and net client withdrawals
CLIM's FuM can be divided into two main categories:

Emerging Markets (EM), and;
Other Strategies, which cover developed markets, "opportunistic value", frontier markets and REITs.
Both categories apply CLIG's long-standing 'value' approach of buying investment trusts at a discount.
Karpus meanwhile manages a mix of US equities, including investment trusts, and fixed-income securities: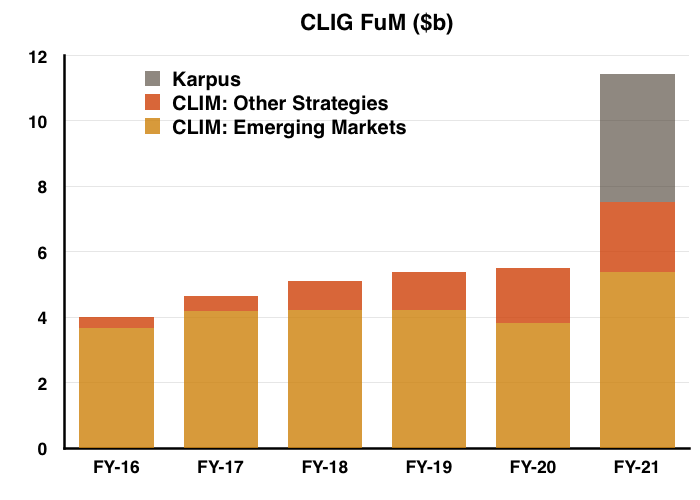 Propelling overall FuM higher during FY 2021 were investment returns of $3.1b: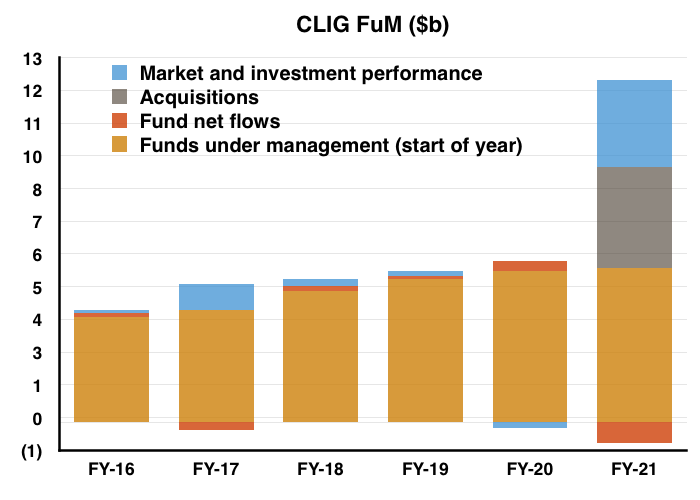 However, FY 2021 witnessed client net withdrawals of $752m.
The $752m outflow almost entirely offset the aggregate net client inflows of $758m enjoyed during the previous five years: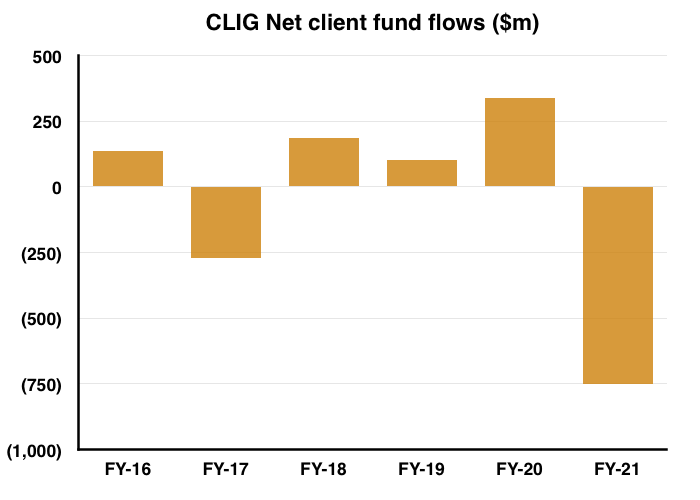 CLIG gave three reasons for the net client withdrawals for FY 2021:
"(1) the International CEF strategy was closed to new investors for the year to December 2020 following a period of strong growth;

(2) the Opportunistic Value (OV) and Frontier CEF strategies lost two larger clients over the period; and

(3) we experienced disproportionate rebalancing from our institutional clients following a period of significant outperformance."
Closing strategies due to "strong growth" and experiencing client "rebalancing" after significant outperformance suggest attracting new client money when times are good may be limited.
If attracting new client money when times are good is limited, the prospect of attracting new client money when times are bad could be very limited.
CLIG also blamed restrictions due to Covid-19 for client money leaving:
"A number of factors, mixed with cancelled or postponed client investment committees and a lack of in-person marketing efforts due to the pandemic and resulting quarantine environment, contributed to net outflows. "
Note that CLIM's original EM division has now suffered net client outflows during each of the last five years…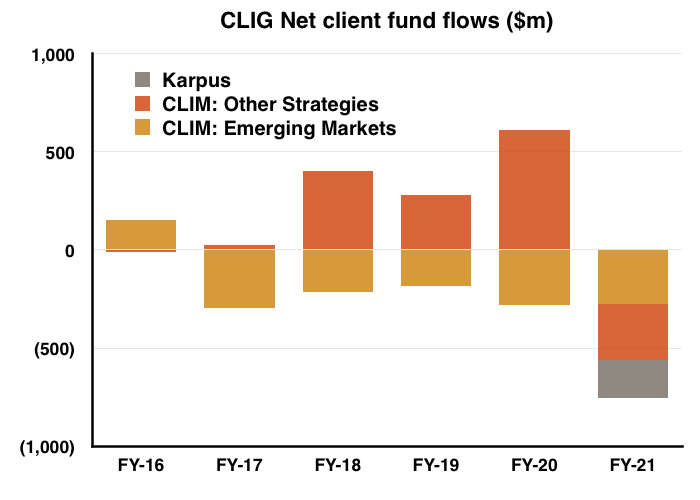 …as well as during seven of the eight quarters of FY 2020 and FY 2021: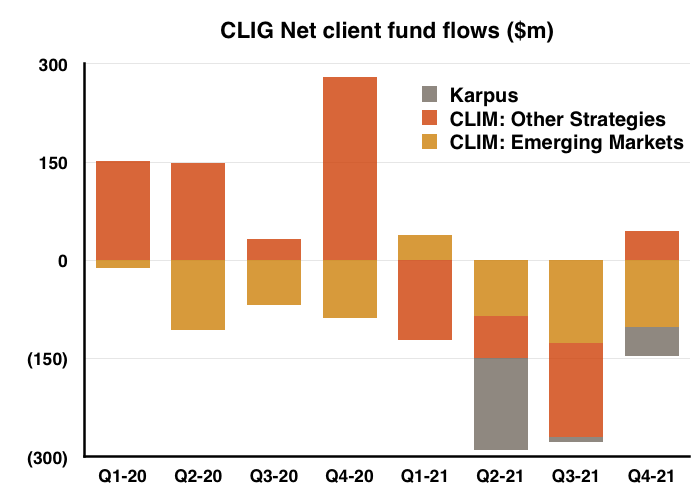 Client money has been leaving Karpus every quarter since the merger, too.
CLIG claimed such departures at Karpus were due to client 'rebalancing' and the closure/distribution of several pension plans.
Liontrust comparison and capacity constraints
The lack of net client money arriving at CLIG contrasts with the money pouring into other quoted fund managers.
Liontrust Asset Management (LIO) is a prime example: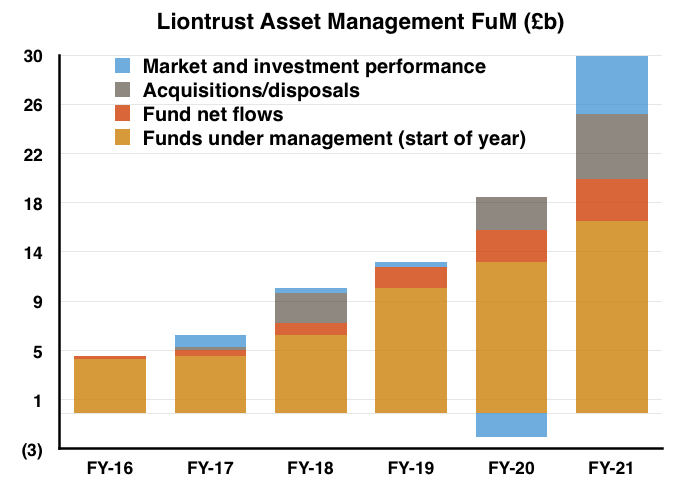 LIO's new client money has been consistently positive.
Between FY 2017 and FY 2021, LIO received net new client money of £9.4b — almost double the £4.8b LIO managed at the start of that period.
No wonder LIO's share price has trounced that of CLIG's during the same time:
A fundamental problem for CLIG trying to win new client mandates is a "capacity constraint" within the EM strategy.
A "capacity constraint" occurs when a strategy finds itself unable to invest significant amounts — and then expect outperformance — because of the limited size of its target universe of stocks.
Year-end EM FuM at $5.4b represented 47% of year-end group FuM. That 47% proportion is unlikely to attract notable new client money, which has implications for overall group FuM growth.
CLIG acknowledged meaningful FuM expansion rested upon CLIM's other strategies:
"International, OV [Opportunistic Value] and the REIT strategies remain a focus for growth in the medium term."
International and OV enjoyed good FYs 2018, 2019 and 2020 for attracting new client money…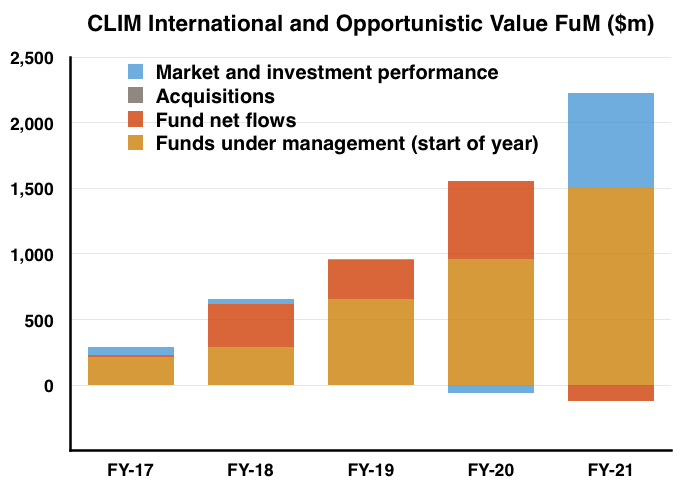 …but suffered a large client departure during FY 2021:
"The OV strategy lost its largest client after the institution outsourced management. We are redoubling our efforts to replace these assets. Our International strategy is open again to new investors and CLIM's REIT strategies will have the three-year track record necessary for institutional interest in January 2022."
At least the International fund has re-opened for new business.
International and OV represented $2.1b or 18% of year-end group FuM.
The REIT operation remains tiny with FuM at just $13m.
CLIG still reckons new client money of $385m can be obtained by June 2022:

An extra $385m is equivalent to only 3.4% of year-end FuM of $11.4b.
If the extra net $250m expected for CLIM was invested entirely within International and OV, their year-end FuM of $2.1b would be improved by a welcome 12%.
An extra net $250m for International and OV is not unprecedented.
Although International and OV suffered net client withdrawals of $117m during FY 2021, the two strategies enjoyed combined net client deposits of $333m, $301m and $597m during FYs 2018, 2019 and 2020 respectively,
The extra net new client money of $135m expected for Karpus does not cover the net $191m withdrawn from Karpus since the merger.
For a longer-term perspective, total FuM at CLIM and Karpus has grown from $6.2b to $11.4b since 2010 — equivalent to an average annual growth rate of 5.7%: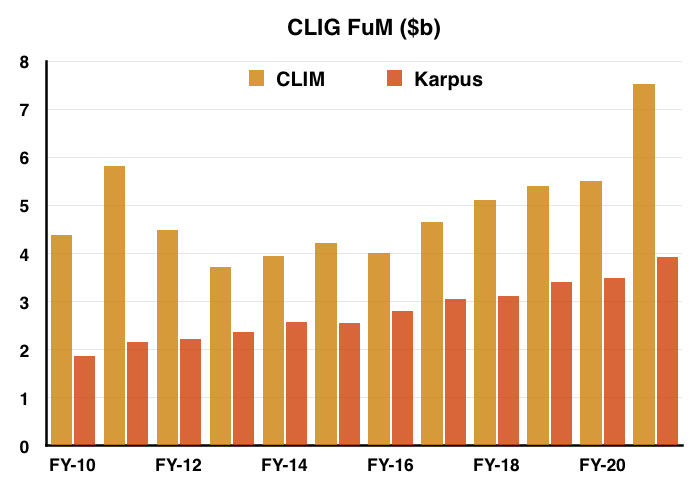 FuM investment performance
The high levels of outgoing client money feel peculiar given CLIG's claimed investment performance.
The 2021 annual report includes charts such as these…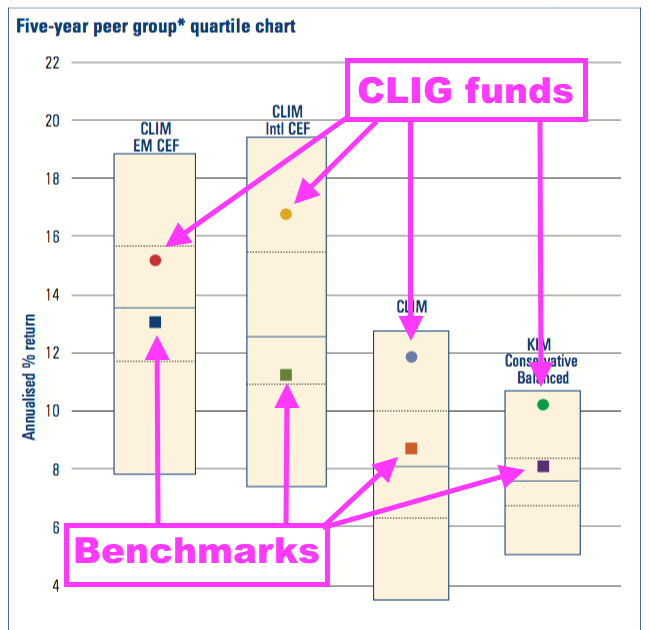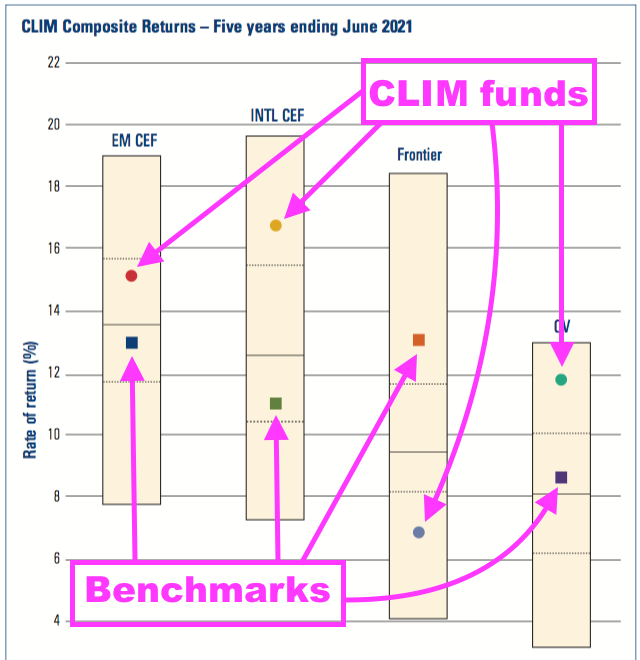 …that display five-year outperformance against various benchmarks.
"Over 90% of the underlying strategies managed by CLIM and KIM are ahead of benchmark and peer group averages over five years."
The obvious question then: why aren't more clients attracted to CLIG's funds given the outperformance?
True, the EM approach has capacity issues. True, some clients wish to 'rebalance' their portfolios. And true, some smaller CLIM strategies have failed and clients have left.
But perhaps the over-riding problem is CLIM's funds have under-performed the wider global market.
"Equities (MSCI World) delivered an annualised rate of return of 16% over the five years ending June 2021, almost double the average five-year return over the past 30 years."
Perhaps prospective clients have compared the performance of CLIM's funds to the performance of the MSCI World rather than CLIM's own benchmarks.
The Invesco MSCI World ETF (MXWO) has gained 102% during the last five years (in USD), versus a 95% investment return for CLIM's EM approach and 78% for CLIM's other strategies: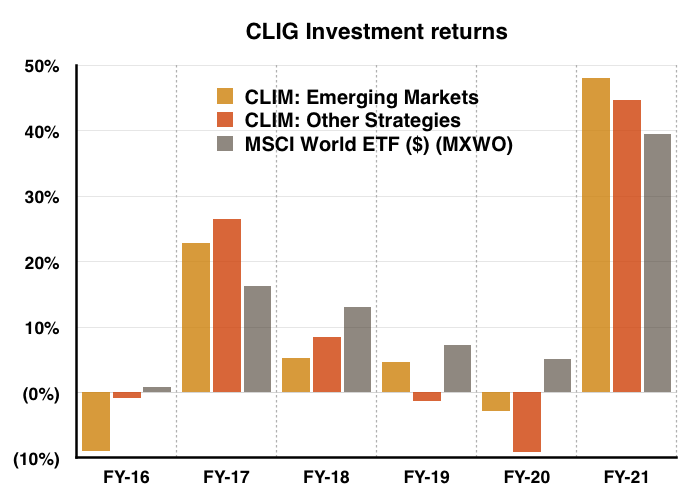 CLIG seems hopeful that its 'value' investing style may outperform the MSCI World during the next five years:
"With the trailing P/E of the global index approaching 25x, expectations for the next five-year period should be moderated."
With the MSCI World's largest holdings including tech higher flyers Apple, Microsoft and Amazon, the global index has made many investors (including me!) look like fools during the last five years.
Lower returns from the MSCI World do not of course mean CLIG's investing returns will then outperform.
FuM fee rates
The fee rate CLIM collects as a proportion of FuM continues to decline, this time by one basis point to 74 basis points: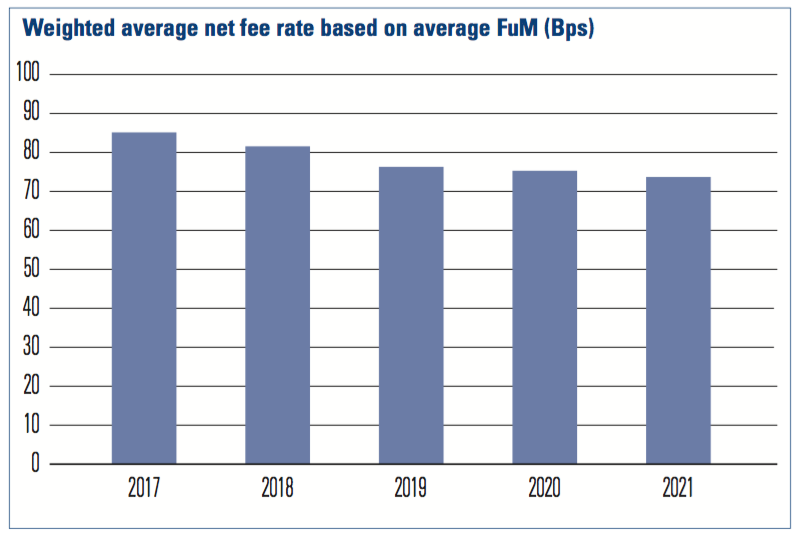 Note that the 74 basis points now includes Karpus, which enjoys higher fees than CLIM.
The 74 basis points for the enlarged group implies CLIM's fees have declined further from the 75 basis points reported for FY 2020.
The 2021 annual report included a revised FuM/exchange-rate table that indicated CLIM's fee rate was now 73 basis points:

CLIG claims the fee-rate decline since 2016 (then 86 basis points) has been due to the group's greater proportion of Other Strategy funds, which levy lower charges.
CLIG has never disclosed the exact fee rates charged on its EM and Other Strategy funds.
My past algebra has indicated EM fees are applied at 90 basis points and Other Strategy fees are applied at 30 basis points to arrive somewhere close to the overall fee rates CLIG has declared: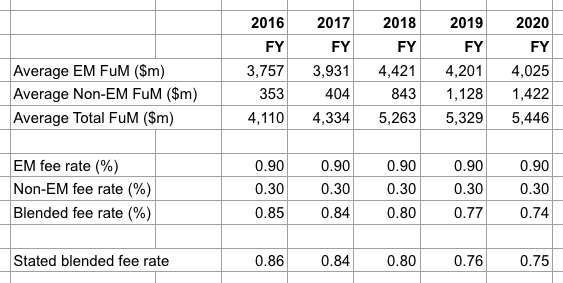 CLIG really ought to disclose the different fees charged by its strategies in order to remove any suspicion of clients chipping away at fees throughout all of its funds.
The fee rate at Karpus has dropped, too.
The merger document (point 5) claimed Karpus enjoyed a "fairly stable" rate of 80 basis points.
The Q2 and Q3 statements said Karpus fees were 77 basis points, and following these results the Q1 2022 update admitted Karpus fees had been trimmed to 76 basis points (see Valuation).
The declining fee trend is not encouraging and may well reflect existing clients mulling the 20 basis points charged for holding an MSCI World ETF.
Quality UK investment discussion at Quidisq. Visit forum.
Management
"With the founders/ex-chief execs of both CLIG and Karpus no longer in charge, I have become reluctant to add to my CLIG holding. I simply prefer owner-orientated executives — rather than professional 'salarymen' — to lead my investments."
"Of course, the 'salaryman' now in charge of the combined business may well find new clients without adjusting the workplace culture or embarking on an acquisition spree."
I now wonder whether CLIG does in fact require fresh boardroom thinking.
After all:

Client fees seem on a downward trend;
Attracting significant net new client money appears difficult, and;
CLIM's funds have struggled to match the MSCI World index.
I also wonder whether the workplace culture created by CLIG founder Barry Olliff has become a little too comfortable.
Before the Karpus merger, 49% of all employees had served at CLIG for more than ten years…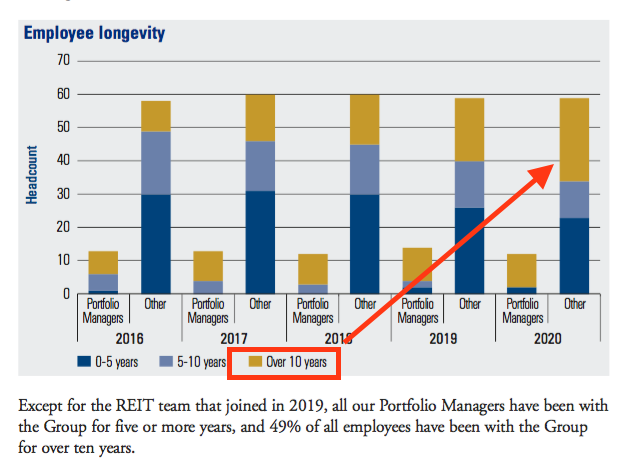 …and the 49% may quite like investing in the same old way for the same old customers.
The 2021 annual report admitting the cessation of paper payslips and the ongoing use of fax machines…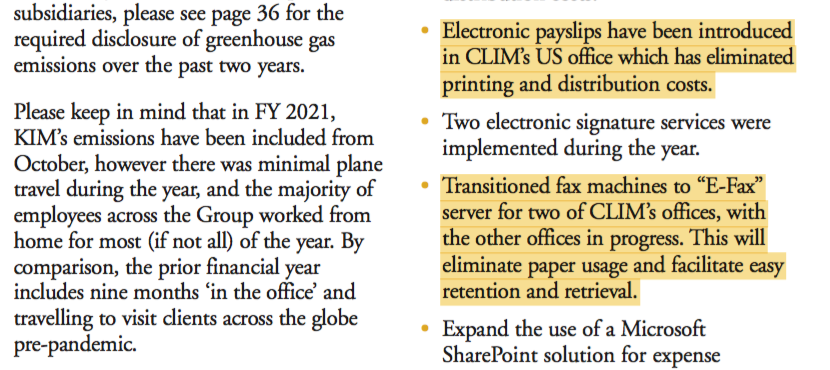 …feels like evidence of a business rather stuck in its ways.
A boardroom of eleven directors, which CLIG says is "arguably… excessive", does not seem ideal for decisive decision making and could explain why the business has been less dynamic than the likes of LIO.
The founder of Karpus, George Karpus, retired to become a CLIG non-exec on the day of the merger but still retains a 36%/£95m CLIG shareholding.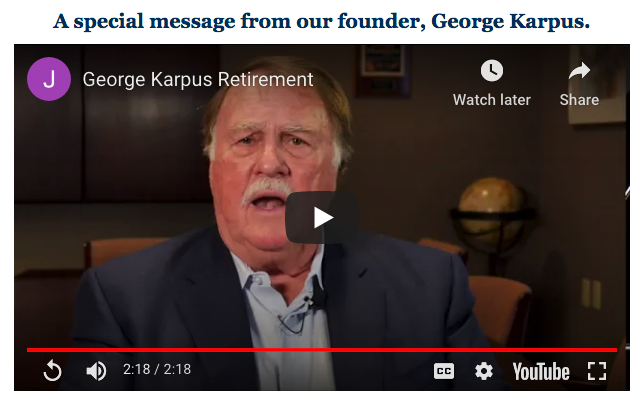 Mr Karpus may find selling down his shareholding more difficult than CLIG founder Barry Olliff, who (very commendably) first mentioned a desire to reduce his then £15m/20% stake in the 2008 annual report.
The latest annual report showed Mr Olliff with a £6m/2% stake.
In retrospect, perhaps Mr Olliff disposing of his shares during the ten years leading up to his 2019 retirement was a sign CLIG would not be going all out for growth.
Whether Mr Karpus will be able to influence executive proceedings is hard to say.
At least the Karpus chief investment officer is a CLIG executive, who may bring a different operational perspective to the three board executives from CLIM.
I suspect any meaningful development of the CLIM business may well rest upon Mr Karpus and whether he wishes the value of his £95m shareholding to advance (or not).
The annual report implies the Karpus merger tripled the number of group business development/marketing employees:

Additional business development/marketing employees are a good first step to winning more client mandates.
CLIG's commentary on marketing was limited to the following and, save for the new Karpus sentence, was identical to last year:
"Marketing efforts will continue to be targeted at investment consultants, foundations, endowments and pension funds. An institutional marketing resource was hired to introduce [Karpus] investment strategies to US registered investment advisers. We will also continue to introduce our capabilities to family offices, outsourced CIO firms, and alternative consultants. "
Before the merger, Karpus FuM per employee was 27% greater and Karpus revenue per employee was 31% greater than the respective levels at CLIM (point 9)
Perhaps Mr Karpus can somehow encourage CLIM's employees to be as productive as those working at Karpus.
Profit share and FuM/exchange-rate table
These FY 2021 figures appeared to clarify the profit-share arrangements with Karpus.
CLIG staff have for years shared up to 30% of pre-profit-share profit as a bonus.
The latest annual report showed profit share of £7.9m versus pre-profit-share profit of £35.6m…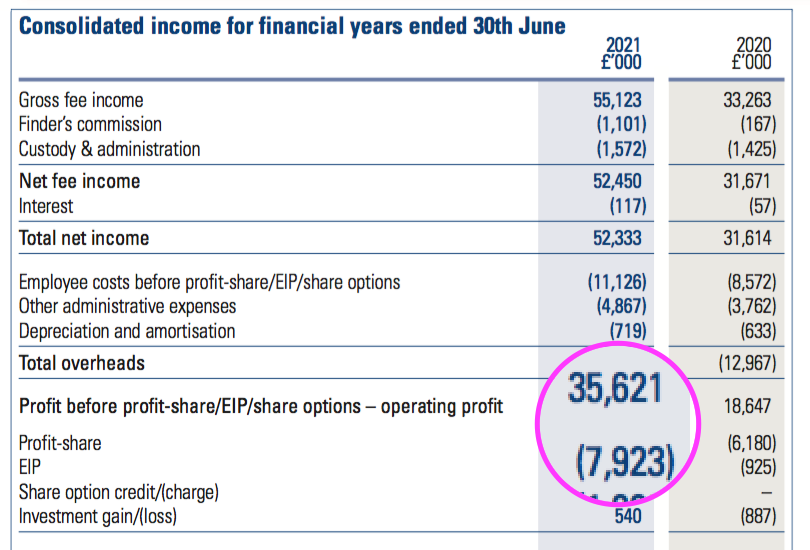 …which is equivalent to a 22% group profit share and compares to 33% for FY 2020 (I believe the 33% charge exceeds the 30% bonus-pool limit because of National Insurance payments).
Profit share during H2 represented 21% of pre-profit-share profit.
Note the FuM/exchange-rate table within the 2020 annual report mentioned the 30% profit share: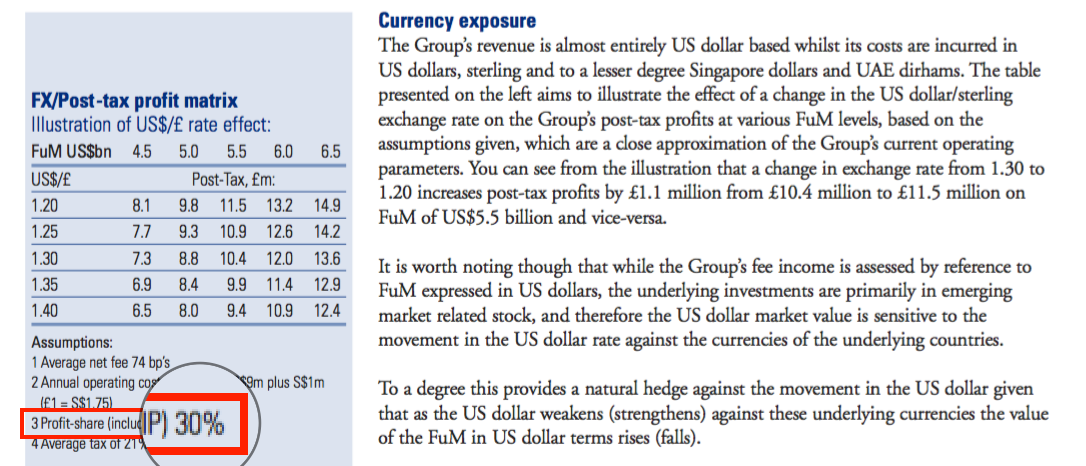 But theFuM/exchange-rate table within the 2021 annual report does not: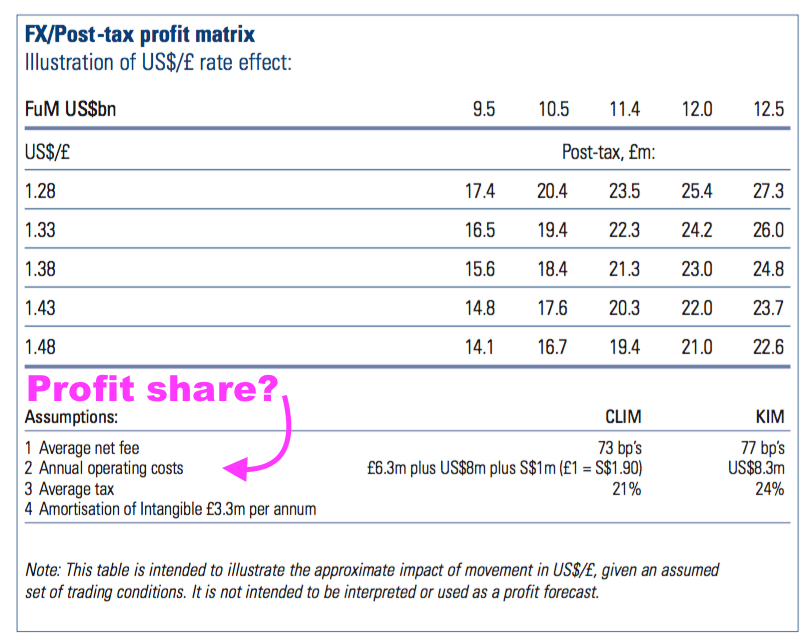 Note, too, that CLIM operating costs have increased by £0.3m to £6.3m and Karpus operating costs have increased by $0.3m to $6.3m since the H1 presentation: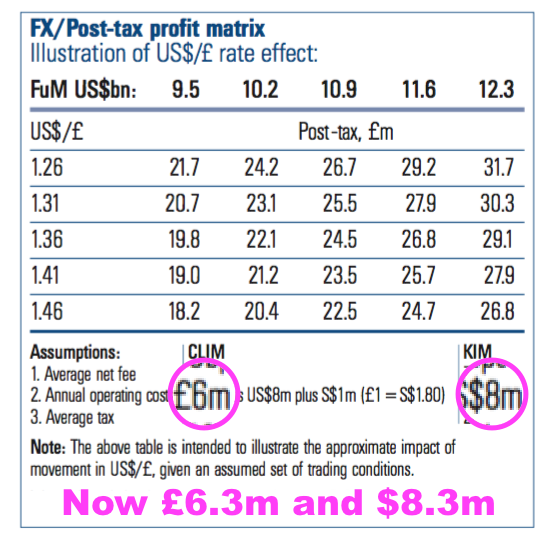 Operating a percentage-based profit-share scheme might also explain why CLIG's underlying FuM growth has been modest. Employees do not have to win new clients because they still collect a bonus even if earnings go nowhere.
The EIP cost for FY 2022 ought to be covered by the profit-share scheme. Last year CLIG said:
"The EIP allows employees to forego a proportion of their cash bonuses to participate in share awards, with matching employer contributions, and this year will be the last in which these additional EIP charges will be incurred."
But this year CLIG mentioned only Karpus employees had joined the plan and nothing about whether the additional EIP charge had ceased:
"I am pleased to report that the Employee Incentive Plan (EIP) continues to attract wide support from employees across the Group, this being the first year in which KIM employees were invited to participate."
The next H1 results should reveal whether the EIP will in fact be covered by the 30% profit share.
The FuM/exchange-rate table within the 2021 annual report does not seem to add up.
Assuming:

A 30% bonus pool for CLIM;
GBP:USD of 1.38, and;
FuM of $11.4b split as per the year-end…
…

my sums indicate a post-tax profit of £27m.
But the table gives a post-tax profit of £21m.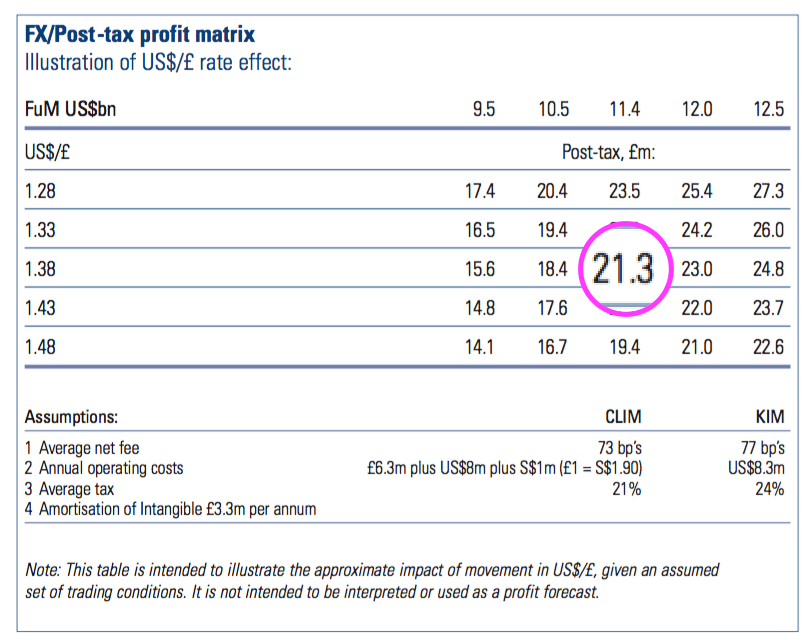 CLIG has always said the table is "not intended to be interpreted or used as a profit forecast."
But I now believe the table applies assumptions no longer declared underneath and its usefulness to shareholders has therefore diminished.
Financials
By far the most impressive feature of these FY 2021 figures was the operating margin.
Excluding the exceptional items and amortisation charges associated with the Karpus merger, CLIG converted gross fee income of £55.1m into operating profit of £26.8m — a startling 49% margin.
The margin for H2 on the same basis was 50% (£15.6m/£31.4m).
| | | | | | |
| --- | --- | --- | --- | --- | --- |
| Year to 30 June | 2017 | 2018 | 2019 | 2020 | 2021 |
| Operating margin* (%) | 36.8 | 36.9 | 32.9 | 34.9 | 48.7 |
| Return on average equity (%) | 58.9 | 50.9 | 43.6 | 40.0 | 24.4 |
(*before exceptional items and amortisation of acquired intangibles)
The startling margin is supported by Karpus. The accounting small-print said the division delivered post-merger earnings of £7.6m from net fee income of £15.5m — an

after-tax

margin of 49%.
Post-merger Karpus earnings of £7.6m equate to £10.1m annualised, or 10% of the £102m value of the shares issued to fund the merger.
The acquired goodwill and intangibles yielding a 10% return meant CLIG's return on average equity reduced for the year to 24%.
CLIG's return on equity ratio is rather academic, as earnings growth is driven inherently by attracting greater FuM — which in turn is not directly correlated to reinvesting profit into tangible items such as computers and office furniture.
The largest balance-sheet item after the Karpus intangibles is cash at a hefty £26m. The books remain free of conventional bank debt.
Cash during the year improved by £11m. Operating cash flow of £29.0m funded tax of £6.4m, dividends of £9.7m and £2.5m spent on shares for the Employee Benefit Trust (EBT).
The EBT expense was offset by raising £831k from selling shares to staff to satisfy their exercised options.
Between FYs 2017 and 2021, the EBT spent £7.0m buying shares and received £3.5m from selling shares. During the same time the £3.5m difference has been almost entirely covered by the aggregate EIP charge of £2.9m.
Working-capital movements and capital expenditure remain small versus operating profit:
| | | | | | |
| --- | --- | --- | --- | --- | --- |
| Year to 30 June | 2017 | 2018 | 2019 | 2020 | 2021 |
| Operating profit* (£k) | 11,509 | 12,528 | 10,504 | 11,598 | 26,820 |
| Depreciation and amortisation (£k) | 231 | 295 | 306 | 292 | 227 |
| Net capital expenditure (£k) | (485) | (137) | (421) | (79) | (93) |
| Working-capital movement (£k) | (533) | 1,423 | 894 | 69 | 2,361 |
| | | | | | |
| Net cash and investments (£k) | 15,022 | 19,937 | 18,232 | 18,419 | 29,699 |
(*before exceptional items and amortisation of acquired intangibles)
CLIG's accounts remain free of defined-benefit pension obligations.
Reader offer: Claim one month of free SharePad data. Learn more. #ad
Valuation
The Q1 2022 update published last month was not spectacular: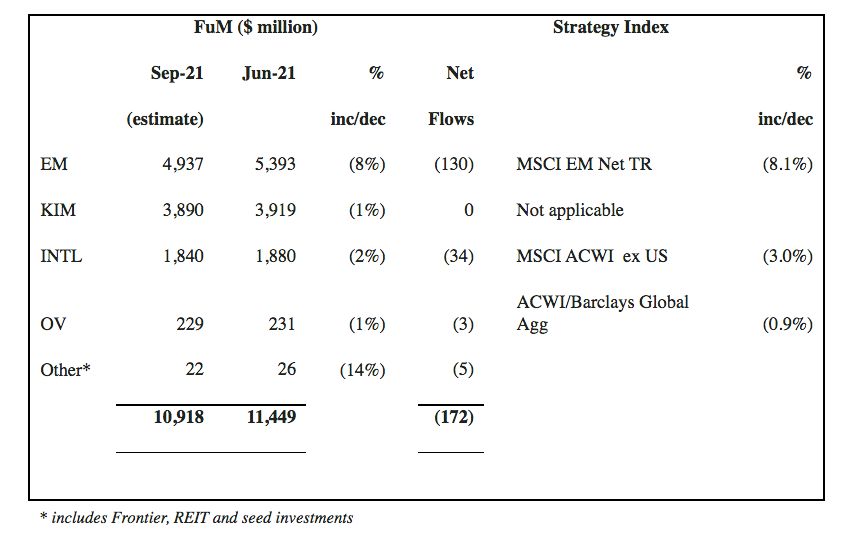 Clients withdrew a net $172m to mark the fifth consecutive quarter of net FuM outflows.
FuM declining $531m including withdrawals of $172m implies a $359m negative investment movement.
Down $359m on $11.4b is a 3.1% drop for the quarter. The MSCI World ETF by contrast gained 0.9%.
FuM at $10.9b is now at its lowest level since the Karpus merger completed this time last year, when FuM was $9.5b.
Assuming FuM can remain around the $11b level, doubling up the H2 performance should provide a reasonable profit guess for FY 2022.
Underlying H2 earnings were £11.9m, which gives £23.8m or approximately 47p per share for twelve months.
CLIG's dividend-cover chart continues to predict earnings of £8.8m will be retained for FY 2022…
…as FuM increases by the aforementioned $385m:

£8.8m is equivalent to 17p per share and, when added to the 33p per share dividend, implies earnings of 50p per share for FY 2022.
The earnings guesswork could be fine-tuned further for the cash position, the Q1 2022 update and any further costs/benefits arising from the Karpus merger, but the 10-11x rating at 510p is already very ordinary.
The 33p per share trailing dividend supports a 6.5% income.
CLIG's dividend-cover policy continues to be 1.2x over rolling five-year periods. But dividend cover based on underlying FY 2021 earnings was 1.45x (33p/48p) .
CLIG noted dividend cover on reported earnings for the last five years was 1.29x, and "having regard to the buoyancy of markets over the last year" believed that a "modest degree of headroom above the target level [was] prudent."
Applying the five-year 1.29x dividend cover to projected earnings of 47p per share leads to a FY 2022 payout of 36p per share and a potential 7.1% income.
CLIG's rating does not look expensive, but the trailing P/E has frequently been less than 12 and trailing yield has almost always offered more than 6%:
I remain convinced the shares will continue to trade on a modest rating until CLIG attracts a much greater rate of new client money.
Additional perspective on future returns is provided by a KPI.
CLIG continues to be one of the very few quoted companies with a public share-price ambition: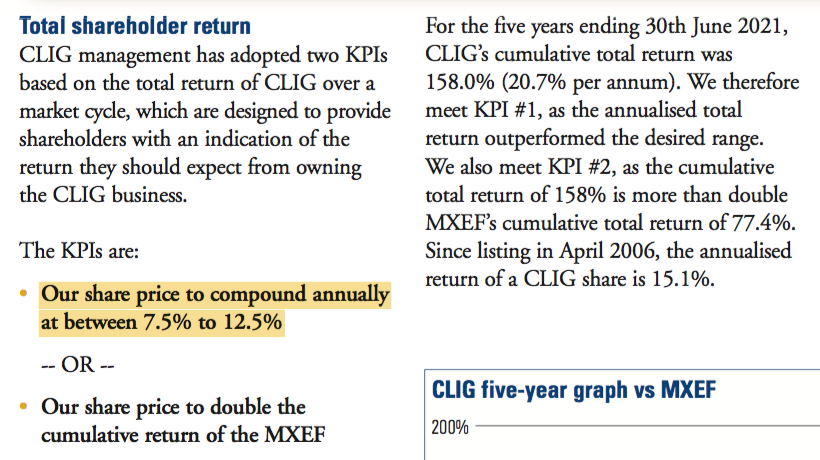 Over rolling five-year periods CLIG aims to deliver a total-return CAGR for shareholders of between 7.5% and 12.5%.
A starting dividend yield of 6.5% means the share price may only have to grow at 1-2% a year to meet the KPI ambition.
The share-price KPI ambition is very commendable but not a great endorsement of multi-bagger gains ahead.
The share-price KPI was introduced within the results for FY 2019, the year-end share price for which was 406p.
A five-year CAGR of the minimum 7.5% KPI requires a 177p per share return from that 406p by 30 June 2024.
The share price has since improved 104p to 510p while dividends have come to 59p per share. Just another 14p is therefore required by 30 June 2024 to meet the 177p per share five-year KPI.
The share-price KPI is now CLIG's only KPI after these results confirmed a confusing goal relating to an emerging-market benchmark (point 8) had been scrapped.
Maynard Paton
PS: You can receive my blog posts through an occasional email newsletter. Click here for details.