02 June 2022
By Maynard Paton
Results summary for Mincon (MCON):
A better-than-expected performance, bolstered by a record H2 and perhaps a cracking Q4 following less pandemic disruption.
Positive progress was recorded at all three product divisions, with higher commodity prices pushing H2 mining sales up 30%.
Encouraging development news included the long-awaited Greenhammer system delivering "outstanding" test results and potentially becoming available to purchase this year.
Despite the long-term commitment to first-class product manufacturing, MCON's financials sadly still lack signs of an obvious 'moat'.
The shares do not appear outrageously expensive, assuming H2 extrapolations and upbeat FY 2022 trading do indeed support a 15x P/E. I continue to hold.
Contents
News links, share data and disclosure
News: Annual results and presentation for the twelve months to 31 December 2021 published 14 March 2022 and Q1 trading update published 09 May 2022

Share price: 100p
Shares count: 212,472,413
Market capitalisation: £212m

Disclosure: Maynard owns shares in Mincon. This blog post contains SharePad affiliate links.
Why I own MCON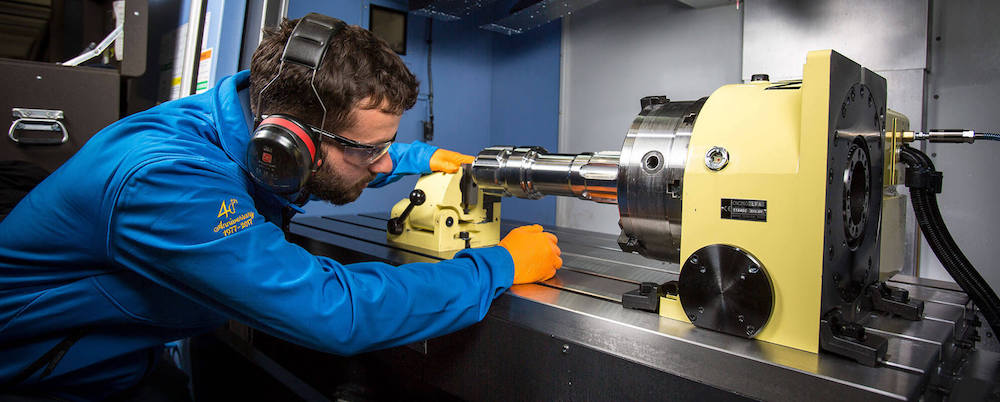 Designs and manufactures industrial drills, with sales supported by established reputation, engineering excellence, product patents and technical innovation.
Boasts veteran family management with 45-year tenure, 56%/£120m shareholding and long-term perspective.
Offers higher earnings potential through supplying a buoyant mining sector, greater direct sales, prospects of larger construction contracts plus "transformational" new products.
Further reading: My MCON Buy report | All my MCON posts | MCON website
Results summary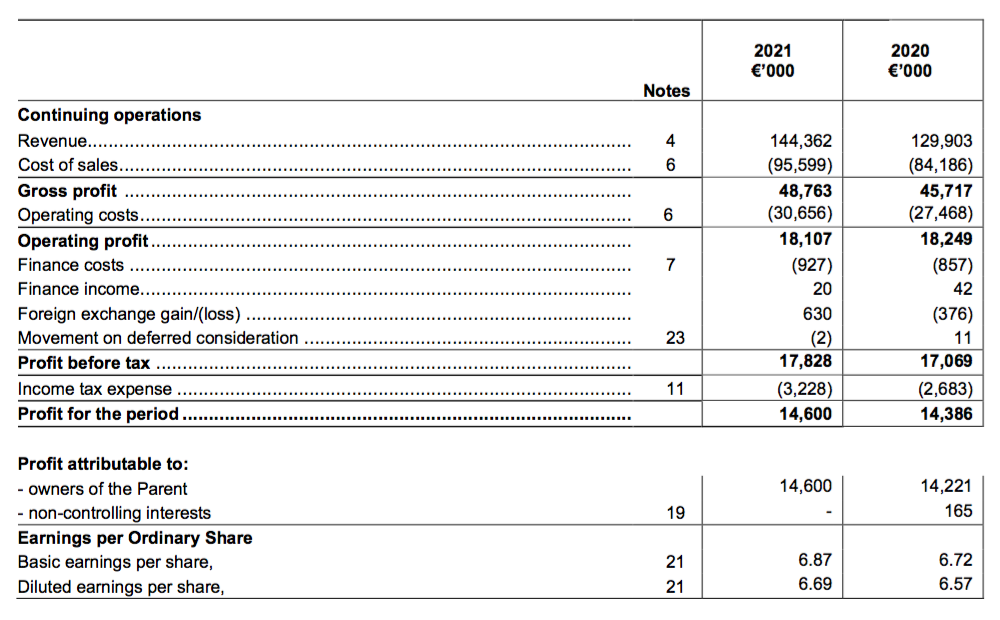 Revenue, profit and dividend
The H1 2021 statement had revealed revenue up 4% and operating profit down 9%.
But these annual numbers implied a much stronger H2, showing full-year revenue up 11% (to €144m) and operating profit down 1% (to €18m):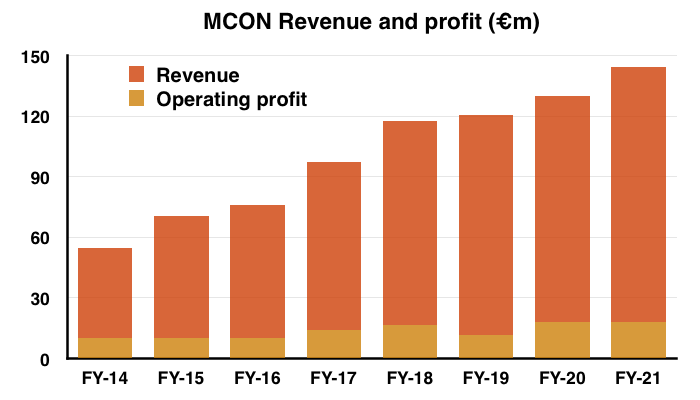 Revenue in fact registered a new yearly peak, while H2 was MCON's best ever six-month performance for revenue and profit.
H2 revenue surged 19% to €77m and lifted H2 operating profit by 6% to beyond €10m: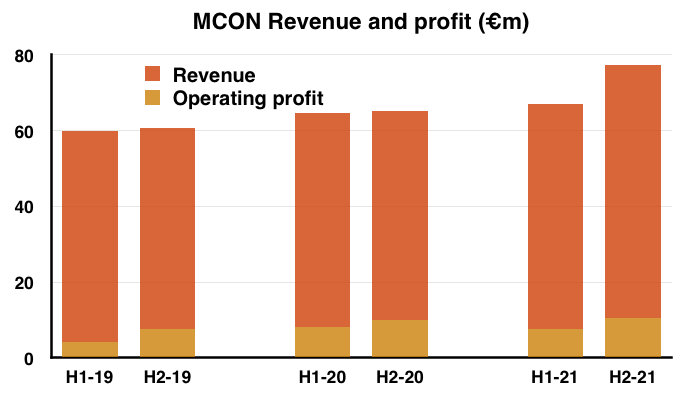 November's Q3 update disclosed revenue advanced 6% during the first nine months of the year, which implied MCON enjoyed a cracking Q4 given full-year revenue gained 11%.
The bulk of FY21's progress was organic, with full-year revenue growth due to acquisitions limited to 3%.
While MCON blamed the earlier H1 profit shortfall on pandemic interruptions…
"At the beginning of the year, including all of January and most of February, we experienced interruption in our manufacturing in some of our plants due to the pandemic. The largest impact was at our hammer factory in Shannon. Our capacity in the Shannon plant was severely disrupted, with a 35% reduced manufacturing workforce during those initial months of this year."
…this FY 2021 statement said simply "the production challenges imposed by the COVID-19 pandemic" had "eased".
Profit growth lagged revenue growth due to ongoing logistical headaches and rising supply costs:
"Supply chain challenges and increases in raw material prices had an impact on our margins during the year, along with additional operational costs brought about by the on-going pandemic. For instance, our overall manufacturing freight cost increased by 18%."
MCON suggested customers had shared some of the extra-cost burden…
"We have passed on price increases to customers to offset increases in manufacturing and delivery costs, but only when it was considered appropriate to do so."
…and would continue to share the burden during 2022:
"Our order books for 2022 remain healthy as the markets remain strong. We are passing on inflationary manufacturing cost, such as increases in energy cost, through price increases to customers."
The logistical headaches forced MCON to sell greater volumes of third-party equipment:
"We were also compelled to purchase local non-Mincon products to fulfil our customer requirements when Mincon manufactured products were subject to freight interruptions at seaports, and this also impacted our gross margin in 2021."
Sales of third-party equipment jumped 20% during the year and 30% during H2: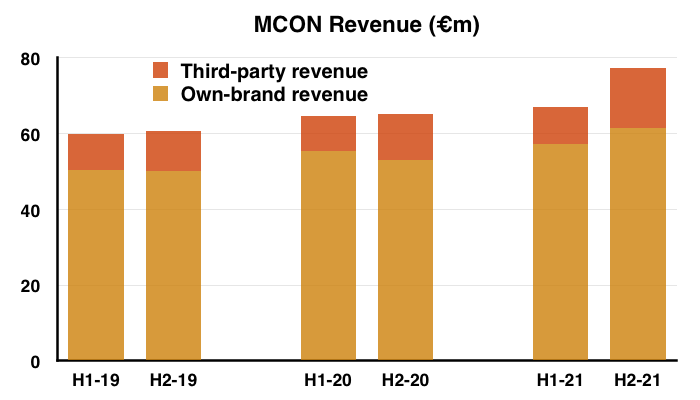 Sales of MCON's own-brand equipment gained 11% during the year and represented 82% of total revenue — the lowest proportion since FY 2017 (77%).
Selling third-party equipment helps MCON satisfy a wider range of customer orders, but incurs much lower margins then selling own-brand products.
The profit performance was distorted slightly by pandemic-related grants:
"The Group recognised €450,000 in Government Grants in 2021 (2020: €1.3 million). These grants differ in structure from country to country, they primarily relate to personnel costs."
Exclude the grants and FY 2021 operating profit climbed 4%.
The logistical headaches prompted greater levels of stock…
"[W]e chose to increase inventory levels of both raw materials and finished goods to ensure we maintain continued strong service to our customers who use our products for business-critical operations."
…and the elevated stock level continues to raise questions about MCON's inherent economics and the reinvestment requirements to deliver higher earnings.
Indeed, the logistical headaches and rising costs have done nothing to alleviate the continuing absence of indisputable 'moat'-like financials.
All told, MCON's dedication to top-class manufacturing and supplying premium equipment was not obviously apparent within these FY 2021 financials — nor indeed within the results of the previous five years (see Financials: Margin).
Product divisions
All three of MCON's product divisions enjoyed positive full-year progress.
Higher commodity prices prompted MCON's traditional mining customers to purchase more equipment:
"The mining industry continued with its robust performance from 2020 into 2021 as the price of precious metals remained high throughout the year, along with a strong annual average iron ore price for 2021. Our revenue expansion in the mining industry was particularly encouraging, with organic growth of 16%"
Mining revenue surged 30% during H2 to €42m and represented 55% of total revenue.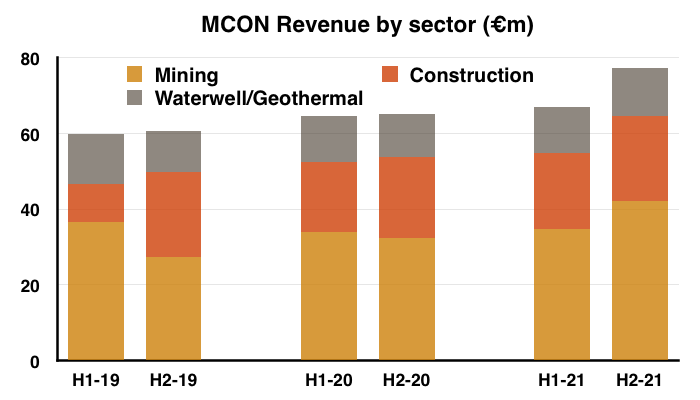 Note that full-year mining revenue could have expanded even further were divisional sales in Australia not trimmed 6% by pandemic restrictions.
Construction progress throughout the year was supported by smaller European projects (revenue up 23%) that counterbalanced lower income from larger American projects (revenue down 12%).
MCON encouragingly suggested greater construction orders could be forthcoming during FY 2022:
"Although it was quieter in 2021, the construction sector continues to provide excellent growth potential for the Group, and we have tendered for a number of major geotechnical projects, mainly in the United States. We fully expect to be awarded some of these contracts, which, as we saw in 2020, significantly boost our revenue and profit performance."
Since then further acquisitions and new products such as the Spiral Flush have helped construction revenue grow to represent approximately 30% of group sales:
Revenue from waterwell and geothermal equipment gained 11% during H2 and 5% for the year.
"We are differentiating ourselves from the less developed businesses in low margin activities in the sector, and we are positioning ourselves to deal directly with end customers and to win large contracts."

"Going forward we plan to… seek long-term partnerships and multi-year contracts with end customers incorporating direct delivery to their sites."
The FY 2021 slides confirmed the split remained at 77%:

Direct sales should benefit MCON by:

Cutting out the intermediary margin, and;
Providing greater insight into future customer requirements.
MCON noted direct sales also provide greater flexibility for lifting prices and passing on elevated costs to customers.

Greenhammer and other development projects
This FY 2021 statement revealed good progress on new projects.
Testing on the Greenhammer system has finally taken place and delivered "outstanding results":
"Our hydraulic Greenhammer ran successfully on our own Mincon rig at a major open pit iron ore mine in north-western Australia during the year. Stringent COVID-19 restrictions in Western Australia materially curtailed our ability to put the outstanding results, in terms of penetration rate increases and reliability, to commercial use.
MCON also claimed Greenhammer was a "transformational opportunity":
"As a result, and subject to pandemic restrictions easing in Western Australia, we are working on alternative routes to commercialising this transformational opportunity for the Group and the hard rock surface mining industry. It is important to note that protecting our hard-earned IP will be at the forefront of any agreements that we commit to."
"[A] disruptive technology, offering tremendous savings in fuel, with an ambitious planned partnership programme in our customer base".
…and suggested the design could enjoy a strong competitive advantage:
"This is not a small system or easily replicable, and we have placed patents around the system to protect it. The system is more than just the hydraulic hammer; it includes all the drill string and the supporting on-rig infrastructure and handling."
The project appears to have commenced eleven years ago. It was first mentioned within the FY 2016 results while the FY 2018 results said development had started seven years beforehand.
Although the original plan to commercialise Greenhammer within western Australia has faltered due to the pandemic, MCON appeared positive the system could be sold later this year:
"We are currently examining potential routes to commerciality with other clients, and subject to the lifting of COVID-19 restrictions, we expect that [Greenhammer] will start generating revenue in 2022."
My question to management about Greenhammer's potential at the (online) 2021 AGM elicited the following (paraphrased) response:
"Greenhammer could produce significant incremental profitability and there remains a very big market opportunity for other MCON products."
MCON capitalised Greenhammer development costs of €1.1m during FY 2021, of which £0.7m occurred during H2. Total capitalised development expenditure since FY 2016 has been €7.0m: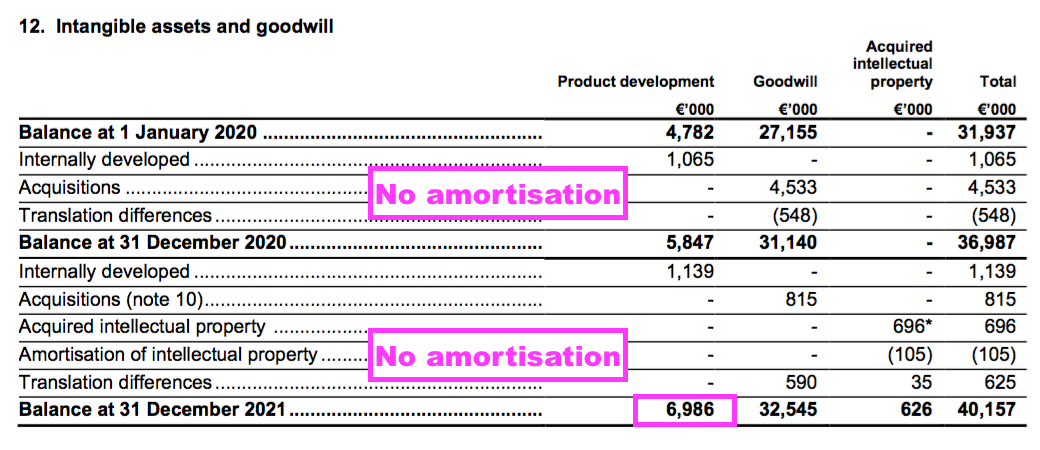 Not a eurocent of that €7.0m expenditure has to date been charged against earnings. Amortisation will commence when the system enters commercial use.
The €7.0m expense represents 8% of the €89m aggregate operating profit before exceptional items reported since the capitalisation began during FY 2016.
Meanwhile in Malaysia, customer testing of MCON's "large diameter hammer system" occurred during H2 and set a new drilling record:
"Another testing success was the drilling that was carried out in Malaysia with our new large diameter hammer system to drill 1750mm diameter rock socket friction piles. We believe that these are the largest holes ever drilled with a single hammer."
MCON was upbeat about the prospects of this large-diameter system:
"While we need to drill more metres using the system, the performance, which is several times faster than the existing technology, gives us great encouragement. We believe that there is great potential for this product globally as the preferred method for drilling large diameter construction piles more efficiently."
Elsewhere within the research pipeline, MCON's involvement in robotic seabed drilling very much remains in the early stages:
"A small-scale prototype has been test drilled onsite at the Shannon plant and we are continuing to refine this. We are also working with our partners to develop a seabed drill rig as part of an overall system to drill, load test and certify anchor installations at an offshore test site."
Financials: Margin
"[H]igh margins underpin the notion that MCON has a respectable competitive advantage. The group converted 19% of revenues into profit during 2014 and above 20% during 2011, 2012 and 2013."
This time last year I wrote:
"A 14% margin is reasonable, but not overwhelming evidence of a competitive 'moat' and customers having few viable alternatives."
The aforementioned logistical headaches and rising costs ensured MCON went another year without overwhelming evidence of a 'moat'-type margin. The operating margin for FY 2021 was in fact 12.5%.
MCON's long-term margin decrease has been caused by the greater cost of sales for own-brand equipment: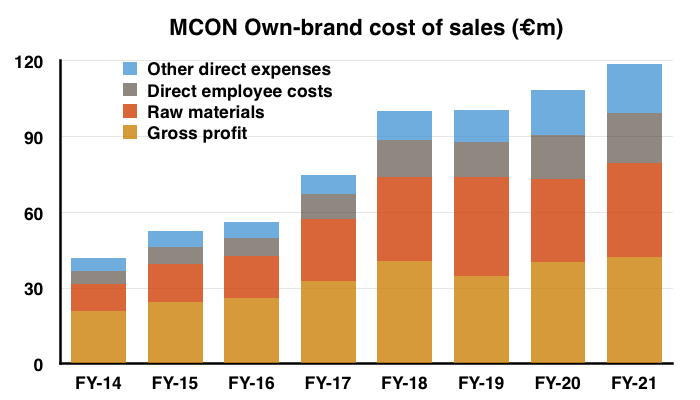 Raw materials and direct employee costs have represented a growing part of own-brand revenue since FY 2014 (from a combined 38% to 48%):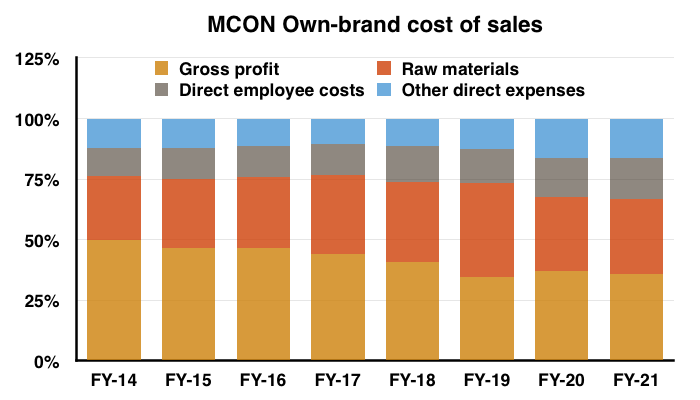 I estimate the gross margin on own-brand equipment has dropped from 50% to 36%.
My question to management about MCON's operating margin at the (online) 2021 AGM elicited the following (paraphrased) response:
"The 20% margin of the past was achieved on much lower revenue when the company was manufacturing only part of the drill string and the more profitable DTH [down-the-hole] drills represented a greater part of the business.

Today the company manufacturers the full drill string, and as such has been able to win large direct contracts and therefore increase profit. That said, 14% is not our level of ambition."
In other words, MCON has evolved from operating as a niche, high-margin drill supplier with perhaps modest growth prospects to a wider, middle-margin drill supplier with possibly better growth prospects.
Margins could of course improve as and when rising supply costs are passed on to customers.
But a sub-15% operating margin since FY 2015 is not really commensurate with MCON's focus on tip-top engineering and the annual report citing:
Highest design specifications;
Best manufacturing methods and processes, and;
Delivery of superior products to our customers.

Financials: Stock
The aforementioned logistical headaches prompted greater levels of stock:
"[W]e chose to increase inventory levels of both raw materials and finished goods to ensure we maintain continued strong service to our customers who use our products for business-critical operations."
Significant levels of stock have long been an unfortunate feature of MCON's balance sheet.
Stock has grown from 30% (€28m) to represent 44% (€63m) of net asset value between FYs 2014 and 2021: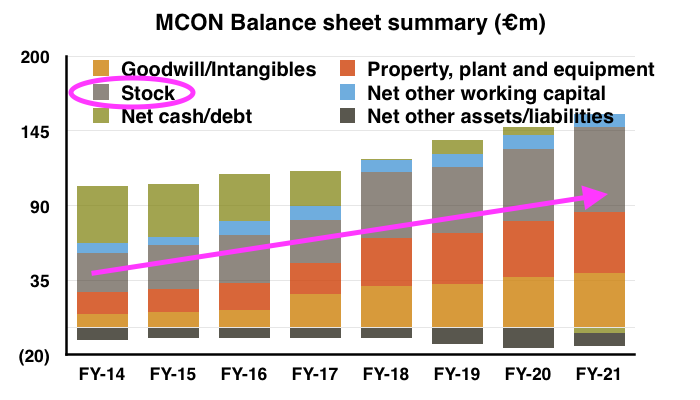 All my other portfolio companies operate with stock levels representing less than 20% of their balance sheets.
Carrying large amounts of stock could mean a company:

Manufacturers slow-moving items that carry a greater risk of obsolescence;
Applies inefficient working practices, and/or;
Will require greater cash investment into extra stock to support future growth.
High stock levels appear a fundamental part of MCON's business.
In particular, the shift towards direct selling has required extra warehouses to support local customers:
"Our continued direct sales approach, particularly in North America, required new sales and warehouse locations. Through these locations we increased our market share and footprint in North America."
Customers demand "timely availability" of equipment, too:
"The sourcing of raw material and the lead times on delivery were key challenges for our factories to overcome in 2021. To help mitigate those challenges we decided to invest further in our raw material inventory, which increased our holdings by 6%, on a constant currency basis, to ensure supply of all required material types and sizes. A shortage of a particular raw material could delay the completion of finished product and hence reduce the timely availability of products to customers which could endanger future supply contracts."
MCON's mining customers presumably operate in remote locations and can't afford staff to idly wait for new equipment. Hence the requirement for MCON to operate local warehouses with plenty of stock.
At least MCON's stock is not perishable and write-downs for the last two years have been small:
"The Group recorded an impairment of €22,000 against inventory to take account of net realisable value during the year ended 31 December 2021 (2020: €80,000). Write-downs are included in cost of sales."
Stock turn has improved over time but remains lengthy. My calculation of average stock employed during the year divided by cost of sales gives 220 days (7-8 months):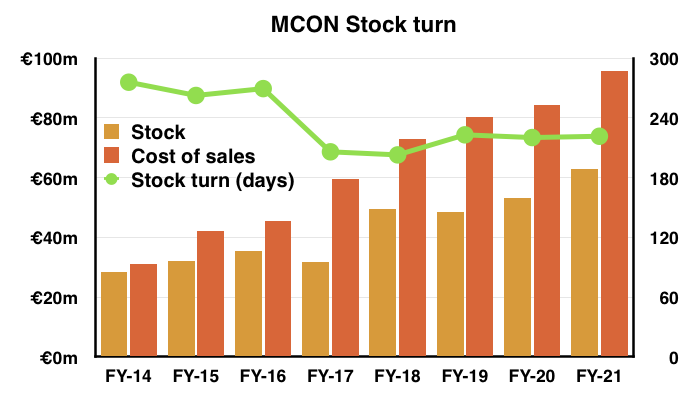 Financials: Cash flow
The extra stock investment did not help MCON's cash conversion. Some €7.5m was spent boosting stock during the year, split €4.2m for H1 and €3.3m for H2.
Cash invested into working capital came to a net €9.4m, including €4.5m funding prepayments for manufacturing equipment: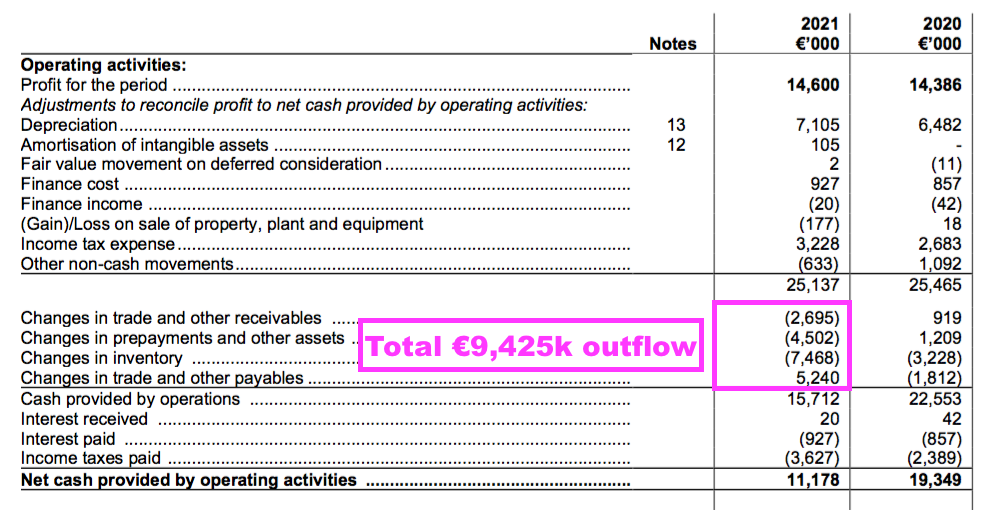 Cash absorbed into working capital during the last five years totals a material €30m:
| | | | | | |
| --- | --- | --- | --- | --- | --- |
| Year to 31 December | 2017 | 2018 | 2019 | 2020 | 2021 |
| Operating profit (€k) | 14,040 | 16,352 | 11,810 | 18,249 | 18,107 |
| Depreciation* (€k) | 3,014 | 3,896 | 3,898 | 4,666 | 5,209 |
| Net capital expenditure** (€k) | (5,639) | (12,552) | (7,930) | (6,981) | (7,024) |
| Working-capital movements (€k) | (4,408) | (14,870) | 2,095 | (2,912) | (9,425) |
| | | | | | |
| Free cash flow (€k) | 3,270 | (11,118) | 3,175 | 11,393 | 3,015 |
| Net cash (€k) | 26,142 | 846 | 5,586 | 461 | (4,342) |
(*excludes IFRS 16 depreciation **excludes Greenhammer expenditure)
Five-year expenditure on tangible assets beyond the depreciation charged against earnings meanwhile stands at €19m.
Factor in the €7m spent on Greenhammer, a net €23m spent on acquisitions and €22m spent on dividends, and no wonder net cash has reduced from €35m at FY 2016 to net borrowings currently at €4m.
Total gross bank loans/finance leases stand at €34m and do not appear too alarming versus cash of €19m, FY 2021 earnings of approximately €15m and my calculation of an effective 3.3% borrowing rate.
But operating with net debt is never ideal and as the pandemic showed, companies with cash set aside for a rainy day stand more chance of sustaining dividends and avoiding rights issues when unfavourable events occur.
The prospect of material capital expenditure seems likely for the near term. MCON said:
"Our intention is to invest further in new and improved manufacturing techniques to increase efficiencies in our manufacturing processes, as the business continues to grow."
A small acquisition conducted after the year end suggests MCON's strategy of purchasing new subsidiaries — a dozen or so have been acquired since the 2013 flotation — will absorb future cash as well.
Another consideration is the €4.2m payable to clear earn-outs from past acquisitions.
At least MCON's accounts are not complicated by pension obligations.
Financials: Return on equity and revenue per employee
MCON's modest margins and hefty cash expenditure have translated into return on equity numbers of approximately 10%: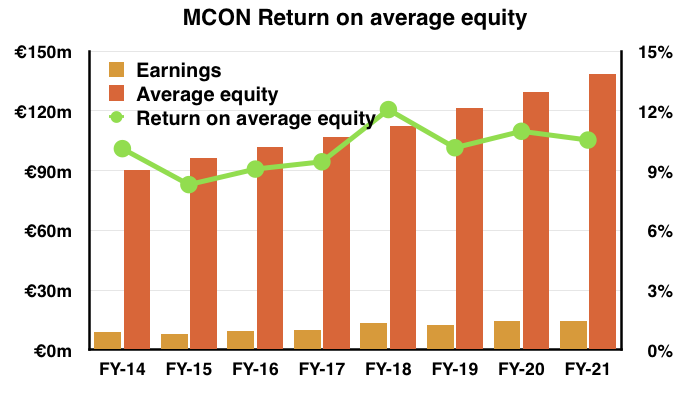 The 10% calculation is underpinned by evaluating MCON's progress following the group's 2013 flotation.
When MCON became a public company, shareholder equity was €86m and net cash was flush from the flotation proceeds at €49m.
Subsequent reported earnings have totalled €91m: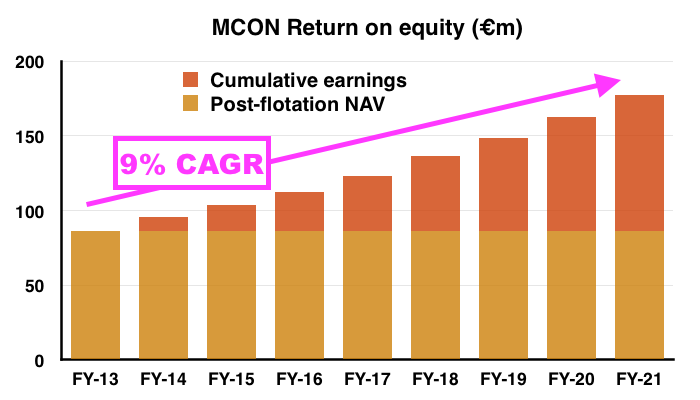 Effectively investing €86m to earn an aggregate €91m over eight years equates to a 9% annual average compound return.
Earning 9% a year on shareholders' equity is not awful but is not exceptional either.
For perspective, the same eight-year calculation for fellow portfolio member Andrews Sykes is 17% (based on an aggregate £109m earned from a £43m starting equity base).
Perhaps one day Greenhammer, the large-diameter drills and/or the seabed micro-piling will all attract customers prepared to pay premium prices for advanced equipment, which in turn lifts equity returns to more respectable levels.
Revenue per employee does provide hope that MCON is an above-average business. During the eight years since the flotation, revenue per employee has averaged a useful €259k and was €243k during FY 2021.
My rule of thumb with revenue per employee is anything beyond £200k might indicate the employees develop higher-value products that could sustain a competitive 'moat'.
I hope MCON's revenue per employee can improve over time to reflect customer price increases and new product launches.
Valuation
A Q1 update issued during May did not read that badly.
Revenue looks to have encouragingly held up following the record H2:
"We have carried the positive revenue momentum from H2 2021 into the first quarter of 2022, while continuing to build on our order books during this quarter, driven by the strong underlying demand for our products across the Construction, Mining and Waterwell/Geothermal sectors."

…

"We are experiencing significant growth in our three industries versus Q1 2021. The majority of this is organic growth in both mining and construction, and through the acquisition of Attakroc in mid-2021, which has been a solid contributor to the Group and has grown our market share in Eastern Canada."
But costs remain stubbornly high:
"Whilst we have experienced margin pressure during the quarter due to the lag in recovering increases in manufacturing and operational costs through price increases to customers, we expect to recover our margin position in the coming months."

"Substantial increased energy costs have been a main driver behind our margin pressure and trying to mitigate the effect of these is paramount."
MCON's shares could be reasonably valued assuming the record H2 is sustained during FY 2022.
Doubling up the €10.6m H2 operating profit gives €21.2m, which after the average 16% tax applied during the last five years leaves earnings of €15.1m or 7.1p per share with GBP:EUR at 1.18.
Adjusting the £212m market cap for cash of €19m, debt and finance leases of €34m and the deferred consideration of €4m gives an enterprise value of £229m, or 108p per share.
Dividing that 108p per share by my 7.1p per share earnings guess then gives a possible P/E of 15x.
While the sums could be fine-tuned for the Greenhammer expense and other items, my rudimental rating does not appear bargain cheap nor outrageously expensive.
For now I am hopeful a mix of:

An easing of supply-chain headaches following the pandemic;
Further demand in the mining and construction sectors;
Greater direct sales of equipment, and;
Greenhammer and other development projects bearing fruit…
…can lead to respectable financial progress during the next few years.
Longer-term investment success will depend upon management's commitment to product quality one day translating into accounting evidence of a competitive 'moat'.
For now at least, MCON's margin, return on equity and cash conversion sadly do not indicate an obvious 'moat'.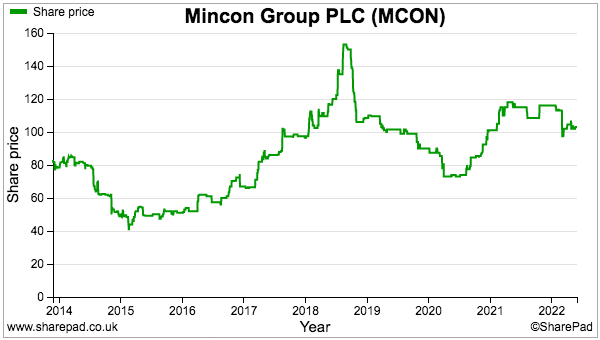 Shareholder patience could be required before superior returns are enjoyed.
After all, MCON was established during 1977 and very much remains a family-run business with a corresponding long-term perspective.
MCON's founder still works as a company non-exec in his mid-80s while his two sons are the lead executives. The family members own a collective 56%/£120m shareholding.
No family member sold a share at the 2013 flotation and none has sold a share thereafter.
The lack of family share-dealing indicates MCON's stewards are in for the long haul, and great change is unlikely to happen overnight.
As financial signs of an obvious moat are awaited, the trailing 2.1 eurocents, or 1.8p, per share dividend supports a modest 1.8% income (before Irish withholding taxes for UK-resident investors).
Maynard Paton