23 February 2018
By Maynard Paton
Update on Tristel (TSTL).
Event: Interim results and shareholder presentation for the six months to 31 December 2017 published 20 February 2018
Summary: These first-half figures were slightly better than I had expected, with December's AGM statement having downplayed the group's underlying progress. Welcome revenue advances — both in the UK and abroad — were delivered by TSTL's main disinfectant products, while adjusted profit would have soared 24% were it not for the costs of entering North America. Sadly it remains anyone's guess as to when those costs will eventually see any payback. Nonetheless, the first North American milestone is looming — an EPA product approval decision is expected on 16 April, and the share price is optimistic. I continue to hold.
Price: 275p
Shares in issue: 42,986,133
Market capitalisation: £118m
Click here to read all my TSTL posts.
Results: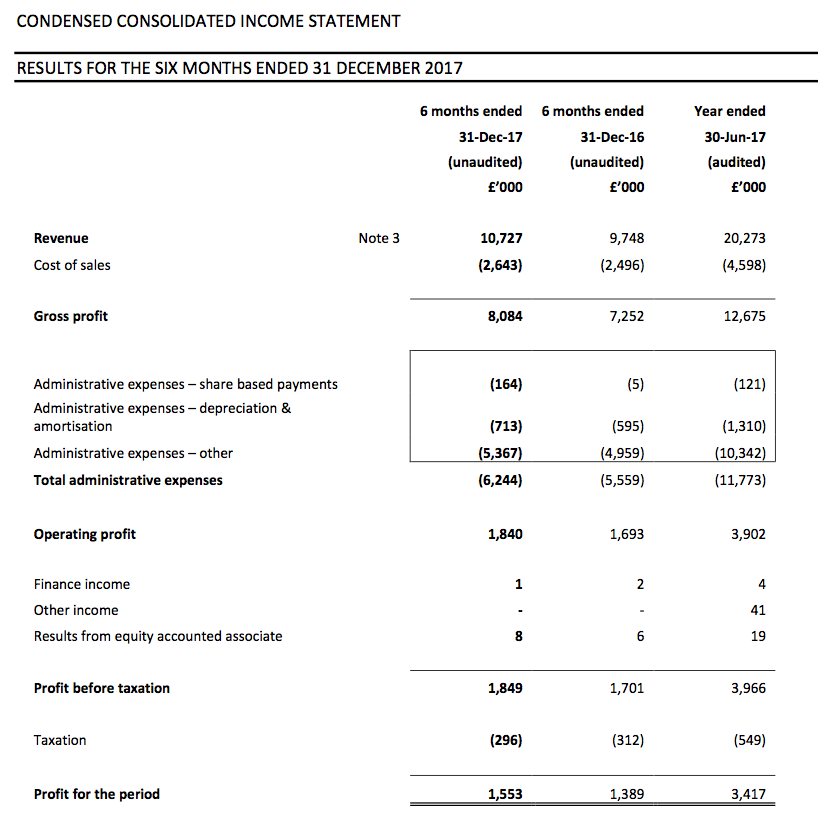 Picture:
My thoughts:
* Yes, the AGM statement did carry another £0.1m of profit 'sand bagging'
December's AGM update had already suggested TSTL would report worthwhile profit progress.
First-half pre-tax profit before share-based payments was indeed "no less than £1.9m" at £2.0m (up 18%), and looking back at my earlier comment, I was right to assume the AGM statement carried another £0.1m of profit 'sand bagging'.
Also impressive was TSTL's performance adjusted for the regulatory expenditure concerning the planned venture into North America (more on that later).
Some £500k was expensed on such matters during the half versus £200k during the comparable period. Exclude those North American costs and operating profit advanced £447k, or 24%, to £2,340k.
Revenue gained 10% to £10.7m, with UK sales down 4% and overseas sales up 28%. Although the domestic top line did not appear great, the finer details within the results presentation showed more encouraging progress (more on that later).
| | | | | | | | |
| --- | --- | --- | --- | --- | --- | --- | --- |
| | H1 2016 | H2 2016 | | H1 2017 | H2 2017 | | H1 2018 |
| UK revenue (£k) | 5,117 | 5,249 | | 5,555 | 5,120 | | 5,354 |
| Overseas revenue (£k) | 2,893 | 3,845 | | 4,193 | 5,405 | | 5,373 |
| Total (£k) | 8,010 | 9,094 | | 9,748 | 10,525 | | 10,727 |
| | | | | | | | |
| Operating profit before SBP (£k) | 1,470 | 1,772 | | 1,698 | 2,325 | | 2,004 |
| Share-based payments (£k) | (1,015) | 341 | | (5) | (116) | | (164) |
| Operating profit (£k) | 455 | 2,113 | | 1,693 | 2,209 | | 1,840 |
The results set new first-half records for TSTL and — underlining the firm's sizeable expansion — this H1 profit exceeded the group's full-year effort for 2014.
The interim dividend was lifted 14% to 1.6p per share, although management talk at the City presentation suggested there would be no imminent repeat of the 2015 and 2016 special payouts.
* Core UK revenue may have advanced 8%
TSTL's revenue remains a mix of attractive 'core' disinfectants, demand for which has been growing well, and a significant batch of minor and legacy products, demand for which appears to be static or falling.
The following stats have been extracted from TSTL's investor presentations:
| | | | | | | | |
| --- | --- | --- | --- | --- | --- | --- | --- |
| Revenue | H1 2016 | H2 2016 | | H1 2017 | H2 2017 | | H1 2018 |
| | | | | | | | |
| UK | | | | | | | |
| Core (£k) | 2,695 | 3,025 | | 3,478 | 3,181 | | 3,604 |
| Other (£k) | 2,422 | 2,224 | | 2,077 | 1,939 | | 1,750 |
| Total (£k) | 5,117 | 5,249 | | 5,555 | 5,120 | | 5,354 |
| | | | | | | | |
| Overseas | | | | | | | |
| Core (£k) | 2,307 | 3,070 | | 3,801 | 4,641 | | 4,867 |
| Other (£k) | 586 | 775 | | 392 | 764 | | 506 |
| Total (£k) | 2,893 | 3,845 | | 4,193 | 5,405 | | 5,373 |
'Core' represents the backbone of TSTL's business — that is, all the patent-protected foams, wipes and solutions that disinfect small medical devices.
Everything else — the group's commodity products as well as the disinfectants for hospital surfaces, veterinary surgeries and pharmaceutical cleanrooms — I have classed as 'other'.
TSTL has claimed on many occasions that the UK is a mature market, and these results reiterated "further growth opportunities are limited" for domestic sales.
However, 'core' UK revenue grew a useful 4% during the half. In fact, adjusting for a £150k NHS 'bulk purchase' made during H1 2017 that ordinarily would have been recorded during H2 2017, the growth rate improves to 8%.
As before, I am not anticipating 'core' UK products delivering more than 5% annual revenue growth during the years ahead.
* A Shot at reinvigorating surface-cleaning revenue
TSTL's results RNS confirmed the development of new products for the UK market:
"We are working to reinvigorate sales growth in our domestic market…"

"We have developed new products for rinse water management in endoscope washing machines, and for surface disinfection in hospitals, and have high hopes for their success."

"Rinse water management involves both a capital and consumable sales. Whilst first half revenues were modest we are pleased that we are already achieving sales from sixteen installations in the UK and Australia."

"The new range of surface disinfectants will come to market in the second half of the year and we continue to secure new patents for these surface product innovations."
The presentation slides referred to a new product called Shot. Essentially it is a bottle with a clever 'dosing head' that allows a TSTL disinfectant capsule to be mixed with exactly 10ml of water.
The mixture can then be applied to a wipe to clean a hospital surface: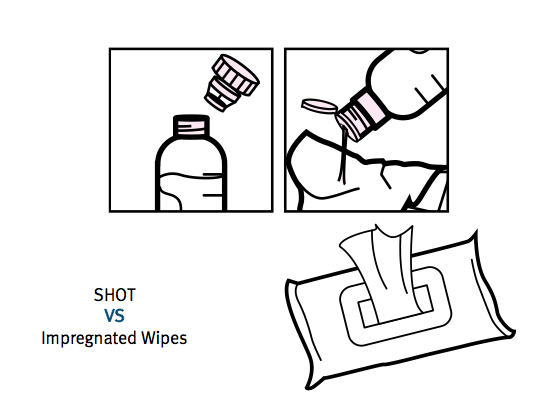 Shot was apparently developed using know-how established through the Puffin project, and can be manufactured at a price that will make TSTL more competitive against rival wipes that are cheaper but less effective.
TSTL's results statement showed its 'surface' products losing ground within UK hospitals. Revenue from such items dropped 12% to £601k during this H1, after plunging 21% during the preceding H2. "Pricing pressure" from the NHS was cited for downturn.
A good question at the City presentation prompted management to admit that selling Shot would "not be easy".
It seems there is a "big active persuasive task" for TSTL and hospital managers to change the working habits of hospital staff, who no doubt would prefer to use simple pre-disinfected wipes rather than fiddle about with bottles, capsules and 'dosing heads'.
As an example of the possible workload ahead…
Shot has now been established within every department at four Sheffield hospitals… but only after TSTL sent employees to those hospitals for four weeks to help manage the implementation.
* Underlying overseas revenue may have gained 20%
Following October's full-year results, I had to delve deep into TSTL's figures to work out how exactly the group's overseas operations were performing.
You see, underlying international growth during last year's H2 appeared to be just 5% after excluding the Australian acquisition and very favourable currency movements.
Thankfully this H1 presented a better picture.
TSTL's recent presentation slides have helpfully disclosed the sources of the group's additional revenue. I have summarised the details below:
| | | | | | |
| --- | --- | --- | --- | --- | --- |
| Additional revenue and source | H1 2017 | H2 2017 | FY 2017 | | H1 2018 |
| UK organic (£k) | 438 | (140) | 298 | | (201) |
| Overseas organic (£k) | 501 | 175 | 676 | | 761* |
| Foreign exchange (£k) | 473 | 481 | 954 | | 40* |
| Australia acquitision (£k) | 326 | 915 | 1,241 | | 379 |
| Total (£k) | 1,738 | 1,431 | 3,169 | | 979 |
(*Estimated)
An extra £761k of organic international revenue certainly looks healthier than the £175k produced during the preceding H2.
Notably, Germany & Central Europe, which now generates 18% of total group revenue (and described by management as "a fantastic team"), grew 23% on a constant-currency basis.
Meanwhile, New Zealand, which produces 3% of group revenue, advanced by 28%.
(Note that the figures for Australia are distorted somewhat, as the business was purchased during August 2016 and therefore contributed for only four or five months during the comparable H1 2017 period.)
Even the overseas distributors managed to bump their H1 sales by 45% to almost £1.4m. Mind you, the comparable H1 2017 period was relatively soft for these outfits, and management did warn the 45% increase was driven by only two operators and was likely to be a "one off".
All told, I'm guessing overseas revenue gained approximately 20% during this H1 if you exclude currency movements and Australia.
* I am hopeful Hong Kong could be another Australia
TSTL's results RNS announced the purchase of the group's Hong Kong distributor for £200k.
Revenue from this operation dropped 35% during the half, and director comments at the City presentation suggested the Hong Kong managers had become distracted by selling other products.
Other Hong Kong remarks indicated the split was amicable, the payment was fair, the payment was contractual and that an in-house office had been established last week.
Management also mentioned the Hong Kong business having once delivered annual revenue of between £600k and £700k. However, I am not sure whether that was revenue earned by the distributor or revenue the distributor passed to TSTL.
Anyway, Hong Kong revenue was only £222k during H1 and I am hopeful this purchase can come somewhere close to the extraordinary success of the Australian acquisition (where the purchase payment should be recouped within three years).
There was management talk of Hong Kong becoming a 'hub' office for south east Asia to support countries such as Korea and Malaysia. The 'hub' model has worked well with TSTL's German office supplying Poland and Switzerland.
* EPA decision day set for 16 April
The executives provided a handful of interesting remarks about North America during the City presentation.
Firstly, a decision from the EPA concerning TSTL's Duo foam product is due on 16 April (the presentation slides stated by 31 May and the RNS suggested before 30 June).
Presentation attendees were told that there was "no reason to expect anything other than an approval" and that TSTL had "never had a rejection" from a regulatory authority.
An EPA approval will mean Duo can be used to clean devices such as MobileODT's colposcope and the workstation and cord of an ultrasound workstation: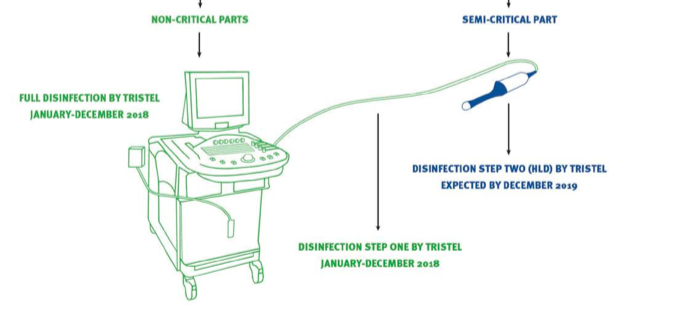 After EPA approval, TSTL will then have to make 50 state submissions so the product can be used throughout the country. Management continues to expect all the EPA and state paperwork to be completed by December 2018.
Management also used the City presentation to disclose that December may witness TSTL's first submission to the FDA.
The group is currently overseeing a twelve-month FDA shelf-life test that has nine months still to run. Once the test has finished, an FDA submission for Duo foam to disinfect tonometers is anticipated before Christmas.
The FDA is likely to take between six months and a year to decide whether to approve the foam. I had been expecting an FDA approval in 2020, so it appears there is a chance the decision could arrive earlier.
The projected costs of the North American project have not changed, with £800k to be expensed during this financial year. Management confirmed a further £800k would be spent the year after.
The board would not give any clues as to the timing and potential of North American revenue, other than to reconfirm sales should start by 30 June 2019.
However, the executives did divulge they were in "advanced" discussions with a US-based contract manufacturer as well as several possible distributors with nationwide coverage.
(TSTL is keen to employ an FDA-approved manufacturer in the States to avoid FDA audits at its Cambridgeshire headquarters.)
* MobileODT has sold 1,800 colposcopes
No great developments were revealed about MobileODT and its mobile colposcopes. The devices were barely mentioned in the RNS.
At the City presentation, management once again said the colposcopes were not being disinfected properly — despite the devices being FDA-approved and used in the States.
(I still think it rather odd that MobileODT, which apparently had the foresight to consider product disinfection and link up with TSTL, is currently happy to see its colposcopes used without proper cleaning. )
Anyway, some 1,800 of these colposcopes have been sold to date (they sell for $3,705 each) and I am therefore not expecting huge immediate revenue from the associated disinfectant purchases once TSTL obtains EPA approval.
Similar to the aforementioned Shot product, TSTL will have to employ a "persuasion" strategy to ensure MobileODT's customers actually disinfect the colposcopes. Part of that strategy involves TSTL-developed software telling the user their device requires cleaning.
Management described TSTL's 3% stake in MobileODT as "very exciting", but admitted it was not planning to increase the investment.
* No surprise the board says its guidance is "very achievable" 
The RNS narrative reaffirmed the 2017-2019 financial guidance:
"In October 2016 we outlined our strategic financial targets to take us to the year ending June 2019.  We are half way through this current plan and on track to meet its objectives which were:

·     to grow sales by 10-15% on average over the three years;

·     to attain a pre-tax profit before share-based payments margin of at least 17.5%, whilst investing in future growth."
I was not surprised the board described the targets as "very achievable".
Annual revenue currently runs at £20.5m and has to reach only £22.8m — equivalent to an 11% increase — within the next 18 months.
Meanwhile, the pre-tax profit before share-based payments margin was clear of the 17.5% mark at 18.8% during this H1.
True, the presentation slides did refer to "reduced gross margin expectations".
Suppliers apparently lifted their prices when sterling weakened following the Brexit vote — and management admitted "supplier prices don't go down when currency rates bounce back".
However, a substantial margin decline is not anticipated. Gross margin during this H1 was 75% — versus 77% during 2017 — and executive remarks at the presentation suggested future gross margins were likely to sit at the same 75% level.
* Miscellaneous financial points
Share-based payments were a notable £164k during this H1 and the introduction of a new LTIP scheme will probably mean the charge increases during the next few years.
I can only hope the share price reaches £5 before mid-2021 — the trigger for the new LTIP scheme to pay out in full — to justify the associated cost and dilution.
Elsewhere, cash flow was not the best it has ever been. Some £911k was absorbed into working capital while a net £648k was spent on tangible and intangible assets: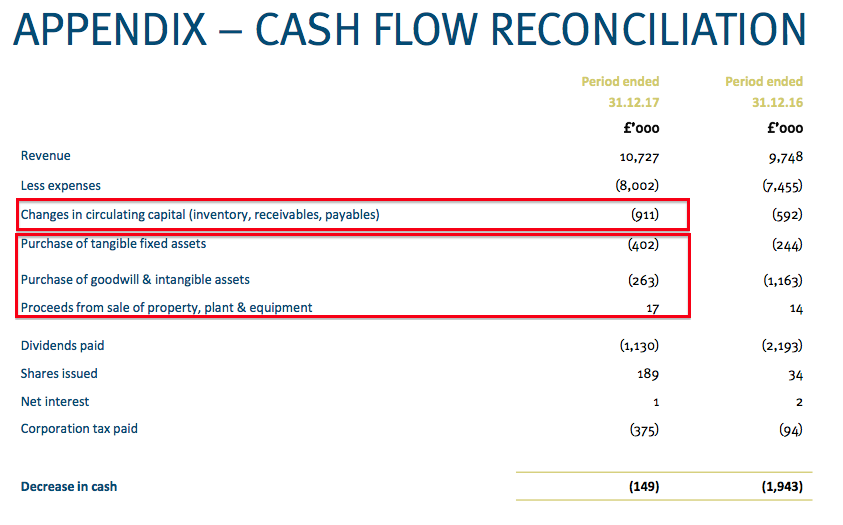 I am trusting the working-capital outflow is simply a temporary reversal of the favourable movements witnessed during recent years. Meanwhile, the extra capex all related to new product machinery and MobileODT software development.
The additional expenditure meant the cash pile was left £149k lighter at £4.9m (equivalent to 11.5p per share).
Valuation
I have written for some time now that TSTL's share price expects great things from North America.
Taking the calendar 2017 operating profit of £4.0m and adding back North American regulatory expenditure of £0.8m, and then applying tax at the standard 19% UK rate, I arrive at earnings of £3.9m or 9.1p per share.
Subtracting the latest cash position of 11.5p per share from the 275p share price, the underlying trailing P/E comes to 263.5p/9.1p = 29.
Alternatively, assuming TSTL's revenue reaches the £26m top-end of the group's 2019 guidance and the operating margin (ignoring North American costs) is sustained above the projected 17.5% at 20%, I arrive at a 10p per share earnings guess and a cash-adjusted multiple of 26.
Either way, the rating appears rich.
So let's say TSTL excluding North America should be valued at 20 times earnings, which seems about right given the business enjoys high margins, repeat revenue and has just advanced its profit by 20%-plus before North American costs.
On that 20x multiple, TSTL excluding North American could be worth 200p per share, or £86m, and the North American project could therefore be valued at 75p per share, or £32m.
With no Stateside product approval, no manufacturing agreement, no distribution arrangement and no employees in place, certainly there is a lot of hope placed on that £32m right now.
For what it is worth, 16 months ago my notes cited TSTL management declaring the US market for just two FDA-approved products could be worth £18m a year. I should add that management no longer mention that £18m.
All told, I reckon it will be 2020 at the very earliest before TSTL produces any material North American revenue — and generating a material North American profit may take a further year or two beyond that.
And if the North American project flops completely? I guess the market-cap downside at present could be that £32m, or close to 30%.
Maynard Paton
PS: You can now receive my Blog posts through an occasional e-mail newsletter. Click here for details.
Disclosure: Maynard owns shares in Tristel.