07 September 2021
By Maynard Paton
Results summary for System1 (SYS1):
A better-than-expected H2 accompanied some bold management commentary that cited an eventual

£1 billion

market cap.
The acceleration towards 'scalable' data products continues, with 'disruptive' pricing and partnerships with ITV and LinkedIn spearheading the transition.
Downgraded option targets and upgraded director pay looked awkward given the optimistic narrative and receipt of government pandemic support.
Greater net cash, a mooted share buyback and a 21% adjusted H2 margin suggest the accounts have recuperated from their pandemic nadir.
Despite extra growth investment limiting near-term earnings progress, long-term multi-bagger upside may still be obtainable. I continue to hold.
Contents
Event links, share data and disclosure
Events: Annual report for the twelve months to 31 March 2021 published 14 July 2021 and AGM statement published 13 August 2021

Price: 310p
Shares in issue: 12,898,296
Market capitalisation: £40.0m

Disclosure: Maynard owns shares in System1. This blog post contains SharePad affiliate links.
Why I own SYS1
Advertising 'effectiveness' agency that predicts and improves the success of television adverts through the industry's "most accurate, cheapest and quickest" data and guidance.
Boasts founder/entrepreneurial executive leader who has overseen acquisition-free growth, retains a 23%/£9m shareholding and has declared five special dividends.
Transition from consultancy work towards 'scalable' data products, partnerships with ITV and LinkedIn plus bold management ambitions lead to tantalising multi-bagger possibilities.
Further reading: My SYS1 Buy report | All my SYS1 posts | SYS1 website
Results summary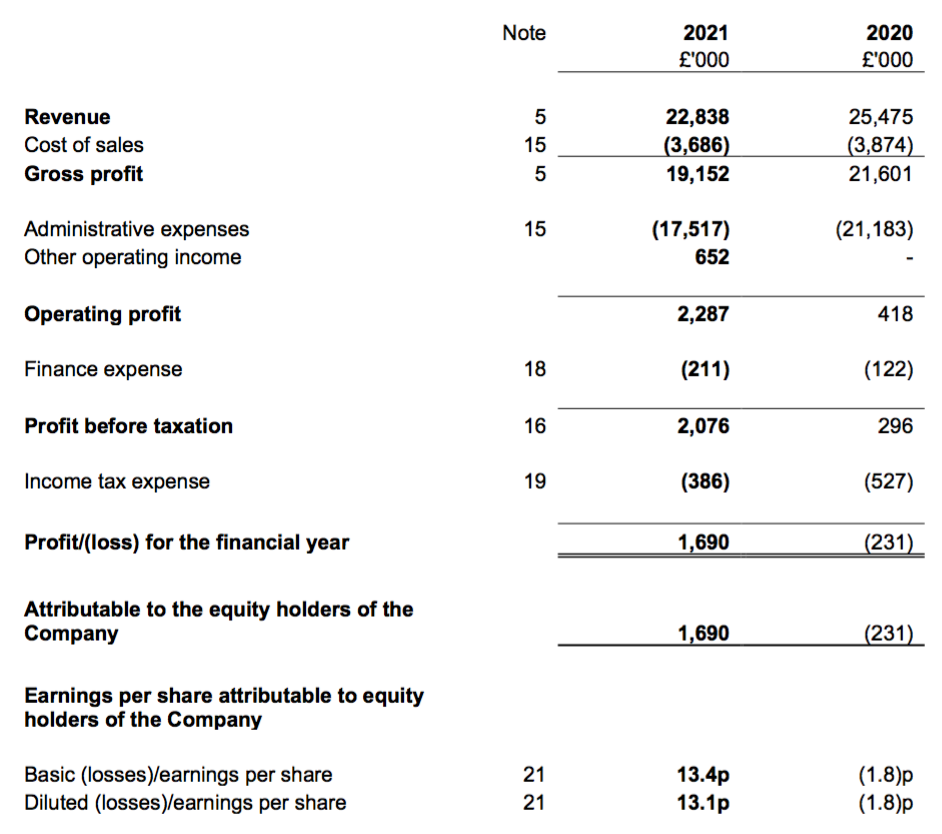 Revenue, profit and management optimism
H2 revenue did indeed increase by 8%, to £12.7m, to give annual revenue of £22.8m.
The adjusted pre-tax profit was indeed £2.9m, which meant the H2 adjusted pre-tax profit of £2.5m was significantly greater than the £0.4m reported for H1.
Pandemic disruption during H1 meant total annual revenue was the weakest since FY 2012:
| | | | | | |
| --- | --- | --- | --- | --- | --- |
| Year to 31 March | 2017 | 2018 | 2019 | 2020 | 2021 |
| Revenue (£k) | 32,801 | 26,939 | 26,899 | 25,475 | 22,838 |
| Operating profit (£k) | 6,308 | 1,985 | 2,056 | 418 | 1,635 |
| Other items (£k) | - | - | - | - | 652 |
| Finance income (£k) | (29) | 7 | (135) | (122) | (211) |
| Pre-tax profit (£k) | 6,279 | 1,992 | 1,921 | 296 | 2,076 |
| | | | | | |
| Earnings per share (p) | 32.7 | 9.9 | 10.1 | (1.8) | 13.4 |
| Dividend per share (p) | 7.5 | 7.5 | 7.5 | 1.1 | - |
| Special dividend per share (p) | 38.1 | - | - | - | - |
Profit was shored up by various Covid-prompted cost savings and complicated by a number of adjustments: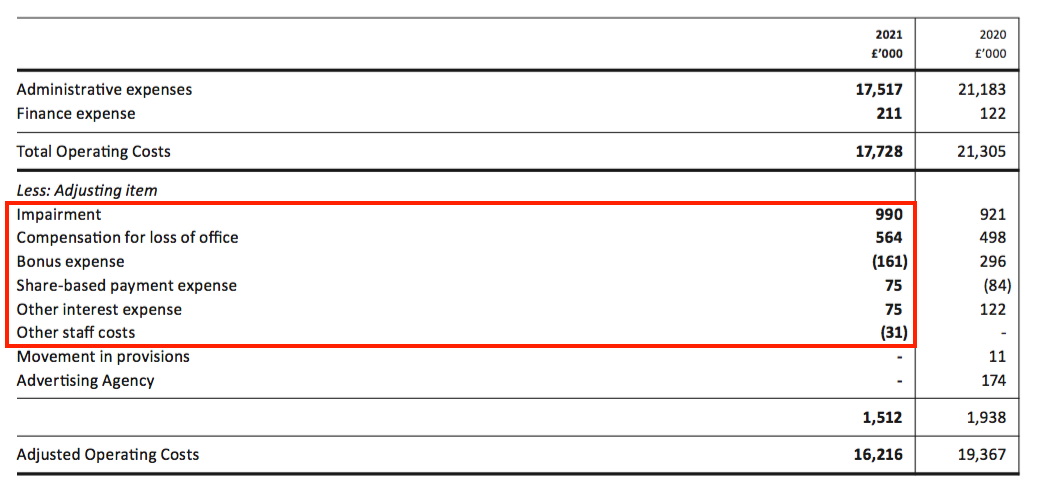 The £1m impairment followed office closures and is arguably a one-off charge.
"Compensation for loss of office" of £0.6m could also be deemed one-off, although SYS1 has recorded such costs every year since FY 2012 that have totalled £2.5m.
Reversing the (unusual) bonus credit also seems sensible to arrive at an adjusted figure.
Government support of £0.7m to navigate the pandemic bolstered the performance as well.
The government support alongside greater current-year costs (see Valuation below) probably explained why the dividend was not reinstated.
SYS1's financial performance was rather overshadowed by some very bullish management commentary.
Bold projections included:
1) Increasing market share from less than 1% to 10% during the next decade:

"Currently at less than 1% share, we believe that System1 can gain 10% global market share in the next decade-a lower share than the current market leaders".
2) Setting a medium-term revenue target of £100m-plus (versus £22.8m for this FY 2021):

"We take every decision with our medium term £100m+ Revenue milestone in mind."
3) Stating the market cap could eventually become £1 billion (versus £40m now):

"We believe that System1 could be worth £1 billion eventually."
The finer points of this FY 2021 statement will be quickly forgotten if SYS1 achieves any of those ambitions.
Supporting management's optimism was an accelerating shift from consultancy work towards the more predictable data-related revenue:
"Our automated prediction products represented 1% of Revenue at the half-year, 7% in the December quarter and 15% in the final quarter… and are on track to continue growing in the coming months."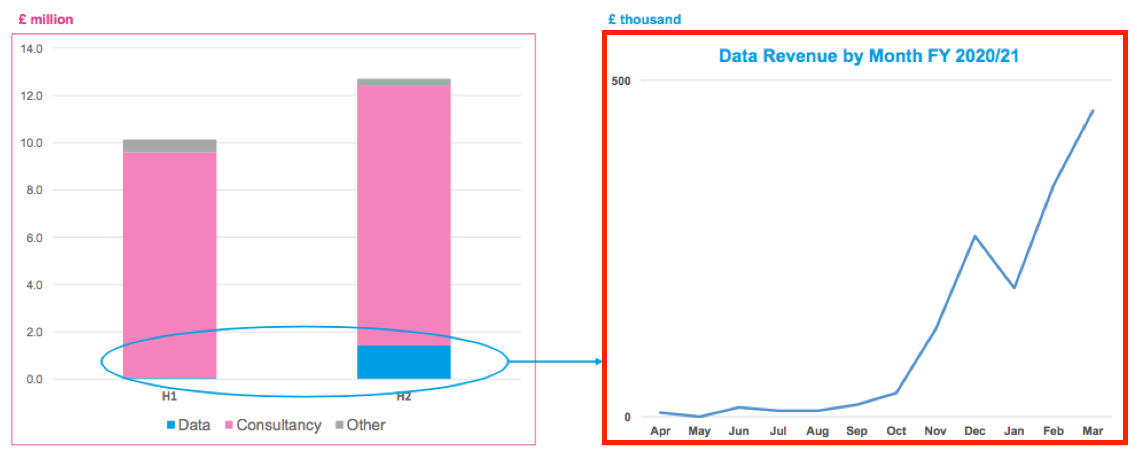 The AGM statement subsequently revealed data-related revenue was likely to rise to 33% of total revenue for the current H1.
Enjoy my blog posts through an occasional email newsletter. Click here for details.
Business strategy
This FY 2021 statement was notable for management's clear description of SYS1's business and strategy.
SYS1 presented this simple table to outline its products and services:
SYS1 operates three divisions:
Communications, which measures and predicts the effectiveness of a client's broadcast advertising;
Brand, which measures and predicts the effectiveness of a client's brands through market-share tracking and product recognition, and;
Innovation, which measures and predicts the effectiveness of a client's potential new product or idea.
SYS1 supplies three services for each division:
'Automated Predictions', which are low-cost, automated services that summarise verdicts derived from SYS1's online-panel surveys.
'Expert Guidance', which are SYS1's consultancy insights into how the advert, brand or new product can be enhanced. This work includes "rapid-turnaround" assignments as well as "higher value-add consultancy" services that include the large, bespoke projects that once dominated SYS1's top line.
Various 'Additional Products', which include the AdRatings database that allows clients to access SYS1's verdict on 50,000-plus televised adverts.
SYS1 plans to use a disruptive, too-cheap-to-ignore, Amazon-style approach to drive a high volume of advert/brand/innovation testing through Automated Predictions:
"Today many of our Advertising predictions are automated, and we have challenged ourselves to deliver them at 1/100th the cost and 100x faster than traditional methods."
SYS1 will then sell the follow-on Expert Guidance consultancy services to improve the advert, brand or innovation.
SYS1 implied its revamped business was "scalable":
"Data and production economics point to industry value accruing disproportionately to a small number of scalable players. We are laser focussed on becoming one of them."
But SYS1 did not really explain how its follow-on Expert Guidance consultancy services could be as scalable as its Automated Predictions data products.
I presume some employee thinking and skill must be involved in every Expert Guidance consultancy assignment. How many assignments can then be undertaken will therefore be determined (at least in part) by the productivity of the consultancy employees.
Automated Predictions for the Communications division ('Test Your Ad') is up and running and supported the H2 profit recovery.
Automated Predictions for the Brand division ('Test Your Brand') was launched last week and for the Innovations division ('Test Your Idea') will be revamped within the next twelve months.
Revenue from the ad-testing Communications division has grown from approximately 30% to 46% of total revenue between FY 2016 and FY 2021….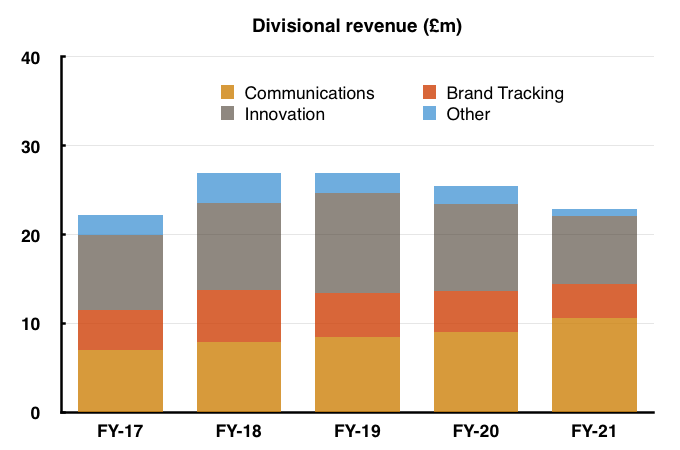 …and reached 52% during H2: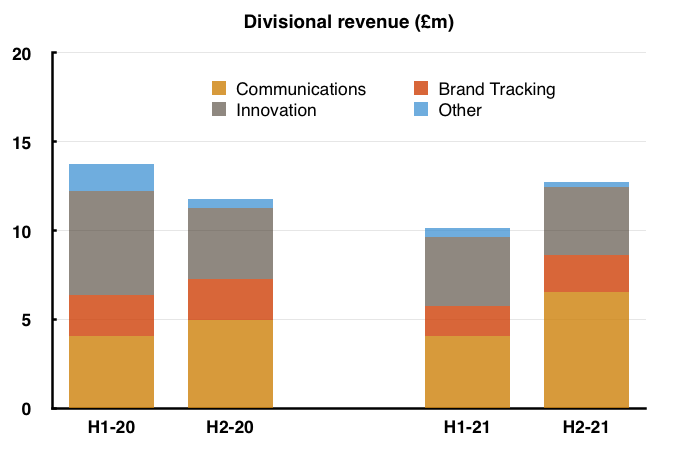 I am guessing Communications will remain the largest division over time, as the number of ads a customer creates will probably exceed the number of brands the customer owns and the number of new products it will develop.
Test Your Ad
SYS1 continues to claim its services outclass those of the competition:
"We maintain that our predictions are the most accurate, cheapest and quickest (24-hour turnaround), and that our guidance to improve our customers' marketing is the best in the industry. This is the heart of our sales pitch. "
"We believe we are far ahead of traditional competitors in automated predictions and indeed that some of our competitors' legacy economics will make it difficult for them to catch up with us."
Other 'moat'-type remarks included:
"We are now a product-focussed seller of marketing predictions and improvements – we believe the best in the world"

"our pioneering framework"

"our proprietary databases"

"Our products are difficult to copy"

"world-leading intellectual property"

"helping us build unique relationships with key global customers"

"the largest dataset of advertising predictions in the US and UK"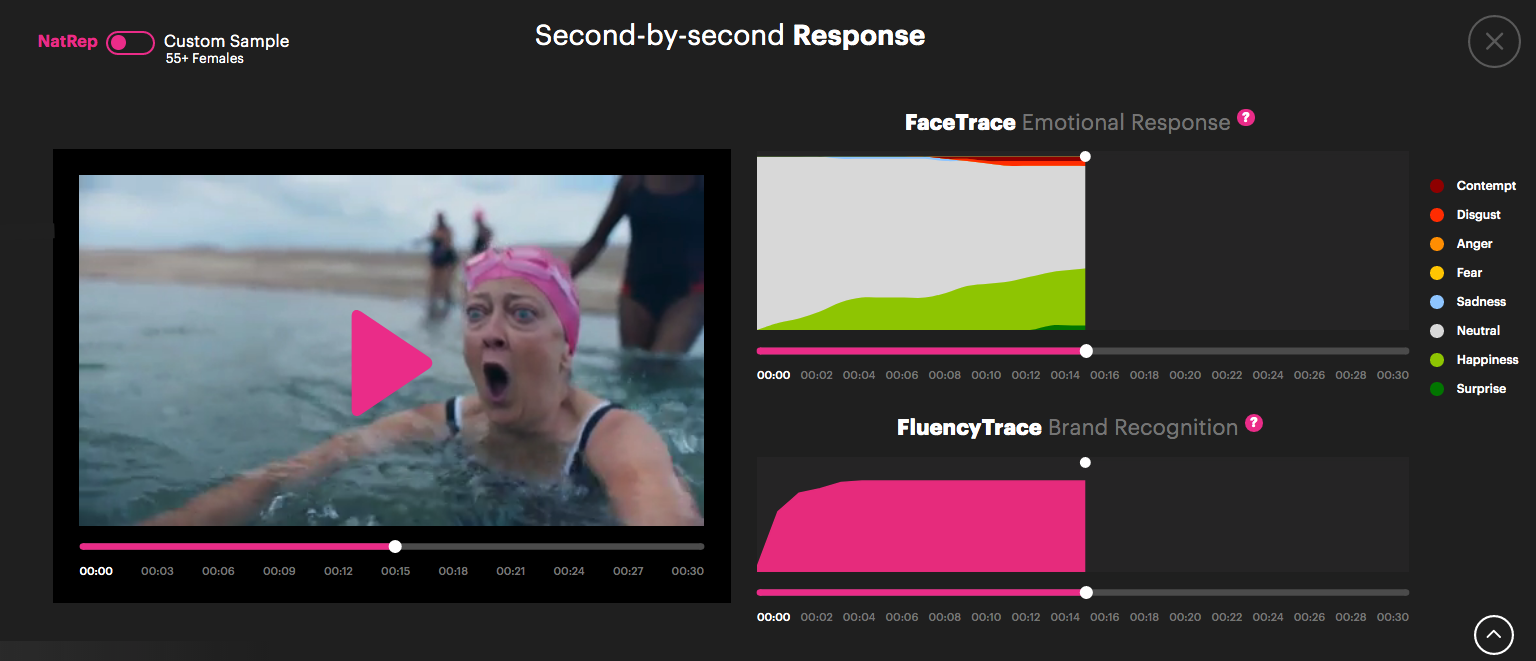 SYS1 said the Test Your Ad service conducted 2,471 tests during the year. Clients included adidas, Sky, Carlsberg and Kellogg's.
Total Data revenue was £1,480k, suggesting the average Test Your Ad test cost £600 (assuming no other source of Data income).
£600 compares with the £2k headline price for Test Your Ad, although discounts for volume testing are available: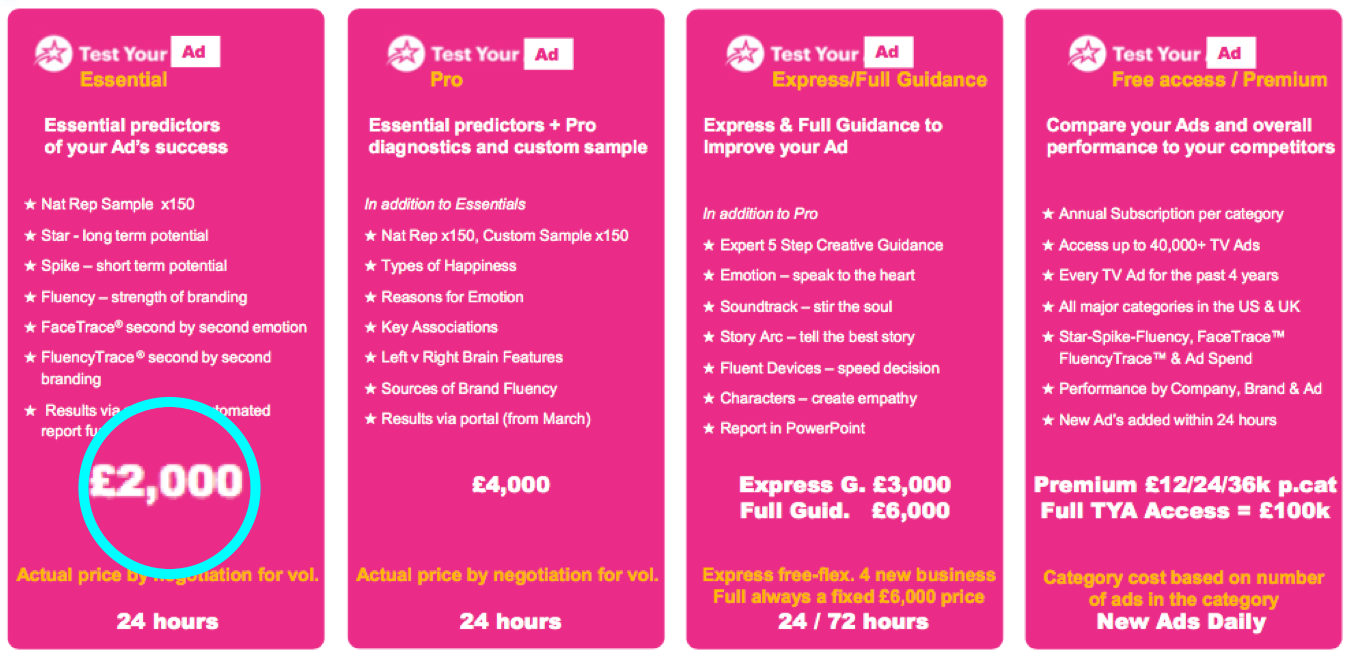 SYS1 claimed 30 companies took out a subscription to the AdRatings database, which has a minimum headline charge of £12k a year, contains verdicts on 50,000-plus adverts and cost at least £5m to develop.
A potential £360k (30*£12k) income from AdRatings compares to the £53k the service earned during FY 2020.
ITV and LinkedIn
I remain convinced a partnership with ITV has helped spur greater demand for SYS1's services.
ITV serves many deep-pocketed advertisers and, encouragingly for SYS1, the broadcaster's new desire to show more effective ads should have some bearing within the industry.
These results said ITV was "promoting and recommending" SYS1's Test Your Ad service, which sounds extremely promising although the exact financial arrangements are unclear.
Perhaps emphasising the ITV impact:

UK revenue climbed 25% during the year versus non-UK revenue declining 20%, and;
UK revenue represented 30% of total revenue — the highest proportion since FY 2015.
These results revealed LinkedIn had become the second partner to offer SYS1's services to advertisers.
SYS1 claimed its services would allow LinkedIn's advertisers to "refine and improve" their adverts.
SYS1 also claimed LinkedIn was "on a mission to do for online B2B advertising what Facebook and Google have done for online consumer advertising".
SYS1 has helped LinkedIn test and optimise the advert below: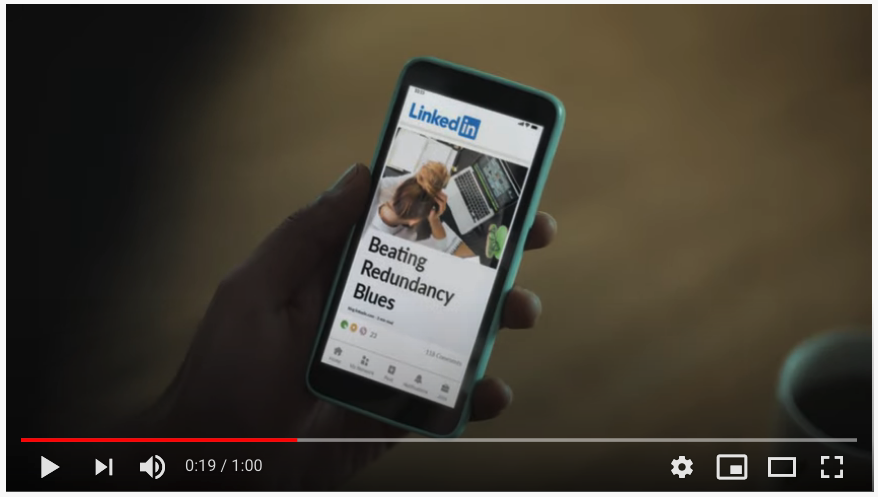 The growing importance of online video advertising has prompted SYS1 to commission a new book…
A new book, dull films and Mark Ritson
SYS1 announced Orlando Wood, the company's chief innovation officer, will write a book about online adverts:
"Orlando Wood is currently using the database in his work with The Institute of Practitioners in Advertising (IPA) on Lemon II, the working title of a follow-up publication to the critically acclaimed Lemon (the IPA's biggest ever selling book), showing how the principles of the most effective advertising apply as much, if not more, to online video, as they do in TV advertising."
I am pleased Mr Wood is back to writing books and not making films.
…were not exactly the riveting works that captured the true System 1 automatic/intuitive/emotional/reactive way of thinking.
"I would recommend Mr Wood keeps to the spreadsheets and German literature. SYS1's chief marketing officer should step up — or appoint someone else — to do the much-needed System 1 promotional work instead.

Mark Ritson would be ideal: "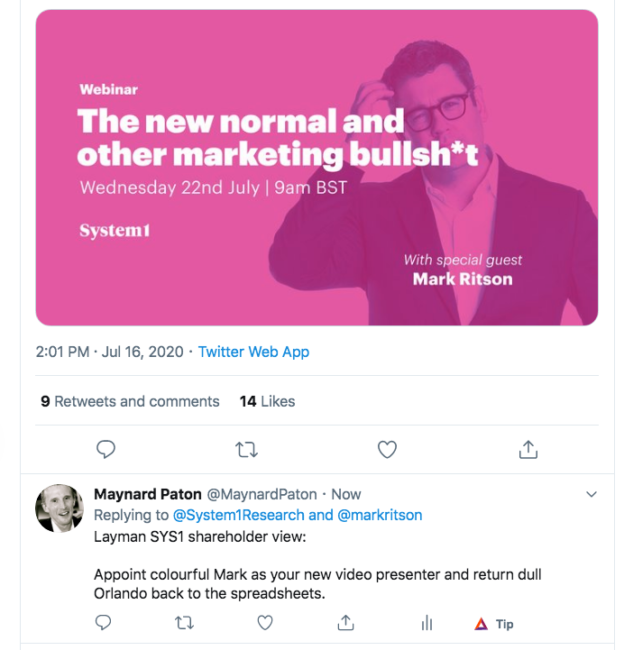 Although Mr Ritson has not become SYS1's video presenter, his testimonial now adorns the SYS1 home page: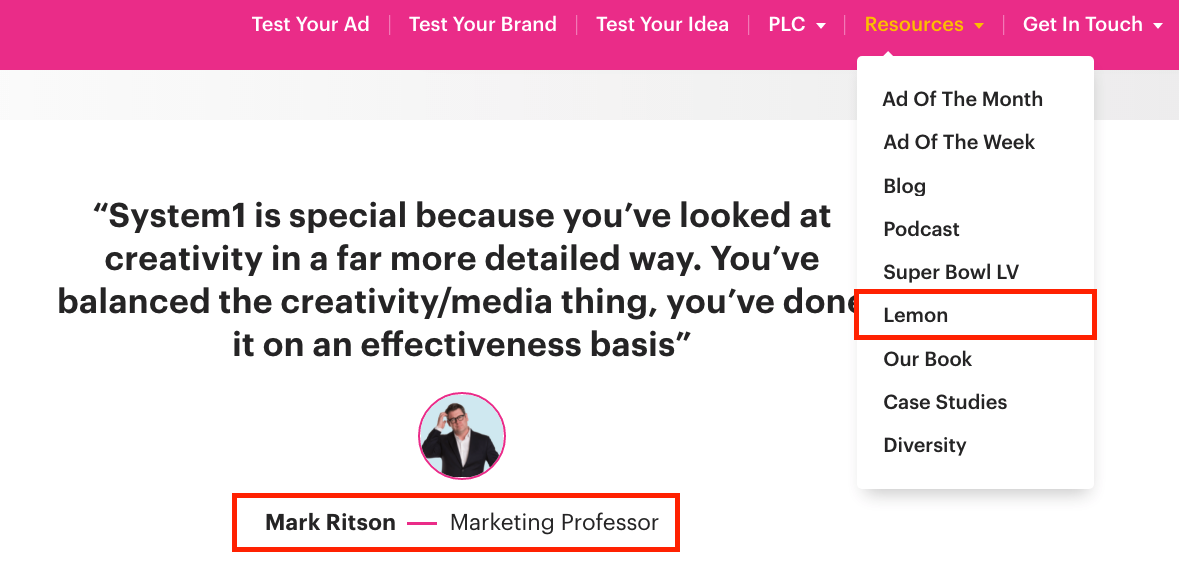 References to Mr Wood's films have meanwhile been demoted from the home page to a drop-down menu.
I am pleased SYS1 has eventually realised Mr Ritson's fame, feeling and fluency could offer significant appeal to potential clients.
Quality UK investment discussion at Quidisq. Visit forum.
Financials
SYS1's main accounting attraction is the cash-flush balance sheet.
Cash finished the year at £9.0m, up £2.3m over the twelve months and up £1.0m from H1.
Year-end net cash was therefore £6.5m.
A proportion of the cash appears to be surplus to requirements. Both April's update and these results signalled a possible share buyback later this year.
Evaluating SYS1's cash flow was not straightforward. H1 cash flow included different entries to this FY 2021 cash flow: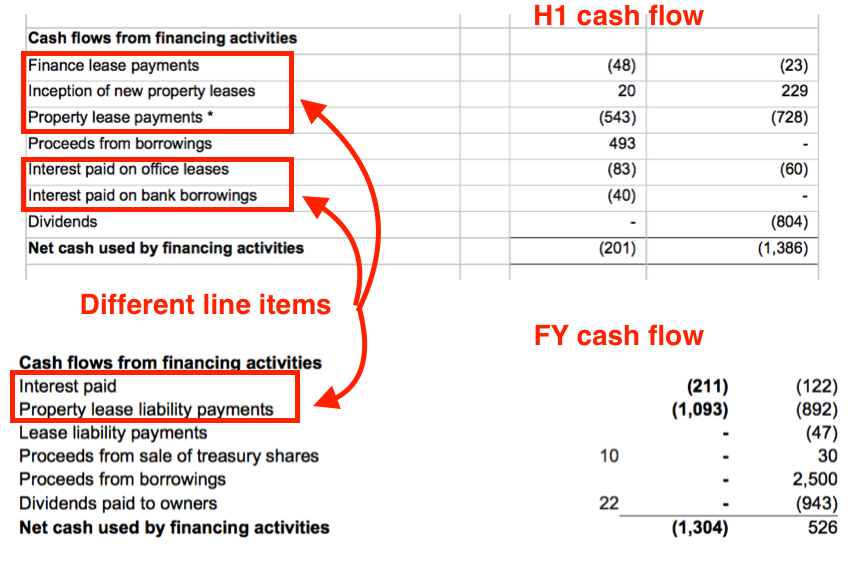 The £0.5m "proceeds from borrowings" reported during H1 were in fact US government pandemic benefits that were waived during H2 and so recognised as income as part of that aforementioned £0.7m support: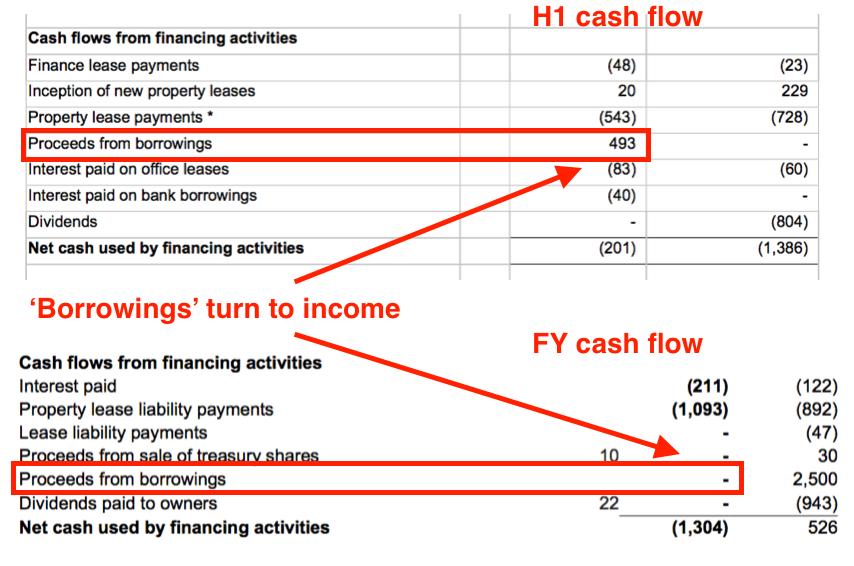 Free cash flow before tax credits was £2.3m and compared to a £3.1m profit before tax and the aforementioned impairment.
The £0.8m difference between the two figures was due mostly to an extra £0.5m invested into working capital:
| | | | | | |
| --- | --- | --- | --- | --- | --- |
| Year to 31st March | 2017* | 2018 | 2019 | 2020 | 2021 |
| Operating profit (£k) | 7,260 | 1,985 | 2,056 | 418 | 1,635 |
| Depreciation and amortisation (£k) | 556 | 374 | 286** | 494** | 157** |
| Net capital expenditure (£k) | (290) | (113) | (1,030) | (916) | (198) |
| Working-capital movement (£k) | 767 | 775 | (910) | 348 | (499) |
| | | | | | |
| Net cash (£k) | 8,266 | 5,784 | 4,315 | 4,150 | 6,508 |
(*15 months **excludes IFRS16 depreciation)
The extra working-capital funded trade receivables, which grew by £0.6m to represent 23% of revenue: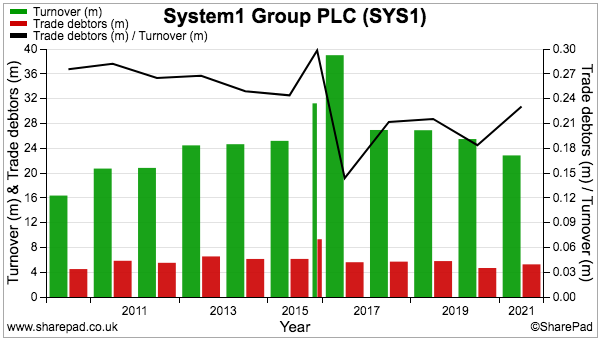 Significant trade receivables compared to revenue could mean customers are very late payers and lead to questions about the quality of the company's sales.
Trade receivables equivalent to approximately 23% of revenue is about the limit for my shares. Only Andrews Sykes within my portfolio has a similar percentage to SYS1, with FW Thorpe, Mincon and Tristel within the 15% to 17% range and the rest well below 10%.
Mind you, SYS1's greater year-end trade receivables will reflect the trading improvement experienced during H2. Doubling up H2 revenue to £25.4m would result in a 21% calculation.
SYS1's transition towards high-volume, low-price data services and away from low-volume, high-price consultancy work should mean a lower prevalence of outstanding customer invoices. I can't recall SYS1 suffering material bad debts in the past and the associated provision rates are low single digits:

Interest paid of £75k on the £2.5m bank loan implies a 3% interest cost and SYS1 being a lower-risk borrower.
SYS1's headline operating margin has improved to 7%:
| | | | | | |
| --- | --- | --- | --- | --- | --- |
| Year to 31st March | 2017* | 2018 | 2019 | 2020 | 2021 |
| Operating margin (%) | 18.6 | 7.4 | 7.6 | 1.6 | 7.2 |
| Return on average equity (%) | 47.9 | 14.0 | 18.0 | (3.6) | 26.0 |
(*15 months)
Excluding SYS1's adjusting items of £1.5m would give a full-year margin of 14% (£3.1m/£22.8m).
Notably, for H2, excluding SYS1's adjusting items would give a margin of 21% (£2.6m/£12.7m).
A 21% adjusted H2 margin may well be an early indication of SYS'1s scalable ambitions and provide support for all those moat-type remarks. That said, greater costs are on the way that could hinder near-term profitability (see Valuation below).
My return on equity calculations in the table above have not been altered for numerous profit adjustments and, in light of SYS1's haphazard five-year progress, remain academic at present.
Property lease obligations on the balance sheet came to £2.6m versus an associated right-of-use asset of £1.3m.
The £1.3m difference arguably reflects the sum SYS1 will pay in excess of the cost of leasing the same properties today.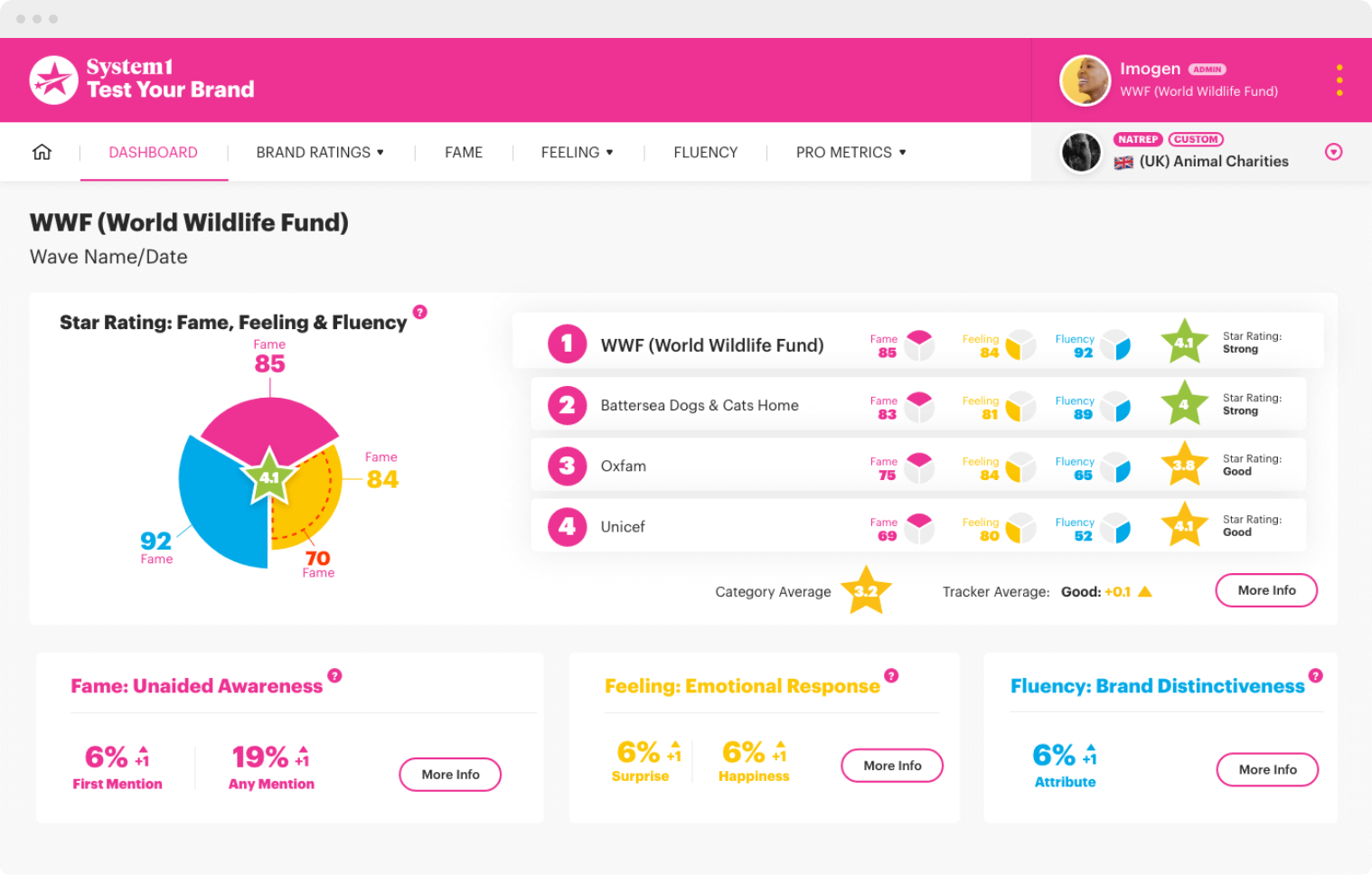 Options and AGM voting
The results small-print revealed changes to SYS1's 2019 LTIP plan.
Changes included:

Extending the scheme for one year to 2025 due in part to Covid-19, and;
Replacing a minimum £39.5m gross-profit performance target (up 106% from FY 2021) with a minimum £45m revenue performance target (up 97% from FY 2021).
Some of the changes were more contentious, not least:

Reducing the minimum share-price performance target from £10 to £4, and;
Replacing the minimum earnings performance target of £7m with "the requirement for the Company to be profitable after tax and the Remuneration Committee considering the level of profitability in the year of vesting and the overall corporate and share price performance over the period."

Contentious changes to the 2019 Non-Employee Plan included:

Replacing the minimum gross-profit performance target of £45m with a minimum revenue performance target of £45m, and;
Reducing the minimum share-price performance target from £5 to £4;
"We believe we could disincentivise the management team and participants due to the fact that the performance criteria are set at a level that is almost impossible to achieve given the Company's current strategy, performance and planned growth."
Shareholders can presumably now scrap hopes of earnings reaching £7m and the share price hitting £5 (or even £10) by 2025.
SYS1 sadly did not explain why the performance targets were downgraded while at the same time issuing upbeat remarks about £100m-plus revenue "milestones" and £1 billion market caps.
Perhaps the follow-up 2026 LTIP will include a £1 billion market cap performance target.
Shareholders were unimpressed with the option re-jig. The AGM voting showed 27% and 35% protest votes against the 2019 LTIP changes and Non-Employee Plan changes respectively.
1,623k (mostly nil-cost) options were outstanding at the year end, while the 2019 LTIP scheme presently has scope to issue another 198k.
The maximum dilution is therefore 14% with 13,227k shares in issue and 328k shares in treasury.
The potential dilution is not ideal, but at least the changed options do require revenue to double to £45m during the next four years to come good. Note SYS1 does not expect growth to be assisted by acquisitions:
"The Committee has based the Executive reward structure on the long-term organic growth strategy of the business"
But whether profit will follow revenue higher is not clear. The AGM notification small-print did state:
"Following the change in strategy to focus on revenue growth over profit…"
I can only trust the near-term revenue emphasis will eventually pay off and create a significant level of long-term profit.
The AGM voting also protested against the directors' remuneration with a 24% objection.
SYS1 did not explain why founder John Kearon saw his total pay and benefits increase 11% during a year when the company:

Received £0.7m government pandemic support;
Implemented temporary salary deferrals and reduced staffing levels, and;
Did not declare a dividend.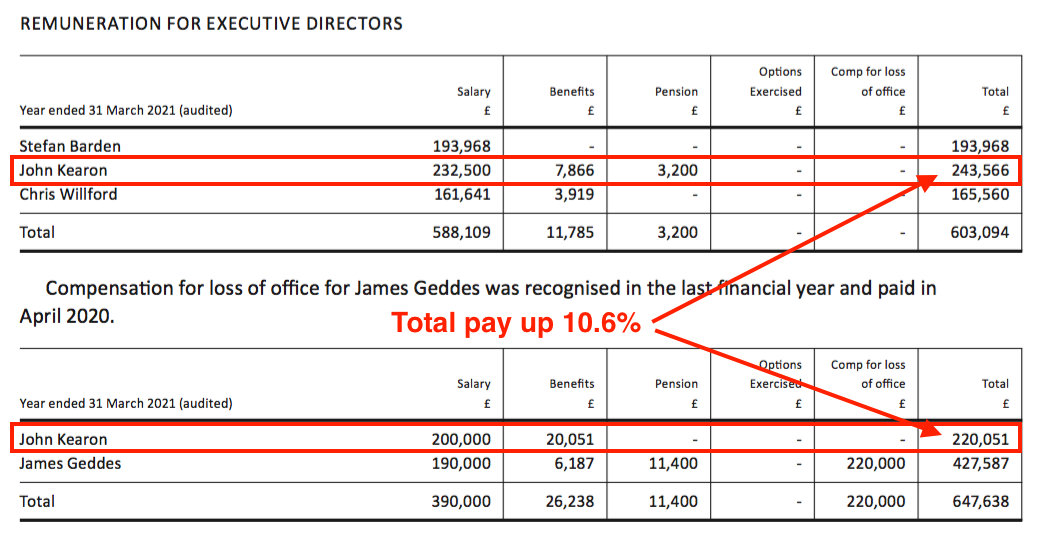 In addition, Mr Kearon arguably delegated some of his executive duties to the new chief executive.
While the option revisions and dubious pay rise are not endearing, I have become more pragmatic when assessing suspect remuneration arrangements.
Perhaps SYS1 will become another portfolio holding with unfortunate remuneration arrangements that goes on to perform well.
Whether the revised options create genuine shareholder value will only be known when (or if) revenue surpasses the minimum £45m performance threshold.
Reader offer: Claim one month of free SharePad data. Learn more. #ad
Valuation
"We plan to remain profitable and to continue to generate cash in the 2021/22 financial year, as we prioritise scaling our automated prediction products. Notwithstanding that, we are targeting revenue growth to be at least matched by the rate of cost growth, due to the pandemic-related cost reductions in the year just ended."

SYS1 commendably provided the following quarterly breakdown of adjusted costs:

SYS1's AGM statement then supplied information on the current-year Q1, the previous Q4 and the previous Q1:
"Total revenue in the quarter ended 30 June was £6.5m, broadly in line with the previous quarter and 38% higher than the equivalent Covid-affected period last year. Data products represented 28% of revenue in Q1, compared with 15% in Q4… The proportion of revenue from our data products continues to rise and will likely represent a third of the Company's revenues in H1."
Amalgamating all the quarterly information and assuming revenue for the current-year Q2 replicates the £6.5m from the current-year Q1, I estimate Data revenue could presently be running at £2.5m a quarter (or 38% of total revenue):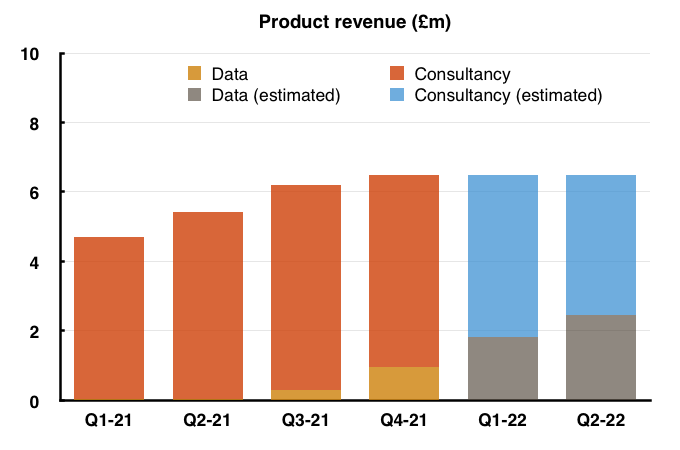 Assuming adjusted costs increase by the minimum £1.5m SYS1 expects for FY 2022, I estimate adjusted operating profit could be presently running at £0.9m a quarter: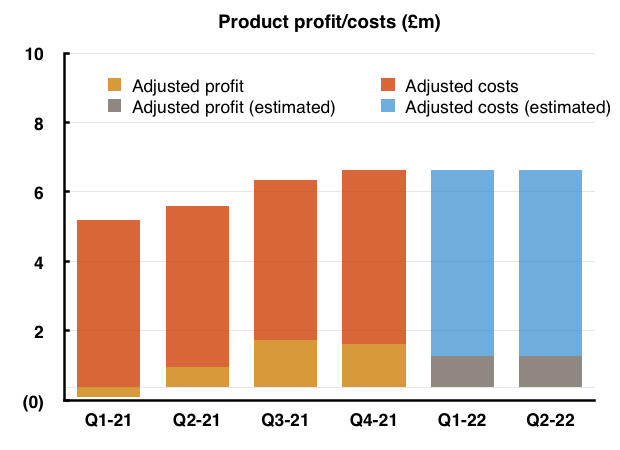 £0.9m * 4 = a £3.6m annual pre-tax profit, which after standard 19% UK tax would give earnings of £2.9m or 22.6p per share.
The 310p share price could therefore reflect a multiple of 13-14x based on that extrapolation.
The AGM statement also confirmed the cash balance had advanced £1.1m to £10.1m during Q1 2022.
Increasing cash by £1.1m during Q1 supports my estimate of pre-tax profit running at £0.9m a quarter.
Cash of £10.1m less debt of £2.5m gives net cash of £7.6m — equivalent to 19% of the £40m market cap.
The sums could be fine-tuned further for SYS1's mooted buyback.
SYS1 has approval to repurchase up to 15% of its shares, which if used in full would cost £6.2m at 310p and lift my earnings guess from 22.6p to 26.7p per share and support a possible 11-12x rating.
That said, the £40m market cap may be extraordinarily cheap if SYS1's £1 billion market cap projection is actually met.
SYS1 believes its market share can surge from less than 1% to 10% during the next decade…
…which if accomplished would presumably lift revenue from the present £23m to at least £230m (assuming the value of SYS1's market remains the same).
Apply a 25% operating margin to that £230m to reflect SYS1's industry-leading data and scalable business model, and earnings would then be approximately £40m and a 25x multiple would support that £1 billion valuation.
Alternatively, earnings may be £5m and the medium-term P/E could be 9 were SYS1 to achieve that £45m LTIP revenue target and enjoy a 15% margin.
While the share price is no longer the obvious bargain it was last year, it may still offer long-term multi-bagger upside should SYS1 one day realise its growth ambitions.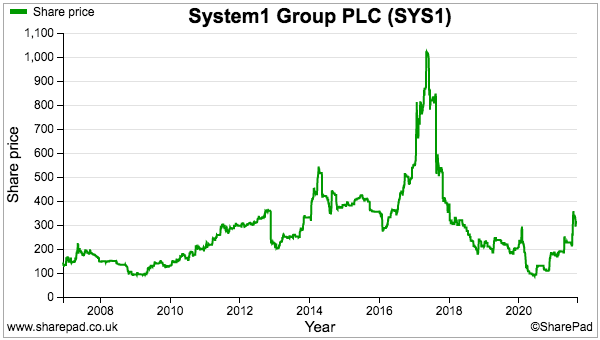 Maynard Paton
PS: You can receive my blog posts through an occasional email newsletter. Click here for details.