27 October 2017
By Maynard Paton
Update on System1 (SYS1).
Event: Interim results and shareholder presentation for the six months to 30 September 2017 published 27 October 2017
Summary: The marketing-services group had already alerted investors to these disappointing figures. However, the setback was explained honestly by management and I note 50% of the business continues to grow at a fair rate. So everything does not appear completely lost just yet. That said, adopting the tag of industry 'pioneer' will always court competition and it seems rivals have tempted some customers away. The share price has been thumped since the summer, but is now looking quite interesting. I continue to hold.
Price: 400p
Shares in issue: 12,464,425
Market capitalisation: £49.9m
Click here to read all my SYS1 posts.
Results: 
My thoughts:
* The longer Business Risks Review probably forewarned of this setback
SYS1 said these first-half results "were as unexpected as they were disappointing".
True, a profit warning in August had set the scene for the disappointing figures.
But unexpected?
Well, June's annual results had already admitted first-quarter trading had been "a little slower than expected".
More tellingly perhaps, the 2017 annual report carried a much longer 'Business Risk Review' (my highlights show the extra text):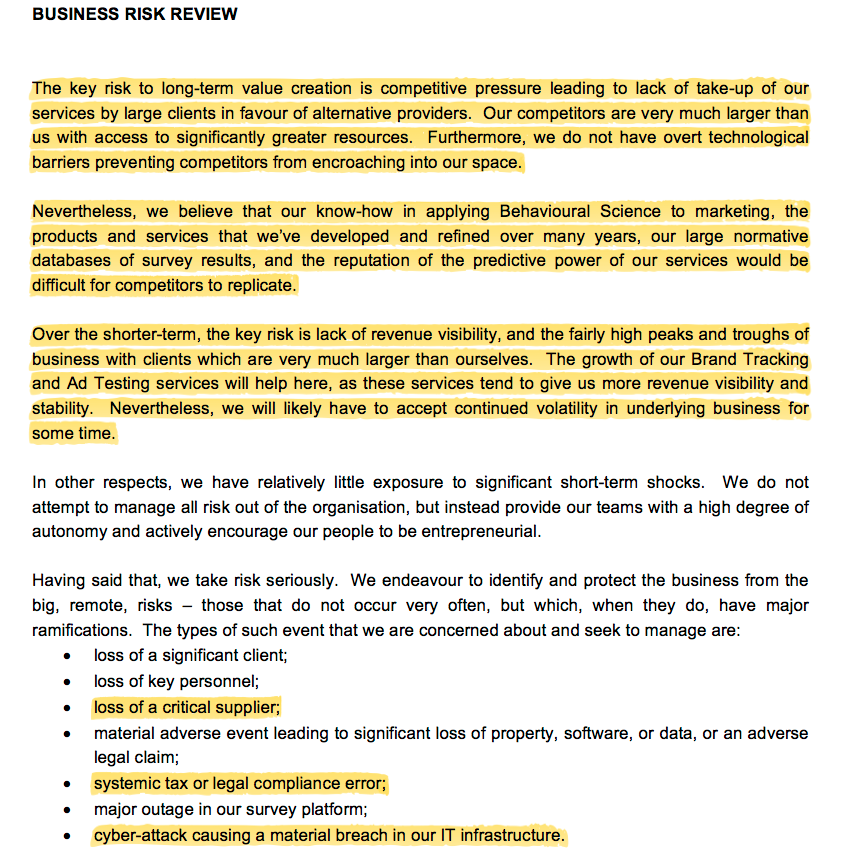 I dare say SYS1's executives were feeling a little nervous about this H1 performance back in June.
Anyway, the headline figures showed gross profit — which is SYS1's main top-line indicator — down 9% and operating profit down 70%. The only notable number to maintain its level was the 1.1p per share dividend.
To SYS1's credit, shareholders were given a good explanation of what had happened:
"First, several significant FMCG clients have cut or deferred market research budgets, which impacted our Innovation business in particular.

Second, underlying and ongoing shifts within the industry backdrop are resulting in clients moving research spend towards automated lower cost research data. Whilst we have seen this trend over a number of years, it has gathered pace more recently.

Third, our rebranding, coupled with some team reorganisation in pursuit of our longer-term positioning, has meant that we spent more time addressing internal issues and less time on clients, compared to normal."
I'm concerned most about the second of those three reasons — more on industry change in a minute.
Meanwhile, the first reason appears to be a wider customer issue, while the third seems to be a temporary company-specific situation.
* Two straws to clutch within the finer details
The finer details of the statement provided some hope for shareholders.
First, SYS1's conservative accounting may have underplayed reported earnings. Costs of some £520k could have easily been deemed 'exceptional' by other quoted companies:

Add back that £520k and operating profit for the half rises 62% to £1,360k.
True, £1,360k still a long way off the £2.8m reported for H1 last year, but it is well above the "break-even" performance cited within August's profit warning.
There's also the fact that a significant part of the business continues to grow.
SYS1's Ad Testing and Brand Tracking division lifted gross profit by 28% during the half and now represents 50% of the wider group: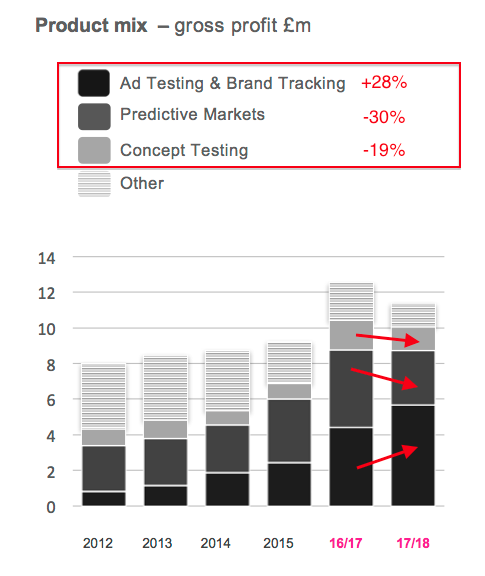 Comments within the presentation slides suggest Ad Testing and Brand Tracking enjoy revenue that is more stable than the Predictive Markets and Concept Testing services: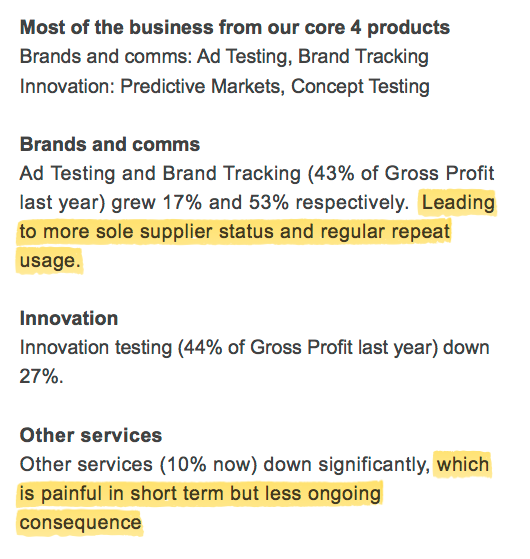 I think the stability may in part be due to Ad Testing and Brand Tracking generally evaluating established client products, while Predictive Markets and Concept Testing involve client products that have yet to be launched.
It is also worth revisiting the management narrative within 2017 annual report, which said Ad Testing and Brand Tracking have combined to deliver substantial growth during the last few years (my bold):
"Ad Testing and Brand Tracking have performed well, with gross profit increasing by 88% in 2016/17 (compared to that in 2015/16). These products represented 43% of our business in 2016/17, and much of this business is Ongoing in nature (as opposed to Ad Hoc). They have delivered strong growth over a number of years now, with approximately 42% compound annual growth in gross profit over the last five years (using 2011/2012 as the base)."
I'm hopeful Ad Testing and Brand Tracking can continue to expand and offset any further difficulties within the other divisions.
I have ignored this H1's performance of the 'Other' lines of revenue as these are being wound down and are "not of particular consequence".
* Has lots of change meant the moat has been breached?
The word 'change' cropped up a few times within today's RNS (my bold):
"We are in a period of change…"

…

"We believe this will have been a pivotal year of change and investment in building a major new marketing services group of the future."

…

"Change is never easy but in a rapidly transforming market, it's the only way to get out in front and establish a new industry standard that uses our pioneering System 1, decision-science products to ensure marketing that delivers profitable growth without unnecessary waste."
Such 'change' has been a regular feature of SYS1's history.
As the main Ad Testing, Brand Tracking and Predictive Markets services have become more popular, certain other products have been dropped or altered.
The changes have led to the group publishing a different segmental report within each of the last four annual reports: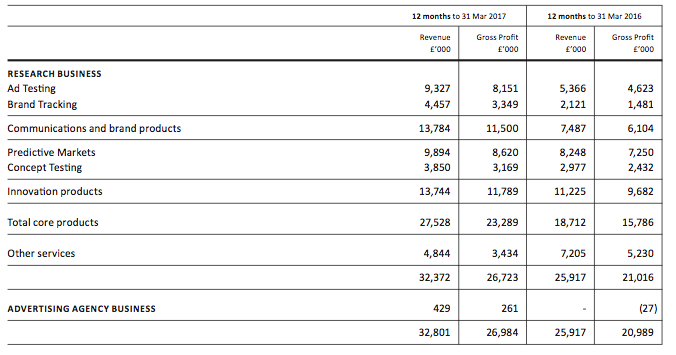 I see more service changes are afoot, too:
"We have responded promptly to the poor results and shifting industry backdrop, with fast-tracked product development.

We launched two new product iterations in September (a Next Generation Predictive Markets product and a new Digital (Advertising) Content Tracker), and are due to launch our Next Generation Ad Testing product in January 2018."
However, SYS1 had stated only last year that its Predictive Market product had been enhanced with an "express" version:
"Predictive Markets, our largest single product (32% of our business in 2016/17) grew 19% (compared to 2015/16). This was achieved despite pricing pressure, which we have been addressing with a lower cost and cheaper-to-deliver "express" version of the product.

We have also developed a "Fluent Innovation" framework to better express the value of Predictive Markets in guiding innovation."
All in all, I get the impression some parts of this business are much more susceptible to ongoing competition than others.
I suppose some of SYS1's previous talk of 'moats', such as this within the 2014 annual report (my bold)…
"We will continue developing the business as we have been, and in this way, will continue to build what some call the moat, or competitive advantage, protecting our business.

The more projects we undertake, the more our normative database of emotional metrics will grow, the greater the validation of our solutions, the more credible and valuable our solutions will become. The more we hone our techniques and expand their applicability, the more difficult they will be to replicate."
…may now have to be reassessed.
Valuation
SYS1 accompanied its disappointing figures with a glum outlook:
"[…] We are more cautious than usual on our short-term outlook. The encouraging signs we referred to previously continue, but trading in Q3 to date has not yet resulted in a pick-up in our order book.

Were the gross profit decline seen in H1 to be repeated in H2, then notwithstanding the lower rate of underlying overhead increase, our profit before tax (reported) for the full year would decline by 50% to 60% (2016/17: £6.3m)."
SYS1 had previously suggested full-year pre-tax profit could decline by between 10% and 15%, but I had already sensed that projection may have been too optimistic.
Profit before tax falling by the 55% mid-point would deliver earnings of about £1.8m — or 14.6p per share — after applying this H1's 36% tax rate.
Factor in a £3.5m (28p per share) cash position and the 400p shares could therefore trade on a P/E of around 25.
Clearly the market expects earnings to recover, and SYS1 (as BrainJuicer at the time) did rebound very quickly from a setback during 2012.
Back then, earnings fell from 14.8p per share to 8.3p per share, only to surge to 19.4p during 2013 and then to eventually rise beyond 30p per share.
However, the 2012 setback was limited to just a few months of slow trade. The current difficulties seem to be lasting a bit longer.
Let's assume it takes three years before SYS1 regains its peak 2017 earnings of 34p per share, during which time the share price rallies to 680p and a 20x multiple.
Would that potential 280p upside from the present 400p be enough to offset the risk of further trouble, or the recovery taking longer? I am not sure.
But what I am convinced about are SYS1's underlying attractions, not least the company's proven history of expansion, focus on long-term organic growth, evangelical boss and very straightforward, cash-rich accounts.
I am always looking to top up on my smaller holdings and I dare say I could buy more of these shares if the price goes lower.
In the meantime, the 7.5p per share trailing dividend supports a modest 1.8% income.
Maynard Paton
Disclosure: Maynard owns shares in System1.