08 October 2018
By Maynard Paton
Update on Getech (GTC).
Event: Interim results for the six months to 30 June 2018 published 28 September 2018.
Summary: These figures were not as good as I had hoped. The lowest first-half sales for seven years created a not-insignificant operating loss and left cash flow dependent on tax refunds. Still, the geoscience software specialist talked of a stronger second half and I remain hopeful the accounts will eventually showcase the high margins and expanding revenue the directors continue to predict. For the time being, I just have to trust a stronger oil price can one day tempt GTC's customers to increase their spending. I continue to hold.
Price: 37p
Shares in issue: 37,563,615
Market capitalisation: £13.9m
Click here to read all my GTC posts.
Results: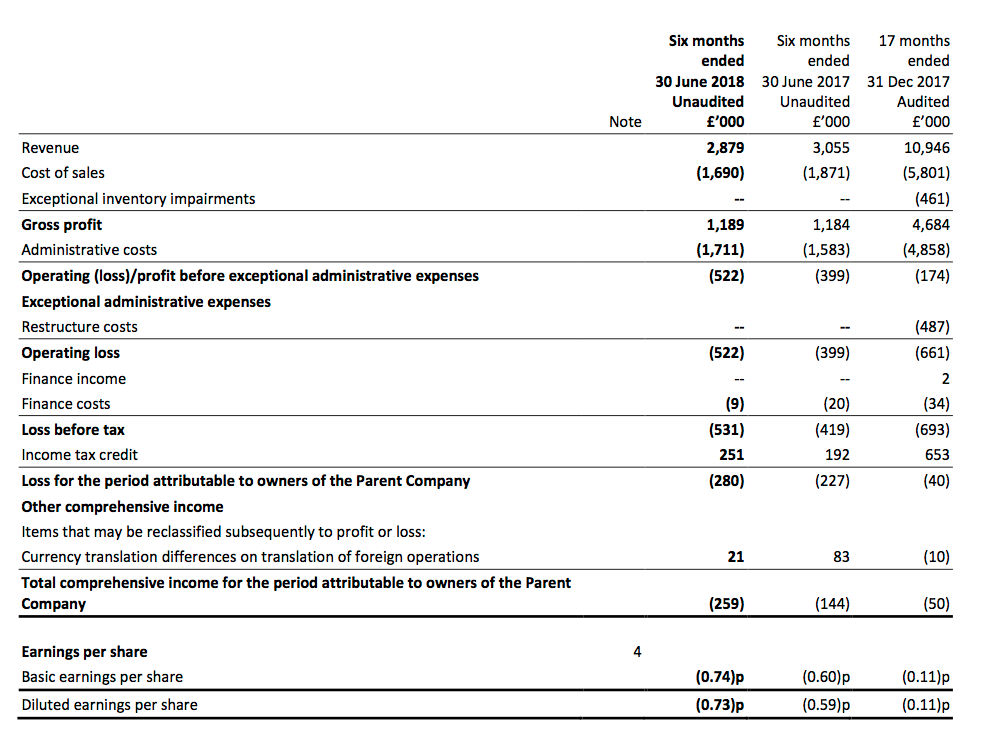 My thoughts:
* I was not expecting a £522k operating loss
Last week I quickly described these results as "adequate in the circumstances". But after studying the figures in more detail, I have to admit I am a tad disappointed.
You see, GTC's previous 17-month results had suggested (at least to me) that annual profit could be running at £200k-plus.
However, this first-half statement owned up to a £522k operating loss.

True, GTC said revenue from its geoscience software was "typically weighted to the second half" and a $0.9m high-margin data sale had just missed the 30 June cut-off.
But I had interpreted a trading update during August to be signalling a break-even performance given the cash position had dropped by only a fraction.
What August's update did not disclose — and what I had not considered — was GTC's cash pile being shored up by tax refunds (and credits) of some £608k: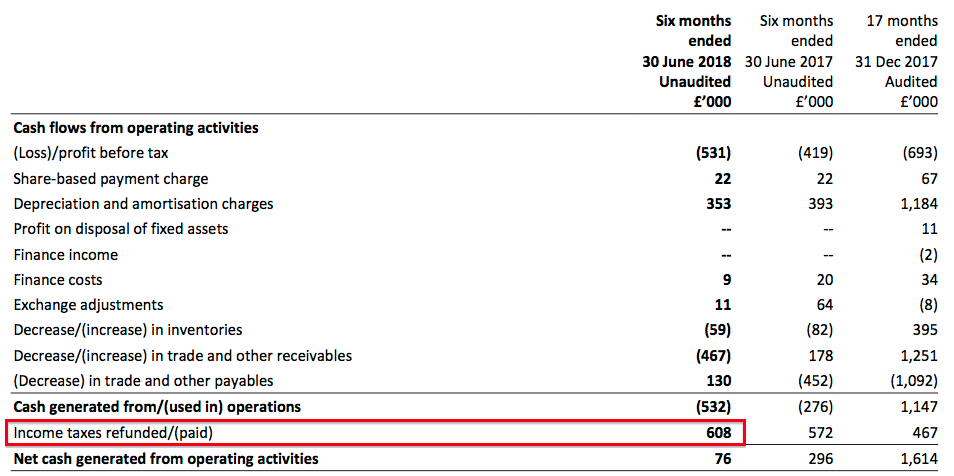 Some other points to consider:
1) H1 revenue of £2.9m was GTC's lowest since 2011.
2) Completing the aforementioned $0.9m data sale apparently "would have resulted in H1 revenue growth of 16%" — which I calculate to be an extra £489k (although $0.9m translated at £:$1.31 equals £687k).
I am not sure whether this data sale would have offset the £522k loss entirely — despite GTC claiming the data sale would have delivered a "significant expansion in profit".
3) Revenue for the comparable period of 2017 — the six months to June 2017 — was £3.1m. However, GTC's 2017 results indicated revenue for the six months to July 2017 was £3.6m.
So a difference of one month to the reporting period can move the top-line — and the year-on-year comparison — significantly.
4) Sales booked for periods beyond this H1 came in at £1.4m versus zero for this time last year.
GTC claimed "a significant increase in the number of customers purchasing multi-year subscriptions to our information products and software", which I trust bodes well for the second half.
* The building includes a "grand neo-Jacobean style carved wooden staircase and the superb glazed 'peacock cupola' dome"
Despite those tax refunds (and credits), cash in the bank reduced by £523k after £426k was injected into working capital and £145k was used to pay off some debt.
Net cash finished the half year at £1,389k, which will not last long if this H1 operating loss is continually repeated.
GTC's freehold office in Leeds was put up for sale this year and is in the books at £2,424k (point 11).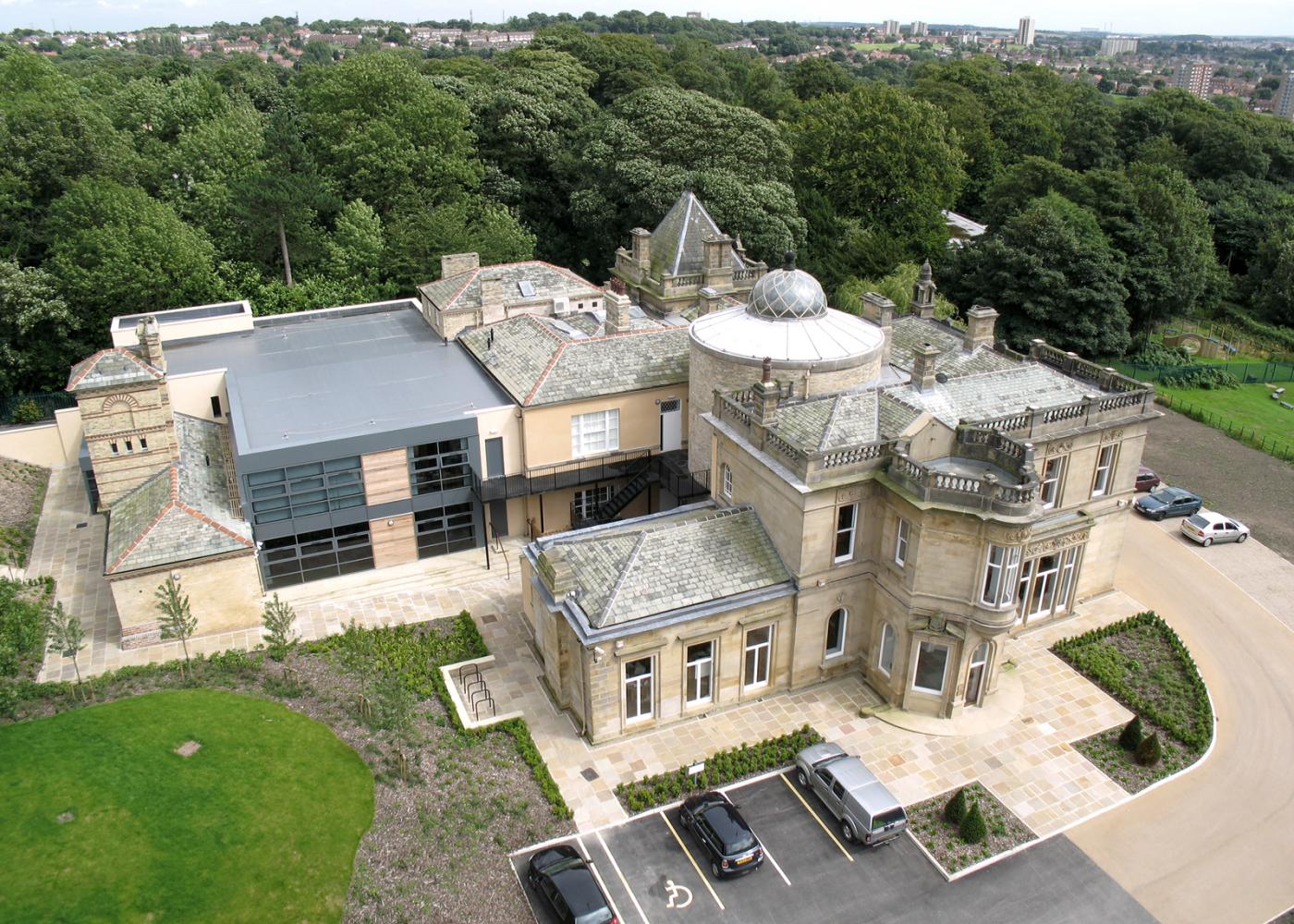 A "number of parties" have seemingly expressed an interest and I hope the building — which includes a "grand neo-Jacobean style carved wooden staircase and the superb glazed 'peacock cupola' dome" — is soon sold.
Selling the Leeds office and closing a Henley site will incur exceptional H2 costs of £200k. At least GTC reckons its costs for 2018 — including this £200k — will not exceed those for 2017.
Valuation
Back in March I had hoped the business could earn a 'clean' £200k-to-£300k operating profit for 2018. I even had "my fingers crossed for some upside should extra revenue actually arrive".
I have to admit, I will now accept a break-even performance for the current year — which makes GTC's present valuation hard to judge.
Right now, the £14m market cap is supported by the aforementioned net cash and property (£1.4m plus £2.4m) alongside the expectation of earnings reviving in time.
Normally I would not waste my time remaining with a business that is struggling to report a profit. However, I can make an exception for GTC because the firm does possess some appealing products.
Indeed, management claims GTC is by some distance a 'market leader', while a good proportion of sales are typically high margin and recurring in nature.
True, most of GTC's software products help companies explore for oil and gas — an activity that has slowed considerably during the last few years. Nonetheless, parts of the group still appear to be performing reasonably well (my bold):
"Demand for Gravity & Magnetic data has continued despite oil price uncertainty but the broader budget constraints of our customers have lengthened the sales cycle."

"With our Gravity & Magnetics Service line also delivering good staff utilisation and strong profitability in the period, we believe that this underlines our market-leading position in these data products."
For what it is worth, GTC reckons its customers may be willing to spend more next year:
"The upstream investment environment for our products and service therefore remains volatile but we expect 2019 budgets to set a clearer and more positive path."

"We enter H2 with a robust sales pipeline"
A significant sale of a Sierra Leone exploration dataset lingers in the background, too.
For now, all I believe shareholders can do is hope the oil price continues to rise…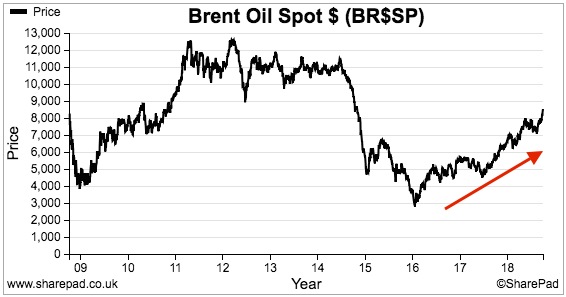 …and that GTC's oil clients eventually start to spend greater amounts on exploration software.
Maynard Paton
PS: You can now receive my Blog posts through an occasional e-mail newsletter. Click here for details.
Disclosure: Maynard owns shares in Getech.