22 November 2022
By Maynard Paton
Results summary for Bioventix (BVXP):
A somewhat better-than-expected FY performance, with record revenue and earnings supported by an exceptional H2 profit (+30%) that was bolstered by a post-pandemic recovery and stronger USD.
Encouraging sales progress from best-seller vitamin D (+13%), future big-seller troponin (+81%) and sudden surprise-seller biotins (+67%) more than offset lost income from an expired product.
Tweaks to management's commentary plus a revised pipeline grid suggest the development work on dementia research now offers a greater chance of becoming a real money spinner.
The accounts remain in great shape, with an astonishing 82% H2 margin, terrific employee productivity and robust cash conversion leading to the company's seventh consecutive annual special dividend.
Troponin's finite income and a basic sum-of-the-parts valuation may explain why the £36 shares have not made headway during the last three years. I continue to hold.
Contents
News links, share data and disclosure
News: Annual report and presentation for the twelve months to 30 June 2022 published 24 October 2022

Share price: £36
Share count: 5,209,333
Market capitalisation: £188m
Why I own BVXP

Develops diagnostic blood-test antibodies, direct competition for which is limited due to the necessary scientific innovation, protracted regulatory testing, onerous switching procedures and 'captive' hospital end-customers.
Boasts founder/entrepreneurial chief exec who has overseen an attractive growth record, retains an 8%/£15m shareholding and has declared seven special dividends.
Employs 'scalable' royalty/licensing model that requires few employees and leads to terrific margins, generous cash flow and high returns on retained profits.
Further reading: My BVXP Buy report | All my BVXP posts | BVXP website
Disclosure: Maynard owns shares in Bioventix. This blog post contains SharePad affiliate links.
Results summary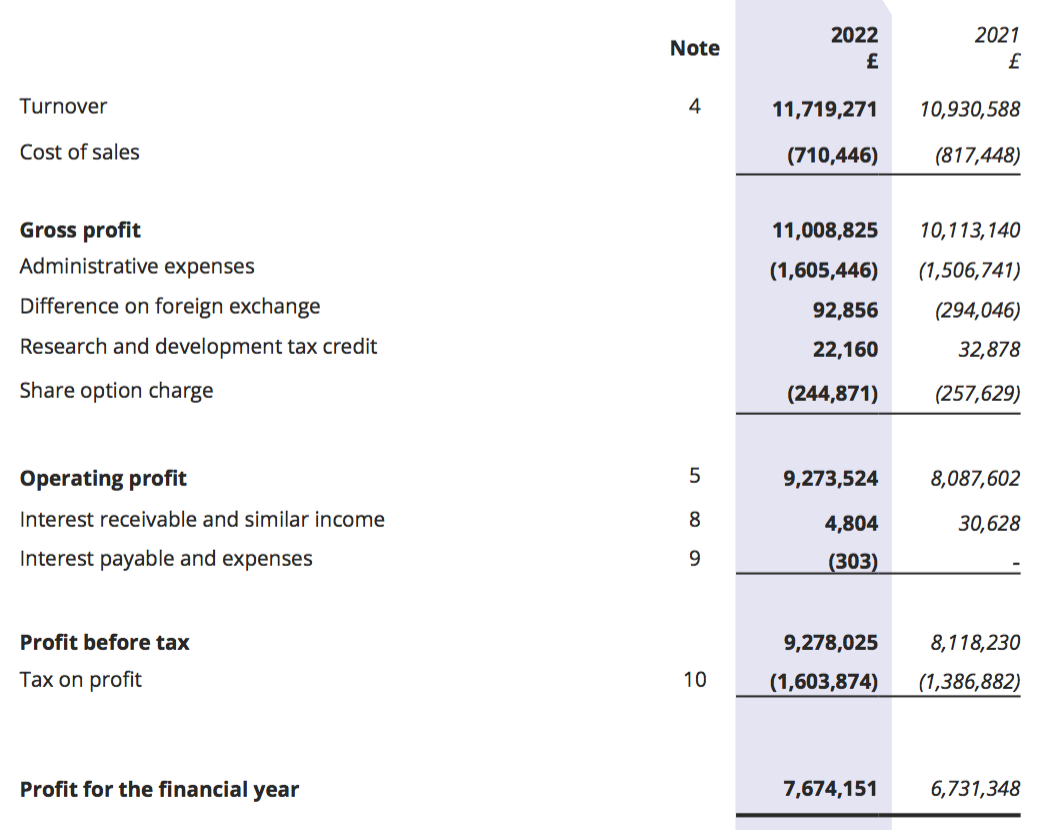 Revenue, profit and dividend
The preceding H1 had bemoaned pandemic disruption:
"The global pandemic has continued throughout the reporting period and has affected the activity within diagnostic pathways in hospitals and clinics around the world to which our business is intrinsically linked. The dynamics of the pandemic remain difficult to predict but when it eases, we believe our robust core business will respond accordingly."
But an update during September — BVXP's first unscheduled RNS for five years! — revealed a much stronger H2:
"As announced in our interim results to 31 December 2021, we had a slow start to the financial year. However, in the second half, we have seen an improvement in performance and our trading result for FY2022 as a whole is likely to be significantly ahead of market expectations."
September's update referred to a post-pandemic recovery and a stronger USD:
"This improvement reflects a degree of recovery from the pandemic effects experienced since early 2020, and we hope that this recovery will prove to be sustained and long-lasting…

In addition, our results are reported in UK Sterling and the recent fall in value of the UK Sterling against the US Dollar has had a positive effect."
Revenue in fact climbed 7% for the full year, which lifted reported operating profit by 15%. Both measures set new yearly records: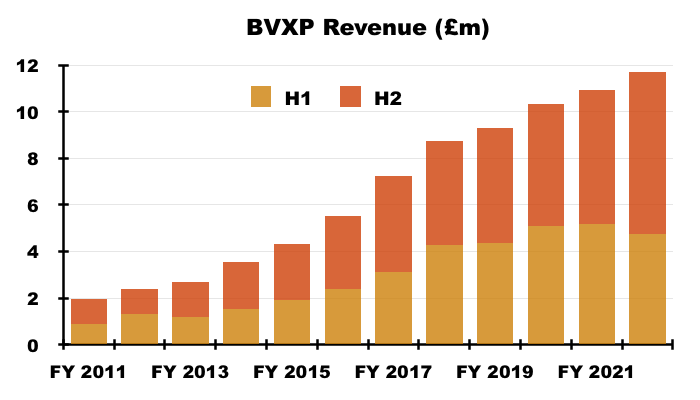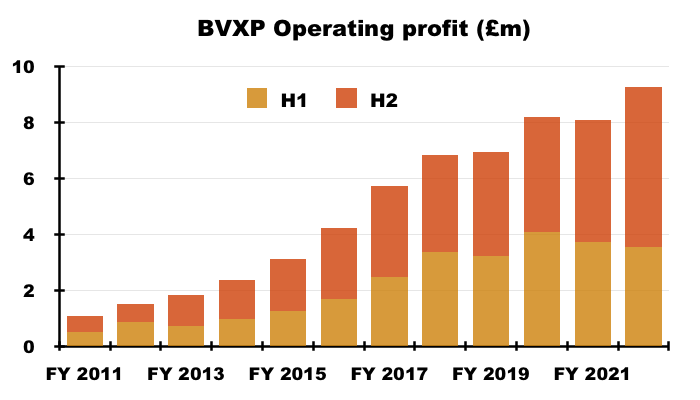 H2 revenue advanced 21% while H2 operating profit surged 30%, or 26% adjusted for the effect of foreign-exchange gains (see Financials).
BVXP said the stronger USD added £0.4m to H2 revenue.
BVXP's exceptional H2 witnessed a £5.7m operating profit, which equalled the level reported for the entire FY 2017.
Total FY 2022 earnings of £7.7m exceeded the house broker's earlier forecast by £1m: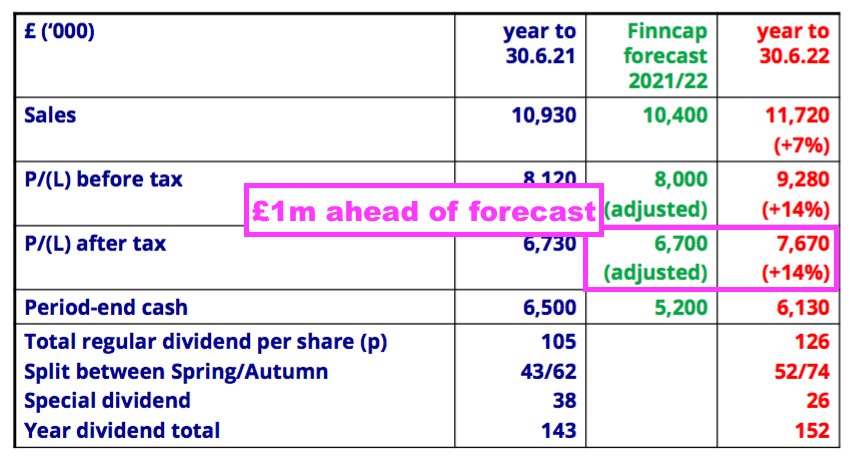 This FY performance was all the more impressive after BVXP suffered a £1.2m loss of revenue following a product licence expiry: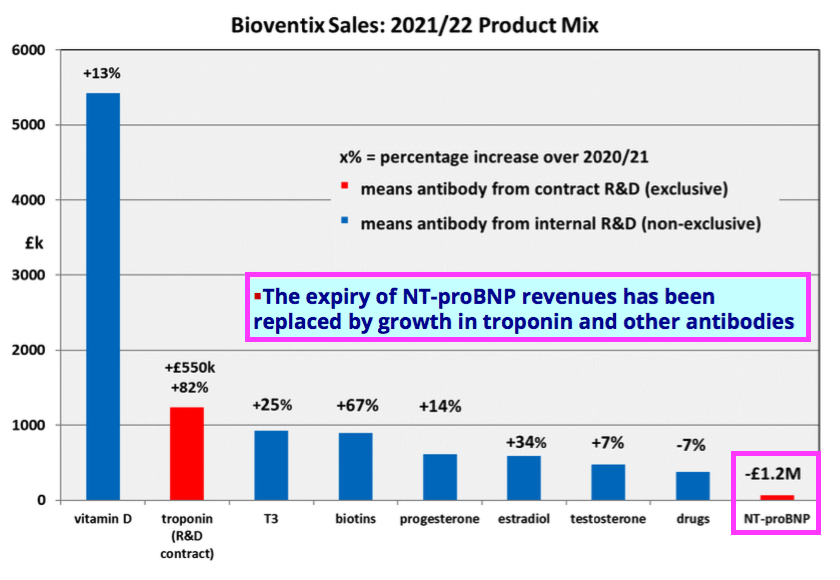 BVXP appears to have outperformed Roche during the pandemic.
Roche is the world's largest in vitro diagnostic (IVD) company and is as good a benchmark as any to judge demand for the type of blood-test antibodies that BVXP develops.
Between January-June 2019 and January-June 2022, BVXP's revenue advanced by 42% (£4.9m to £7.0m) while Roche's routine-diagnostic sales have at most expanded by approximately 30%: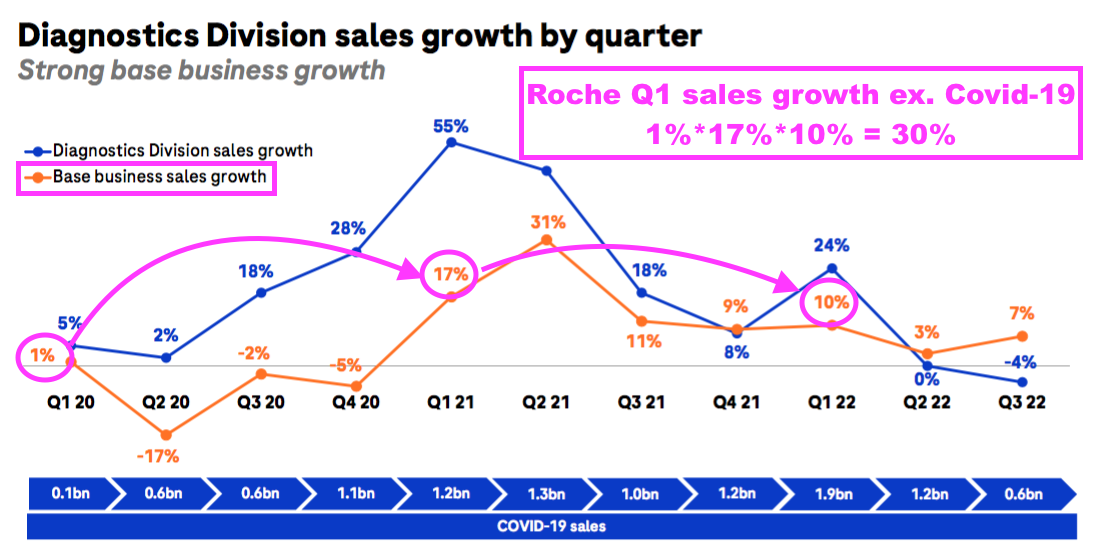 BVXP's dividend payments were a lot higher than I had anticipated.
The final payout was lifted a very useful 19%: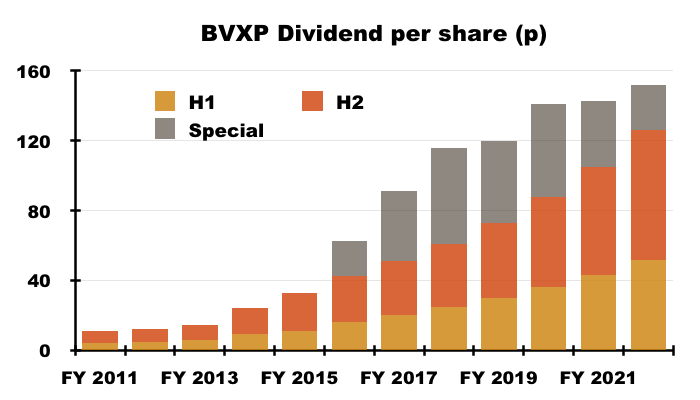 My earlier H1 concerns about the size of any special dividend proved to be unfounded. BVXP declared a 26p per share extra payout, which takes the run of specials to seven years.
The total ordinary/special payout for FY 2022 climbed 6% to 152p per share.
Cash finished the year at £6.1m — a good £1m improvement from the preceding H1 — and exceeded BVXP's liking for a minimum £5m cash balance:
"Our current view continues to be that maintaining a cash balance of approximately £5 million is sufficient to facilitate operational and strategic agility both with respect to possible corporate or technological opportunities that might arise in the foreseeable future. We have therefore decided to distribute surplus cash that is in excess of anticipated needs and we are pleased to announce a special dividend of 26 pence per share."
Cash topping that £5m 'buffer' could herald a special dividend for the eighth consecutive year.
Note that the cash 'buffer' wording for this FY 2022 was encouragingly different to that of the comparable FY 2021 (below):
"Our current view continues to be that maintaining a cash balance of approximately £5 million is sufficient to facilitate operational and strategic agility both with respect to possible corporate or technological opportunities that might arise in the foreseeable future and to provide comfort against the ongoing impact of the pandemic and any economic uncertainty arising from it. We have therefore decided to distribute surplus cash that is in excess of anticipated needs and we are pleased to announce a special dividend of 38 pence per share."
No mention this time of providing "comfort" against the pandemic!
Vitamin D
BVXP's vitamin D antibody delivered welcome progress during H2.
The preceding H1 had suggested vitamin D sales were stagnating or reversing:
"As reported previously, the growth rates for our vitamin D antibody sales were not expected to match those seen in recent financial years and a plateau in the downstream global vitamin D assay market had been anticipated. Sales associated with assay formats using larger quantities of antibody per test suffered more as price erosion in downstream markets puts pressure on costly "antibody-hungry" products"
But this FY statement revealed vitamin D sales advancing a commendable 13%:
"Our most significant revenue stream continues to come from the vitamin D antibody called vitD3.5H10. This antibody is used by a number of small, medium and large diagnostic companies around the world for use in vitamin D deficiency testing. Sales of vitD3.5H10 increased by 13% to £5.4 million which we believe reflects an improved downstream market for vitamin D testing following a degree of recovery from coronavirus pandemic effects."
Vitamin D remains by far BVXP's best seller at 46% of revenue: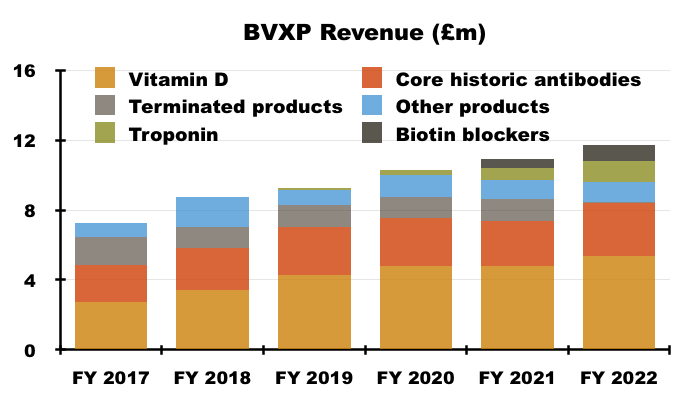 Vitamin D's proportion of total revenue has been 38% or more since FY 2016.
Perhaps vitamin D will continue to sell well after what seems to have been a pandemic-related blip.
Management has in the past claimed the 'plateauing' of vitamin D growth to mean the rate reducing to between 5% and 10% — to match the projected expansion of the wider antibody market.
But FY 2022's 13% advance suggests vitamin D may not have 'plateaued' just yet.
Going from zero revenue to £5.4m within eleven years gives some idea of the prospects for BVXP's newish troponin antibody.

Troponin, biotin blockers and other antibodies
This FY 2022 statement reminded shareholders that BVXP's near-term progress remains dependent on its troponin antibody:
"Over the next few years, the continued commercial development of the new troponin assays and their roll out by our customers will have the most significant influence on Bioventix sales."
Development work on troponin — an element used to detect potential heart attacks — started during 2006 and the antibody first generated sales during FY 2019.
Troponin income jumped a super 81% during this FY:
"Total troponin antibody sales from Siemens Healthineers and another separate technology sub-license almost doubled during the year to £1.23 million (2020/21: £0.68 million). This significant increase clearly demonstrates a gathering momentum of product roll-outs for the new high sensitivity troponin assays supported by SMAs and we believe that these revenues will continue to grow."
BVXP's house broker continues to estimate troponin income could grow to between £3m and £3.5m by 2025.
Among BVXP's other antibodies, income from "biotins and biotin blockers" was divulged for the first time:
T3 (tri-iodothyronine): £0.93 million (+25%);
biotins and biotin blockers: £0.90 million (+67%)
progesterone: £0.62 million (+14%);
estradiol: £0.59 million (+34%);
testosterone: £0.47 million (+7%);
drug-testing antibodies: £0.38 million (-7%);
Biotins and biotin blockers enjoyed 67% annual sales growth and now appear to be BVXP's fourth best-selling product after vitamin D, troponin and tri-iodothyronine (T3).
I don't know why BVXP started to disclose income from biotins and biotin blockers this year rather than the prior year — when sales were £539k and already exceeded the revenue from many other disclosed products.
Biotins and biotin blockers look to have been a relatively speedy success. BVXP's first mention of biotin occurred within the FY 2018 results:
"Another project that is just starting at Bioventix features biotin. Biotin is a vitamin supplement that is widely available and has been associated by some people with claims relating to hair and skin health. Biotin is also part of a "chemical Velcro" that is used in assay formats by some of our customers. It has become clear that high dose consumption of these biotin supplements can result in aberrant results from some clinical assays and a solution to this problem could have value."
Four years from drawing board to revenue of £900k is very impressive. 
BVXP underplayed the progress of its biotin blockers by implying sales were "modest": 
"The biotin "blocker" antibodies and THC sandwich antibodies reviewed in our previous reports have now progressed at customers and modest sales are now being generated to add to our total revenues."
In fact, BVXP implied within the prior-year statement that biotin blockers were not yet commercially feasible:
"As this project has evolved, it has become clear through FDA guidelines that much larger quantities of biotin blockers will be required in assay reagent packs. This imposes cost/price constraints in addition to manufacturing/capacity challenges. Over the next year, we will explore production systems (such as E.coli) in order to identify improved production techniques which could facilitate commercial feasibility."
As well as the biotin blockers becoming commercial, BVXP's tetrahydrocannabinol (THC) test has also made it to market and presently earns "modest" sales.
Yearly income from BVXP's other five "core historic" antibodies — used for testing thyroid function, fertility and drug abuse — climbed 17% to support 26% of group revenue.
Longer-term progress from the five antibodies has been mixed. Between FYs 2017 and 2022 for example, sales of T3 have rallied 88% while sales of testosterone have slid 19%: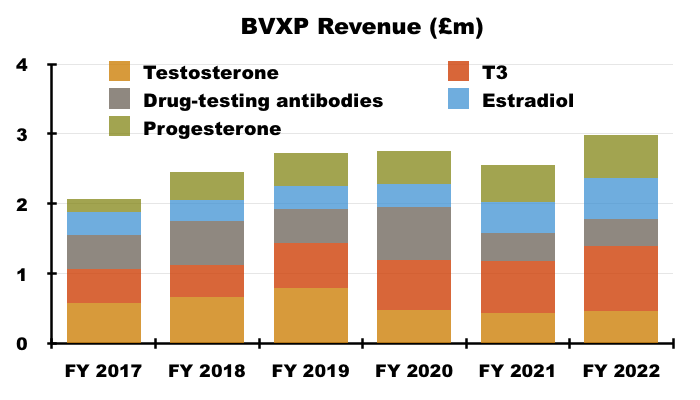 Within the prior-year statement BVXP described these five products as "lead" antibodies, and I am not sure whether the description change to "core historic" antibodies for FY 2022 signals the collection may have seen its best days.
Pipeline developments: Tau
The removal of one sentence from these FY 2022 results could signal improved product-pipeline potential.
BVXP said within the prior-year statement:
"There are currently no antibodies in the future pipeline that are comparable to our troponin products in potential value and the ability to influence revenues in the next few years."
But that sentence was

omitted

for FY 2022, which suggests the development pipeline may indeed be harbouring a product that now has troponin-type potential value.
BVXP would not be drawn on any pipeline predictions:
"Whilst antibodies in the future pipeline are at stages of testing and development that do not allow us to make any prediction about their potential value and influence on future revenues there has still been encouraging progress."
I reckon the project concerning Tau proteins for dementia research offers the best chance of becoming a pipeline money spinner
The Tau project had its probability of success improved during the year from Low to Medium:

BVXP said efforts on the Tau project had been encouraging:
"Another biomarker that has shown potential in Alzheimer's diagnostics is the Tau protein in the form of total Tau and phosphorylated Tau. During the year we created more anti-Tau antibodies and this work will continue into 2023. Our academic collaborators at the University of Gothenburg have used our antibodies to create prototype assays and have generated encouraging data from patient blood samples."
But work remains to be done to enhance the test:
"The levels of Tau detected using our antibodies are approximately 2 times higher in Alzheimer's samples compared to controls, a ratio of 2 times being similar to other research groups. Our scientific target ratio is slightly higher at 4-5 times. We are encouraged by this progress and plan to create more antibodies to support further work with our collaborators in Gothenburg during 2023."
BVXP referred to Alzheimer's developments elsewhere:
"The recent success of the Eisai/Biogen lecanemab clinical trial is likely to increase the need for early [Alzheimer's] diagnostics and we are very fortunate to be working with one of the world's leading labs focussed on Alzheimer's biomarkers and tests."
Biogen describes lecanemab as an "investigational humanised monoclonal antibody for Alzheimer's disease [AD]" that "selectively binds to neutralise and eliminate soluble, toxic amyloid-beta aggregates (protofibrils) that are thought to contribute to the neurodegenerative process in AD."
"The study shows that removal of aggregated amyloid beta in the brain is associated with a slowing of disease in patients at the early stage of the disease"
Regulatory approvals for lecanemab are the next step with submissions due by March 2023, although Biogen's statement does suggest an FDA decision could be forthcoming by early January.
Regulatory approvals for lecanemab could in turn spur demand for Alzheimer's tests such as BVXP's anti-Tau antibody, which hope to indicate the likelihood of developing the condition.
"Anti-tau antibody failures stack up
Lilly has discontinued development of zagotenemab, following the antibody's failure in a phase II trial in Alzheimer disease. It is the fourth setback for the troubled anti-tau pipeline, following clinical trial misses for Roche and AC Immune's semorinemab, AbbVie's ABBV-8E12 and Biogen's gosuranemab."
Pipeline developments: pyrene and industrial biomonitoring
BVXP's pipeline grid sadly showed the group's two biomonitoring projects downgraded from Medium to Low potential value:

I had hoped BVXP showcasing pyrene biomonitoring its homepage was a sign the product had notable commercial value: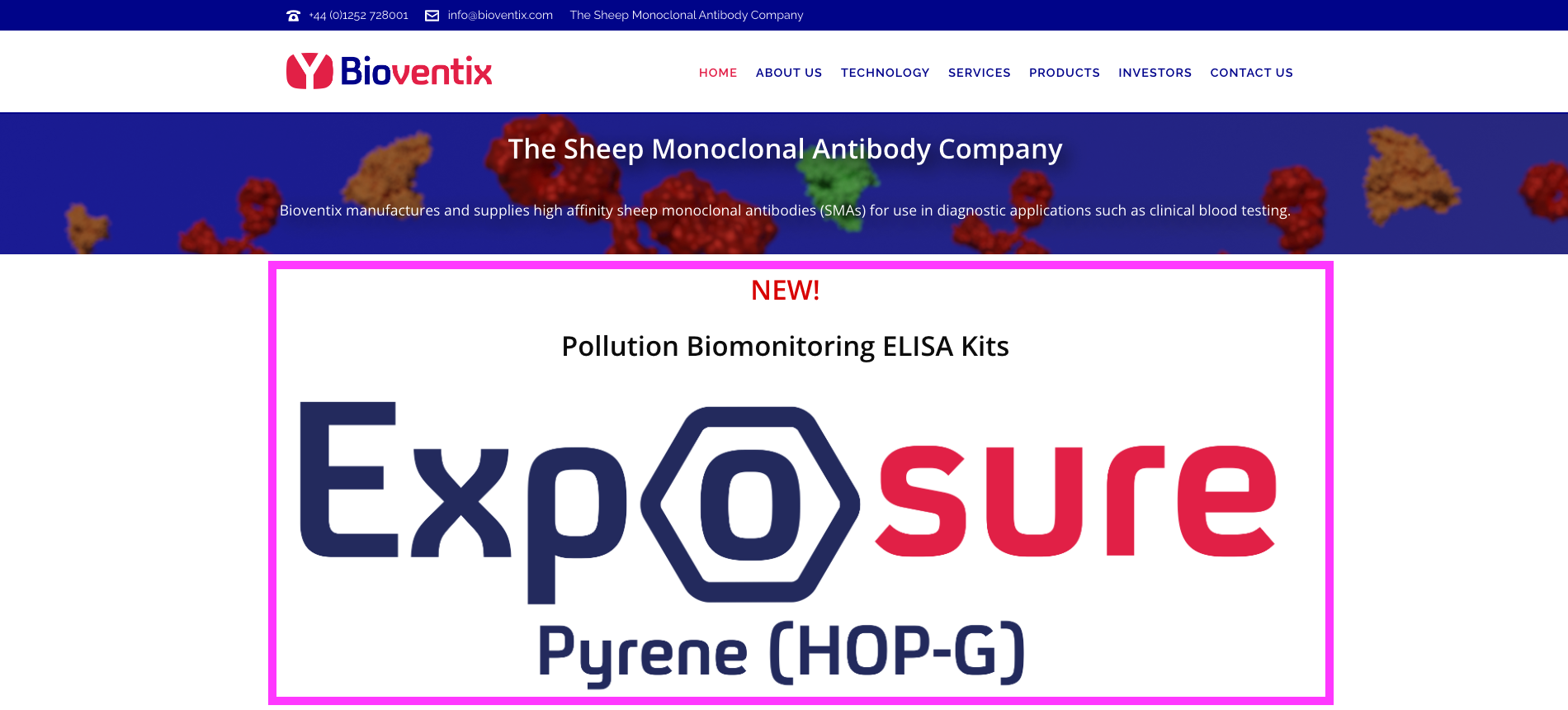 The biomonitoring tests work by examining a urine sample through a mobile phone: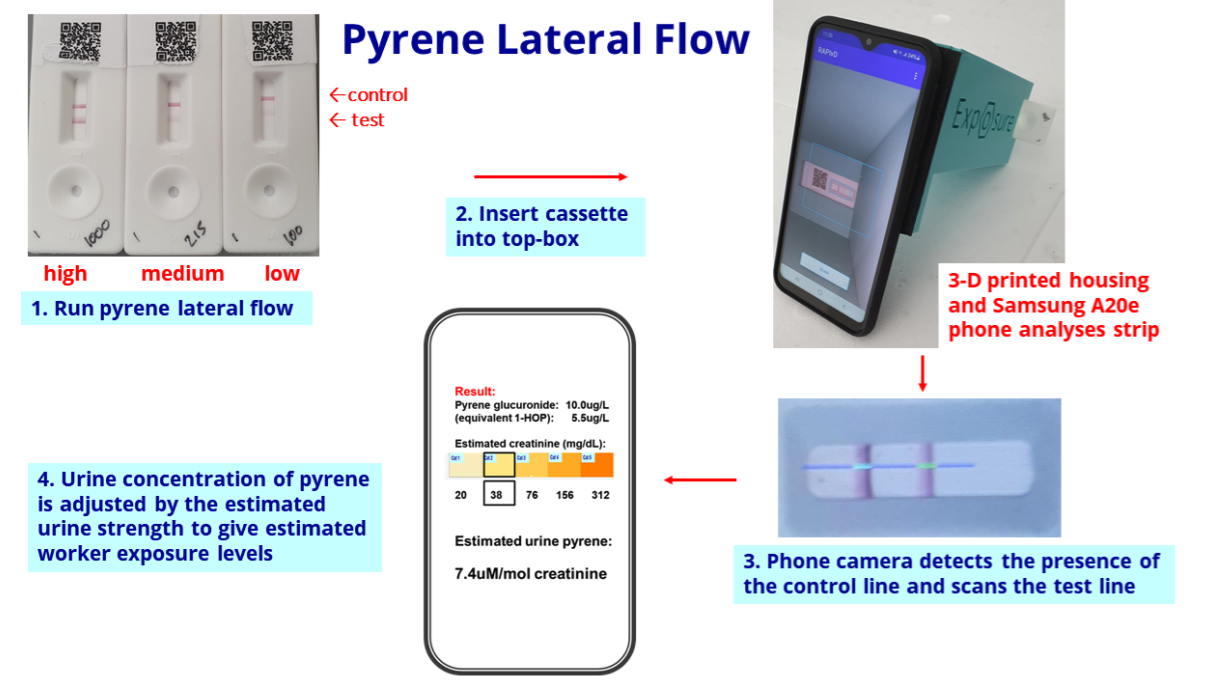 BVXP confirmed development work on the biomonitoring projects would continue during next year:
"Our pyrene lateral flow system for industrial pollution biomonitoring completed a trial at a UK industrial site during quarter 4 of 2021. This went well and we plan to conduct additional site studies during 2023…

The progress of the pyrene project has encouraged us to consider additional assays for benzene and isocyanates, also in the field of industrial health and safety. Benzene exposure is of relevance to the petroleum industry and isocyanates are hazardous chemicals used in the manufacture of polyurethane paints and plastics. This work will continue into 2023 and 2024."
BVXP repeated the text below from FY 2021, which reiterated how the company is seemingly trying to create the market for these pollution tests by itself:
"We accept that the creation, manufacture and supply of final assay [biomonitoring] products is outside our normal focus of bulk antibody sales but we believe that through our own efforts we can substantiate the viability of such products and generate demand, thereby stimulating the interest of future commercial partners."
The present absence of clear commercial interest alongside the unknown economics of the test kits probably explain the aforementioned project downgrade to Low potential value.
Manufacturing the pyrene kit is unlikely to enjoy the same wonderful economics as selling 15-20 grams of physical antibodies a year (point 1e).
Pipeline developments: CardiNor and Pre-Diagnostics
The commercialisation of biotin blockers and THC leaves the collaborations with Norwegian research houses CardiNor and Pre-Diagnostics as BVXP's third pipeline opportunity alongside Tau proteins and biomonitoring:

BVXP has invested an aggregate £610k into CardiNor and Pre-Diagnostics since FY 2016.
The Norwegian projects remain in deep development and show no signs of imminent revenue:
"Our partners at CardiNor (Oslo) have continued with their work to try and identify the possible utility of secretoneurin in heart failure patients and in particular those patients who might be candidates for implantable cardiac devices (ICDs). Data from recent patient sample studies does show a link with heart disease read-outs. The next step for CardiNor will be to define the potential utility of secretoneurin diagnostics in cardiac health.

Pre-Diagnostics (also in Oslo) and their clinical collaborators have two amyloid beta assays based on Bioventix antibodies available for research use. The goal of the project is to identify fragments of amyloid beta in patient samples that would be helpful in Alzheimer's diagnostics. A new area of interest is the diagnosis of ARIA, a side-effect related to new anti-amyloid drugs."
"Q: What further work has to happen now for secretoneurin to be developed into a commercial cardiovascular biomarker?

A: Much work on the assay development side has already been completed, and CardiNor has recently received CE-marking for its secretoneurin ELISA in Europe. Work has also been initiated for implementation of the assay on big laboratory platforms and preparations for submission to the FDA are being planned. The key for secretoneurin to be developed into a commercial cardiovascular biomarker is the results of ongoing and future clinical studies, validating the hypotheses of a secretoneurin being a strong biomarker of arrhythmia risk and of providing robust and complementary prognostic information to conventional risk markers, including cardiac troponins and BNP/NT-proBNP in patients with acute or chronic heart failure."
"…preparations for submission to the FDA" sounds promising. CardiNor's secretoneurin biomarker tests for a particular type of heart failure and perhaps complements BVXP's own troponin and (now terminated) NT-proBNP products that detect other heart complaints.
Pre-Diagnostics is developing an Alzheimer's test that would indicate early diagnosis of the disease, and appears similar to BVXP's work with Tau proteins:

"After three years as a start-up in ShareLab's shared facilities , we are moving to new offices at Parallell Oslo that include our own fully furnished lab. The move allows us to both concentrate on development work and prepare for the coming market phase. With this, we are one step closer to bringing our Alzheimer's blood test to the market."
Note that BVXP now refers to "2026 to 2036" for the pipeline to create "shareholder value":
"Excellent technical progress has been made with our research projects and we anticipate that our pipeline of opportunities will create additional shareholder value in the period 2026 to 2036."

Financials
The exceptional H2 witnessed an astonishing 82% operating margin — BVXP's best ever conversion of revenue into profit for any six-month period: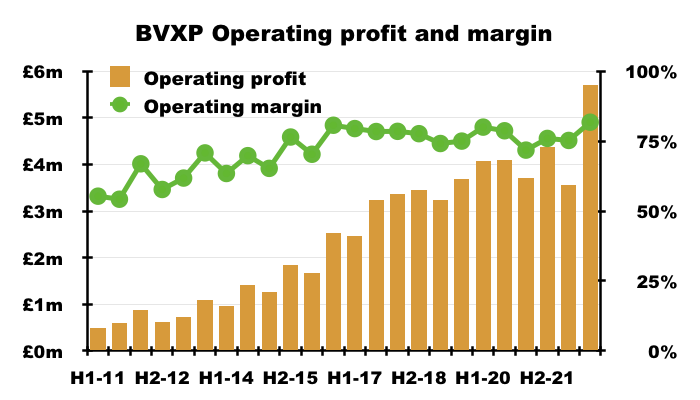 BVXP's margin was enhanced by cost of sales decreasing by 13% despite revenue advancing by 7%:

The lower cost of sales may be due to a greater proportion of royalty and licence fee income, which represented 69% of group revenue — the highest since FY 2017 (73%):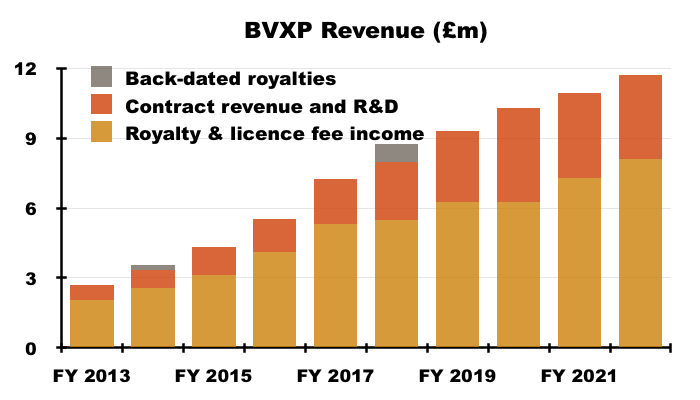 The lower cost of sales may also be due to lower research and development expenditure:

Lower R&D presumably reflects the recent commercialisation of biotin blockers and THC.
Foreign-exchange gains/losses also interfered with reported operating profit:

The foreign-exchange gains/losses arise when customers pay BVXP more/less than what was initially recognised as revenue because of subsequent exchange-rate movements.
Such foreign-exchange gains/losses can be significant for BVXP because the bulk of group income is:

Denominated in USD, EUR and various Asian currencies, and;
Received every six months (which amplifies the accounting impact of currency movements).
The gains/losses can affect BVXP's short-term performance but have not been a significant long-term influence.
Between FYs 2018 and 2022, aggregate foreign-exchange gains/losses came to a negative £169k versus aggregate revenue of £51m and aggregate reported operating profit of £39m.
BVXP reiterated within these FY 2022 results that currency movements were not hedged.
BVXP's super margin reflects the company's terrific employee productivity. The 2022 annual report revealed BVXP employed only 16 staff costing a total £1,261k…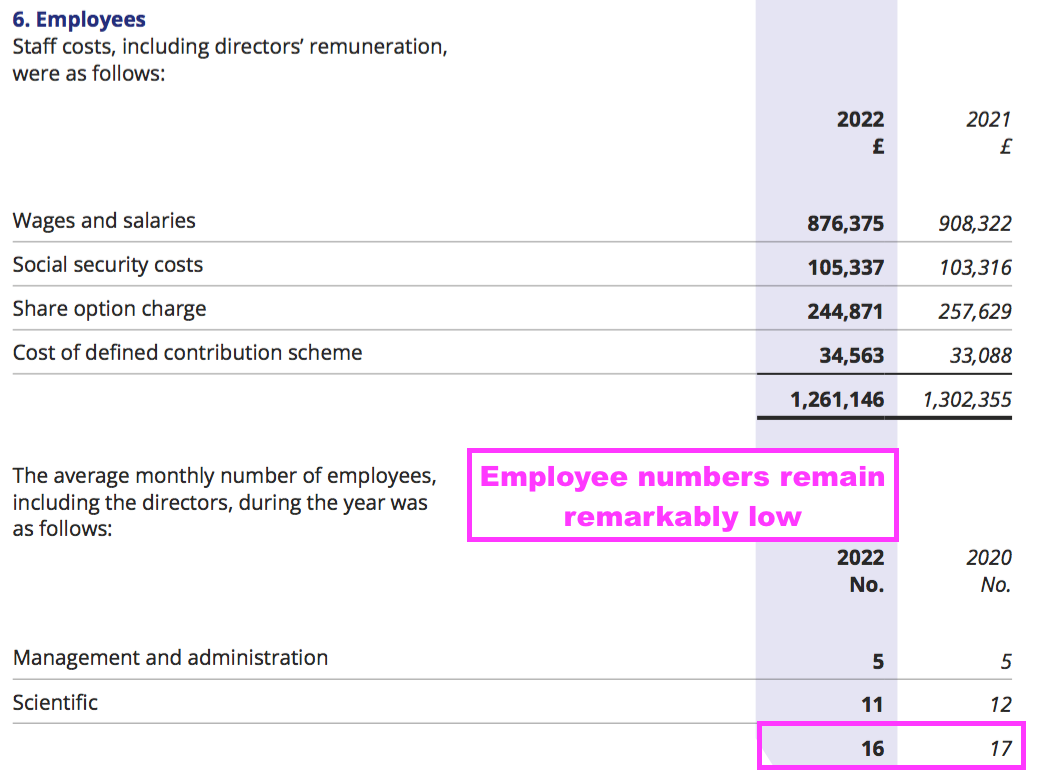 … which translates into a cost per employee of £79k, although revenue per employee is a superb £732k: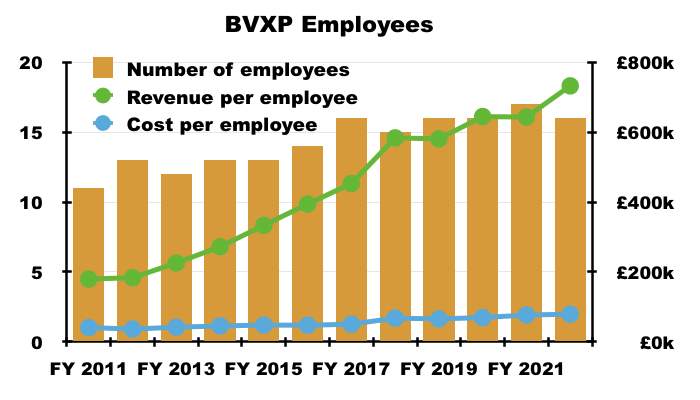 Cash conversion during FY 2022 did not look problematic:
| | | | | | |
| --- | --- | --- | --- | --- | --- |
| Year to 30 June | 2018 | 2019 | 2020 | 2021 | 2022 |
| Operating profit* (£k) | 6,060 | 6,931 | 8,184 | 8,087 | 9,273 |
| Depreciation (£k) | 58 | 76 | 134 | 135 | 143 |
| Cash capital expenditure (£k) | (108) | (85) | (340) | (260) | (12) |
| Working-capital movement (£k) | (539) | (47) | 412 | (1,004) | (652) |
| | | | | | |
| Net cash (£k) | 6,987 | 6,537 | 8,076 | 6,495 | 6,127 |
(*before back-dated royalties)
Working-capital absorbed an extra £652k to reflect the greater royalty and licence fees recognised as revenue during H2 that had still to be paid after the year-end.
Within working capital, total debtors of £5.2m does appear alarming versus revenue of £11.7m:

But the debtors mostly reflect the royalty and licensing income that is received after the year-end but

before

the final accounts are published, and as such the outstanding monies are (in theory!) always collected.
The modest working-capital movement plus capex of just £12k allowed earnings of £7.7m to translate into free cash flow of £7.5m — up £1.4m on FY 2021.
Total cash dividends of £7.9m then left the cash position £0.3m lighter at £6.1m over the FY.
The balance sheet carries no bank debt and no pension complications.
The £6.1m cash position exceeds the aforementioned £5m minimum by £1.1m.
Were FY 2023 to repeat FY 2022 and produce free cash flow of £7.5m, an eighth consecutive special dividend would be very likely.
The seventh consecutive year of declaring a special dividend re-emphasised how BVXP has expanded without significant retained profits.
For example, since FY 2017 BVXP's earnings have advanced £2.8m to £7.7m while shareholder equity (i.e. earnings less all dividends paid) has advanced £1.7m to £11.8m: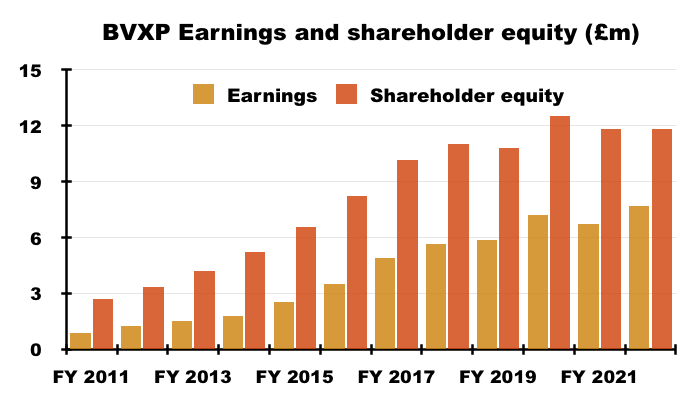 Retaining £1.7m to earn an extra £2.8m since FY 2017 has been incredibly impressive.
BVXP's tax charge was assisted for the 15th consecutive year by tax credits: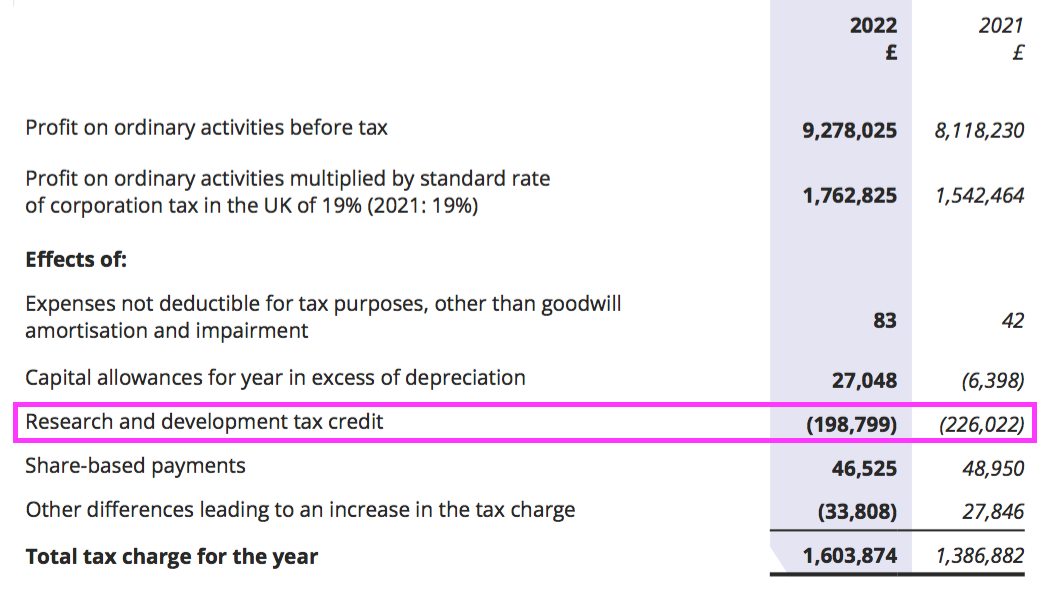 BVXP commendably disclosed the forthcoming increase to corporation tax would have lifted the tax charge from 17% to 23% (and would have reduced earnings by nearly 7%):
"Factors that may affect future tax charges
The rate of corporation tax in the UK is set to be increased from the current rate of 19% to 25% with effect from 1 April 2023. This change will increase the tax charge in future years such that, had the change been in place in the current year, it would have increased by £517,163 from £1,603,874 to £2,121,037."
Valuation
BVXP's outlook contained a useful guide to potential future growth:
"We are pleased with our financial results for the year which we believe reflect both the growth in the use of our products and of course some relief from the global pandemic. In particular the continued roll-out of the high sensitivity troponin assays and the royalties associated with them have combined to help replace revenues from NT-proBNP which ceased from August 2021. After stripping out the impact of these 2 significant changes the growth in our underlying business over the year is in the range 8-10% which we believe is sustainable for the immediate future as our sales mix continues to change."
The FY presentation sadly did not include an updated broker forecast for FY 2023: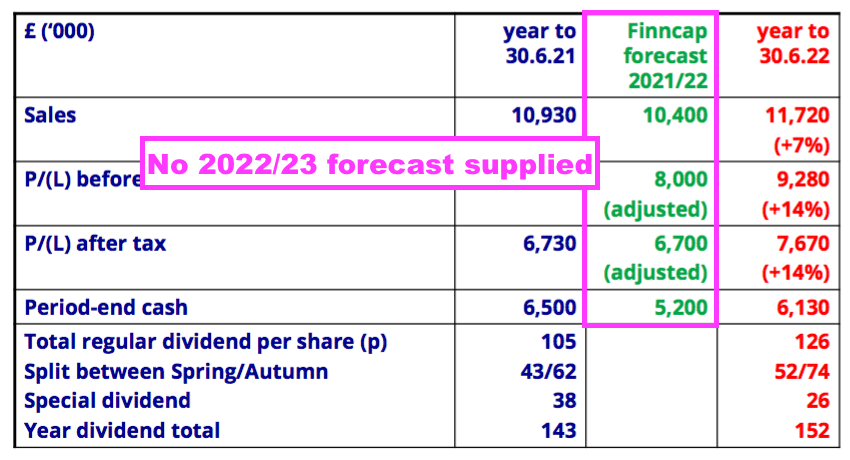 BVXP had re-introduced the disclosure of broker forecasts within the preceding H1 presentation after dropping such estimates from the slides during the pandemic.
Doubling up the stronger H2, ignoring foreign-exchange gains and applying that higher 23% tax rate leads to earnings of almost £8.7m or 166p per share.
Earnings of 166p per share support a 22x multiple with the share price at £36.
Earnings of 166p per share leave only 14p per share for higher FY 2023 dividends after a total 152p per share was declared through ordinary/special payouts for FY 2022.
Bear in mind troponin revenue will cease during 2032 and the associated profit should not therefore be valued on a simple multiple.
Assuming troponin revenue:

Averages (a probably optimistic) £4m for the next 9.5 years before expiry;
Has no associated cost, and;
Is taxed at the upcoming 25% standard UK rate…
…gives an after-tax value of £29m before any time-value discounting.
The table below derives the possible earnings from BVXP's vitamin D and other commercialised antibodies by:

Estimating FY 2022 revenue without troponin and expired product revenue;
Then subtracting all cost of sales and administration expenses;
Then adding back all R&D costs, and;
Ignoring foreign-exchange gains, share-based payments and R&D tax credits:
| | |
| --- | --- |
| Estimated FY 2022 for vitamin D and other antibodies | (£k) |
| Revenue | 11,719 |
| Less NT proBNP revenue | (80) |
| Less troponin revenue | (1,230) |
| Less cost of sales | (710) |
| Less admin expenses | (1,605) |
| Add back R&D expenses | 975 |
| Operating profit | 9,069 |
| Less tax at 25% | (2,267) |
| Earnings | 6,802 |
Applying a 25x multiple to the derived £6.8m earnings values BVXP's vitamin D and other commercialised antibodies at £170m.
The present £188m market cap less the £29m troponin estimate less the £170m vitamin D/other estimate therefore leaves the pipeline valued at a negative £11m.
Valuing the pipeline at a negative £11m does not feel optimistic given annual R&D costs are almost £1m and commercialisation is not expected until 2026 at the earliest.
True, these valuation sums could be fine-tuned to:

Calculate a more realistic net present value for troponin;
Include R&D tax credits;
Allocate cost of sales to the appropriate antibody, and;
Apply different multiples to that £6.8m vitamin D/other estimate…
…but right now signs of a compelling valuation are not truly obvious.
The sums could explain why the shares have not made headway during the last three years: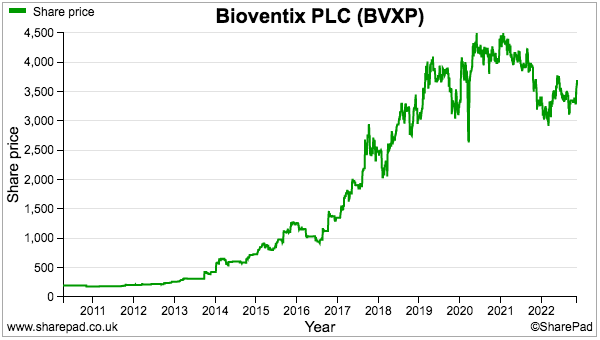 A premium rating is nonetheless understandable. Shareholder attractions remain:

The predictable and ongoing income from antibody sales and royalties (pandemics aside);
A competitive 'moat', helped in part by protracted development/regulatory timescales and 'captive' end-customers (e.g. hospitals) limited to particular blood-test machines (and therefore particular antibodies), and;
The amazing margins and minimal reinvestment requirements, which underline the terrific economics of antibody commercialisation.
The present market cap leaves longer-term upside rather dependent on the success of the pipeline, with the Alzheimer's projects looking the favourite to become real money-spinners.
In the meantime the dividend yield is a useful 4.2% if BVXP continues to distribute ordinary and special payouts that total 152p per share.
Maynard Paton