***SharePad New Subscriber Special Offer***
Readers of my blog can claim one month of free data. Click here for details. #ad
14 June 2021
By Maynard Paton
Everybody loves shares that keep going up.
SharePad lists 167 names that have consistently delivered 15% or more annualised returns during the last five years: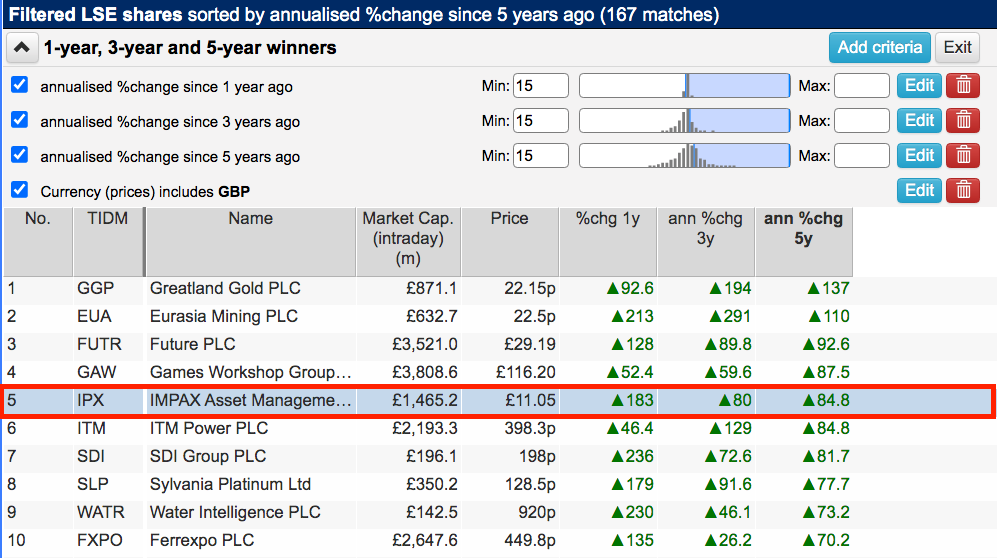 The shares of fund manager Impax Asset Management have certainly kept going up; they have almost tripled during the last twelve months and have 20-bagged since 2016.
The winning combination appears to have been:
Impressive profit growth driven by favourable long-term trends;
A 'scalable' business that could service extra customers without a commensurate increase to the workforce;
A shareholder register dominated by company insiders and a key client, and;
A modest valuation that gave scope for a significant P/E re-rating.
Let's take a closer look.
Read my full Impax Asset Management article for SharePad.
Maynard Paton