29 March 2019
By Maynard Paton
Results verdict on FW Thorpe (TFW):
Lower revenue and profit due to "challenging trading conditions" caused perhaps by the collapse of Carillion.
The statement's highlight was management talk of orders having returned to "record levels".
Fresh product developments continue and include "radical" new range of workplace lighting.
Accounts showcase huge £53m cash pile while dividend on course for 17th consecutive annual increase.
Underlying P/E of 21 seems optimistic given recent progress. I continue to hold.
Contents
Event link and share data
Event: Interim results for the six months to 31 December 2018 published 21 March 2019

Price: 320p
Shares in issue: 116,120,658
Market capitalisation: £372m

Why I own TFW


Manufactures commercial lighting systems and boasts a long-established reputation for high product quality, leading technical innovation and top customer service.
Board led by veteran executive and assisted by family management that continues to enjoy 50%-plus shareholding.
Conservative accounts offer asset-flush balance sheet and illustrious rising dividend.
Further reading: My TFW Buy report | All my TFW posts
Results summary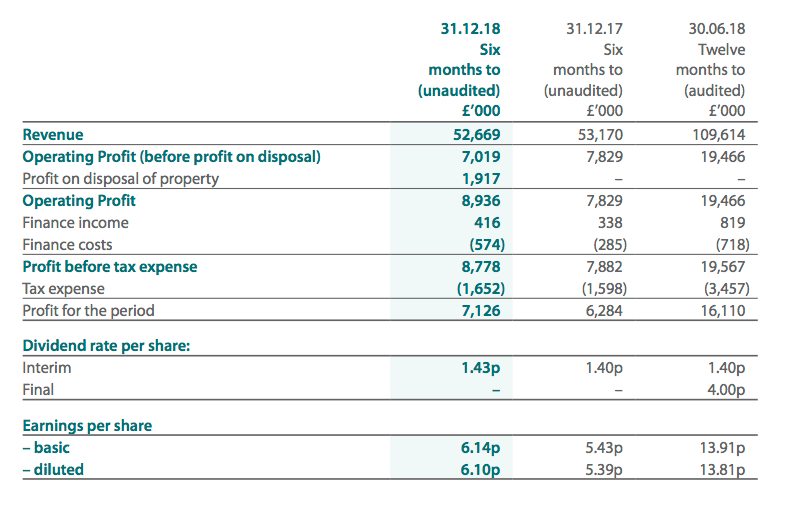 Revenue, profit and dividend
The results did indeed reveal operating profit down 10%, with revenue 1% lower.
"Challenging trading conditions" at Thorlux, the group's main division, were cited for the shortfall.
Management comments within the 2018 annual report (point 1) hinted that the collapse of Carillion may have affected orders.
Brexit was also cited for "business confidence" having yet to return to "more normal levels".
Recent trading has thankfully improved. Orders at Thorlux have apparently rebounded to "record levels".
The only first-half number making positive ground was the dividend, up 2%.
Divisions
TFW's divisions delivered very mixed performances.
Thorlux's revenue and profit dived 12% and 22% respectively. The subsidiary represents approximately 60% of the entire group.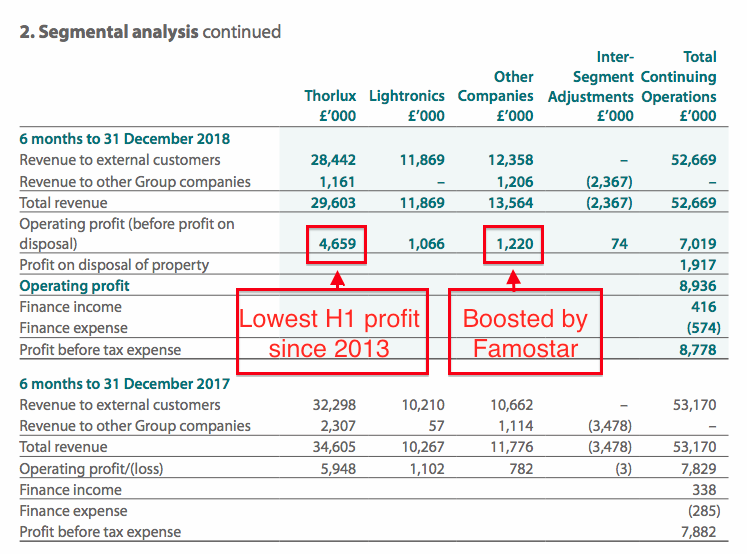 Thorlux's £4.7m profit was the division's lowest for six years.
Thorlux's 16.4% first-half operating margin was the division's thinnest for at least 10 years. Thorlux has typically converted 20%-plus of revenue into profit.
Progress at Lightronics was mixed. Revenue gained 16% but profit fell 3%. The Dutch subsidiary appears to be winning less-profitable orders — its margin was just 9%.
Attempts to sell Thorlux equipment through Lightronics have yet to really succeed.

TFW's seven smaller divisions delivered aggregate revenue down 18% but profit up 3%.
Enjoy my blog posts through an occasional email newsletter. Click here for details.
Financials
The downturn at Thorlux and the lower-margin Lightronics revenue left the wider group margin at just 13% — the lowest since at least 2007.
At least TFW's balance sheet remains super-impressive.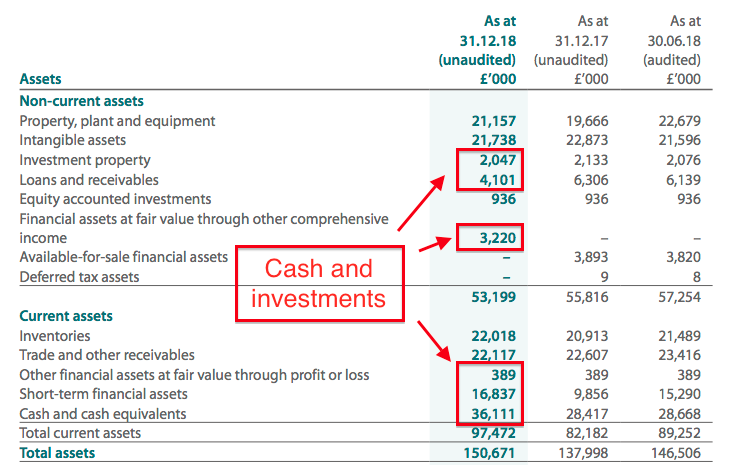 Cash in the bank has surpassed £50m for the first time to reach £53m.
Cash flow was assisted by a £3.8m property disposal and a £2m receipt from a loan note (point 17).
First-half expenditure on tangible and intangible items was covered by the depreciation and amortisation charged against earnings.
Working-capital movements released £2m, which supported total cash generation of £12m before dividends of £4.6m.
Balance-sheet assets also include a £2m investment property, a £3m share portfolio and £4m of loan notes.
TFW's major liabilities are acquisition-related earn-outs that total £11m.
Net cash and investments is therefore arguably £53m plus £9m less £11m = £51m, equivalent to 44p per share or 14% of the current market cap.
Management has never really explained why such a high level of cash is hoarded.
Acquisitions seem a likely reason. The purchase of Dutch firms Lightronics and Famostar have cost the group £13m to date.

Surplus cash could also reassure customers and suppliers that, during recessions, orders will still be completed and bills will still be paid.
Could another special dividend be declared?
Special payouts were distributed during 2014 (1.5p per share) and 2016 (2p per share), when my calculation of net cash and investments stood at £40m.
A £51m net cash/investment position is by no means the worst problem to face in the stock market.
TFW's defined benefit-pension scheme remains in surplus and current 'catch-up' contributions are only £160k a year.
Current trading and product developments
Supported by the aforementioned upturn at Thorlux, current trading conditions are "more buoyant than… previously predicted" and a "strong finish to the year" is now anticipated.
A new lighting range that will "reinvigorate the workplace" may soon derive extra sales.
This "radical" new range is called Flex System and "breaks from convention [by] taking the lighting outside of the ceiling tile, offering freedom and flexibility of scheme design."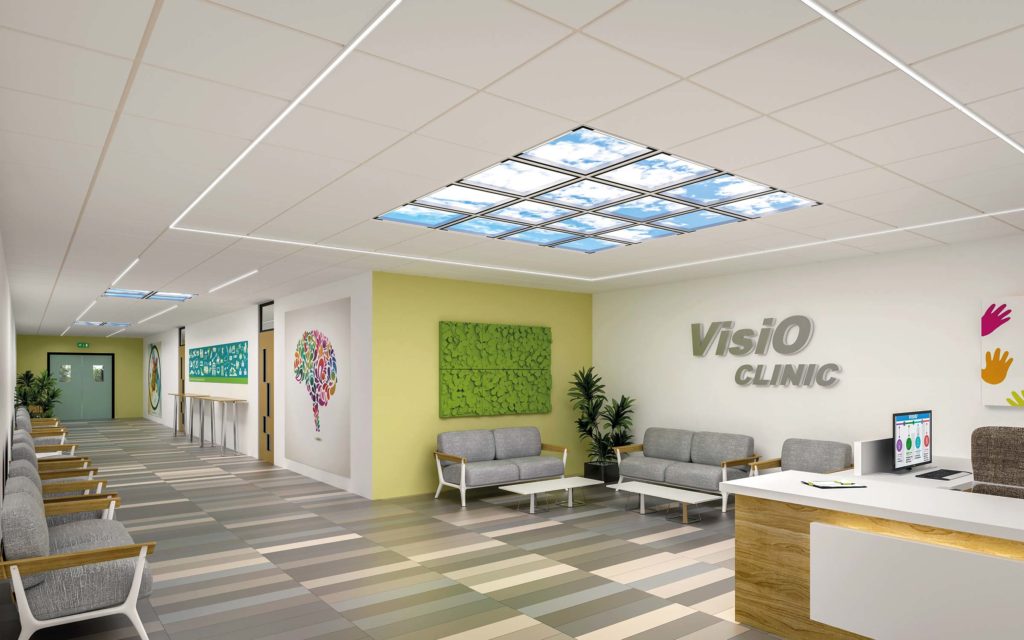 In addition, the system's "dual light engine… brings a touch of the outside inside with its illuminated picture window."
Meanwhile, orders for wireless lighting control systems "rocketed" last year (point 1) and I dare say may continue to do so this year.

Various other product innovations and factory upgrades are underway that may also support future progress.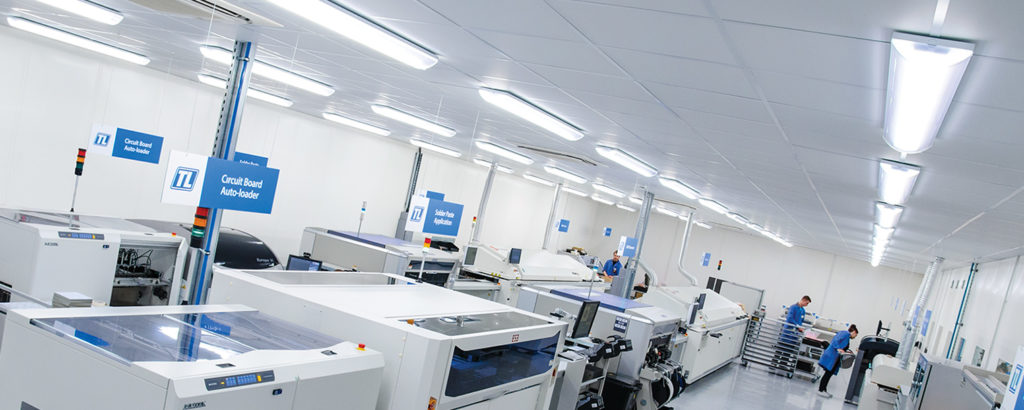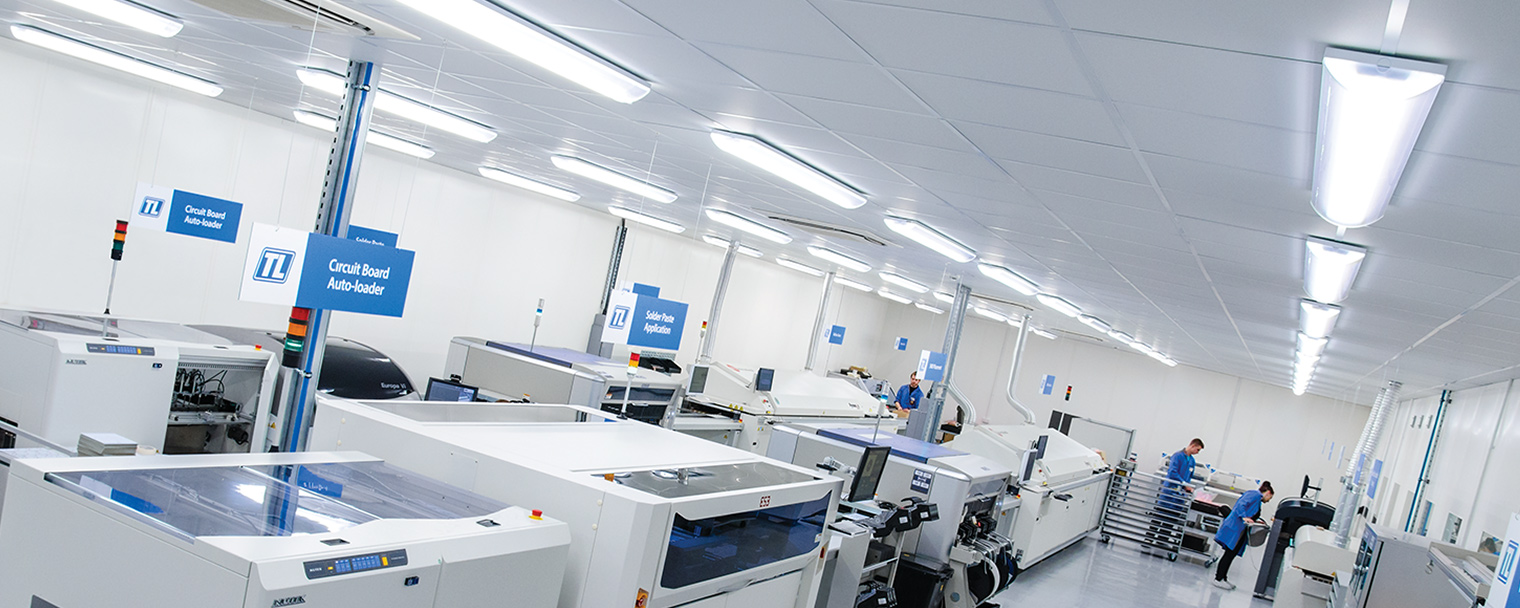 Valuation
TFW still reckons underlying operating profit for 2019 will not match that reported for 2018.
The trailing twelve-month operating profit is £18.4m. The 2018 operating profit was £19.2m.
Applying the 19% tax applied in these results to the trailing £18.4m operating profit gives earnings of £14.9m or 12.8p per share.
Subtract the 44p per share net cash position from the 320p share price, and the underlying P/E could be 21.
The 21x multiple appears optimistic given revenue and profit have come to a standstill.
Nonetheless, perhaps TFW will extend the "strong finish" of this year right through into 2020 — with earnings growth amplified as higher revenue leads to a margin rebound.
The 2% interim divided lift gives a trailing 5.43p per share payout and a meagre 1.7% income.
Assuming the final payout is not cut, the 2019 results will deliver TFW's 17th consecutive annual dividend increase.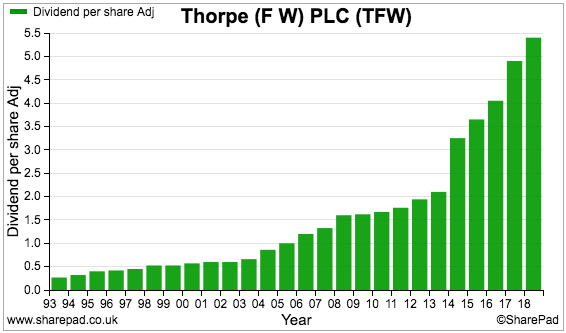 Maynard Paton
PS: You can receive my blog posts through an occasional email newsletter. Click here for details.
Disclosure: Maynard owns shares in FW Thorpe.