25 May 2018
By Maynard Paton
Today I am experimenting with a new Blog-post format that covers short-ish reviews of three different companies.
The shares involved this time are all small-caps:
* AIREA (AIEA): This flooring group recently received bid interest from quality operator James Halstead. Although the share price seems cheap and offers asset backing, there is no evidence yet of any long-term business qualities.
* Octagonal (OCT): High margins, attractive growth and net cash are among the attractions at this niche financial-services firm. However, management's 'connections' are not those you would associate with tip-top executives.
* Richoux (RIC): A bombed-out share price and Kaye family involvement bring me to this somewhat muddled restaurant group. Can the new boss lead a turnaround… and repeat the multi-bagger success he enjoyed at Prezzo?
Let's see if any of this trio are worthy of further investigation.
AIREA (AIEA)
Share price: 60p
Market cap: £25m
AIREA (AIEA) appeared on my radar following a recent (and now terminated) bid approach from James Halstead (JHD).
I have admired JHD for years, as this £860m vinyl flooring specialist meets just about every criteria set out in How I Invest.
In particular, the Halstead family has run the firm since its 1915 formation, continues to boast at least an 18%/£150m shareholding, and has rewarded shareholders with a rising dividend for each of the last 40 years. (JHD's shares have apparently gained 168,000% since 1977!)
AIEA in contrast has not performed so well. During the last ten years for example, this small flooring firm has witnessed revenue shrivel from £49m to approximately £24m while operating profit — before various exceptional items — has mostly bobbed around the £1m mark.
Attracting the attention of JHD (I presume) was AIEA's decision the other month to close its problem carpet division. The disposal leaves the group owning a "highly profitable commercial flooring business operated under the Burmatex brand".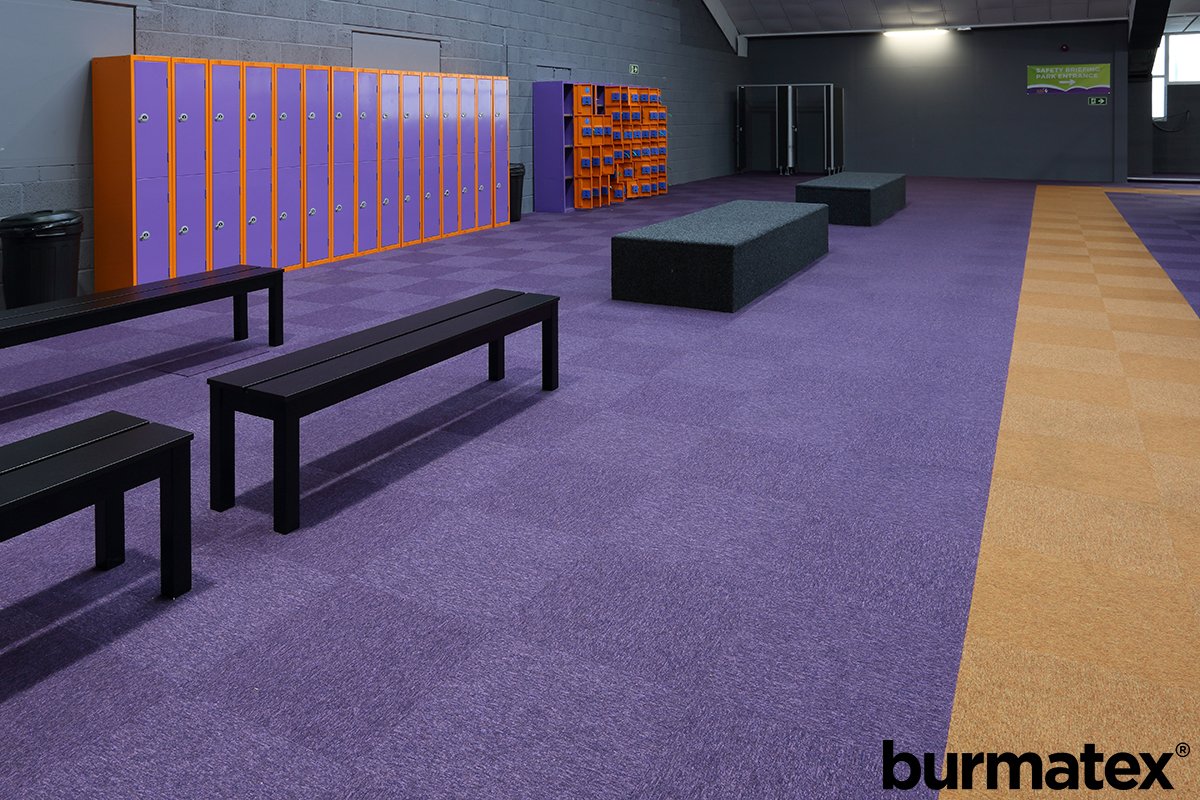 During the 18 months to December 2017, the remaining Burmatax division generated an underlying £4.3m operating profit from sales of £27m. The 16% margin suggests Burmatex is not a bad business, and pro-rata earnings of perhaps £2.3m compare well to AIEA's £25m market cap.
The balance sheet also carries cash of £3.7m, no debt and an investment property worth £3.2m. As such, the underlying business arguably trades on an 8x multiple.
Recent AGM scuttlebutt on Stockopedia was positive, as the executives now focus on expanding Burmatex.
So what are the downsides?
Well, Burmatex has demonstrated its 16% margin for only 18 months — there is no evidence of the division being a great performer beforehand.
In fact, the 2016 subsidiary accounts at Companies House show a much lower profit figure than the divisional equivalent within the 2017 group annual report (Stockopedia posts here and here carry the details.)
In addition, I am not sure about AIEA's pension scheme:

I always compare the benefits a scheme is paying to the value of its assets. On a twelve-month basis, benefits of £3.3m have to be delivered from assets of almost £52m — in other words, an annual 6.4% return is required to ensure the scheme's capital is not eroded.
My own study of pension schemes tells me that 6.4% is really at the top end of the 'required returns'. The larger FTSE 100 firms tend to require 2% returns given their contributions, and other companies generally require less than 4%.
From this initial review, I get the impression AIEA's scheme requires greater contributions — which, incidentally, currently run at £400k a year and are not charged to headline profits.
Management is another possible drawback. The present chief exec was appointed back in 2008 and has essentially taken ten long years to reshape the group into a more respectable operation. I would hope future progress is not as slow.
All told, I guess the main attraction here is the apparent lowly valuation. However, there is no real evidence (at least to date) that Burmatex or the chief exec can become long-term winners.
And one last point…
JHD's management spent up to seven weeks looking at AIEA — and had the financial resources, long-term perspective and cost-cutting abilities to justify a rich take-out price. And yet JHD's executives still walked away.
So I am left wondering whether AIEA can be good enough for me when the shares were not good enough for the proven sector experts.
Octagonal (OCT)
Share price: 2.8p
Market cap: £16m
A hunt for cash-rich, lowly rated shares on SharePad directed me to Octagonal (OCT):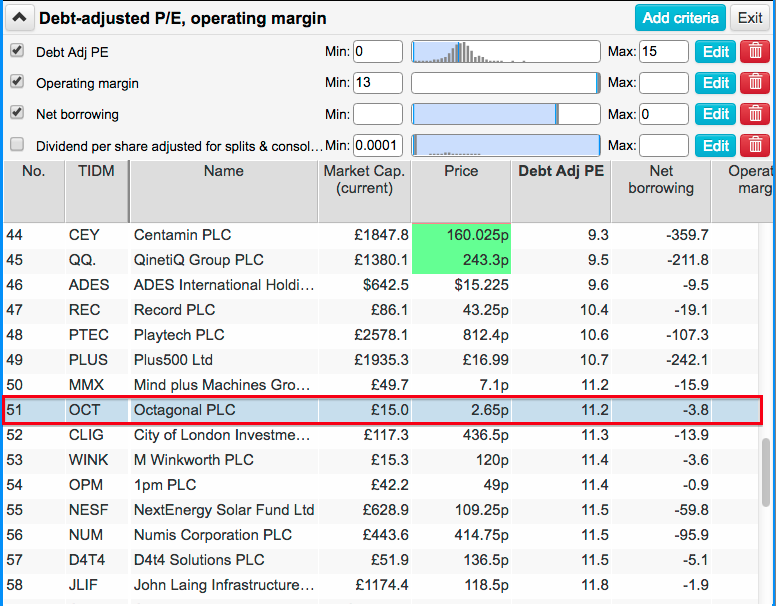 OCT provides a range of stockbroking settlement and custody services to institutional investors, family offices and high net worth clients. The business was formed during 2002 and joined the market through a reverse takeover three years ago.
OCT's admission document indicates the business only really got going in 2013, when revenue suddenly jumped by £1m to £1.4m. Since then, progress has been positive, with the 2017 annual results showing revenue up 33% to £5.6m and operating profit up 144% to £1.9m.
A trading statement in April then said the forthcoming 2018 figures for the main subsidiary would show sales up 16% and EBITDA up 39%.
OCT's books seem fine to me. The operating margin at the core business tops 40%, the cash position now surpasses £5m and there are no borrowings and no pension complications.
April's announcement also suggested the group's 71% stake in a fledgling bond platform could be worth £6m. However, this operation appears to be incurring annual start-up costs of £1m.
So… OCT's £16m market cap does look very reasonable given current earnings could be approximately £2m — and that is before considering the cash pile and the bond-platform valuation.
OCT's board has attractions, too — the chief exec is the group's founder and retains a 53% shareholding. He his not underpaid, though, having collecting fees and "other emoluments" totalling £294k during 2017.
Where the OCT story starts to falter is with the management's other activities. OCT's lead executives also run Inspirit Energy (INSP).
From OCT's admission document: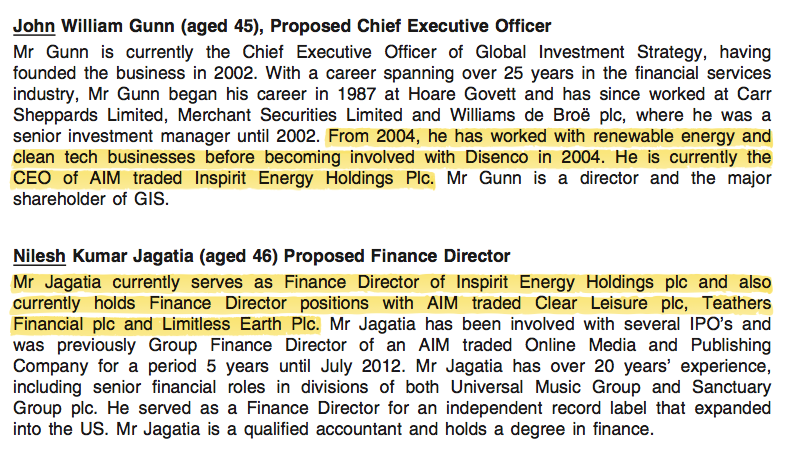 INSP is a developer of 'micro boilers' — which sadly have yet to reach commercialisation.
A quick check of INSP's history shows no revenue, persistent operating losses and regular share issues to raise extra cash since its 2013 listing.
OCT's chief exec has regularly supplied INSP with new funds, and OCT has invested at least £50k since gaining a quote.
INSP's market cap is now less than £1m.
I have to confess, the board's involvement with INSP does leave me uneasy. At best it's a distraction from what really ought to be management's real focus — continuing the success of OCT.
The INSP involvement necessitates a quick search about Octagonal's executives, which leads me to this article from blogger Tom Winnifrith…
…which then leads me to this article about OCT's finance director.
Oh dear.
OCT's admission document does indicate a 'colourful' AIM company director having had some connection with the group, and further digging about OCT's finance director reveals a connection to another 'colourful' AIM executive.
All told, it seems to me OCT's board is not unfamiliar with the murkier depths of the junior market… a quality I can't say I recognise from AIM bosses that really have delivered for outside shareholders.
The board set-up is a shame really, as OCT did appear worthy of deeper investigation. But management is all-important at smaller companies and I have my doubts here.
Richoux (RIC)
Share price: 10p
Market cap: £12m
My investment in restaurant group Tasty (TAST) has persuaded me to double-check fellow dining chain Richoux (RIC).
I guess the obvious question is why look at RIC when I have already suffered plenty of grief with TAST?
Well, my last portfolio update explained why I remained in TAST:
"I must confess, Tasty is not my typical investment.

Restaurant chains tend not to offer outstanding business qualities, and the gloomy news emerging from the sector has hardly helped. For me, the investing premise has always centred on the Kaye family management — which has built and sold two multi-bagger restaurant chains for £200m-plus within the last 20 years."
RIC also boasts Kaye family management. And it, too, has a bombed-out share price that could one day lead to healthy returns… should a turnaround ever emerge.
I have to admit, RIC's brands are a mixed bag. The group operates 17 units, which include a handful of eponymous smart cafes in London, a handful of Friendly Phil's burger bars and a handful of Villagio Italian restaurants.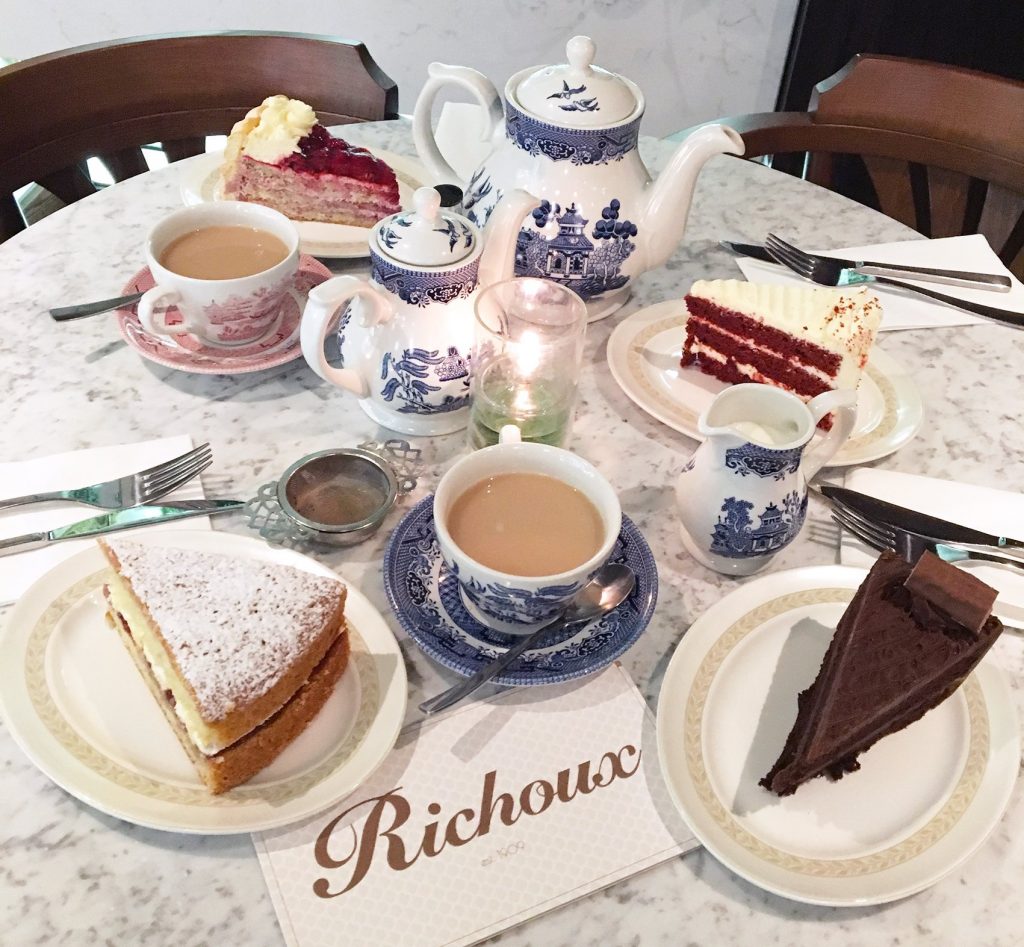 The quoted history is not great either. It has taken ten years for sales to advance from £6m to £13m, which does seem slow for what was billed originally as a 'roll-out' operator.
RIC recorded a profit between 2012 and 2015, but has since reported losses following difficult trading, site refurbishments and operational re-jigs.
The main attraction here is chief executive Jonathan Kaye. Mr Kaye was appointed during 2016 and the RIC website offers the following bio:
"Jonathan was the founder and Chief Executive Officer of the Prezzo restaurant group. Prezzo was floated on AIM in 2002, with a market cap of £9.1 million. Jonathan grew Prezzo over a 13 year period to over 245 restaurants operating under the Prezzo (207 units) and Chimichanga (39 units) brands. Prezzo was sold in 2015 for £304 million to TPG Capital. Jonathan has a range of other business interests in property and leisure companies, and serves as a non-executive on the board of the Comptoir Libanais restaurant group."
The hope is Mr Kaye can turn RIC's £12m market cap into something like the £304m he achieved for Prezzo.
RIC's latest (first-half) figures showed net cash of £4m following an equity placing last year. However, the same figures also revealed a sizeable £1m-plus operating loss. I dare say current sector conditions have led to further losses and a shrinking cash position.
One interesting feature of Mr Kaye's appointment is his incentive scheme.
He will collect 15 million shares — equivalent to 12% of the current share count — if the share mid-price ever trades at 40p or more for ten days. Mr Kaye will receive a further 8 million shares — or 6% of the current share count — if the mid-price hits 55p.
The price to buy now is 10p.
Note that the Kaye family — Jonathan, his uncle Philip and his cousins Adam and Sam — already own 29% of RIC. Two non-executives own a further 37%, while a mysterious offshore fund owns another 17%. They all subscribed to the aforementioned equity placing… at 16p.
Of course, RIC may not be a Kaye success — I mean, that theory has not really worked out at TAST. But it is difficult to ignore the combination of a proven chief exec and a very depressed share price.
RIC's 2017 results are due any day (EDIT: the results were published 29 May) and I will study them with interest. Plus, I may have to venture out to one of the group's sites — I live within a few miles of four of them.
That is it for now. I hope you found these initial reviews useful.
Until next time, I wish you happy and profitable investing.
Maynard Paton
PS: You can now receive my Blog posts through an occasional e-mail newsletter. Click here for details.
Disclosure: Maynard owns shares in Tasty.