10 March 2016
By Maynard Paton
Quick update on Mincon (MCON).
Event: Preliminary results for the year to December 2015 published 9 March
Summary: A satisfactory set of results from this specialist drill manufacturer. Sadly the bumper Q3 reported in November was followed by a more subdued Q4, so I've had to trim my valuation estimates a little. Nonetheless, the shares do not appear outlandishly valued and I'm hopeful the stronger second-half bodes well for 2016. The books are still cash rich and management has started to improve cash flow, although the dividend remains at a standstill. I continue to hold.
Price: 55p
Shares in issue: 210,541,102
Market capitalisation: £116m
Click here for my previous MCON posts.
Results: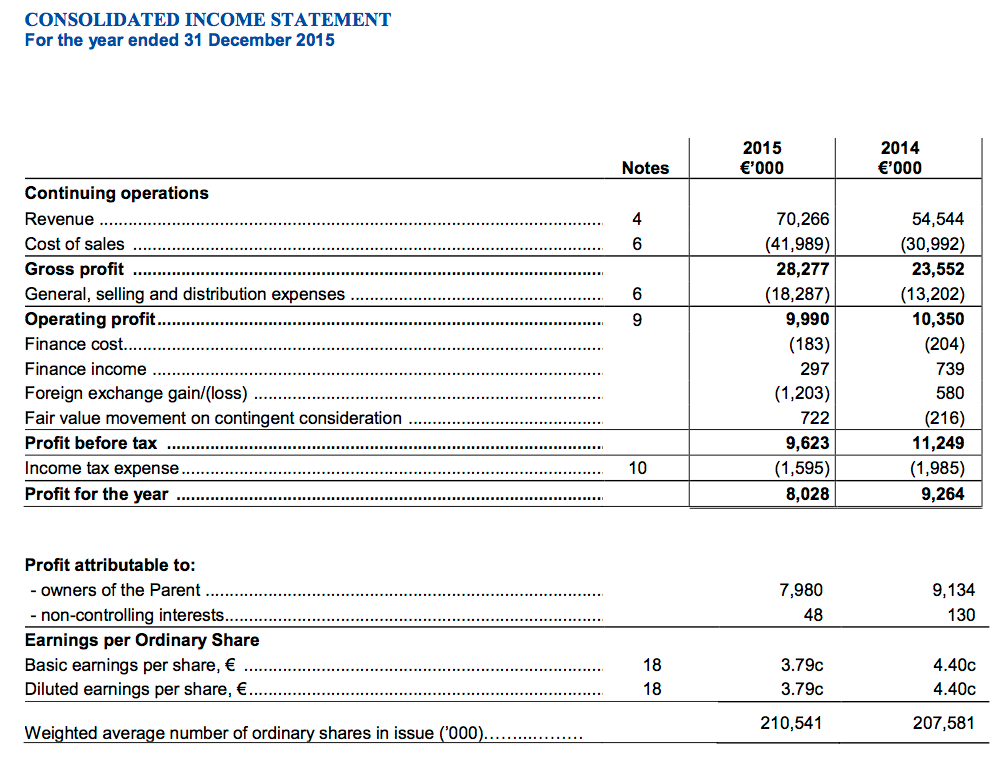 My thoughts:
* Satisfactory results, with additional accounting notes, too! 
I was satisfied with these results, and pleased MCON included a comprehensive set of accounting notes within the statement. (I do wish more companies would include the additional notes in their results RNSs, rather than leave them just for the annual report!)
Total revenue improved 29%, with MCON's own drills and bits enjoying an underlying €3.3m (or 8%) revenue improvement for the full year. That rate of advance seemed very respectable to me, given 60% or so of the top line is currently sold to the battered mining industry.
Also helping revenue were additional sales of third-party products, several small acquisitions and favourable currency movements.
However, 2015 operating profit did drop 3% to €10m due mainly to additional costs associated with the recent acquisitions. Four new subsidiaries purchased during 2015 contributed a €0.1m loss for the year (read more on these acquisitions in the Comment section below).
It's worth recalling that August's interim results had cited one-off costs of €380k, and this full-year statement additionally referred to "termination payments" of €166k. So perhaps MCON's 'underlying' profit for the year may have been €0.5m or so higher than what was reported.
Operating margin for the full year was 14%, which I admit is someway off the levels achieved a few years ago.
Nonetheless, that 14% margin does not look too bad in a report that (once again) cited "pricing pressure", "difficult environment" and "challenges faced by certain markets".
I still like to think that MCON's manufactured drills and bits are of high quality, and that customers remain happy paying a premium for the extra product efficiency and durability.
* Q4 looked a little subdued to me 
After November's upbeat third-quarter performance, I was not too surprised to see these results confirm a stronger second-half:
| | | | | | | | |
| --- | --- | --- | --- | --- | --- | --- | --- |
| | H1 2014 | H2 2014 | FY 2014 | | H1 2015 | H2 2015 | FY 2015 |
| Revenue (€k) | 23,412 | 31,132 | 54,544 | | 32,740 | 37,526 | 70,266 |
| Operating profit (€k) | 5,157 | 5,193 | 10,350 | | 4,507 | 5,483 | 9,990 |
However, MCON's Q4 did appear a little subdued. Piecing together snippets from previous updates and results, here is my best guess of MCON's quarterly performances:
| | | | | |
| --- | --- | --- | --- | --- |
| | Q1 2015 | Q2 2015 | Q3 2015 | Q4 2015 |
| Revenue (€k) | 14,112 | 18,628 | 19,300 | 18,226 |
| | | | | |
| Gross margin | 38% | 43% | 42% | 37% |
| Gross profit (€k) | 5,405 | 8,066 | 8,106 | 6,700 |
| | | | | |
| Operating margin (%) | - | - | 18% | 11% |
| Operating profit (€k) | - | - | 3,474 | 2,009 |
| | | | | |
| Pre-tax margin (%) | 12% | 15% | 15% | 12% |
| Pre-tax profit (€k) | 1,693 | 2,794 | 2.895 | 2,240 |
Perhaps I should not read too much into MCON's progress every three months — clearly the bumper Q3 has helped counterbalance the weaker Q4.
Anyway, the lower gross profit recorded during the final three months of the year suggests that Q4 was dominated by sales of third-party products.
That theory is supported by the cost of low-margin third-party products purchased during H2 being 41% higher than that purchased during H1 (€8.1m vs €5.7m).
* Better cash flow and working capital, but the dividend was held
I'm pleased MCON has improved its cash flow.
I mentioned in August how the group's H1 witnessed €5.3m being diverted into working capital — a substantial amount when the reported operating profit was €4.5m.
However, these full-year figures showed working capital absorbing €2.8m — indicating H2 witnessed an a €2.5m cash reversal from stocks, debtors and creditors: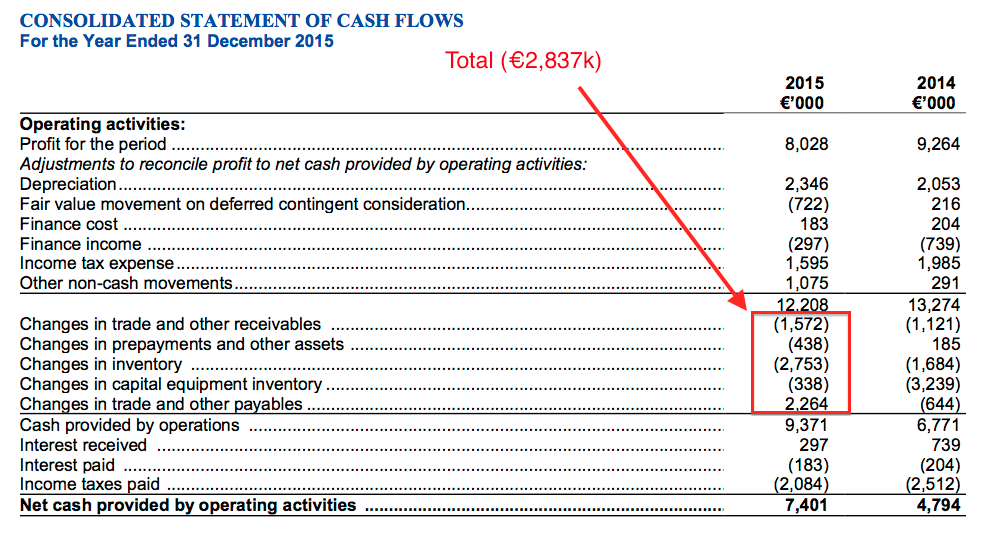 I was also glad cash capital expenditure was covered by the depreciation charge, and I am particularly encouraged that MCON's management is now aiming to "generate consistent free cash flow from operations equal to operating profit":

It's worth noting that MCON continues to carry an enormous amount of stock. Year-end inventory came to €32m, which represents a mighty 76% of the cost of goods sold during the year: 

MCON's stock-turn therefore comes to nine months!
At least MCON's stock level fell (albeit by only €1m) during H2. I'm also pleased MCON's outstanding trade debtors fell by €2m to €13m during H2, and that overdue invoices appear to be well within historical levels: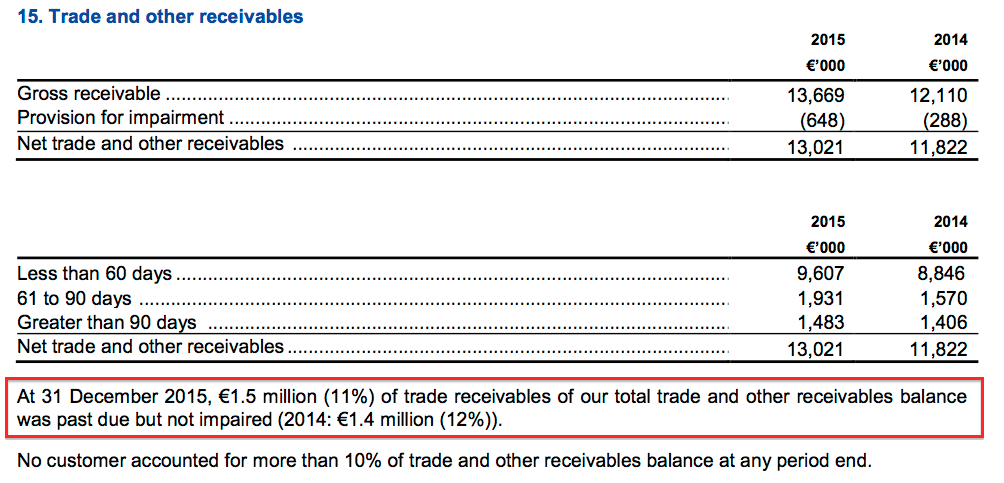 Sadly the improved cash flow was not enough to lift the dividend. As I suspected from reading the 2014 annual report, the full-year payout was held at €0.02 per share.
Valuation
My previous valuation sums had assumed Q4 could replicate Q3, which was a tad optimistic in hindsight.
So taking 2015 as a whole, and adding back €0.5m of 'one-off' costs, then I am  looking at an £8.1m operating profit after conversion at £1:€1.30.
Taxed at the 17% seen during last year, I then arrive at earnings of €6.7m or roughly 3.2p per share.
Adjusting the present £116m market cap for the €38.6m net cash position as well as deferred acquisition payments of €6.4m, my estimate of MCON's enterprise value comes to £90m or 43p per share.
Then dividing that 43p by my 3.2p EPS guess gives a multiple of 13-14 at the present 55p offer price.
Alternatively, doubling up the stronger H2 would give me earnings of 3.3p per share and a cash-adjusted P/E of close to 13.
Maynard Paton
Disclosure: Maynard owns shares in Mincon.