23 March 2021
By Maynard Paton
Results summary for FW Thorpe (TFW):
"Resilient" figures that showed both profit and dividend up 2% despite the pandemic, Brexit and a factory fire.
Management's previously gloomy tone has improved and the second half is now expected to witness a "steady" performance.
Expectations seem pinned on TFW's Dutch divisions, where profit gained a remarkable 15% and progress generally within the group has been positive.
The cash hoard improved further to a record £65m, but the group margin still languishes below the healthy 18%-plus level of the past.
A P/E of 22-29 feels generous, although might reflect TFW's operational reliability, opportunities for market-share gains and/or potential growth beyond lighting systems. I continue to hold.
Contents
Event link, share data and disclosure
Event: Interim results for the six months to 31 December 2020 published 18 March 2021

Price: 328p
Shares in issue: 116,551,808
Market capitalisation: £382m
Disclosure: Maynard owns shares in FW Thorpe. This blog post contains SharePad affiliate links.
Why I own TFW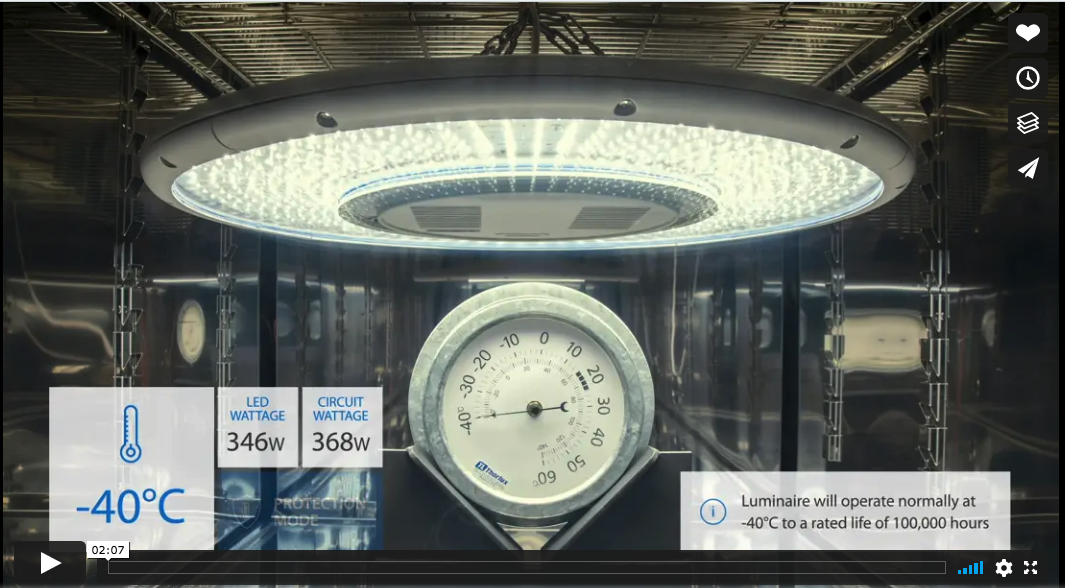 Manufactures commercial lighting systems with a long-established reputation for high product quality, leading technical innovation and first-class customer service.
Board led by a veteran executive and assisted by family non-execs who steward a 50%-plus/£191m-plus shareholding.
Conservative accounts showcase enormous cash reserves, consistent working-capital management and illustrious dividend.
Further reading: My TFW Buy report | All my TFW posts | TFW website
Results summary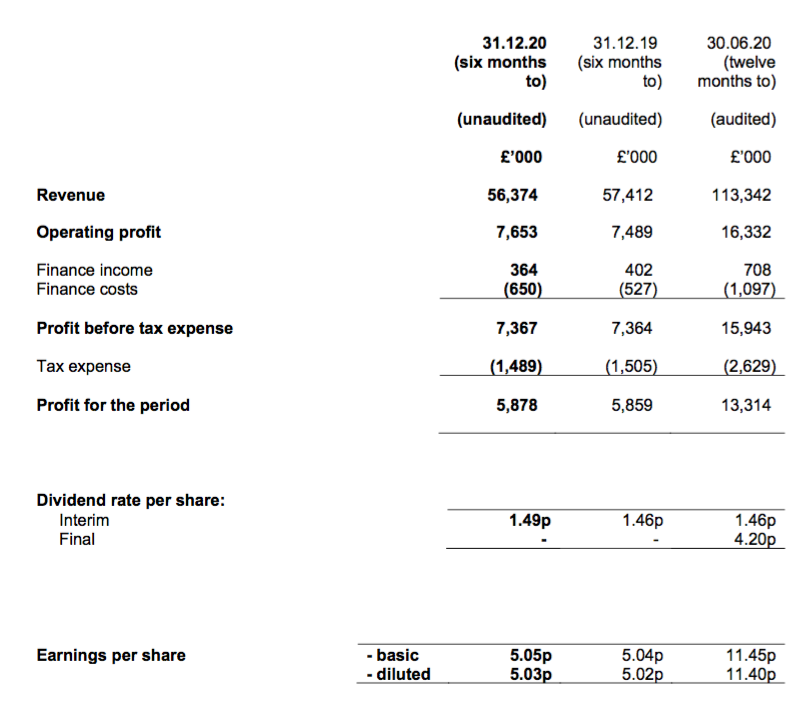 Revenue, profit and dividend
This H1 performance was very acceptable given the pandemic disruption.
The statement's highlight was the management outlook, which has improved notably since the preceding FY 2020 update.
September's annual results had carried this gloomy warning:
"It seems inevitable, however, that there will be a global recession, and that the UK, against a backdrop of Brexit uncertainly and the intense lockdown enforced by the Government, could be affected worse than many countries.

It is difficult to predict anything other than a downturn in orders at the end of the 2020 calendar year."
"We plan for the future carefully, but at this present time we remain cautious about the Group's second-half performance."
The chairman then turned optimistic for this H1:
"Supported by the Group's healthy order book, I foresee a steady second-half performance better than expected at the start of the pandemic."
During this H1, revenue fell 2% while profit gained 2% — a performance TFW described as "resilient". (The comparable half-year was not influenced by the pandemic.)
Non-Covid disruptions to this H1 included Brexit "presenting some barriers to export sales" and a fire at the primary manufacturing facility within the Netherlands.
| | | | | | | | |
| --- | --- | --- | --- | --- | --- | --- | --- |
| Group | H1 2019 | H2 2019 | | H1 2020 | H2 2020 | | H1 2021 |
| Revenue (£k) | 52,669 | 57,974 | | 57,412 | 55,930 | | 56,374 |
| Operating profit (£k) | 7,019 | 10,630 | | 7,489 | 8,843 | | 7,653 |
The H1 dividend was raised 2% to match the rate of payout uplifts witnessed during the last two years.
The dividend lift should extend TFW's run of consecutive annual payout improvements to 19 years:
Enjoy my blog posts through an occasional email newsletter. Click here for details.
Thorlux
TFW's largest division — Thorlux — represents approximately 60% of the group and manufactures a range of commercial lighting equipment: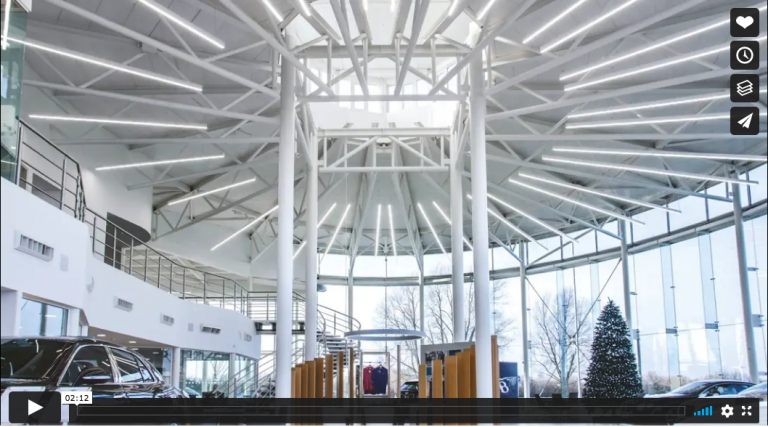 Thorlux reported revenue up 3% and profit up 2% for this H1 to underpin the wider company performance:
| | | | | | | | |
| --- | --- | --- | --- | --- | --- | --- | --- |
| Thorlux | H1 2019 | H2 2019 | | H1 2020 | H2 2020 | | H1 2021 |
| Revenue (£k) | 28,442 | 33,862 | | 32,363 | 33,252 | | 33,470 |
| Operating profit (£k) | 4,659 | 6,919 | | 4,839 | 5,311 | | 4,918 |
TFW did not provide any narrative to Thorlux's H1 performance.
But the 2020 annual report (point 6) did reveal the division last year enjoyed:

Good trading within healthcare and rail markets;
Improved overseas sales, particularly in Germany and Ireland, and;
The appointment of a new managing director.
Of course these benefits must have been offset by various weaknesses to have left Thorlux's revenue up just 3% during this H1.
TFW also said Thorlux's performance had been supported by "some large project orders". Such large orders could mean Thorlux's sales have become 'lumpy' and perhaps more unpredictable.
Netherlands and Other
TFW's Dutch businesses — Lightronics and Famostar — represent approximately a quarter of the group, while a handful of 'Other' UK operations represent approximately an eighth.
These non-Thorlux subsidiaries collectively produced a mixed performance, with revenue down 9% but profit up 3%:
| | | | | | | | |
| --- | --- | --- | --- | --- | --- | --- | --- |
| Non-Thorlux | H1 2019 | H2 2019 | | H1 2020 | H2 2020 | | H1 2021 |
| Revenue (£k) | 24,227 | 24,112 | | 25,049 | 22,678 | | 22,904 |
| Operating profit (£k) | 2,360 | 3,711 | | 2,650 | 3,532 | | 2,735 |
The best performer appeared to be Famostar, given Dutch profit improved 15%…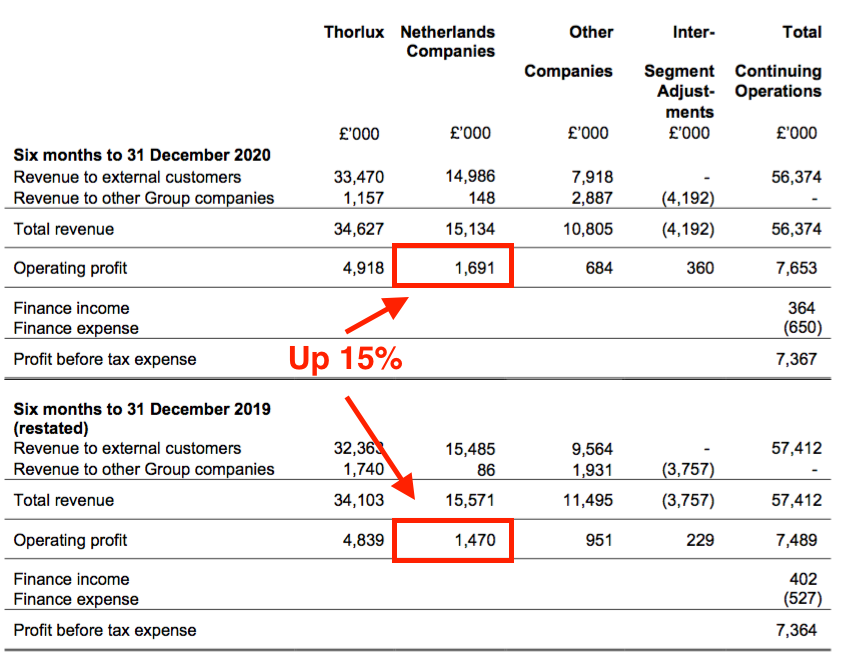 …and the aforementioned fire halted manufacturing at Lightronics for a few weeks.
TFW did not explain why Famostar's emergency exit lighting (apparently) remained so popular during the six months.
I am surprised a Dutch managing director has not been appointed to the main board (point 14):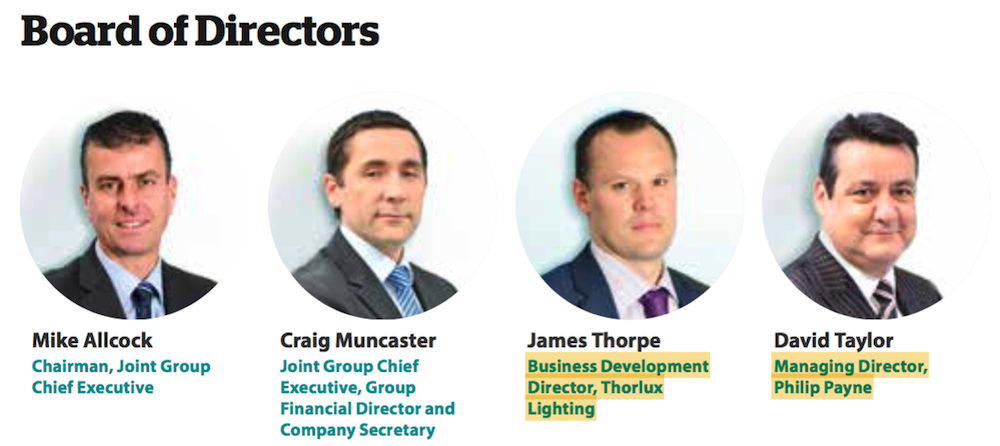 The main board presently includes the managing director of the Philip Payne subsidiary, which has revenue of less than £3m. Dutch sales by comparison run at £31m.
A Dutch board appointment might be able to assist Thorlux's sales within the Netherlands, which remain very low (point 9).
The Dutch businesses seem to have flourished within TFW.
Prior to TFW taking ownership:
Since then, with GBP:EUR at the average 1.125 seen during 2020:

Total Dutch revenue has climbed from €22m to €35m, and;
Total Dutch profit has climbed from €1.6m to €4.6m.
TFW's Other divisions predictably suffered a difficult H1, with their aggregate profit diving 28% to less than £700k.
The Other performance was no doubt influenced by the Portland subsidiary, which manufactures lights for shops and pubs.
The 2020 annual report (point 7) admitted Portland had lost money during the initial lockdown and had been "in steady decline for a number of years".
Quality UK investment discussion at Quidisq. Visit forum.
Financials
TFW has submitted a £3.9m insurance claim following the Lightronics fire: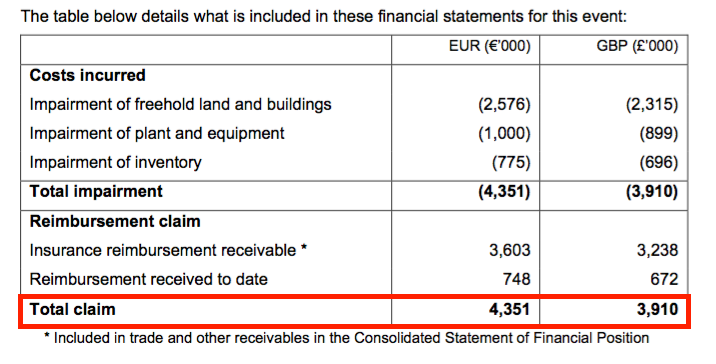 The cash flow statement contained entries relating to the incident: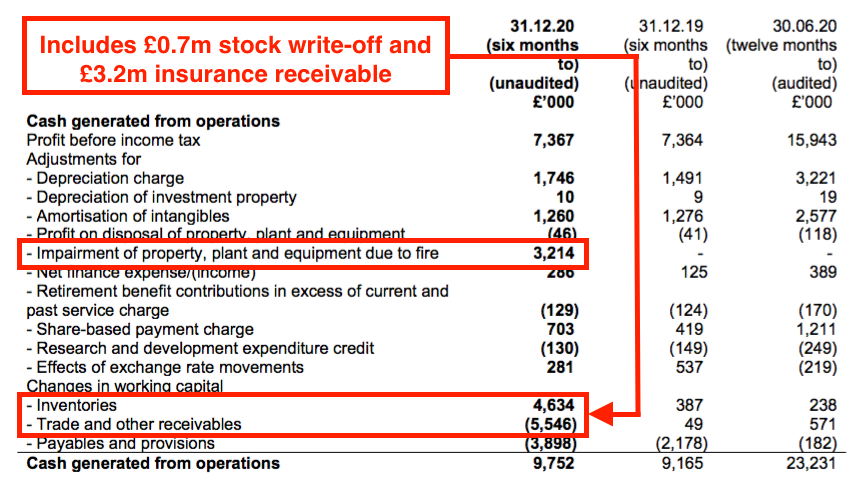 Assets with a £3.9m book value were written off, while the creation of a £3.2m "reimbursement receivable" explains the receivables cash movement.
Assuming the insurer pays the full £3.9m claim, the net effect on earnings from the fire ought to be zero — although earnings will not be compensated from the 'consequential loss' to Lightronics' sales.
TFW's cash-flush balance sheet allowed the group to handle the fire without any knock-on financial implications: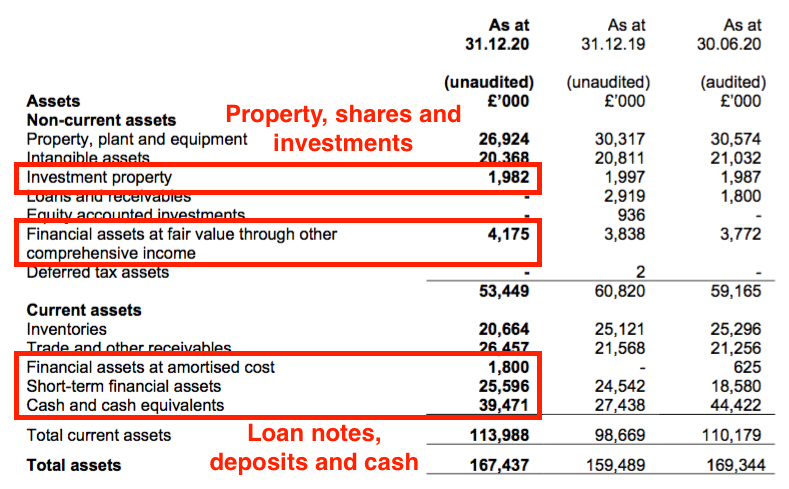 Cash and term deposits ended the half at a record £65m. Other assets include investment property of £2m, loan notes of close to £2m plus an equity portfolio and associate investment of more than £4m.
Conventional debt remains at zero.
Free cash flow of £5.9m plus £1.3m from loan-note/option proceeds funded the £4.9m FY 2020 final dividend and left £2.1m to be added to the cash reserve after currency movements.
Note the 2020 annual report (point 34) reveals almost £16m is earmarked as deferred considerations for the former owners of Lightronics and Famostar: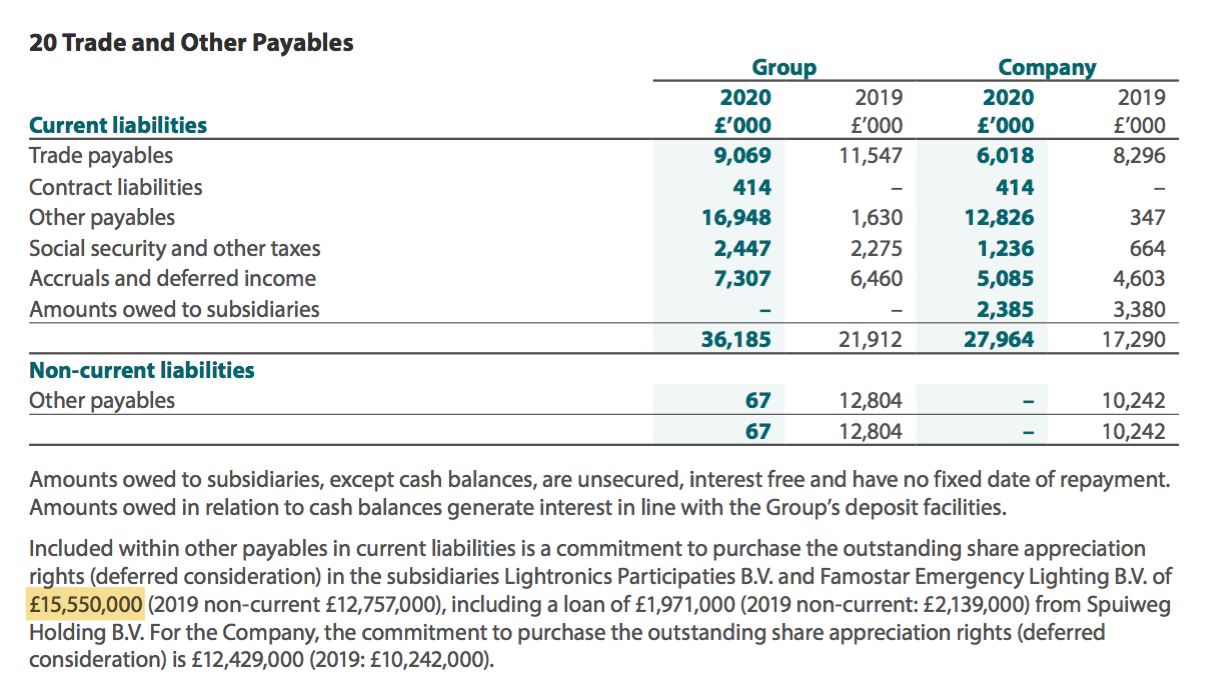 These deferred considerations are due to be paid on or before 30 June 2021.
Cash plus the various investments less the deferred considerations come to £57m or 49p per share.
TFW's healthy asset position must have reassured customers and suppliers that, during the pandemic, orders would still be delivered, servicing would still be completed and bills would still be paid.
Perhaps that is why TFW could refer to a "strong order performance" for this H1 and claim a "better than expected" start to the second half.
The £57m net cash and investments are equivalent to more than

four

times trailing reported earnings and nearly

nine

times the trailing dividend.
The 2020 annual report (point 2) stated "customers come to us for peace of mind". Maybe the cash hoard is to give shareholders similar "peace of mind".
Stock levels at £20.7m were the lowest since FY 2016: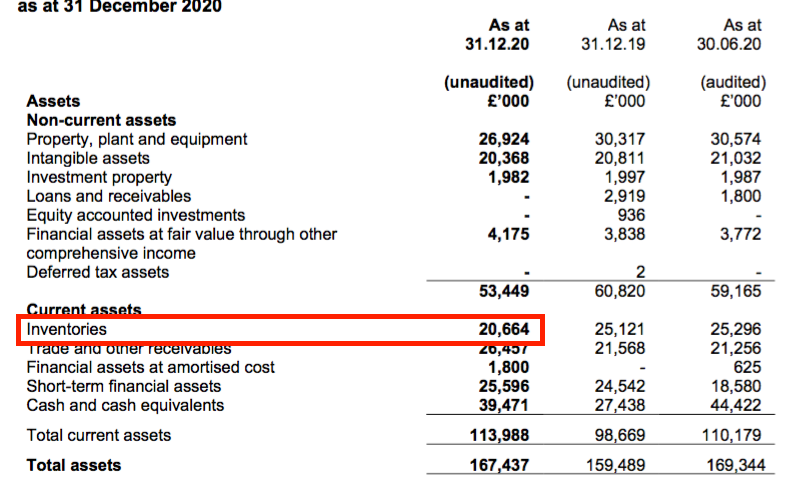 TFW typically carries stock worth approximately 20% of revenue, but this H1 finished with stock at 18% of revenue — the lowest proportion for at least ten years.
Whether the reduced stock position reflects a timing issue, greater operational efficiency or something else was not explained.
TFW's stock, trade debtors and trade creditors as percentages of revenue have been remarkably consistent over time:
TFW's operating margin remains reasonable but some way below the levels of yesteryear.
The group margin for this H1 was 14%, with Thorlux at 15%, the Netherlands at 11% and Other at 9%.
The group margin during FY 2018 was 18% with Thorlux that year at 21%:
TFW has in the past cited larger projects for the lower margin. Other explanations (aside from the pandemic and Brexit) may include:
Which is best for stock-screening: Stockopedia or SharePad? See my verdict.
Valuation
TFW's positive outlook could mean the upcoming H2 2021 performance exceeds the comparable H2 2020 performance.
H2 2020 covered January to June 2020 and therefore included the initial lockdown period from March 2020.
Assuming a repeat of the pandemic-affected H2 2020 for H2 2021 gives a £16.5m operating profit for FY 2021.
But a repeat of the pandemic-free H2 2019 for H2 2021 would instead give an £18.3m operating profit for FY 2021.
Those projections translate into earnings of 11.5p and 12.7p per share after standard 19% UK tax.
Subtract the 49p per share net cash and investments from the 328p share price, and the underlying P/E might be 22 or 24.
The P/Es then rise to 26 and 29 if the cash and investments are in fact essential to the business and not really 'surplus to requirements'.
The 22-29x rating appears generous given TFW's modest progress during recent years.
Mind you, investors may be willing to apply a premium multiple because of TFW's:

Operational resilience displayed during the pandemic;
Potential to capture market share as competitors "struggle to recover as economies restart" (point 1), and/or;
Opportunities beyond lighting systems through the fast-growing SmartScan product.
The 5.69p per share trailing dividend meanwhile provides a modest 1.7% income.
Maynard Paton
PS: You can receive my blog posts through an occasional email newsletter. Click here for details.