06 September 2017
By Maynard Paton
Quick update on Mincon (MCON).
Event: Interim results for the six months ending 30 June 2017 published 17 August 2017
Summary: A very welcome set of results, which I calculate included the drill specialist's best-ever quarter as a quoted company. Revenue and profit enjoyed significant advances, and it appears the group's mining customers are now happy to place greater orders following the sector downturn of the last few years. Also pleasing was the improvement to cash flow and the possibility of certain new projects providing further "meaningful" growth. I continue to hold.

Price: 97.5p
Shares in issue: 210,541,102
Market capitalisation: £205m
Click here for all my previous MCON posts
Results: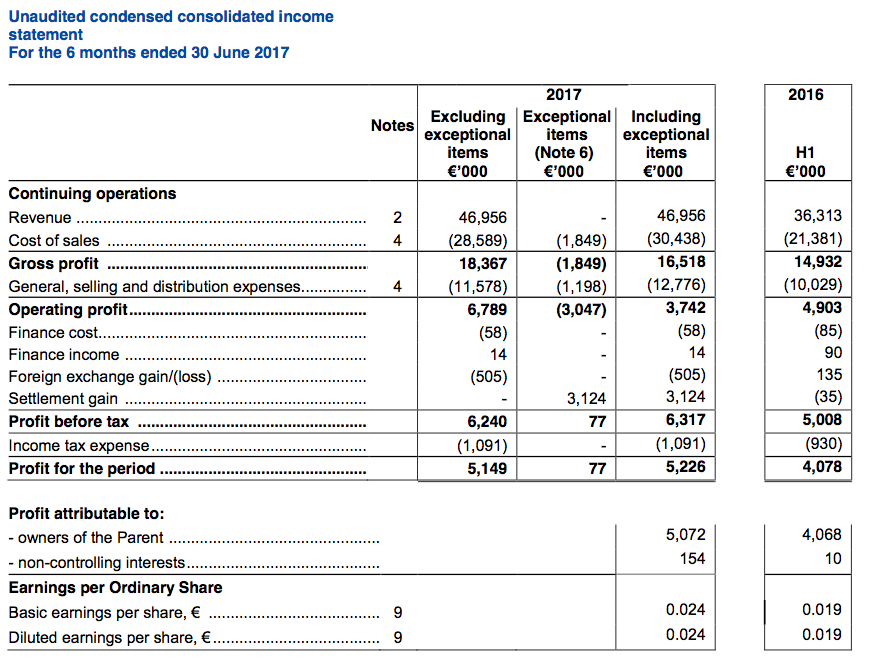 My thoughts:
* Very respectable results with bumper Q2 revenue better than I had expected 
I was very satisfied with MCON's interim statement.
The figures showed impressive advances to revenue and profit, and I am hopeful the business can now sustain its much improved trading following a few years of more subdued progress.
Upbeat management comments within March's annual results and a buoyant Q1 update during April had already signalled this first-half statement would be positive.
In the event, the half-year figures revealed revenue up 29% and I was encouraged growth came from "across all revenue categories". Adjusted for currency movements, revenue advanced 23%.
MCON confirmed the top-line progress was almost entirely organic and also claimed the mining sector — to which the group sells most of its drills and bits — "continues to improve".
The revenue improvement led to pre-exceptional operating profit gaining 38%.
I calculate MCON's second quarter was its best ever as a public company, and Q2 revenue of €25.6m was better than I had expected after reading the Q1 update:
| | | | | |
| --- | --- | --- | --- | --- |
| | Q1 2017 | Q2 2017 | Q3 2017 | Q4 2017 |
| Revenue (€k) | 21,368 | 25,588 | - | - |
| Gross profit (€k) | 7,906 | 10,461 | - | - |
| Pre-tax profit (€k) | 2,137 | 4,103 | - | - |
| | | | | |
| --- | --- | --- | --- | --- |
| | Q1 2016 | Q2 2016 | Q3 2016 | Q4 2016 |
| Revenue (€k) | 15,947 | 20,366 | 19,370 | 20,498 |
| Gross profit (€k) | 6,379 | 8,553 | 7,942 | 7,687 |
| Pre-tax profit (€k) | 1,563 | 3,445 | 3,680 | 2,645 |
* "A more normal expectation of recovering our cost increases"
Despite the impressive revenue advance, MCON's margin did not increase and therefore should offer room for improvement.
The pre-exceptional H1 operating margin of 14% matched last year's first-half performance and, as I mentioned in my annual results write-up, is not that spectacular for a business that claims its "highest design specifications" and "best manufacturing methods" make it "the driller's choice worldwide".
Indeed, you may recall MCON's operating margin was 20%-plus during the boom years of 2011, 2012 and 2013.
That said, there are signs that MCON's margin may be about to recover.
The interim statement contained this snippet (my bold):
"We continue to manufacture 76% of what we sell, which gives us deeper control on engineering, on quality control and on margins. After years of retrenchment on pricing we have begun to see a more normal expectation of recovering our cost increases in the markets, though we do not look for leadership in this area. Our approach has been to deliver better engineered products and our market positions, and to some degree pricing, reflects this."
I liked this sentence about return on capital, too:
"We continue to seek to improve the margins down to the profit after tax level in order to drive the earnings per share and the return on capital employed."
However, bear in mind that MCON continues to direct some research costs straight to the balance sheet:
"We capitalised some €627,000 of development research and development on this [new product category] project in the first half, as we flagged at the year end, and delivered the required sizes of hammers on time and on budget."
Intangible development costs now total €1,126k on the balance sheet, all of which will at some point have to be amortised through the income statement. At present, there is no amortisation charge and the current operating margin is therefore flattered a little.
* Working capital improvements and "heightened" orders following greater capital expenditure 
MCON's H1 cash generation was somewhat better than that witnessed during H1 2016.
Last year, barely any free cash was produced after a sizeable €4,610k was absorbed into working capital. However, this H1 saw only €1,629k required for additional working-capital purposes, which left a useful €4,621k available for capital expenditure: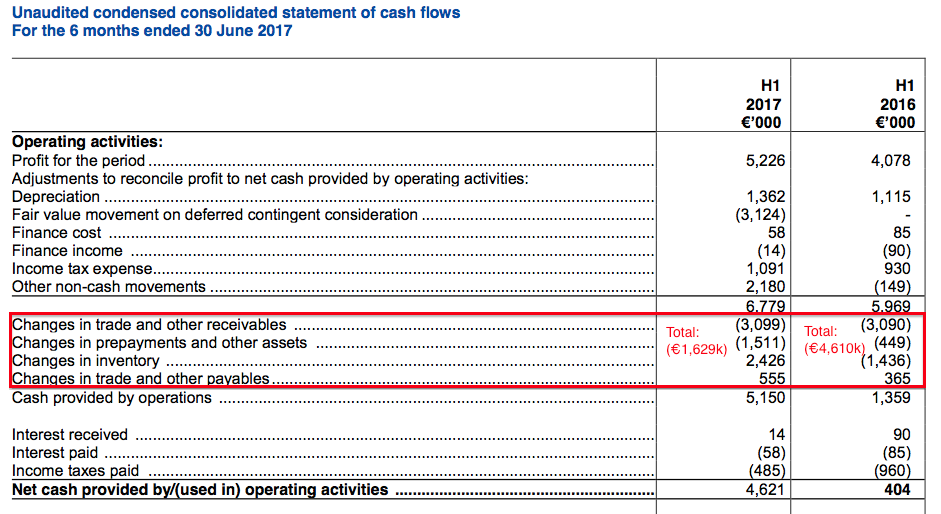 This extract from the management narrative sounded quite promising with regard to future working-capital movements (my bold):
"Even with sales increasing by €10 million over H1 last year, and excluding exceptionals referred to in Note 6, working capital has remained largely flat. This is a contrast with the trends of the last two years where we saw up to €5 million being absorbed with less growth, and we expect to continue to manage the cash tied up under this heading in order to increase the efficiency of the Group."
I should add that stock write-offs and bad debts totalling a significant €3,047k were charged as exceptional items to the income statement during the half. I think such items are evidence that past working-capital controls were not as good as they could have been.
Capex during the first half was €3,092k, while the associated depreciation charge was only €1,362k.
The €1,730k difference is significant when operating profit was €6,789k, but I don't feel MCON is deliberately overstating its profit at the moment. Indeed, earlier company statements have referred to an increased capex programme and I see the revenue benefits are starting to filter through.
I thought this extract was quite telling (my bold):
"We have invested in very modern equipment to handle the larger sizes of hammers and bits and extended our ranges, and the potential sectors we can address. We have applied much of the machinery availability on the development of the new product category referred to above, and addressing the heightened volume of orders coming into the factories."
* Dividend, cash position and acquisition strategy
MCON's balance sheet remains strong.
Cash ended the half at €33,701k, which adjusted for loans of €1,344k and deferred-consideration liabilities of €2,256k effectively leaves net cash at €30,101k.
The cash pile continues to be earmarked for acquisitions:
"We still have work to do with the deployment of our cash and previous investments, but we believe there is considerable value to be added to the Group if we are as successful as expected with the investments noted above."
Some €2m was spent on an acquisition during H1 and a further €3.2m was spent after the half-year.
The sums are not huge and, as acquisition strategies go, I quite like MCON's focus on smaller, niche manufacturers whose specialist product ranges extend that of the wider group.
Valuation
The H1 commentary sounded positive for the near future (my bold):
"We have three very substantial projects moving into their sales and marketing phases, with the extended range of large hammers and bits, the new hammer range, and the rapid build-up of our Mincon Nordic subsidiary."
MCON claimed the three projects ought to come to fruition during the remainder of 2017 and 2018, and reckoned "a reasonable strike rate will deliver meaningful growth and profitability… for the Group".
That sounds very promising.
Anyway, the group's trailing €12.1m operating profit converts to £11.1m at £:€1.09. Apply the company's own tax guidance of 17.3% and earnings then come to roughly £9.1m or 4.3p per share.
After subtracting the effective €30.1m (£27.6m) net cash position from the £205m market cap, my estimate of MCON's enterprise value (EV) is £178m or 84p per share.
Dividing that 84p per share EV by my 4.3p per share EPS guess gives a multiple of 20 at the present 97.5p mid price.
Alternatively, if I extrapolate MCON's bumper Q2 performance into Q3 and Q4, then 2017 operating profit could be €14.8m or £13.6m, with earnings at about 5.3p per share.
The underlying P/E using that EPS guess would drop to 16.
I think a possible rating of 16 is quite fair given MCON's recent progress and the potential for "meaningful growth" should some of the group's "substantial projects" come good.
Finally, the maintained €0.02 per share dividend currently funds a 1.9% income (before Irish withholding taxes for UK-resident investors).
Maynard Paton
Disclosure: Maynard owns shares in Mincon.