12 September 2017
By Maynard Paton
Quick update on Tasty (TAST).
Event: Interim results for the 26 weeks to 02 July 2017 published 12 September 2017
Summary: These results were always going to be somewhat grim, and news of a £9.3m write-off suggests about a third of TAST's restaurant estate has now suffered trading problems during the last 18 months. At least the board is currently showing greater urgency with its turnaround plan and I would like to think these figures mark the low point for the group's finances. I continue to believe the long-term upside could be considerable if a successful recovery one day prompts further restaurant expansion. I continue to hold. 
Price: 38p
Shares in issue: 59,795,496
Market capitalisation: £22.7m
Click here for all my previous TAST posts
Results: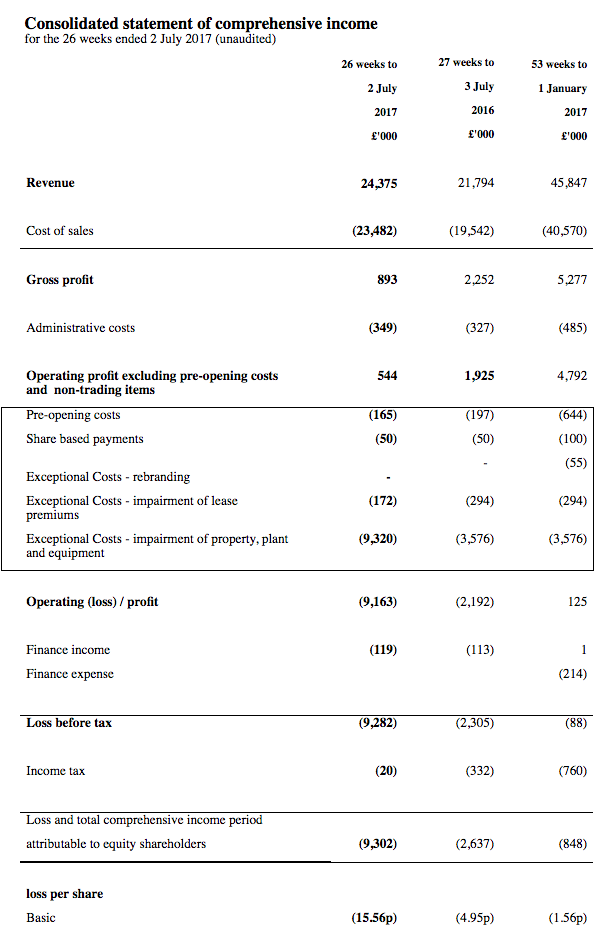 My thoughts:
* 30%-off vouchers, 2-for-1 deals and kids-eat-for-£1 offers
A trading statement issued last month had already warned of this disappointing performance.
First-half revenue gained 12%, although the advance was due entirely to TAST having opened about 13 additional restaurants during the intervening twelve months.
The underlying progress was very poor. The table below shows the average revenue per unit dropping 8% on H1 2016:
| | | | | | |
| --- | --- | --- | --- | --- | --- |
| | H1 2016 | H2 2016 | FY 2016 | | H1 2017 |
| Revenue (£k) | 21,794 | 24,053 | 45,847 | | 24,375 |
| Average number of units | 50 | 56.5 | 54.5 | | 63 |
| Average revenue per unit (£k) | 839* | 851 | 841 | | 774 |
(*adjusted for 27-week period)
For further context, the average revenue per site for H1 2014 and H1 2015 was £920k and £874k respectively.
Although the August statement had already revealed an upcoming adjusted H1 pre-tax profit of £200k, it was striking to note just how far TAST's margins had collapsed:
| | | | | | |
| --- | --- | --- | --- | --- | --- |
| | H1 2016 | H2 2016 | FY 2016 | | H1 2017 |
| Revenue (£k) | 21,794 | 24,053 | 45,847 | | 24,375 |
| Gross profit* (£k) | 2,255 | 3,022 | 5,277 | | 893 |
| Operating profit* (£k) | 1,875 | 2,817 | 4,692 | | 494 |
| | | | | | |
| Gross margin* (%) | 10.3 | 12.6 | 11.5 | | 3.7 |
| Operating margin* (%) | 8.6 | 11.7 | 10.2 | | 2.0 |
(*before pre-opening costs and exceptional items)
While there may have been some additional costs to bear during the period (staff pay increases, and so on), I suspect the profit slump had more to do with fewer customers… and those customers that did venture in then buying meals at knock-down prices.
TAST's statement admitted:
"The Board has noted that the level of promotional activity in the sector has increased significantly in 2017.  The Group continues to match the activity of the competition with regard to promotions and is reviewing alternative strategies."
TAST's social-media feeds are full of 30%-off vouchers, 2-for-1 deals and kids-eat-for-£1 offers, and I do wonder if the prevalence of such deals will create a growing reluctance for TAST diners to ever pay 'full price'. I am glad the company is reviewing "alternative strategies".
The results also declared: 
"We have carried out a major review of our menus taking into account customer feedback to ensure, the offering remains current and in line with our customers' tastes and we are in the best position to maintain and increase our market share.  We have reduced the number of dishes on the menu, along with improving the recipes of over a third of the items."
I am pleased the menu has undergone some changes, because you may recall at the AGM that management did not show much urgency to making any alterations.
I have compared the old menu to the new menu at TAST's main Wildwood chain, and I reckon ten dishes have been removed (shown in the red boxes):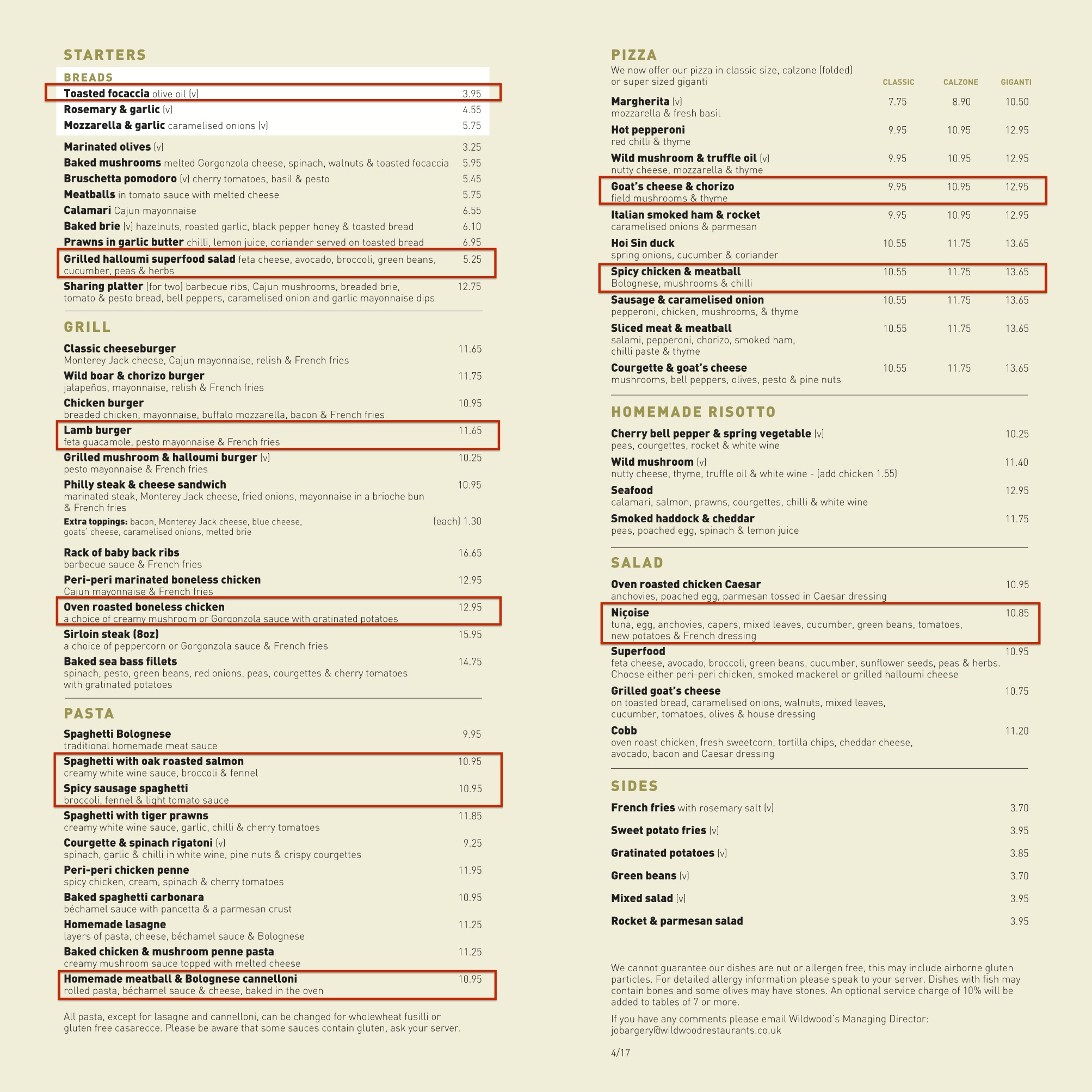 No completely new dishes have been introduced, although one or two have been given new names or had minor ingredient changes. There has been no change to any of the prices.
Whether all that counts as a "major review", I am not sure.
However, one positive not mentioned in the statement is the upcoming opening of a completely new restaurant format.
Centuno will replace one of TAST's dim-t outlets, and looks set to offer mostly handmade, wood-fired pizzas.
Opening a new brand — with what seems to be a simpler, more focused menu — is the bold step I was hoping management would take to help TAST find a path to recovery.
Indeed, I did ponder within my March write-up of TAST's 2016 results:
"So on those two measures at least, Fulham Shore appears to be doing quite well selling its cheaper pizzas from smaller premises, and serving lots of diners to keep sales high and rent costs relatively low.

Perhaps a similar no-frills concept — 'Wildwood Express'? — could work within TAST."
* A third of TAST's restaurants may have suffered significant trading problems during the past 18 months
Today's interim statement confirmed certain restaurants continued to disappoint:
"A number of sites have been identified as underperforming and turnaround measures have been implemented which are producing encouraging results.  We are currently in the process of disposing of some sites and are marketing others which have not shown significant signs of improvement."
Reflecting the difficulties, the results contained a hefty £9.3m impairment charge after a "comprehensive review" downgraded the carrying value of the group's restaurant assets.
Property, plant and equipment at the start of the period was valued £34.2m, so a £9.3m write-down suggests about a quarter of the group's 61 sites — I'm guessing 16 — have experienced some trouble during the first half.
And let's not forget that during H1 2016, TAST wrote off assets totalling £3.6m spread across seven units.
All told, it appears to me about a third of TAST's restaurants may have suffered significant trading problems during the past eighteen months or so. Clearly a lot of sites were opened on poor terms and/or in poor locations.
I suppose it is no surprise to see TAST has curtailed its expansion plans further.
March's annual results indicated the opening schedule for 2017 would be cut from 15 to seven units, and now the schedule has been reduced to six:
"Four sites have been opened in the period, with a further two sites due to open imminently and no further sites planned for 2017."
It looks as if 2018 will not see any further openings:
"The Board has reviewed its property pipeline and is currently not committed to opening any sites in 2018."
That seems a sensible decision to me, as management will now have more time to handle the problem units, refine the menu and determine an alternative to the voucher-led strategy.
* I would like to think these results are the low point for TAST's financial position and trading performance
TAST's cash generation did not look too bad to me. Cash produced from operations, at £1.1m, was just £0.1m lighter than H1 2016: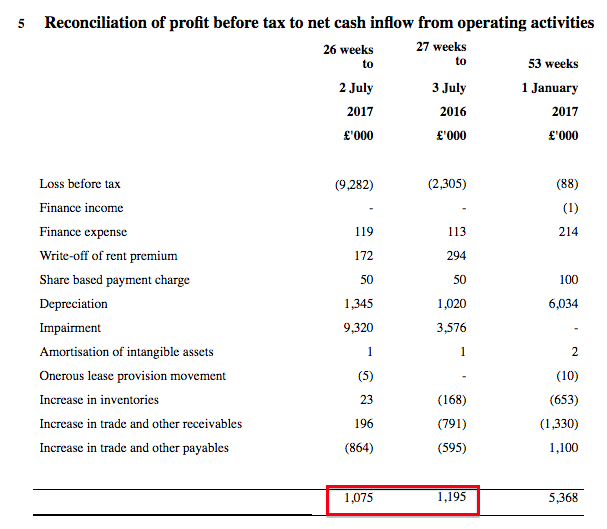 Some £4.4m was spent on capital expenditure (mostly on opening those four new sites), which left the balance sheet holding cash of £1.6m and borrowings of £7m.
On the face of it, net debt of £5.4m does appear substantial with current operating profit (before exceptional items) perhaps running at between £1m and £1.5m.
But TAST did state:
"It is the Board's intention to reduce net debt by the year end."
I am hopeful that will be the case.
During H2 2016, cash flow from operations was £4.2m and if that is reduced by 50% to £2.1m for H2 2017, the inflow should still cover the cost of opening the two further restaurants.
Overall, I would like to think these results mark the low point for TAST's financial position and trading performance.
* The Kaye family could become a funding backstop
If trading becomes really difficult, I suppose the Kaye family could become the funding backstop to prevent any chance of TAST falling into serious trouble.
TAST's boardroom is staffed by two members of the Kaye family, who in total own 38% of the business and have already built and sold multi-bagger chains ASK Central for £223m (in 2004) and Prezzo for £304m (in 2015).
I am sure the family could easily afford, say, £5m, to inject into TAST, which could pay off the bank and put the group on a firmer financial footing.
But whether the terms of any placing would suit other investors is a different matter. I am hopeful there will be no need for any dilution.
Valuation
The 38p shares now support a £23m market cap, which adjusted for the net debt gives a £28m enterprise value.
I suppose I could look at TAST's possible near-term profit, current book value or restaurant count, and then calculate various sums to provide some indication of potential value.
However, I feel such figures are a sideshow to the real issue — which is whether the Kayes can improve TAST's fortunes through a mix of successfully:
* disposing of or rectifying problem restaurants;
* surviving a sector shake-out as weaker rivals go under;
* implementing menu changes;
* developing the new Centuno format, and/or;
* utilising their industry management nous.
As before, I'm still inclined to give the Kayes the benefit of the doubt because I don't think you can lose decades of proven sector expertise overnight.
In fact, I am convinced the Kaye's strategy remains to build up restaurant chains and sell them on when they become a certain size.
While the journey at TAST has been far from smooth, I believe there is a good chance that trading will one day improve and prompt a restart of the rollout.
And you never know, perhaps a few years after that, the thought of an outright sale could be on the cards.
While I would never imagine TAST being sold for the £200m-plus of ASK or Prezzo…
…and as daft as this may seem right now given these results…
…I dare say TAST may ultimately be acquired for a lot more than its current £23m market cap.
Maynard Paton
Disclosure: Maynard owns shares in Tasty.