02 March 2017
By Maynard Paton
Quick update on Tristel (TSTL).
Event: Interim results, City presentation and investor webinar for the six months to 31 December 2016 published 23 February 2017
Summary: These first-half figures were slightly better than I had expected, with the finer details confirming December's AGM statement had downplayed the group's underlying progress. Impressive 20%-plus revenue advances — both in the UK and abroad — were delivered by the group's main medical disinfectant products, while adjusted profit would have soared 29% were it not for the costs of entering North America. Sadly it remains anyone's guess as to when those costs will first see any payback. Nonetheless, TSTL remains on course to meet management's ambitious three-year growth projections… and the shares are priced accordingly. I continue to hold.  
Price: 170p
Shares in issue: 42,403,417
Market capitalisation: £72m
Click here for all my previous TSTL posts
Results: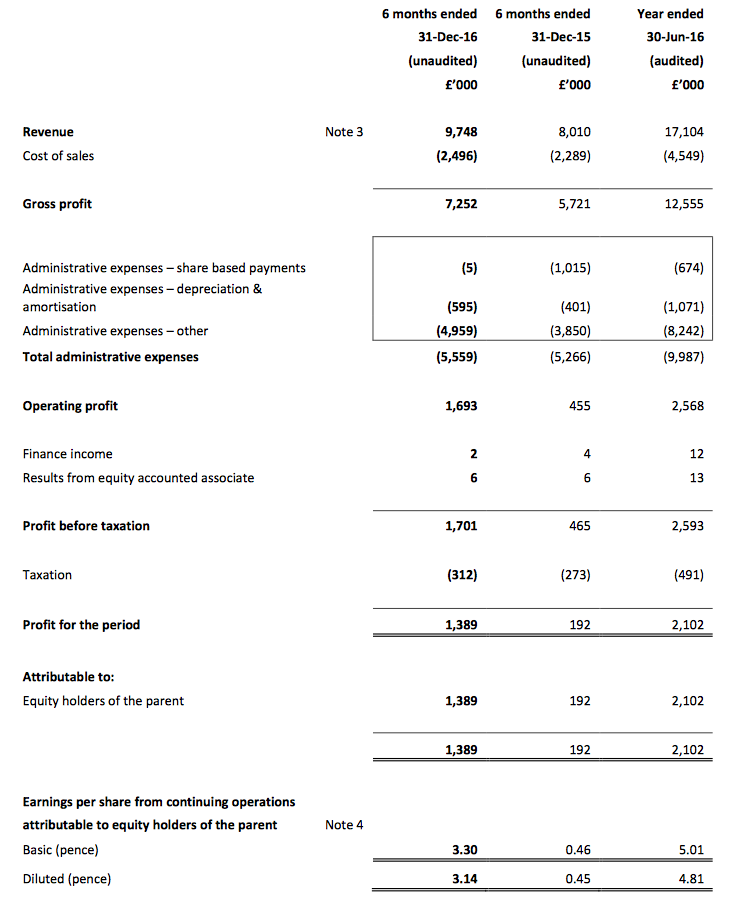 Picture: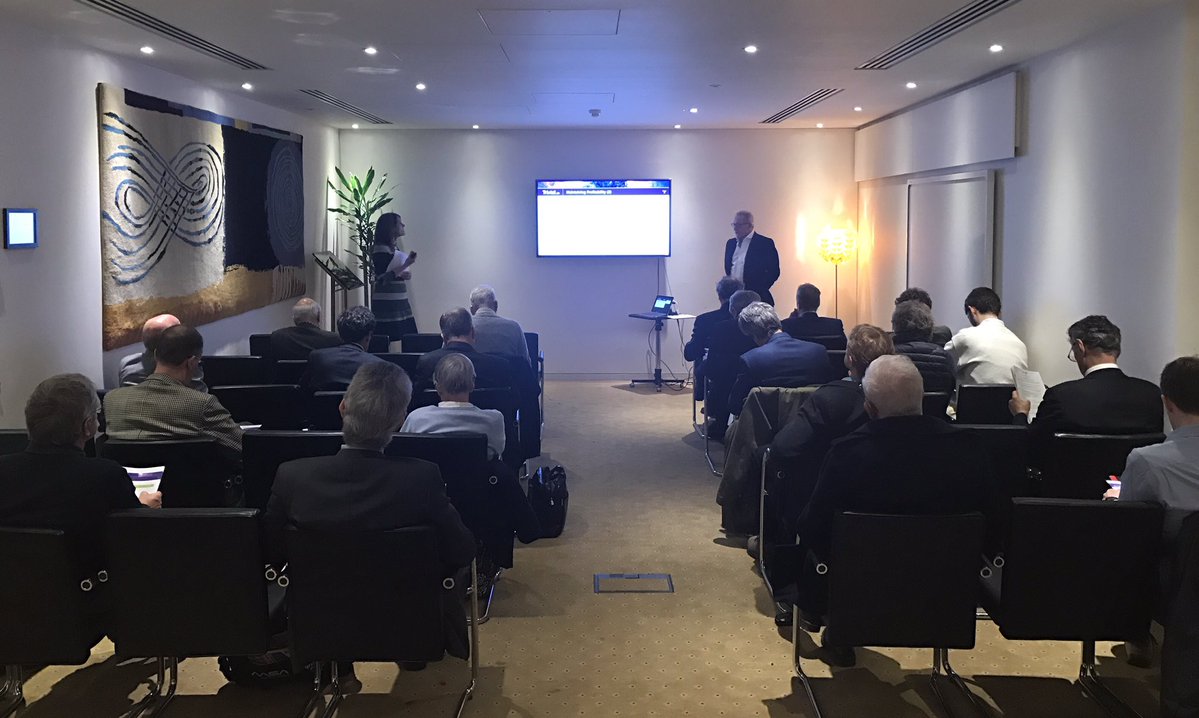 My thoughts:
* My profit guess was just £26k short
These half-year results were slightly better than I had anticipated — and were far more enjoyable to read than the interim figures from this time last year!
December's AGM statement had already indicated the first-half pre-tax profit (before share-based payments) would be "no less than £1.6m", and my guess of £1,680k was not far off the actual £1,706k.
I was impressed by TSTL's 22% total revenue advance, and reassured in particular that UK revenue — which had apparently stalled this time last year — had climbed 9%. Aided partly by the weaker GBP, sales to overseas market boomed 45%.
Alongside favourable foreign-exchange movements, TSTL's top-line performance was boosted also by a £150k bulk purchase of discontinued products by the NHS, as well as the group's acquisition of its Australian distributor.
TSTL's presentation suggested underlying revenue grew by 12% adjusted for the currency movements, the bulk purchase and the Australian transaction.
Also, these H1 numbers included an extra £200k-plus of costs associated with regulatory work for various new markets (including North America). Excluding those costs — and share-based payments, too — reported operating profit would have soared 29%.
Moving higher, too, was the half-year dividend — up 23% to 1.4p per share.
However, TSTL's 40:60 dividend-split policy suggests the full-year distribution will be only 5% ahead of last year's 3.33p per share payout at 3.5p per share.
* Core UK product revenue climbed 20%-plus
October's annual results showed TSTL's UK division reviving during the second half and I was pleased that momentum extended into this H1.
The headline figures said first-half UK revenue gained 9%. However, the core instrument disinfectant products (including TSTL's popular wipes) — alongside the fluids used to clean hospital floors and surfaces — witnessed their combined revenue surge 26%.
Even adjusting for the aforementioned NHS bulk buy, core UK product revenue advanced 21%:
| | | | | | | | | | |
| --- | --- | --- | --- | --- | --- | --- | --- | --- | --- |
| UK Revenue | H1 2015 | H2 2015 | FY 2015 | | H1 2016 | H2 2016 | FY 2016 | | H1 2017 |
| Instrument (£k) | 2,621 | 2,469 | 5,090 | | 2,695 | 3,025 | 5,720 | | 3,478 |
| Surface (£k) | 586 | 583 | 1,169 | | 620 | 633 | 1,253 | | 683 |
| Total 'core' (£k) | 3,207 | 3,052 | 6,259 | | 3,315 | 3,658 | 6,973 | | 4,161 |
| | | | | | | | | | |
| Other (£k) | 1,799 | 1,775 | 3,574 | | 1,802 | 1,591 | 3,393 | | 1,394 |
| | | | | | | | | | |
| Total (£k) | 5,006 | 4,827 | 9,833 | | 5,117 | 5,249 | 10,366 | | 5,555 |
Other UK revenue declined as TSTL abandoned old products that do not use the group's central chlorine-dioxide chemistry.
(It is notable that TSTL's H1 statement and presentation barely mentioned the divisions that serve veterinary practices and clean rooms. These operations have surely now become 'non-core'.)
Management remarks during the results webinar and City presentation suggested the UK could still offer "a lot of growth".
Apparently, "infection prevention is probably the most important thing UK hospitals are dealing with" at present. Also supplied were anecdotes of hospitals placing the infection-control budget ahead of other departmental spending.
Claims were made, too, about a "diminishing number" of antibiotics that were useful for treating hospital infections.
Furthermore, the development of new medical instruments, as well as the opening of new hospital areas, were touted as reasons for potentially greater demand for TSTL's wipes and foams in the UK.
* Germany and Australia lead overseas revenue higher  
TSTL's overseas operations continue to perform very well.
Total foreign revenue jumped 45%, or 29% without the favourable currency movements. International sales now represent 43% of the top line.
I calculate overseas revenue from the main wipes and disinfectant products jumped 64% during H1:
| | | | | | | | | | |
| --- | --- | --- | --- | --- | --- | --- | --- | --- | --- |
| Rest of World Revenue | H1 2015 | H2 2015 | FY 2015 | | H1 2016 | H2 2016 | FY 2016 | | H1 2017 |
| Instrument (£k) | 1,823 | 2,415 | 4,238 | | 2,307 | 3,070 | 5,377 | | 3,801 |
| Surface (£k) | 86 | 108 | 194 | | 65 | 97 | 162 | | 96 |
| Total 'core' (£k) | 1,909 | 2,523 | 4,432 | | 2,372 | 3,167 | 5,539 | | 3,897 |
| | | | | | | | | | |
| Other (£k) | 497 | 572 | 1,069 | | 521 | 678 | 1,199 | | 296 |
| | | | | | | | | | |
| Total (£k) | 2,406 | 3,095 | 5,501 | | 2,893 | 3,845 | 6,738 | | 4,193 |
I mentioned in October that it was becoming clear that TSTL's direct overseas operations were more productive for the group than the foreign independent distributors.
Certainly that remains the case, with German revenue being a particular highlight.
Sales from TSTL's Berlin office, which also serves Austria, Switzerland and now Poland, soared an underlying 62% to £1.5m.
Back in October, TSTL's executives said they could "imagine a scenario" when the German unit could one day generate as much revenue as the UK (i.e. almost £11m).
At the latest presentation, that scenario was upgraded to "no reason [why] German sales won't [one day] dwarf UK sales".
Australia also appeared impressive.
Purchased for £1.1m during August, the new subsidiary (it was previously an independent distributor) was said by management to have delivered a £100k profit during the first four months of ownership.
For some perspective, statements made during July's Open Day suggested the Australian acquisition could deliver at least an extra £100k profit during its first full year of ownership.
Management reckoned underlying volumes at the Australian division improved by between 5% and 10% during the first few months of ownership.
* I did not dare ask about Monte Carlo
I'm grateful these figures did not provide any share-option headaches.
This time last year TSTL owned up to a £1m option charge following the implementation of a rather cavalier incentive scheme.
Then in October, TSTL's annual results showed a £341k 'refund' after the group's option calculation was changed from Black Scholes to Monte Carlo.
I wrote at the time that I had no idea about which method was more suitable, and that one day I would have to study exactly how the cost of share-based payments are calculated… and why companies can use different methods and arrive at different values.
I must admit that I did start to evaluate option charges, but I did not get very far before I became somewhat bamboozled by all the calculations.
At least these H1 results showed a share-option charge of just £5k. I did not dare ask management at the presentation whether that £5k charge was derived from Black Scholes or Monte Carlo.
* Still nothing definitive submitted to the FDA  
There were no new developments on TSTL's plan to enter North America.
If you recall, TSTL hopes to launch a handful of products in the United States and Canada within the next few years. Management has previously estimated the total market size in the States for just two particular disinfectants to be £18m — which compares well to current group sales of £19m.
TSTL claimed it was "progressing satisfactorily" with its North American project, although I get the impression the whole venture is taking far longer and requiring far more resources than initially expected. I recall the original timescale for receiving a regulatory approval was June this year.
Anyway, after two meetings with the US Food and Drug Administration, management comments at the City presentation confirmed TSTL had yet to submit any definitive product application to the agency.
Instead, the company is currently embarking on various in-depth product tests and management did admit there was a risk the results and data may not satisfy the FDA.
Indeed, I thought it a tad ominous that management used the adjective "tortuous" to describe the FDA's demands for ensuring the disinfectants continued to work properly right until the end of their shelf lives.
I should add that management claimed it would be "almost inconceivable" for all of the FDA testing and applications to eventually come to nothing.
I can only hope the FDA submissions will all be worth it. One casualty perhaps of the North American project is the South American market, whereby plans to enter that continent trumpeted 18 months ago look to have been shelved.
* It could be too soon to expect another special dividend 
Once again I could not find fault with TSTL's accounts.
October's City presentation had seen management envisage the weaker GBP leading to higher chemical costs and gross margins perhaps of 71% for the current year (versus 73% for 2016).
In the event, these H1 numbers revealed a 74% gross margin — with further manufacturing efficiencies helping to sustain profitability. In turn, the pre-tax margin was a decent 17.5% and in line with the group's target for the next three years.
(Notably, the pre-tax margin would have been a super 20% had TSTL not spent £254k on plans to launch into North America and other overseas countries.)
Cash generation was satisfactory and money in the bank ended the half at £3.9m.
TSTL stated last year that it intended to retain cash reserves in excess of £3m, and has twice paid £1.2m special dividends when the cash position topped £4m.
However, management was keen to stress during the webinar and presentation that the £3m figure was cited last year — which appeared to hint the number could change.
The message I took (perhaps mistakenly) from these comments was that more cash could be needed on standby for North America, and so the likelihood of yet another £1m-plus special dividend may be less now than it was before.
At least TSTL confirmed its expenses for North American regulatory approval would remain at £300k for H2 and £300k for the next financial year.
Management also claimed at the presentation that the next few years would not see any major capex demands and perhaps only a 10% increase to the headcount.
The balance sheet continues to carry no debt and no pension obligations.
Valuation
Adjusting the share-based payment charge to a less cavalier £100k, I calculate TSTL's trailing operating profit to be £3,370k. Adding back £290k of North American investment costs gives me £3,660k.
After tax at the forthcoming 19% standard UK rate, I arrive at earnings of £2.9m or about 6.9p per share.
Subtract the cash position of 9p per share from the 170p share price and the underlying trailing P/E comes to about 161p/6.9p = 23.
Assuming TSTL's top line grows at 17% for the current year to £20m, and then compounds at the top end of the group's 10%-15% guidance, I reckon revenue by 2019 could top £26m.
Assuming, too, that TSTL can meet its 17.5% pre-tax margin target, I estimate earnings for 2019 may be 8.9p per share. But if I assume a 20% margin for 2019 (by ignoring North American costs), then I arrive at a 10p per share earnings guess.
That 10p per share estimate would bring the possible 2019 underlying P/E down to 15 based on the cash pile perhaps having advanced to 20p a share.
I admit there may be a little optimism involved with those assumptions, but I suppose there is a chance the projections could actually prove to be accurate.
All told, I think it is fair to say TSTL's current valuation pretty much prices in the group meeting its three-year growth targets. Superior medium-term returns from here will probably depend upon progress with the North American project, significant revenues from which appear very distant at present.
Maynard Paton
Disclosure: Maynard owns shares in Tristel.