16 September 2016
By Maynard Paton
Quick update on BrainJuicer (BJU).
Event: Interim results for the six months to 30 June 2016 published 16 September 2016
Summary: A very respectable set of figures that confirmed this market-research agency has now returned to double-digit growth. However, the group's best-selling system has started to face "pricing pressure" and the wider competitive advantage may not be as strong as it once was. The statement's highlight was news of a 12p per share special dividend — the third in four years. The accounts remain in good shape and I continue to hold.
Price: 480p
Shares in issue: 12,362,544
Market capitalisation: £59.3m
Click here for all my previous BJU posts.
Results: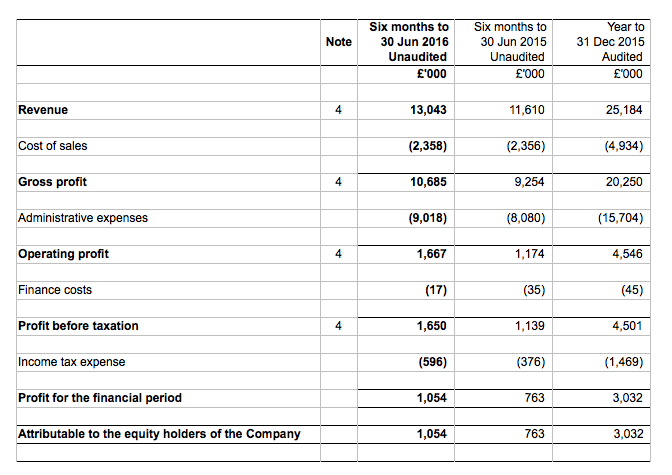 My thoughts:
* These results were very respectable
A trading update during July had already signalled these results would be very respectable.
In the event, BJU reported revenue up 12% and gross profit — the firm's "main top-line indicator" — up 15%. The advances would have been 8% and 11% respectively without favourable currency movements.
I was pleased to see BJU's core products perform well. The wider 'System1' division grew by about 25%, within which the Ad Tracking operation grew by about 40%.
However, a disappointment was the Predictive Markets service — the group's largest fee-earner — which recorded a 4% gross-profit drop. It appears rivals have latched on to this money-spinner, with BJU referring to "pricing pressure" and it having to launch a cheaper "express" version.
Also of note is that US clients spent 17% more during the six months and now represent 41% of BJU's gross profit. Indeed, overseas customers contributed 73% to first-half gross profit, which ought to support the group's second half given the weaker pound.
All told, this first-half double-digit progress contrasted notably with that of the previous three first halves. H1 revenue and gross profit growth during 2013, 2014 and 2015 averaged just 5%.
* Financials appear in good shape
I couldn't really find fault with BJU's accounts.
If you exclude the £264k spent to start a new creative division, then the first-half operating margin was a very acceptable 15% — and two percentage points higher than last year's H1. Clearly the aforementioned "pricing pressure" is not affecting all of the business.
Meanwhile, cash flow continues to excel. Just £90k was spent on fixed assets and only £73k was absorbed into working capital, which left a hefty £1.8m for buybacks (at an average price of 340p) and still leave the balance sheet with net cash of £5.2m (42p per share).
The super cash generation and robust bank balance prompted the highlight of the results — a 12p per share special dividend. This payout matches the 12p per share special payments declared during 2013 and 2014.
The ordinary interim dividend was lifted 10% to 1.1p per share.
Valuation
BJU appeared optimistic about the future:
"Trading during July and August has been satisfactory.  As always, we are cautious in terms of the short term outlook, but we are pleased with our progress and continue to be confident in the Group's long term growth prospects."
Operating profit for the year to June 2016 — excluding the aforementioned start-up costs and charges last year involving an office move — was about £5.1m. Taxed at this H1's 36% gives earnings of £3.3m or 26.5p per share.
Adjusting the £59.3m (at 480p) market cap for the £5.2m net cash position, I arrive at an enterprise value of £54.1m or 438p per share.
Then dividing that 438p by my 26.5p per share earnings guess gives a P/E of 16-17. I suppose that rating is understandable now the business has returned to double-digit growth after a few years of more modest progress.
Meanwhile, the trailing ordinary dividend is 4.6p per share and supports a meagre 1% income.
Maynard Paton
Disclosure: Maynard owns shares in BrainJuicer.