14 September 2016
By Maynard Paton
Quick update on M Winkworth (WINK).
Event: Interim results for the six months to 30 June 2016 published 13 September 2016
Summary: A quite satisfactory statement that suggested this London-dependent estate agency should be able to cope with the capital's slower property market. Indeed, the business appears keen to expand and the pace of its new franchisee openings may in fact accelerate. Margins remain high, the balance sheet remains strong and a P/E of 7 seems to price in a lot of bad news. I bought more shares in August and continue to hold.
Price: 115p
Shares in issue: 12,733,238
Market capitalisation: £14.6m
Click here for all my previous WINK posts.

Results: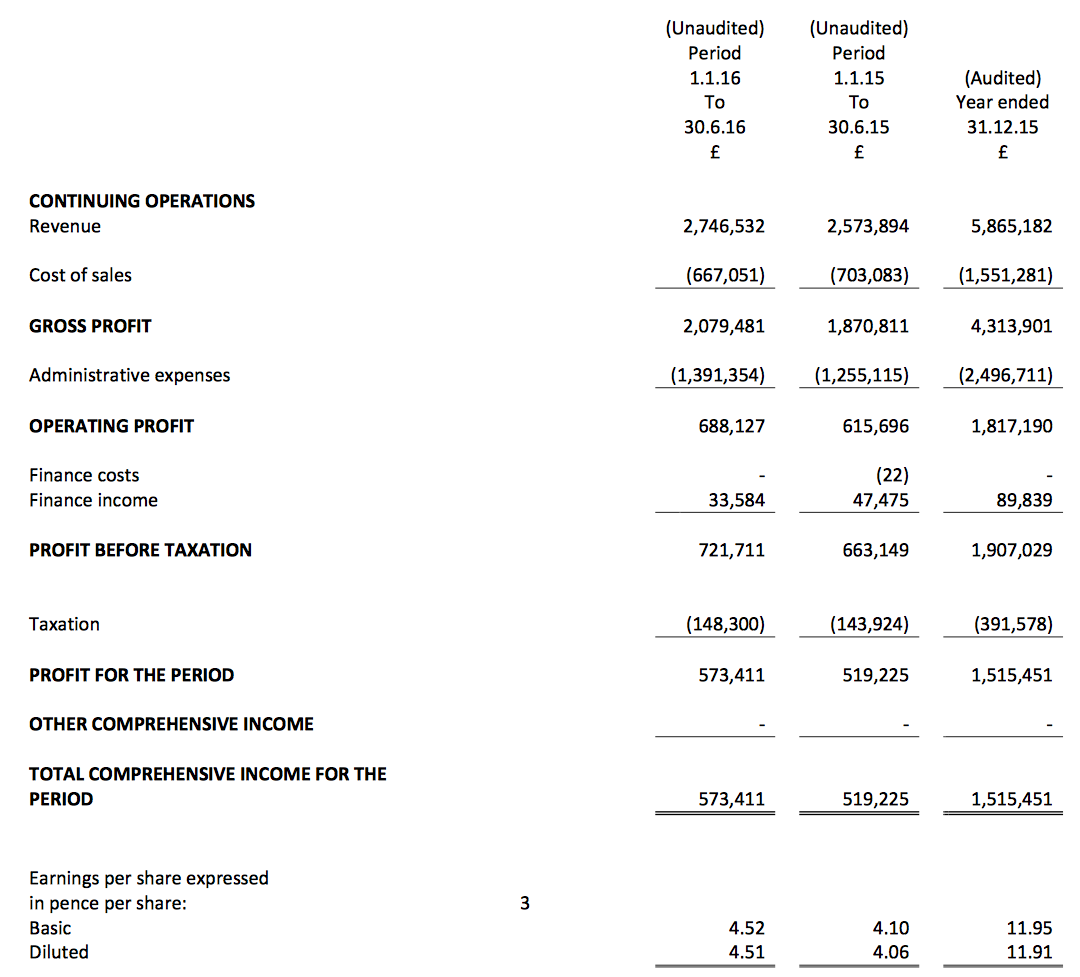 My thoughts:
* These results were quite satisfactory
I suppose WINK's statement could have been a lot worse. Rival London estate agent Foxtons (FOXT) issued a profit warning a few days after the EU referendum and worries about a slowing housing market in the capital have dogged WINK's shares ever since.
In the event, WINK's figures were not too bad.
Bolstered by a bumper first quarter, during which buyers completed transactions ahead of new stamp-duty rates, WINK's revenue gained 7% to £2.75m.
Commissions from property sales gained 5% while lettings-related income climbed 11%. I note lettings-related income now represents 40% of total revenue, up from 33% two years ago, and is closing in on the group's 50% target.
WINK admitted it experienced a "slowing sales market" during the second quarter, although the firm expects trading to "pick up from the lows of June and July" and therefore is confident that it can "perform satisfactorily during the current financial year".
Past years have seen some 80% of revenue emanate from the group's London-located franchisees, although WINK is not too dependent on scarce buyers of prime Zone 1 properties. Earlier this year, the group confirmed the average property sale price throughout its offices was £645k.
Interestingly, WINK added that rental applications were up 40% year-on-year in July, so giving the firm a "strong start" to the second half (at least in the lettings division).
I also see visits to WINK's website have recovered strongly since the Brexit vote:

* Bravado from the new franchising manager
I am pleased WINK continues to keep almost 12% of all the income produced by its franchisees as its own revenue. I'm also pleased the business is positive about future franchisee opportunities (my bold):
"A further two new offices were opened in Colindale and Marlborough, while three existing offices were resold to new management. One office in the UK and two in Portugal were closed. 

Over the coming six months we anticipate a further 6-8 new openings and a further 1-2 resales, while longer term we expect to see an increase in opportunities both to convert existing businesses to the Winkworth brand and to grow new franchises. 

A weaker sales market tends to encourage employees whose income is declining to boost their earnings by owning equity in an estate agency, while existing agents look to grow their market share, reduce costs and explore new options, of which we are one. "
I see on WINK's website that the group's new franchising manager has shown some bravado by predicting up to 50 new franchises could be opened during the next five years:
"As the housing market bounces back into life after the summer break and the Brexit vote, we believe it is the right moment to put our foot on the accelerator," says Mountford. "If all goes according to plan, we intend to open between eight to ten new franchises a year over the next five-year period."
Hopefully the new man will indeed kick-start an enlarged franchise network. Following WINK's flotation during 2009, the firm's network has grown slowly, from 86 to only about 100 branches today.
WINK's relatively upbeat view on expansion contrasts with FOXT, which said within its July results that it was "reviewing the pace of our branch openings over the short term and may slow the pace of expansion in response to market conditions".
* No major faults within WINK's accounts
Despite WINK spending an unspecified amount on an office move, the first-half operating margin still increased a fraction to a robust 25%.
WINK's cash position dropped by £0.3m to £2.8m during the six months as the business appears to have loaned up to £0.7m to new franchisees. The rest of the cash generated was effectively paid out as dividends.
I noted in March that WINK does earn respectable sums from these loans to franchisees.
This half produced interest of £34k, which seems light compared to last year's £47k, but nonetheless represented 5% of the overall pre-tax profit.
These accounts did not divulge the exact amount loaned to franchisees (it was £1.2m at the end of 2015), and management remarks suggest further loans will be made:
"We believe that there is a significant opportunity for us to grow the franchise base by adding quality businesses and people at reasonable valuations. With net cash available in excess of £2.8m, we will invest in new franchising capacity in order to ensure that we capture the best available opportunities without endangering our dividend policy."
Valuation
WINK's operating profit for the year to June 2016 was close to £1.9m, which after 20% standard tax gives earnings of £1.5m or 11.9p per share.
Adjusting the £14.6m (at 115p) market cap for my £4.0m estimate of cash and franchisee loans, I arrive at an enterprise value of £10.6m or 83p per share.
Then dividing that 83p by my 11.9p per share earnings guess gives a P/E of just 7.
Meanwhile, the trailing dividend is 6.9p per share and supports a 6% income.
Even with a fragile housing market in London — plus the risk perhaps of online competition — those ratings appear very good value to me.
So much so, I must confess to buying more WINK shares last month. I increased my holding by 43% and paid 110p including all costs.
Maynard Paton
Disclosure: Maynard owns shares in M Winkworth.