03 August 2017
By Maynard Paton
Quick update on City of London Investment (CLIG).
Event: Trading statement and shareholder presentation for the year ending 30 June 2017 published 19 July 2017
Summary: Earlier updates had already signalled these summary annual results would be positive. However, the fund manager's progress was supported entirely by favourable markets and currency movements — the year actually witnessed a net outflow of client money. Still, the icing on the cake was the first dividend lift for six years and, despite the share price climbing since this time last year, the payout still supports a 6% income. The presentation also outlined the potential cost of the new staff bonus scheme, and I am hopeful the cited 2% of revenue will not eventually rise towards the scheme's 5% limit. I continue to hold.   
Price: 410p
Shares in issue: 26,861,707
Market capitalisation: £110m
Click here for all my previous CLIG posts
Results summary: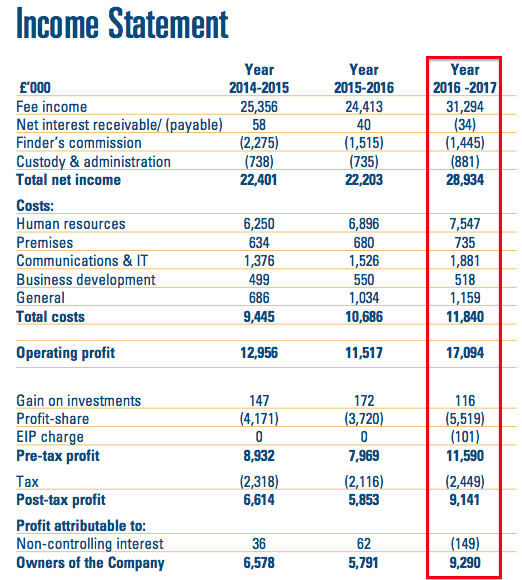 My thoughts:
* Further credit to management for another set of prompt summary results
It took CLIG just twelve working days to construct this set of summary annual accounts. I only wish all quoted companies could be as timely when first presenting their yearly progress.
Note that CLIG's RNS on the day did not reveal all of the numbers. The group's website carried a City presentation, which included some detailed figures as well as various charts and other stats.
* The positive performance was no surprise
CLIG's interim figures and subsequent website updates had already indicated these annual results would be positive.
In the event, the presentation confirmed funds under management (FUM) at the end of June were $4.611bn — up 16% from the $4.005bn seen at the preceding year-end and up 14% from the $4.097bn seen at the December half-year.
Revenue climbed 28% and in turn lifted operating profit by 48%. The financial progress was supported by favourable Brexit currency movements, as almost all revenue is collected in USD while 40% of costs are paid in GBP.
My own monthly calculations following the interim numbers had indicated annual earnings could have been running at between 29.7p per share and 32.8p per share — somewhat lower that the 36.9p per share reported.
However, my estimates were based on the new staff bonus scheme taking 5% of revenue (versus just 1% in reality — see below) and ignored a £400k one-off tax benefit.
Anyway, CLIG's performance was the company's best since 2012, when revenue was £34m and operating profit was £11m:
| | | | | | |
| --- | --- | --- | --- | --- | --- |
| Year to 30 June | 2013* | 2014** | 2015 | 2016 | 2017 |
| Funds under management ($m) | 3,713 | 3,944 | 4,211 | 4,005 | 4,661 |
| | | | | | |
| Revenue (£k) | 29,364 | 24,215 | 25,356 | 24,413 | 31,294 |
| Operating profit (£k) | 8,359 | 6,998 | 8,727 | 7,757 | 11,508 |
| Finance income (£k) | 501 | 244 | 205 | 212 | 82 |
| Other items (£k) | - | - | - | - | - |
| Pre-tax profit (£k) | 8,860 | 7,242 | 8,932 | 7,969 | 11,590 |
| | | | | | |
| Earnings per share (p) | 24.9 | 20.7 | 26.4 | 23.6 | 36.9 |
| Dividend per share (p) | 24.0 | 24.0 | 24.0 | 24.0 | 25.0 |
(*to 31 May **13 months)
The icing on the cake was the annual payout being lifted a penny to 25p per share.
It's about time there was a dividend improvement — the payout had been stuck at 24p per share for the previous six years!
The raised payout is also welcome in light of the new staff bonus scheme (see below) — at least shareholders appear to be sharing in the group's greater earnings, too.
* Has a rising market tide simply lifted the CLIG boat?
Alongside the weaker GBP, rising global stock markets also assisted CLIG's impressive financial performance.
CLIG confirmed its wider company benchmark — the MSCI Emerging Markets index — had gained 24% on a total return basis during the year.
Unfortunately, the stronger market could not tempt clients to invest further money. Instead, CLIG's statement admitted clients withdrew a net $280m from their portfolios.
Apparently, the clients "rebalanced into the significant… equity gains" — which I assume to be pretentious City code for "took profits".
There was little movement on the number of clients, too.
The shareholder presentation showed CLIG serving 155 clients at the end of June, while my copies of older presentations show 153 clients a year ago and 153 a year before that.
At least CLIG's own investment performance has regained its poise.
The latest presentation revealed a representative CLIG fund having consistently outperformed its benchmarks over various periods: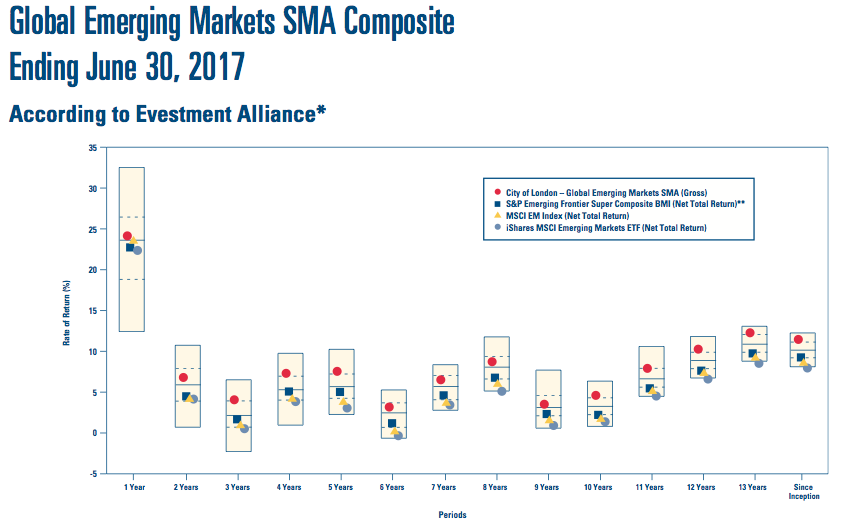 Back in January, the same chart had shown CLIG's fund having underperformed all three benchmarks during 2016: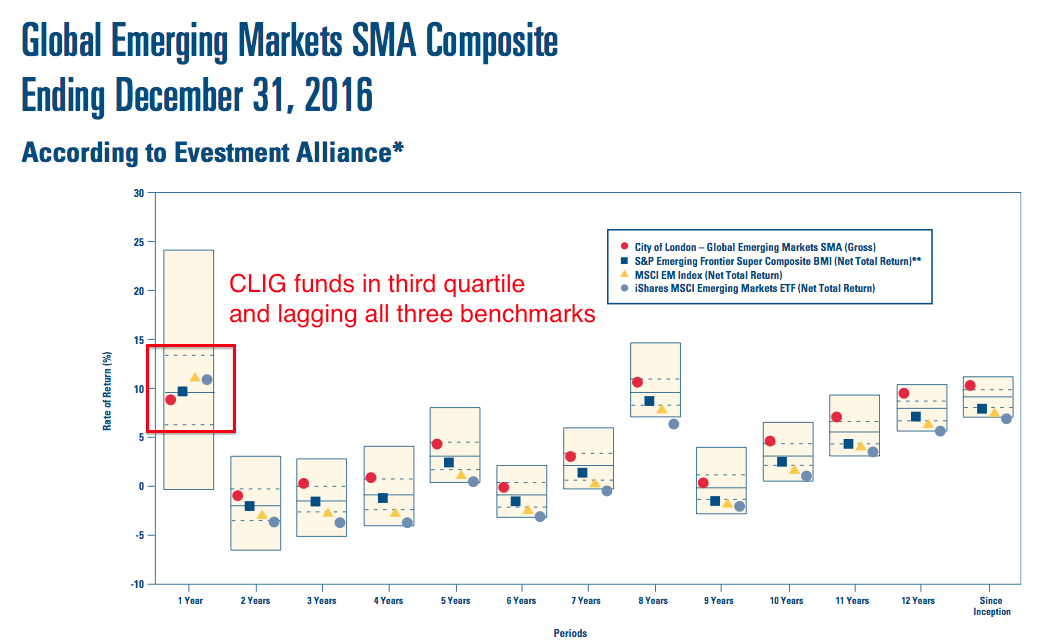 * New $500m prediction of fresh client money
I suppose it's reassuring to see CLIG now assuming it can garner $500m of new client money during the upcoming 2018 financial year: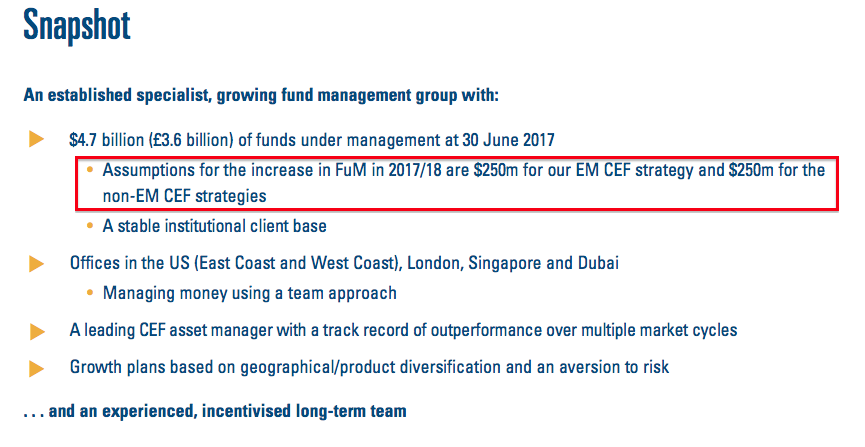 Back in January the prediction for 2018 was $250m.
CLIG said net new mandate wins of $125m had already been confirmed for this financial year, so I guess there is some justification for the $500m projection.
Nevertheless, I have seen CLIG's estimates of new client money vary so much during recent years — and become overshadowed anyway by wider market movements — that I now pay scant attention to them.
(I've found that I experience less disappointments that way.)
* Updated dividend-cover prediction suggests 2018 earnings of 36p per share
Past experience has also taught me to pay little attention to CLIG's dividend-cover template.
Don't get me wrong, I commend CLIG for regularly publishing this template to highlight what could happen.
But the ups and downs of client withdrawals alongside wider market movements have shown the numbers to be somewhat optimistic at times.
For the record, six months ago the template looked like this: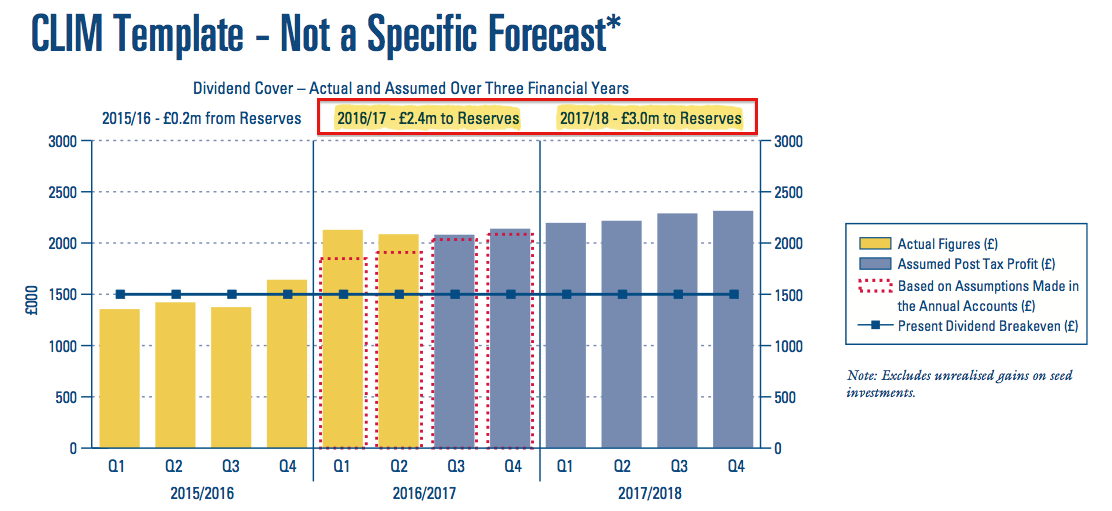 And now it looks like this: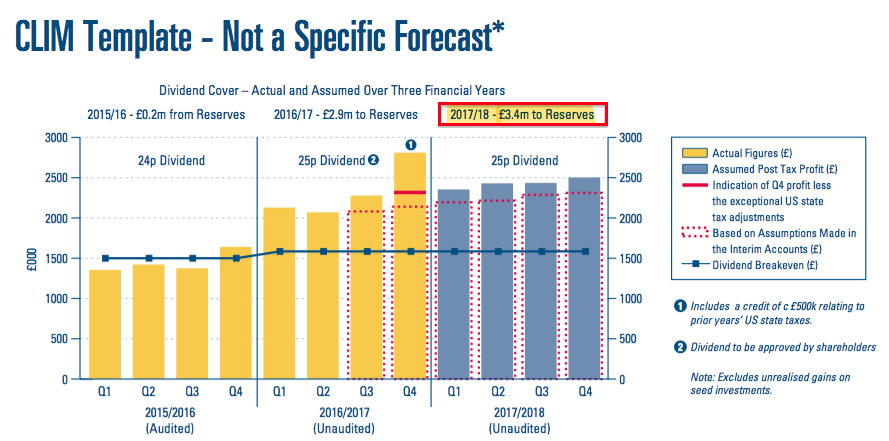 Essentially CLIG presently reckons it could retain earnings of £3.4m during the current year — versus £3.0m previously expected.
I reckon £3.4m transferred to reserves after paying a 25p per share dividend means earnings could be about 36p per share.
* New bonus scheme pinching 2% of revenue
These were the first results to include a charge for the new employee incentive plan (EIP).
Introduced part way through the year — and devised to hand CLIG employees up to an extra 5% of group revenue until 2020 for simply doing their current jobs — this awful scheme cost shareholders £101k during 2017: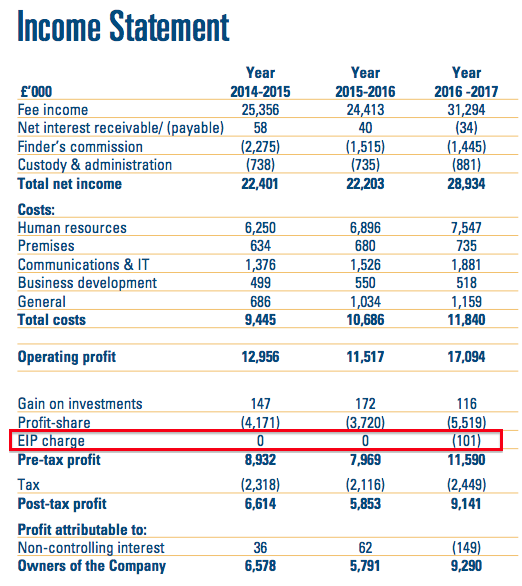 The aforementioned dividend-template projection suggested the EIP could pinch 2% of annual revenue in the future:

2% of last year's £31m revenue equates to £625k. In contrast, the additional 1p per share dividend paid to shareholders will cost about £250k.
You can draw your own conclusions as to how management is prioritising the distribution of the group's higher earnings.
Let's just hope the projected 2% EIP charge proves to be accurate and the 5% maximum cap is never troubled.
For the record, CLIG says 60% of its staff are participating in the EIP.
(I am not sure what to make of the fact that 40% of the staff are therefore passing up the opportunity to earn extra CLIG shares for free.)
* Illustrative FUM/exchange-rate table sneaks in lower net fee
I was disappointed to see CLIG owning up to lower net fees within its helpful FUM/exchange-rate table: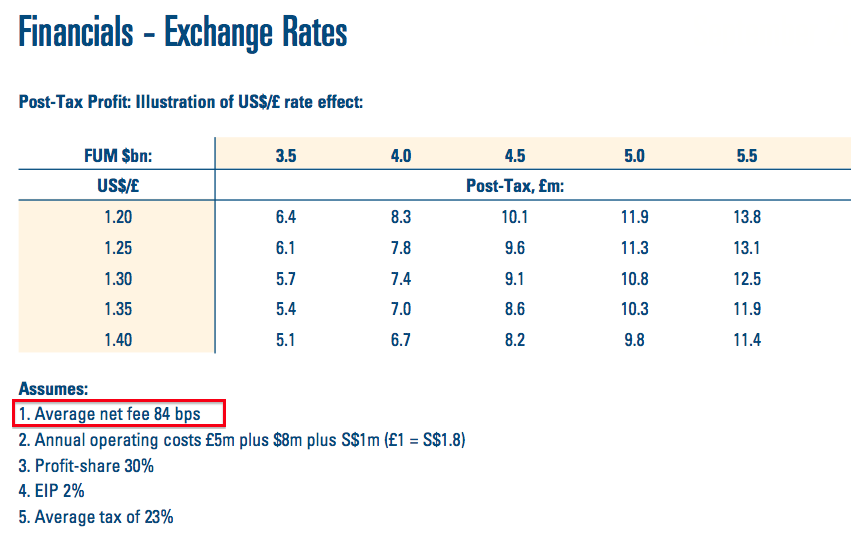 Previous tables had indicated CLIG would earn net fees at 85 or 86 basis points on client money.
At least CLIG's operating costs have not changed.
I note the indicated tax rate is 23%, which compares to the underlying 25% rate for 2017. I am not sure whether the lower tax rate is due to the EIP or something else.
* Balance sheet and cash flow
A quick check of the summary accounts did not show anything untoward.
The balance sheet displayed cash of £13.9m and net investments of £1.1m versus £10.2m and £1.5m (£2,223k less £632k minorities) twelve months ago: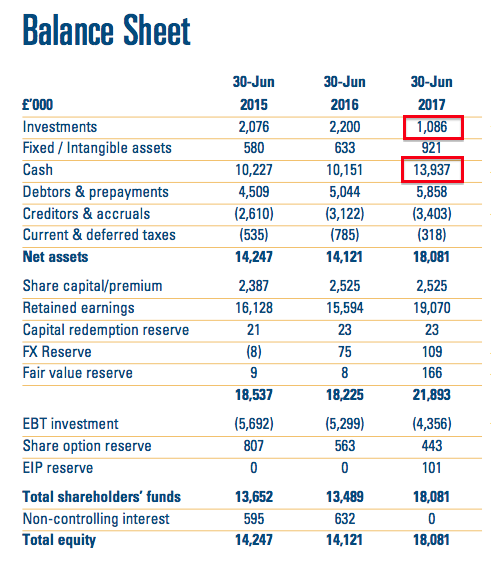 Meanwhile, the cash flow statement showed the cash position being bolstered by useful £1m contributions from staff options and the sale of certain seed investments: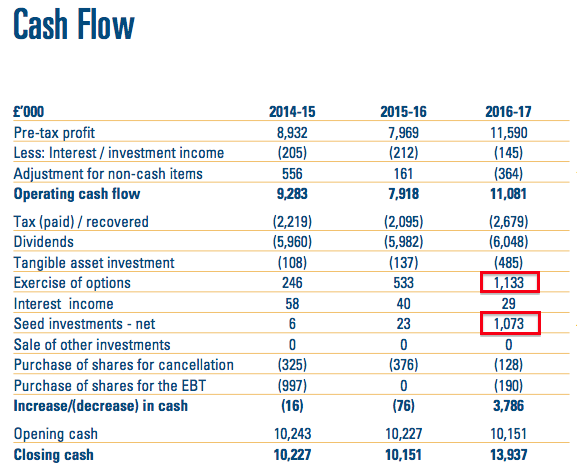 My early sums indicate the operating margin was a healthy 37% during the year, with return on average equity coming in at a robust 59%:
| | | | | | |
| --- | --- | --- | --- | --- | --- |
| Year to 30 June | 2013* | 2014** | 2015 | 2016 | 2017 |
| Operating margin (%) | 28.5 | 28.9 | 34.4 | 31.8 | 36.8 |
| Return on average equity (%) | 85.7 | 36.1 | 47.7 | 42.7 | 58.9 |
(*to 31 May **13 months)
I will look at the accounts in more detail when the full annual report is issued during September.
Valuation
I'm using CLIG's latest exchange-rate/FUM table (see above) for my valuation sums.
I'm taking FUM as $4.8bn following the group's latest website update…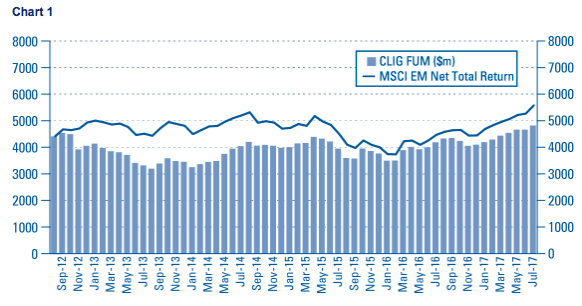 …while the GBP:USD exchange rate I'm applying is 1.32.
All that gives me earnings of about £9.9m or 36.8p per share based on an EIP charge of 2% and tax at 23%.
Assume the EIP is the maximum 5% and the tax rate is last year's 25%, then earnings come to £9.2m or 34.3p per share.
Adjusting CLIG's £110m market cap for group's cash and investments of £15m and regulatory capital of £1.4m, my enterprise value (EV) calculation is approximately £96m or 359p per share.
Dividing that EV by my earnings guesses gives possible P/Es of 9.7 and 10.5 — depending on which EIP and tax assumptions are used.
Neither multiple looks expensive in the current market, although bear in mind these shares have rarely — if ever — traded at a lofty rating in the past.
Furthermore, the business appears to be at the whim of global stock markets — and recent progress has been much more to do with favourable exchange rates than winning new clients.
At least the new 25p per share dividend is covered quite well by my earnings guesses — and supports a welcome 6% income at 410p.
Maynard Paton
Disclosure: Maynard owns shares in City of London Investment.