27 August 2019
By Maynard Paton
Results summary for Mincon (MCON):
Mixed progress, with little underlying revenue growth and profit down 14% due to a "softening market".
Earnings were bolstered by the remarkable €8m disposal of a subsidiary purchased 15 months earlier for effectively €1m.
New 'challenger' plan of selling direct to customers appears to have started well with two new contracts won.
Financials could be improved after accounts show modest margins, notable write-offs and significant working-capital investment.
The underlying P/E of 20 is not a bargain. I continue to hold.
Contents
Event link and share data
Event: Interim results for the six months to 30 June 2019 published 12 August 2019

Price: 105p
Shares in issue: 210,973,102
Market capitalisation: £222m
Why I own MCON
Designs and manufactures industrial drill bits, with sales supported by established reputation, quality engineering, product patents and technical services
Boasts veteran family management with 42-year tenure, 57%/£126m shareholding and long-term perspective
Pursuing new 'challenger' approach that could generate notable contracts, enhance margins and extend the company's competitive advantage
Further reading: My MCON Buy report | All my MCON posts | MCON website
Results summary: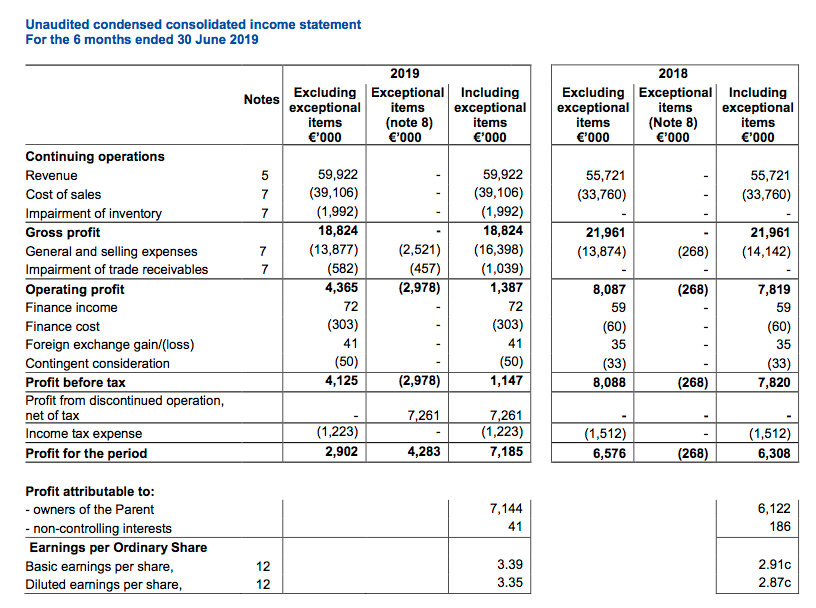 Revenue, profit and dividend
In the event, total revenue gained 8% while operating profit before exceptional items slid 14%.
The purchase of Driconeq — a Swedish drill-pipe specialist — during the first half of 2018 made MCON's underlying growth harder to determine.
At the time of the Driconeq acquisition, MCON suggested Driconeq would improve group revenue to a run rate of €120m.
Doubling up the €60m revenue witnessed during this first half gives a run rate of €120m — suggesting the group has not experienced significant underlying sales growth during the last 15 or so months.
A "backdrop of a softening market" due in part to "competitor [pricing] behaviour" was cited for the mixed performance. MCON had admitted in March that trading was "fitful and flat".

Total first-half earnings were bolstered by the somewhat remarkable disposal of a Swedish heat-treatment subsidiary.
The subsidiary was originally part of Driconeq, which was acquired for a total of €8m last year.
And yet this Driconeq heat-treatment subsidiary has been sold for €8m to bank an accounting profit of €7m.
From what I can tell, MCON effectively acquired the bulk of Driconeq — with perhaps sales of close to €20m — for next to nothing.
The half-year dividend was maintained at €0.0105 per share.
Challenger brand
March's annual results were the first to mention MCON's "challenger brand" strategy of supplying drills and bits directly to end customers.
This RNS contained more strategic details. MCON explained:
"One of the benefits of the acquisition of Driconeq is that we are now in a position to give mines a full consumables offering. As a result of this range improvement and the offering of a full customer service, we are being considered for inclusion among those suppliers who have the resources to handle larger contracts, dealing directly with mines."
The early signs appear promising:
"This [challenger] approach is winning us business… We have recently won, and have started billing, two multi-million-dollar contracts, where we have replaced the market leaders".
I suspect the challenger brand strategy commenced well before March's results mentioned the plan. These results said (my bold):
"The lead time is substantial for these [new] contracts due to the tendering processes that accompany them, the transition period required by a change in suppliers, and the need for delivery assurance by the end customer."
A "substantial" lead time suggests the contract tenders commenced at least a year ago.


These results also said (my bold):
"We are also finding that large contracts can create a substantial cash requirement to support them. This can arise through the provision of cash collateralised performance guarantees, the requirements of inventory reservoirs proximate to the customer, the capital equipment to support service delivery…"
MCON claims the required investment to deliver the new contracts should create a competitive advantage (my bold):
"The ability of the Group to support these multi-million-dollar trading relationships, provide these performance guarantees, and deliver the required working capital investment enables us to overcome what, for other companies, is a very substantial barrier to entry to this business segment."
I can only hope the early new contracts can justify the working-capital investment. Stock levels for instance remain at €50m — equivalent to a huge 40% or so of revenue.
At least selling direct to the end customer ought to improve MCON's margins — the group should soon start to capture some of the income and profit enjoyed by the intermediary distributors.
Another advantage of selling direct should be a greater understanding of customer requirements and determining what products the end users actually want.
Enjoy my blog posts through an occasional email newsletter. Click here for details.
Exceptional costs and working capital
The adoption of the challenger strategy necessitated various reorganisation costs and write-offs that totalled €5.5m during this H1.
10% of the workforce has been made redundant, which should assist margins during the second half. The first-half operating margin (before the various one-off items) was a modest 12%.
Write-offs included trade receivables of €1m. I have previously felt MCON could do with asking its customers to pay a little quicker (point 14). Some customers were clearly not going to pay at all.
Write-offs also included stock of €2m. The results narrative suggested further stock write-offs could occur (my bold):
"A team of experienced senior executives has been charged with working through the inventories in order to simplify the product range to concentrate on fewer variations of our products. This team will also consider write-offs, the disposal of excess product and work-in-progress and review our ranges and markets to make sure we allocate the production to where we have the best manufacturing advantage. Part of this ongoing process will be to identify the markets where we can make the best, sustainable, margins."


As mentioned above, stock levels remain huge at €50m.
"In the coming year we intend to realise all of the €2.3 million tied up in rigs, to reduce raw material inventory by approximately €4 million, and depending on the sales level, reduce the work in progress and finished goods inventory by, perhaps €4 million. We will review this plan through the year as we unwind the working capital."
The company has now decided to drop the €10m projected reduction, and instead has defined releasing cash from stock as a "particular objective":
"The nadir in cash has been passed, cash generation is well in hand for the rest of the year, with a particular objective of releasing cash from inventory."
The cash flow statement still showed an aggregate working-capital outflow — albeit the €0.4m invested was the lowest first-half amount absorbed by working capital since 2013: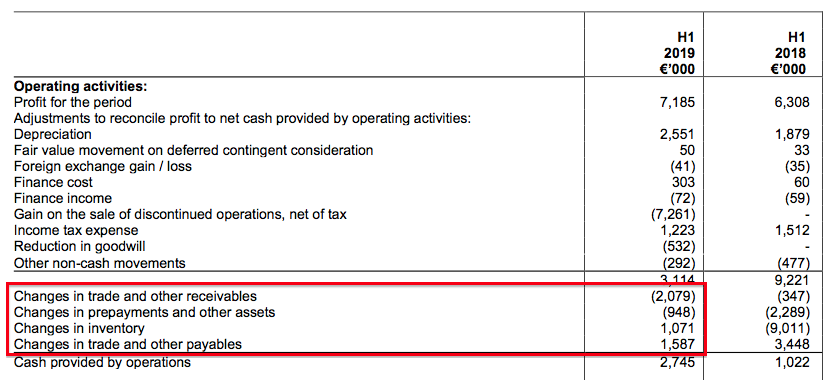 Capital expenditure, cash and debt
I did not really understand this paragraph (my bold):
"We have absorbed €3.75 million in capital expenditure in the first half, for commitments made in previous periods, and depreciation in the period was €2.6 million, an increase over the prior year of €0.7m. Capital expenditure is held in prepayments as it is incurred, and prior to the plant and facilities being commissioned, so while the capital expenditure for the year will be significantly above depreciation, little of this will be actual cash outflow in the period."
I am not clear why capex "held in prepayments" apparently does not affect the "actual cash outflow". Surely capex money spent is always cash out of the door, irrespective of whether the payment is then accounted for as a prepayment rather than as actual property, plant or equipment.
The cash flow statement simply indicates depreciation of €2.6m and capex of €3.75m: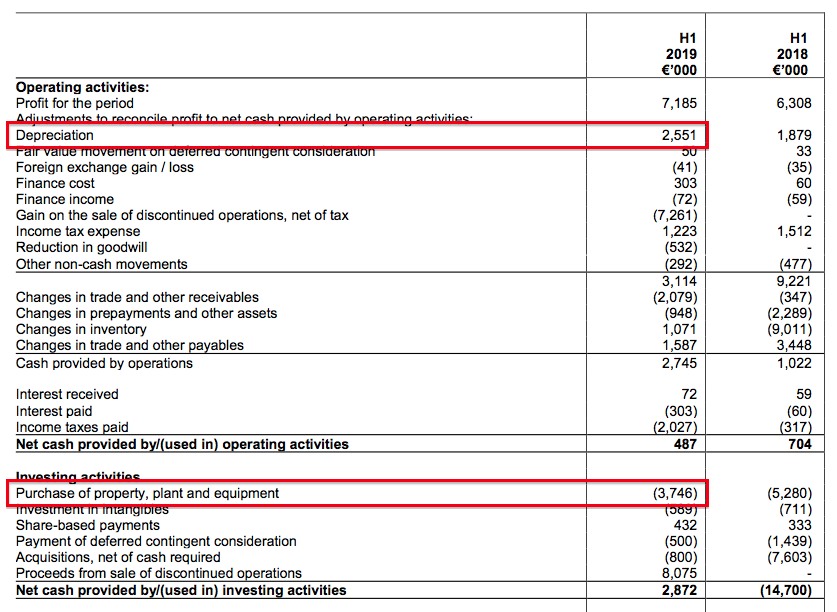 A further €0.6m was spent developing the 'Greenhammer' project — a "hydraulic hammer system designed to deliver a substantial commercial advantage to customers facing hard rock and high-altitude conditions".
March's full-year results had suggested Greenhammer's key attraction related more to fuel savings than geological or altitude issues:
"[Greenhammer] is a disruptive technology, offering tremendous savings in fuel… and there is growing interest from other potential customers with the problems that this technology can address, such as hard rock, and high-altitude drilling."
Total Greenhammer expenditure now totals €4m — of which every cent has been capitalised on the balance sheet and nothing expensed against profit.
The product is now "in the final stage of commercial development".
The capex, the Greenhammer expense, the redundancy/write-off costs, some catch-up tax payments and a small acquisition left cash flow at a negative €5m. The 2018 final dividend cost a further €2m.
Balancing the books was the aforementioned €8m disposal, which left net cash €1m higher at €2m.
Account for the €6m earmarked for possible acquisition earn-outs, and arguably MCON operates with net debt of €4m.
Finance costs surged from €60k to €303k during the half as:

debt increased by €5m to €12m;
the new loans were denominated in overseas currencies at higher rates, and;
lease costs are now classified within finance expenses.
The greater finance costs can no longer be ignored for valuation purposes. After interest received, net finance costs are running close to €0.5m.
MCON carries no final-salary pension obligations.
Valuation
MCON did not suggest trading would improve markedly this year. The most optimistic comment was:
"We aim to return to growth as the new contracts come on stream through the second half."
Further contracts may not be forthcoming in the very near term (my bold):
"We are tendering for more substantial multi-million-dollar contracts. However, we have to win these from the market leaders, not our former peer group, so it will take time and investment to build that portfolio."
The shares retain a premium rating despite the mixed growth progress, the change of strategy and the significant investments that continue to restrict cash flow.
Excluding restructuring and write-offs, MCON's produced a €15.2m operating profit for the twelve months to June 2019.
After finance costs of €0.5m and tax applied at MCON's predicted 19%, earnings come to £11.3m or 5.4p per share with £1 buying €1.09.
The 105p offer price values the business at almost 20x my earnings estimate.
I can only presume the prospect of MCON winning higher-margin, long-term supply contracts — helped no doubt by the group's apparent product leadership — has kept the share price so elevated.
I am hopeful MCON can succeed. The new challenger approach appears sensible and remarks within the annual report reveal a healthy level of development 'paranoia' (point 1):
"If we do not work to make our current range of products redundant by developing new, better products, we can rely on our competitors to do this."
The trailing €0.021 per share dividend equates to 1.79p per share and supplies a 1.8% yield (before Irish withholding taxes for UK-resident investors).
Maynard Paton
PS: You can receive my blog posts through an occasional email newsletter. Click here for details.
Disclosure: Maynard owns shares in Mincon.