03 November 2015
By Maynard Paton
Quick update on Getech (GTC).
Event: Final results published 03 November
Summary: Oh dear — a profit warning for 2016. So much for management's optimism from just a few months ago!  The oil-sector downturn has also created extra guesswork with GTC's valuation, while I remain concerned about the firm's hefty development expenditure. Nevertheless, I believe GTC's range of specialist data and services, alongside an asset-rich balance sheet, should see the firm through the difficulties. I continue to hold.
Price: 40p
Shares in issue: 32,895,748
Market capitalisation: £13.1m
Click here for all my previous GTC posts
Results: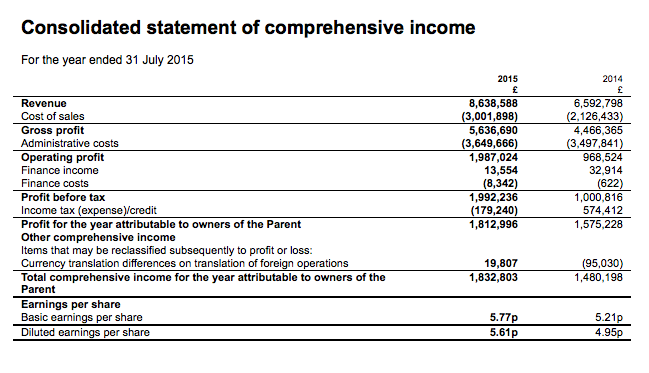 My thoughts:
* The results were no surprise…
An update during August had already indicated that revenue would be £8.5m and pre-tax profit would be £2.0m.
The figures confirmed GTC's second-half was much better than its first:
| | | | | | | | |
| --- | --- | --- | --- | --- | --- | --- | --- |
| | H1 2014 | H2 2014 | FY 2014 | | H1 2015 | H2 2015 | FY 2015 |
| Revenue (£k) | 3,110 | 3,483 | 6,593 | | 3,619 | 5,020 | 8,639 |
| Operating profit (£k) | 218 | 751 | 969 | | 703 | 1,284 | 1,987 |
The only number that did not improve in the second half was the dividend. After the first-half payout was raised by 0.02p to 0.46p per share, the final payout for the year was trimmed by the same 0.02p to 1.74p per share.
* …but the board has suddenly become much less optimistic :-(
Back in August — and despite the firm serving clients operating in the battered oil sector — GTC's managers appeared quite upbeat. At the time they said:
"We are increasingly confident about the prospects for 2016 as a number of significant discussions have already, at the request of our clients, been aimed at inclusion of Getech products in their 2016 budgets."
However, today's statement owned up to the effect of the oil-price downturn (my bold):
"At the same time, the deep cuts to staffing in many companies, including the international oil companies (IOCs) and large US independents, mean that their capability to undertake exploration is severely curtailed… In the short-term there remains considerable uncertainty about the state of the market and its impact on our trading and accordingly we believe the year ahead will be trading substantially below current market expectations."
At least the board continued to be positive about the longer term:
"While there remains significant uncertainty about the short term and we cannot predict how the market will develop during 2016, we remain convinced that our products and staff are well regarded and satisfy a clear industry need. As such, whilst we anticipate a slow start to 2016, we remain confident about the long-term prospects for the extended Getech Group."
* Few hard facts about the performance of ERCL 
GTC bought fellow geosciences consultancy ERCL during April. The £4.3m price-tag exceeded GTC's annual profits and so prompted me to raise an 'amber acquisition alert'.
I must admit I was disappointed by GTC's description of the financial performance of ERCL post-acquisition. The commentary was limited to just this:
"The acquisition of ERCL in April 2015 contributed to our growth in the year."
Anyway, a look at the accounts reveals some interesting numbers relating to ERCL.
First up is the initial cash payment to buy the business. The original acquisition announcement referred to £1.75m, but the cash flow statement reveals a net £1.13m. So it appears as if ERCL came with a useful cash hoard of £0.62m:

Second, the deferred earn-out. The original acquisition announcement stated  £1.55m, but the balance sheet shows a non-current trade payable of £980k. I get the impression that this £980k represents the earn-out, which suggests profits at ERCL may not be as high as originally expected:

Third, the cash flow statement records a £298k intangible write-off and a  somewhat mysterious £304k fair value adjustment. To me, these look to be post-acquisition adjustments — the net effect of which is insignificant. But closer inspection of these two entries is required, just in case something else is afoot:

Due to be published next week, the 2015 annual report ought to confirm how much ERCL contributed after purchase and what exactly the numbers above represent.
* Hefty expenditure on intangible assets
GTC's interims from March revealed the business capitalising a substantial £482k of development costs onto its balance sheet.
The full-year figures showed a further £495k of development costs side-stepping the income statement, alongside a further £128k spent on intangibles:

Despite this £1m-plus of development and intangible expenditure representing half of the £2m accounting profit, GTC did not make clear what all the expenditure related to.
Quotes from the results statement suggest the expenditure concerns enhancements to the firm's Globe database (my bold):
"We have continued the Globe development programme during the year… Globe continues to be our global exploration database and is actively used to add value to new sub-global products and proprietary contracts. It is essential that Globe is built with a balance between primary data (i.e. data measurements) and interpreted data. Our staff continue to build the interpretations but we have also added two significant third party data-sets – a well data-set comprising more than a million North American wells, and a seismic data-set which covers a number of areas of interest across the world."

"We have continued to enhance Globe as an exploration data-set and to increasingly realise the value from it in a number ways. We anticipate that the work in the current three-year development period will continue to add to its intrinsic value as well as increasingly enabling us to realise value directly through its use at a variety of scales and in a range of product types."
The reference to a "three-year development period" indicates there could be further hefty development expenses to come — most of which could also travel directly to the balance sheet.
Without more detail, it looks to me as if reported profits are being inflated — and I need to investigate this point further.
Valuation
With current-year profits set to come in "substantially below current market expectations", judging GTC's valuation on an earnings basis is tricky.
Profit estimates are made trickier by GTC serving relatively few customers and collecting somewhat lumpy income. For instance, these results recognised the majority of a single $5m contract — which probably represented at least 30% of the year's revenue.
My best guess is to assume the current depressed year will achieve a negligible  operating profit and that a return to the good old days will see operating profit reach £2m again (seen in 2013 and 2015).
(True, a negligible profit may prove to be too pessimistic this year, but that is counterbalanced by GTC spending significant amounts on intangibles. I can foresee GTC reporting a break-even year on a cash flow basis).
As such, a middling year could therefore see a £1m operating profit, which after 9% tax (aided by R&D tax credits) would equate to earnings of 2.8p per share. That's just enough to cover the 2.2p per share dividend.
What is more certain is GTC's balance sheet, which carries a freehold with a £2.6m (8p per share) book value as well as net cash of £3.7m. Taking into account the aforementioned £980k earn-out, and making a few minor adjustments for other working-capital items, I make net cash to be £2.3m or 7p per share.
With the shares at 40p and market cap at £13.1m, I reckon GTC's enterprise value (EV) to be 33p per share or £10.8m. The P/E on my EV and middling EPS guess is therefore 12.
That valuation does not tempt me to top up just yet, especially as I need to learn  more about that development expenditure and study the finer details within the forthcoming annual report.
Nonetheless, GTC does have net cash, should survive the current downturn and demand for its range of specialist data and services ought to rebound as and when the oil sector recovers. When that recovery occurs, of course, is anyone's guess.
* Next events: Ex-div on 19 November,  AGM on 8 December, 1.74p final dividend paid on 17 December.
Maynard Paton
Disclosure: Maynard owns shares in Getech.