08 September 2015
By Maynard Paton
Quick update on Tasty (TAST).
Event: Interim results published 8 September
Summary: A very satisfactory set of results, with highlights including higher margins and a further acceleration of new restaurant openings. It certainly appears as if TAST will expand using debt rather than equity, though further borrowings will be needed for the business to become self-funding. I remain convinced the family management here can replicate its earlier success at Prezzo (PRZ) and can perhaps quadruple TAST's market cap. I continue to hold.
Price: 135p
Shares in issue: 53,215,324
Market capitalisation: £71.8m
Click here for my previous TAST posts
Results: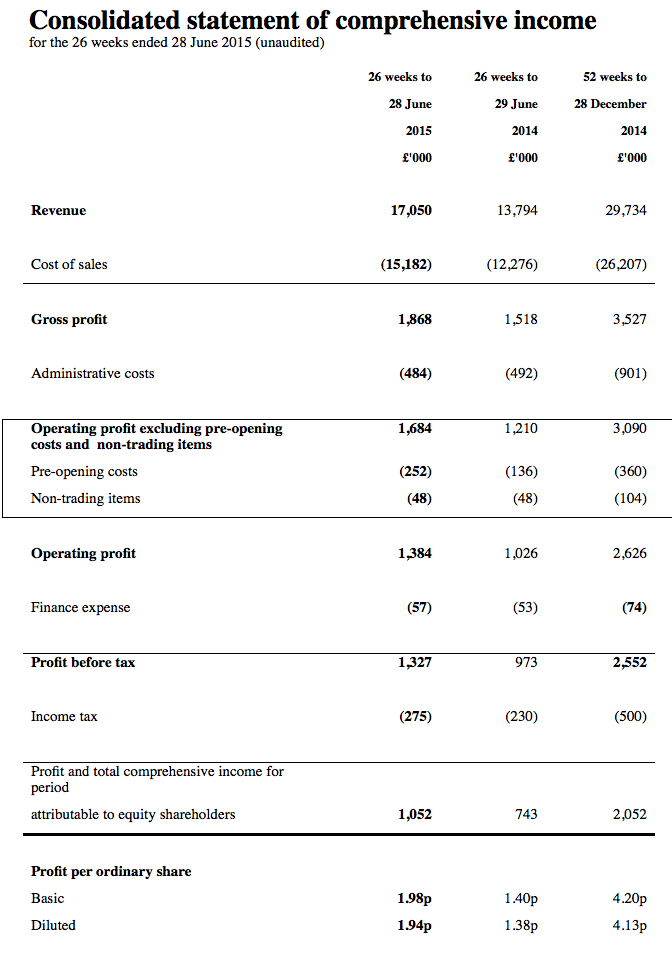 My thoughts:
* These results appeared very satisfactory
I felt TAST's progress was very satisfactory, and further extended the positive momentum reported within March's full-year results.
During the six months, the chain operated with an average of 39 outlets — up from 30 during the comparable period of 2014. As such, it was no surprise to see a substantial performance improvement. First-half revenue advanced 24% while operating profits climbed 35%.
* Operating margins continue to improve
TAST's expansion continues to showcase higher operating margins — they improved from 7.4% to 8.1% during this first half. The group said today that "actions are regularly taken to improve profitability at all sites, increasing sales through updated menus and improving food and labour margins."
Something important to consider with future margins is the National Living Wage. Its introduction next April will see workers aged 25 or more receive a minimum of £7.20 an hour, which will increase to £9 an hour by 2020. (The current minimum wage rises to £6.70 an hour from October.)
Last year the average TAST restaurant employee was paid about £16k and I am sure the company will face higher staff costs once the new legislation comes into force.
* Restaurant openings continue to accelerate
Today's statement confirmed six new restaurants had opened, with a further five to start trading before the end of the year. However, one outlet was closed during the six months.
So… 2015 will witness an extra 10 net new sites — up from an extra 8 during 2014, an extra 5 during 2013 and 2012, and an extra 4 during 2011. I am very pleased TAST's expansion continues to accelerate and the group is now adding meaningful numbers of new outlets.
* Further debt funding looks likely
TAST's expansion is presently funded by debt. The six months witnessed TAST's net cash position of £1.3m turn into net debt of £2.7m as the business spent £4.5m on new restaurants.
Earlier this month, TAST confirmed it had lifted its debt facilities from £4m to £8m. That gives the firm an extra £4m to spend on new sites,  but my rough sums indicate the business needs to produce operating profits of £6m-plus to self-fund 10 new outlets a year from its existing estate. Right now profits are running at around £3m.
Looking back at how PRZ expanded, it raised £16m by issuing new shares between 2004 and 2006 to take its estate from 35 to 98 sites — at which point that business became self-funding.
All told, I get the impression TAST will need to take on further debt — probably another £8m — to stand any chance of repeating the roll-out achievement of PRZ.
At least the cost of TAST's debt does not appear onerous at present. The interest charge paid during these latest six months came to just £57k. I am also pleased the amount of capex per new site matches that spent during recent years.
Valuation
* I continue to believe TAST can replicate the success of ASK and PRZ
TAST's family management has already built and sold two multi-bagger restaurant chains (ASK Central for £223m in 2004 and PRZ for £304m in 2015) and I see no reason why TAST cannot complete the hat-tick.
PRZ was acquired earlier this year for £304m when it operated with 245 restaurants. Back in December 2004, PRZ had 48 outlets — comparable to TAST's 42 at the end of June 2015.
So if TAST simply follows the success of PRZ, then the next 10 years could see TAST's £72m market cap become £304m — or advance 4-fold or 15% a year.
(Subtract PRZ's £33m freehold assets from its final £304m market cap, and TAST's market cap could grow 3.8-fold or 14% a year. TAST does not own any freeholds).
* In the meantime, the shares remain highly rated 
TAST's trailing P/E is 28— so the downside will be considerable if a setback occurred and/or the expansion history of PRZ can't be replicated.
Next events: Preliminary results, probably March 2016 
Maynard Paton
Disclosure: Maynard owns shares in Tasty.