09 September 2015
By Maynard Paton
Quick update on M Winkworth (WINK).
Event: Interim results published 8 September
Summary: A somewhat lacklustre set of results, blamed on a nervous pre-election housing market and extra costs associated with a corporate-relocation department. While the potential of additional lettings income looks promising, cash generation remains disappointing. I still like the simplicity of this franchising business, but must admit to having doubts about the size of its full potential. I continue to hold.
Price: 143p
Shares in issue: 12,676,238
Market capitalisation: £18.1m
Click here to read previous WINK posts
Results: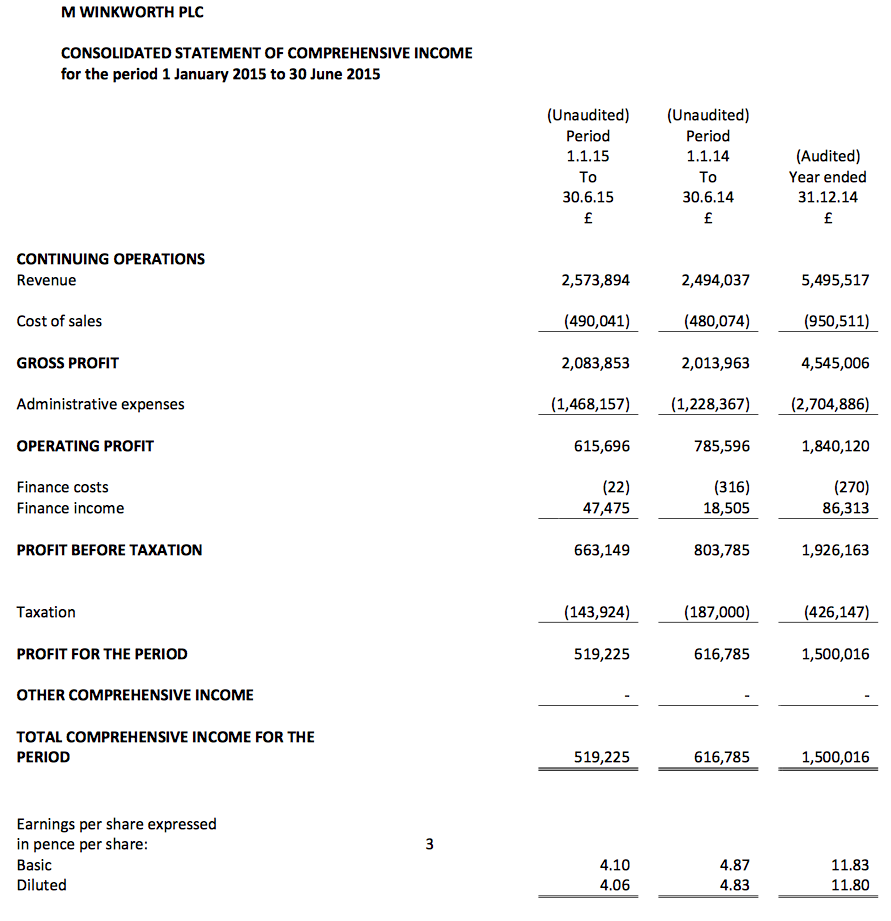 My thoughts:
* These results lacked financial commentary
I was struck by the lack of financial commentary within this statement. In a 1,300-word report, only the following related to the accounts:
"During an uneven first half, Winkworth's revenues rose by 3.2% to £2.57 million (2014: £2.49m), Profit before taxation was down 17% to £663,149 (2014: £803,785), cash generated was down 34% to £290,240 (2014: £436,582) and dividends of 3.3p were declared and paid (2014: 2.9p)."
The rest of the statement explained how the property market had become subdued before the election, why activity may now pick up, and (albeit briefly) why profits had fallen short of last year.
All told, it was not the most informative of updates.
*  The performance was comparable to that of Foxtons 
On the face of it, WINK's results were not spectacular. Revenue edged 3% higher while operating profits dived 22%. The shortfall was blamed on costs associated with establishing a corporate-relocation department and "retreating from poor locations".
Still, the performance was comparable to that of Foxtons (FOXT), which also suffered from pre-election jitters. In July, this London estate-agency rival reported first-half revenue sliding 2% and operating profits also diving 22%.
WINK noted its lettings-related revenue had improved by 7% to now represent 38% of its gross franchisee income. My sums indicate gross franchisee income relating to property sales fell 11% — although this was not confirmed in the results. For what it is worth, FOXT's first half also witnessed income from property sales drop 11%.
*  Letting income still 'well set' for 50% of revenue
I was pleased WINK re-confirmed that "rentals are well set to reach our medium-term goal to represent 50% of total revenue".
As before, I trust this goal will be achieved by rental income growing rather than property-sale income contracting! WINK reckons the aforementioned corporate-relocation service could provide a useful boost to its rental activities, which I feel provide a more dependable source of income than traditional sales commissions.
Anyway, I believe rental income growing to 50% of gross franchisee income could mean WINK's own revenue may increase by £1.5m — and perhaps add a further £0.5m to profits. These numbers are not insignificant when compared to current revenue of £5.6m and profits of £1.7m.
* Cash flow continues to support franchisees
My previous posts on WINK have applauded the group's high margins and its high equity returns — both 20%-plus during this first half despite the extra costs.
But cash flow remains disappointing. You see, WINK has lent significant sums to its franchisees, with £1m outstanding at the end of 2014 and a further £150k or so lent during the latest six months.
Such loans, and the general tardiness of the franchisees to pay their fees to WINK (see point 2 in this comment), meant the vast majority of operating profit for this first half was absorbed into working capital.
In fact, the cash movements left WINK's cash pile some £0.4m lighter at £2.1m.
Overall, the cash flow situation is not great and I'm hopeful the next year or two will see i) some of the earlier franchisee loans paid back, and; ii) fees owed to WINK paid more promptly.
At least WINK was confident enough to lift its first-half payout by 6.6% to 3.2p per share.
Valuation
* Trailing operating profits now stand at £1.7m and, taxed at a standard 20%, would produce earnings of £1.3m or 10.5p per share.
* Subtract the group's £2.1m net cash position from the current £18.1m market cap (at 143p), and I get an enterprise value of £16.0m or 126p per share.
* Then divide that 126p by my 10.5p earnings estimate and I arrive at a P/E of 12. Not an obvious bargain given 2015 profits are likely to be down on last year, though management is optimistic of a "resumption of growth" for 2016. The trailing 6.4p per share dividend supplies a 4.5% yield.
Next events: Q3 dividend announcement early November, possible trading statement early December.
Maynard Paton
Disclosure: Maynard owns shares in M Winkworth.