24 April 2015
By Maynard Paton
Quick update on French Connection (FCCN).
Event: Trading update published 24 April
Summary: Profit warning — poor H1 Retail sales will mean greater-than-expected group losses this year. However, the profitable Wholesale and Licensing divisions continue to perform as expected. Turnaround possibilities remain, but the protracted wait has become just that bit longer once again. What's needed now is some radical management action. I continue to hold. 
Price: 42p
Shares in issue: 96,178,134
Market capitalisation: £41m
Click here for my previous FCCN posts.
Statement: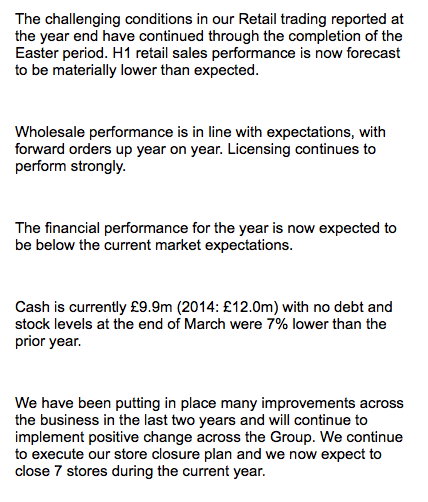 My thoughts:
* Who was it that said 'turnarounds seldom turn'?
Well, I did say in my last FCCN post that the fashion retailer's turnaround is "unlikely to be entirely smooth".
The chain suffered a poor Easter and — despite being less than three months into the current financial year — has essentially warned of higher losses for the full twelve months.
No doubt about it, this is disappointing news — especially when the business had almost returned to break-even in the previous year. I suppose the weaker H2 performance revealed within the last results was a signal that trading wasn't going too well.
* But all is not lost
At least FCCN's profitable Wholesale and Licensing divisions continue to perform as expected — and such progress tells me FCCN's product range is not a complete write-off just yet. Remember, these two divisions produced a sizeable £21m profit before central costs last year.
Furthermore, cash burn for the last twelve months appears to be £2.1m. While it's not great to see FCCN continue to lose money, the burn-rate does not seem too worrying at present with net cash at a seasonal low of £10m. (Net cash at the seasonal high has recently been £20m-plus).
* More stores to close
FCCN has upped its store-closure plan for the current year from 3-4 to 7. At the last count the chain had 88 stores.
Given the latest trading setback, the additional closures are welcome — and I'd like to think FCCN is now becoming even more decisive with its loss-making outlets. The Retail division lost £11m before central costs last year, with onerous lease payments not helping.
During the previous two financial years, FCCN closed 18 under-performing stores and its annual lease charge dropped by £4.5m to £23.9m. I calculate another 7 store closures might therefore save a further £1.75m a year.
As a reminder, FCCN's last results presentation revealed the average store lease had 4.4 years to run, with "poorer performing stores lower than this average".
* I still believe this share can one day top 100p — but the wait has just become longer :-(
My previous FCCN post contained various recovery forecasts and valuation sums, and today's news has made them somewhat redundant.
So think about FCCN this way. Last year's Wholesale and Licensing profits were £21m, which after all central costs would still leave £10m. In contrast, the market cap is just £41m at 42p — and there is net cash of £10m on the balance sheet, too.
As I see things, all the board needs to do is to take a thumping great axe to the Retail estate, which in turn would substantially reduce lease payments, stock levels and (I trust) central costs. I reckon cutting Retail losses from last year's £11m to £5-6m would take group earnings to 8-9p per share and the share price beyond 100p.
In fact, the ideal outcome here is FCCN evolving into a pure Wholesale and Licensing operation — with perhaps a token own-store Retail presence. I'm sure the company would then enjoy a greater quality of income with much less in the way of liabilities and expenditure.
This could be pipe-dream stuff — but I do hope this latest setback has the board contemplating such a radical change to its business. I mean, if such a transformation were ever to happen, the share-price re-rating from 42p could be dramatic.
* Next update — probably an AGM update on 12 May.
Maynard Paton
Disclosure: Maynard owns shares in French Connection.