***SharePad New Subscriber Special Offer***
Readers of my blog can claim one month of free data. Click here for details. #ad
14 May 2023
By Maynard Paton
Let me start by confessing this article covers pension deficits.
What follows is therefore not thrilling and does require some concentration. But please stick with me, especially if you have ever fallen victim to a 'value trap'.
You see, an onerous pension scheme is a common reason why companies trade on permanently low ratings. The market essentially believes too much of their future profits will have to plug a retirement 'black hole' instead of being paid out as dividends.
A good example is Reach, the newspaper publisher that used to be known as Trinity Mirror.
An update the other week confirmed a £95m profit was expected for 2023:
"Profit expectations for FY23 remain in-line with market consensus.(1)
…
(1) Market expectations compiled by the company are an average of analyst published forecasts – consensus adjusted operating profit for FY23 is £95.3m (range from £93.7m to £96.5m)"
…and yet the market cap is £265 million and the 83p shares currently trade on a P/E of approximately 3: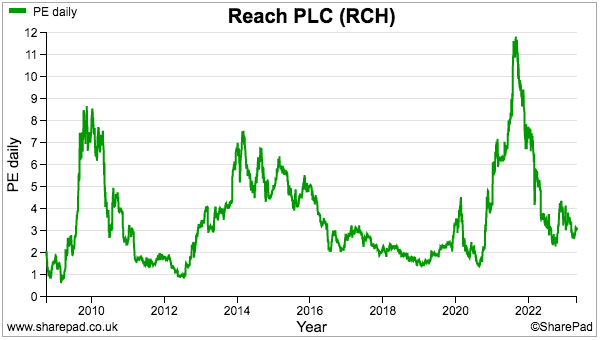 Studying the group's pension situation goes some way to explain the rock-bottom rating.
Let's take a closer look.
Read my full Reach article for SharePad.
Maynard Paton