28 July 2022
By Maynard Paton
***SharePad 25% OFF Special Offer***
Use promo code mp25 to claim your 6-month discount. Click here for details. #ad
Difficult market conditions have prompted yet another bout of 'back to basics' filtering.
Introduced the other month to identify James Halstead, this screen short-lists companies that offer cash-flush balance sheets, robust margins and dependable dividends. SharePad returned 19 matches: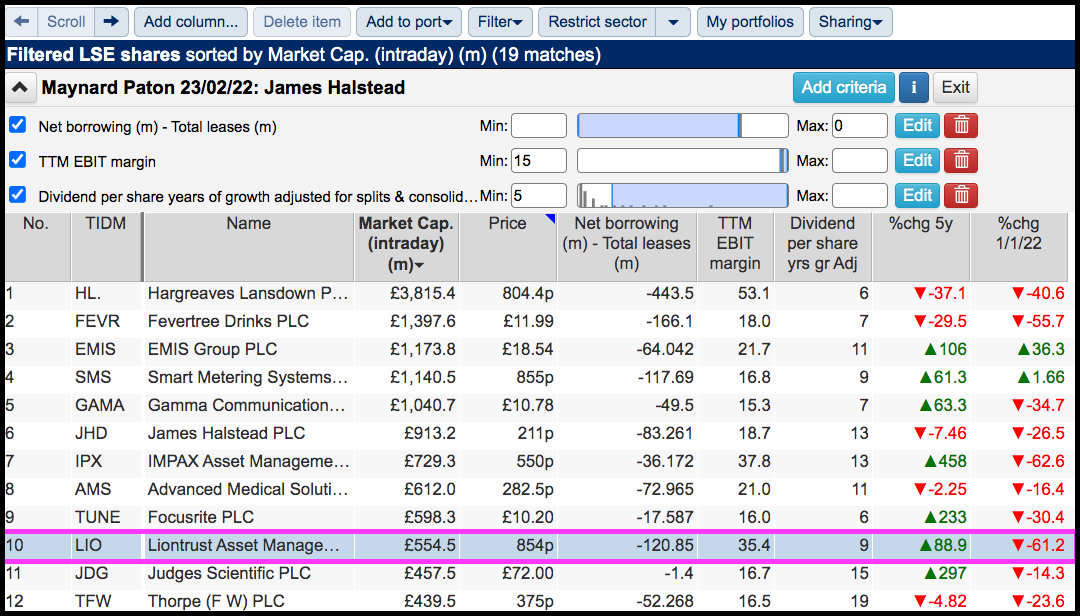 I selected Liontrust Asset Management because the shares were highlighted by ace fund manager Keith Ashworth-Lord within his latest Buffettology fund factsheet. Mr Ashworth-Lord wrote:
"Liontrust Asset Management (-15.5%) announced final results which showed substantial growth in average AUM (+43%), revenue (+41%), dividends per share (+53%) and free cash flow (+122%).

The reaction of Liontrust's share price — which will be seen by the teenage scribblers in the City as high beta — is symptomatic of current market sentiment. As a result, the shares trade on a trailing free cash flow yield of 15% and a trailing dividend yield of 8%. Talk about 'value'."
Let's take a closer look.
Read my full Liontrust Asset Management article for SharePad.
Maynard Paton