23 August 2018
By Maynard Paton
Update on Mincon (MCON).
Event: Interim results for the six months ending 30 June 2018 published 13 August 2018.
Summary: MCON extended its bumper 2017 progress with some very satisfactory first-half figures. The specialist drill manufacturer claimed greater orders from the mining sector had supported 12% organic sales growth, while my sums suggested a robust 19% operating margin was reached during the second quarter. In addition, current trading appears healthy and a recent acquisition may have performed much better than expected. However, a P/E in excess of 20 probably reflects all of the positives, especially given cash conversion remains below par. I continue to hold.
Price: 155p
Shares in issue: 210,541,102
Market capitalisation: £326m
Click here to read all my MCON posts
Results: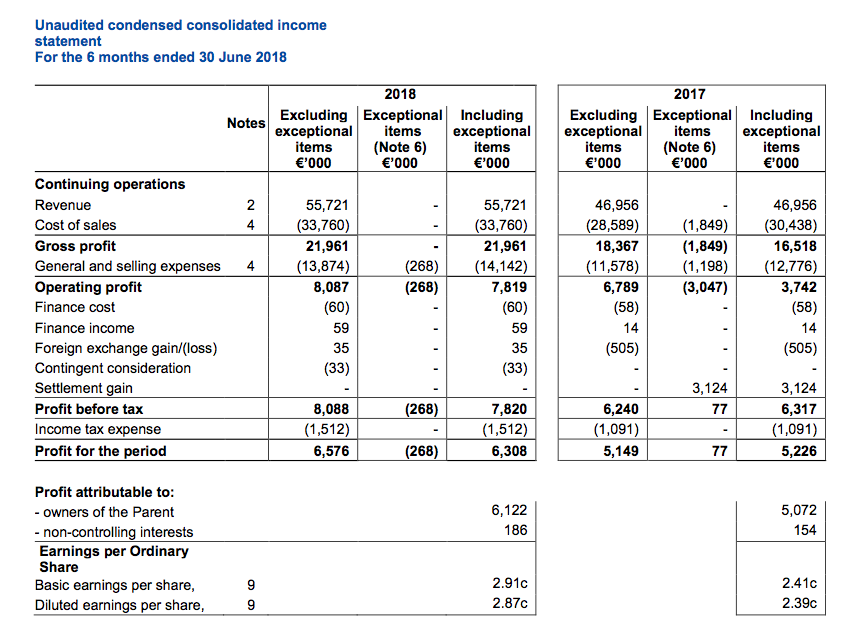 My thoughts:
* "We are on a path to remove third party sales from our line-up"
The €7.8m purchase of Driconeq — a Swedish drill-pipe specialist — during March helped ensure these interim figures would set new first-half records.
Total sales gained 19%, or €8.8m, of which €8.1m was generated by Driconeq. Meanwhile, operating profit climbed 19%, or €1.3m, of which approximately €0.2m was contributed by Driconeq.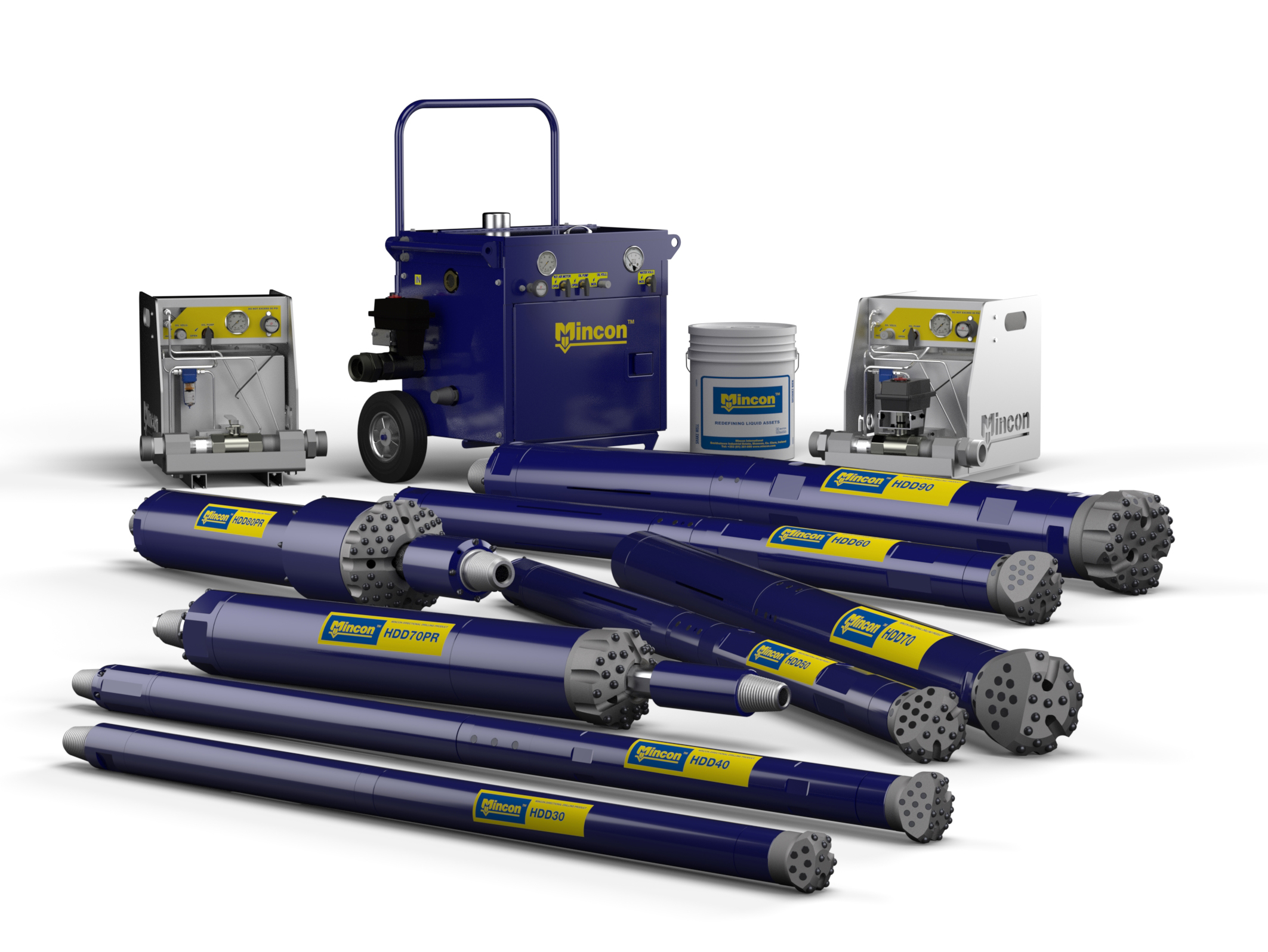 April's first-quarter update had already signalled MCON's underlying progress was now being led by orders for its in-house manufactured products.
This first-half statement confirmed the trend, with H1 sales of Mincon equipment up 12% (€4.2m) to €39.4m (a new H1 record), and H1 sales of third-party products down 29% (€3.4m) to €8.3m.
For the first time I can recall, MCON suggested it was deliberately discontinuing sales of certain third-party equipment:
"We are on a path to remove third party sales from our line-up where that makes commercial sense, to either manufacture them in our own plants, or discontinue the sales. The gross margin percentage on manufactured products is higher and is a more significant driver of our earnings.This is particularly true where the engineering value add is significant."
For some perspective on profitability, the gross margin on third-party sales is approximately 20%, while the gross margin on own-branded products is well above 40%:
| | | | | | | |
| --- | --- | --- | --- | --- | --- | --- |
| Third party | 2013 | 2014 | 2015 | 2016 | 2017 | H1 2018 |
| Revenue (€k) | 11,645 | 12,728 | 17,480 | 19.821 | 22,393 | 8,315 |
| Cost of sales (€k) | (8,719) | (10,010) | (13,772) | (15,562) | (17,580) | (6,569) |
| Gross profit (€k) | 2,926 | 2,718 | 3,708 | 4,259 | 4,813 | 1,746 |
| Gross margin (%) | 25.1 | 21.4 | 21.2 | 21.5 | 21.5 | 20.1 |
| | | | | | | |
| --- | --- | --- | --- | --- | --- | --- |
| Own brand | 2013 | 2014 | 2015 | 2016 | 2017 | H1 2018* |
| Revenue (€k) | 40,698 | 41,816 | 52,786 | 56,360 | 74,965 | 39,307 |
| Cost of sales (€k) | (17,902) | (20,982) | (28,217) | (30,058) | (41,940) | (21,147) |
| Gross profit (€k) | 22,796 | 20,834 | 24,569 | 26,302 | 33,025 | 18,169 |
| Gross margin (%) | 49.1 | 43.2 | 40.2 | 40.1 | 38.9 | 46.2 |
(*excludes Driconeq)
As well as the revenue increase, the sales-mix change also prompted a notable profit improvement (see below).
* Underlying Q2 operating margin may have reached 19%
Here are my best guesses of MCON's quarterly performances (excluding Driconeq):
| | | | | |
| --- | --- | --- | --- | --- |
| | Q1 2018 | Q2 2018* | Q3 2018 | Q4 2018 |
| Revenue (€k) | 22,650 | 24,972 | - | - |
| Operating profit (€k) | 3,080 | 4,777 | - | - |
| Operating margin (€k) | 13.6 | 19.1 | - | - |
(*excludes Driconeq)
| | | | | |
| --- | --- | --- | --- | --- |
| | Q1 2017 | Q2 2017 | Q3 2017 | Q4 2017 |
| Revenue (€k) | 21,368 | 25,588 | 24,875 | 25,527 |
| Operating profit (€k) | 2,457 | 4,332 | 3,483 | 3,768 |
| Operating margin (€k) | 11.5 | 16.9 | 14.0 | 14.8 |
True, second-quarter revenue was slightly below that recorded during the comparable period of 2017.
However, the margin improvement during Q2 was significant — and underlined the greater profitability from replacing third-party products with the group's own-manufactured equipment.
Indeed, I am hopeful my 19% margin estimate for Q2 means MCON is back on the road towards the 19%-plus full-year margin that first attracted me to the shares back in 2015.
Growing demand for drills and bits from the recovering mining sector allowed MCON to pass on cost increases to its customers:
"While there are pressures on the raw materials side, we are beginning to be able to recoup those input cost-increases from the end customers after four years or more of margin squeeze."
More significantly, MCON reiterated it was still trying to dig (or drill) a 'moat' for longer-term investors (my bold):
"Our goal is not revenue growth for its own sake, but sustainable earnings growth, and niche manufacturing to develop defendable intellectual property that underwrites our margins over time. We work to build long term sustainable, defensible market positions by offering value for money rather than price as our central proposition. We see better engineering as core to our product offering."
* New acquisition could be performing far ahead of expectations
The aforementioned purchase of Driconeq provided an eye-catching contribution during this first half.
The original acquisition announcement claimed the new subsidiary could create additional annual revenue of €21m.
However, the Swedish outfit produced revenue of €8.1m (assuming my sums are correct) during the first three or so months of MCON's ownership.
I am not sure what to make of this situation. Either:
i) Driconeq's revenue is very seasonal, or;
ii) Driconeq is performing far ahead of expectations, or;
iii) my sums are wrong.
Reflecting the "problems that have crept into that group over the last few years", MCON said Driconeq's profit margin was a tiny 2.5%.
Wishful thinking perhaps, but given how profitable the wider business has become, I am hopeful Driconeq's margin could one day advance to, say, a double-digit level.
Note, too, that MCON's other Nordic operations — which I estimate generate annual sales of less than €5m — reached breakeven during this first half and have since become profitable. So further progress here could also enhance MCON's overall profitability.
* Mysterious accounting for intangibles and a €9m "inventory swell"
I must confess to being a tad disappointed with MCON's cash flow.
As I noted within my March full-year review, there are 'issues' with MCON's intangible expenditure and working-capital movements.
The accounting of intangible expenditure certainly remains a mystery.
MCON confirmed expenditure of €711k had been capitalised on the balance sheet:
"We capitalised some €711,000 of expenditure on this development project for our hydraulic hammer systems in the first half and carry the investment in the balance sheet at €2.4 million."
And yet the cash flow statement continues to 'hide' this €711k: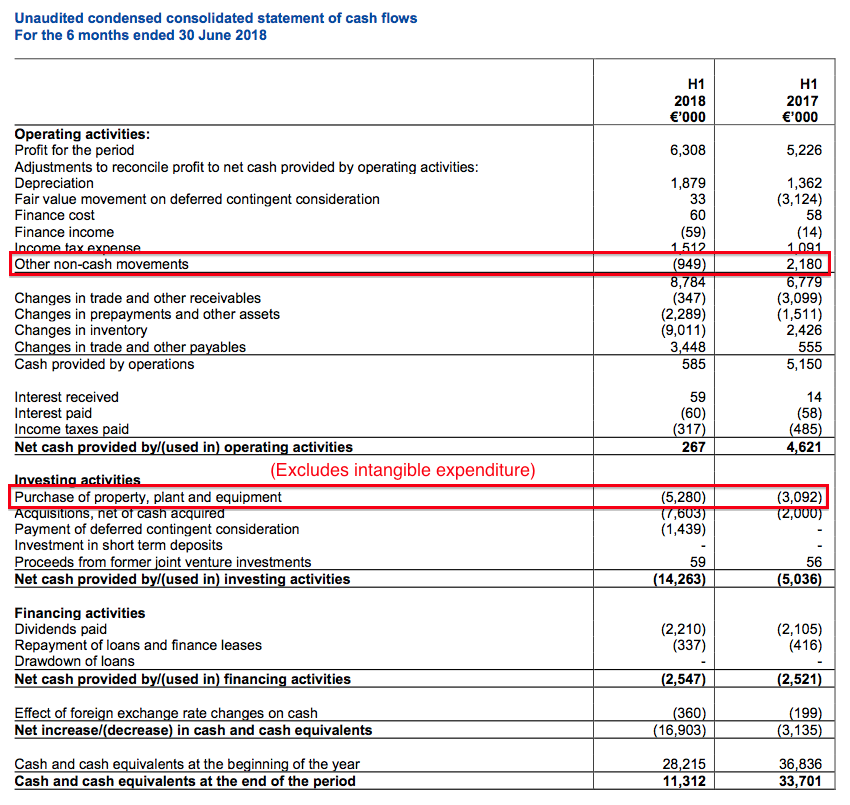 As before, I can only assume the €711k has been lumped within 'other non-cash movements' — the entry for which still appears to be a useful cover for disclosure avoidance. (I think clarification from MCON's finance director is now in order.)
Elsewhere within the cash flow statement, working-capital movements did not look great: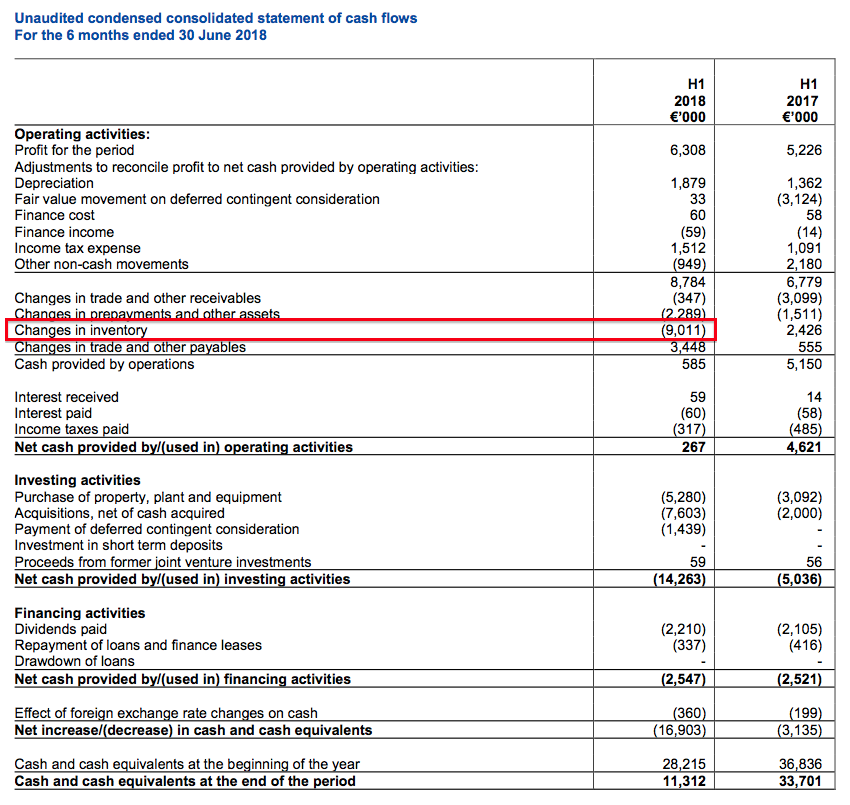 An €8,087k operating profit translated into cash from operations of only €585k following substantial cash payments for additional stock.
MCON explained the "inventory swell":
"We previously flagged that we intended to invest a further €5 million in raw material inventory as we ramped up manufacturing to meet the expanding order book. We invested in plant, we have stepped up manufacturing volumes against orders, and we have very significant inventory in transit and arriving to support the sales growth we realised last year but which we have not been able to support in H1. We estimate that we are approximately half way through the working capital cycle that has absorbed these funds and we are now getting to the point where the increased inventory is hitting our own shelves in the customer centres."

"This inventory swell through the working capital cycle should unwind to some degree in the H2 for the Group, though we may maintain the raw material investment to moderate the risk of price increases and basic non-supply due to the sector demands elsewhere. Of the current uplift, €4.6 million came in with Driconeq and we believe is good inventory, €4.5 million is in raw material strongly bought forward to support the increased turnover and to mitigate the supply side price increases, and the rest is in transit or reaching the shelves of the sales offices."
Sure, investing in additional raw materials — in part to service the ongoing influx of new orders — does not sound too alarming.
However, MCON's half-year stock level came to almost €44m, which is huge compared to annual revenue that currently runs at approximately €120m:

MCON's 2017 results had displayed some improvements to working-capital management, but I get the impression MCON will always operate with substantial sums tied up in warehouse stock.
(I understand this warehouse stock forms part of MCON's competitive advantage, whereby the group is able to supply drills and bits at short notice to miners operating in remote locations.)

The family management — which collectively owns a 57%/£185m shareholding — did not seem too concerned about the (lack of) cash generation. The board lifted the interim dividend by 5% to 1.05 euro cents a share.
The stock build-up, the Driconeq purchase, as well as a sizeable €5m capex bill, meant the cash balance dropped a hefty €17m to €11.3m during the six months.
Indeed, the €47m raised at the 2013 flotation has now almost all been spent.
Factor in borrowings of €1.7m and deferred acquisition payments of €6m, and the effective net cash position is now arguably just €3.6m, or approximately 1.6p per share.
Valuation
The management commentary included a number of positive trading snippets (my bold):
"The team is confident across the businesses, the sector appears strong, lead times have increased for capital goods which should mean strength in the sectors that we serve, and orders remain robust in most of our markets."
There was also talk of these first-half figures being hindered by unfulfilled orders that should clear during the second half:
"The decline in the USA is largely due to not being able to supply against order for the market in H1. That situation has since been recovered by a greatly increased supply from our factories at the end of the half, and we expect an improvement through the rest of the year as the backlog clears."
Certainly the share price — which has surged 50% so far this year — is expecting stellar near-term progress.
MCON's trailing €15.3m operating profit converts into earnings of £11.2m, or 5.3p per share, after applying tax at 19% and using a £1:€1.11 exchange rate.
Dividing the 155p share price by my 5.3p EPS guess then gives a multiple of 29x. (Adjusting for the €3.6m effective net cash position does not make any discernible difference).
Is this rich multiple justified?
Well, annualising the bumper Q2 €4.8m operating profit could give earnings of 6.6p per share. Then assuming Driconeq could suddenly deliver an additional €2m annual operating profit, total earnings would then become 7.3p per share to support a 21x multiple.
In light of ratings applied to other 'growth shares' at present, I dare say a few more years of decent revenue growth and margin improvement could leave today's 20-plus P/E looking cheap.
However, I much preferred MCON shares when they were 44p back in 2015, at which point the group was undergoing a rough patch and the P/E was 10-11… and yet the hallmarks of a quality business run by very competent managers were still quite clear.
With the shares currently representing approximately 7% of my portfolio, right now I am happy to simply hold on… and trust the growing demand for the group's drills and bits does indeed continue for the next few years.
In the meantime, the current €0.021 per share dividend provides me with a modest 1.2% income (before Irish withholding taxes for UK-resident investors).
Maynard Paton
PS: You can now receive my Blog posts through an occasional e-mail newsletter. Click here for details.
Disclosure: Maynard owns shares in Mincon.