***SharePad New Subscriber Special Offer***
Readers of my blog can claim one month of free data. Click here for details. #ad
22 September 2023
By Maynard Paton
"Instead of buying back shares or raising dividends, profitable companies often prefer to blow the money on foolish acquisitions. The dedicated diworsifier seeks out merchandise that is (1) overpriced, and (2) completely beyond his or her realm of understanding. This ensures that losses will be maximised."
Market legend Peter Lynch never liked great companies that 'diworsified' into less appealing sectors in the quest for growth.
His book One Up On Wall Street recounted how many famous US stocks blew big money on foolish acquisitions to ensure losses were maximised during the 1980s.
Diworsification sadly remains a popular management strategy, and UK small-caps have not been immune from ambitious boardrooms undertaking low-quality acquisitions and trying to prove Mr Lynch wrong.
NCC is a prime example. The IT group was once dominated by a terrific subsidiary, but lots of acquisitions created a series of mishaps and the shares are now back to where they were twelve years ago: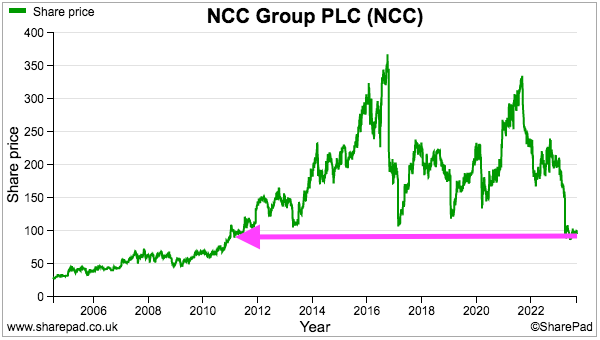 Let's take a closer look.
Read my full NCC article for SharePad >>
Maynard Paton