19 May 2017
By Maynard Paton
Quick update on World Careers Network (WOR).
Event: Interim results for the six months to 31 January 2017 published 28 April 2017
Summary: These first-half results were not too bad, not least because they included a record £5.1m revenue figure. However, the software developer did warn that rising costs would hurt earnings significantly during the second half of 2017 and throughout 2018. WOR recovered very well from its previous investment phase of 2009 and 2010, and I am left trusting the firm can repeat the trick once again. At least the accounts remain simple and flush with cash, and you could argue the underlying P/E is just 5. I continue to hold.
Price: 220p
Shares in issue: 7,573,938
Market capitalisation: £16.6m
Click here for all my previous WOR posts
Results: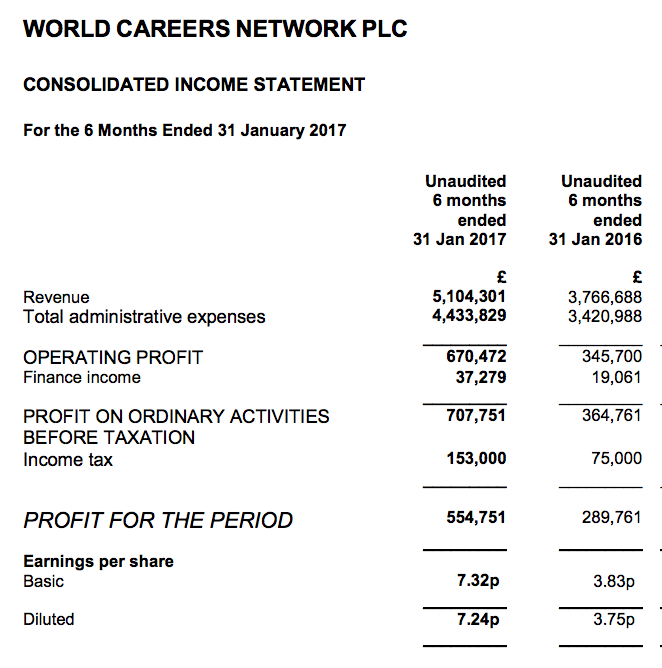 My thoughts:
* Record six-month revenue achieved
I wasn't really sure what to expect with these results.
November's annual statement had been somewhat mixed. Earnings had improved due to the weaker pound, but the company warned that greater investment spend would keep a lid on future profits.
In the event, these first-half numbers showed revenue up 36% to £5.1m — WOR's best ever six-month sales performance.
A mix of increased income from existing clients, contributions from new projects, as well as the weaker pound, underpinned the top-line progress.
In turn, operating profit surged 94% to £670k to give a reasonable operating margin of 13%.
* Low H2 sales and losses reported for February and March
This H1 statement unfortunately suggested the upcoming H2 performance could be very underwhelming.
WOR has ramped up its personnel and marketing spend during the last two years, and admitted a "significant further increase" to its cost base would be incurred during the rest of 2017.
Somewhat ominously, WOR also mentioned:
"Sales to new clients have been low… future levels remain uncertain… and as a consequence, we have made a loss in the first two months of the second half."
WOR therefore predicts earnings for 2017 to be "significantly reduced" from the level achieved for 2016. A "material adverse impact" is expected for 2018, too.
As a reminder, WOR's operating profit for 2014 was £2.4m and this significant investment programme then saw the figure reduce to below £1.4m for 2015 and 2016.
Given the group's latest guidance, it seems as if 2019 will be the earliest chance for profit to return anywhere close to the £2.4m level of 2014.
I have to confess, I had hoped a complete recovery could have been achieved by 2020, which now appears to be rather fanciful.
Valuation
I suppose even more guesswork is now required with WOR's valuation.
But for what it is worth, the group's net cash position remains at around £10m and so the £16.6m market cap leaves only a £6.6m enterprise value (EV) for the underlying business.
For the year to January 2017, WOR produced a £1.7m operating profit and, after 19% standard UK tax, could deliver earnings of £1.3m or 17.8p per share.
The P/E on my EV and earnings calculations is therefore £6.6m/£1.3m = 5.
True, the multiple looks very low, but that has always been the case with this obscure, illiquid small-cap.
Indeed, with earnings set to tread water at best for the next few years, the chances of imminent share-price upside here must be zero.
Nonetheless, WOR has recovered spectacularly from significant investment phases before and I continue to hold out hope that margins of 20%-plus will one day return and that profit will rebound beyond £2m.
Until then, I will just have to trust that WOR's 71% owner — the group's chief exec — can ensure the ongoing investment programme eventually reaps suitable returns.
Maynard Paton
Disclosure: Maynard owns shares in World Careers Network.