06 June 2016
By Maynard Paton
Quick update on Electronic Data Processing (EDP).
Event: Interim results for the six months to 31 March 2016 published 02 June 2016
Summary: This was another lacklustre update from the software micro-cap. It was disappointing in particular to see revenue continuing to stagnate and — despite various cost-cutting measures of the past — operating profit dropping lower. Thankfully EDP has put itself up for sale and I am very hopeful a generous trade buyer can be found to conclude what has been a somewhat frustrating investment. In the meantime, there is the prospect of a 6%-plus yield to collect. I continue to hold.
Price: 73p
Shares in issue: 12,610,976
Market capitalisation: £9.2m
Click here for my previous EDP posts
Results: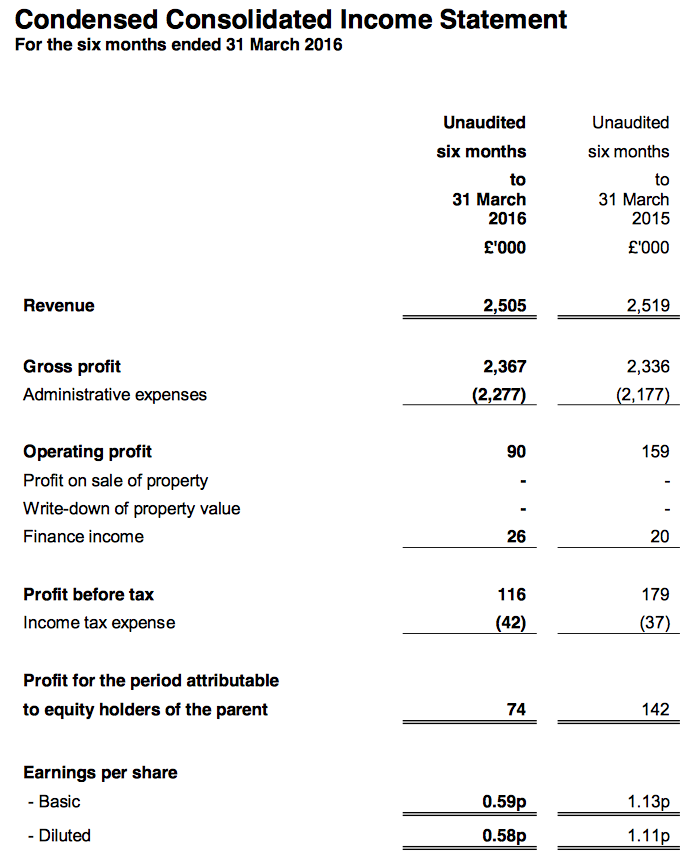 My thoughts:
* What appears to be another new revenue low
This was another lacklustre statement.
December's annual results had already confirmed revenue running at a 30-year nadir, and these interim figures showed the top line slipping a fraction to £2,505k. I can only presume this figure is a fresh H1 low.
(For some perspective on EDP's awful sales history, first-half revenue was greater than £3m during 2009 and greater than £5m during 1999.)
Still, the strong point of EDP's business remains its recurring income. Annual software licences and hosting fees stayed high at 81% of revenue (or £2,029k), versus 80% last year (or £2,015k).
* The profit shortfall was disappointing
EDP claimed its adjusted operating profit increased by 19% to £240k during the half. However, adjusting only for exceptional property costs and redundancies, my verdict was that H1 operating profit had dropped 13% to £188k.
The profit shortfall was especially disappointing given EDP's results for the last year or two have regularly cited the prospect of various cost-cutting measures. The sole saving still on the cards concerns annual expenditure of £35k on a £1.2m surplus property in Milton Keynes.
All that said, I did mention in December that EDP's pension accounting may understate the group's reported profit. EDP pays nothing into its pension scheme, yet last year the accounting cost was £77k.
During this first half, the pension cost was £41k — which is significant when my version of adjusted profit was £188k.
* Balance sheet remains flush with cash and property
EDP's H1 cash flow absorbed £190k — due mostly to working-capital movements — to leave the firm's bank balance at £5,357k.
Other balance-sheet highlights included the aforementioned surplus property at £1,181k and upfront customer payments of £1,961k.
Adding the cash and property together and then subtracting the upfront payments, I calculate surplus cash and property to be £4,577k, or 36p per share.
* Another profit downgrade
Sadly these results have prompted me to downgrade my future operating profit guess yet again.
I was previously looking at £513k, but now I am going for £461k based on my calculation of EDP's adjusted profit for the last twelve months, as well as the prospective £35k property saving.
Applying a standard 20% tax rate would then produce earnings of 2.92p per share — which is well below the 5p per share dividend paid last year. A maintained 2p per share interim payout in these results suggests another 5p dividend is scheduled for 2016.
Though EDP's earnings may be understated by its pension accounting, it does seem that another 5p per share dividend will have to be part-funded by the aforementioned cash pile.
Anyway, stripping out the 36p per share of surplus cash and property from the 73p bid price, EDP's enterprise value (EV) comes to 37p per share. The P/E using my EV and earnings calculations is therefore 37p/2.92p = 12.6.
* I trust EDP's strategic review will eventually conclude this investment   
I would be quite frustrated with these results were it not for EDP announcing a "strategic review" in April.
EDP stated that it had "started to conduct a review of various strategic options open to the Company to maximise value for shareholders, which could include a sale of the Company."
The firm added: "Whilst the Board believes that the Company has a secure future as an independent business, the Board has taken this decision in order to seek to unlock value for shareholders whilst safeguarding the interests of all stakeholders."
The announcement was the best news I had heard from EDP since I first bought the shares in 2012.
It seems to me that the trio of North American value funds, which in aggregate control 28.5% of EDP, have finally agitated for action.
I did write in December that "I am convinced the end-game these funds have in mind is some sort of corporate deal."
Stock-exchange rules have since prompted certain other EDP shareholders to disclose their positions, including fellow software firm Sanderson (SND) with a 2.3% stake. I'd like to think all of these shareholders will be keen for a sale, too.
All told, I am hopeful that EDP can sell itself for a nice cash bid in the not-too-distant future.
While the current share price does not appear to be an obvious bargain on present earnings, it is worth noting that a trade buyer could eliminate much of EDP's annual £400k director wage-bill. Costs associated with being a listed firm would also disappear.
I reckon such savings alone could double the group's level of profit.
Maynard Paton
Disclosure: Maynard owns shares in Electronic Data Processing.