27 April 2016
By Maynard Paton
Quick update on World Careers Network (WOR).
Event: Interim results for the six months to 31 January 2016 published 26 April
Summary: These figures were not as bad as I had feared, given WOR's previous results had confessed to higher costs and lower profit. The outcome for the current year looks set to be better than I had anticipated, too. Notably, revenue moved higher despite one of the software group's largest customers significantly reducing its payments. Meanwhile, the accounts remain cash-rich and the underlying P/E is less than 7. I continue to hold.
Price: 195p
Shares in issue: 7,549,938
Market capitalisation: £14.7m
Click here for all my previous WOR posts
Results: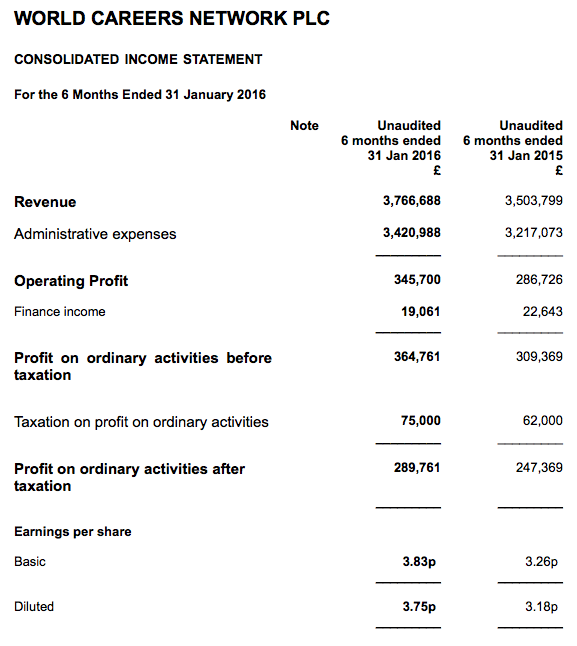 My thoughts:
* These results were not as bad I had feared
I was not anticipating too much progress within this statement after November's annual results had warned of "a continued and significant reduction in profitability" for the current financial year.
In the event, revenue actually gained 8% to help operating profit climb 21%. WOR claimed that support fees from the software it had sold in the preceding second half had bolstered its performance.
Although I am pleased WOR could register a decent profit improvement, the £365k scored during the half compares to £1m reported during the first halves of 2012, 2013 and 2014. So there is some way to go before earnings have recovered fully.
* HMRC cutting back
The H1 revenue achievement was not too bad given one of WOR's largest customers — HMRC — had demanded a much lower charge when its contract came up for renewal in early 2014. Indeed, I calculate the regular monthly payment from HMRC was cut by 66%.
(Here are the full details of the revised HMRC contract.)
From what I can tell, HMRC contributed revenue of £431k (11%) towards the group's top line during H1 — and the run-rate is currently a third down on 2015.
I note some of WOR's past HMRC income has related to one-off jobs, which now appear to be reducing substantially in number and value.
* Higher costs, but taking longer to implement than expected
The preceding annual results had warned of the cost base expanding as WOR looked to recruit additional sales and support staff. However, WOR's H1 costs came in at £3.4m to match those reported during H2 of 2015.
In an unusual admission for a quoted company, WOR confessed that "certain of our investment plans took longer to implement than expected". Very often, it is the other way around — with additional costs occurring much sooner than expected!
The upshot of the delay is that the current year should see a profit "broadly in line" with that recorded last year. I had previously expected lower earnings.
Still, WOR did say that the second half would incur a "significantly higher level of costs" and that "the cumulative impact of the additional costs we are incurring in this year will, inevitably, be felt in our next financial year."
* Guessing revenue for the second half and full year
Just how large WOR's cost base will become in H2 is difficult to judge.
But if I assume it grows from £3.4m from H1 to £3.7m in H2 — and given WOR reckons its current-year profit can broadly match that of last year — I can then make a rough estimate of possible H2 revenue.
My sums suggest H2 revenue coming in at  £4.5m to give full-year revenue of £8.3m:
| | | | | | | | |
| --- | --- | --- | --- | --- | --- | --- | --- |
| | H1 2015 | H2 2015 | FY 2015 | | H1 2016 | H2 2016(e) | FY 2016(e) |
| Revenue (£k) | 3,504 | 4,352 | 7,856 | | 3,767 | 4,509 | 8,276 |
| Costs (£k) | (3,217) | (3,484) | (6,701) | | (3,421) | (3,700) | (7,121) |
| Operating profit (£k) | 287 | 868 | 1,155 | | 346 | 809 | 1,155 |
* Cash flow and balance sheet
I am pleased WOR's accounts showed the cash pile increasing by almost £1m to £9.2m during the first half. The advance appears to have been supported by HMRC clearing some outstanding invoices as well as upfront fees being received from other clients.
Roughly adjusting for upfront fees, I reckon WOR's underlying cash pile could be £8.7m, or 115p per share.
Valuation
Assuming WOR repeats its 2015 operating profit of £1.1m for 2016, earnings could be £923k, or 12.2p per share, after 20% tax.
With the 195p offer price giving a market cap of £14.7m, I reckon WOR's enterprise value (EV) is 80p per share, or £6.0m. The P/E on my EV and EPS calculations is therefore 6.5.
That multiple appears cheap, and should WOR recover to its 2014 performance — when earnings reached 25p per share — I reckon the share price could improve significantly.
Indeed, WOR has invested heavily in product development at the expense of short-term profit before, and the subsequent pay-off was very handsome. I am hoping the same can happen again.
Maynard Paton
Disclosure: Maynard owns shares in World Careers Network.