07 April 2016
By Maynard Paton
Quick update on Getech (GTC).
Event: Interim results for the six months to 31 January 2016 published 05 April
Summary: These interim results were poor, but that was no great surprise given GTC supplies specialist data and services to the battered oil and gas sector. At least the promise of cost cuts and a few new contracts ought to signal a better second half. Valuation remains tricky here with reported losses and a scrapped dividend, but the asset-rich balance sheet should see the business through the downturn. I continue to hold.
Price: 28p
Shares in issue: 32,895,748
Market capitalisation: £9.2m
Click here for all my previous GTC posts
Results:
My thoughts:
* These poor results were no great surprise
I wasn't too shocked by these figures, not least because November's annual results had already owned up to trading being "substantially below current market expectations".
In fact, I'd speculated beforehand that these interims "could show a break-even performance or loss… given the grim environment for oil services outfits at present."
On the face of it, revenue of £3.3m — down 9% — did not look too bad in the circumstances.
However, the prior-year half did not include any revenue from ERCL — a geosciences consultancy that was purchased during April 2015. Had ERCL been owned throughout 2014/15, I reckon the reported revenue drop would have been about 40%.
Sadly the revenue setback led to a £697k operating loss and a passed dividend.
However, such disappointments are not uncharted territory for GTC — the firm reported first-half losses during 2007 and 2010, and skipped dividend payments for two years between 2009 and 2011.
* Still, all is not lost just yet
I am glad GTC's outlook statement gave shareholders some cause for hope.
For a start, there is talk of "substantial" sales opportunities and upcoming new contracts (my bold):
"The Company entered the second half of its year with strong cash balances and a substantial pipeline of sales opportunities. A number of new sales, including the signature and delivery of a data licence valued at US$720,000, led to a record February for sales and income. We can also announce that we have now signed a new US$1m contract, which includes parts of Globe, two regional reports, the global depth to basement study and our multi-satellite project, most of which will be delivered in the half year to July 2016. The Directors are also optimistic that a number of other opportunities, which either did not complete in the first half or have been generated recently, will complete in the second half year."
Furthermore, there has been action on costs (my bold):
"In light of the challenging market conditions, the Company has significantly lowered its cost base through a range of measures, including cutting marketing costs and reducing staff costs through reduced working hours and voluntary and compulsory job losses. As a result, our month-on-month cost base will be down more than 20% from its peak in the period under review. However, the Directors believe they have been able to manage this in a way that has enabled the Company to retain the breadth of skills and experience necessary to allow all our current business streams to pick up again once the market recovers."
It is difficult to determine GTC's cost base exactly, and whether the group's definition of 'cost base' includes items such as the cost of inventories and depreciation/amortisation.
Nonetheless, I calculate reducing all H1 costs by 17.5% would have produced a break-even performance in these results, and I'd like to think the firm's target is break-even (or better) from here on in.
Something else to note is that GTC's chief exec was effectively demoted to the position of Commercial Director in February, which may have been part of the cost-cutting strategy.
Anyway, GTC is presently without a long-term leader and I am hoping a co-founder of ERCL will soon take the top job.
* Cash flow provides some optimism
These H1 figures showed net cash drop from £3.7m to £1.8m. Although the £1.9m reduction was not great, there were some costs that appeared 'one off' (at least for the time being).
For a start, £576k of the outflow related to the purchase of ERCL while another £572k was distributed as last year's final dividend.
A further £459k was spent on capitalised development costs, the accounting for which I'll explain in a Comment below this Blog.
Exclude those items and the outflow reduces to about £300k — around £400k less than the reported operating loss. A favourable working-capital movement helped matters, with payments for large outstanding invoices being received during the six months: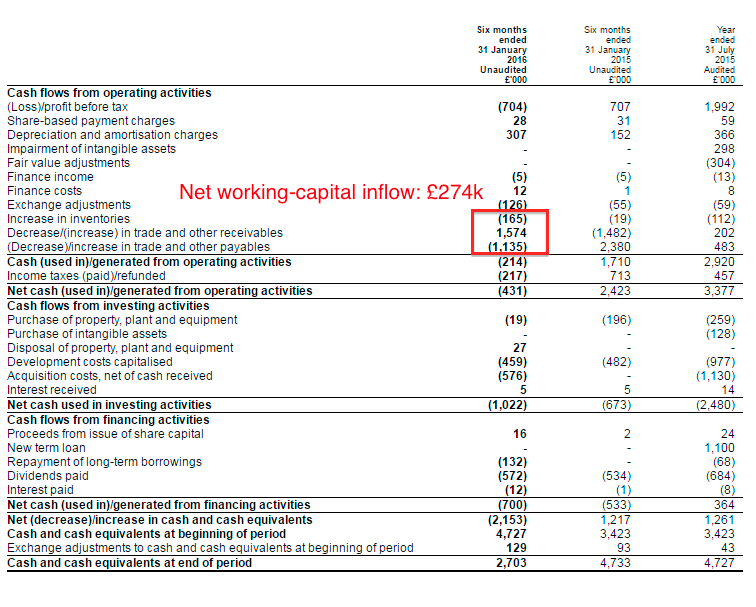 Having evaluated the cash flow statement and considered the aforementioned cost cutting, I do not envisage GTC's cash recourses will dwindle much lower from here.
That said, the group's largest liability is the final earn-out for the ERCL deal, which remains in the books at a £980k minimum. (However, this earn-out could be lowered if ERCL's near-term performance does not live up to expectations — a genuine possibility I think).
Valuation
With earnings now transformed into losses and the dividend given the chop, the only accurate value benchmark left right now is the balance sheet.
These figures show GTC's net asset value to be £9m or 27p per share, while tangible book value is £3.6m or 11p per share.
For what it is worth, when GTC reported losses and cut its dividend in 2010, tangible book value was 10p per share and the shares hit a low of 11p. So there is a precedent for GTC's shares to trade very close to book value!
It's difficult to say whether GTC's shares will retreat again towards 11p. I suspect not — not least because the group recovered well from its 2010 troubles, some of its intangible data licences might actually be worth something, while that £980k-plus ERCL earn-out liability may not have to be paid in full.
Bear in mind, too, that GTC's operating profit averaged £1.4m during the five years between 2011 and 2015. So any return to that level of trading would I'm sure produce considerable upside to the current £9m market cap.
All that said, I must confess I am not tempted to top up right now at 28p — but I could buy more if the price goes lower. GTC does have net cash, should survive the current downturn and demand for its range of specialist data and services ought to rebound as and when the oil sector recovers.
When that revival occurs, of course, remains anyone's guess.
Maynard Paton
Disclosure: Maynard owns shares in Getech.