21 March 2016
By Maynard Paton
Quick update on FW Thorpe (TFW).
Event: Interim results for the six months to December 2015 published 21 March
Summary: A respectable but not a spectacular set of figures, with underlying revenue and profit both advancing by 5%. Although progress at the group's main Thorlux division looks to have stagnated, last year's Dutch acquisition appears to be performing very well. A special 2p per share dividend was a welcome move, but a cash pile of 30p per share suggests much more could be distributed. I continue to hold.
Price: 220p
Shares in issue: 115,675,590
Market capitalisation: £254m
Click here for my earlier TFW posts.
Results: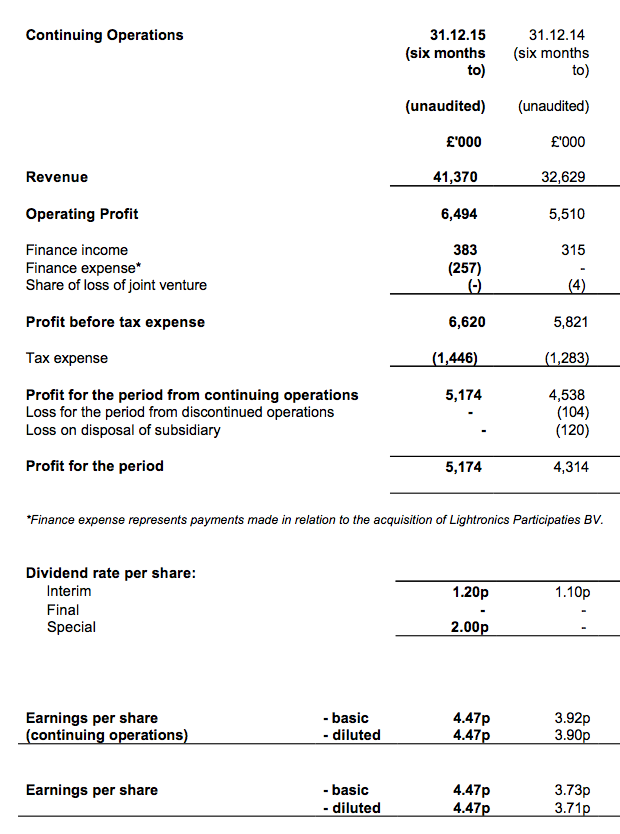 My thoughts:
* Respectable results albeit with reduced growth
I was quite satisfied with these results.
Excluding the contribution from an acquisition made last year (see below), revenue and operating profit both advanced around 5% to £34.3m and £5.8m respectively.
The improvement was below the double-digit pace seen during the preceding full-year results, and the moderated rate of expansion was not a great surprise. TFW had already flagged at its November AGM that it had experienced a "mild softening" in some of its markets.
For what it is worth, TFW described the first-half performance as "solid".
* Growth once again came from 'other companies'
I noted within the preceding annual results that TFW's smaller subsidiaries had been supporting the bulk of the group's growth. That proved to be the case again in this first half: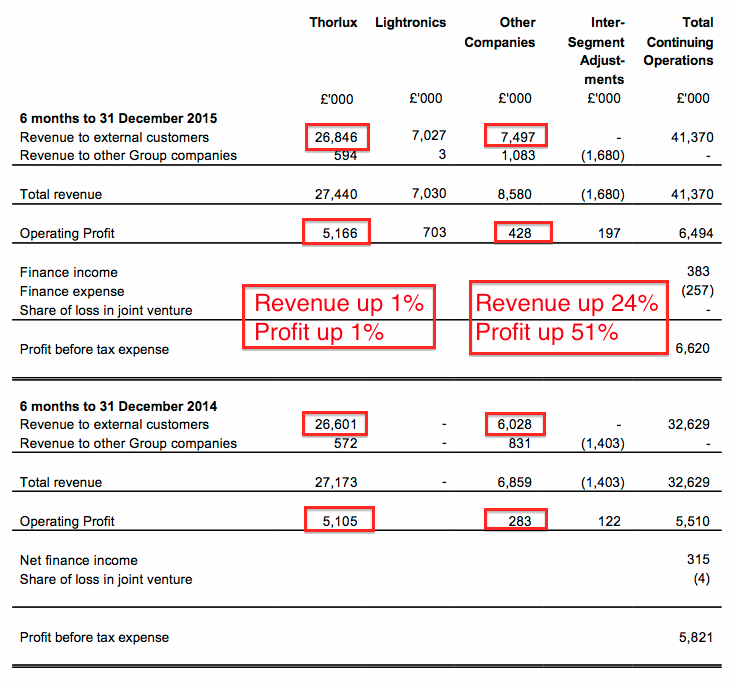 I was a bit disappointed that TFW's main Thorlux division reported revenue and profit up only 1% on the first half of last year.
Indeed, since TFW began disclosing Thorlux's half-yearly revenue in 2008, the division had always reported higher revenue during H1 than the preceding H2.
But this time I see H1 Thorlux revenue of £26.8m was lower than the £27.6m the division reported during the second half of last year:
| | | | | | | | |
| --- | --- | --- | --- | --- | --- | --- | --- |
| Thorlux | H1 2014 | H2 2014 | | H1 2015 | H2 2015 | | H1 2016 |
| Revenue (£k) | 24,637 | 25,020 | | 26,601 | 27,591 | | 26,846 |
| Operating profit (£k) | 4,846 | 5,747 | | 5,105 | 6,162 | | 5,166 |
All told, I do get the impression progress at Thorlux has now stalled. As this division contributes 80% to TFW's profit, a prompt return to double-digit earnings growth for the wider group could be somewhat difficult.
At least Thorlux remains very profitable with a 19% operating margin.
* Dutch acquisition still appears to be doing well
TFW purchased a Dutch lighting firm called Lightronics for approximately £9m back in April 2015, and I am pleased this acquisition has continued to trade "ahead of expectations".
The previous annual results claimed the Dutch subsidiary produced revenue of £10.9m and an operating profit of £1.2m for the year to June 2015.
However, following today's figures, we can see Lightronics has generated revenue of £10.3m and a near-£1.2m operating profit during its first nine months of TFW ownership.
True, TFW has cited "one-off projects" as helping the acquisition's performance. But all the same, the early progress at this new division does appear encouraging.
I note the associated earn-out relating to this acquisition has been increased by £200k to £4m, presumably to reflect the subsidiary's higher earnings.
* Special dividend declared, but balance sheet still brimming with assets
It was nice to see TFW declare a 2p per share special dividend alongside lifting the interim payout by 9% to 1.2p per share.
And while the upcoming special dividend will be the fourth TFW has declared since 2006, I do wonder if the group's shrewd family managers could distribute even more one-off payouts.
I mean, these results showcased cash of £34m, or about 30p per share — more than enough to fund a few larger payouts.
Indeed, if you add in various other surplus investments and assets, and then subtract the Lightronics earn-out, the overall net cash and investment position comes to £41m (35p per share).
Don't get me wrong — I am all for companies operating with net cash. But holding the equivalent of three times annual earnings looks a tad excessive to me.
One theory I have heard is that TFW may be hoarding cash so one day it can buy out the shareholdings owned by members of the Thorpe family.
Valuation
* Guessing at a £1.4m full-year contribution from the Dutch subsidiary, trailing operating profit now stands at £15.9m.
* Applying tax at the 22% seen in these results, earnings come to £11.7m or 10.1p per share.
* Adjusting for the group's net cash, investments and that acquisition earn-out, I calculate an enterprise value (EV) of £214m or 185p per share.
* Then dividing that 185p EV figure by my 10.1p earnings guess, I arrive at a P/E of 18.
* That multiple does not look an obvious bargain to me given the group's underlying growth rate has slowed to about 5%.
* Meanwhile, the trailing 3.75p per share dividend pays a meagre 1.9% income.
Maynard Paton
Disclosure: Maynard owns shares in FW Thorpe.