30 November 2015
By Maynard Paton
Quick update on French Connection (FCCN).
Event: Trading statement published 30 November
Summary: Phew! A pleasantly surprising update that revealed stable trading and a signal that losses could be narrowing. However, the most welcome news was the redevelopment of the group's loss-making Regent Street store, for which compensation of £2.4m will be received from the landlord. I just wish FCCN could be paid off for all of its under-performing shops! I continue to hold.
Price: 32p
Shares in issue: 96,178,134
Market capitalisation: £32m
Click here for my previous FCCN posts
Statement: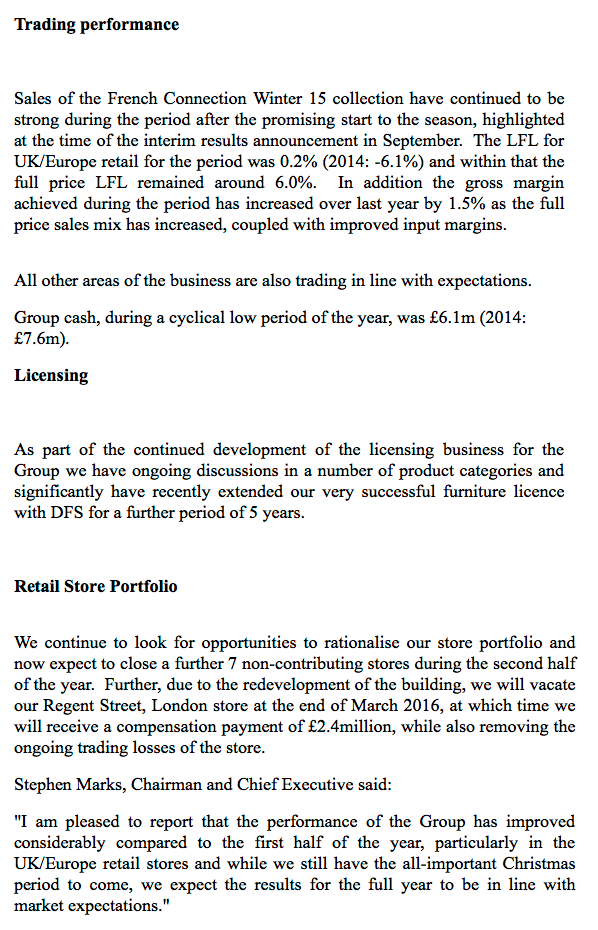 My thoughts:
* The statement was better than I had expected
I was pleasantly surprised by this update.
FCCN claimed the top-line performance of its Winter 2015 collection had been "strong" and while I would not go that far, certainly the positive progress was a far cry from the awful first-half figures revealed in September.
True, like-for-like Retail sales since August advanced by only 0.2% after a 6% drop last year. But advance they did and they helped gross margins increase by 1.5 percentage points, too.
Note that today's statement did not cover the firm's recent Black Friday sale, in which certain lines were priced at 50% off. Meanwhile, today's Cyber Monday deals are offering a 25% discount.
* Cash pile suggests losses are narrowing
I thought it was promising that boss Stephen Marks was able to predict:
"While we still have the all-important Christmas period to come, we expect the results for the full year to be in line with market expectations."
Prior to today, house broker Numis was expecting a £4.5m loss for the year to January 2016, and a £3m loss for the year after.
However, today's statement revealed the group's cash pile had dropped by only £1.5m during the last twelve months. That figure compares to an outflow of £4.4m for the year to July 2015 and an outflow of £5m for the year to January 2015.
As such, it seems to me the cash-flow trend is improving and is much closer to break-even than those market forecasts from Numis.
* Further store closures are on the way
I am pleased FCCN has once again accelerated its plan to rid itself of loss-making stores.
Back in March, the group had expected to shut three or four shops during the current year, and then increased that figure to seven after April's profit warning.
September's interims then said six outlets had shut and three or four were to go during the second half.
Now, today's statement says seven shops will close in the second half, to give 13 closures for the year as a whole.
I remain convinced that closing stores is the most reliable way for FCCN to stem its Retail losses and return the wider group to profitability.
* A lucky £2.4m bonus — Regent Street store to close
Here's some very good news — FCCN's store on London's Regent Street is to be redeveloped next year and the group will receive a £2.4m payoff (2.4p per share) as compensation. And there's more good news — FCCN will no longer have to absorb the site's losses!
I have no idea how large the losses are at the Regent Street store, but I guess with central-London rents they could be much greater than the average FCCN outlet.
Now… if only all of FCCN's landlords could redevelop their buildings, pay the chain compensation and immediately stem those high-street losses!
* The non-Retail part of business has held up reasonably well
Counter-balancing FCCN's loss-making Retail estate are the firm's Licensing and Wholesaling divisions, which continue to trade in line with expectations.
The extended 5-year deal selling FCCN-branded sofas through DFS looks positive, too.
* More bargain basement than basket case?
As before, my investment theory remains simple — if the near-£15m losses at the Retail division could one day disappear by closing a load of shops, the present valuation should become the bargains of all bargains.
At the last count, non-Retail profit was £10.2m and compares to a current market cap of £32m.
Nonetheless, FCCN shareholders have experienced no end of false dawns during the last ten years and there's no evidence to suggest Mr Marks has permanently revitalised the business just yet.
* Next update — possibly a trading update in January 2016. Annual results due mid-March 2016.
Maynard Paton
Disclosure: Maynard owns shares in French Connection.